Top easy Ninja Foodi Recipes you'll love, plus how to use your Ninja Foodi pressure cooker and air fryer if you're a new user. We'll help you become a pro and give you pressure cooker reviews for the top 3 on the market.
Did you just get your new multi function pressure cooker that includes an air fryer? Now you're now wondering how to use the fabulous Ninja cooking system. Well, we have instructions for you plus lots of easy Ninja Foodi recipes for you now! (originally published 1/19, affiliate links present)
YES we are now obsessed with easy air fryer recipes, and just want to air fry everything I tell you!!!
The air fryer benefits far outweigh deep frying but you still get the same great crunchy outside you love.
Now let's get started, we have a lot of Foodi recipes for you to try over the next few months below!
Here are a few resources to start with:
I share a VERY helpful printable here that you must have: air fryer cooking times chart. Keep in on your fridge so you can cook just about anything.
Sign up for my free newsletter so you can get new recipes via. email too!
You can even order Ninja Foodi pot stickers here!

Ninja Recipes
That's right! They're easy to put on, come in dozens of patterns and colors so you can match your kitchen decor perfectly!
Wondering if you need the new Ninja Foodi Grill?? Here's my review!!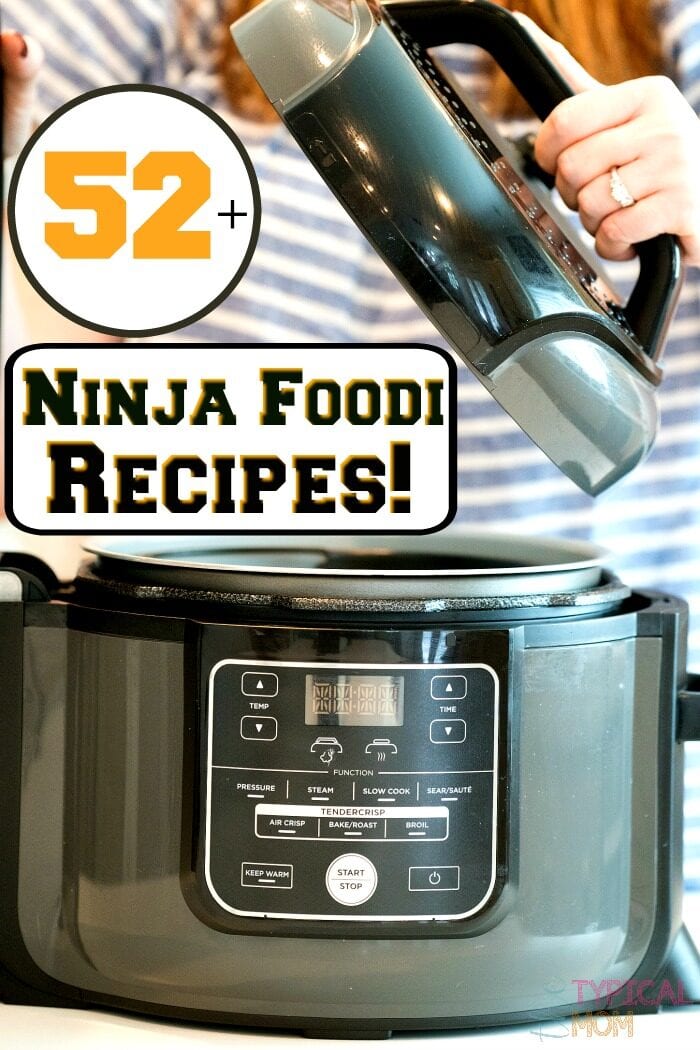 Then we will share LOTS of easy Ninja Foodi recipes below.
We will start with our roundup of Ninja Foodi chicken recipes first, like Ninja Foodi chicken pot pie, air fryer chicken cutlets and a few Ninja Foodi chicken soup recipes too. We share how to reheat chicken in Ninja Foodi here.
You really can use what you have on hand, and your favorite flavors to make all the things!
One night I threw together some marinated chicken in air fryer and it was delish. Then made air fryer popcorn chicken for the kids and we were hooked. Now if you're forgetful you can always make our Ninja Food frozen chicken recipe here.
Want to try a chocolate Ninja Foodi dessert? Try this air fryer cake that's ooey gooey and delicious.
If you're looking for keto or low carb air fryer recipes we have many of those too like air fryer chicken tenders no breading and many more! How to cook chicken in an air fryer is here for your reference as well.
What is a Ninja Cooker?
It's a pressure cooker and air fryer! You can cook side dishes, vegetables, meat, or both of them together as in our Ninja Foodi chicken and vegetables recipe here.
I've already created a TON of easy pressure cooker recipes. All of these can be used in your Foodi using the pressure cooker function.
Then, when my husband came home with this new Ninja Foodi it was time to create lots in this beauty.
We've been on a mission lately to create lots of easy Ninja recipes to enjoy and share with all of you lately!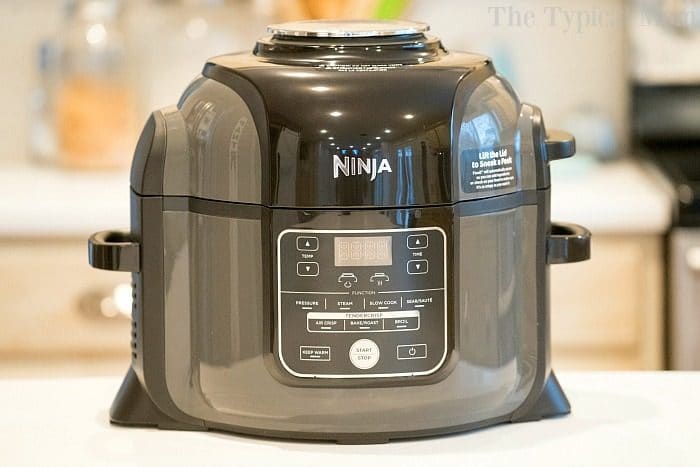 BUT…..First we have to answer the question:
How do you use a Ninja Foodi
The above photo is what it looks like with the pressure cooker lid on and the air fryer lid lifted up.
Yes there are TWO lids on the Ninja Foodi Tendercrisp Pressure Cooker!
Then when you're ready to use the Ninja 4 in 1 cooking system as an air fryer to crisp your food you use the lid that is attached.
You can see it closed above. Is Ninja Foodi a slow cooker? Yes, it has that function too! (I typically just use the 2 main ones though)
What can the Ninja Foodi do?
And we have a bunch of easy and healthy Ninja Foodi recipes of all kinds you can try.
Air fry
Broil
Saute
Slow cook
Bake
Which are the best pressure cooker machines for our family?
My 8 qt. Instant Pot and Ninja Foodi are the perfect duo!

I like the added size and height of my 8 qt. IP
I love the air fryer function of my Ninja Foodi multi cooker machine.
What can you cook with a Ninja Foodi?
Just about everything!!
Recipes are below!
You can read our entire Instant Pot vs Ninja Foodi review here to make an informed decision yourself if you are on the fence.
Then you can cook all the air fryer Costco recipes you want if you're a big box store lover.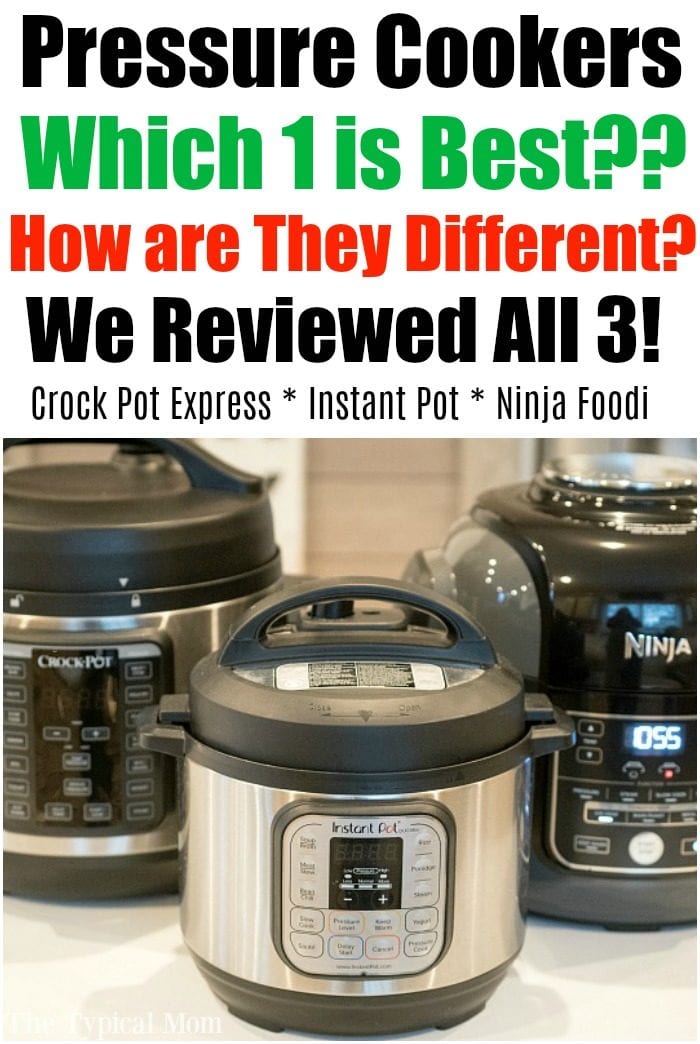 How do you use a Ninja Foodi??
Here's how to use the pressure cooker function:
Use the included pressure cooker lid (not the one attached to the unit)
Place your food into the inner pot
Follow instructions in recipe. You can even cook frozen meat in Ninja Foodi!
Or put food into the air fryer basket. It's good for meats so drippings drip away from food and into the inner pot.
Push the power on button (lower right – circle with a small line in the middle)
Put lid on, not the one that is attached.
Move top steam valve to "seal" now.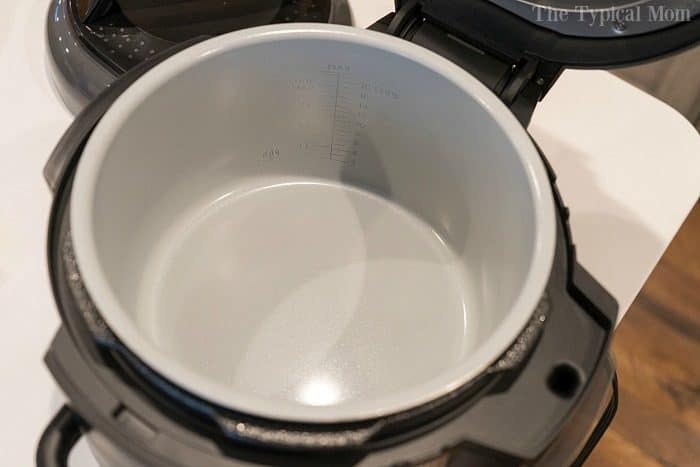 Push the pressure button at the front.
Press + or – above the Temp. button to adjust to High or Low
Adjust Time needed to cook your Ninja Foodi recipe (use – or + to adjust)
Hit the Start button
Of course for cook times follow your recipe, this Ninja Foodi cheesy chicken and rice is a great one to start with.
Pot will take a bit of time to reach pressure. Then will count down the number of minutes until it reaches 0
If you're just starting, this Ninja Foodi Cookbook for beginners has tons of easy meal ideas. Like Ninja Foodi pork tacos and lots more.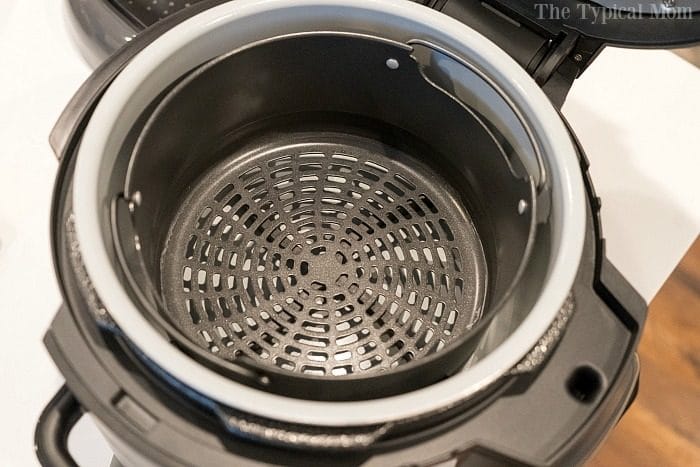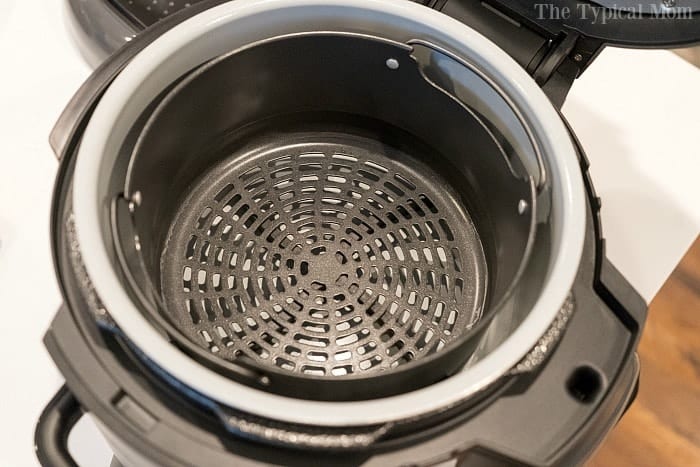 How to use the Ninja Foodi air fryer function
Close the attached crisping lid at this time.
Turn the machine on

Figure out cook time with our air fryer cooking times chart
Press air crisp button
Set the temperature using the – and + buttons
Choose the time using the – and + buttons
Press start at this time.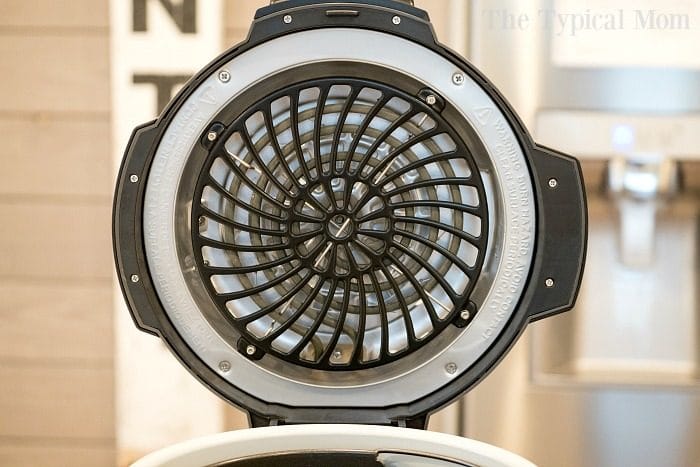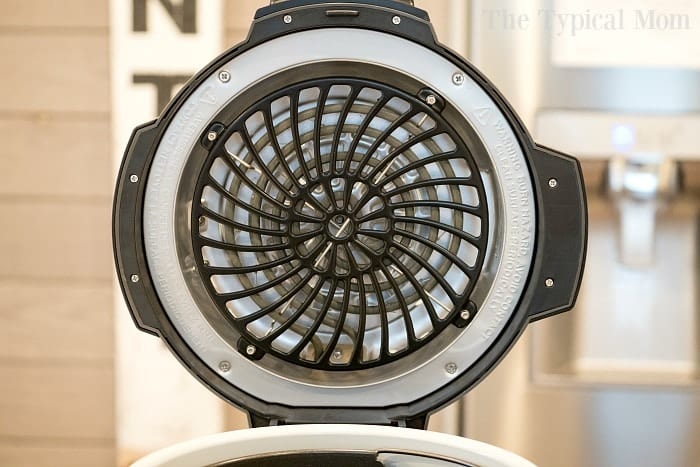 Here are some Ninja Foodi recipes using the pressure cooker function
This is helpful so you know how long each piece of meat or dry beans take to cook. I also included an air fryer cook times printable.
All you have to do to convert Instant Pot recipes to Ninja Foodi pressure cooker recipes is to press the pressure button.
Press Temp. button to set to high or low.

Set the time with the pressure cooker lid on your Ninja Foodi (lid that isn't attached) and you're set.
Air fryer snacks are the real game changer I think though. Now veggies become a crunchy treat your kids actually may ask for like our air fryer okra. Throwing a party? Make air fryer stuffed mushrooms!
Crispy and full of flavor it's crazy what crunchy outsides will make you eat.
Use your Air Fryer function and make some
Ninja Foodi Breakfast Recipes
Sausage links in air fryer turn out perfectly. You can use silicone muffin cups with eggs inside and make at the same time too. Add some sweetness with Ninja Foodi apples made in chunks or rings.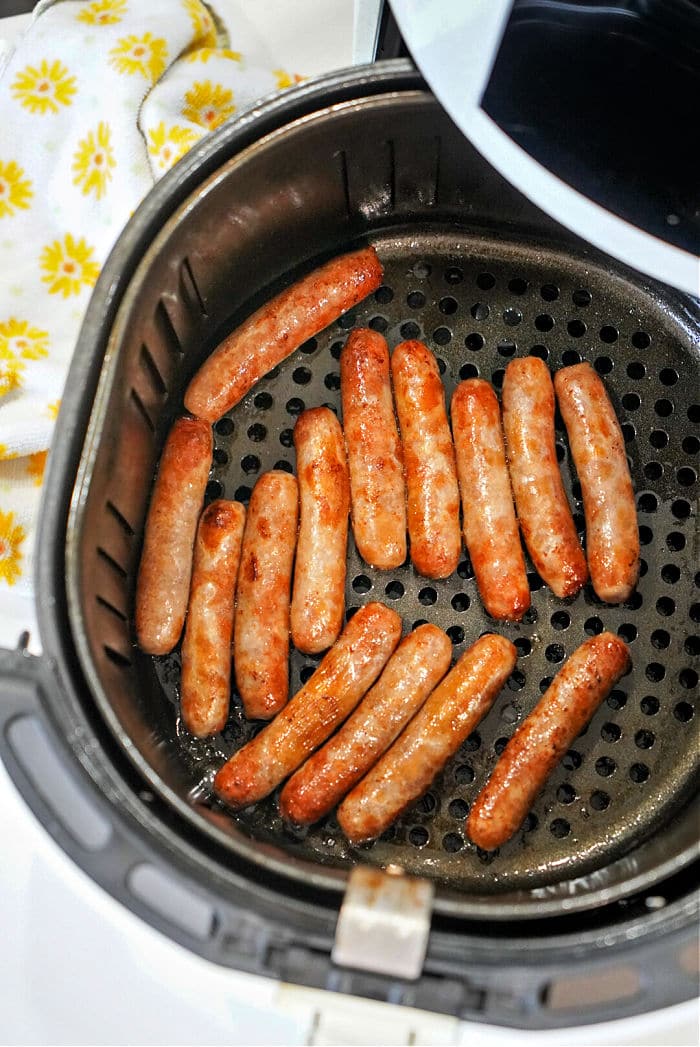 If you love frittatas you can make one like a crustless Ninja Foodi quiche here.
Many mornings we will make a small batch of air fryer muffins. From a box or homemade, they're a great way to start the mornin. During the Fall, Ninja Foodi pumpkin bread is delish too.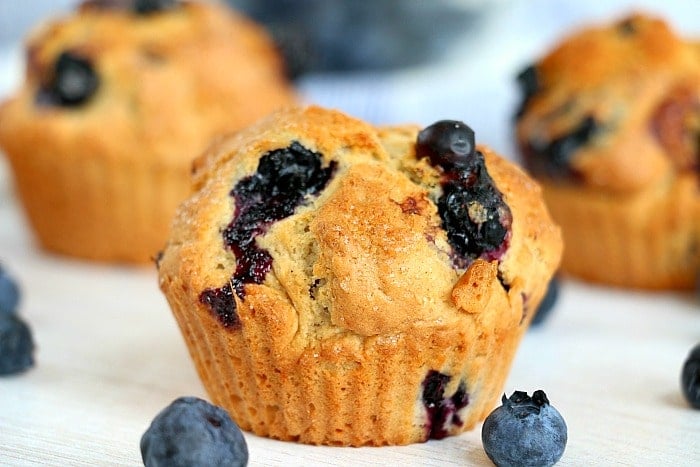 Use crescent rolls and pie filling to make these air fryer dumplings for dessert or breakfast.
If you're making a savory start to the day, this is how to roast tomatoes using the air crisp function. Then make homemade salsa and take it over the top.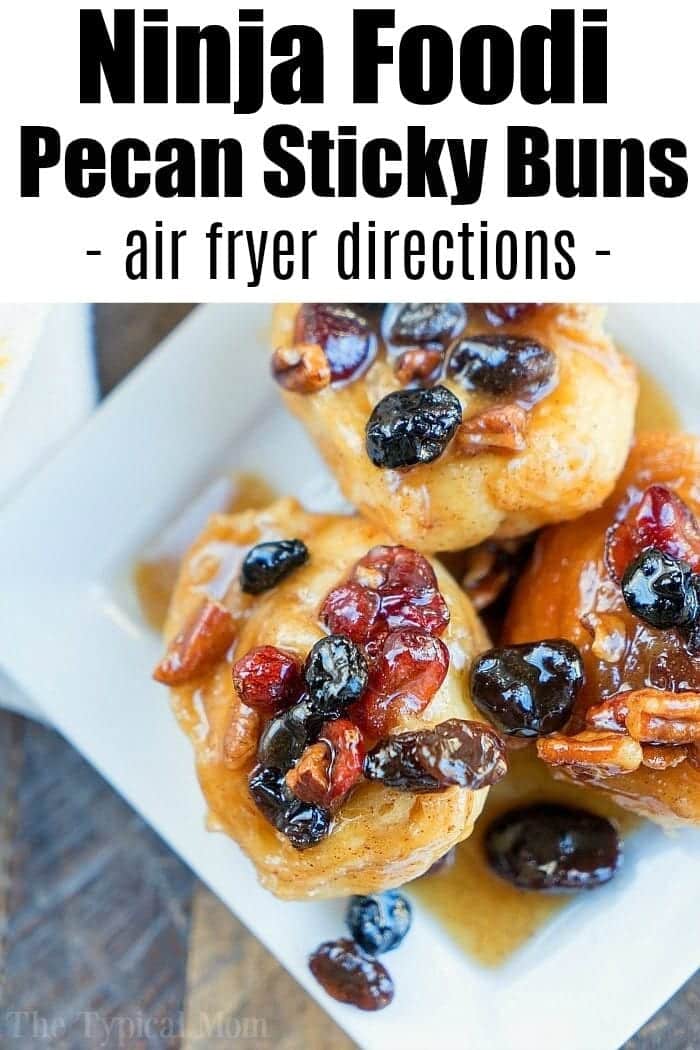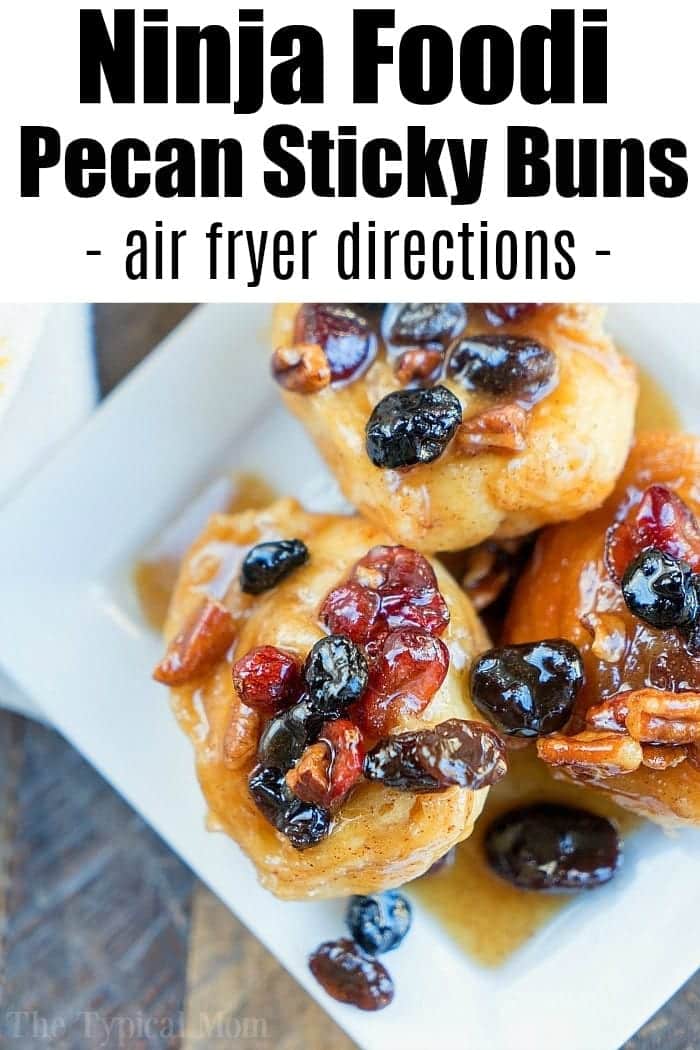 Here are a few more breakfast recipes using either the pressure cooker or air fryer functions. Some use both to brown the top.
But now you can make air fryer egg bites with air fryer breakfast potatoes too!
These air fryer bagels made into bagel bites stuffed with cream cheese were great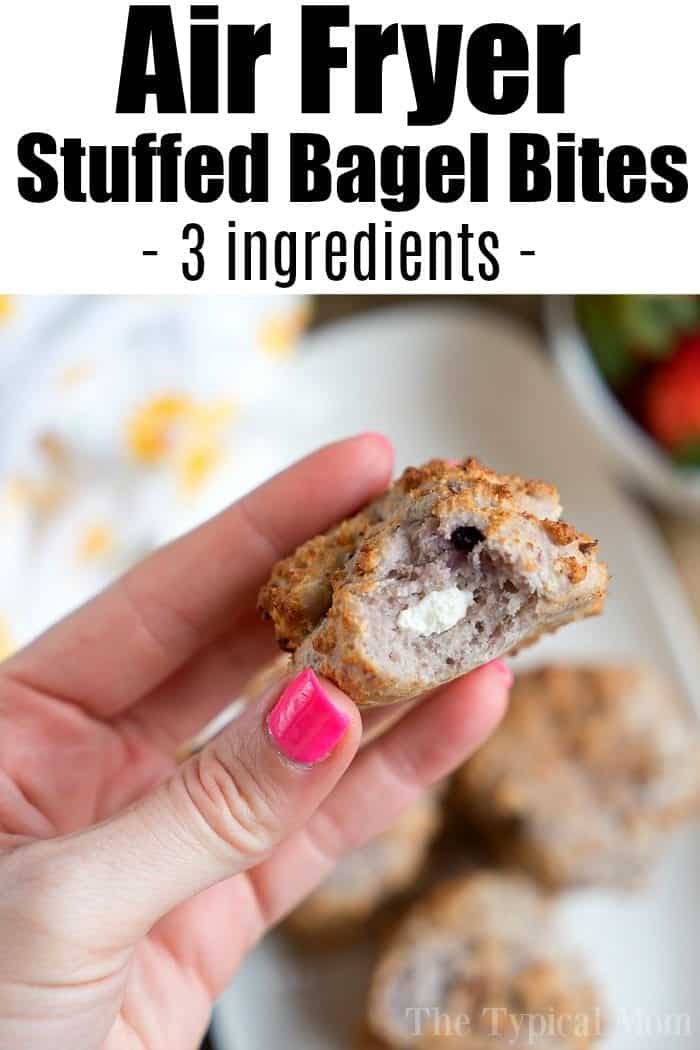 If you are throwing a brunch you'll want something savory too like our air fryer calamari. SO crunchy and flavorful, and something new your guests will love.
This Ninja Foodi breakfast is a keeper too. Make our homemade flour tortilla recipe to make breakfast burritos! Or serve it with frozen pierogies in air fryer.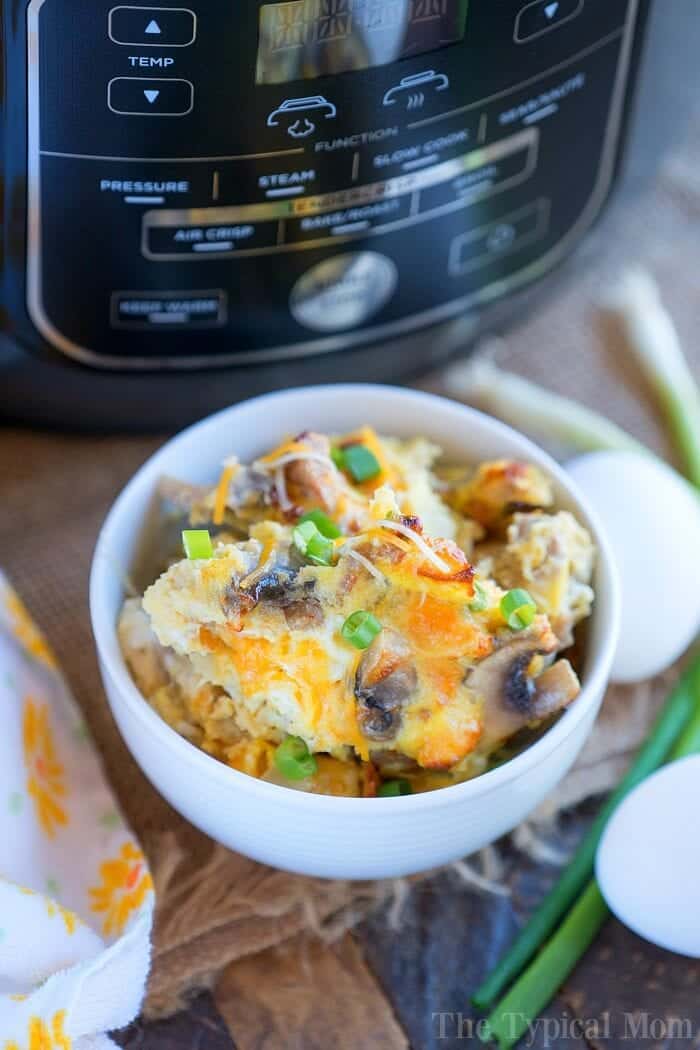 Want to try something totally new? Give these Air Fryer Chanukkah Latkes a whirl some morning!
Yummy pop and enjoy bites come in the form of these "fried" Ninja Foodi artichoke hearts. For an Asian flare, but really easy, try our air fryer won tons recipe here.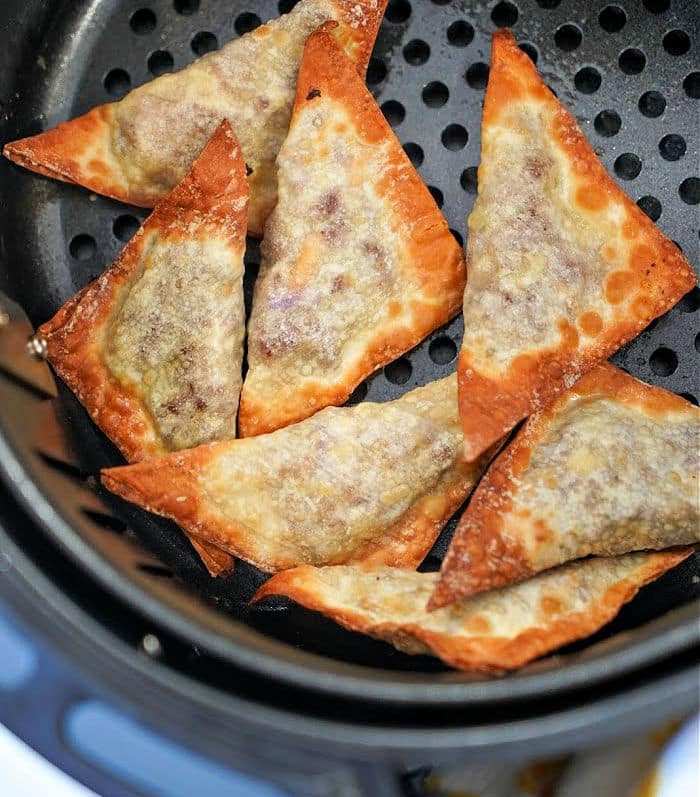 A great healthy option is to make eggs with some air fryer butternut squash cubes. My kids love air fryer chimichangas for dinner, or Ninja Foodi cheese curds for a snack.
Don't overlook the basics though. When it comes to seasonings and herbs it is great to roast those too like our air fryer garlic which is a game changer.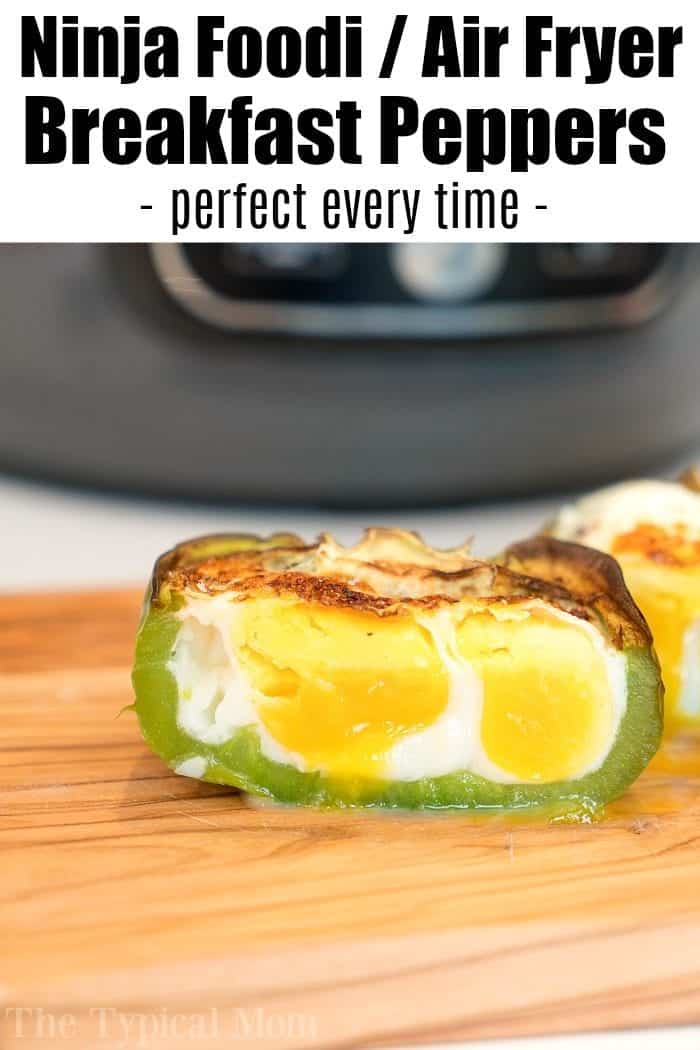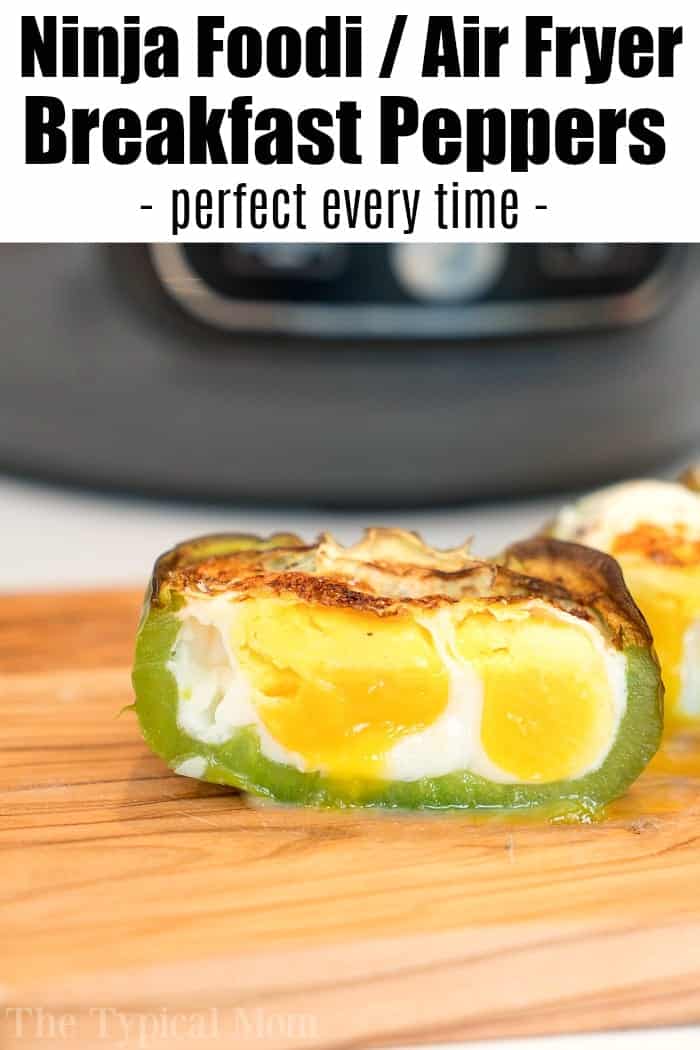 Ninja Foodi dinner recipes
Main dishes and a few snacks / side dishes like making air fryer frozen onion rings are game changers!
We just made Ninja Foodi french fries last night, it's a good one to start with and goes with just about any main dish. Same thing goes with air fryer sweet potato cubes.
Try air fryer corn dogs as a fun and simple after school snacks for the kiddos. My tweens are old enough to make these on their own now!
If you love a great steak, try our air fryer filet mignon or air fryer roast beef recipes. Using our dry rub it will blow you away. Serve with Ninja foodi broccoli and/or Ninja foodi beets for a complete meal.
If you forget to defrost dinner you can still make Ninja Foodi frozen chicken thighs with any of our air fryer zucchini recipes. Air fryer zucchini noodles is probably our favorite duo though.
Then make our air fryer bang bang shrimp dish that is over the top delish. Ninja Foodi General Tsos chicken is pretty darn great too. Make frozen broccoli in pressure cooker as a side dish and enjoy.
Want a killer appetizer? Make air fryer potato skins sometime for a crowd.
If you want some comfort food in a bowl, go for some Ninja Foodi chicken rice soup or chicken crack soup with some bread. For a heartier meal you can make meat and noodles together with this Ninja Foodi chicken alfredo recipe.
Air fryer chicken thighs with air fryer asparagus is a cheap meal. And air fryer turkey breast is great during the holidays.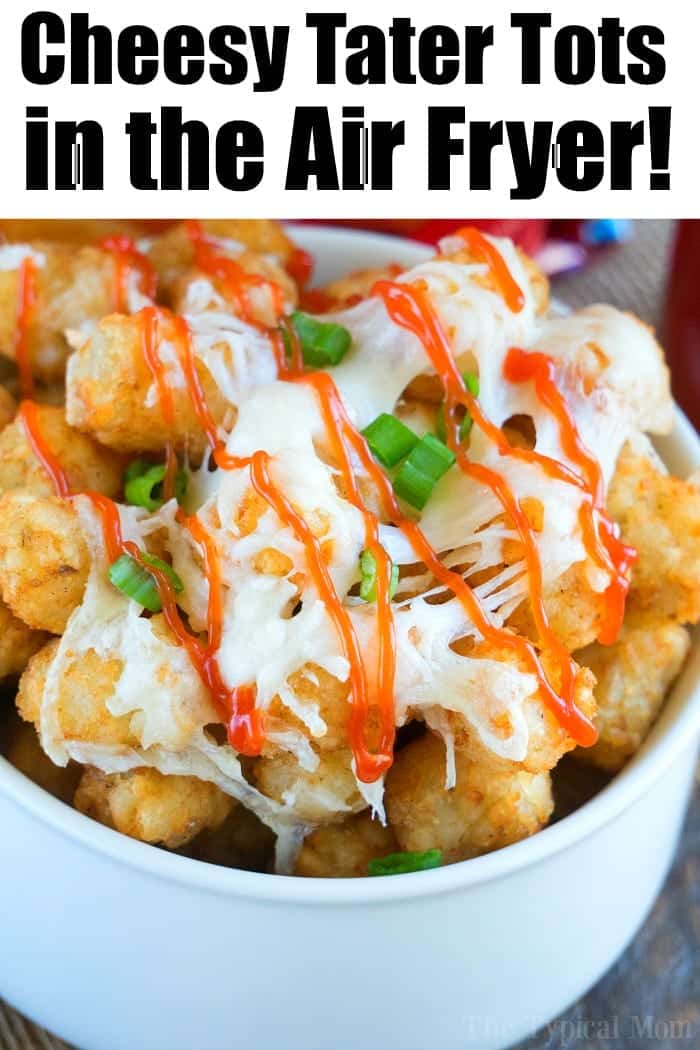 These Ninja Foodi Ribs are just to die for. I use barbecue sauce but you could make teriyaki ribs too. Ninja Foodi cornish hens turn out crispy and delicious every time.
Air fryer turkey legs or air fryer turkey wings are great during the holidays with air fryer garlic bread for sure. Add some flare with this bok choy recipe and enjoy.
OH my and for a snack or quick dinner, try pizza rolls in an air fryer some night. OR make semi-homemade Ninja Foodi hot pockets. If you're having a finger food type of night, add some homemade mozzarella sticks air fryer style.
For an easy seafood meal try frozen salmon in air fryer, air fryer fish and chips, or our air fryer scallops a whirl. You can put any of these inside air fryer fish tacos and load them up with fixings too.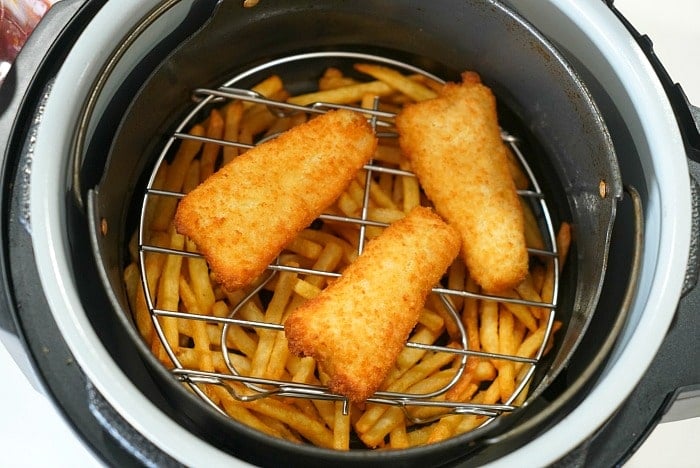 Then try Ninja Foodi pork chops and rice together. You can serve this with a batch of air fryer carrots to add some veggies to your plate.
Healthy pressure cooker cabbage soup is killer during the Fall. And when you have lots of people over for the big game, make Ninja Foodi pork butt with bbq sauce.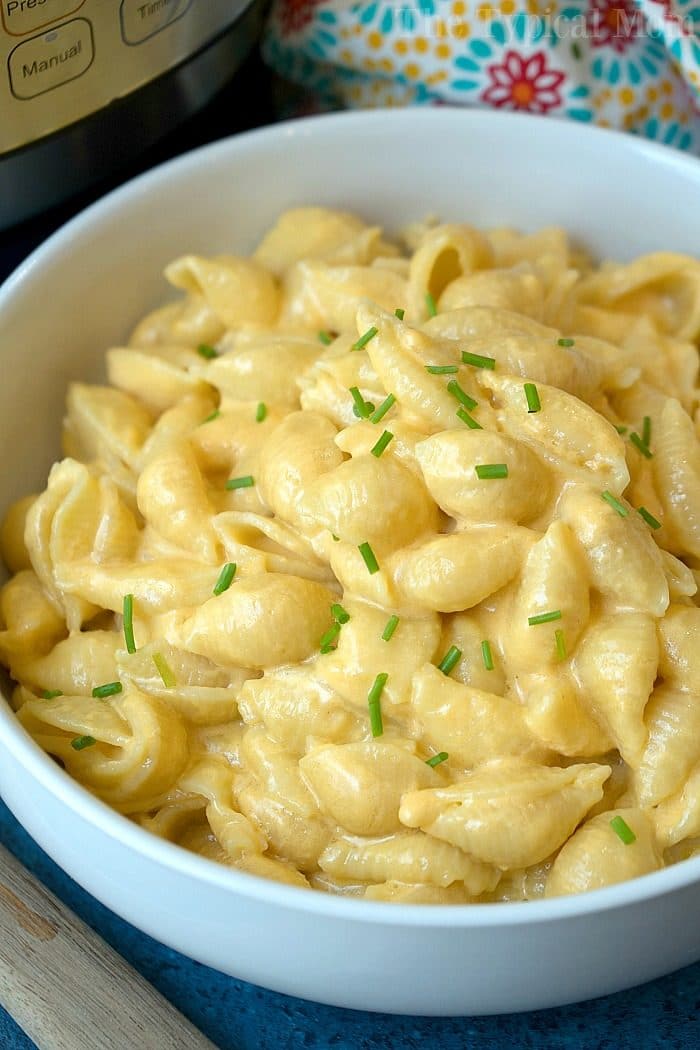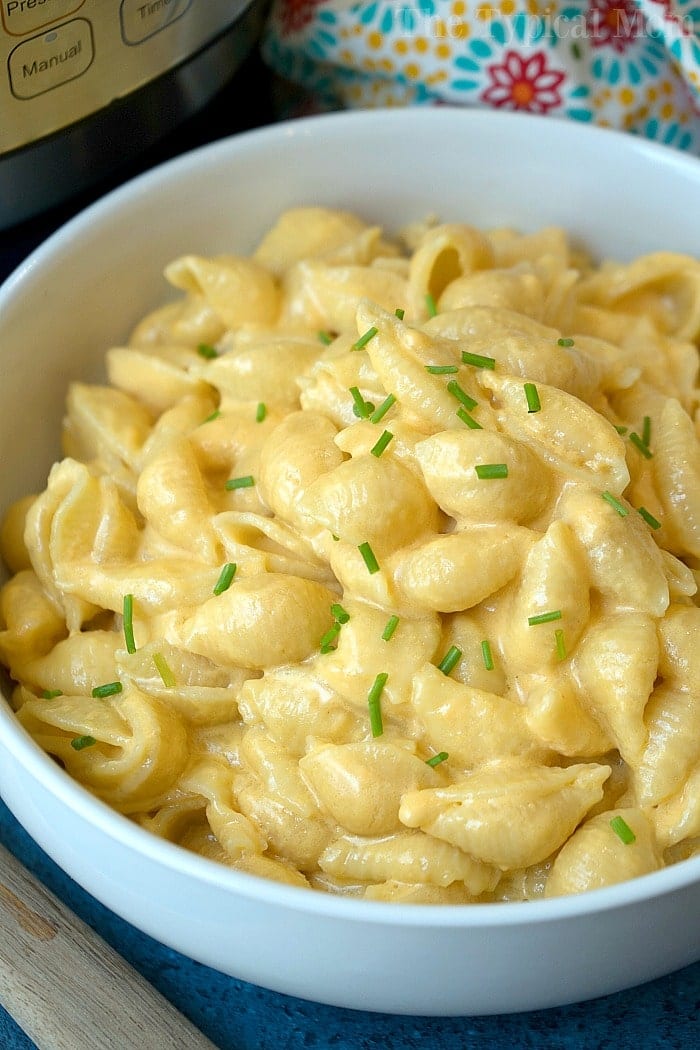 Here are a few more easy Ninja cooker recipes
Make simple with salt and pepper or use our dry rub to make ribeye in air fryer tonight. Serve it with Ninja Foodi Jasmine rice for a complete low fat meal.
Did you know you can cook a pressure cooker frozen whole chicken in the Ninja Foodi (comes in handy when you've forgotten to defrost dinner). Throw some leftovers into Ninja Foodi pad thai and enjoy.
You'll love this air fryer ham for the holidays, or throughout the year too. NO more heating up the oven.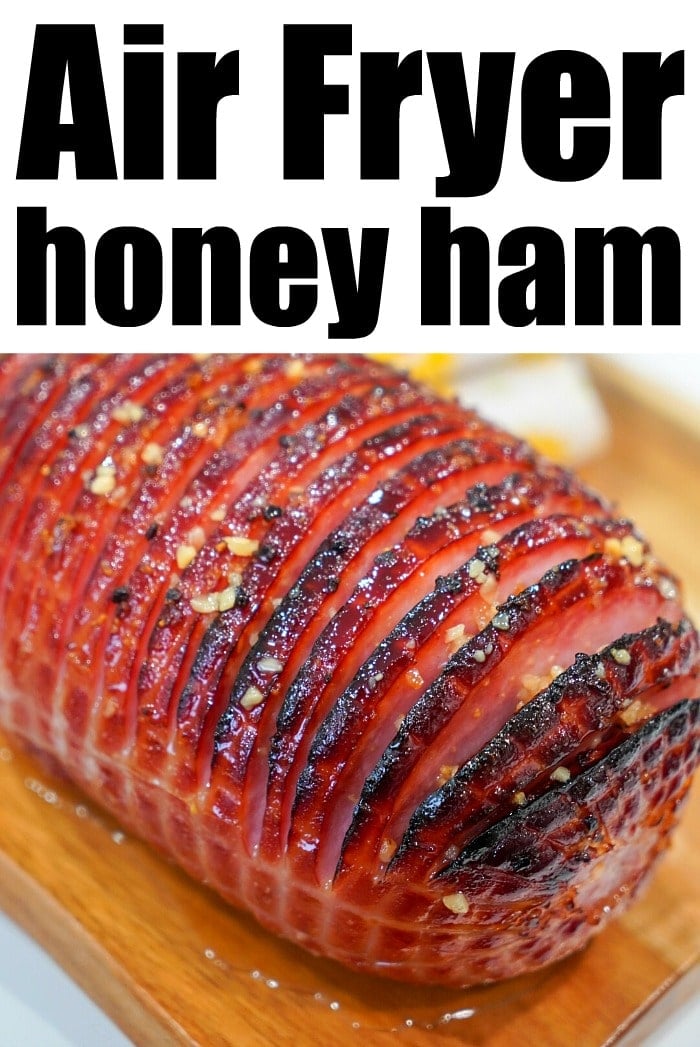 Want a homemade Asian meal? Try air fryer sesame chicken some night.
We share here how to reheat pizza in Ninja Foodi. It is way better than the microwave y'all. BUT can. I tell you our favorite meal ever?? Air fryer tri tip tops the list for sure.
Want to be a hit with the kiddos? Try pressure cooker porcupine meatballs some night.
8 Ninja Foodi cabbage recipes are here too. I didn't find a love of this green veggie until I was older but now I love it.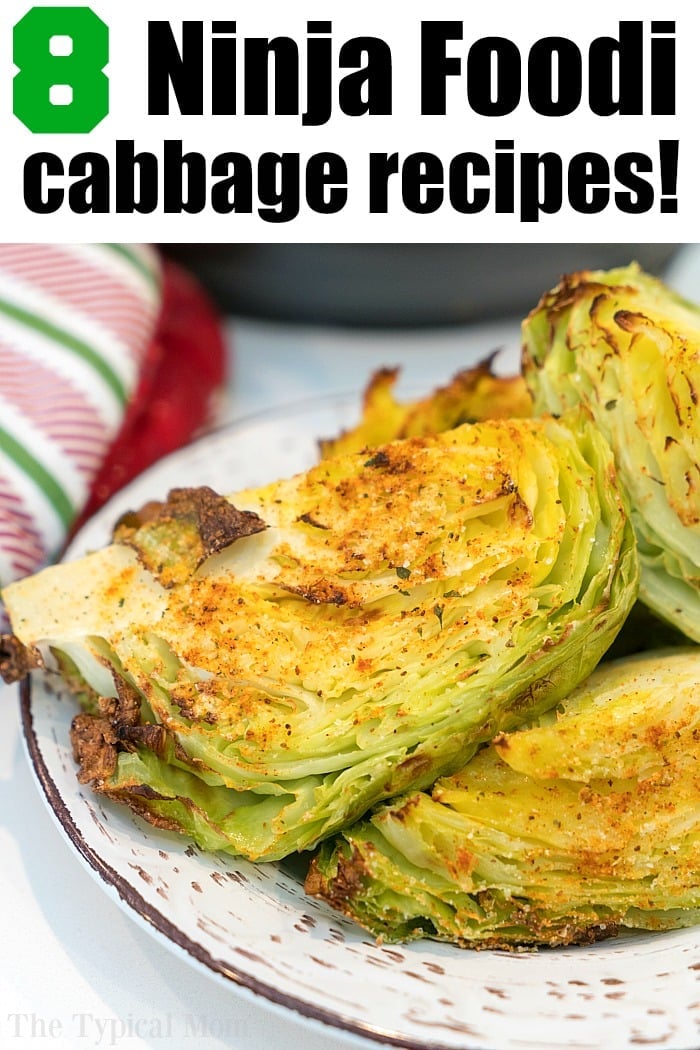 Then try making a Ninja Foodi tri tip or Ninja Foodi brisket with gravy in one pot. OR if you want something different, try air fryer falafel some night.
Want a really easy meal? You can throw a frozen pork butt in pressure cooker and walk away. Also, try a frozen turkey burger in air fryer dressed all up.
Fried air fryer oysters are a great snack, appetizer or meal. Pair them with a salad and air fryer croutons for a full meal. If you love Japanese food, give our Ninja Foodi chicken katsu a whirl.
Give our air fryer flautas stuffed with beef, chicken or pork a whirl some night. Or in the summertime, we love Ninja Foodi country pork ribs.
This Ninja Foodi roast recipe with mushroom gravy is great. You can also try Ninja Foodi roast beef, medium rare or tender and shredded.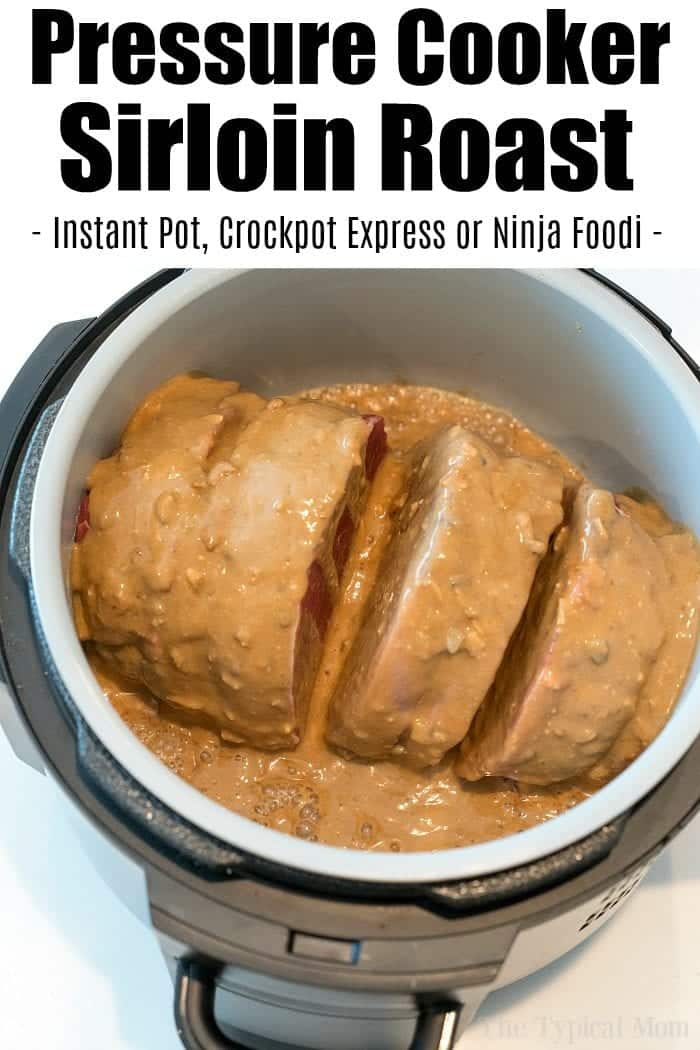 You can also grab this Ninja Foodi Cookbook for beginners with tons of ideas.
We love throwing our frozen dinners in there and it's so good like air fryer orange chicken and more.
How about some pressure cooker cashew chicken for dinner!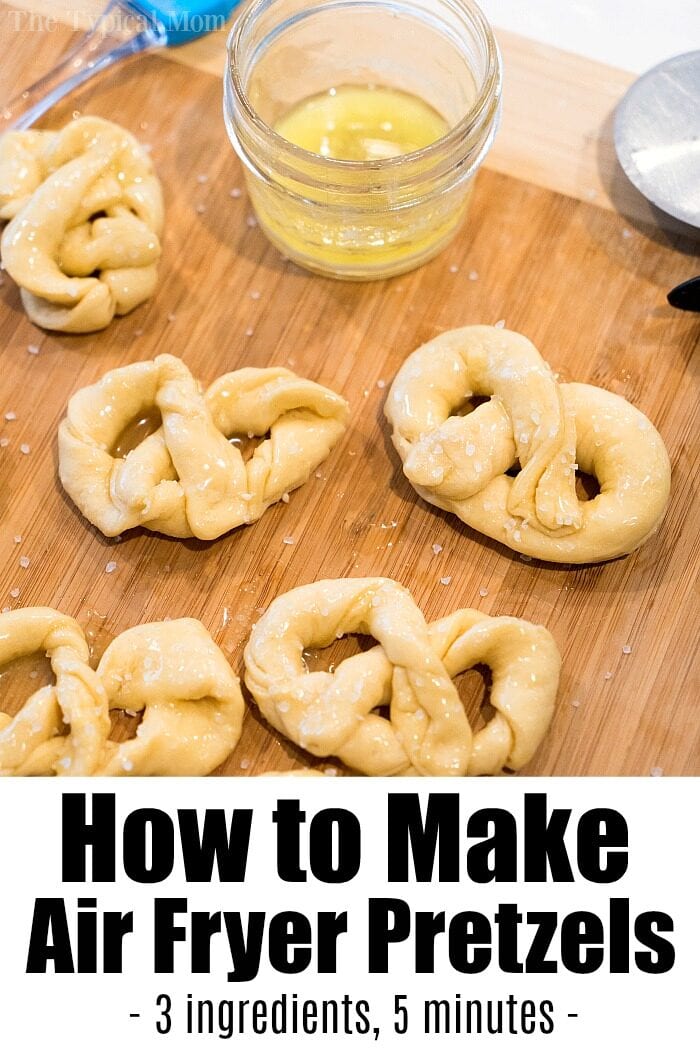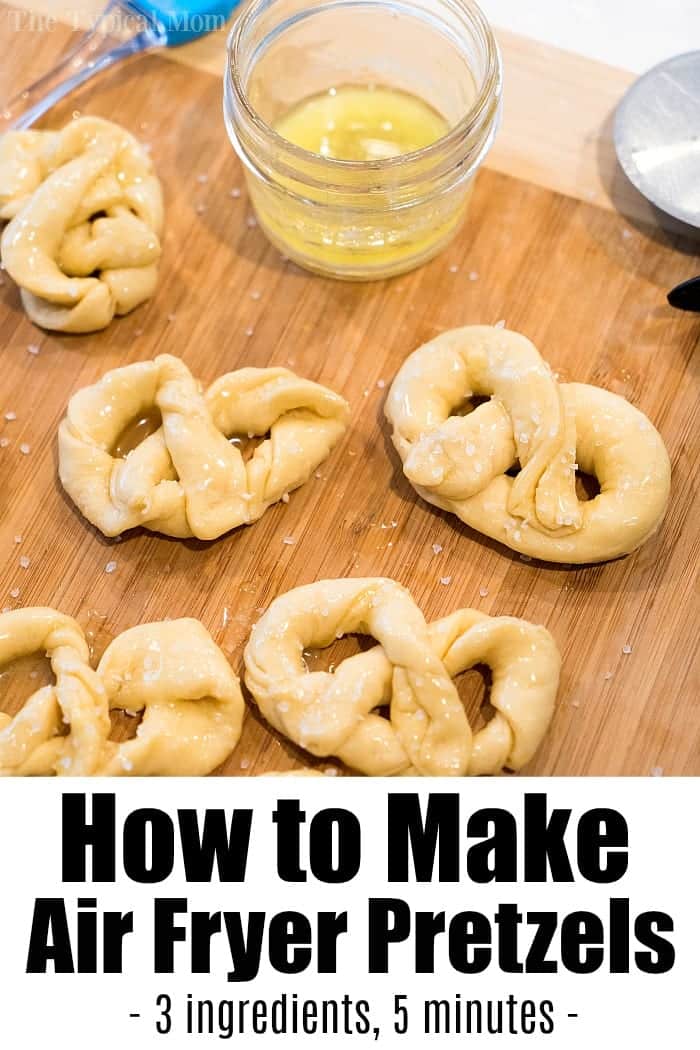 Looking for more easy Ninja Foodi recipes to try using the air fryer function??
Ninja Foodi chicken cordon bleu we made wrapped in dough and air fried so it was like a hot pocket of sorts.
Take a few extra minutes and make these homemade air fryer fish nuggets for you and your kids.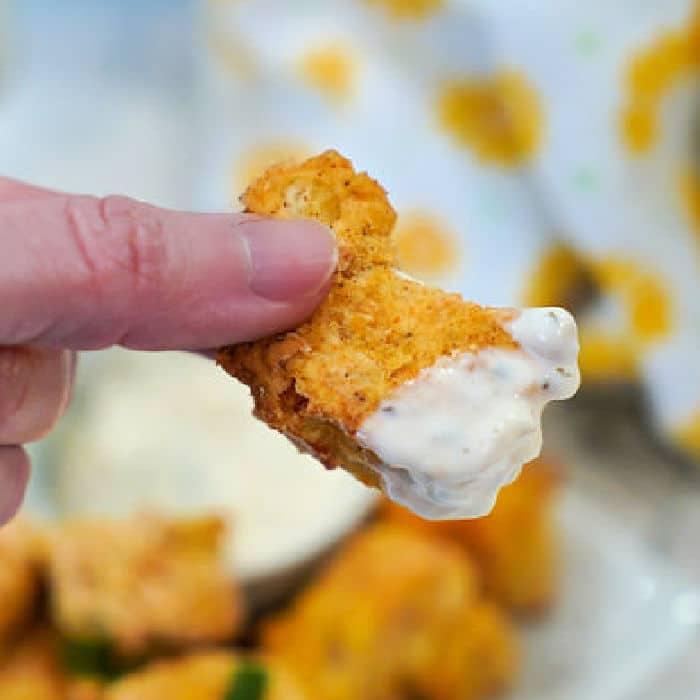 Then you can make a batch of air fryer tofu bites that are incredible and a healthy snack.
Speaking of that….try some Ninja Foodi popcorn some movie night with your kiddos for fun.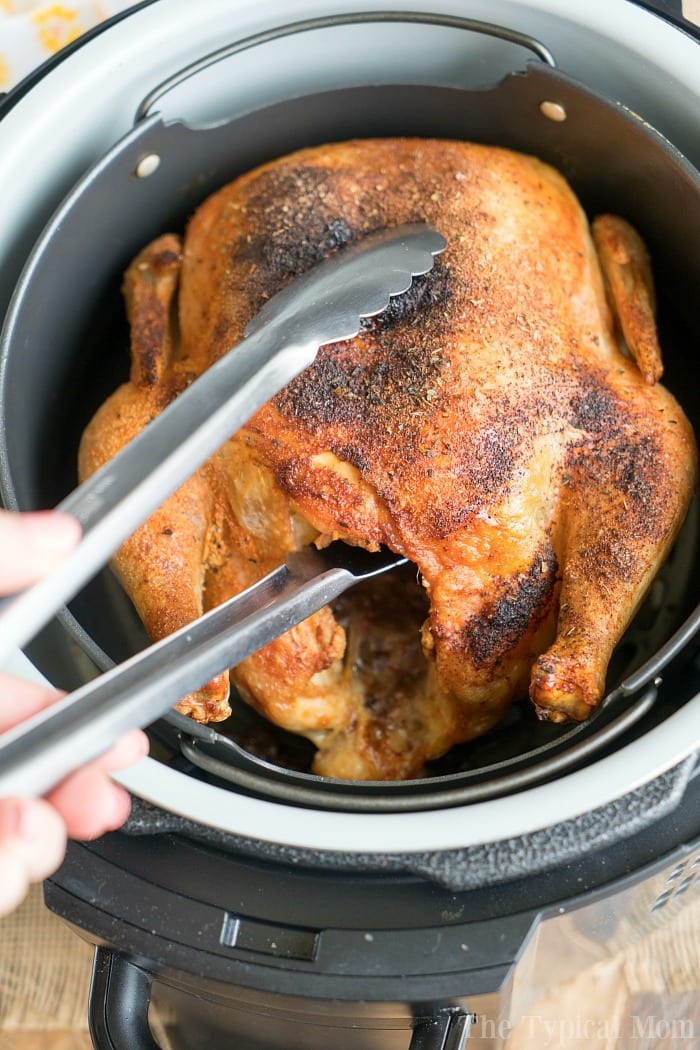 You can try our Monte Cristo in air fryer recipe some time too. Many times if I have steak on hand I will make a batch of rice and Ninja Foodi beef and broccoli!
Ninja Foodi chicken recipe
Easy Ninja Foodi Recipes
This Ninja Foodi recipe is how to cook a whole chicken in your air fryer and pressure cooker machine! Best rotisserie style chicken ever.
Instructions
Rinse chicken and remove any items from inside bird. Dry with paper towels.

Rub olive oil all over outside skin and place whole chicken with breast side down into the air fryer basket.

Sprinkle half the seasonings on chicken skin facing the top and close your air crisp lid.

Set to air crisp at 360 degrees for 30 minutes.

Then lift air crisp lid and flip chicken over to the other side.

Spray with a bit of olive oil spray and sprinkle the rest of your seasonings on the chicken that is now facing up.

Close lid and continue cooking at 360 degrees for 30 more minutes.

Remove and always use meat thermometer to ensure it is cooked thoroughly before consuming. Enjoy!
Nutrition Facts
Easy Ninja Foodi Recipes
Amount Per Serving (3 oz)
Calories 337
Calories from Fat 234
% Daily Value*
Fat 26g40%
Cholesterol 95mg32%
Sodium 3190mg139%
Potassium 240mg7%
Carbohydrates 1g0%
Protein 24g48%
Vitamin A 178IU4%
Vitamin C 2mg2%
Calcium 18mg2%
Iron 1mg6%
* Percent Daily Values are based on a 2000 calorie diet.
And on to more one pot pressure cooker recipes that are kid friendly too. And always, you should try something new like air fryer eggplant, you might be surprised that they love it!
Ninja Foodi chili is made with just a few ingredients and great inside potatoes.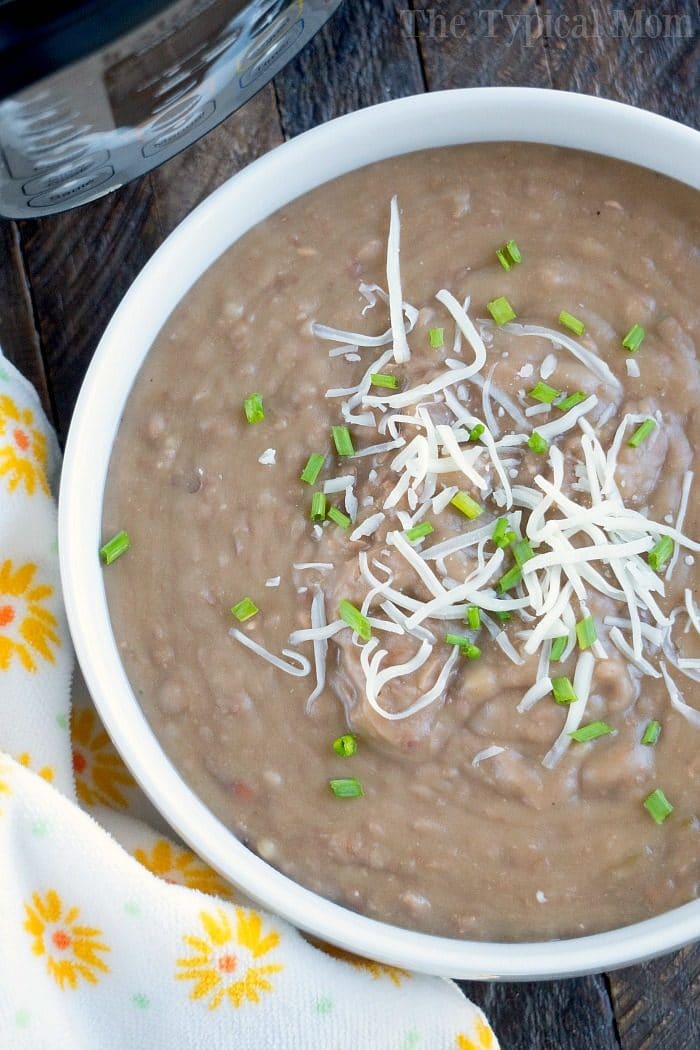 We're not done yet though! For another Ninja Foodi food recipe you should try our pressure cooker jambalaya recipe! Use spicy andouille sausage for whopping flavors everyone is sure to love at dinnertime.
There are a bunch of stew meat recipes you can make in your Foodi that come out fall apart tender.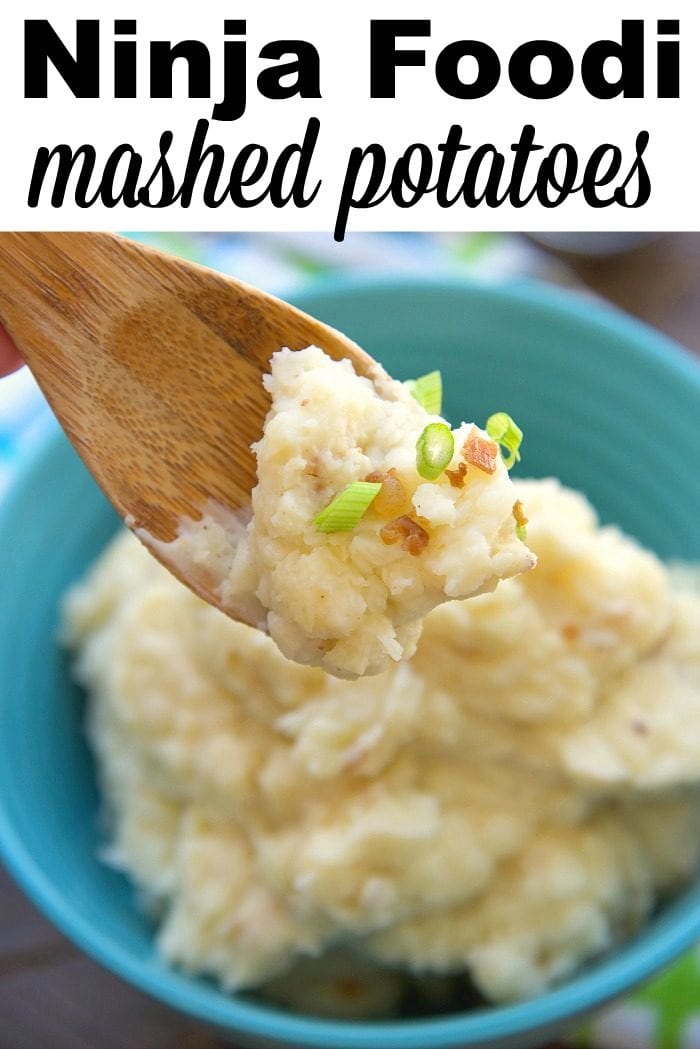 If you love cheese cheese and more cheese you're going to love our Ninja Foodi taco pasta dinner too.
If you're looking for low carb we have this Ninja Foodi spaghetti squash pizza pasta that is yummy.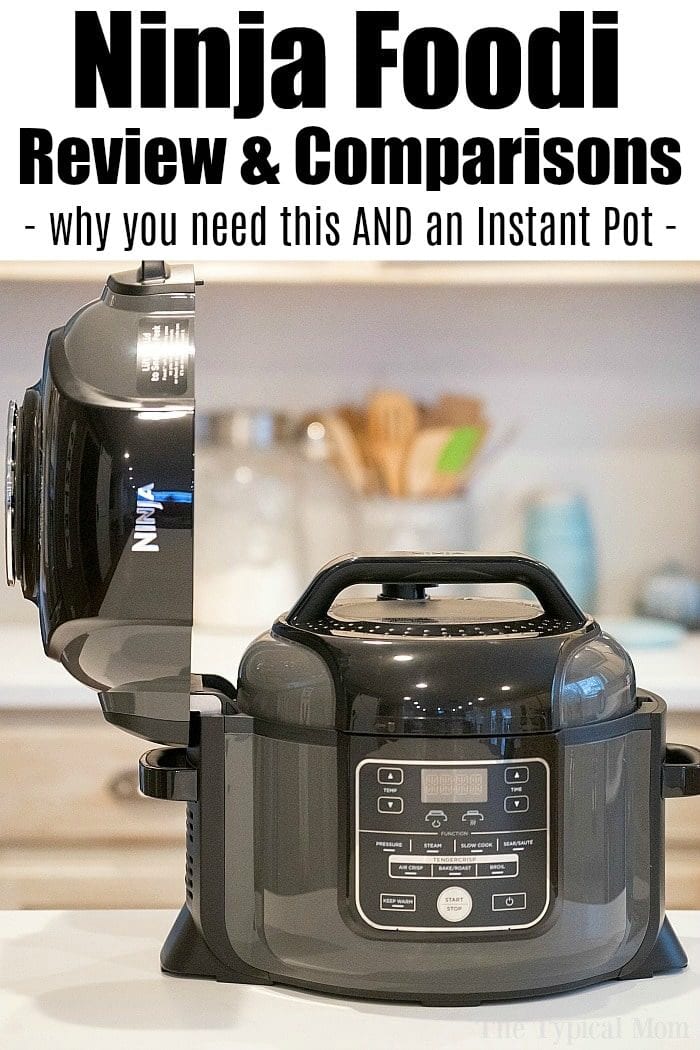 Then try our air fryer egg rolls or if you like frozen egg rolls in air fryer instead, they're great too. Then try a batch of bbq Ninja Foodi chicken legs for dinner.
Now our air fryer stuffed peppers have a lot of flexibility. Made with ground beef is great but add some spicy sausage into the mix makes them out of this world I tell you.
A fun snack are these air fryer carrot fries. Tastes close to sweet potato fries but homemade.
For dessert try this pressure cooker lava cake that is amazing…and air fryer monkey bread too.
Air fryer meatballs are keto and low carb goodness.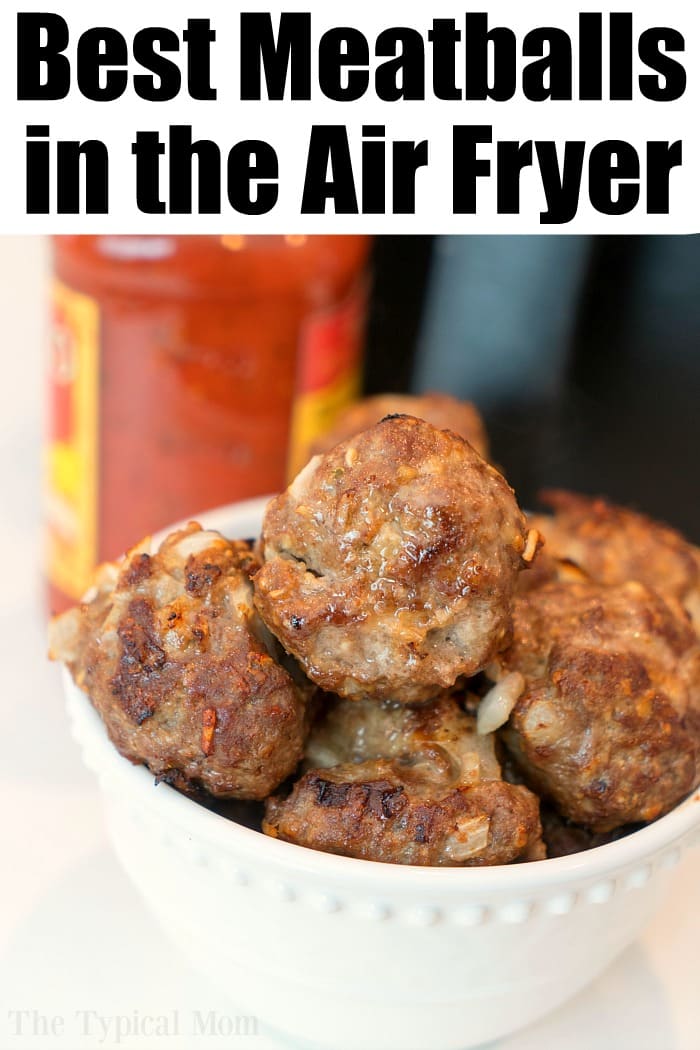 Looking for Ninja Foodi vegetable recipes?
We have a bunch for mixed squash, zucchini, cauliflower and more! Let's get to eating healthier this year shall we?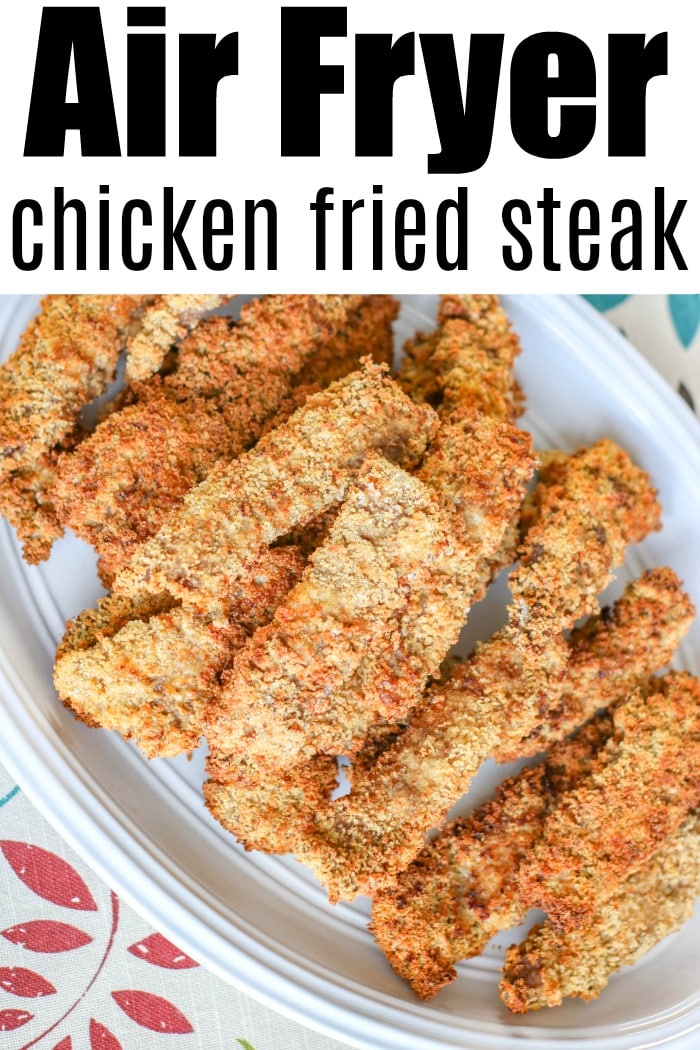 If you love one pot meals with pasta and protein in one, try our pressure cooker lemon chicken casserole. In just a few minutes with a quick release, you'll have a complete dinner in no time.
Just a note: Making slow cooker recipes in your pot are possible, but not recommended by me. I have tried a few in all the different pressure cookers I own and it doesn't work well at all. Just use your good old fashioned crock for those.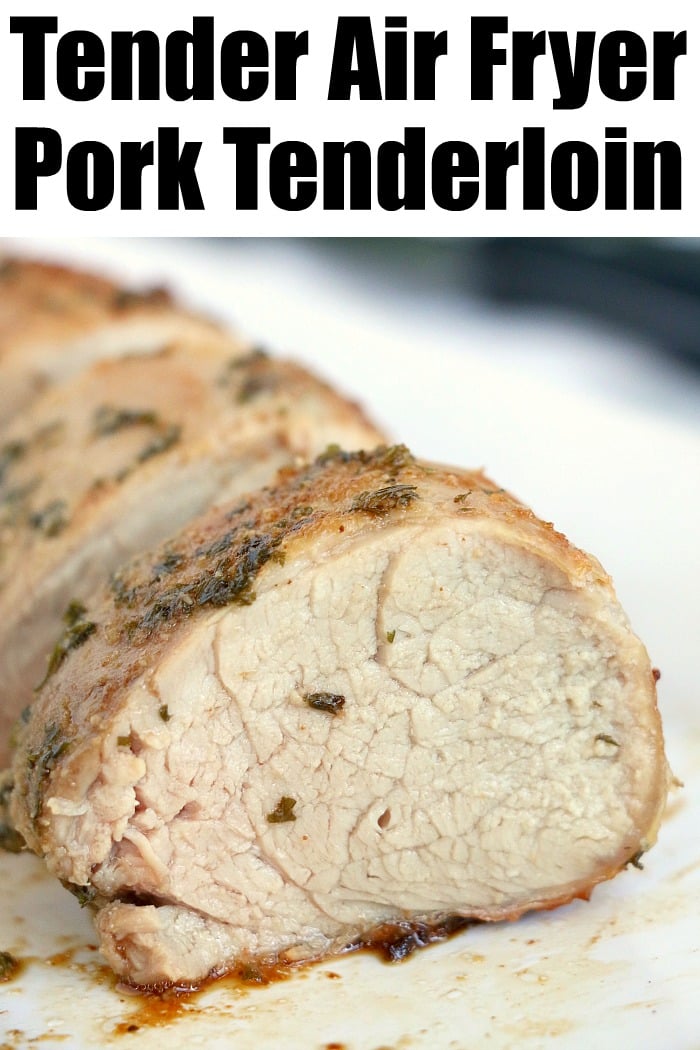 But we're not done yet! We have created a few other Foodi and air fryer dinner recipes you can try like:
If you want to try everything in it, give frozen pizza in air fryer a whirl.
OR on a healthier note, try frozen fish in air fryer and pair it with some rice. We have a bunch of other easy air fryer fish recipes to try as well like Ninja Foodi catfish and more.
Then I had a large piece of beef I wanted to cook. I made a homemade marinade, soaked it overnight and made this to die for air fryer roast!
And during the Fall, air fryer pumpkin pie is a must. If you want something a little lighter you can try our air fryer peaches.
Then go on and try to make a few air fryer cookies y'all! Small batches are great so they're always fresh and NO need to heat up your oven. You can even make an air fryer pizookie now too.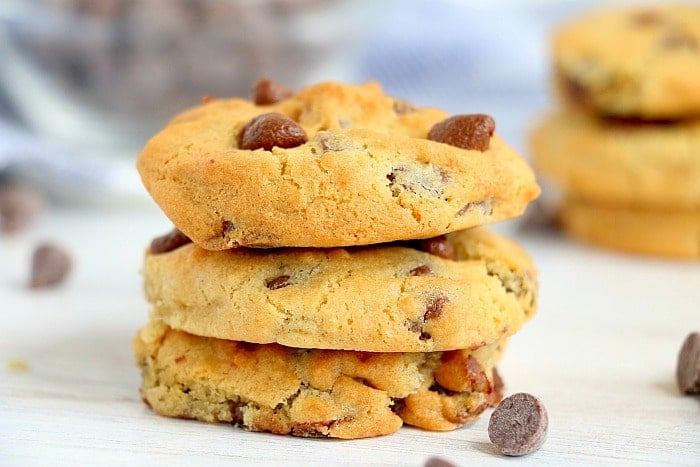 We love a frozen burrito in an air fryer or air fryer sweet potato chips as a quick snack. Over mashed potatoes we love a dinner of Ninja Foodi pot roast. OH MY is this tender and delicious.
Using our very popular dry rub we made air fryer steak bites that were out of this world!!
There's a new device on the market now too for dessert. You can now try the Ninja Creami ice cream machine which we love.