Air fryer fried green tomatoes are easier to make crispy delicious than you might think! How you can make your favorite low carb, keto crunchy vegetable side dish tonight. We have done something similar with other air fryer vegetables without breading but now it's time for crunch!
Have you tried making air fryer green tomatoes yet? Are they one of your favorite foods but haven't attempted them homemade yourself? We'll show you how to make this easy air fryer recipe right here. (originally published 7/20, affiliate links present)
Air Fryer Fried Green Tomatoes No Cornmeal
Yes the movie is great, that is what took me down this journey. Before that I hadn't tried them but boy they went on and on about them. They definitely didn't disappoint and even my kids thought they were amazing. The whole batch didn't take long to consume once they were done at my house.
I started this whole thing by roasting tomatoes in this same machine. I did this with some jalapenos and onions so I could blend it all and make a killer salsa. That got me thinking beyond that idea once we enjoyed it.
FIRST – You should sign up for my free newsletter so you get new posts emailed to you twice a week and never miss out on anything! If you love air fryer recipes too, here are some resources to start with: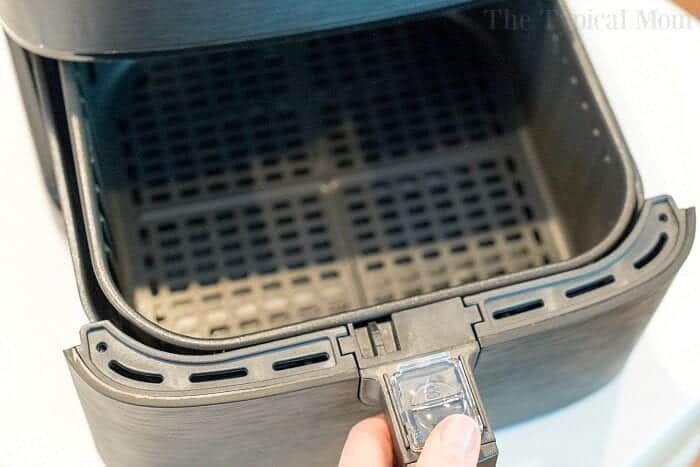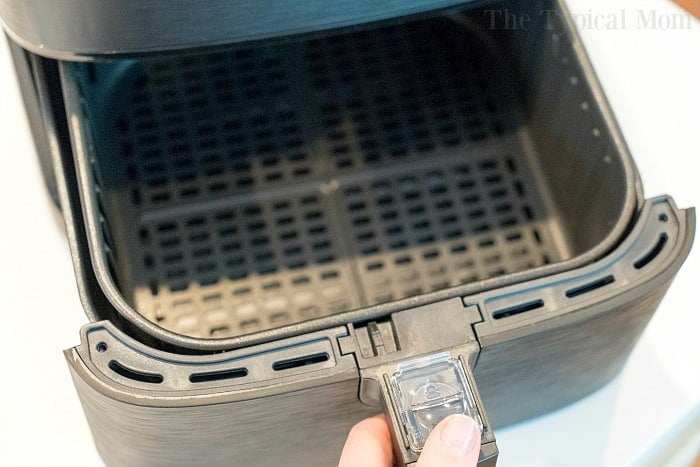 Air Fryer Fried Green Tomatoes Panko
Instead of cornmeal we are going to use breadcrumbs instead. Panko is lighter and crispier than the original version. Basically the difference between the two is one has the crust on and this one is just the middle white fluffy part.
Air Fryer Fried Green Tomatoes No Egg
If you cannot use this ingredient there are other choices. You just need to use something to get the outsides to stick well. Other alternatives would be plain Greek yogurt or mayonnaise.
Are green tomatoes just unripe tomatoes?
There are two types; those that are green when fully ripe (generally heirloom varieties), and yes, unripe tomatoes are green as well. We are referring to the first variety.
Where can I get green tomatoes?
You may be able to find some at Whole Foods, Trader Joe's, or the best places would be at your local farmers market! It is always best to use locally grown, in season vegetables and fruits when cooking or baking.

This way you will ensure a fresh flavorful bite each and every time.
What can I do with all my green tomatoes
?
We have just a few ideas here but the possibilities are endless really. Put large chunks on your chicken kabobs or Some like to make homemade jam with them.
Are green tomatoes seasonal?
In the Northern states, people tend to eat green tomatoes in late summer or fall, just before the peak of harvest. In the South, tomatoes can be red and juicy as early as May and June.
Fresh green tomatoes are enjoyed all season long there, lucky them. Actually, in these areas they're so popular that local supermarkets actually import them during the off-season.
Pork Rind Fried Green Tomatoes
Once you found what you're looking for you'll want to create a sort of breading assembly line of sorts. We used pork rinds so they'd be low carb but you could opt for breadcrumbs if you'd rather. First you are going to preheat air fryer to 350 degrees F for 5 minutes.
In 3 shallow dishes you'll need to mix flour, salt, pepper and paprika in one.
In another whisk together your egg and heavy whipping cream (or eggs and buttermilk) together.
The final shallow bowl will have crushed pork rinds.
One at a time dip the tomatoes into the flour mixture, then into the egg mixture, and finally coat with rinds.
Place coated green tomatoes into air fryer basket in a single layer, not overlapping. Cook for 4 minutes, then flip for 4 more. For extra crisp, spray with olive oil on last round until golden brown.
Lay inside paper towels to keep warm until they're all done.
We love them with pico de gallo salsa to dip, or fry sauce is wonderful too.
If you have the slices ready to can create an assembly line of sorts and prepare them rather quickly. If you have a large air fryer you can fill it with quite a few pieces.
I don't think it is entirely necessary to use olive oil spray but if you like it really crispy on the outside you could. Flipping halfway is important to get it crunchy all the way around but tender inside.
Air fried green tomatoes
What is the best part really is the coating on the outside. If you use pork rinds like we did it will be keto friendly. Instead you could opt for Italian seasoned breadcrumbs too. Panko mixture works for some too if you like.
Green tomatoes
Pork rinds
Heavy whipping cream
Egg
Flour
Paprika
Salt and pepper
I suppose you could follow the same directions with sliced firm red tomatoes but I dunno, I haven't tried that. Air fryer cooking is the bomb y'all.
Fried Green Tomato Recipe
You can also pickle them if you have more left over! Since they are firm, green tomatoes hold up well in a brine.

Use these instructions to pickle vegetables and let us know what you think!

Some like to just snack on them with just some salt and pepper!
Try our tomato bisque soup recipe next too!
You can print our air fryer green tomato recipe below if you want, or just come back because we love "seeing" you.
Want to see a few of my favorite things that I am totally obsessed with?? Take a peek and see how many you might already have…twinsies!
Looking for more easy family recipes and tips? LIKE The Typical Mom Facebook page?
Then sign up for my free newsletter, and follow me on Pinterest! 😉
***** If you LOVED this recipe give it 5 Stars below and let everyone know what you thought about it. 😉
Air Fryer Fried Green Tomatoes
Air fryer fried green tomatoes are easier to make crispy delicious than you might think! How to make your favorite crunchy vegetable side dish tonight.
Instructions
Mix flour, salt, pepper and paprika in a shallow dish.

Whisk egg and heavy whipping cream in another shallow dish. Slice tomatoes 1/4"-1/2" thick, the thinner the softer they will become.

In a third dish lay crushed pork rinds. Preheat air fryer for 5 minutes to 350 degrees.

Dip each tomato slice into the flour mixture to coat, allow excess to fall off. Then dip both sides in egg mixture, then into pork rinds. Softly press on both sides so it sticks nicely and allow excess to fall off.

Put into air fryer basket without overlapping any of the pieces.

Cook for 4 minutes on each side, then check to see if you want them crispier. If so add 1 minute at a time until they're done to your liking.
Nutrition Facts
Air Fryer Fried Green Tomatoes
Amount Per Serving (2 oz)
Calories 69
Calories from Fat 18
% Daily Value*
Fat 2g3%
Cholesterol 26mg9%
Sodium 77mg3%
Potassium 79mg2%
Carbohydrates 8g3%
Protein 4g8%
Vitamin A 285IU6%
Vitamin C 7mg8%
Calcium 7mg1%
Iron 1mg6%
* Percent Daily Values are based on a 2000 calorie diet.