Healthy Ninja Foodi recipes you can make with chicken, beef, vegetables and more. For breakfast, lunch or dinner you'll love these!
Now that you have your new small kitchen appliance, you'll need some healthy easy Ninja Foodi recipes too. We have a bunch to choose from! (affiliate links present)
Ninja Foodi Recipes Healthy
I will tell you, your new pressure cooker and air fryer is a game changer and can do it all. Ok, so it doesn't do my laundry (I wish) but can cook just about everything.
My oven hasn't been used in a while. I sometimes hear it crying but don't feel guilty at all. 😉 Air fryer recipes are just so out of this world, I use this thing on a daily basis.
If you need to know how to cook frozen meat in a pressure cooker, we have information on that. NO, you aren't the only forgetful one. 😉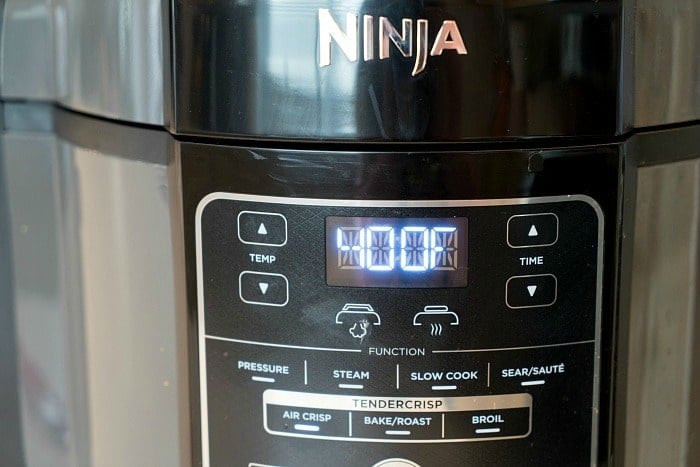 I have the oldest, first model, as you can see here. It doesn't matter whether yours is the updated version, is white or red, the Ninja Foodi recipes below will work for you.
Let's start with the beginning of the day. If you want a bit of a treat you can "bake" some air fryer donuts, or just have one donut hole.
OR start with a low carb air fryer recipe like this egg dish filled with meat and/or veggies, our favorite add in is mushrooms. Think outside of the box. Instead of using all purpose flour and making bread style pancakes, try cauliflower pancakes using the air crisp mode for a side dish.
Ninja Foodi Egg Recipes
Ninja Foodi Breakfast
Ninja Foodi Breakfast omelette is here! Filled with eggs, cheese and even ground sausage or bacon this will be your favorite air fryer breakfast ever!
Check Out This Recipe
If you don't want to make such a large meal, we have another option though! If you love Starbucks egg bites (like I do) you'll go crazy over these because you can customize them to your liking.
You can either use the pressure cooking function for Ninja Foodi egg bites, poached eggs, or use fun silicone muffin cups and make these! My kids love a few air fryer apple chips for sweetness on the side too.
I kinda' love the air crisp function better because you get a bit of crisp on the top as you see.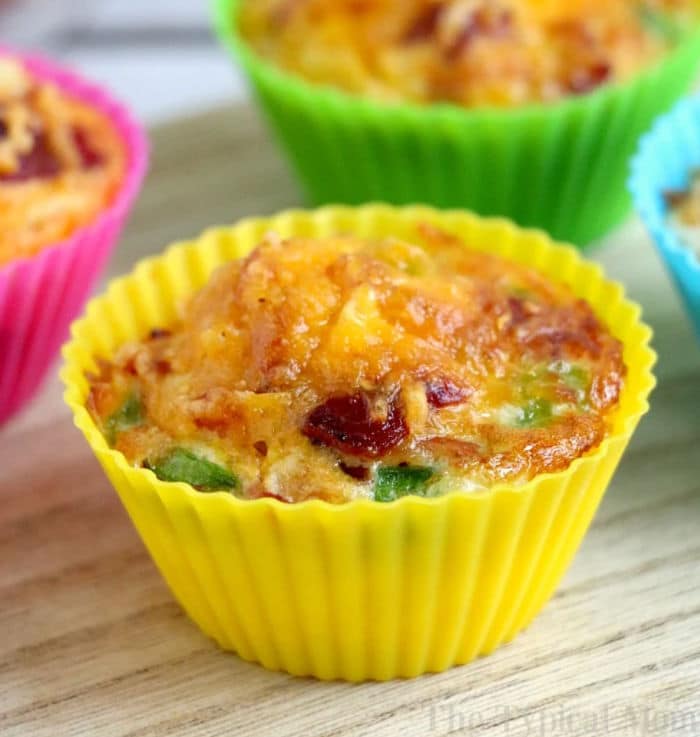 Air Fryer Egg Bites
Air fryer egg bites filled with bacon, cheese and onions are the best low carb and keto breakfast idea ever! Like Starbucks egg bites but customized!
Check Out This Recipe
Ninja Foodi Healthy Recipes
Let's move on to lunch and dinner now. I mean you can easily make breakfast this time of day, or for dinner but you know what I mean….
There are LOTS of Ninja Foodi chicken recipes you can choose from but I will share a few of the healthiest ones. I love them all with broccoli or pressure cooker bok choy.
Unlike frozen air fryer chicken tenders, there is a way to make tasty finger foods with NO breading at all.
Air Fryer Chicken Tenders no Breading
Air fryer chicken tenders no breading recipe is my kids' favorite meal! Barbecue strips of chicken breast cooked to perfection in no time. #airfryer #airfryerchicken #chickentenders
Check Out This Recipe
Low Calorie Ninja Foodi Recipes
With some barbecue sauce on top, everyone loves these and our Ninja Foodi chicken legs! OR here's how to make frozen chicken in Ninja Foodi. Serve with a side of brown rice and you're set for a yummy meal.
I mean there are a ton of side dishes you can make with these main dishes like Ninja Foodi potato wedges. I will share more of those below.
What if dinner is soon but you forgot to defrost your chicken breasts?? Yep, I do this too and we have an answer to how to cook air fryer frozen chicken wings AND this…..
Frozen Chicken Breast in Air Fryer
Tender frozen chicken breast in air fryer is so easy to make! Great hack if you forget to defrost your chicken but dinner is just minutes away.
Check Out This Recipe
Heart Healthy Ninja Foodi Recipes
I use the pressure cook and air crisp functions only. I tried the Crock pot / slow cook function and like the Instant Pot, it doesn't work well. Just use your old fashioned pot for those recipes really. But when it comes to large cuts of meat like Ninja Foodi Mexican pot roast there is no substitute.
If you love chicken thighs we have a few options as well that go great with Ninja foodi wild rice. That has more texture than white and more fiber too.
Cooked whole they're great but diced up with a sweet sauce served on top of fluffy Ninja Foodi rice, it is my girls' favorite meals. Take a look at another option below: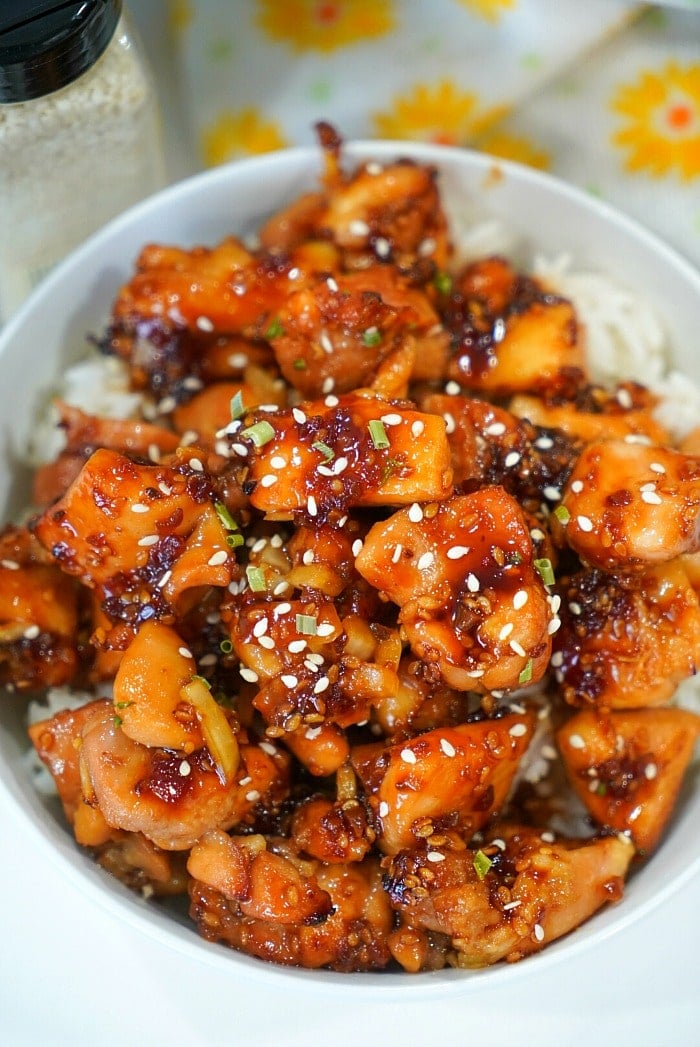 Air Fryer Teriyaki Chicken
Air fryer teriyaki chicken turns out delicious! With a thick flavorful sauce, you can now make tender marinated chicken in no time at all.
Check Out This Recipe
Now on to something out of the sea. If we could eat fish and seafood every single day we would, even my kids.
From fresh to frozen we have tips for how to make it come out incredible every single time you make it.
Ninja Foodi Fish Recipes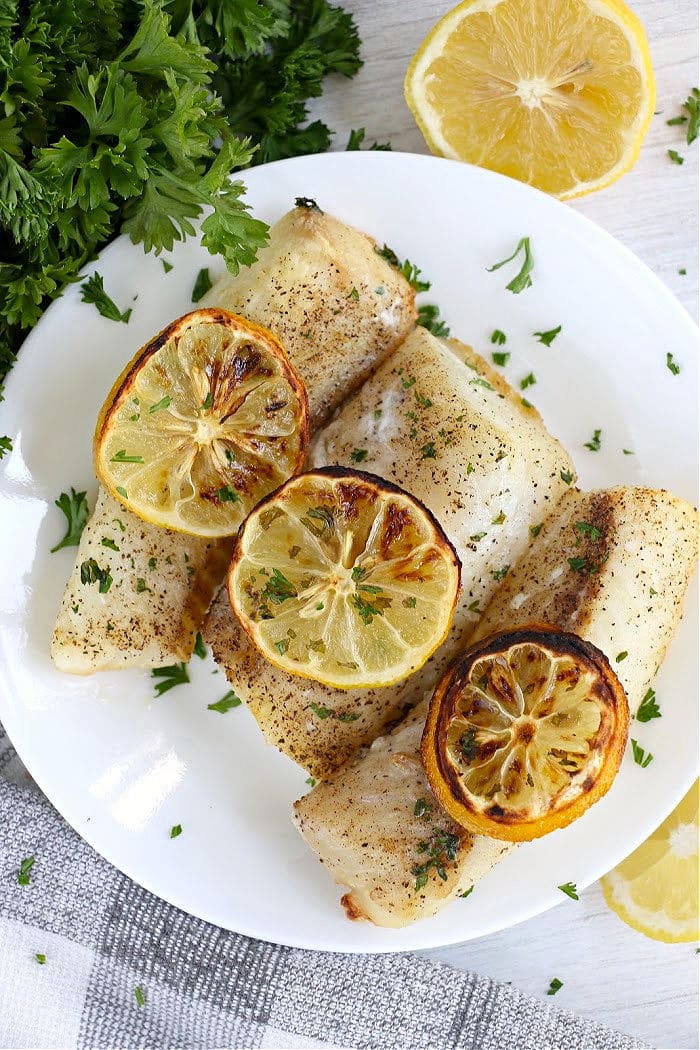 Air Fryer Fish
Air fryer fish recipe with no breading is here. Lightly seasoned fillets are healthy and cooked fork tender in just a few minutes.
Check Out This Recipe
Above is a roundup of all different types of fish and how to cook them in your pot. From air fryer salmon, to air fryer fried shrimp they're all so good. You don't need a lot of breading either, our air fryer mahi mahi doesn't.
We probably use this air fryer tilapia recipe the most often though.
Forgetful? Me too. You can even cook frozen fish in Ninja Foodi to perfection I tell you.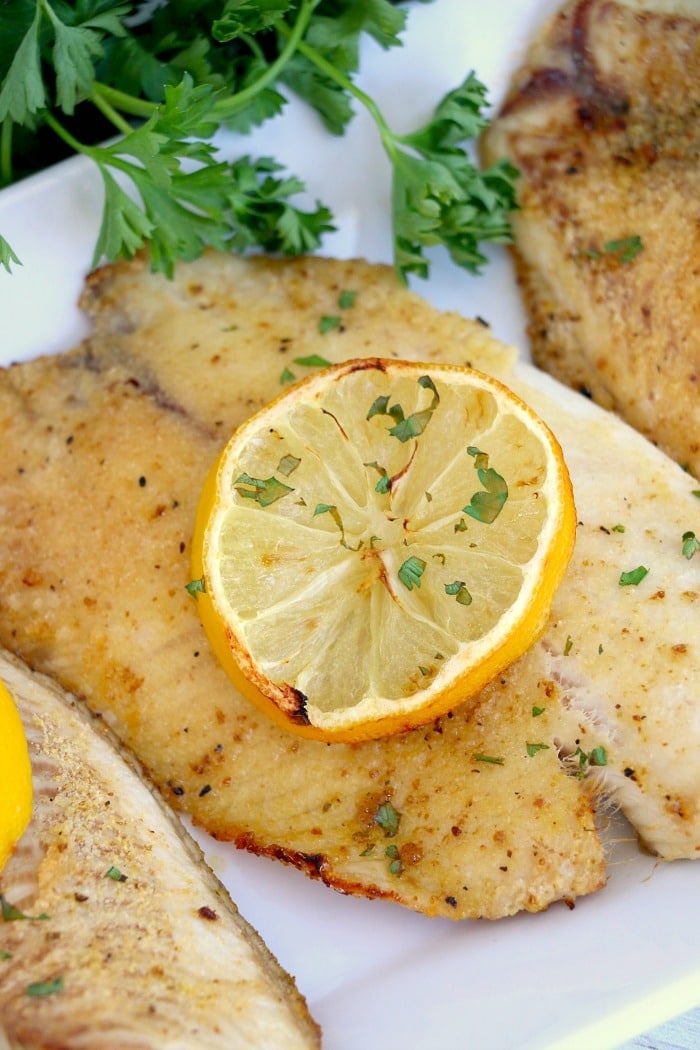 Frozen Fish in Air Fryer
Frozen fish in air fryer is the way to go! Flaky tender meat inside with perfect crispiness to the outside. Lemon pepper tilapia or salmon done perfectly.
Check Out This Recipe
Ninja Foodi Vegetable Recipes
I like to serve veggies with just about every meal. When my kids were younger they were like ehhhhh, but they had to at least take one bite.
NOW, they'd rather eat an entire plate full of carrots, broccoli and air fryer baked potatoes than meat really. They think baby air fryer artichoke are the best.
Toss a few of them together and it's the best!! I often times choose sliced onions, zucchini, yellow squash, and mushrooms together because they need about the same time to get tender.
Air Fryer Vegetables
Best air fryer vegetables you will ever make are here! No breading, just seasonings and mixed vegetables cooked to perfection. A healthy side dish fave.
Check Out This Recipe
Maybe you want to start a bit simpler though, and begin with just one. I would suggest cauliflower. It's cheap and tastes great with just some seasoning and no breading.
That means it will continue to stay gluten free, so everyone can enjoy it, and is very low in calories too. We eat this as a snack sometimes it's just THAT good!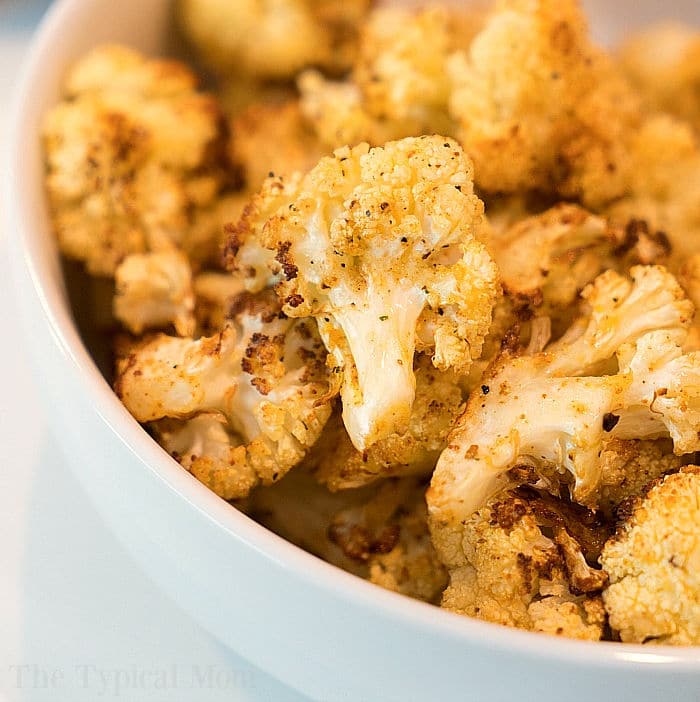 Air Fryer Cauliflower
Air fryer cauliflower is easy to make in your Ninja Foodi or other machine. Healthy and full of flavor it's a great vegetable side dish or snack.
Check Out This Recipe
Yep, that one is pretty darn popular, and rightfully so! Let's move on to another type of protein though.
We have a lot of beef in our house because we buy meat in bulk from a local farmer. Half a cow a year to be exact. I love that it's one less thing I need to grab at the store.
Ninja Foodi Beef Recipes
We will start with a family favorite of ours using this steak rub everyone raves about!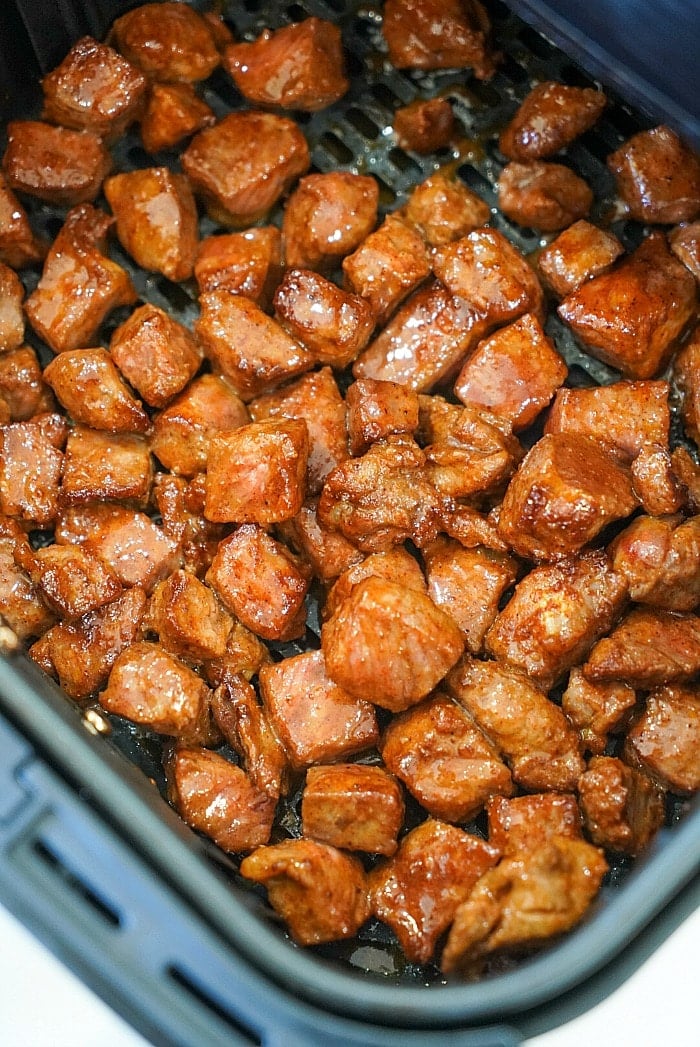 Air Fryer Steak Bites
The BEST air fryer steak bites with a killer dry rub that's salty and sweet with a bit of a kick! High protein dinner idea inside tacos or over rice.
Check Out This Recipe
I can't even explain how good this is. Only 5 minutes makes each bite NOT overcooked and super tender. With LOADS of flavor you can serve this with some quinoa and done!
You can make air fryer steak wrapped with bacon which is amazing too if you want to keep them whole. BUT if you want a "fancy" meal sometime you can try Ninja Foodi lamb chops tender and delicious.
OR if you want both beef and mashed potatoes you can make them all at the same time this way…
Ninja Foodi Steak and Mashed Potatoes
Ninja Foodi steak and mashed potatoes comes out great, all in one pot! Tender pressure cooked meat and potatoes, then air fried steak with the best dry rub.
Check Out This Recipe
If you have their indoor grill you can try this Ninja Foodi grill steak and potatoes recipe too. For something simple though I usually opt for something with ground beef.
Love combining veggies and meat together for a complete meal? Of course, that's the wonder of the Foodi. Try this next!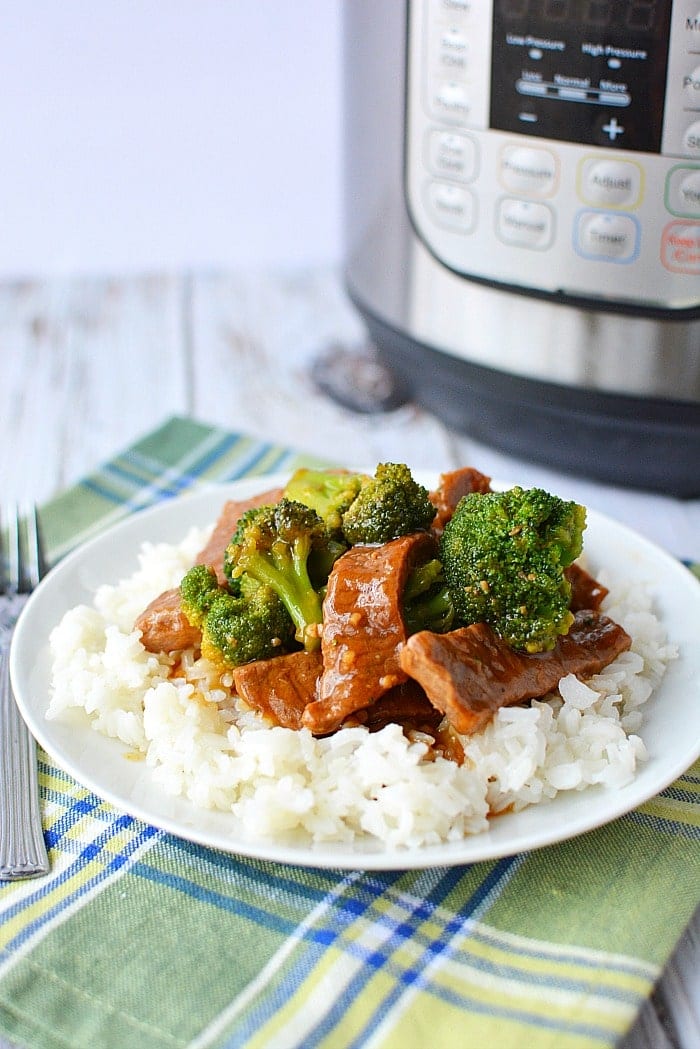 Pressure Cooker Beef and Broccoli
Here's an easy pressure cooker beef and broccoli recipe you'll love. Made in my Instant Pot the other night it has a thick flavorful sauce and tender beef with vegetables cooked together in one pot. Served on top of rice or alone for dinner it is a simple but tasty meal my kids really loved too.

Check Out This Recipe
Served over a bed of white rice you really don't need to cook anything else for dinnertime.
Now I know you'd love an air fryer dessert recipe at the end of the day, but let's think about something on the healthier side. Here's what we have in mind that is delicious: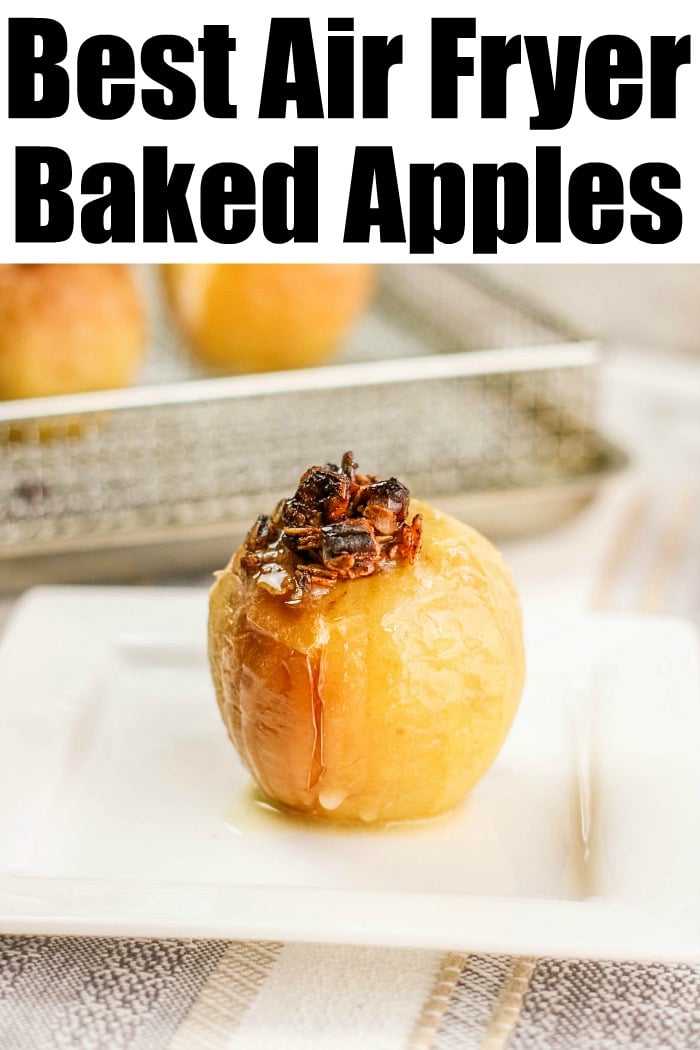 Air Fryer Apples
How to make apple crisp in your oven, the air fryer, and Instant Pot too! Take your pick and see which fresh apple dessert is your favorite. #applecrisp
You can share a serving of air fryer apple crisp too, oh my goodness is that fantastic.
If you're new to air frying you'll be blown away with the short cook time and very little meal prep time. Everything is so quick and easy in your Ninja Foodi pressure cooker. 30 minutes or less is all you need.
You can even make fun things like Ninja Foodi popcorn for movie night, or cucumber chips as a snack.
Want to see a few of my favorite things that I am totally obsessed with or visit my Etsy shop?? Take a peek and see how many you might already have…twinsies!
Looking for more easy family recipes and tips? LIKE The Typical Mom Facebook page?
Then sign up for my free newsletter, and follow me on Pinterest! 😉
***** If you LOVED this recipe give it 5 Stars below and let everyone know what you thought about it. 😉