Easy air fryer recipes for beginners is here! If you like quick and simple dinners we have tons to choose from with chicken, pork, beef, and vegetables for you!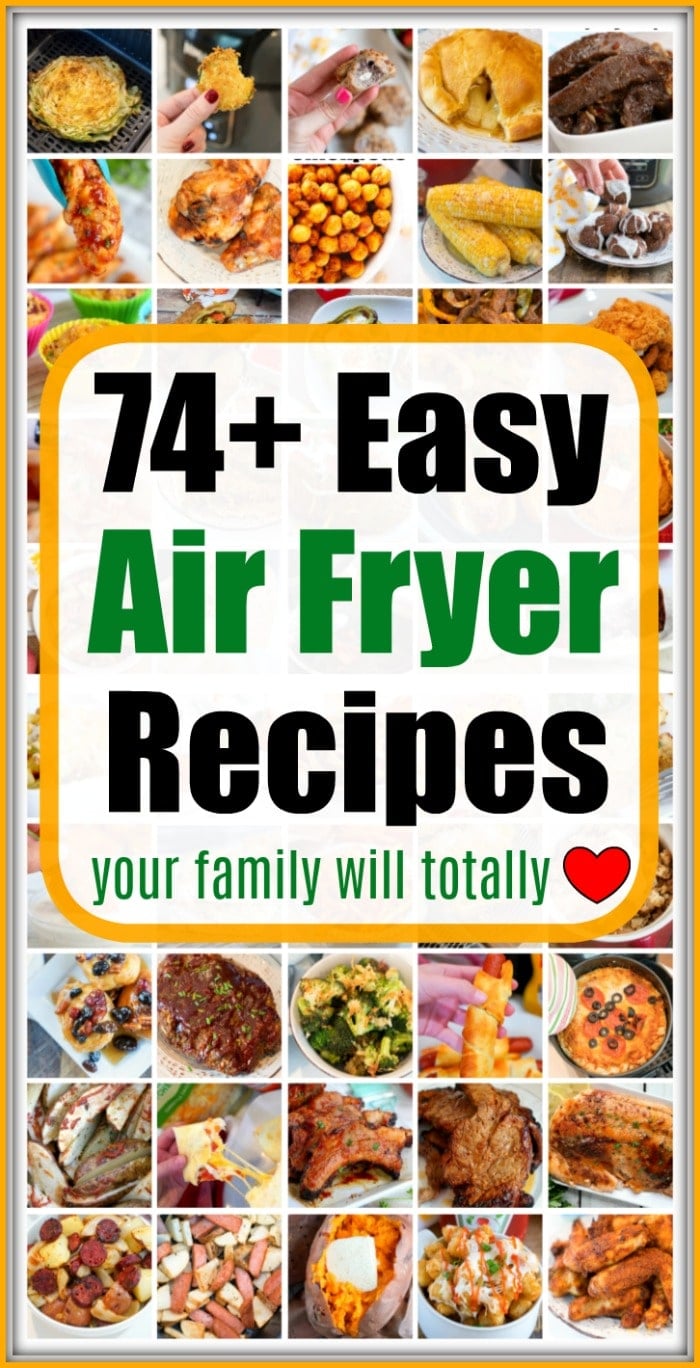 Did you just get a hot air machine and now you're looking for super easy air fryer recipes? Well we are all about simple here on The Typical Mom blog! From chicken to beef, pork recipes, vegetables and even desserts you can make it all in this magic pot. (affiliate links present)
Air Fryer Recipes for Beginners
The air fryer benefits are so many I cannot list them all. You too will see soon what all the rage is about.
Whether you have a Cosori, AirWave or Ninja foodi air fryer and pressure cooker on your countertop it doesn't matter. They all basically work the same, biggest difference is the size of the basket and how much food you can fit. Larger families should choose a bigger one obviously, but it's great for serving two people as well.
Any and all of them will cook all the things. From breakfast to lunch, dessert and everything in between you'll fall in love with it quickly. Even frozen foods in air fryer turn out way better than in the oven and much faster too.
Air Fryer Meals
The Foodi you see here has a round shape, others are square. I prefer the latter if you ask me as most foods aren't round right?? I mean…… By far the easiest thing you could ever start with would be toast in air fryer.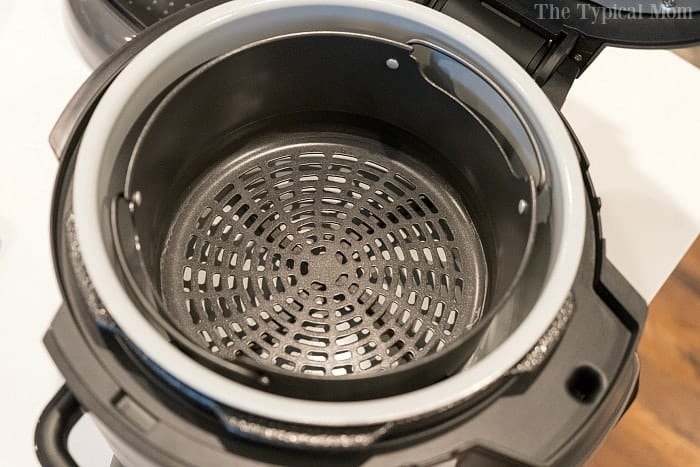 Air Fryer Recipes Simple
From air fryer macaroni and cheese (yes you can) to vegetables, main dishes and more the possibilities are endless I tell you. If you live in the desert it's great because you don't have to heat up your entire kitchen to cook dinner. Live where it snows like us? You can still get grilled crispy foods without cooking outside where it's wet.
If you don't have one, this is the best air fryer on the market. We share a lot of Cosori air fryer recipes here too.
Only looking for Ninja Foodi air fryer recipes? No problem, all of these will work with that pot too. We aren't bias to the brand. I have a few of them myself and rotate between them often.
FIRST – You should sign up for my free newsletter so you get new posts emailed to you twice a week and never miss out on anything! If you love air fryer recipes too, here are some resources to start with: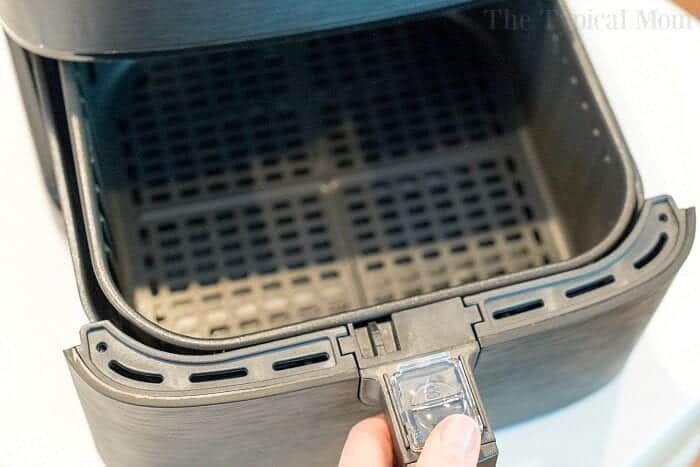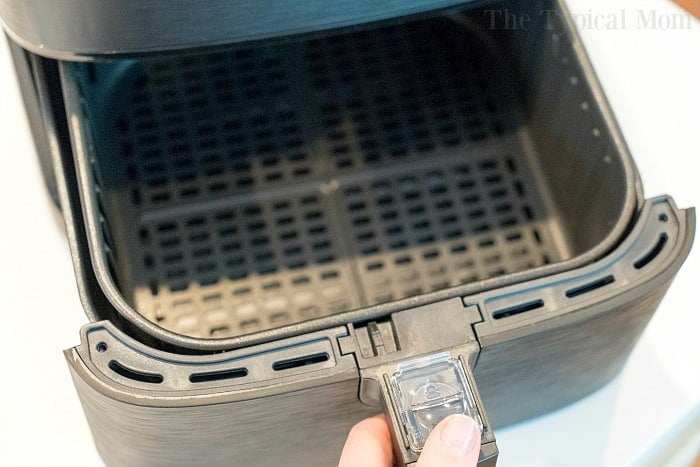 What are the best foods to cook in an air fryer?
Well that would depend on whom you asked really. In our opinion we air fry everything!! Seriously, you can even make things like air fryer salsa in it. I know, game changer right? Have leftovers? This is the best way to reheat chicken ever to keep it moist.
I will say there is nothing I have tried in it that hasn't turned out delicious. SO I do it all. I even cook frozen food in air fryer all the time too. For dinner or a side dish like air fryer frozen cauliflower, it's a true game changer.
When I figure out the exact time and temperature that is best I share it here with you. BOOKMARK THIS PAGE so you can come back often.
To make frozen foods like a crunchy batch of tater tots they come out soft inside, and restaurant crunchy on the outside. It's an easy way to make a side dish, same goes with these air fryer hush pupppies and frozen hashbrowns in air fryer.
Simple Air Fryer Recipes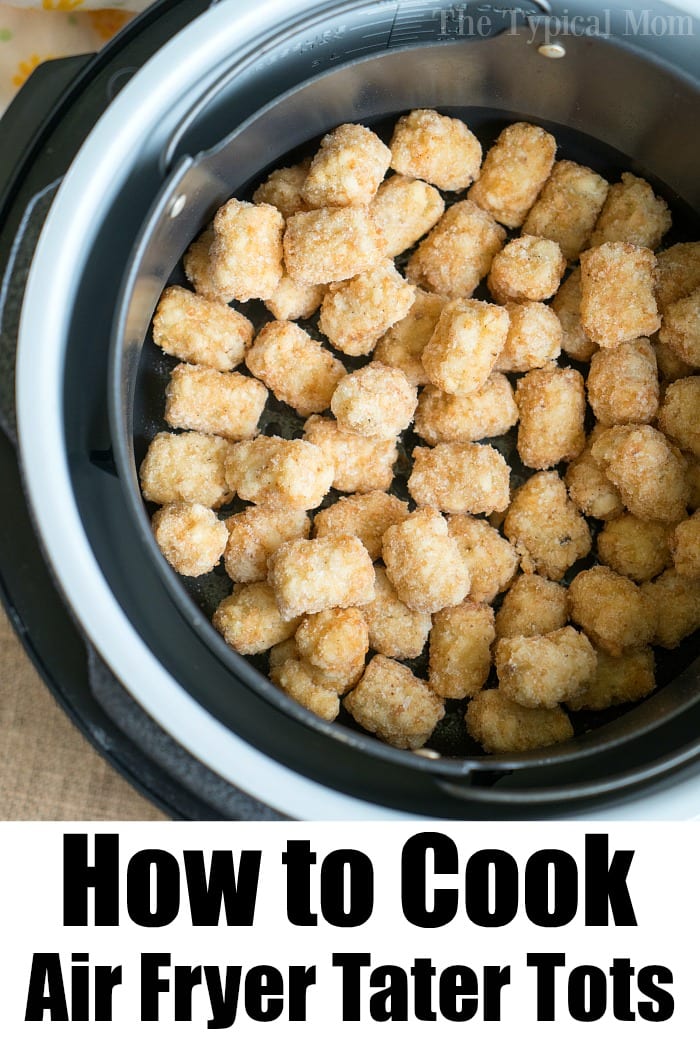 Airfryer Recipes
That's right, we even cook frozen foods in an air fryer because they come out WAY better than in the oven. Truly if you want your fries to taste and crunch just like at the restaurant this is the way to do just that right at home. It doesn't matter whether it's breaded or not everything gets a bit of crunch on the edges or all over.
If you want to try it I would start with a few things you would normally bake, but not anymore!! You will be pleasantly surprised to find out that with LESS time you will get a better result than if you waited 10 minutes for your oven to preheat and twice or three times the bake time.
You can even cook meat from rock hard right out of the freezer too! From pork to beef, and how to cook frozen chicken. My kids are most fond of frozen chicken legs in air fryer with bbq sauce on top! We share mega tips too here like reheating chicken tenders in Air Fryer and how much better it is than the microwave.
Easy Air Fryer Recipes
Get ready for restaurant quality and crispiness foods right at home. All the time! The simplest things like crisping your own taco shells in air fryer now can only take minutes. Air fryer burritos are way better than store bought because you can stuff with all sorts of things for breakfast or dinner.
There are many styles of machines out there. Choose which one is right for you but I will show you the main difference I have found.
I would suggest getting one that has a square air fryer basket. You can fit A LOT more in it since most foods aren't circular. 😉
This is the machine I have and like it a lot. With preset buttons, it's quick and easy to clean too.
I have a Ninja Foodi machine that's a pressure cooker and air fryer that's great too. They all work basically the same way. Hot air rotates around the food, the grease drips away from the food, and everything comes out great. The biggest difference is the size of the basket and the color of the machine on the outside.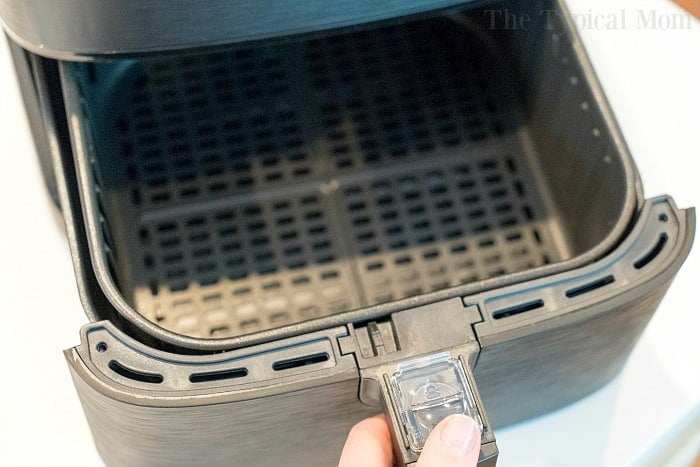 What frozen foods can you cook in an air fryer?
If you don't want to make homemade french fries, we have directions for frozen french fries in air fryer. These are a game changer. You'll never bake them again after this.

Frozen chicken tenders in air fryer are wonderful
Use Rhodes rolls to cook this pull apart air fryer garlic bread too!
As well as how to cook air fryer corn dogs and frozen mozzarella sticks in an air fryer the best way ever in your kitchen. We share all the things you need to know for success here.
I offer up a bunch in my Ninja Foodi cookbook too if you want to print that out.
Want to see a few of my favorite things that I am totally obsessed with?? Take a peek and see how many you might already have…twinsies!
Looking for more easy family recipes and tips? LIKE The Typical Mom Facebook page?
Then sign up for my free newsletter, and follow me on Pinterest! 😉
***** If you LOVED this recipe give it 5 Stars below and let everyone know what you thought about it. 😉
Easy Air Fryer Meals
We will show you how easy frozen french fries in air fryer are to make below. They pair great with our air fryer chicken leg quarters. We love a duo of air fryer carrot fries with chicken too.
Want to make something your kids will love? Try a homemade hot pocket with any ingredients you like. Our air fryer chicken cordon bleu is one of our favorite air fryer snacks served with turnip fries air fryer style. For a high protein option you can give our air fryer edamame a whirl.
I would highly recommend making air fryer corned beef year round, not just in the month of February. I make this marinated beef year round because it is so good. If we do have leftovers I love it even more. Next day I can make a batch of air fryer corned beef hash for breakfast!
Easy Air Fryer Recipes
Lots of easy air fryer recipes here like how to cook frozen french fries in it and lots more. Here is how you do that.
Ingredients
1

bag

frozen french fries

1/4

tsp

salt
Instructions
Preheat air fryer to 400 degrees for 5 minutes.

Pour in one layer of frozen fries ensuring they are overlapping as little as possible.

Set time to 15 minutes total. Open basket and shake to flip fries over and rotate them every 5 minutes.

Before cooking for last 5 minutes spray lightly with olive oil spray and sprinkle with salt.

Enjoy once they're as crispy as you'd like them (timing will vary slightly depending on how thick your fries are but traditional sizes take 15 minutes total for us)
Nutrition Facts
Easy Air Fryer Recipes
Amount Per Serving (2 oz)
Calories 1
Calories from Fat 9
% Daily Value*
Fat 1g2%
Sodium 117mg5%
Carbohydrates 1g0%
Protein 1g2%
* Percent Daily Values are based on a 2000 calorie diet.
What can you cook in an air fryer
Frozen pizza in air fryer and chicken nuggets turn out great in just a few minutes. Your kiddos will love both of those for sure.
Want to know how long to cook frozen hamburger in an air fryer? We have that too.
Frozen chicken wings in air fryer and air fryer frozen chicken breasts are even possible.

Try cooking frozen fish in air fryer to perfection.
Have fresh meat? Buy half a cow like we do at the beginning of each year. Here's a roundup of air fryer beef recipes to refer to.
Now let's talk about air fryer fish recipes! You can start with something easy like already made, packaged, and you cook it at home. Something like frozen popcorn shrimp in air fryer is the easiest. WAY better than baked in the oven they get super crispy in just a few minutes.
Our buttery air fryer scallops and air fryer fish tacos are to die for y'all. If you want more finger foods try these air fryer stuffed mushrooms.
Air fryer frozen shrimp come out great with a light coating of parmesan on top and air fryer roasted potatoes. Light without any real breading, seafood in air fryer really turns out amazing. Then try our air fryer bang bang shrimp.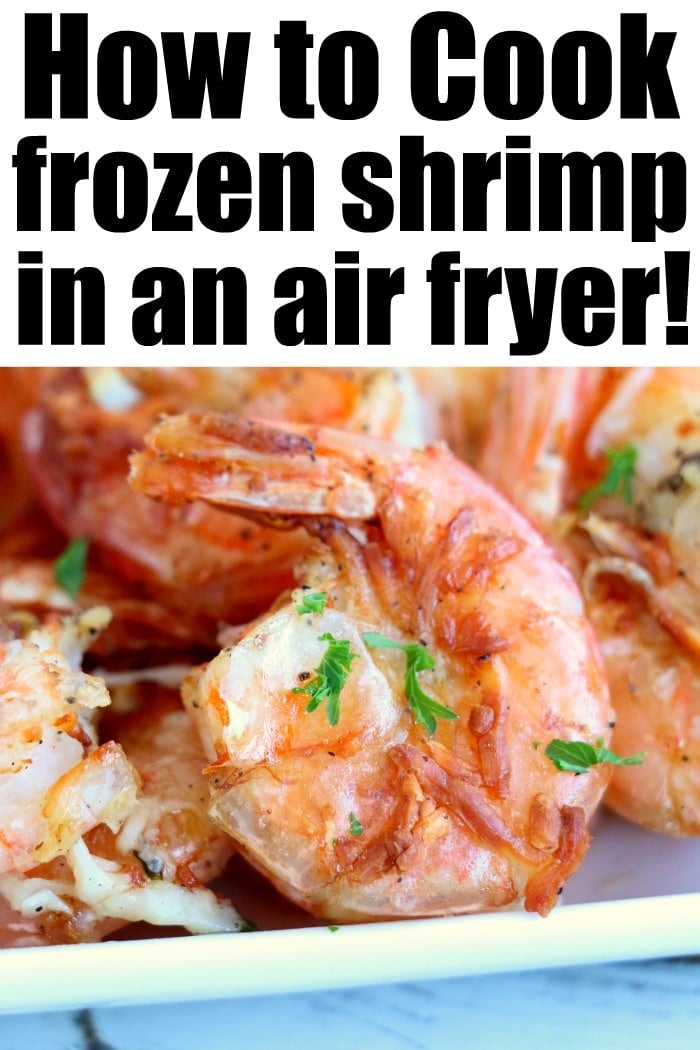 What can I make with my air fryer?
You can make the "regular" things like wings and frozen items. Well the question I throw back is, what can't you make in it? I really haven't found anything, really. Even our tofu air fryer recipe rocks.
We used to make stuffed bell peppers in the oven but not anymore! After making air fryer stuffed peppers there is no other way.
Easy Things to Make in Air Fryer
It has given me the ability to cook a lot healthier, and homemade meals on a more regular basis. You can cook from frozen or raw, OR just use it to crisp chicken skin after boiling frozen chicken so it looks more appetizing. Now I might make a meal in a few batches like:
And my kids' favorite new snacks are air fryer cauliflower wings and this eggplant air fryer recipe! WE have made homemade mozzarella sticks air fryer style too which were yummy with marinara.
Best Foods for Air Fryer
Healthy Air Fryer Meals
From breakfast, to lunch, dinner, snacks and even sweets you can do it all. From something simple like air fryer soft boiled eggs to more complex baking of even cakes this is a game changer.
The real game changer for us was when we figured out how to make air fryer ground beef!! Then used it to make ground beef egg rolls. I mean, air fryer popcorn chicken was a win but this could be used for a multitude of recipes.
Throw it into a pot of spaghetti or make our favorite chili mac recipe. For a quick meal or fun appetizer, make air fryer oysters that taste like they were deep fried. You can even cook frozen salmon in air fryer that comes out perfectly. Served with frozen okra in air fryer it's a healthy complete meal.
The grease drains away so it's super lean, then throw it into spaghetti or make taco meat out of it. Or use it to make a batch of air fryer won tons!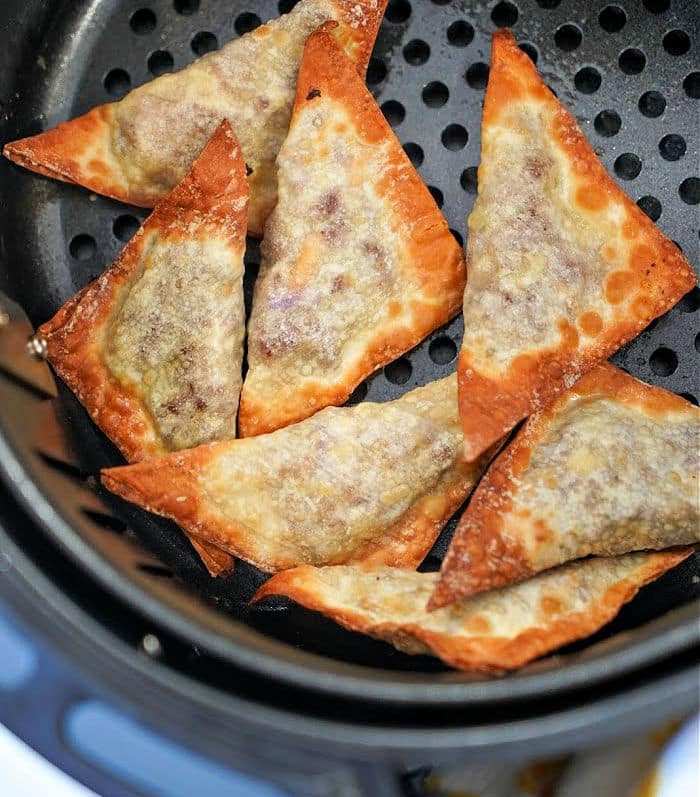 Air Fryer Meals
You know those fried sandwiches you get well you can make them much healthier but not know the difference. Try our air fryer Chick Fil A chicken sandwich or you can throw some leftover meat into a few air fryer sandwiches and you'll be a believer too.
Our air fryer broccolini goes with just about everything as a healthy side dish full of anti oxidants.
For something really easy just throw in a frozen pot pie in air fryer and enjoy in under 20 minutes. Or make a few frozen pierogies in air fryer with chicken.
We've made an air fryer chimichanga with shredded chicken or pulled pork inside before. Boy were those good. For an Asian twist try air fryer sesame chicken that is rich with bold flavors.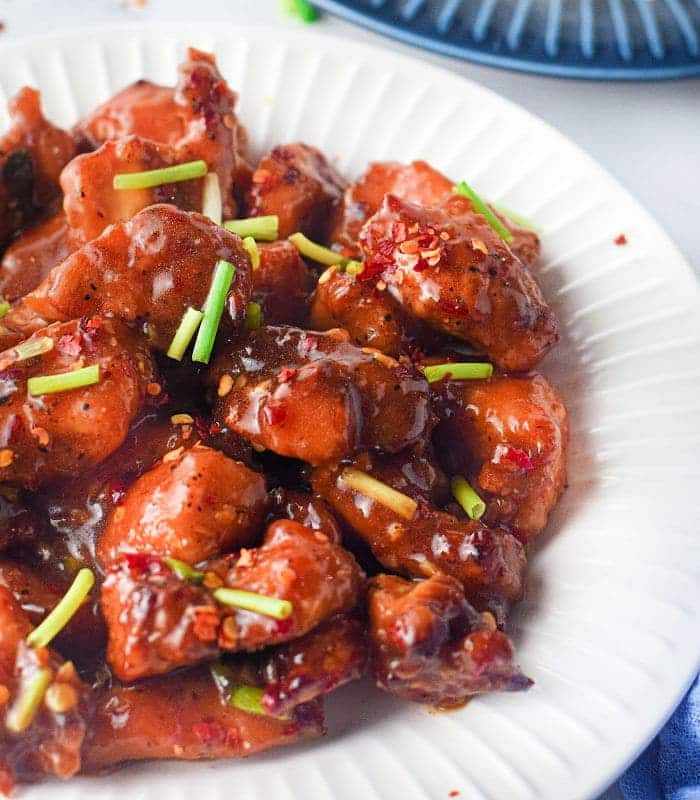 Must Try Air Fryer Recipes
Let's talk about parchment paper in an air fryer for a minute shall we? Do you need it and if so when? It is safe is used properly and only on the bottom. Read this article if you have been wondering this very thing.
Looking for SPICY? Try hot wings in air fryer with this homemade sauce. If you are anti bones and want to try to make something like Wings N Things or Hooters offers, try air fryer boneless wings. Both come out tender and juicy for dinner or a fun appetizer.
Air fryer wings or air fryer marinated chicken with a batch of air fryer potato wedges for dinner is always a winner. You can make 1-2 air fryer bbq chicken breasts too with your favorite sauce.
Almost everything listed here takes less than 30 minutes, unless it's a huge hunk of thick meat. We share here how to cook whole chicken wings in air fryer AND how to reheat chicken wings in air fryer too. If you have leftovers this comes in really handy!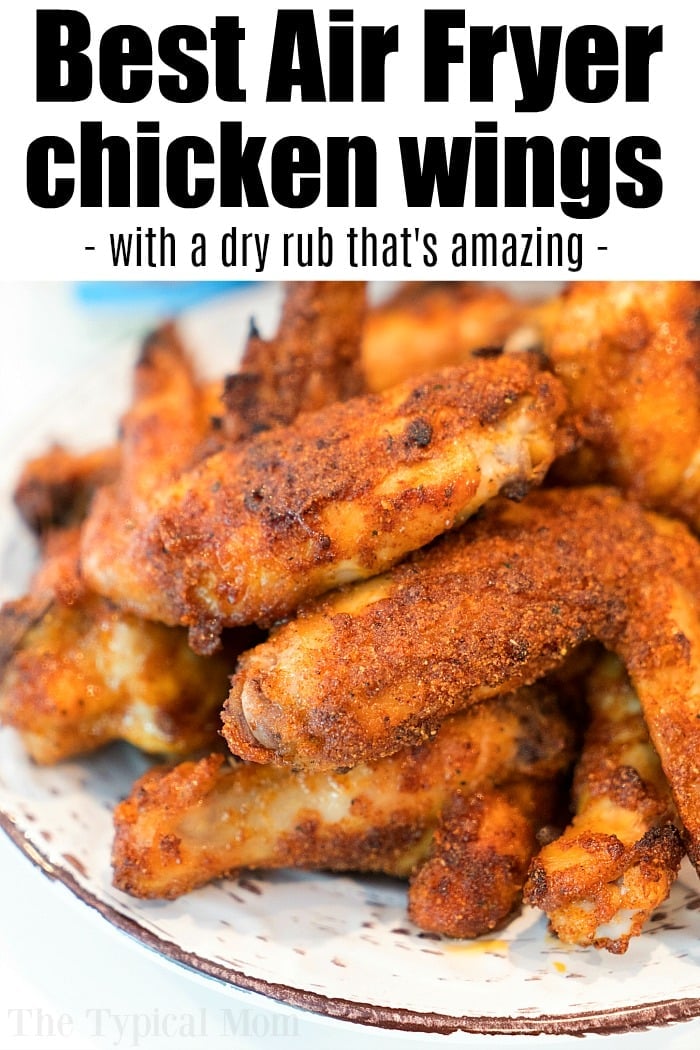 If you need instructions for air fryer gluten free chicken wings we make those with Panko GF as well. Want a flour alternative so it crunches like KFC? Use our fried chicken in air fryer without flour recipe.
Is air fryer healthier than oven?
I wouldn't say there is much more of a benefit between these two devices, but your finger food will get crispier this way! AND with things like air fryer frozen bacon the grease drains away from your food! From cheese sticks to air fryer tuna patties and everything in between this can do it all I tell you.
If you're comparing a deep fryer to this though there is a BIG guilt free health difference!
The benefit is you'll get that same fried food crispiness with NO oil needed (other than maybe a spritz on the top).
This is my favorite olive oil spray I use for almost all of these healthy air fryer recipes.
For things such as air fryer sausage patties it IS much healthier because the grease drains away as it cooks.
Appetizers made like air fryer crab cakes that would normally be deep fried take on way less fat and calories this way.
You can air fry any and all vegetables you want. This method makes them tender but with a little crisp on the edges which we love cauliflower steaks air fryer style is a game changer.
Just a little spray on top at the end makes the outside of everything turn out extra crispy and tastes fried. No need to deep fry anymore when making air fryer artichoke hearts, just do it this way! Just look at these air fryer flautas and/or our air fryer empanadas.
Tasty air fryer recipes
Have you tried ribs in air fryer or chicken kabobs yet?? They're great paired with air fryer butternut squash cubes.
You can use sauce in this thing. It will leak to the very bottom but still will bake on and kinda' caramelize like our air fryer Mongolian beef recipe. Like organ meat and want to know how to cook chicken liver into crispy bites? We've got the way.
You can make a bit batch of air fryer tortillas that requires no yeast to make too. Throw some air fryer catfish or air fryer mahi mahi inside with cole slaw for a healthy dinner.

Side dishes like frozen onion rings in air fryer are better than in the oven served with air fryer roast beef too.
Using up leftovers like air fryer mashed potato balls

This air fryer sausage and potatoes recipe is great with a batch of air fryer vegetables like asparagus in the air fryer on the side.
You can even cook frozen pork chops in air fryer now.
Add meat with our air fryer chicken and vegetables recipe or leave plain. Savory air fryer carrots are always a winner but we have a big roundup of air fryer zucchini recipes too. If you have frozen vegetables in air fryer they actually turn out quite well. Try our frozen brussel sprouts air fryer and go from there.
Air Fryer Finger Foods
And how wonderful do these air fryer hot dog burnt ends look? I mean……. I bet your mouth is watering right about now right? As a fun meal sometime or served as an appetizer they are always a win. And talking about wieners. Check out our air fryer pretzel dogs too, just like Auntie Annes!
We have a lot of air fryer vegetable recipes here. You can tweak the seasonings to make this Mediterranean roast vegetables and toss with pasta too.
Kids love bite size everything. You don't always have to use processed foods to do this either. They will begin to love healthy foods if you make it fun! Totally possible friends, just like our air fryer salmon bites you can pick up, dip and enjoy from fresh fillets.
It's seriously the only way we cook air fryer mushrooms, air fryer zucchini fritters or mixed veggies anymore. You can even cook frozen vegetables now to tender. Try air fryer frozen broccoli and you'll be a believer too.
Are air fryers safe?
I don't see it any different than any other small kitchen appliance like a slow cooker or Instant Pot really. It's a lot safer than a deep fryer for sure without any worry of spilling or splashing. AND if there are only a few of you, it's great for cooking holiday meals.
I might say for certain dishes it is better because you avoid oil splashing. Like if you were to fry it is dangerous. With this if you put in a few air fryer ground chicken meatballs you get the same texture but no oil is needed.
Let's talk holidays and what to do if you only have 2 or 3 of you at home. NO need to cook an entire bird. Instead try air fryer turkey wings or a breast. Pair it with a salad with air fryer croutons on top and dinner is served.
Like this air fryer turkey breast or a KFC copycat air fryer chicken breasts! If you make frozen dinners like air fryer orange chicken, it's way better than in the oven.
Quick Air Fryer Recipes
For more air fryer dinner recipes and pairings like air fryer tuna steak and veggies, here are a few others we love. You can make a one pot meal like our air fryer shrimp boil where you need NO side dishes to it. A complete meal in itself.
Air fryer beef can be cooked to tender, and so good. We did this with air fryer brisket with a dry rub that is sweet and savory. So great for dinner with a side dish of air fryer squash and zucchini.
Now want to make something that the kiddos will get a kick out of? Know how they love Flamin chips? Well use those and make a batch of air fryer Dorito wings some night! Want to use cheesy crackers instead? Try our Cheese It chicken tenders instead!
Cosori Recipes
This brand is one of my favorites because of the shape of the basket. Nice and large, square and dishwasher safe too. You can fit a bunch of air fryer ground turkey patties inside without overlapping them. If you have a large fillet of fish like wanting to make air fryer salmon or something just cut it in half. No biggie.
Time for breakfast for dinner? Try air fryer pancakes some time. Regular is always good with syrup, but you can make another version, our air fryer cauliflower pancakes as a side dish too.
You can make a number of different things into patties, beyond beef. Use fresh fillets to make our old fashioned salmon patties crisped in this machine too. So good.
Now if you want a quick snack, we're all about crispy crunchy air fryer taquitos! Those were ready made and from frozen. If you want to make more of a homemade version, give our air fryer tacos a whirl some night.
You can amp up a snack though really with pouring something heartier on top like chili. This is how to make tortilla chips in air fryer and then the toppings are endless. My girls can make them on their own and they come out so much better than in the oven or microwave. They will even make air fryer eggplant parm in slices for some fun finger foods.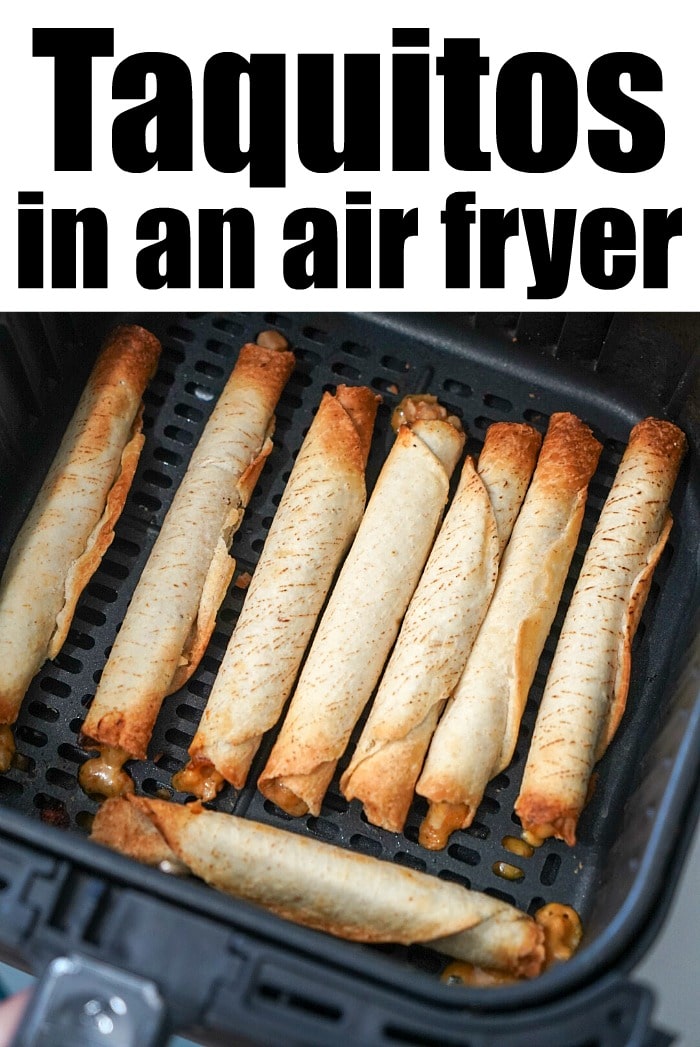 What Meals Can I Make with an Air Fryer
If you have ground beef, make meatballs in air fryer with baked potatoes on the side stuffed with all the things! With any leftover potatoes, scoop out the middles and mash. Then store in the fridge and make air fryer potato pancakes the next day.
There are lots of different steak recipes because we cook a lot of beef. You can use the same dry rub to make air fryer flank steak and all other sorts of things.
Let's talk chicken a bit here. You could make chicken fries in air fryer for a snack or a fun dinner idea. My girls love trying different sauces but air fryer bbq chicken wings would be their fave.
We love air fryer fried chicken thighs, that aren't really fried but taste like they were. For a low carb choice, try our air fryer chicken tenders no breading recipe with air fryer brussel sprouts.
Is air fryer useful for vegetarians?
I think everyone needs one really. We eat meat but do cook vegetables in it quite often because they come out tender on the inside but crispy on the outside like air fryer fried potatoes. For things that cook quick, but you don't like them mushy this is a great method. Take air fryer fried cabbage for example. You'll get a crisp like no other.
Snacks like air fryer chickpeas come out amazing and you can just add veggies to our air fryer quiche recipe for a meal. We love air fryer cheese curds with marinara too.
We use veggies like air fryer artichoke as a side dish usually. If I just want something light I have been known to eat just a plate of spicy air fryer zucchini chips.
You can serve those with air fryer turkey legs, air fryer turkey neck or just about anything really. Our air fryer spinach chips or buttered versions are great choices.
100 Air Fryer Recipes
Frozen meatballs in air fryer smothered in bbq sauce is a fun appetizer, or throw them into spaghetti for dinner. That is right, you can cook right out of the freezer to tender and delicious. Even veggies work well as we show in this post on how to cook frozen asparagus in air fryer.
Sometimes when I want to make the kids something fun after school, air fryer spam fries are it. If I think all they've been eating all day is junk I've gotten them to love fish. I know, strange but true. If you give our air fryer tuna melt a whirl you might fall in love too though.
We share here how to reheat pizza in air fryer because it is way better than the microwave people! But if you want a really protein packed meal make a simple marinade or dry rub to make air fryer chuck roast.
Or make some air fryer spaghetti squash or air fryer cabbage with pork steaks in air fryer are loaded with flavor.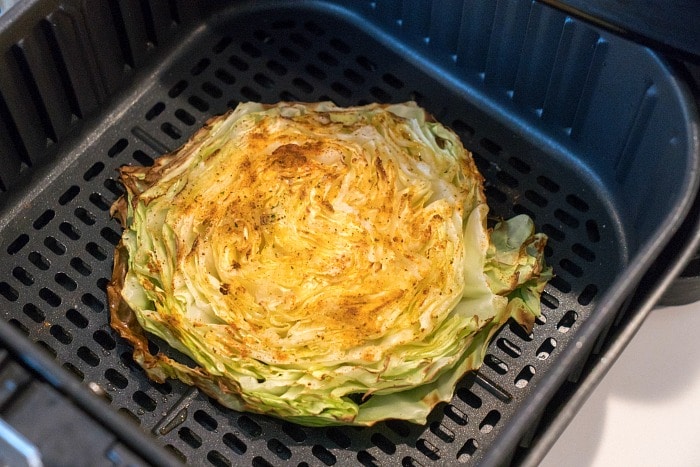 What is the difference between an air fryer and a toaster oven?
Air fryers have a single fan and heating element on top of the oven. Some toaster ovens may have an air fryer function but usually have heating elements on the top and the bottom.
We do have one which we tried for a while but ended up breaking down and buying a standard machine.
It works better. Some multi function machines work well, I don't think this combo is quite as good. I suggest buying JUST an air fryer machine vs. a crisplid too. The biggest difference with the new lids are that it's a small area to "fry" so you can't cook a lot and with things like air fryer frozen sausage you won't get it as browned.
Some things you can cook and crisp in a countertop oven. Frozen tilapia air fryer directions in both would be fairly similar except a much messier clean up. Frozen cod in air fryer would be the same.
Something like air fryer salt and pepper wings you want to be super duper crispy work best in a singular unit.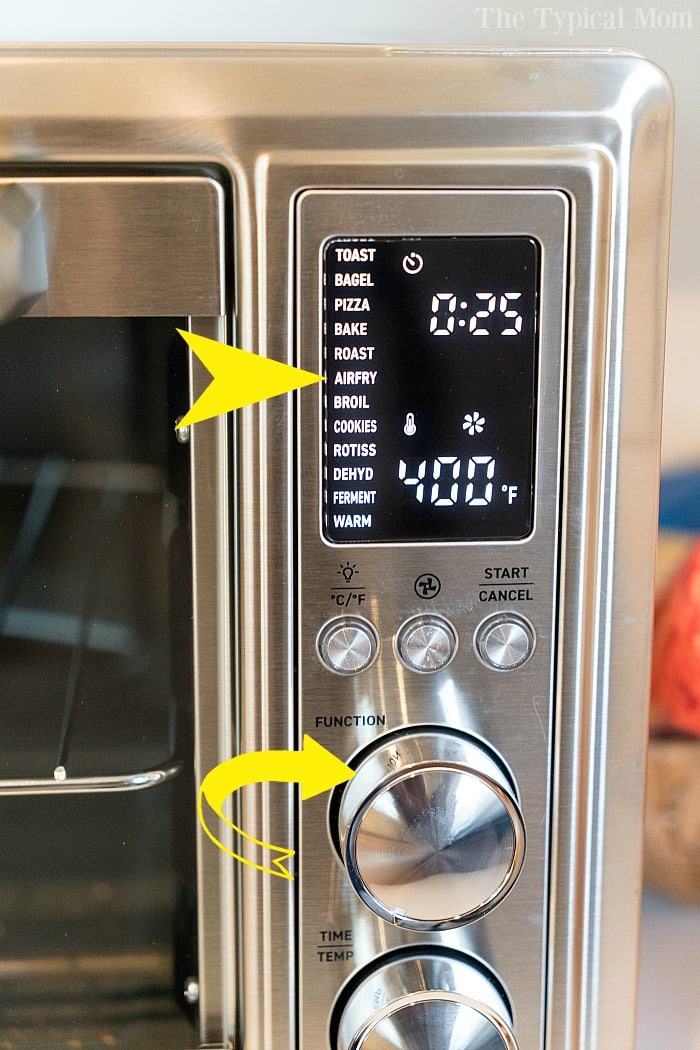 Ninja Foodi Air Fryer Recipes
We're not done yet though, and it doesn't matter what brand is on the outside of your hot air machine. We have many more EASY instructions for all types of food too. Things like cooking Italian sausage air fryer style is one we use often on busy days. Pair with some veggies and dinner is served.
We've got more to share like how to make chicken fried steak and more. If finger food isn't your fancy and you actually want to have a "fancy dinner" I understand. Maybe a few air fryer lamb chops are more your style.
Pizza rolls in the air fryer are OH MY goodness better than any other method out there. When it comes to anything frozen you'll be surprised at how good it does turn out. Even frozen hot dogs in air fryer turn out tender but with crisp on the outside. Perfection I tell you.
If it's the holidays and you're making a large brunch you might want to try our air fryer ham and or sausage links in air fryer!
AirFryer Meals
It took a while to figure this out but you can in fact use wet batter in your machine! There's a trick of course to it but you should try our air fryer beer battered fish recipe to see. For finger foods these are yummy and fun to eat. Pair with air fryer avocado fries for a winner dinner or appetizers.
If you haven't made air fryer bacon yet I highly suggest you do. It's much better than it laying in it's own grease as it drops away thru the holes. Eat with some eggs as is or make a fun air fryer bruschetta and make into little breakfast toasts some day.
I grew up eating a lot of fish. Now that I have kids I cook it a lot and they love it too. When we made teriyaki salmon air fryer it was a huge hit right off the bat!
For a snack, brunch or appetizer I would give our air fryer calamari bites a whirl. Just grab some rings frozen and they're super easy to coat and cook. Another different choice that turns out great this way with a dry rub is air fryer lamb ribs.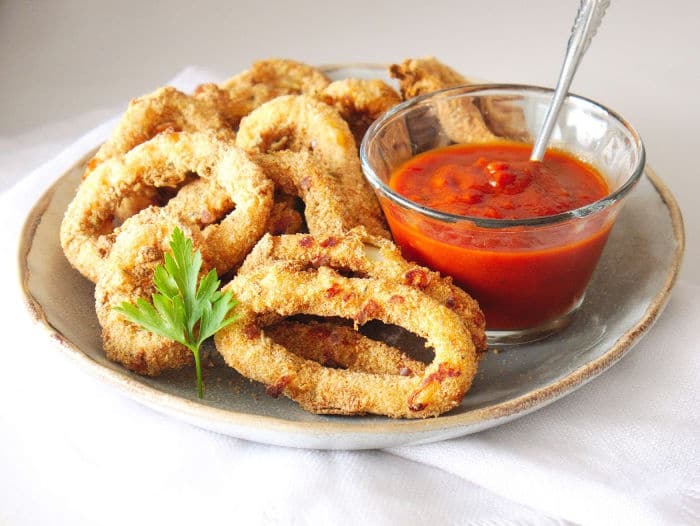 How to Convert Air Fryer Recipes to Oven
I will say that nowadays most frozen foods will have both on the back now. If you want to convert one to the other, either way, it is very similar. Use the same temperature, but the oven will take longer than the other. SO the timing will just need to be altered accordingly. Start with half of the oven for Cosori or double the other way around.
An easy lunch is to throw in a few frozen chicken patties in air fryer. They're tender on the inside but crispy on the outside. Then serve with air fryer smashed potatoes.
Many dishes can be made either way. If there is a good way to bake or air fry I will include them both in the directions like I did with our curry fried chicken. Beyond deep frying you can air fry, or bake these too.
If you love all things seafood, I would make our air fryer fish and chips. You can use frozen fillets, stick, tater tots or fries. OR use fresh for our air fryer fish nuggets. You can make actual chips with noodles too with this pasta chips air fryer recipe here.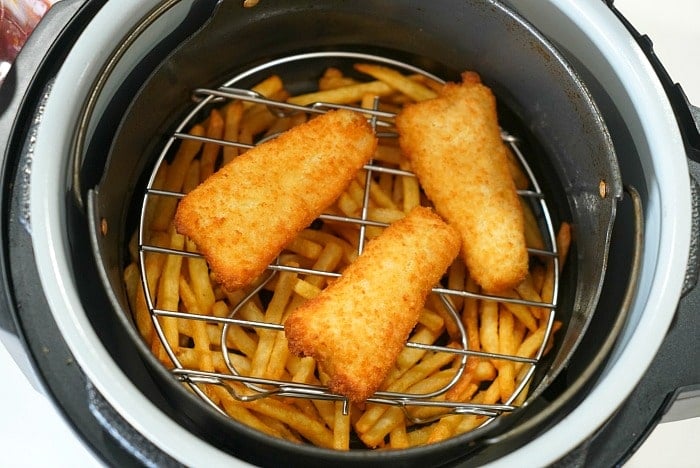 Easy AirFryer Recipes
It doesn't matter what brand you have, you can make them all in any one of them. Like Instant Pot air fryer chicken wings can be made in a Cosori, Foodi or airwave, doesn't matter. Same goes for air fryer walleye recipe.
Now if you are forgetful you may have thought frozen whole chicken in air fryer wouldn't be possible, but it is. We did all the trial and errors for you to figure out the perfect temp and timing.
Try crispy chicken legs in air fryer with broccoli in air fryer or sweet potatoes for the win. It is a great way to cook poultry or really meat of any kind. You can then get the insides really moist but the outside skin can get super crispy too. Same goes for air fryer turkey thighs.
Many times when my kids want a quick snack, it's homemade beef jerky, grilled cheese or air fryer quesadillas for the win.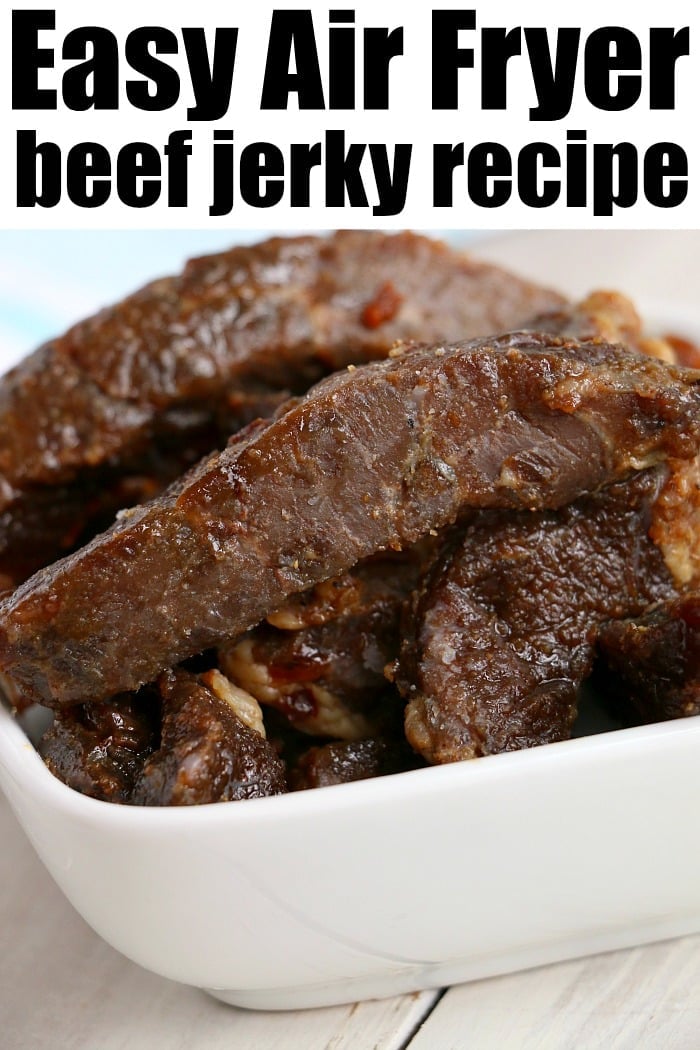 Best air fryer recipes
You can just add some salt and pepper, or our homemade dry rub to this salmon in the air fryer and it comes out perfect every time. That can be left as a whole fillet or cut into cubes like our chicken bites were for little fingers.
This machine is great to reheat foods as well. I hate to waste food. Saving in the fridge can definitely change the outer texture but if you reheat baked potato in air fryer, chicken wings, fish or other foods it can fix that.
Simple air fryer tilapia has just a light breading. With zucchini fries it's a healthy meal.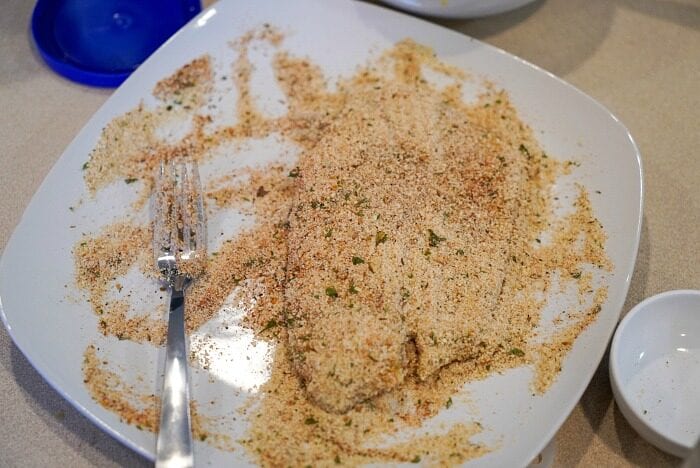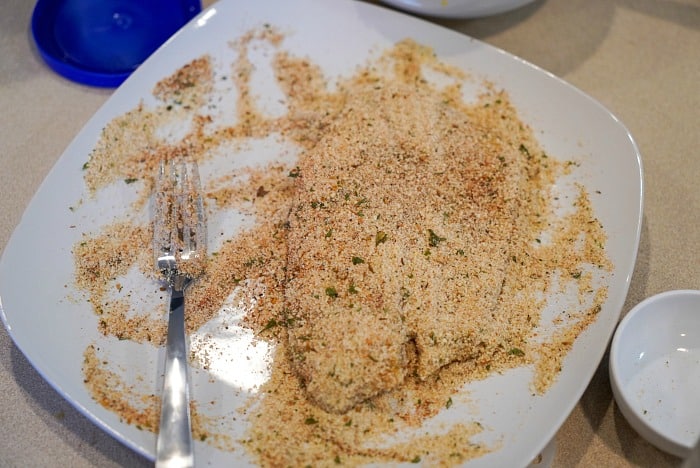 Wash fresh kale and throw them in with some seasonings for the best kale chips in the world.
And making a whole chicken in an air fryer has never been easier. Way better than rotisserie. Enjoy as a meal the first night and then shred the leftovers. Make tacos with that the next day or use tortillas to roll up chicken taquitos air fryer style and those are great.
Chicken Recipes Air Fryer
Then let's move on to something like air fryer chicken parmesan. It is simple and gets that crunch on the outside you love. If you use our kitchen hack to make Air Fryer Chicken Wings baking powder you'll never go back.
Air fryer fried shrimp is delicious with Old Bay seasoning which I love. If you love spicy, give air fryer firecracker chicken a whirl. Paired with fried ravioli without any oil is great.
Want a really quick meal that your kids will love to "dress up" just the way they want to? Try a frozen turkey burger in air fryer tonight.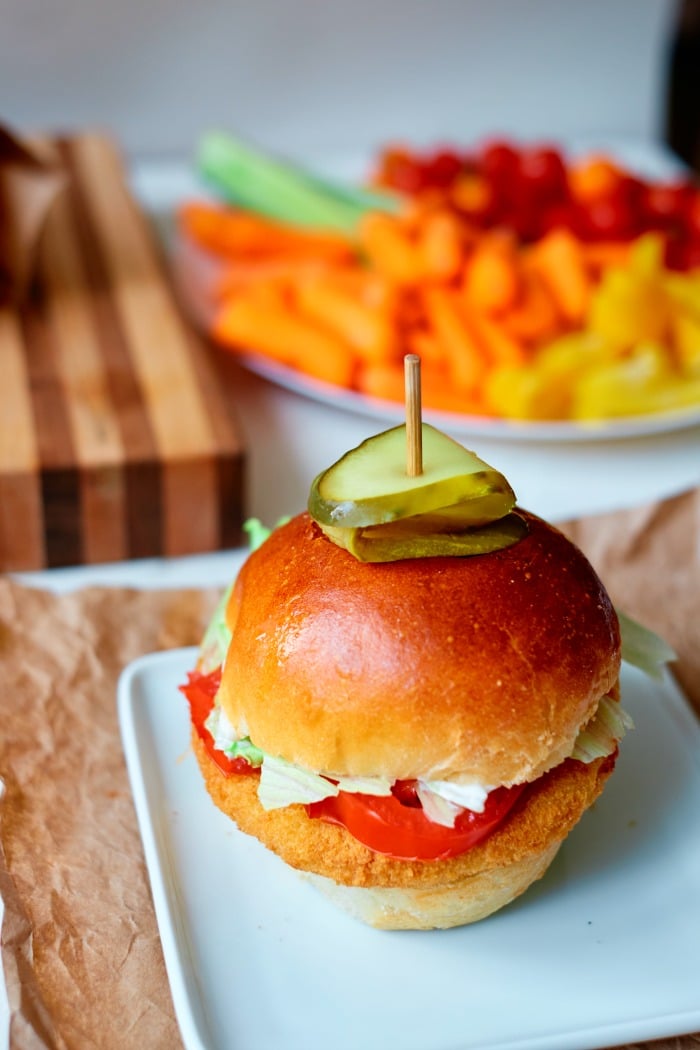 Want to make the unusual amazing? Give our air fryer chicken gizzards a whirl. Never know what to do with that stuff in the bag you pull out of a whole chicken? Now you do! Of course you can make so many things with breasts and thighs too. We love air fryer pesto chicken with this favorite sauce.
Air Fryer Recipes for Kids
If you want a really cheap meal you can make air fryer tortilla pizzas! Skip the dough or crust and just use a ready made one right out of the bag. Crispy and delicious.
Mine love sliders, all the time for snacks or a fun meal. You can cook a thawed or frozen roast in air fryer this way. Slice it thin and put on sweet Hawaiian rolls sometime.
Our air fryer pork chop recipe with air fryer pickles is amazing.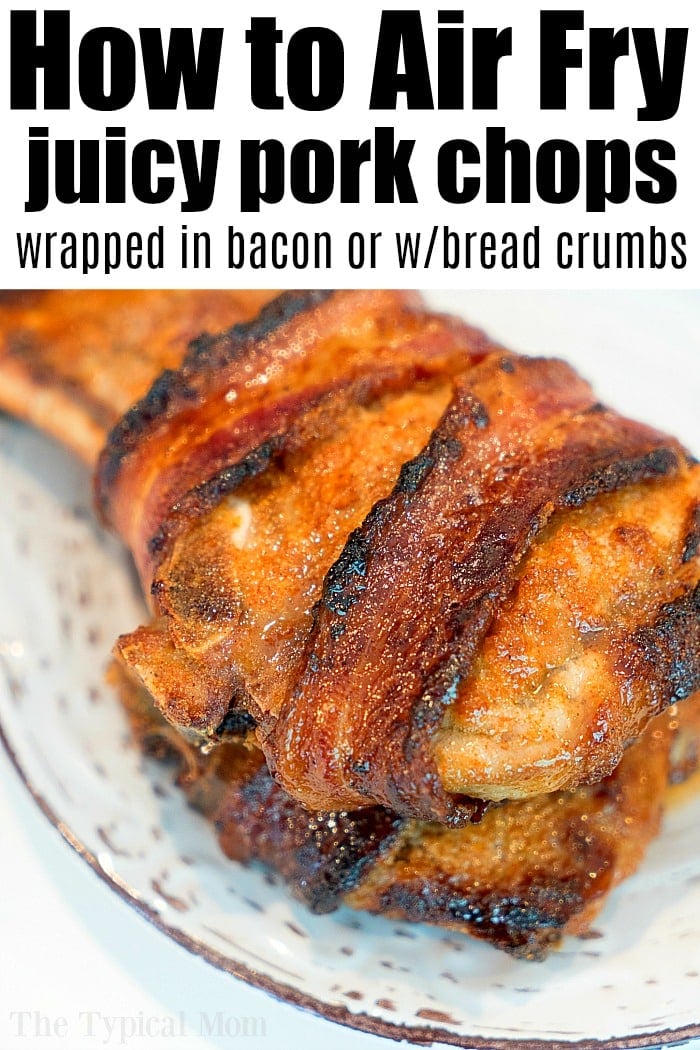 You can read our article about Ninja air fryer recipes if you have that specific machine. Many are listed here though. That is the same mode as any other singular air fryer machine. With that you can get really crispy air fryer russet potato chips, lightly coated chicken, desserts and more.
Can you make dessert in an air fryer?
YES!! This gooey air fryer cake is a great example of perfection. OR make a small batch of air fryer cookies after dinner.
Want a small batch of air fryer cupcakes? You can make just 6 at a time or all 18 and never have to heat up your oven.
Air fryer monkey bread could be dessert or breakfast! And during the Fall you've gotta' try our air fryer pumpkin pie or air fryer pumpkin bread recipes you see here.
Air Fryer Desserts
But wait, there is more…. For one you can make tons of different combinations with the whole idea of making dessert egg rolls. Use pie filling, chocolate, a slice of banana or our cheesecake filling to make a bunch. We've even made the best apple crisp in this handy machine.
Air fryer donuts are easy with this semi homemade recipe, or use refrigerated biscuits to make biscuit donuts. For skinny choices you can go with air fryer filled churros too.
You can air fry lemon filled donuts or holes cooked this way too.
Air Fryer Recipes
Looking for an easy and healthy snack? Try our sweet potato chips air fryer recipe. Or throw in a few air fryer frozen egg rolls some day.
We love potstickers in air fryer too. You can make them homemade or from frozen too. If you do the latter I suggest wrapping in wet paper towels for a few minutes. Then spray the basket and heat at 400 until golden brown and crispy.
Yes you can make a regular version, but Air Fryer Meatloaf Wrapped Bacon is even better!!
Want to see a few of my favorite things that I am totally obsessed with?? Take a peek and see how many you might already have…twinsies!
Looking for more easy family recipes and tips? LIKE The Typical Mom Facebook page?
Then sign up for my free newsletter, and follow me on Pinterest! 😉
***** If you LOVED this recipe give it 5 Stars below and let everyone know what you thought about it. 😉