Air Fryer Fajitas are so easy to make! We used beef with a dry rub, onions and bell peppers and they were great in our Ninja Foodi and Cosori machines.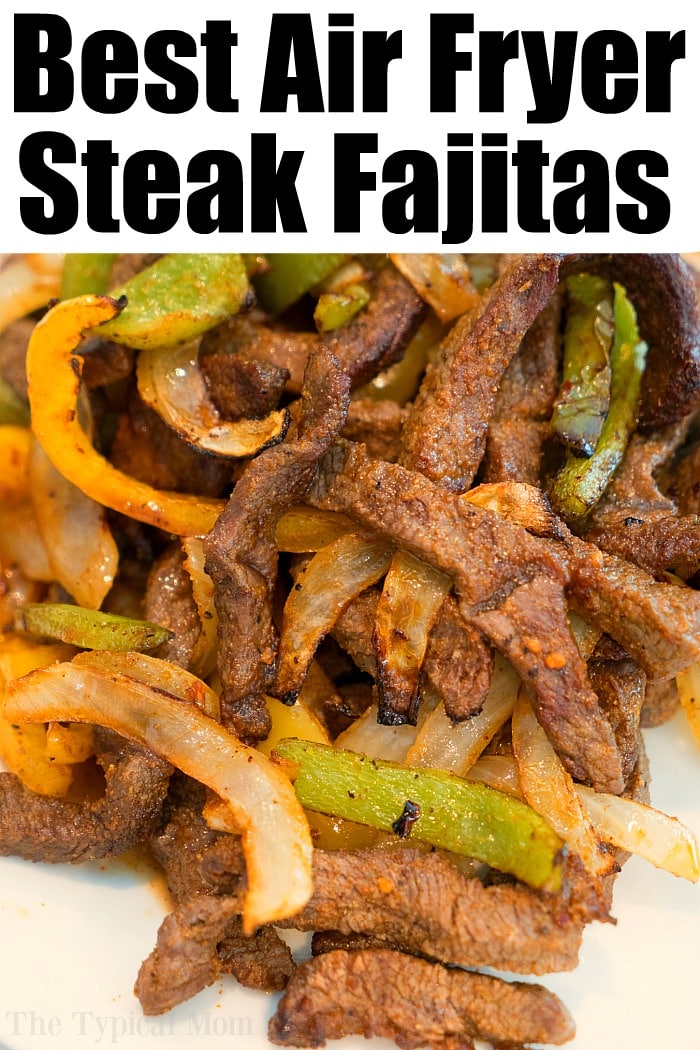 These low carb keto air fryer fajitas are amazing! Made with a beef dry rub and as many vegetables as you'd like you too can make this air fryer dinner for your family.
Do you love beef fajitas too?
Here are a few resources to start with:
Air fryer fajitas ingredients
Beef cut into thin slices
Bell peppers and onions
Olive oil
Fajita seasoning you need to make the best dry rub for beef.
We've made this fajita marinade before too but this is how to make fajita seasoning dry rub that isn't as messy. Your choice.
Cumin
Bell peppers

you can make air fryer peppers without meat here

Garlic salt
Paprika
Garlic powder
Salt
Chili powder
Once you slice your beef into strips for your air fryer steak fajitas. Then you'll add 2 tbsp. of your olive oil and mix together so the seasonings will stick well.
Then mix your dry marinade together and dump that in too.
Mix so all meat is coated well.
Next add your slices of onion and bell peppers so everything gets flavorful throughout.
I like to preheat my air fryer at 390 for 3 minutes but if you forget it isn't a huge deal breaker.
Add half of your mixture into your air fryer basket so it doesn't overlap.
Timing will depend on how well done you like your meat.
7-10 minutes has worked well for us depending on how thick our beef strips are.
It is important to have just one layer so everything gets done at the same time. You don't want your meat pink in one spot because a piece of bell pepper was laying on top of it.
The thinner you slice your vegetables the softer they will be in the end too. So, slice accordingly.
I imagine you could use thinly sliced chicken breast to do the same thing, and make air fryer chicken fajitas. I haven't done that yet. When I do I will add any additional cook time details but I'd imagine it would be on the lower end. Maybe 6 minutes would do it.
How can you cook fajitas other than an air fryer?
Well we have made Instant Pot fajitas as well and those were yummy. In the past we've enjoyed crockpot chicken fajitas too.
We've made sheet pan steak fajitas too in our oven.
What goes with fajitas?
We serve ours inside small flour tortillas topped with:

slices of avocado or guacamole
sour cream
salsa
cheese
What cut of beef is best for fajitas?
Rump, skirt, or flank steaks are typically the best cuts of beef for fajitas! Skirt steak is tenderer and more flavorful than flank most people say. It can be cooked well done too without getting too tough.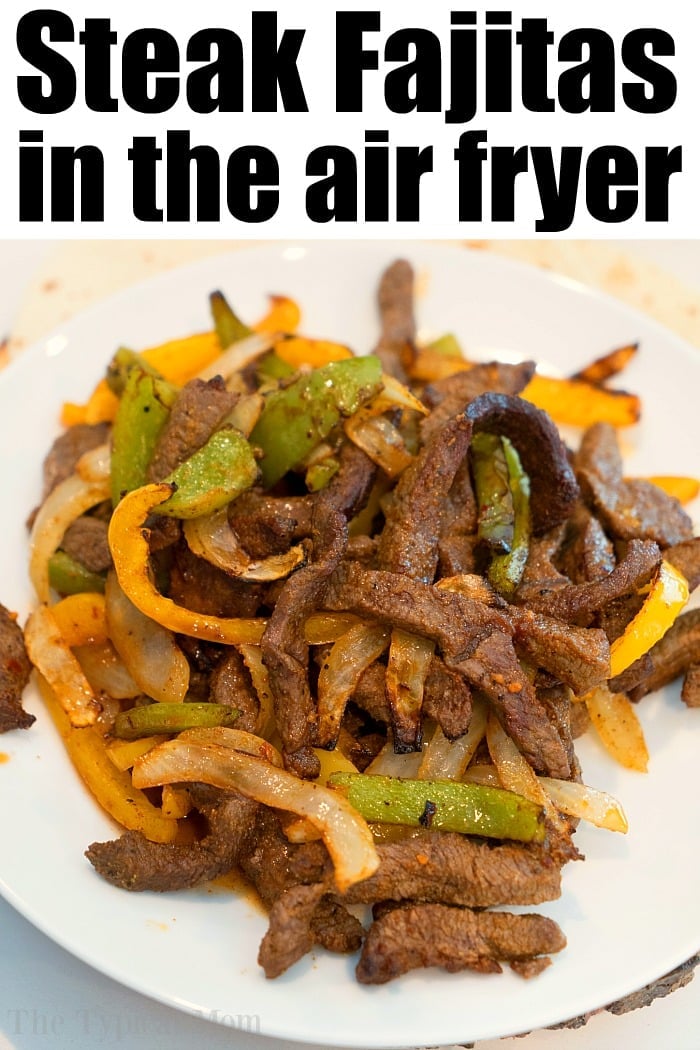 What is the difference between skirt steak and flank steak?
Skirt steak is a thin long cut of beef from the muscles of the cow. It has a more beefy flavor than flank. To get the tenderest texture it should really only be cooked to rare or medium rare.
Other air fryer dinner recipes you should try:
For more easy recipes, tips and free printables please LIKE The Typical Mom on Facebook and follow me on Pinterest! You can also sign up for my free weekly newsletter which is packed with goodies I know you'll love. 😉
Air Fryer Fajitas
Air Fryer Fajitas are so easy to make! We used beef with a dry rub, onions and bell peppers and they were great in our Ninja Foodi and Cosori machines.
Instructions
Put your sliced meat into a bowl and pour 2 tbsp of your olive oil on top. Mix together.

Combine all your spices in a small bowl and mix together well, then add in with beef and stir to coat.

Add sliced bell peppers and onions and add your remaining 1 tbsp of olive oil on top. Stir so vegetables and meat are all coated well.

Preheat your air fryer at 390 degrees for 3 minutes.

Add half your fajita mixture into basket and spread out so there is little overlap.

Set to 390 degrees for a total of 7 minutes, stir after 5 minutes. If you want your beef more well done than it is after 7 minutes then just add 1-2 more minutes. Timing will depend on how well done you like your meat and how thick your slices were.

Put in second half of batch and do the same. Then serve inside small tortillas topped with sour cream, avocado, etc...
Nutrition Facts
Air Fryer Fajitas
Amount Per Serving (3 oz)
Calories 417
Calories from Fat 306
% Daily Value*
Fat 34g52%
Cholesterol 81mg27%
Sodium 679mg30%
Potassium 514mg15%
Carbohydrates 7g2%
Protein 21g42%
Vitamin A 2445IU49%
Vitamin C 77.4mg94%
Calcium 39mg4%
Iron 3.3mg18%
* Percent Daily Values are based on a 2000 calorie diet.