Sheet pan steak fajitas are yummy and a quick meal for your family tonight. A keto low carb dinner packed with flavor and vegetables it's sure to become a fave.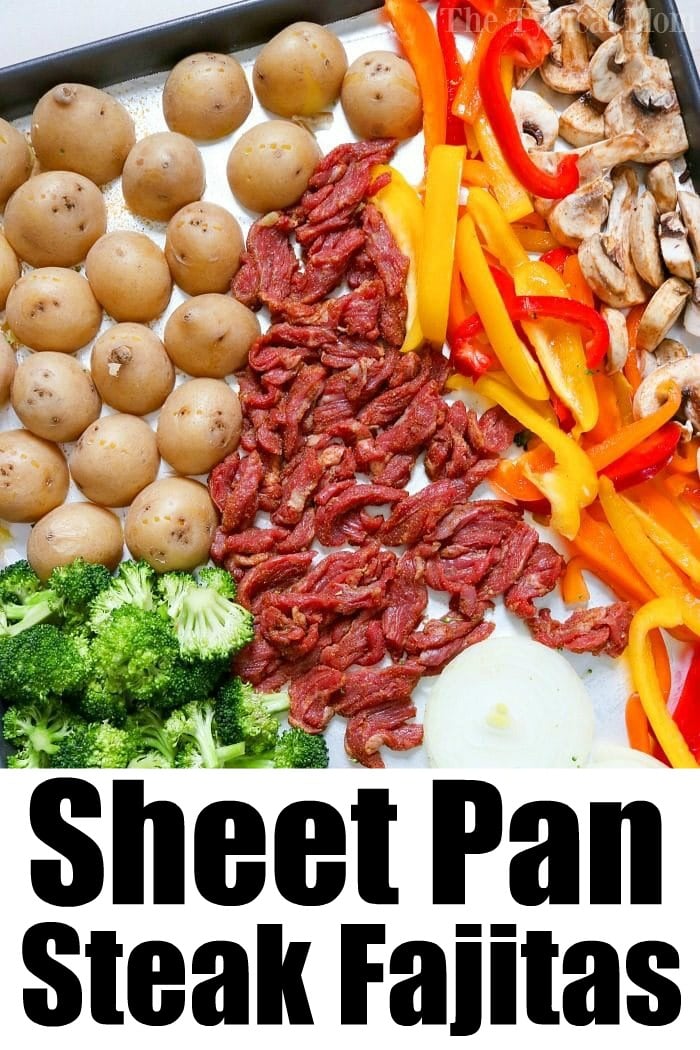 If you're looking for a healthy sheet pan dinner these sheet pan steak fajitas should be top on your list! Packed with protein it is a low carb keto meal that everyone will love and keep everyone's belly full.
We have made these several different ways, you choose which one is your favorite.
If it is hot outside and you don't want to use your oven for this version you can try our air fryer fajitas or Instant Pot fajitas.
BUT the "old fashioned" oven is still a fave among many so we wanted to offer this way too. All of them have lots of vegetables mixed in but this one has the most, including potatoes!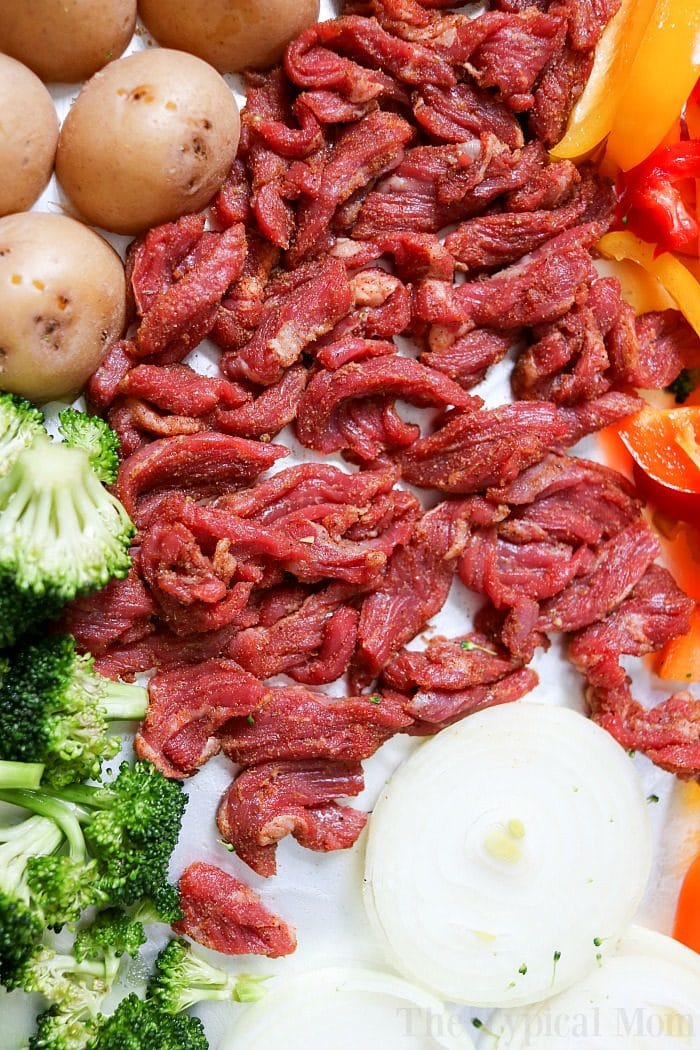 Low carb lunches such as this one are great. They're packed with protein to keep you full, but not shy on flavor.
There are many ways to season your meat. For a simple sprinkle you can just add a little salt and pepper. If you want to go beyond that we have a light dry rub for beef below.
BUT if you want to make the best sheet pan steak fajitas you MUST use the best fajita marinade on your meat first.
Then marinade overnight and then continue on to finish the recipe as directed.
With any of these options comes the heat factor. We prefer ours to be in the mild/medium range but you can really pack on the spices if you're daring. 😉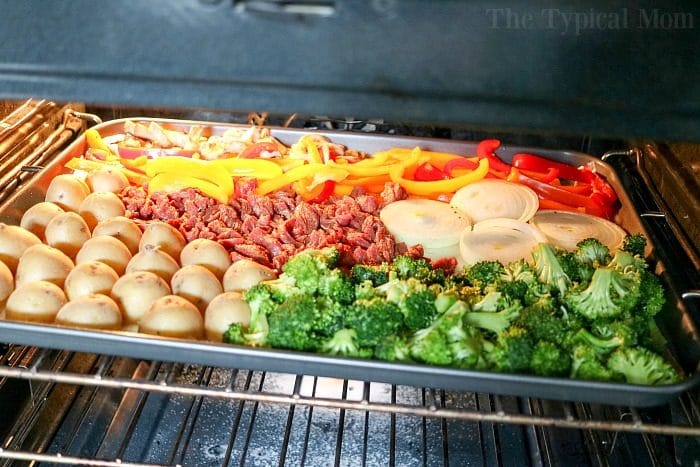 Ingredients needed for sheet pan fajitas:
Rimmed baking sheet
Small bowl to add meat and marinade
Flank steak sliced into thin strips

you can rub on our steak dry rub first if you want bold flavors

Broccoli
Small potatoes
Bell peppers and onions
Mushrooms
Olive oil
Seasoned salt
Cumin
Oregano
Garlic and garlic powder is optional
Sriracha seasoning is great for heat
Lime juice optional
Sour cream and avocado as toppings served inside small flour tortillas
You can buy a premixed fajita seasoning or this is how to make fajita seasoning yourself. Then you can make flank steak fajitas in the oven.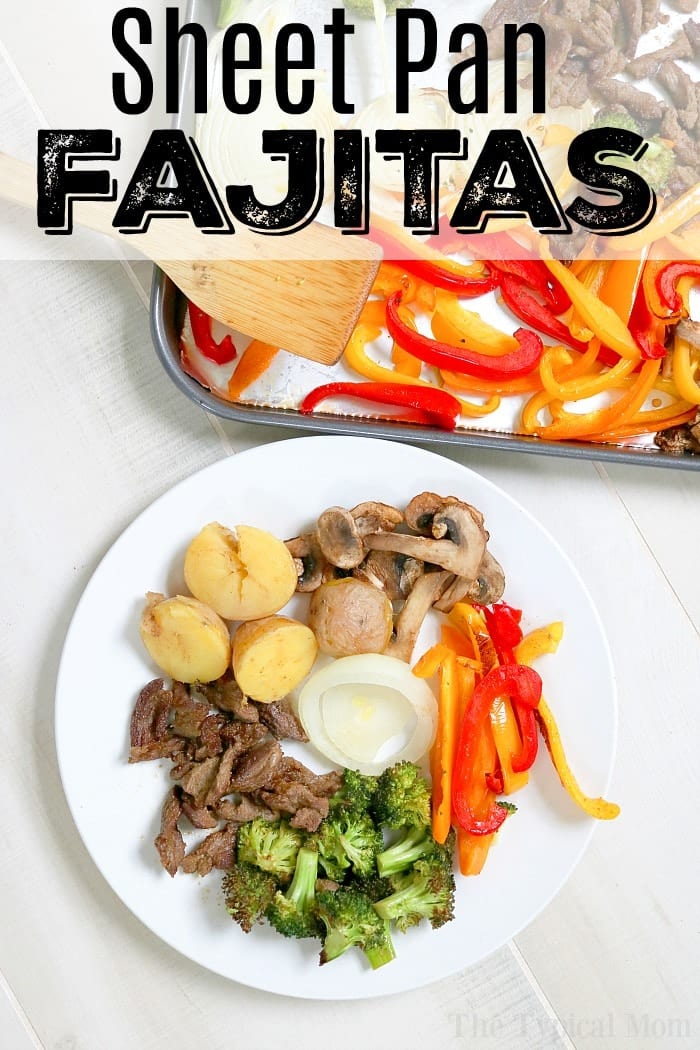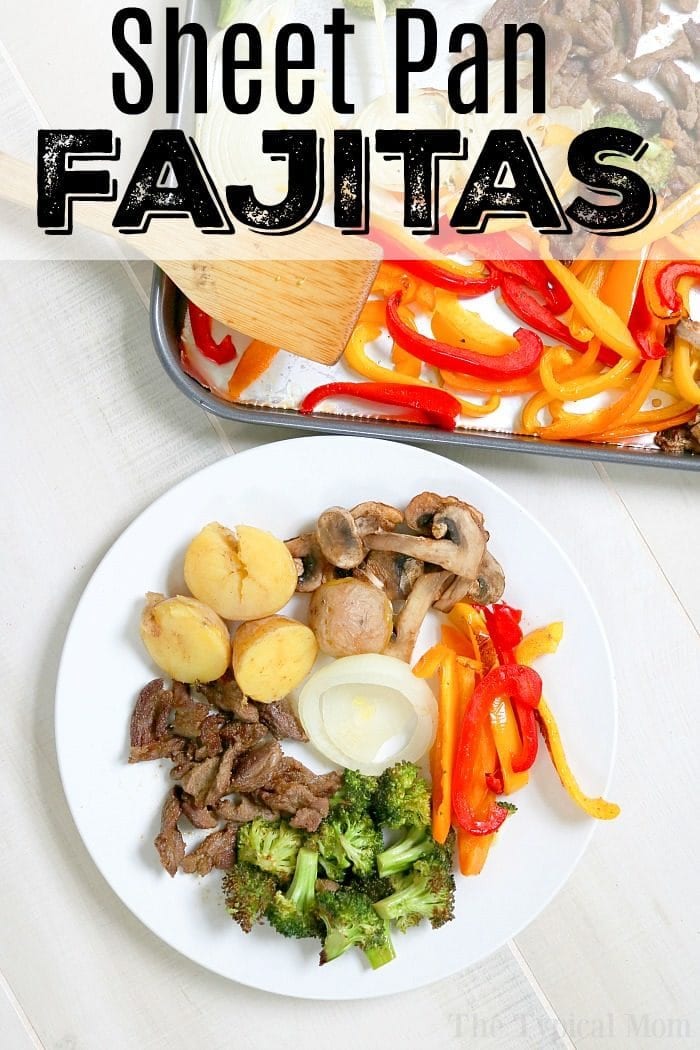 Steps for making steak fajitas:
Spray cooking spray or lightly grease a large baking sheet pan

Or line pan with non stick foil for easy clean up

Preheat oven to 400 degrees

Then you'll change to broiler when you're ready to put them in
10 – 15 minutes will be the total cook time once everything is prepared

In a bowl mix your thin slices of steak + olive oil, chili powders, cumin and other spices until well coated
Partially precook your potatoes in the microwave if you're adding them
Cut vegetables into small bite size pieces
Add everything to your sheet pan and put it under the broiler
Flip halfway through and then enjoy!
If you want to make sheet pan chicken fajitas you could follow this recipe too, you just may need to adjust time to a bit less and ensure chicken is cooked through before consuming. Just use boneless skinless chicken breasts and cut into thin strips, marinate and add chicken and vegetables to sheet pan as directed.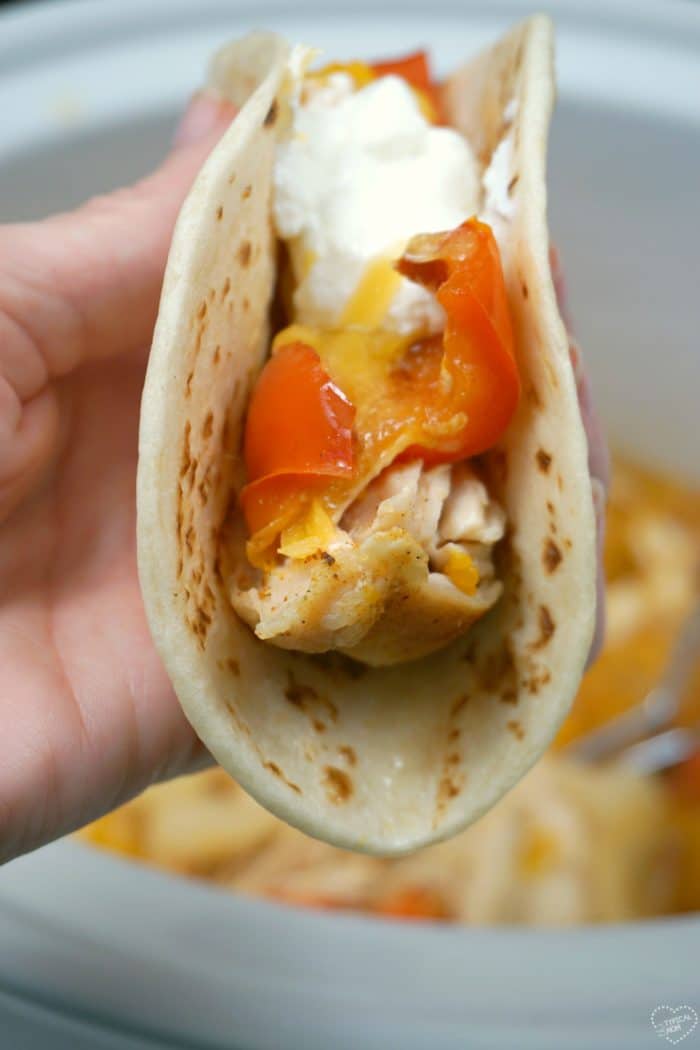 Either way warm tortillas on the stovetop or microwave and serve with meat and vegetables inside.
Or just eat as is or served on top of a bed of Instant Pot white rice for a gluten free option.
Total cook and prep time should be around 30 minutes from start to finish.
What's great about these sheet pan steak fajitas is there are so many options when it comes to a dry rub or beef marinade. Use your own secret recipe if you have one, or use ours. When you're using beef you can also make it as "well done" or rare as you want.
What goes with fajitas?
Sautéed onions
Cloves of garlic
Peppers, any and all colors
Chicken (or steak)
Serve it with:

white or brown rice
beans, pinto or black
tortillas, corn or flour
sour cream
guacamole or slices of avocado
cheese is a must for us, I love Jack and sharp cheddar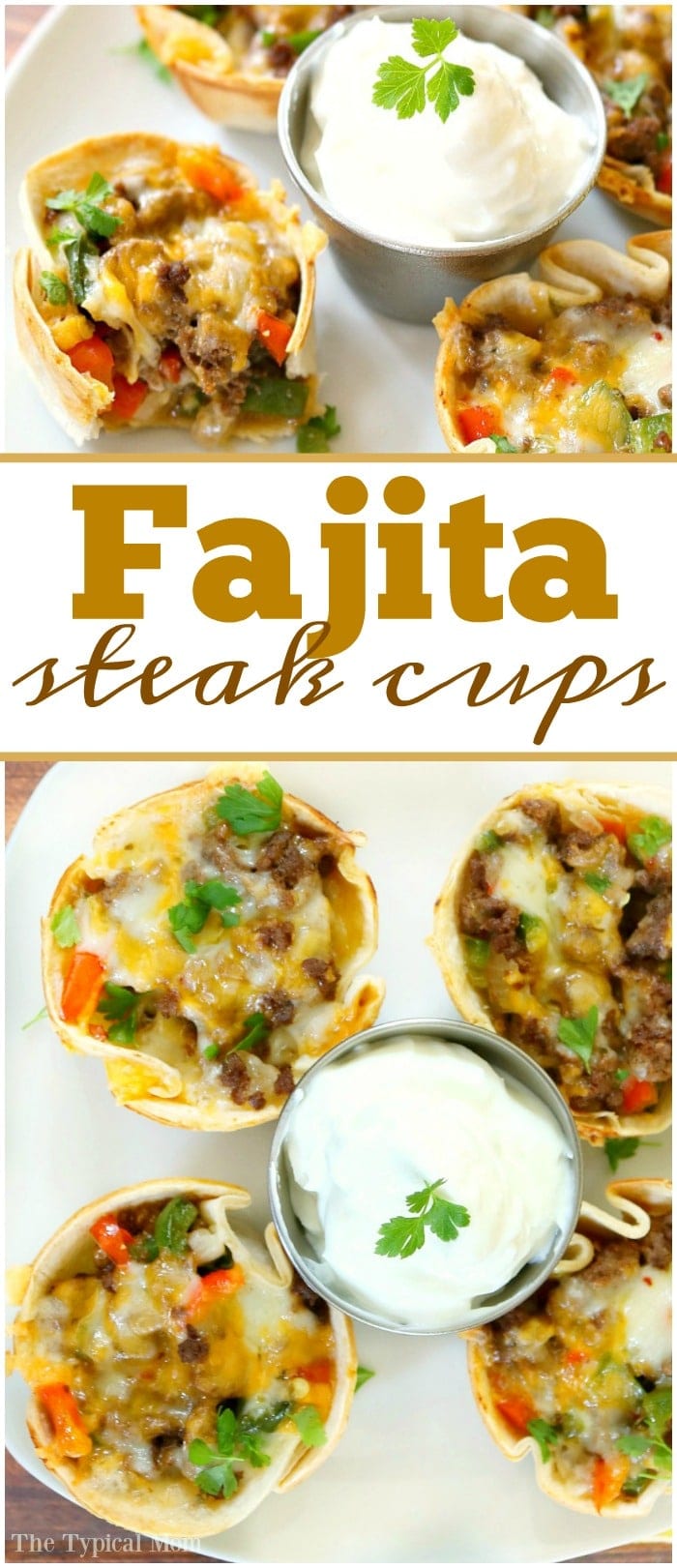 How are you supposed to eat fajitas?
There isn't a wrong way really!! Think outside of the box and make a fajita appetizer like these steak fajita cups!
If you're having people over and want a hearty meal but easier to pick up these are the answer!
I showed you a picture of our crockpot chicken fajitas above. Great if you're out and about all day.
Prefer fish? Try these shrimp fajitas some night too.
What makes a fajita a fajita?
Traditionally they're served sizzling hot using skirt steak! They're a Tex-Mex cuisine made with any grilled meat that is served as a taco on a flour or corn tortilla.
Love making meals this way? Try our sheet pan chicken thighs and sheet pan turkey next!
Sheet Pan Steak Fajitas
Sheet pan steak fajitas are yummy and a quick meal for your family tonight. A low carb dinner packed with flavor and vegetables it's sure to become a fave.
Instructions
Pre-cook your potatoes, either by boiling them for 15 minutes, or by poking holes in the skins with a fork and microwaving for 7 - 10 minutes. Slice cooked potatoes in half, and place cut side down on sheet pan.

In a large bowl, toss broccoli with 2 tbs soy sauce and 1 tbs olive oil. Spread onto your sheet pan.

Slice peppers and arrange on sheet pan. Spray lightly with oil.

Arrange mushrooms on sheet pan, spray lightly with oil and then sprinkle with seasoned salt.

Arrange onion slices on sheet pan, spray lightly with oil and season with seasoned salt.

Slice your steak into small slices. In a large bowl toss with 1 tbs olive oil, 1 tsp cumin, 1 tsp minced garlic (about 1 clove), 1/2 tsp oregano, 1/4 tsp salt. Spread onto your sheet pan in a single layer.

Cook under a high broiler for 5-7 minutes, then flip steak and onions. Cook another 5-7 minutes or just until meat is cooked.

Line the pan with foil before you begin, and cleanup will be a breeze!

Pay attention to where your broiler is Mine is always hottest in the center, so I put more hearty items in the center of the pan.

Nutrition Facts
Sheet Pan Steak Fajitas
Amount Per Serving (4 oz)
Calories 0
* Percent Daily Values are based on a 2000 calorie diet.