List of the best frozen foods for air fryer are here! WAY better than baking in the oven, more like deep fried but without the oil. You'll never go back! Download our air fryer frozen food cooking chart and let's get started!
Have a hot air machine, but really don't even know where to get started? Don't worry, just start with the best frozen foods for air fryer to begin. They not only taste great but they'll also help you get a good handle on how to use your Air Fryer, too. (originally published 6/20, affiliate links present)
Frozen Food in Ninja Foodi
Think air fryer pizza rolls couldn't get any better?? Well you'll never microwave them again after throwing them into this hot air machine. You can now get everything to taste just like you'd get it at a restaurant, but right at home and a lot cheaper of course.
Everything gets SO crispy on the outside when you use the time and temp on our air fryer frozen food cooking times chart. At the same time the inside stays tender, just to die for. Even a frozen pot pie in an air fryer comes out amazing.
FIRST – You should sign up for my free newsletter so you get new posts emailed to you twice a week and never miss out on anything! If you love air fryer recipes too, here are some resources to start with: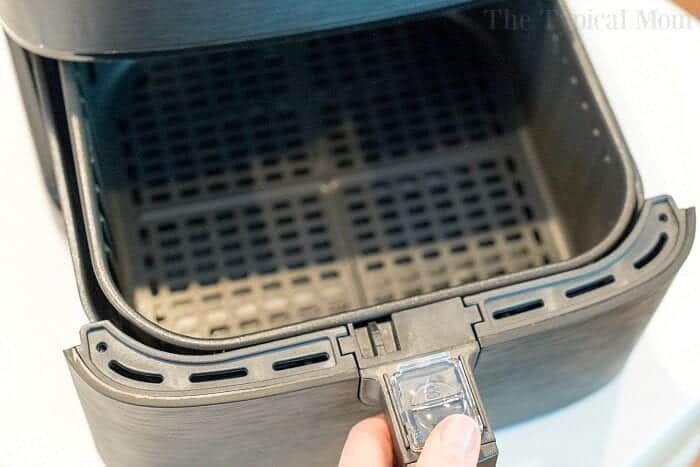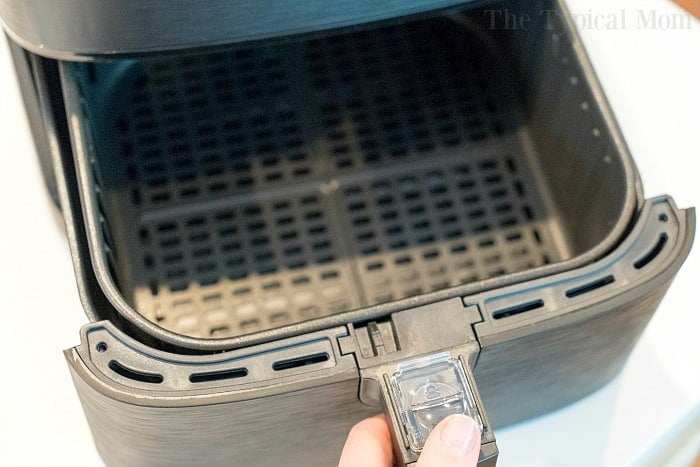 Best Foods to Try in an Air Fryer
So most of these are bagged or out of a box, already prepared foods as you would imagine. You can cook frozen meat in air fryer too though. They turn out better than you might imagine too. From frozen hot dogs in air fryer to pork chops, chicken legs and more.
And baking frozen rolls this way is a game changer. A great easy side dish that goes with just about any meal right?
What frozen stuff is good in air fryer?
First off you can cook all frozen foods in air fryer but those right out of the bag you would normally microwave are phenomenal. In this post we will share how to cook frozen corn dogs, fish sticks, and frozen vegetables too.
What should you not put in an air fryer?
There isn't a particular food that I would say no to, but aluminum foil would be a hard no. It inhibits the flow of air and the underside will not get crispy.
Let's take something like a bag of frozen popcorn shrimp air fryer style. You literally just preheat, dump the bag inside, crisp, toss halfway thru the cook time and enjoy. It is not just great for already cooked (and processed) foods though. You can cook frozen chicken tenderloins in air fryer without breading.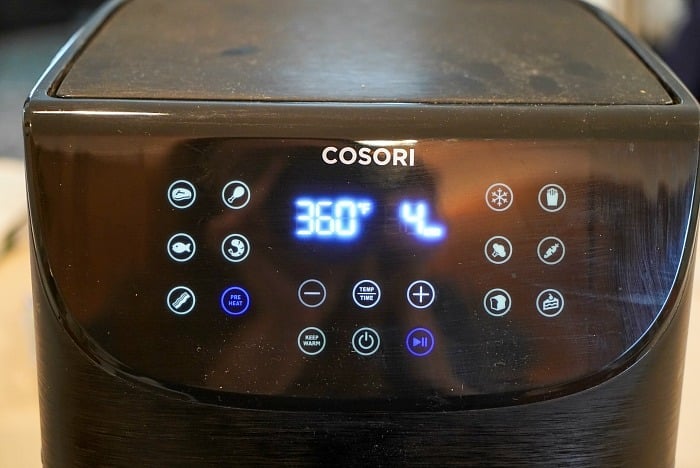 Frozen Food in Air Fryer
Being able to air fry food is great.
Not only does it cut out the majority of the oil and grease but it also just gives the food items that you're cooking a really great crispy crunchy taste. Never ever will I cook things like frozen crab cakes in air fryer again in the microwave. Not only is the texture way better but it even improves the taste with a bit of crisp on the outside.
We make these with some air fryer frozen cod, the two paired together make a delicious meal even the kids love.
It's time to say goodbye to deep frying and give this simple cooking method a try.
All you need is this handy dandy air fryer basket and occasionally some olive oil spray. That's all you need to make air fryer frozen vegetables and more!
If you're anything like me you wouldn't think things like frozen broccoli in air fryer or frozen asparagus in air fryer would turn out well at all. I didn't think it would either. Surprised is an understatement my friends.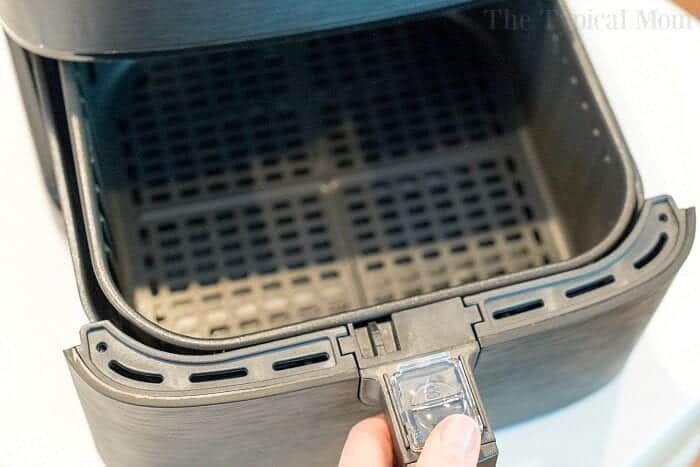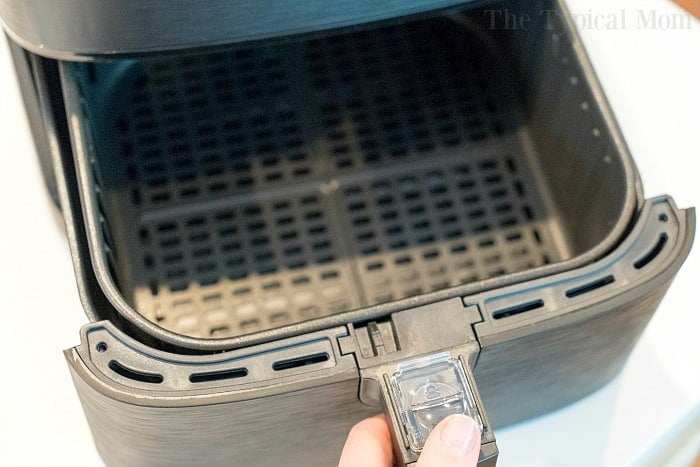 Can you put frozen foods in air fryer?
Absolutely! This is one of the biggest reasons that people purchase this kitchen appliance. Frozen foods are a total convenience food item and using your Air Fryer to cook them up is a breeze.
Start with something simple like frozen potstickers in air fryer and go from there! Then frozen salmon in air fryer will be a lot easier.
Knowing that you don't have to heat up your oven for a small batch of french fries is a pretty awesome. And if you're forgetful try our air fryer frozen steak recipe.
Ok let's talk kids. What is their favorite meal but drumsticks of course. If you forget to take them out the day before you can follow our frozen chicken legs in air fryer directions.
Here are a few questions you might have in mind while you're trying to wrap your head around this idea;
What are the pros and cons of an air fryer?
Using an air fryer comes with a lot of positives. It's quick, it's more energy-efficient than other larger appliances, and it cuts out the grease by a ton.

One of the biggest cons with an air fryer is that it's going to take up counter space each time that you use it.

But when you're comparing the pros to the cons, it's pretty clear that having an air fryer in your household is a simple and easy choice to make.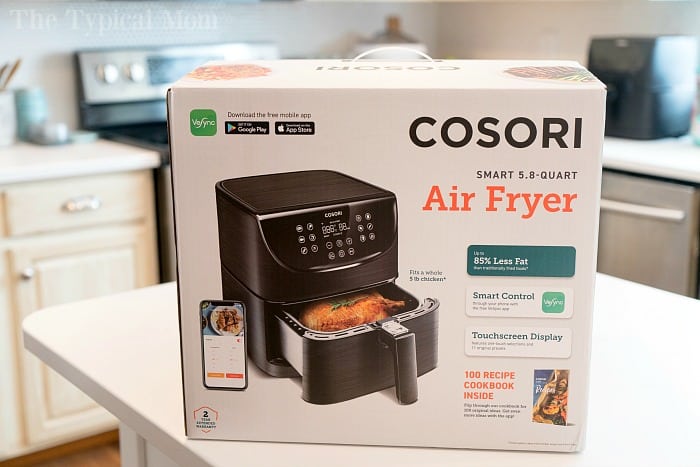 Best Frozen Foods for Air Fryer Costco
If you ask me whether I regret getting one I would say 100% NO WAY! I use mine EVERY SINGLE DAY I tell you. If you shop at big box stores you can really stock up when you see a sale or something you cook a lot. Use our Costco air fryer recipes if you do.
Whether it's to warm up something, make grilled cheese for lunch, or make air fryer bacon for breakfast.
Now I haven't tried these frozen but generally it works. I just adjust the temp to be a bit lower, for a longer time and it's great.
Just use the air fryer times printable you see here for new items you may not have cooked before.
The timing for everything is really dead on so there's little to no guesswork. It doesn't have everything, like how to cook frozen chicken thighs in air fryer so we added specific posts for things like that.
What foods can be cooked in an air fryer?
You can literally cook all sorts of foods in your air fryer. Meat, veggies, frozen foods…you name it.
This is what makes this appliance so versatile. It can literally cook up pretty much anything that you're going to put into it. Even frozen pork chops in air fryer are possible.
First off, understand that all frozen foods are perfectly fine to cook up and use in your air fryer. That being said, there are some that just really come out awesome and need to be highlighted.
Let's start with my girls' favorite, air fryer corn dogs! The only way we cook them anymore because they come out so perfectly. If you want more simple you can follow our instructions on how to cook frozen hot dogs in there too. Throw them into a bun and dinner is ready.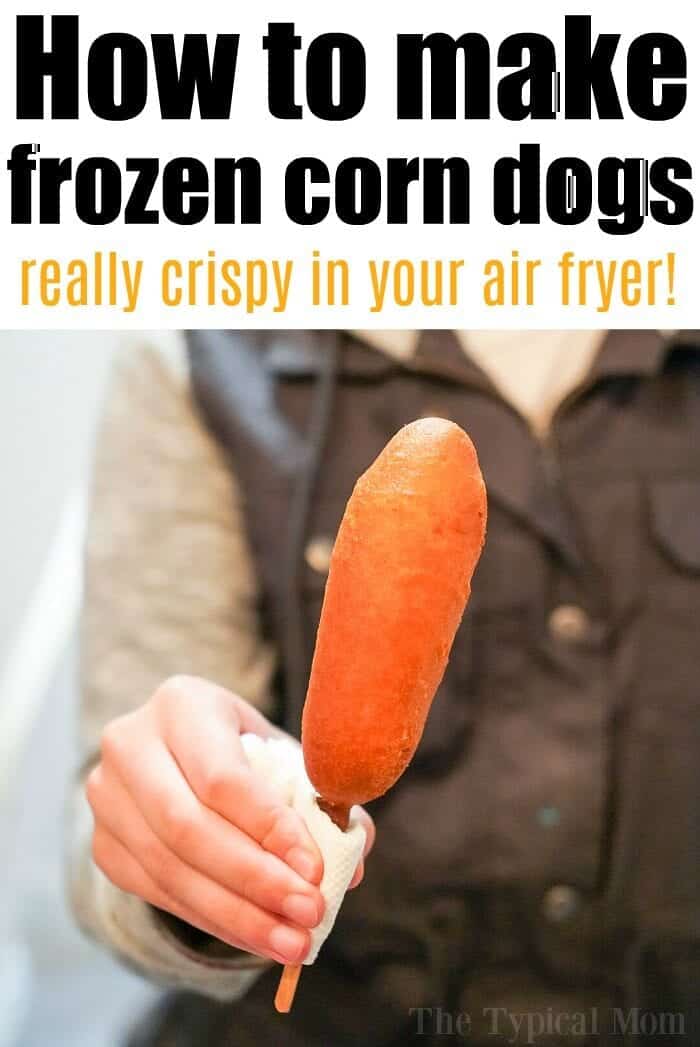 How to Cook Frozen Food in Air Fryer
If you love that deep fried crunch you get when you order one of these babies at your local fair, this is the same!
Well, better because you can omit the oil but they're just as crispy.
You can serve those with frozen chicken patties in air fryer. Dressed up like a burger, they're a perfect brunch or dinner. You'll want veggies with those too though. If so try air fryer frozen okra for a change. Seasoned with just some salt and pepper it is a great meal duo.
Air fryer frozen mozzarella sticks just requires 5 minutes of preheating and a few more to crisp outside.

The inside stays ooey gooey perfection. Great appetizer or after school snack.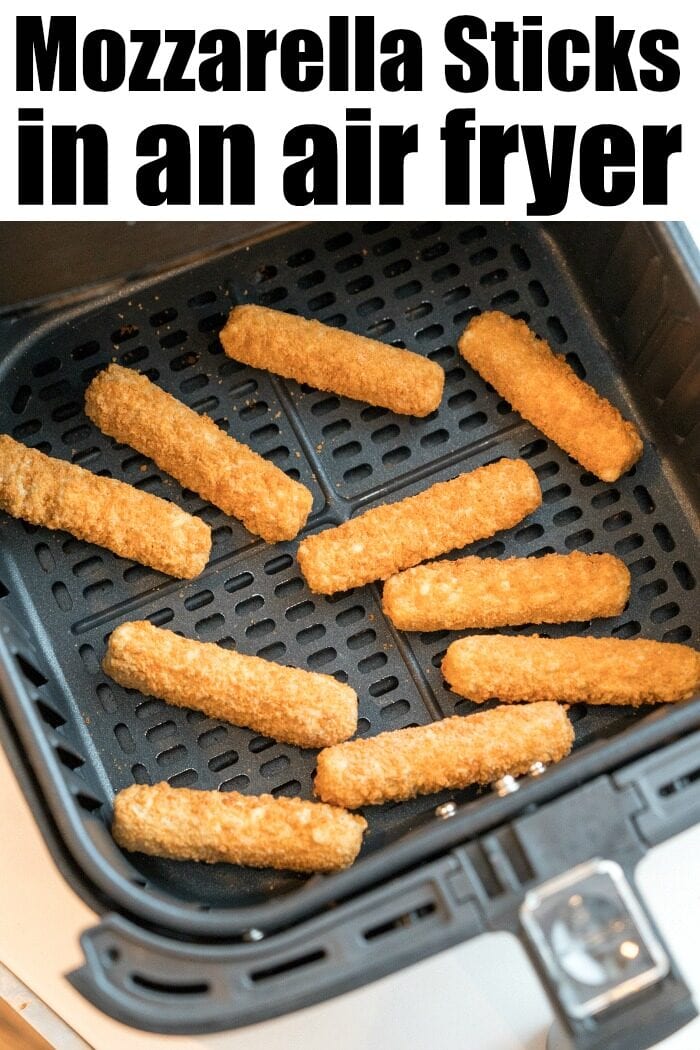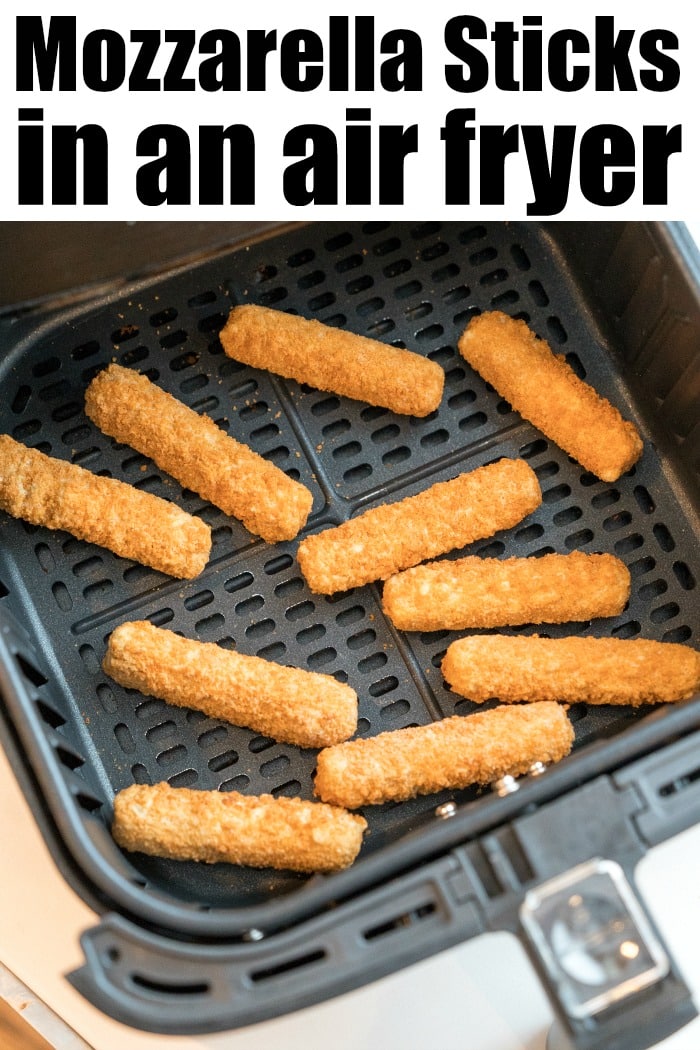 How to Cook Frozen Meat in Air Fryer
After that first bite and the massive crunch followed by a never-ending string of cheese, you're going to be agreeing on this one.
For breakfast or dinner if you're in the mood for pork, give our frozen sausages in air fryer instructions a whirl. You'd never know they were rock solid a few minutes beforehand.
Have you made some crispy frozen air fryer french fries yet?? We make them in our Foodi and wouldn't have them any other way. Whether you make thin ones like you see below or air fryer frozen waffle fries they turn out super crispy.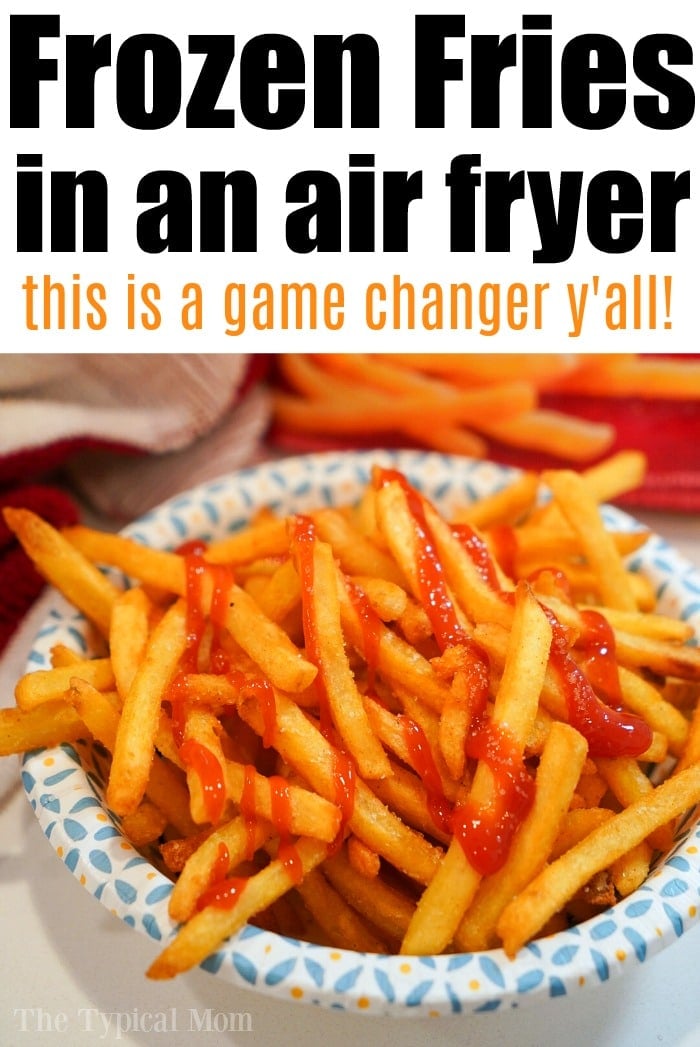 It's true! You can crisp up some sweet potato fries too in a jiffy for yourself or the kids. Talk about a healthy snack and a sweet one, too.
When you're craving just a little snack, throwing a handful or two of fries into your air fryer is really all you need to do.
They'll be cooked to perfection in no time at all.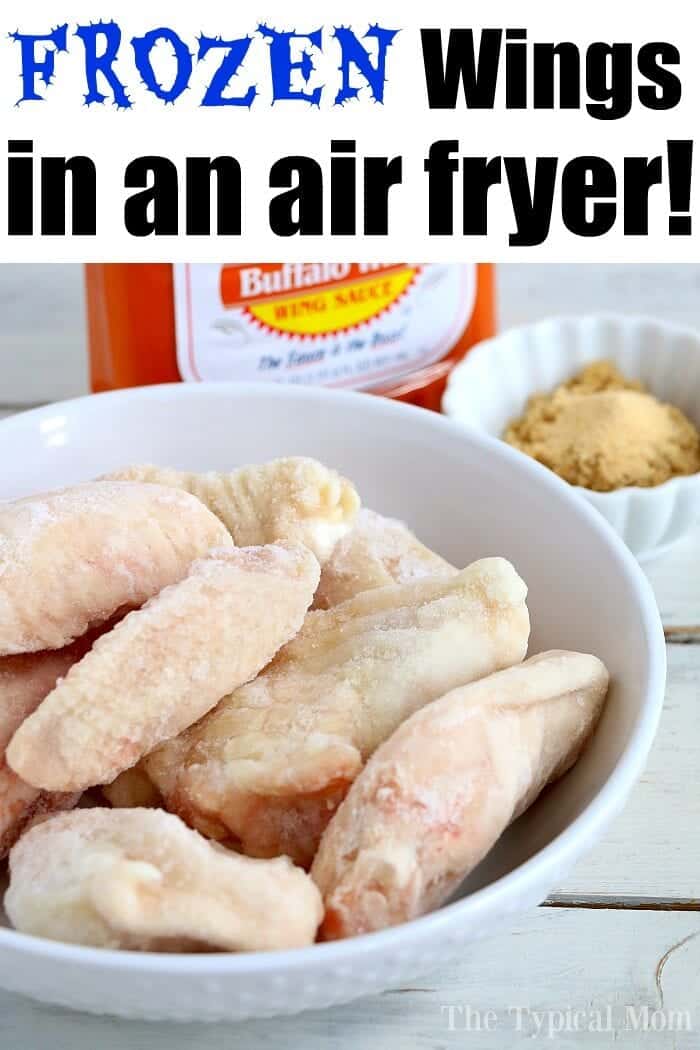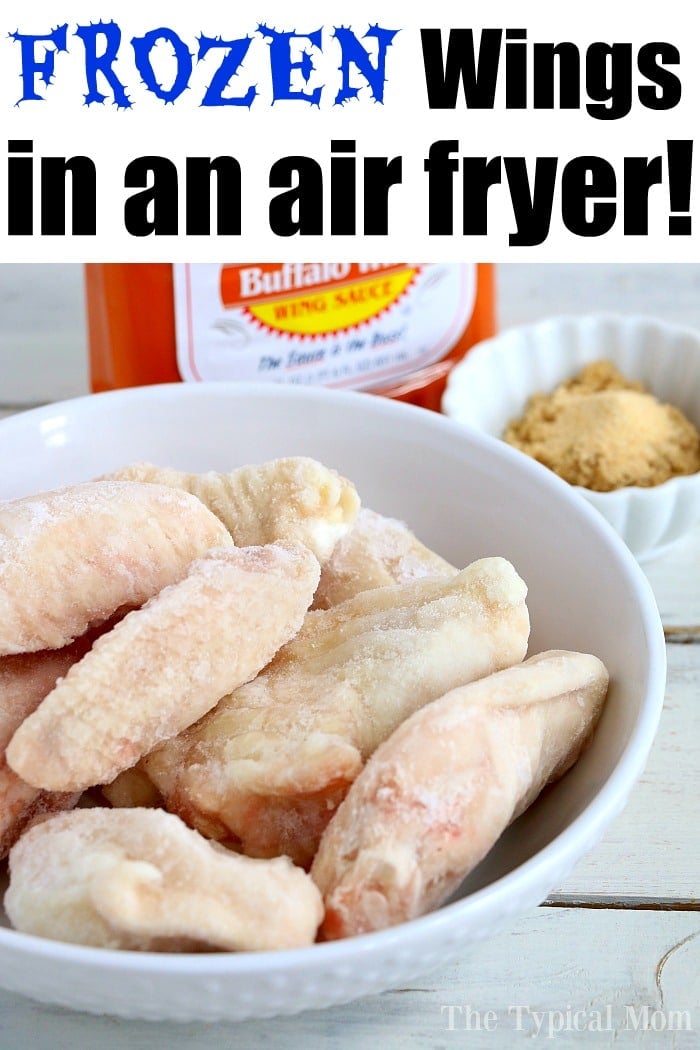 Frozen Food in Foodi
This is probably one of the biggest food items that people like to use their air fryer for. And it makes sense, right? Who has the patience to cook up hot wings or chicken wings any other way?
All you literally have to do with your air fryer is add the frozen wings to your air fryer basket and cook them up? It's literally as simple as that.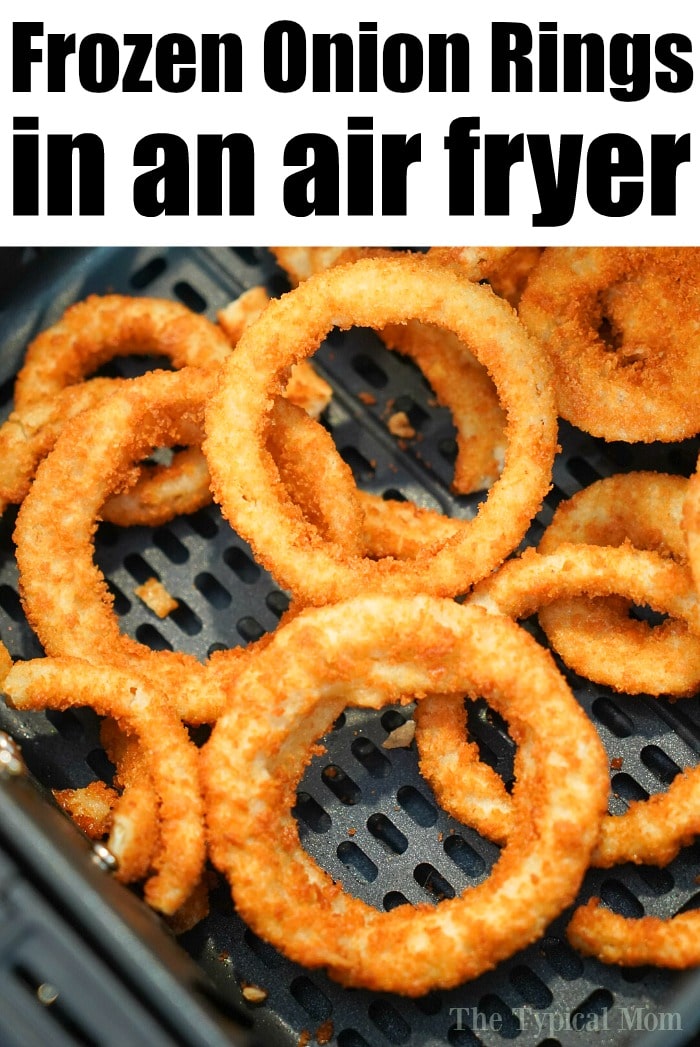 All of these frozen foods are great choices and can be cooked up quickly as well.
If you're having a fun weekend of treats or are looking for a simple way to cook up food for your guests or hungry teens, using your air fryer will deliver the perfect results time and time again.
We cook a lot of frozen meat in Instant Pot too…because I tend to be forgetful. 😉
Air Fryer frozen foods
What are some of your favorite things to cook?
Our next thing we made were frozen egg rolls in air fryer with some dipping sauce on the side. Timing is on our chart, cooked frozen to warmed in no time.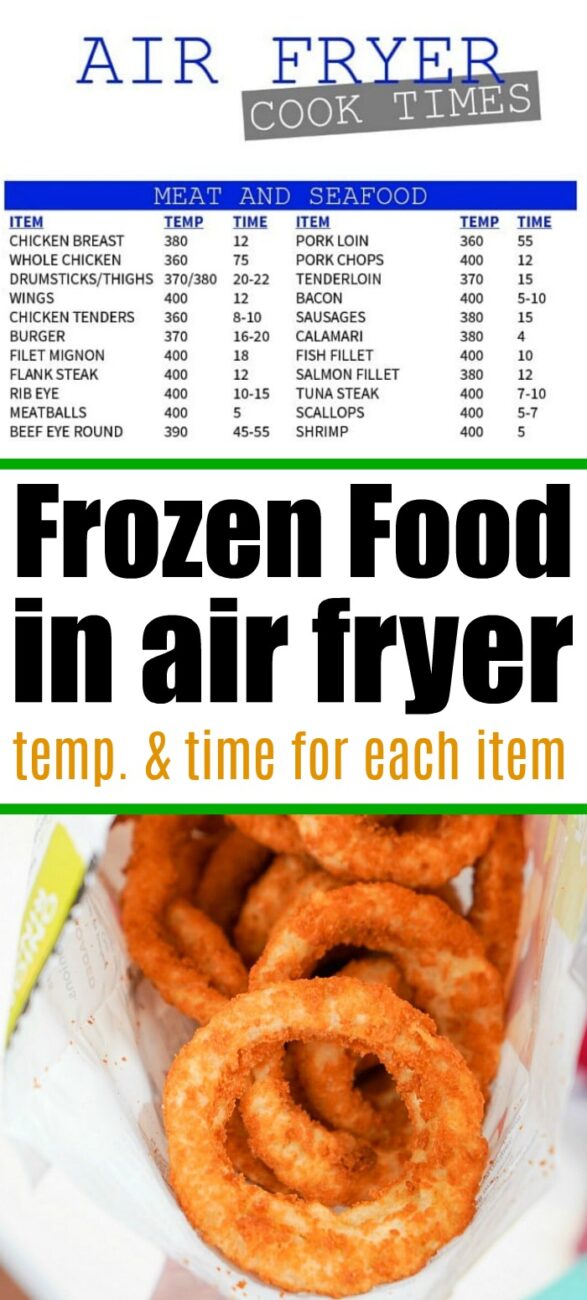 Best Frozen Food in Air Fryer
Best frozen food in air fryer or Ninja foodi. Cook vegetables, frozen french fries and frozen foods to tender and crispy every time.
Ingredients
1

bag

french fries

frozen
Instructions
Preheat air fryer to 400 for 5 minutes.

Spray basket with olive oil spray, dump frozen fries into basket and cook for 15 minutes total tossing every 5 minutes with a spray of olive oil spray on top every time you toss it.

Remove when they are as crispy as you'd like.
Nutrition Facts
Best Frozen Food in Air Fryer
Amount Per Serving (2 oz)
Calories 1
Calories from Fat 9
% Daily Value*
Fat 1g2%
Sodium 1mg0%
Potassium 1mg0%
Carbohydrates 1g0%
Protein 1g2%
Vitamin C 1mg1%
Calcium 1mg0%
Iron 1mg6%
* Percent Daily Values are based on a 2000 calorie diet.
Want to see a few of my favorite things that I am totally obsessed with?? Take a peek and see how many you might already have…twinsies!
Looking for more easy family recipes and tips? LIKE The Typical Mom Facebook page?
Then sign up for my free newsletter, and follow me on Pinterest! 😉
***** If you LOVED this recipe give it 5 Stars below and let everyone know what you thought about it. 😉