How to cook frozen hot dogs so they're tender with some crispy on the outside. Easy instructions on how to cook frozen meat for dinner.
I'm forgetful. A lot. I had to figure out how to cook frozen hot dogs the other night because, well you get it. It was easy and quick so I thought you might have the same mommy moments and need instructions too. If cooking hot dogs frozen may be a game changer for you too, here are my tips. (post may contain affiliate links present)
Frozen Hot Dogs
I don't know about you but we love to buy meat in bulk. It not only saves us a ton of money but it also saves me a ton of trips to the grocery store. When it's snow season that is a BiG deal let me tell you. We buy a pig and cow from local farmers but of course weiners are a different "animal" entirely.
These do make for a cheap dinner for sure though. When we have busy days I often times think of making a package just with all the fixings since everyone loves them.
BUT I do have forgetful moments and don't always remember to defrost them the day before. It. SO this is how to cook frozen meat perfectly.
SO this brings us to this post. Maybe you've had the same sorta' day and that is why you're here. 😉 No worries my friend, I won't tell your family. Your secret is safe with me.
I can help you save the day though so you can still make this popular kids recipe and nobody will ever know. It's super simple to do.
Do you have to defrost hot dogs before grilling?
Yes you would for this method of cooking. Reason being is you really can't "steam" them first like you can here. That means grilling hot dogs will get the outside quite brown before the inside is warmed and cooked.
That being said this meat is precooked so you won't necessarily get sick but it won't work well at all. Cook on the stovetop instead.
Does freezing hot dogs ruin them?
Nope. It's the same as any other type of meat really. You'll want to keep the plastic wrapping over them and then slide them into a freezer bag so they won't get freezer burn.
Using this method will keep them great for months and months. Then follow our directions here to thaw and cook them to perfection. The same goes for cooking frozen bacon. Just separate the pieces and in the oven they go. Perfect they will turn out every time.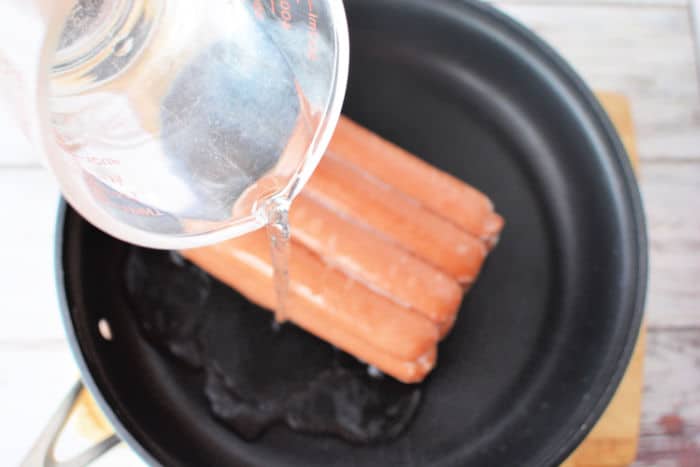 All you need are your dogs and a bit of water. I'm not counting the buns and fixings that go on after they are cooked. Now this method will yield a crispy outside that you'd expect when grilling them or if they were defrosted in a pan. If you boil them in a pot of water you won't get that sear, but you can cook them that way too frozen.
How to Boil Hot Dogs
If you want to know how to boil frozen hot dogs you can do that too. Just know, it will be the same texture all over and won't get browned. You will want a pot of boiling water with little salt to make these. When it reaches a rolling boil add your hunk of frozen weiners.
In a few minutes they will break apart. Assist this with a metal spoon
Allow them to boil for another 3 minutes or so until they puff up a bit
Drain the water and enjoy, or put into a pan on the stove to brown the outsides and then serve
I prefer this method a lot better. Not only is it a lot faster (because waiting for water to boil stinks) but the texture all over is a lot more appealing. BUT decide for yourself.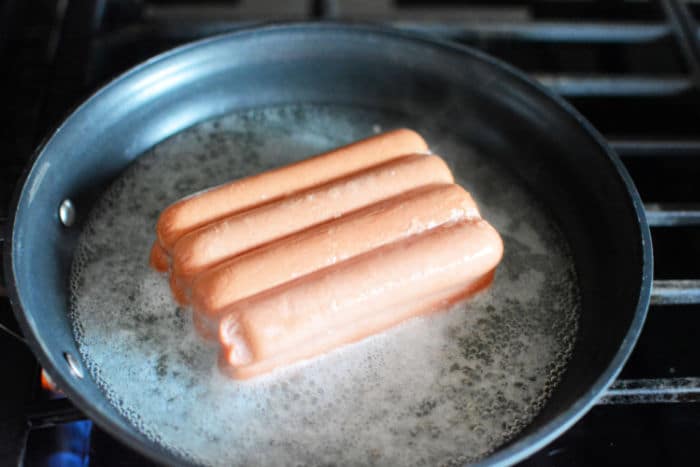 Alternative method: To begin with you can unwrap your package and microwave your block for 30 seconds, flip over, add 30 more seconds etc… until you can gently use a knife to separate them. Then add into your pan with just a few Tbsp of water to continue thawing the middle of them and then the same directions from there.
How long do you cook frozen hot dogs in the oven?
Ok so you'll want to separate them first to do this. So unwrap, microwave for about 1 minute, turn the hot dogs over halfway thru that time. Use a knife to separate them. You could use the defrost setting if you have one too. Alternatively, you could sit in a bowl of cool water for about an hour too.
Preheat oven to 400 degrees F.
Place separated beef hot dogs inside a pan with a rim (to catch the juices)
Lay them in a single layer and bake for about 4-6 minutes cooking time or until they begin to puff up and lightly brown
Serve inside hot dog buns, you can place a tray of these in the oven too on a different rack (different baking sheet) for toasted buns
Frozen Hot Dogs in the Microwave
How to cook frozen hot dogs in the microwave is probably the quickest and easiest method if you are really in a hurry. Do the same as suggested all along. Work 30 seconds at a time flipping over each time.
Once they separate lay flat on a microwave safe dish with paper towels underneath. Poke each one a few times once thawed so they don't explode. Heat until warmed, about 2 minutes.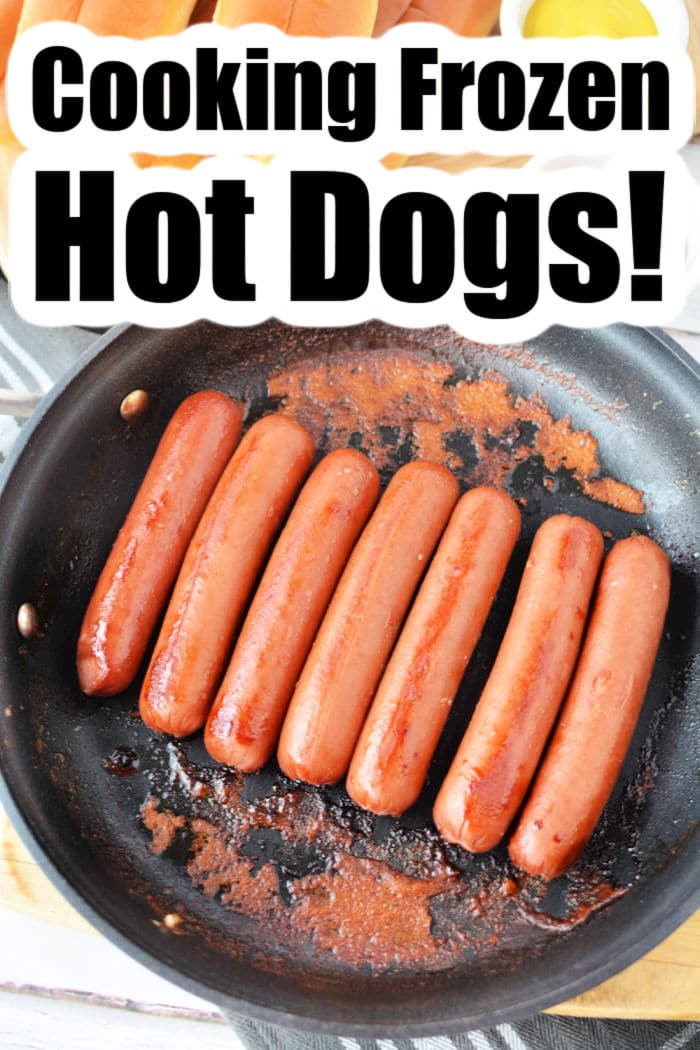 How to Cook Frozen Hot Dogs in Air Fryer
I usually do this when they are already defrosted but you totally can do it either way. If they are still frozen you will first want to separate them.
This can be done by running the block under warm water, or in the microwave for about 1 minute. Make sure the wrapping is taken off first of course. Then you are going to:
Follow our frozen hot dogs in air fryer directions where you preheat machine to begin with
Lay separated dogs in your air fryer basket.
Cook for about 7 minutes depending on how browned you want them to be.
If you want to make chili dogs this way, follow same directions above. Then after minute 6 remove the hot dog and place into a bun, put back into the basket. Spoon chili and cheese on top and continue cooking for another 2 minutes or so until it's browned and warmed.
Want to see a few of my favorite things that I am totally obsessed with?? Take a peek and see how many you might already have…twinsies!
Looking for more easy family recipes and tips? LIKE The Typical Mom Facebook page?
Then sign up for my free newsletter, and follow me on Pinterest! 😉
***** If you LOVED this recipe give it 5 Stars below and let everyone know what you thought about it. 😉
How to Cook Frozen Hot Dogs
How to cook frozen hot dogs so they're tender with some crispy on the outside. Easy instructions on how to cook frozen meat for dinner.
Instructions
Carefully use a knife to open your package of frozen hot dogs. Place into a large skillet with water over medium high heat for about 5 minutes.

Then turn block of dogs over on to the other side. After about a minute they should begin to come apart into 8 individual dogs. If not just use a fork to gently separate them.

Lay them out so they aren't overlapping and cook for about 10 minutes until heated. As the water evaporates flip them over in the pan to get the outsides browned. Then serve.
Nutrition Facts
How to Cook Frozen Hot Dogs
Amount Per Serving (1 oz)
Calories 111
Calories from Fat 63
% Daily Value*
Fat 7g11%
Cholesterol 20mg7%
Sodium 309mg13%
Potassium 66mg2%
Carbohydrates 8g3%
Protein 5g10%
Vitamin C 1mg1%
Calcium 12mg1%
Iron 1mg6%
* Percent Daily Values are based on a 2000 calorie diet.