Instant Pot steak recipes are the best! When you're looking for a new pressure cooker recipe using beef and you want something new to try, we have lots! Our family loves all of these!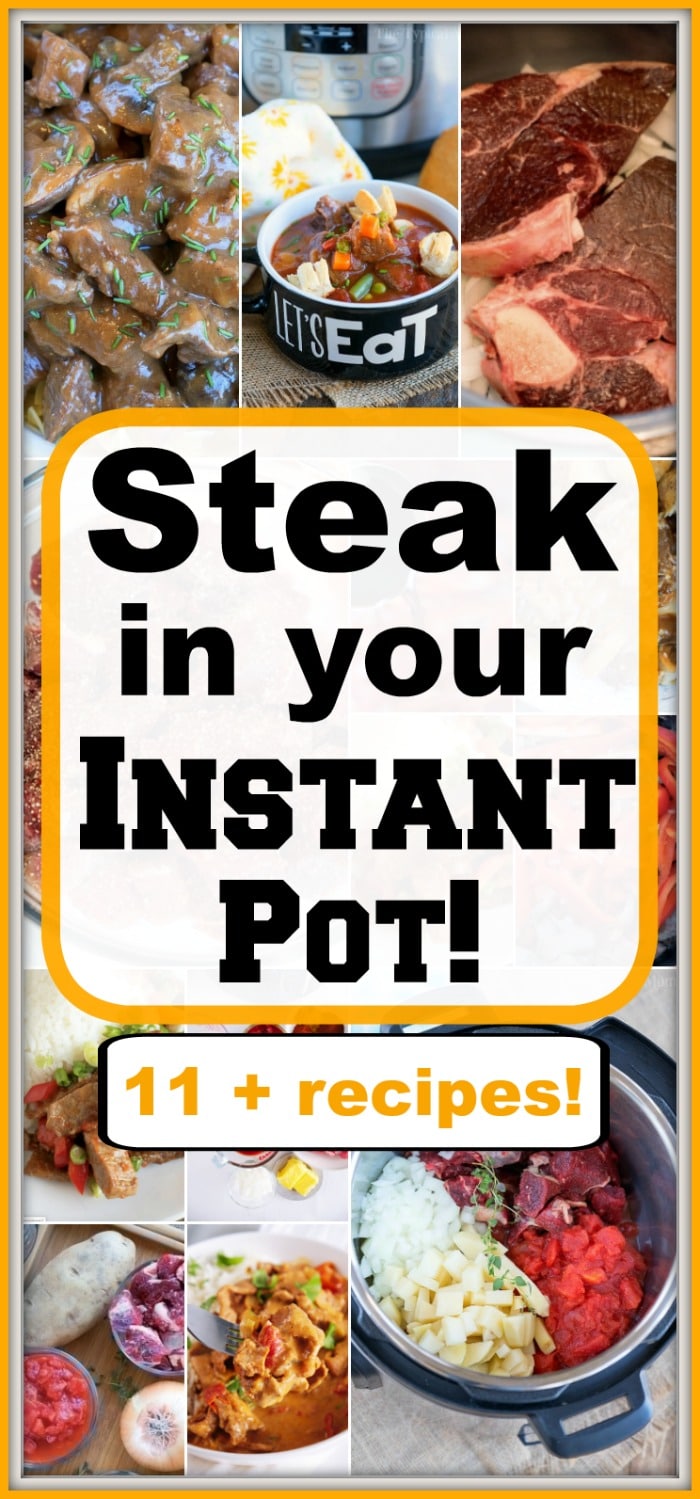 Have a sirloin, T bone or filet you want to cook quick?? We have a lot of easy Instant Pot steak recipes to choose from here! Packed with protein with tons of flavor, these are all our favorite family friendly meals using beef. Find this and over 100 other Instant Pot recipes on The Typical Mom blog too. 😉 (originally published 10/19)
Ninja Foodi Steak Recipes
We bought an entire cow this year which means we have a lot of steak in our freezer, so we've gotten creative over the last few months. We'll share some of our favorites here with you! Make these in your Crockpot Express, Mealthy or in Ninja Foodi too.
Let's start with a few basic tips:
Make sure to Bookmark our InstaPot recipes page. We add new ones each week!
Then PRINT this —–> Instant Pot cooking times cheat sheet that will help you understand how long meat, vegetables and beans take to cook in your pressure cooker.
For reference, this is the pressure cooker I have and use for all recipe creations.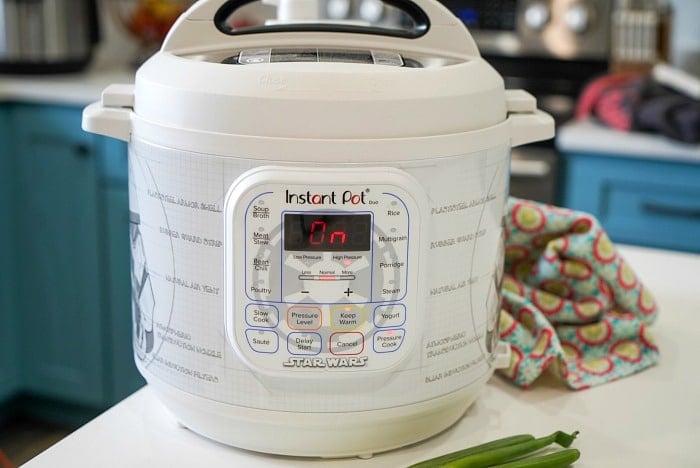 Steak Recipes Instant Pot
Let's start off with the most amazing Instant Pot beef tips recipe ever! Served over rice it is a hearty meal everyone loves. Want it as a soup, try Instant Pot beef noodle soup some night.
If you're looking for how to cook steak in the Instant Pot there are several different ways.
Cutting it into bite size pieces though gets it super tender and juicy. All of these use defrosted pieces but if you are a forgetful person (me sometimes) this is how to cook frozen steak a few different ways.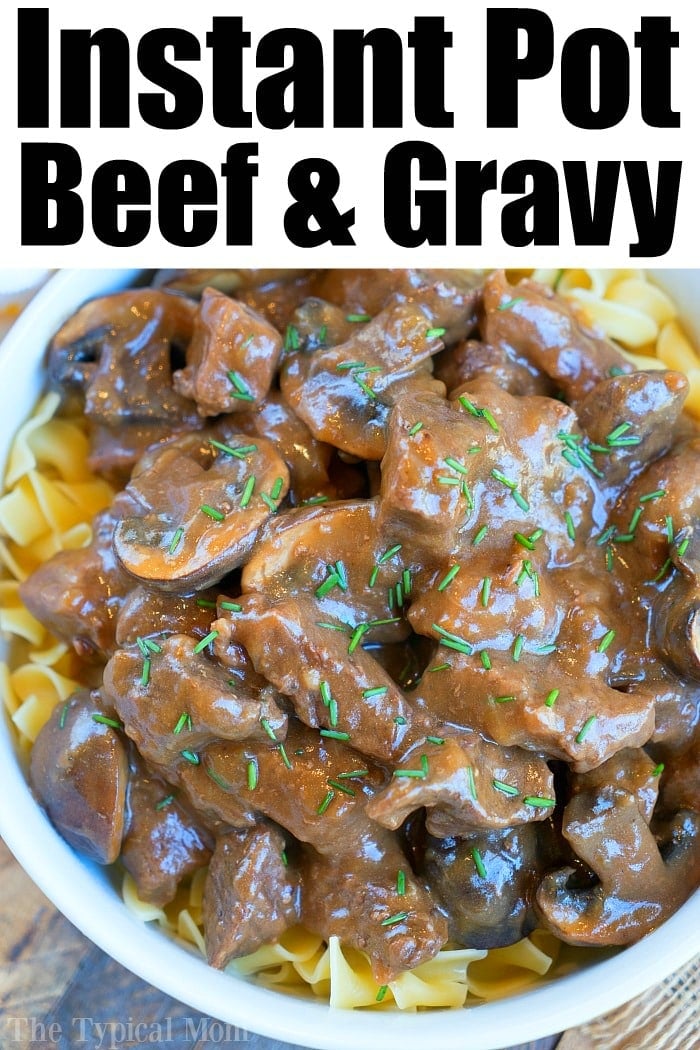 How do you cook meat in an Instant Pot?
It's quite simple really once you get the hang of it! The best part is you're able to cook fresh, defrosted or frozen chicken, beef and pork in no time at all. AND it comes out tender every time if you follow a few simple rules.
Seasoning with salt and pepper, then browning the meat using the saute setting first is helpful to get a sear on the outside.
You need liquid like beef broth in your electric pressure cooker to reach pressure.
Allow steam to naturally pressure release at least 5 minutes minimum is important to maintain juiciness.
The smaller the cuts of beef, the more tender they'll be once they're done.
It's really the only way to make pressure cooker shredded beef and meat in general.
If you love a little spice on your plate, try our Instant Pot Chinese pepper steak recipe!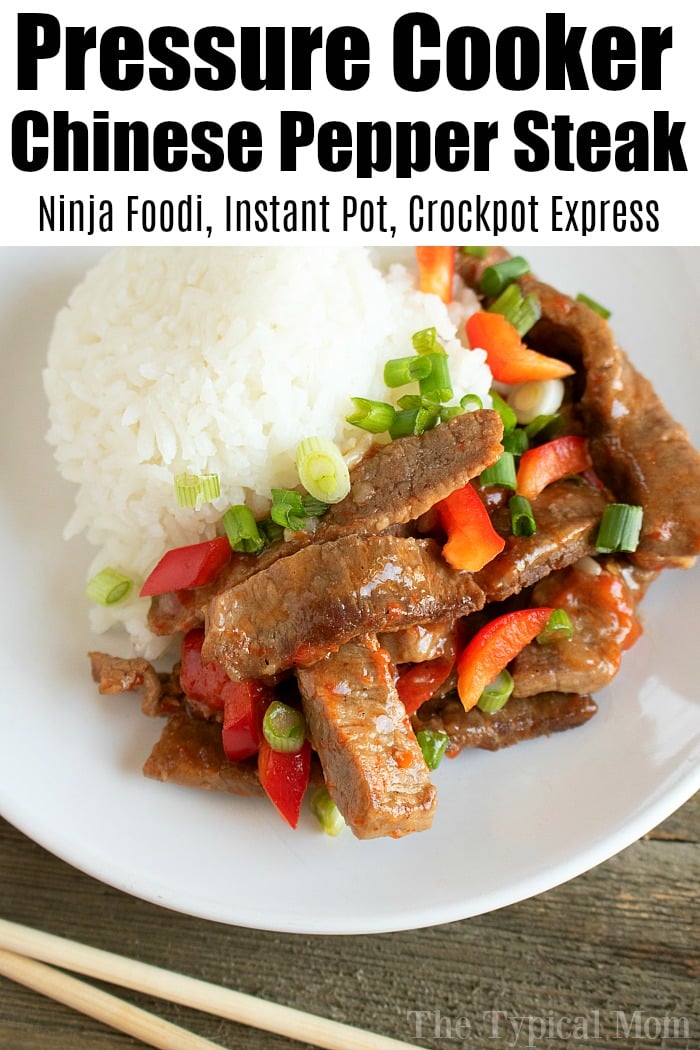 How long do you cook meat in a pressure cooker?
It depends on the recipe really but the basic guide to follow is:
Beef, pork or lamb roasts = 40-60 minutes
Pork, beef or lamb = 15-20 minutes
For specific cuts refer to and print our Instant Pot cooking times sheet
Not really a cut of steak, but non the less Instant Pot Salisbury steak is always so good.
And if you're looking for how to make the best basic steak in the Instant Pot here's a recipe we just published!
Just use saute function to brown the outsides, then throw in some potatoes for the perfect meal.
Yes Instant Pot mashed potatoes are great too, but try them halved this way for a great flavor and texture.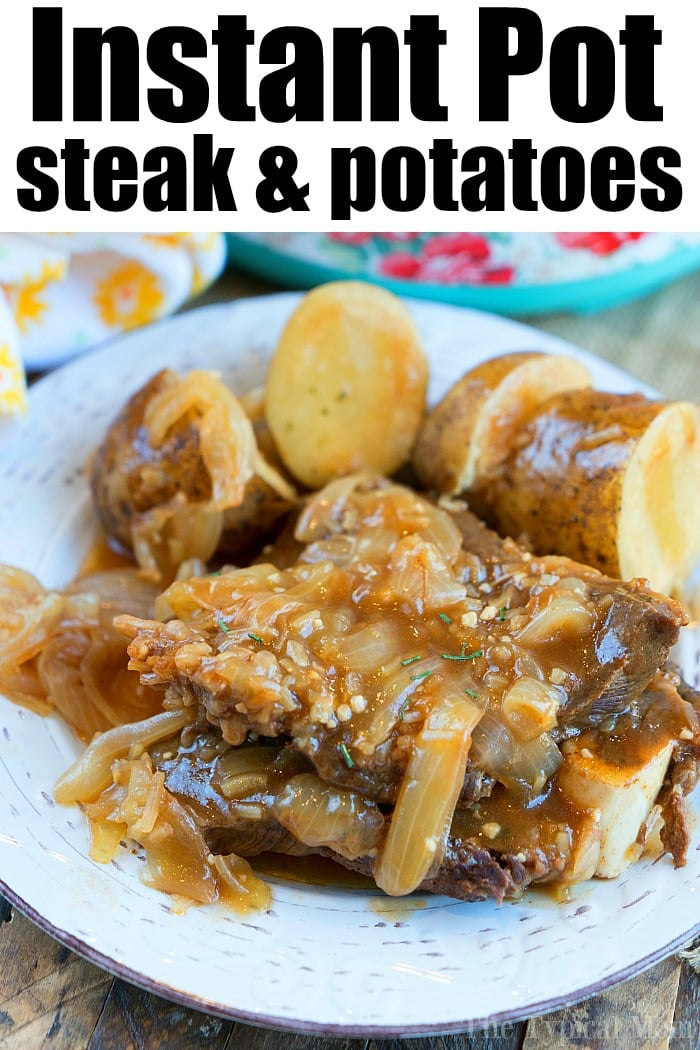 What are the best Instant Pot recipes and Instant Pot accessories I recommend?
I HIGHLY recommend this non stick pot to everyone!!

it will help you avoid the burn message

Wooden spoons are my favorite to avoid scratching your pot.
This trivet with handles is so cheap and better than the one it comes with.
Moving on to a pot of easy Instant Pot cube steak you can try, and then on to our favorite Asian dish!
If you love PF Changs food you're going to love this pressure cooker beef and broccoli. You can use thinly sliced steak for this and the flavors are just amazing!
Pack it full of broccoli of course, but adding sliced bell peppers and even some carrots is great.
Just a few minutes under pressure with a quick release and voila!
Sweet with a bit of spice added in to your liking, it's low fat and just needs 1/2 cup of Instant Pot white rice on the side.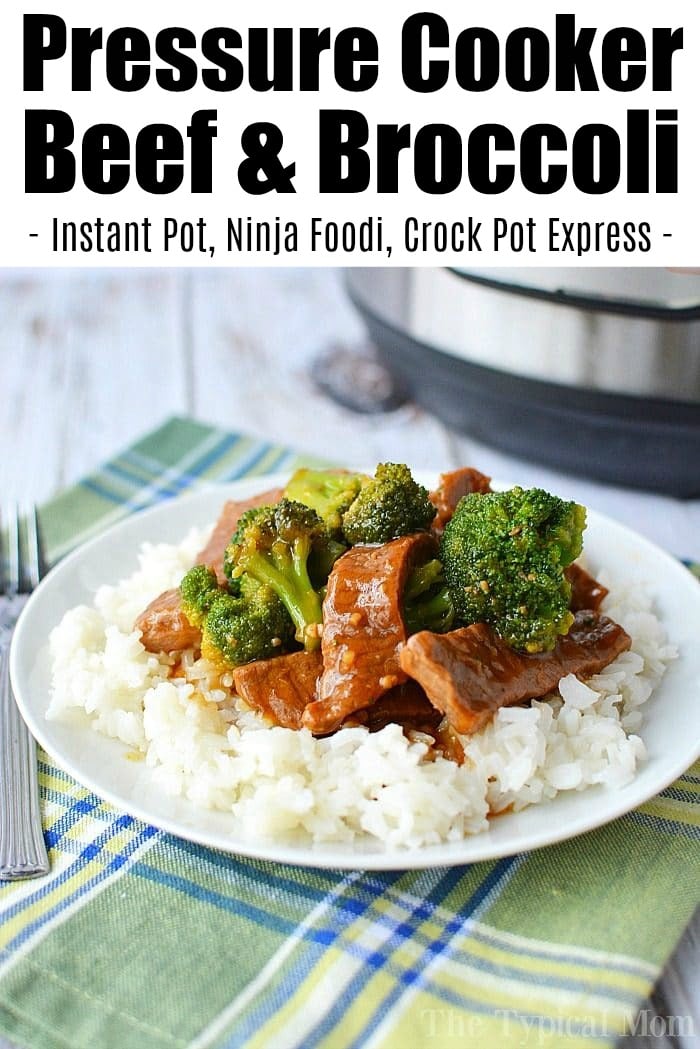 Does Instant Pot tenderize meat?
Both a Crock pot and pressure cookers do a good job of tenderizing any cut of meat, especially tough varieties.
Each makes meat more edible in a different way though. Steam penetrates food easily in your Instant Pot so connective tissues can break down.
How do you cook meat in an Instant Pot?
First season the meat generously on all sides and add oil to the pot. Set to the saute setting. Sear meat on all sides, then set the pressure cook setting on high.

If you cut meat into smaller pieces it will become even more tender, especially inside soups or stews. They'll soften in 15 minutes or less when pressure cooking, and a pot roast will be medium-rare in just 30 minutes.

In a slow cooker they'll take longer and are best cooked on low for the most tender result, but either way is the way to go!
Next I'll share our pressure cooker beef pot pie soup. Use stew meat or cubed steak to create the perfect comfort food in a bowl. Add 1/4 cup of crumbled biscuits to the top for fun!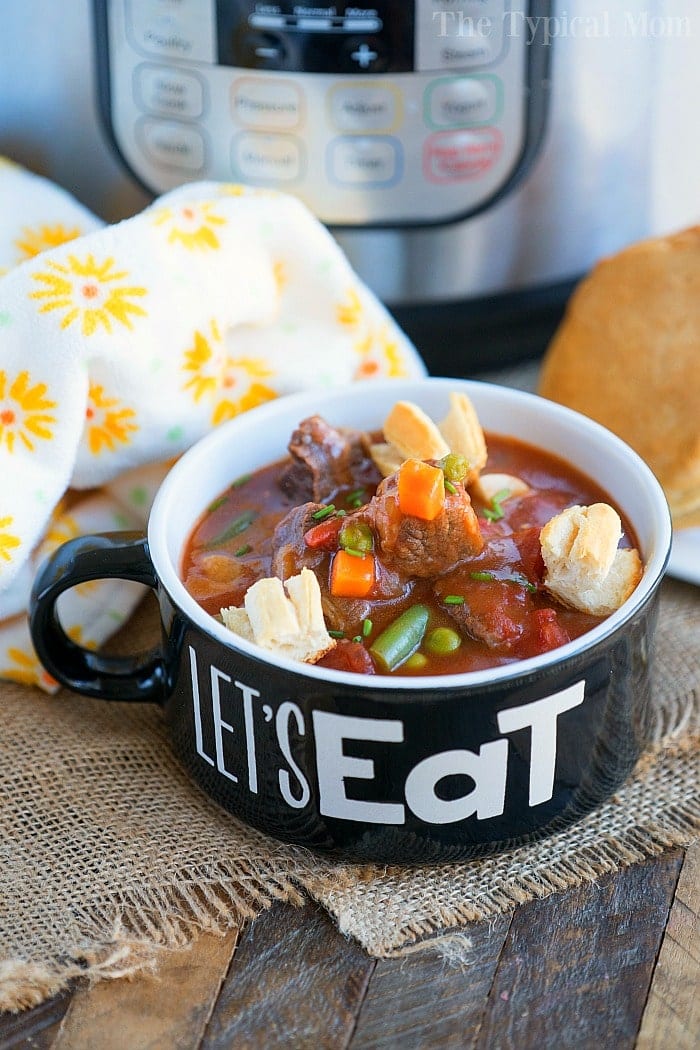 Instant Pot steak recipes
These use cuts of beef and are so versatile that you could use sliced or diced steak too:
Does meat get more tender the longer you pressure cook it?
Not steak. Pork tenderloin and chops are exceptions to this rule too. With these you want to cook for less time with a longer natural release to stay tender.
The general rule is: the longer you cook a piece of meat, the more moisture it'll lose. Also, the more connective tissue a cut of meat has, the tougher it'll be so choose quality pieces.
The longer you cook a piece of meat in a moist environment, the more connective tissues will be broken down. SO, for roasts this is true. A 60 or 90 minute cook time is necessary. Thinner cuts of meat will just become tougher the longer they're cooked.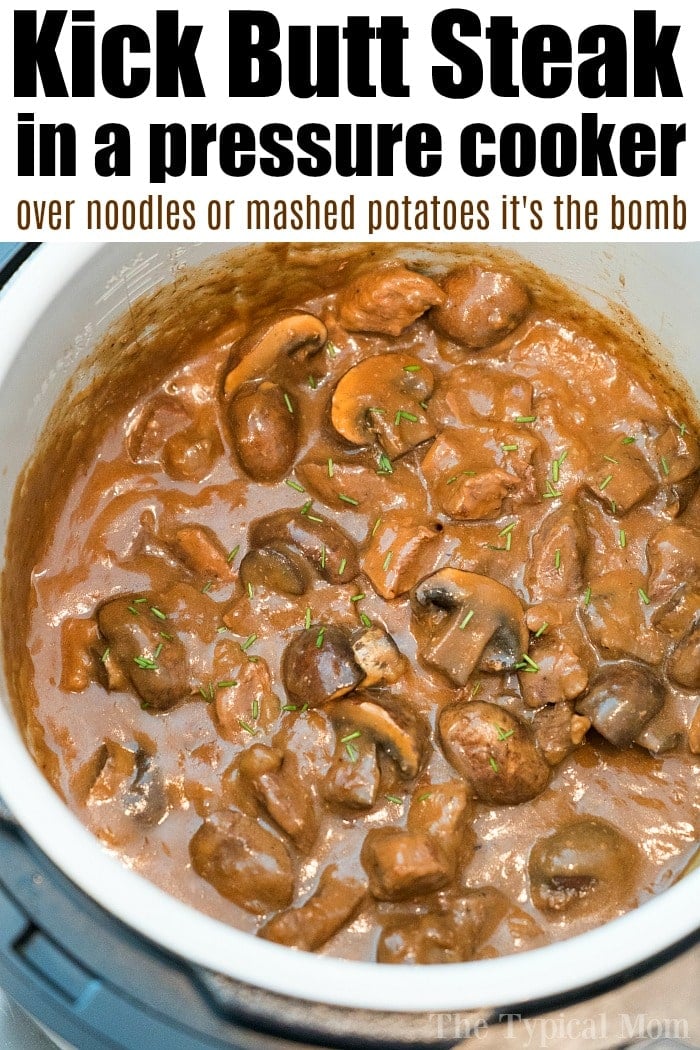 Why is my meat tough in the Instant Pot?
If yours comes out dry, tough and stringy it may not be your fault. Some cuts of meat, especially inexpensive ones like chuck roast and others can have a lot of gristle. If it is beyond fresh there may not be a lot of hope for it either. If you're really sensitive try broken up pieces like our Instant Pot cheesesteak pasta instead.
Overcooking it may be the culprit too.
Find a quality tested recipe and follow it to a tee for best results.
Overall, an Instant Pot (or any pressure cooker) is the best way to get the best results though.
The steam is under extreme pressure and forces it's way into the fibers of the meat thus breaking them down VERY quickly. This will give you the tender fall apart meat you desire.
Cook it in a thick gravy like you see above and it will be out of this world delicious, I promise!
Last but not least, our Instant Pot butter beef is delish!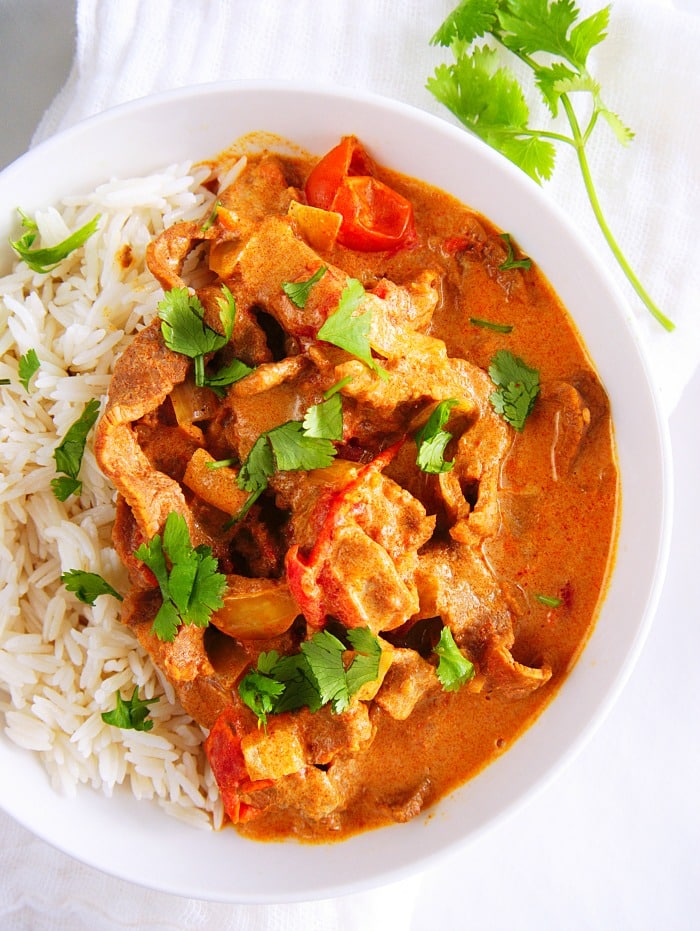 What is your favorite Instant Pot steak recipe??
Want to see a few of my favorite things that I am totally obsessed with?? Take a peek and see how many you might already have…twinsies!
Looking for more easy family recipes and tips? LIKE The Typical Mom Facebook page?
Then sign up for my free newsletter, and follow me on Pinterest! 😉
***** If you LOVED this recipe give it 5 Stars below and let everyone know what you thought about it. 😉