How to cook frozen chicken in the oven, air fryer, pressure cooker, Ninja Foodi and slow cooker instructions are here. Believe it or not, cooking frozen meat to tender is possible and actually turns out so moist and tender.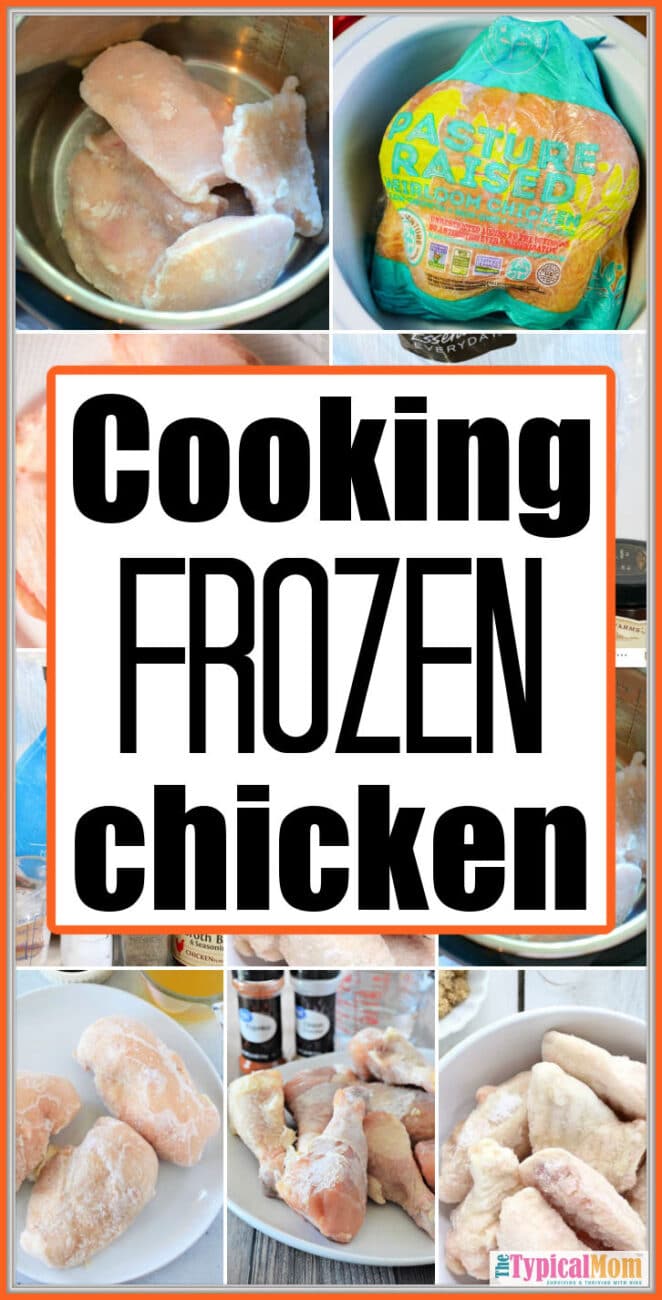 We want to share how to cook frozen chicken with you in case you have a forgetful moment and it's near dinner time. I have been there and that's no fun. Cooking frozen chicken breasts, wings, thighs, a whole chicken, legs or drumsticks are easy. (affiliate links present, originally published 6/22)
How to Cook Frozen Chicken Wings
Ok let's start with the little ones shall we? I mean they are pretty killer for dinner or an appetizer but how the heck could you make dry rub chicken wings if they are rock hard to begin with? I have the answer for you. First you will need to cook them just a bit in order for your seasonings to stick.
The best way to do this is in your Ninja Foodi or put frozen chicken wings in air fryer. Now half way thru the total cook time you can sprinkle on any seasonings like salt and pepper + garlic powder, flip to the other side to add some more and continue on until they are crispy crunchy. Olive oil spray will make them crispiest.
It isn't so easy to do so when making Instant Pot frozen chicken wings but you can use your chicken wing dipping sauce like bbq for that method. Cooking actually in the sauce itself gives them a great flavor and then you can broil or air crisp when done.
Last but not least, this is how to bake frozen chicken wings in the oven.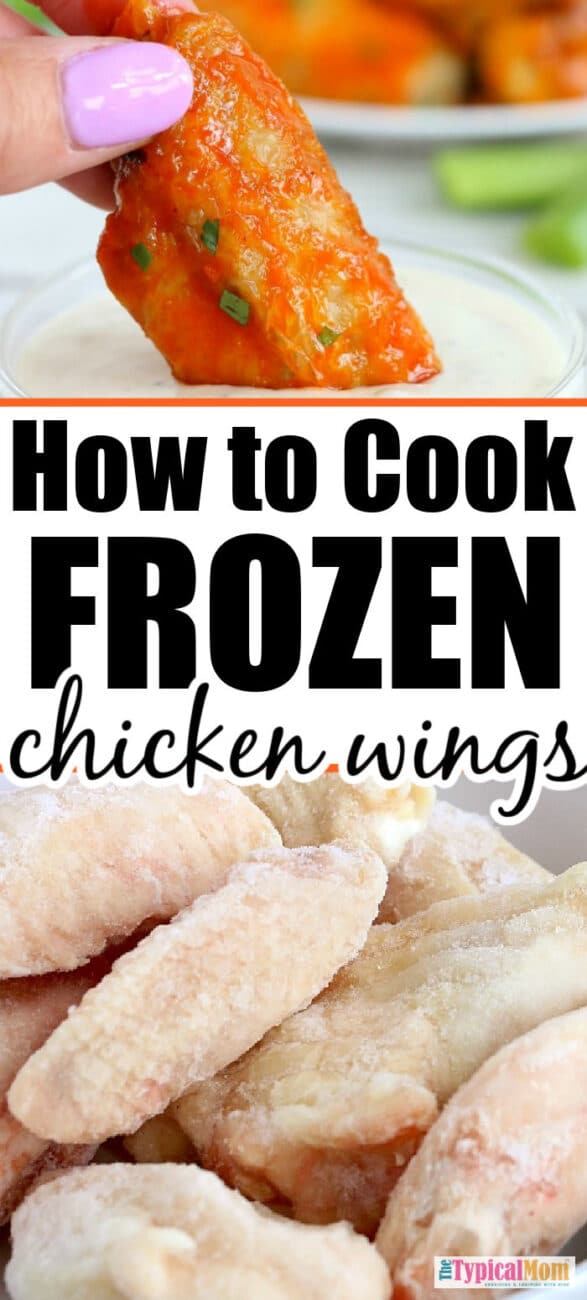 How to Cook Frozen Chicken Breasts
This is probably what you think about most often right? How can I throw in a few pieces right out of the bag and have it come out tender enough to shred? It's totally possible in 3 different ways y'all. If you are still "old fashioned" and like using your slow cooker you're in luck. Crockpot frozen chicken comes out great with little to no prep.
If you have one of those magic tenderizer machines where you can cook in warm water, try that too. Yes you in fact can sous vide frozen chicken breast to tender too. Can you boil frozen chicken? Yep we talk all about that here, a great method if you are making soup out of it later.
Believe it or not, this is how to cook frozen grilled chicken breast. That is right, you totally can do this in your Traeger or charcoal grill now.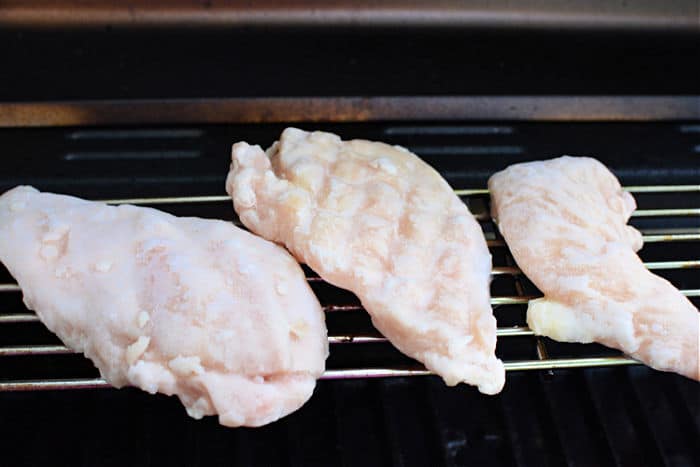 Cooking Frozen Chicken
Want to make this same thing but way faster?? This is how to make Instant Pot frozen chicken the same way. Best way to serve this is to drain the liquid when done, shred, toss with your favorite bbq or teriyaki sauce and serve over white rice or on slider buns.
If you want to keep them more whole with just some yummy sauce on the outside you can do that too. It is better to use your pressure cooker for that though so that is what we did. If you want to cook chicken breasts using our Instant Pot frozen chicken breast with sauce recipe it will become moist enough to slice with a butter knife.
Frozen chicken tenderloins in air fryer without breading but with a little sauce instead brushed on top are great. Keto friendly and low carb, my kids even love these.
Want to have a little more texture on the outside with just a bit of crisp? Air fryer frozen chicken breast or even frozen chicken breast in oven with seasonings of your choice will do just that for ya'!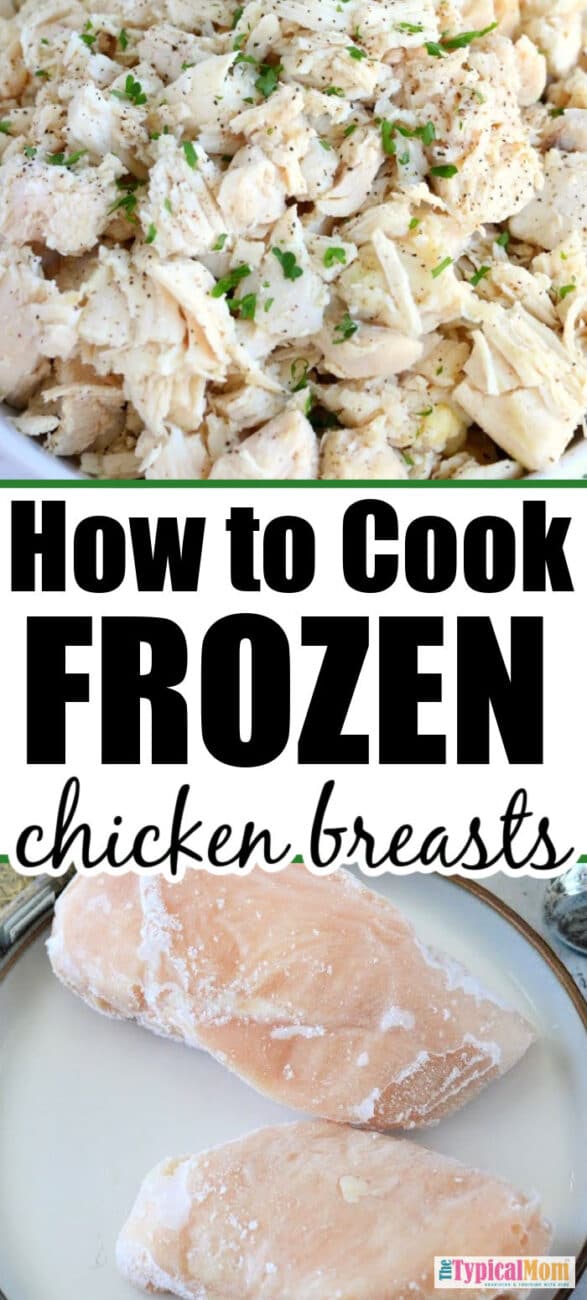 How to Cook Frozen Chicken Without Thawing
Let's go back to a basic question first though, how long is frozen chicken good for before it goes bad is answered here.
That is right, all of these require NO thawing beforehand. That comes in awfully handy when you have had a forgetful day before. Typically you'd want to leave your portions in the fridge overnight so they can soften up. If you haven't done that you can still save the day, and dinner by following these frozen chicken recipes.
How to Cook Frozen Chicken Thighs
You could certainly use any method above and just use this dark meat instead but the timing would be slightly off. Remember that if you have bone in chicken thighs your air fryer cook time will be longer, or with any other method. Boneless skinless chicken thighs take the least amount of time and are the easiest to eat, but the more expensive.
Basically the least amount of work the pieces are for you to prep and/or eat, the more they are going to cost. Sometimes it's worth it to me and other times I just don't care. I like making air fryer frozen chicken thighs because it gets crispy chicken skin and browns the sauce too.
Second to that I'd say you should try Instant Pot frozen chicken thighs, especially if you're going to shred the meat anyway. Cooking frozen chicken thighs is really quite easy overall, and comes out tender every time.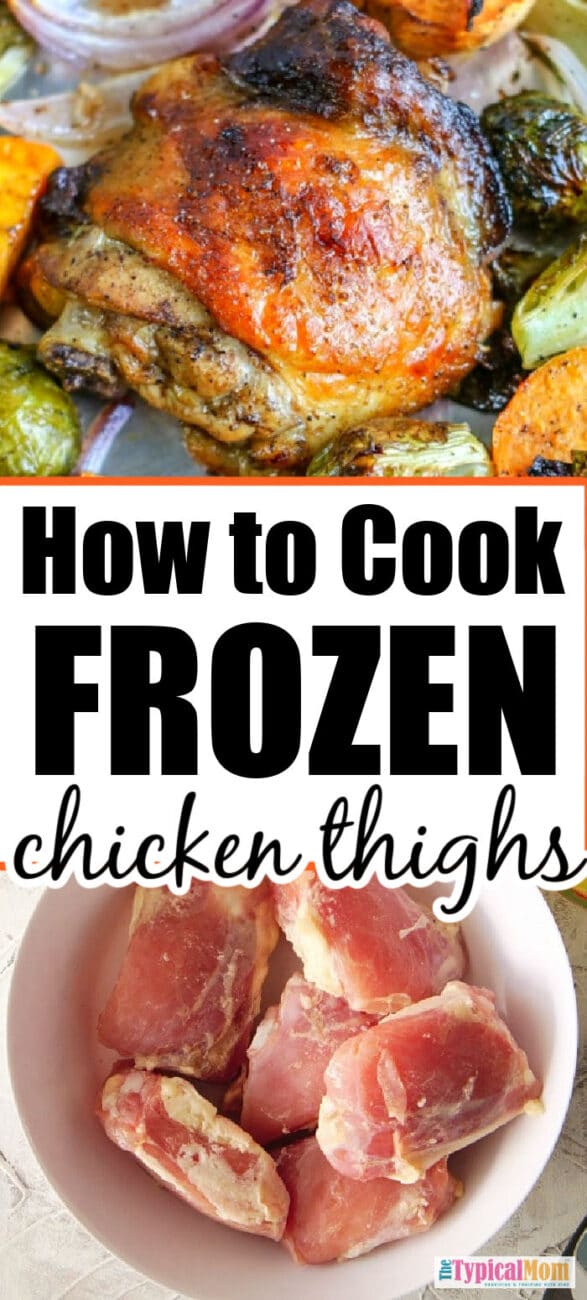 How to Cook Frozen Chicken Legs
As with all of these if you had the chance to use thawed chicken the timing would be a bit less, but not by much. Especially if you use a Crock or Instant Pot to cook the chicken it is almost the same. Go figure right? Now in the oven or on the stove there is a bigger difference, probably by about 15 minutes or so depending on the cut.
The only way we have made these thus far is our Instant Pot frozen chicken legs directions. It's an easy under 30 minute meal that kids love. Call them drumsticks or legs, y'all know what I mean. Next is testing in the oven on a baking sheet and will add those instructions when they're ready.
I'm gonna' figure out how to safely cook them rock hard in the air fryer as well so stay tuned for those….. Now if you really still aren't convinced, this is how to defrost chicken in microwave first.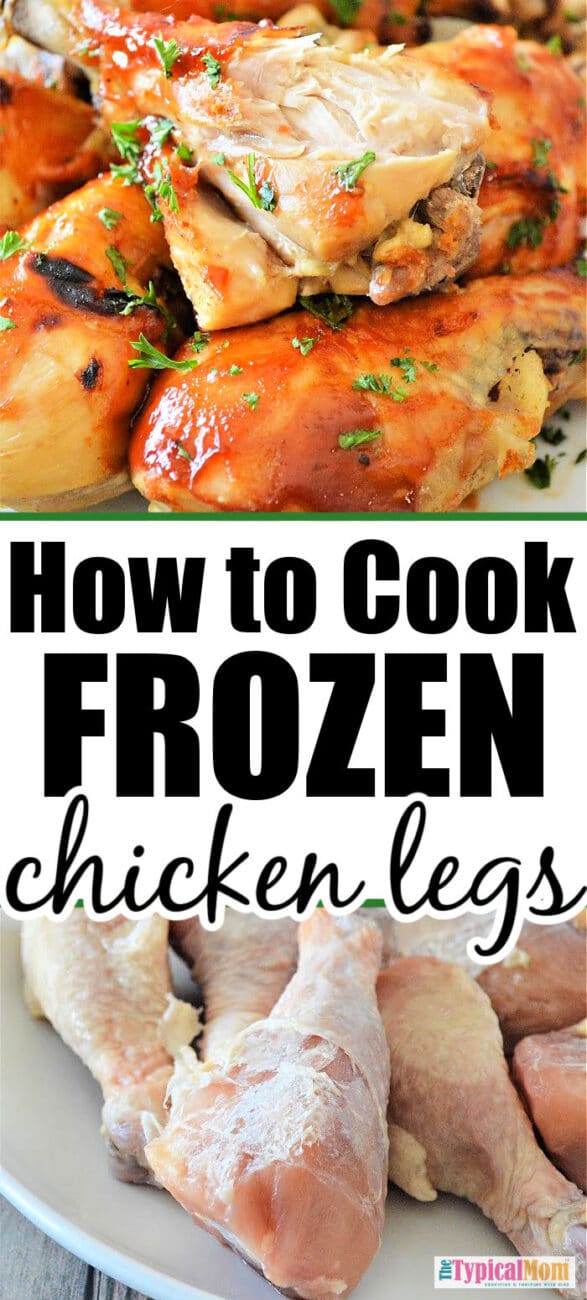 How to Cook a Whole Frozen Chicken
I have done this two different ways and am working on baking it in the oven as well. The best overall which gets it to be like rotisserie from the store would be to make Ninja Foodi whole chicken. First you'd need to follow our Instant Pot frozen whole chicken directions as far as timing goes, then use the air crisp function, or throw it into an air fryer.
The second way I did most recently, twice, was to cook Crockpot frozen whole chicken. Timing was too long the first go around so I did it again and it came out perfect. Almost the same timing as if it were fresh which was weird and surprising but true. Now if you thought frozen whole chicken in air fryer wasn't possible, that is too now!
We have even added information recently on how long to boil a whole chicken which has come in handy. Then you can make homemade chicken noodle soup with everything in that pot.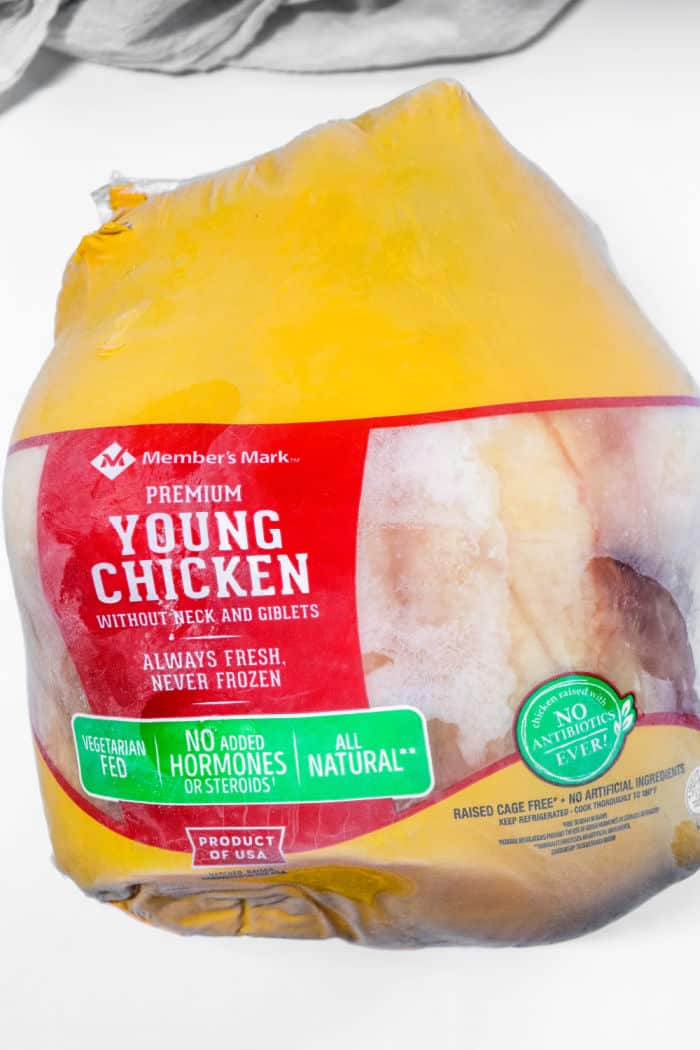 How to Cook Frozen Chicken Safely
Is it safe to cook frozen chicken without thawing?
Yes, there are safe ways to cook frozen chicken. We will explain how to bake frozen chicken, air fry it, cook in a slow cooker, pressure cooker and more. Using any method though, it is important to cook it thoroughly to 165 F. to ensure that it is safe to eat.
How long does it take to cook frozen chicken without thawing?
That depends on what method you're using. Pressure cooking will be fastest and great for shredded meat super tender. In the oven it sometimes takes 50% longer since you want to cook it at a bit lower temperature. In a slow cooker there is literally NO difference!
What are some tips for cooking frozen chicken without thawing?
1. Preheat your oven or stovetop to a lower temperature than you would use for thawed meat.
2. Cook until it is cooked through to 165 degrees F., but not overcooked.
3. Use a meat thermometer to check the internal temperature.
4. Always let proteins rest for a few minutes before serving. This will help the juices redistribute throughout the meat.
Last but not least you can bake a frozen chicken in oven whole as well. I'd recommend choosing a bird without the giblet bag inside before freezing for all of these. Same goes with frozen duck, that doesn't take quite as long because it's smaller.
And that is about it. Most of these are done and moist in about 45 minutes to an hour at most so you can now know how to cook frozen chicken perfectly any way you desire, with any cut. We also have info on how to cook frozen steak if you want to try red meat next.
Want to see a few of my favorite things that I am totally obsessed with?? Take a peek and see how many you might already have…twinsies!
Looking for more easy family recipes and tips? LIKE The Typical Mom Facebook page?
Then sign up for my free newsletter, and follow me on Pinterest! 😉
***** If you LOVED this recipe give it 5 Stars below and let everyone know what you thought about it. 😉
How to Cook Frozen Chicken
How to cook frozen chicken breasts, drumsticks, wings, thighs or frozen whole chicken is here. How to cook to tender and moist.
Instructions
Preheat oven to 400 F. Line baking sheet with non stick foil with frozen breasts on top.

Brush olive oil over the top with a sprinkle of your favorite seasonings. Bake for 20-22 minutes or until meat is tender and cooked thru to the center. Should reach a safe 165 degrees in thickest part.
Nutrition Facts
How to Cook Frozen Chicken
Amount Per Serving (2 oz)
Calories 191
Calories from Fat 90
% Daily Value*
Fat 10g15%
Cholesterol 72mg24%
Sodium 432mg19%
Potassium 420mg12%
Carbohydrates 0.1g0%
Protein 24g48%
Vitamin A 46IU1%
Vitamin C 2mg2%
Calcium 7mg1%
Iron 1mg6%
* Percent Daily Values are based on a 2000 calorie diet.