How to bake frozen chicken wings in the oven, air fryer or in a pressure cooker. Great appetizer to make even if you forgot to defrost them. This is just one way of how to cook frozen chicken because yep, I'm forgetful and need it.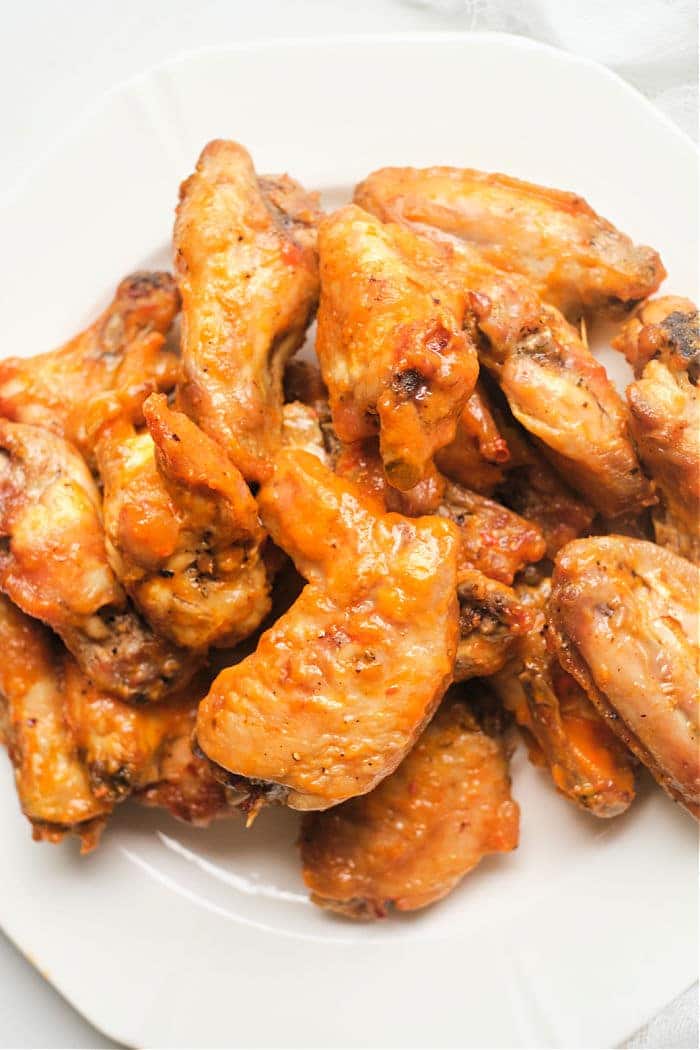 We have how to bake frozen chicken wings instructions as well as cooking them in the air fryer and pressure cooker! All turn out delicious, tender, with crispy skin. Lather with sauce and serve them as an appetizer or fun dinner. One of many tips on cooking frozen meat shared on our site. (affiliate links present)
Cooking Frozen Chicken Wings
I don't know about you but I have forgetful moments, a lot. Knowing how to cook frozen chicken has been a game changer for dinnertime, and nobody has ever known the difference. That is right, my mistake flies under the radar with my husband and kids which means a major win for me. 😉
First I made air fryer frozen chicken wings a while back because it was necessary. The kids gobbled them up and even I thought there wasn't a whole lot of difference vs. if they had been defrosted. Sometimes there's just not time for that anyway.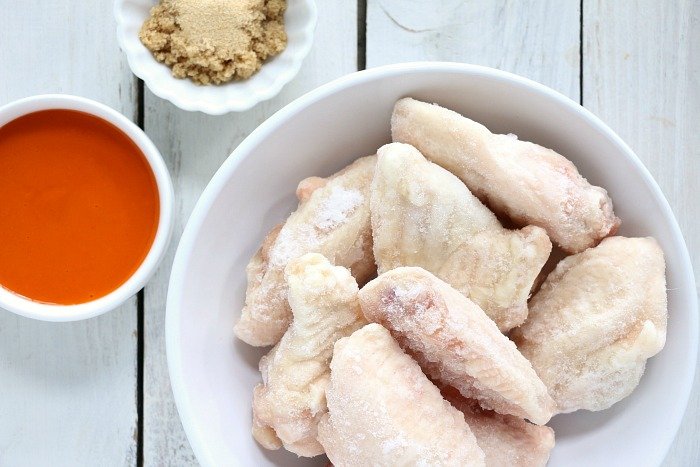 I mean you definitely want crispy chicken skin but dipping sauce for chicken wings is a must too so generally you won't even see the outside. Unlike making pressure cooker frozen chicken wings these will definitely have an opportunity to get golden brown on the outside at the end.
First you will need to steam them a bit to get the meat tender though. Encapsulating them in two pieces of foil will do the trick. Make sure it is is well sealed all the way around before popping them in. A bit of oil on the bottom and outside will help keep them moist and get the right texture.
At the end the top piece needs to be removed to brown the tops. If you just want to use a dry rub of sorts you can just sprinkle that on at this time and skip the sauce.
We do that when making our popular air fryer chicken wings with dry rub and there is definitely NO need for bbq or teriyaki beyond that. If you need a quick dinner idea in under 15 minutes that is a great one to try too.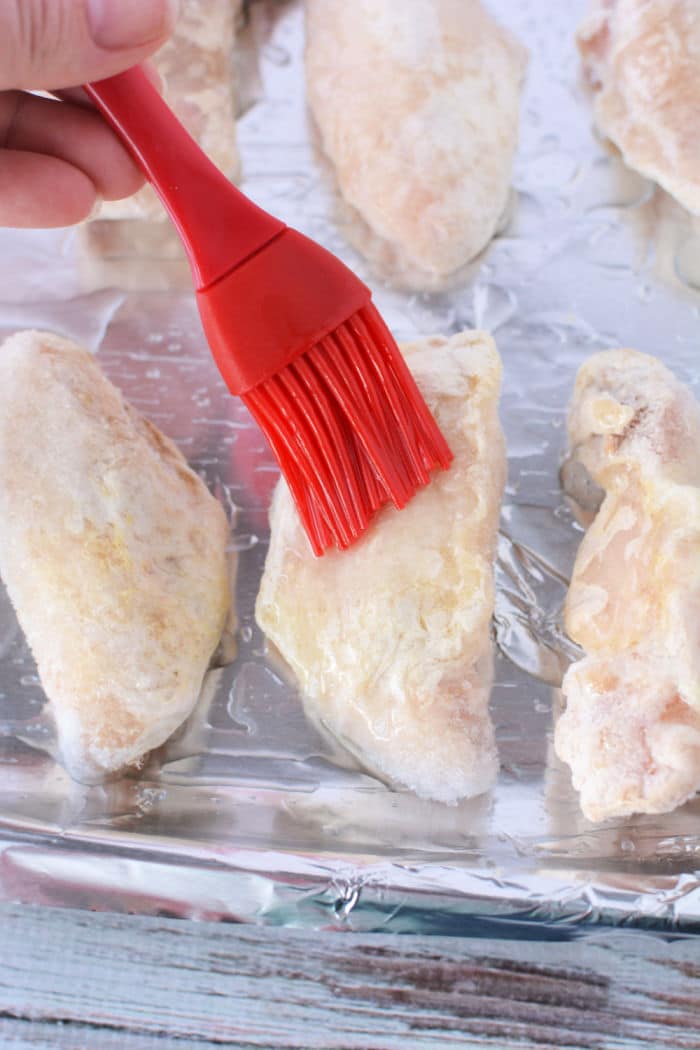 Do you thaw frozen chicken wings before baking?
I mean ideally yes. That is the easiest, quickest, and best way to bake crispy chicken wings. But that isn't always possible if dinner is in an hour and this is what you have on hand. You can just use your oven like we explain here, or cook them wrapped in foil and throw them into your air fryer at the end to get REALLY crispy.
Chicken Wings from Frozen
You may not know this but in a typical bag you'd buy there are two different types inside. If you eat out at Buffalo Wild Wings often I am sure you've seen this. There are drumettes that look like mini drumsticks. Wingettes are just that, the wing with the tip cut off (usually). Both have about the same amount of meat on them.
So long as you get them out of the same bag they will most likely be of similar sizes so the cook time shouldn't change even if you mix and match on the same tray. If you only like one or the other, good luck because it isn't often you can find them separated in this state.
If you buy them fresh you'll have more luck with that.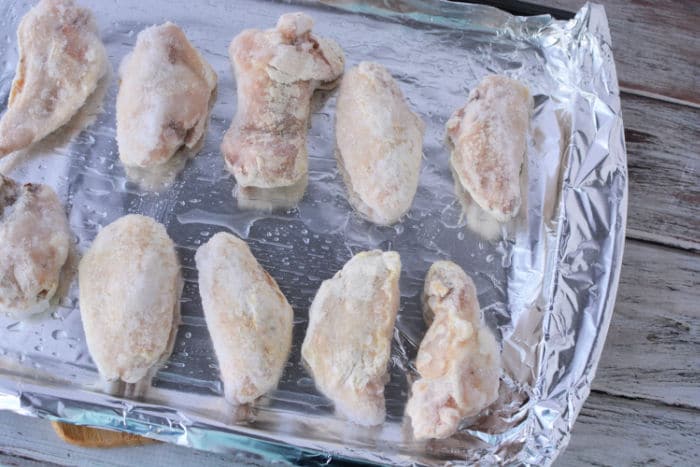 The timing is for separated, not whole chicken wings. For those you'd need to cook longer at the end to ensure they're done and crispy on outside too. I have an entire printable recipe card at the bottom to follow and keep handy if you want but here is a quick step by step to peek at:
First preheat your oven to 425 F. Line a baking sheet pan with non stick aluminum foil, brush 1 tbsp oil on to foil to keep from sticking, or use cooking spray.
Lay frozen wings on foil in a single layer, do not overlap the pieces. Brush the olive oil over each wing and sprinkle with seasonings.

Cover with another piece of non stick foil over the top tightly (so they can steam).

Bake for about 50 minutes or until nice and tender. Remove the top foil piece and continue baking for 5-7 min. more or until you get crispy baked chicken wings like you want them to be.
Remove, put into a bowl and drizzle with sauce.
Some wing sauce choices for the outside that are yummy could be barbecue of course, buffalo sauce for spicy buffalo wings, teriyaki is one of my favorites, garlic butter or just salt and pepper for a low carb version.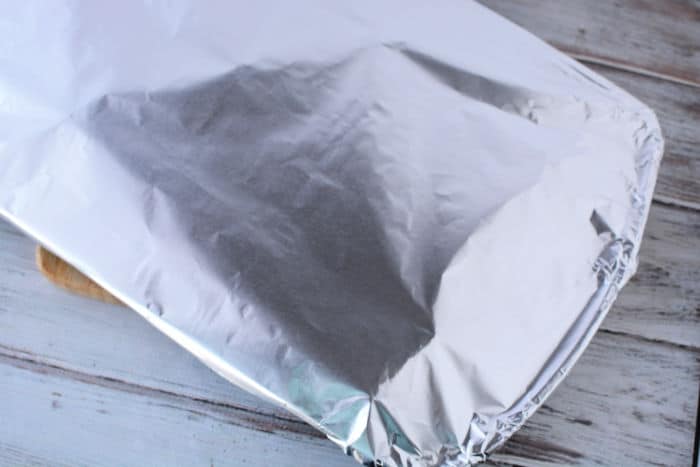 If you like to shop sales these are great to buy in bulk and freeze yourself. That way you can make hot wings year round for super cheap. What I do is buy several trays when they are super cheap. Throw about 8 per person into a gallon freezer bag. Zip and lay it flat so they don't stick together as much.
Stack these into your freezer so you can pull one or more out for a Super Bowl party later. Please do not throw these into boiling water to thaw or cook, that makes the skin super icky.
Instead follow the steps for our frozen chicken wings recipe below. Then you can make different batches by just varying the sauces offered. Hot sauce might be a favorite of dads but little ones not so much so make a variety and see which ones are devoured fastest.
You can even cook a frozen whole chicken in Crockpot now if you want to try all the things from rock hard to fork tender. Works like a charm y'all.
Have leftovers?? You can save them for sure, I mean I hate to waste food per say. Just make sure you allow them to completely cool down first. If possible it is best to not sauce the pieces you aren't going to eat right away. Instead, save that separately, they will get crispier without it.
Then you should reheat chicken wings in air fryer for the best results. It not only is the fastest method but even after a day in a bag in the fridge you can get the skins pretty crispy again. Just preheat to 400 and spray with olive oil. Shouldn't take longer than about 4 minutes flipping once to get them right again.
After you get them perfect, brush or toss with hot sauce or whatever you want. If they are already sauced it can't penetrate the outside quite as well so it won't get as crispy. You'd want to add more to the outsides either way though because it will dry out a bit when heating for a second time.
Want to try another "different method" some night? This is how to sous vide or cook frozen chicken thighs in slow cooker! Easier than you think I bet.
Want to see a few of my favorite things that I am totally obsessed with?? Take a peek and see how many you might already have…twinsies!
Looking for more easy family recipes and tips? LIKE The Typical Mom Facebook page?
Then sign up for my free newsletter, and follow me on Pinterest! 😉
***** If you LOVED this recipe give it 5 Stars below and let everyone know what you thought about it. 😉
How to Bake Frozen Chicken Wings
How to bake frozen chicken wings in the oven, air fryer or in a pressure cooker. Great appetizer to make even if you forgot to defrost them.
Instructions
Preheat oven to 425 degrees F. Line baking sheet with non stick aluminum foil or brush 1 tbsp oil on to foil to keep from sticking.

Lay frozen wings on foil in one single layer, not overlapping. Brush the olive oil all over each wing and sprinkle with seasonings. Cover with another piece of non stick foil over the top tightly (so they can steam).

Bake for 50 minutes until tender. Remove top foil piece and continue baking for 5-7 more minutes until tops are as crispy as you'd like them to be.

Remove, put into a bowl and drizzle with sauce. Toss to coat and serve.
Nutrition Facts
How to Bake Frozen Chicken Wings
Amount Per Serving (2 oz)
Calories 198
Calories from Fat 153
% Daily Value*
Fat 17g26%
Cholesterol 47mg16%
Sodium 55mg2%
Potassium 96mg3%
Carbohydrates 1g0%
Protein 11g22%
Vitamin A 100IU2%
Vitamin C 1mg1%
Calcium 7mg1%
Iron 1mg6%
* Percent Daily Values are based on a 2000 calorie diet.