The best Instant Pot soup recipes around are here for you to choose from! Get our your pressure cooker this winter and try something new for dinner. Creamy and healthy options all made in less than 30 minutes and sure to please everyone in your family, even your kids.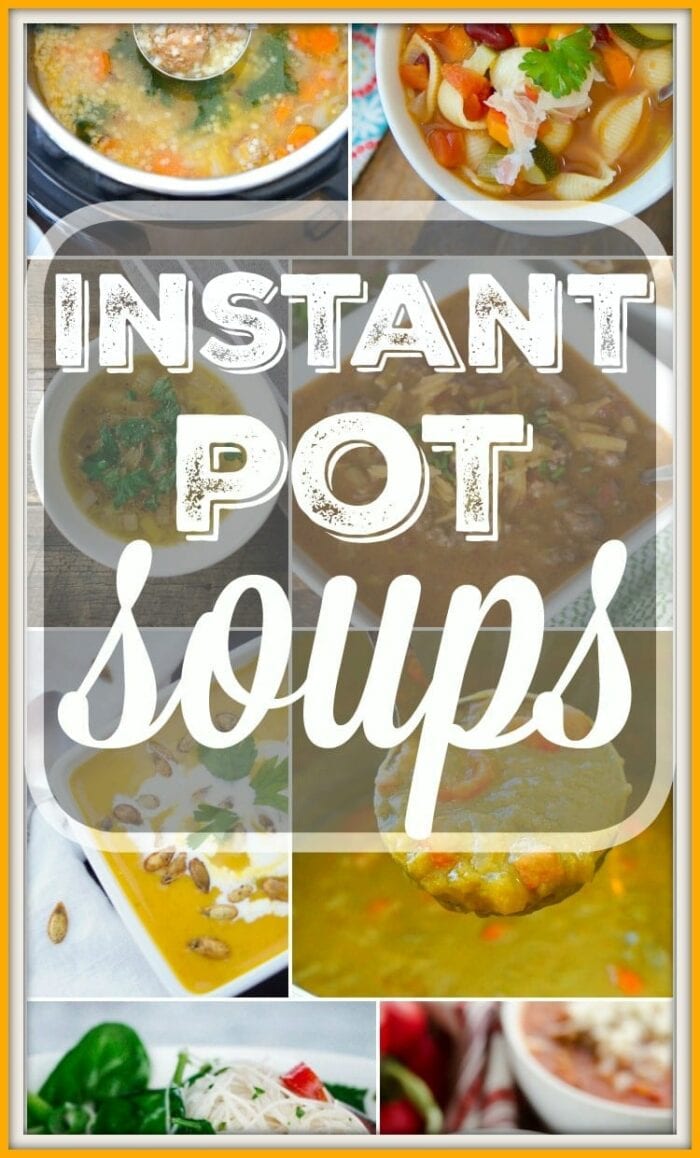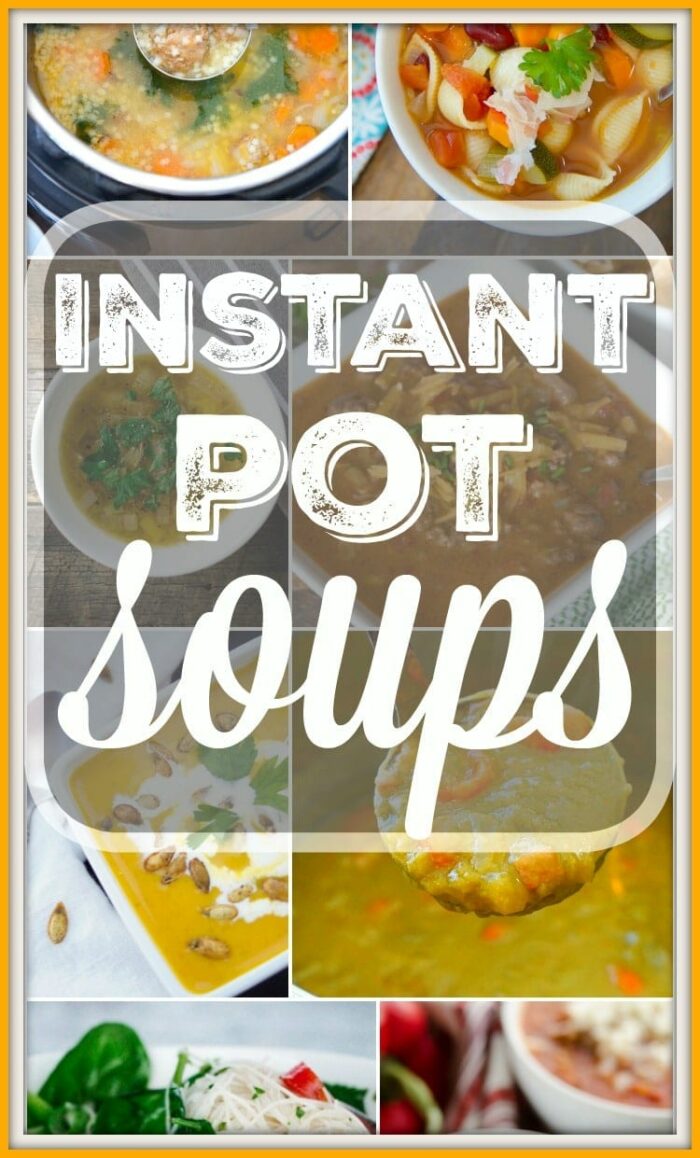 I am in love with my pressure cooker and have made so many easy Instant Pot recipes this year! I started with quite a few Instant Pot soup recipes and they were great! SO quick to make and just a feel good comfort food on a cold day. (originally published 1/18, affiliate links present)
Soup Recipes for Kids
Pair your bowl of soup with a basket full of bread and it's the perfect dinner idea for kids and adults as far as we are concerned. Easy meal prep and quick cook times for busy days.
You can make all of these in any sort of pressure cooker you have too. Use a Crockpot Express, Mealthy, Ninja foodi or other brand.
Let's start with a few basic tips:
For reference, this is the pressure cooker I have and use for all recipe creations.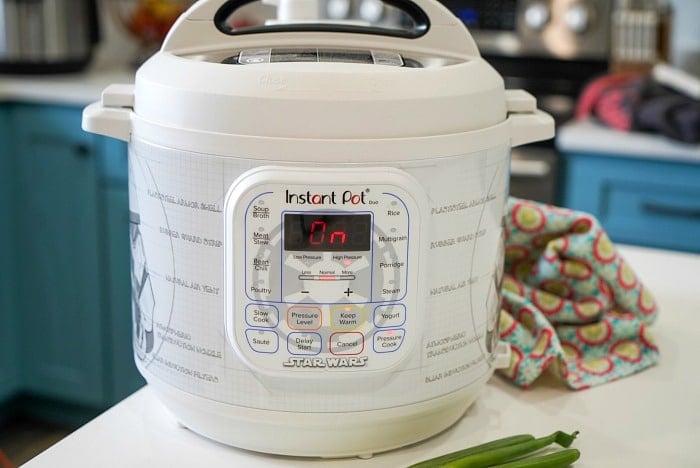 How do you use Instant Pot for soup?
It is really quite simple. As long as you have enough broth to cover your ingredients, you're set. When using ground beef just saute that first and add other ingredients like our Instant Pot cheeseburger soup.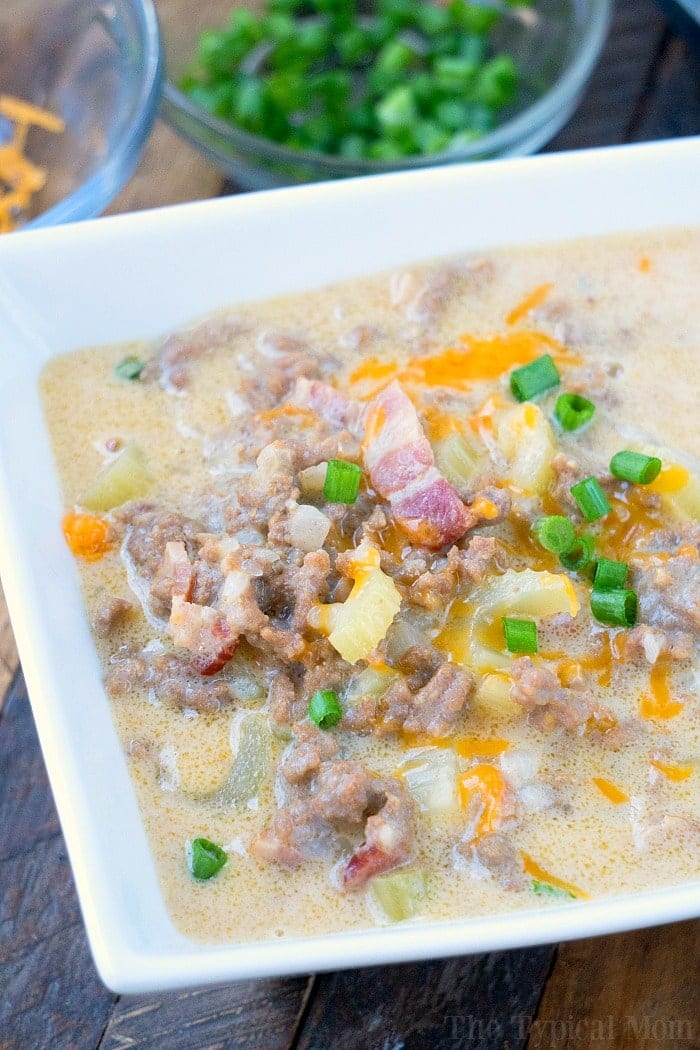 What is soup setting on Instant Pot?
It is a preset button on all models that ensures the contents don't heavily boil. Default is 30 min. on high.

You can adjust the time once you push the button, as well as change it from high to low temp.

Honestly, I don't use it. The only preset I use is the rice button. I just use my own timing, and almost always set to high pressure.
How much liquid do I put in Instant Pot soup?
A soup to me means you need to use a spoon, so you'll need more liquid than in an Instant Pot casserole. 2 cups is generally the minimum amount I would add, up to 4 cups for others.
You can add any sort of protein or make it vegetarian. Our favorite with steak is Instant Pot beef noodle soup. If you forgot to defrost dinner you can still make Instant Pot frozen chicken noodle soup too.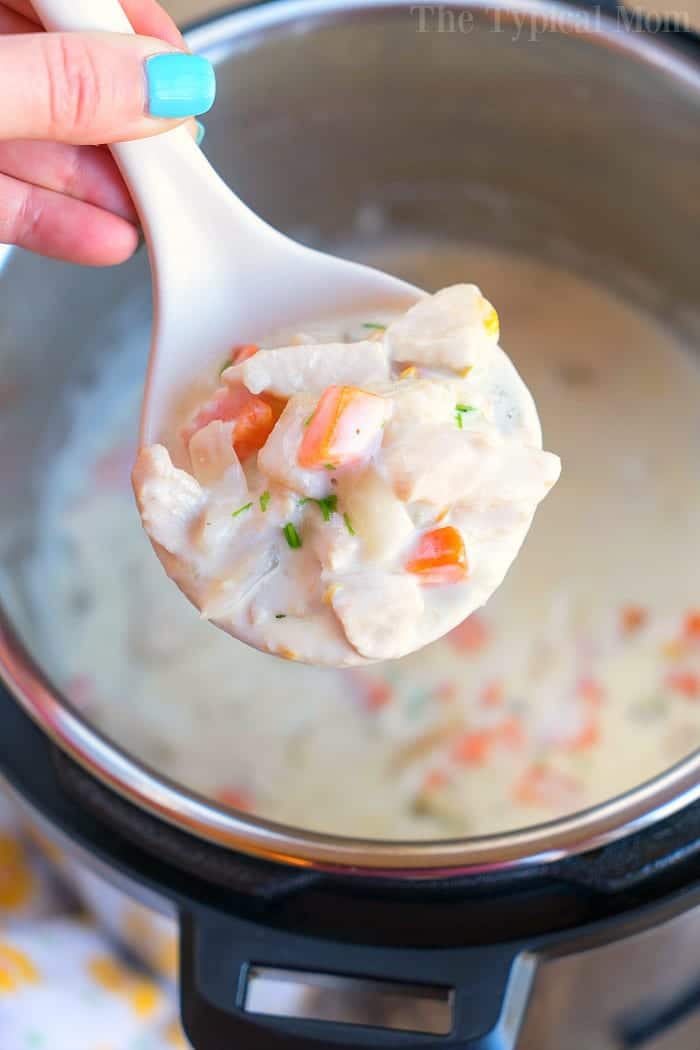 Why make Instant Pot soup recipes versus using your stovetop?
It's a lot faster
You don't have to stand by the stove to make sure it doesn't bubble over
It creates a more flavorful soup because of the pressure cooking process
You don't have to presoak dry beans if adding those into your soups
Use canned beans too if you're in a real hurry like our Instant Pot black bean soup.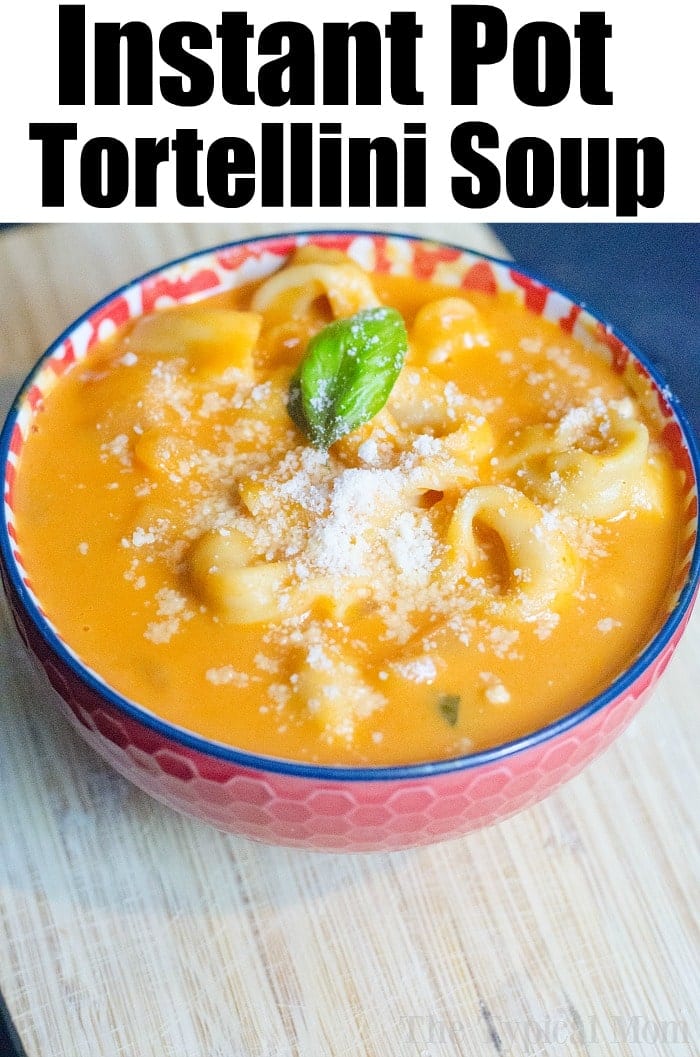 Let us know which recipe you like the best or if there is another one you've tried that you love and we should add to our list! We made a list of Ninja foodi soup recipes too if you have that brand.
Instant Pot soups
Light and healthy Instant Pot Italian wedding soup is one of our favorites.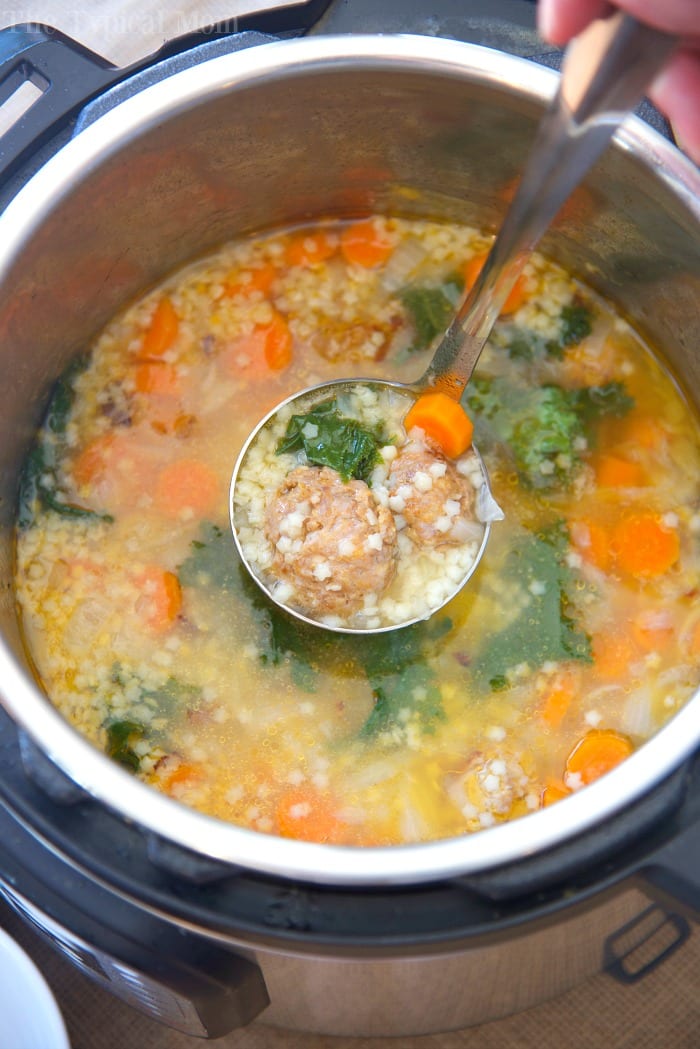 And yes we have even more, of course……
Make a bowl of Instant Pot stuffed pepper soup sometime too. Using uncooked rice it's simple and healthy for everyone.
If you have leftover rotisserie chicken you can throw it into a batch of Instant Pot Gnocchi soup.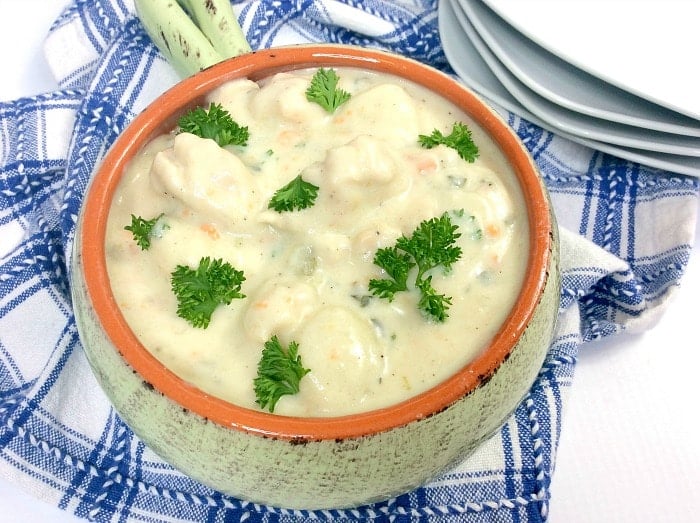 Our Instant Pot cream of celery is great too with chicken.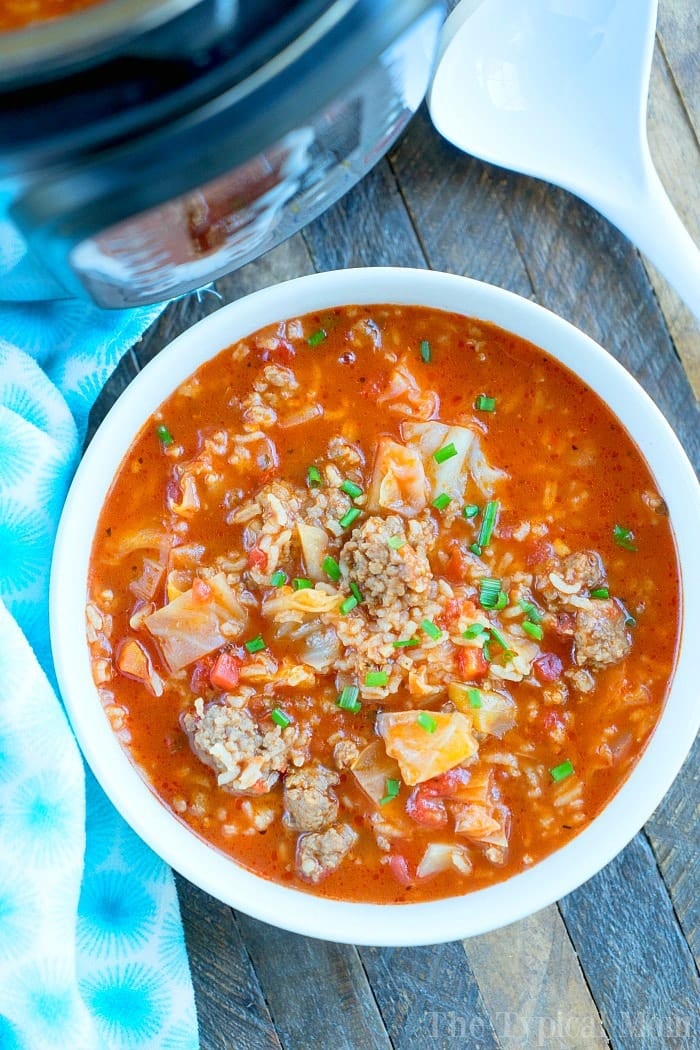 Our pressure cooker bean soup and Instant Pot black bean soup recipes are simple and healthy.
It doesn't really need to be freezing outside for us to make soup for dinner. It is always a feel good comfort food that is easy to throw together, no matter which one you make.
Basically I can just throw some rolls in the oven and have a complete meal done in under 30 minutes.
HUGE win for busy moms I say.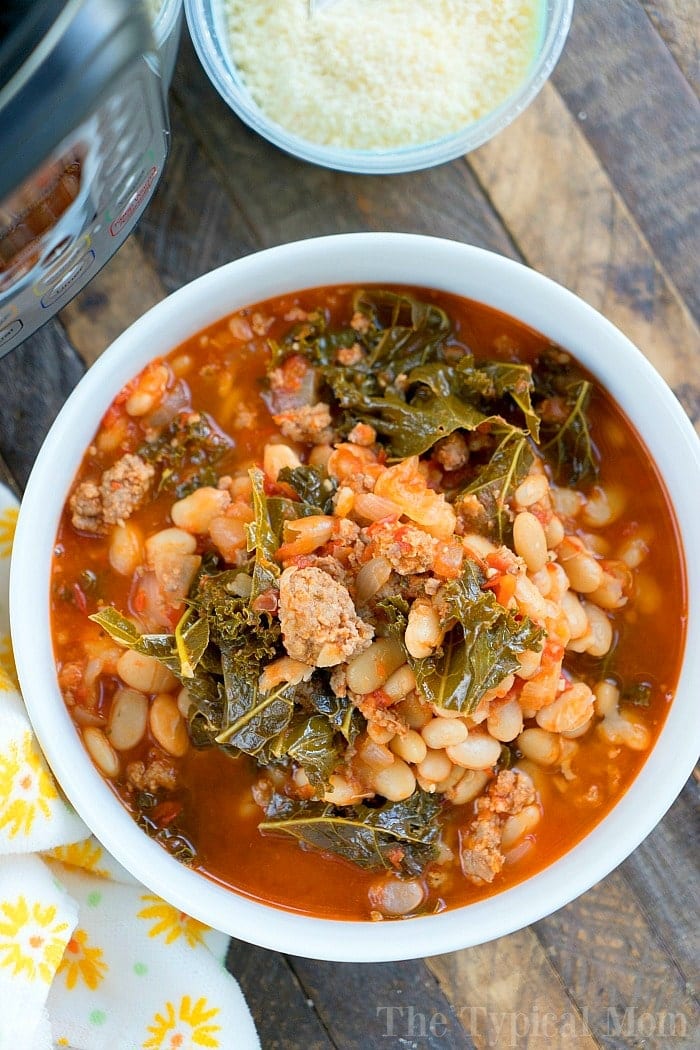 I have this 6 qt. Instant Pot, and just ordered the 3 qt. to try it out too but the recipe would be the same if you had an 8 qt. too.
As with any other of my pressure cooker recipes I do not recommend doubling recipes unless it still stays under the 3/4 mark inside the pot.
For me I can't double most of these in my 6 qt. or there would be too much inside to turn out properly.
Soup recipes for Instant Pot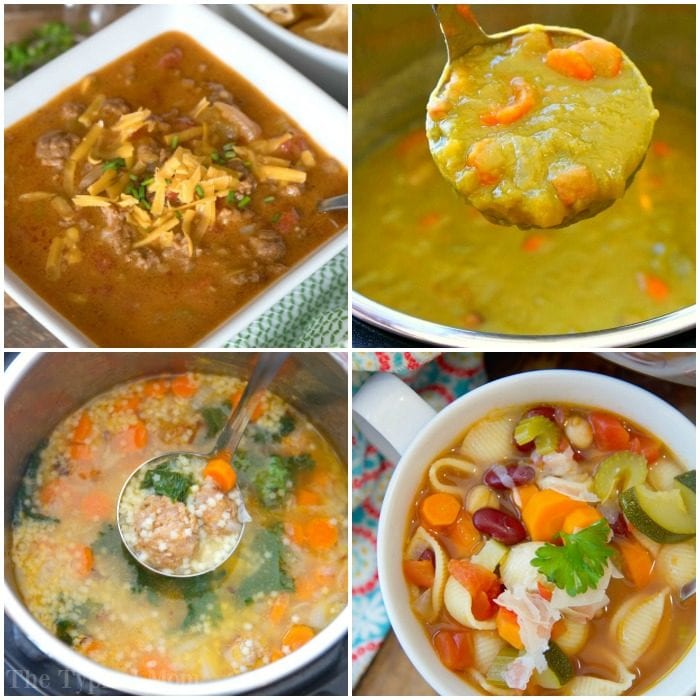 If you're looking for a healthy Instant Pot soup I would recommend the 3 above. My Italian wedding soup, minestrone, and homemade split pea soup are amazing !
NO soaking is ever required to make homemade soups (because who has time for that). Which means you can eat super healthy with only a few ingredients.
If you're looking for veggie filled soups there is butternut and carrot below too.
Pressure Cooker soup recipes
This Instant Pot stuffed cabbage casserole can be made into a soup easily by just adding an extra 2 c. of beef broth to the recipe.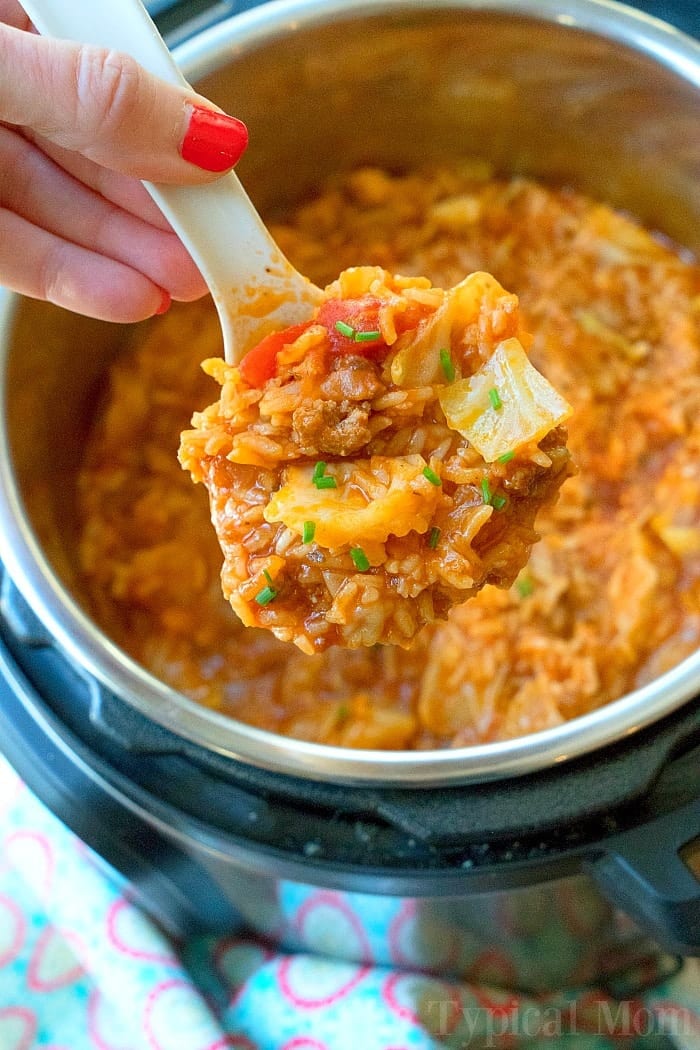 Instant Pot potato leek soup is probably something you haven't tried yet before but should.
If you're looking for a few more Instant Pot recipe roundups I have one for easy Instant Pot chicken recipes and cheap Instant Pot recipes.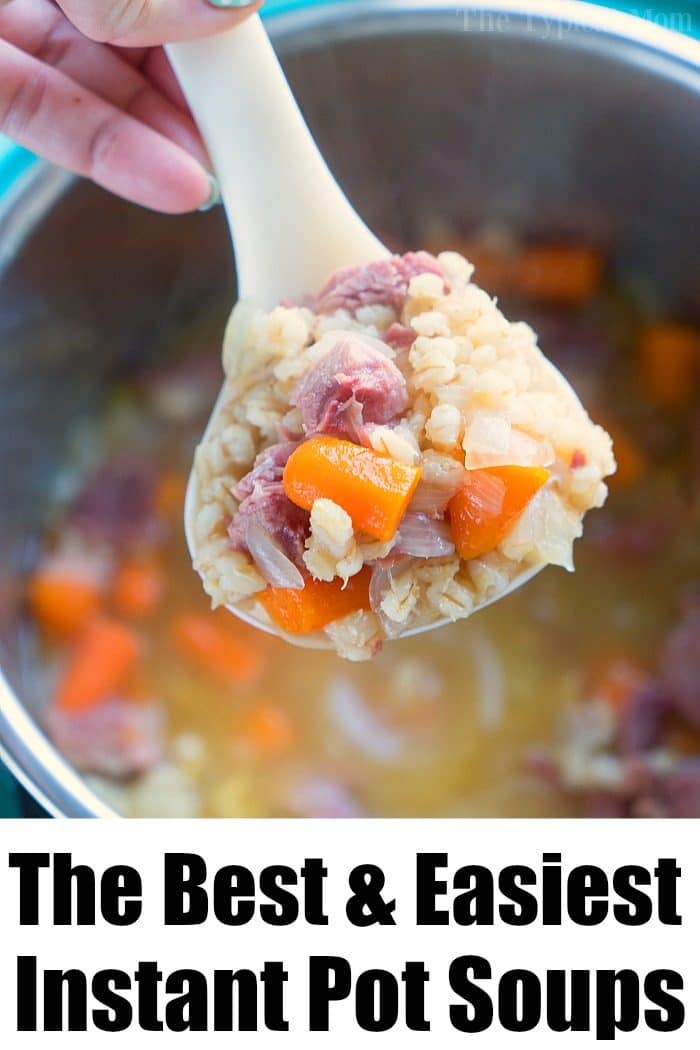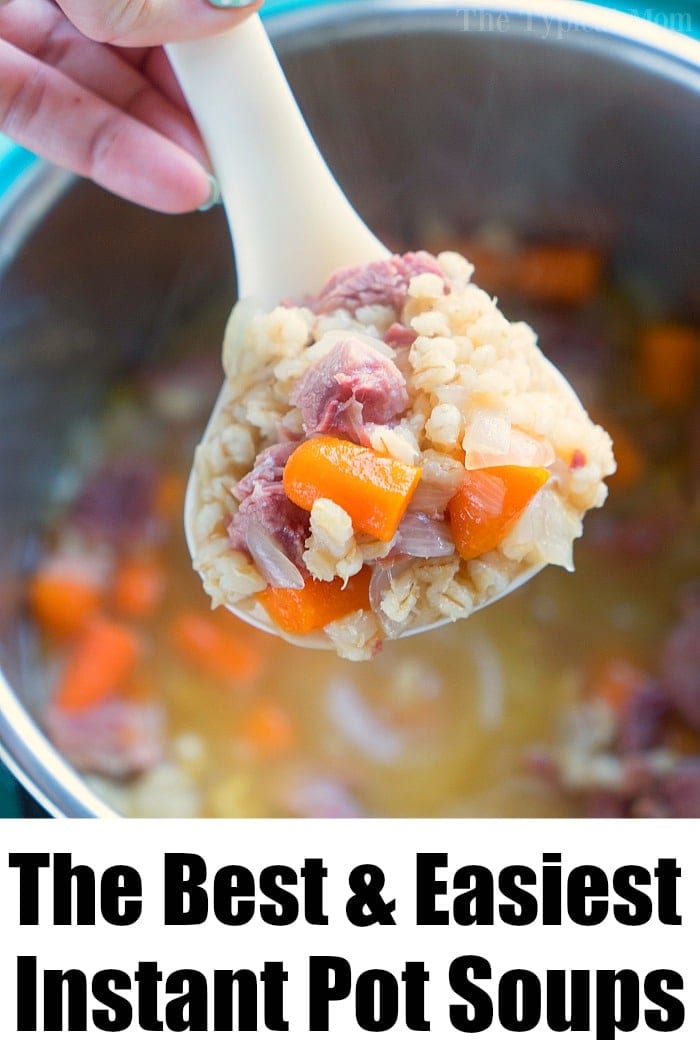 Our Instant Pot carrot soup is vegan and vegetarian too. You can thicken it up and serve as a baby food too.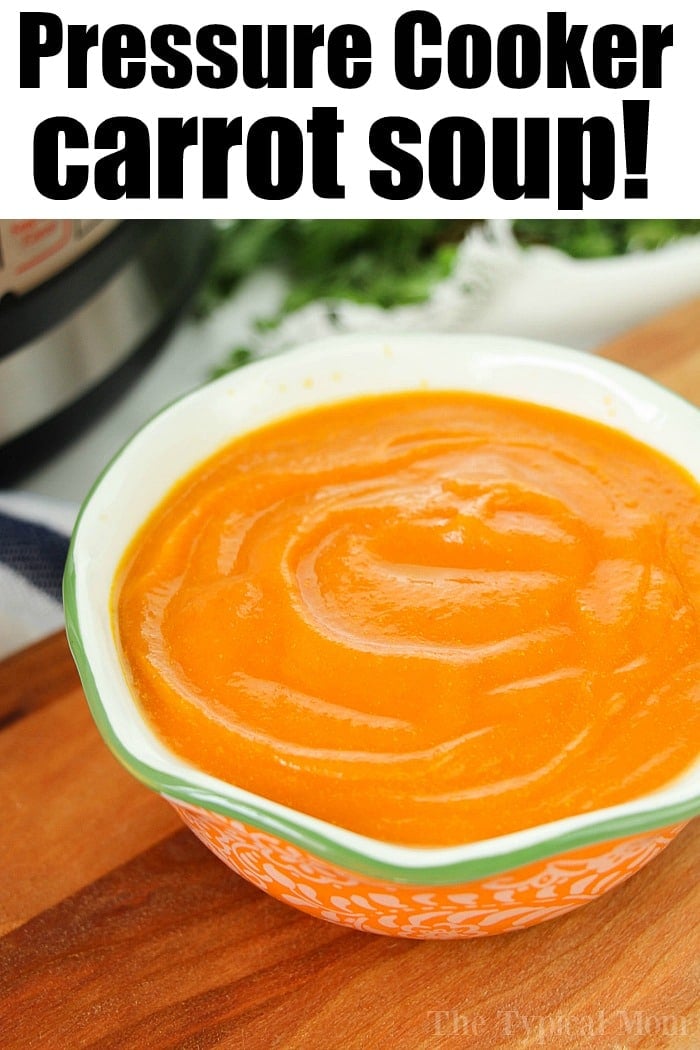 If you need slow cooker soup recipes we have those too.
Want to see a few of my favorite things you might want to write on your Christmas list this year??!! 😉 Take a peek and see how many you might already have…twinsies!
Looking for more easy family recipes and tips? LIKE The Typical Mom Facebook page?
Then sign up for my free newsletter, and follow me on Pinterest! 😉
***** If you LOVED this recipe give it 5 Stars below and let everyone know what you thought about it. 😉