Have you tried Instant Pot cheeseburger soup yet?? It's a fun pressure cooker meal that your kids will love and will make you come back for seconds.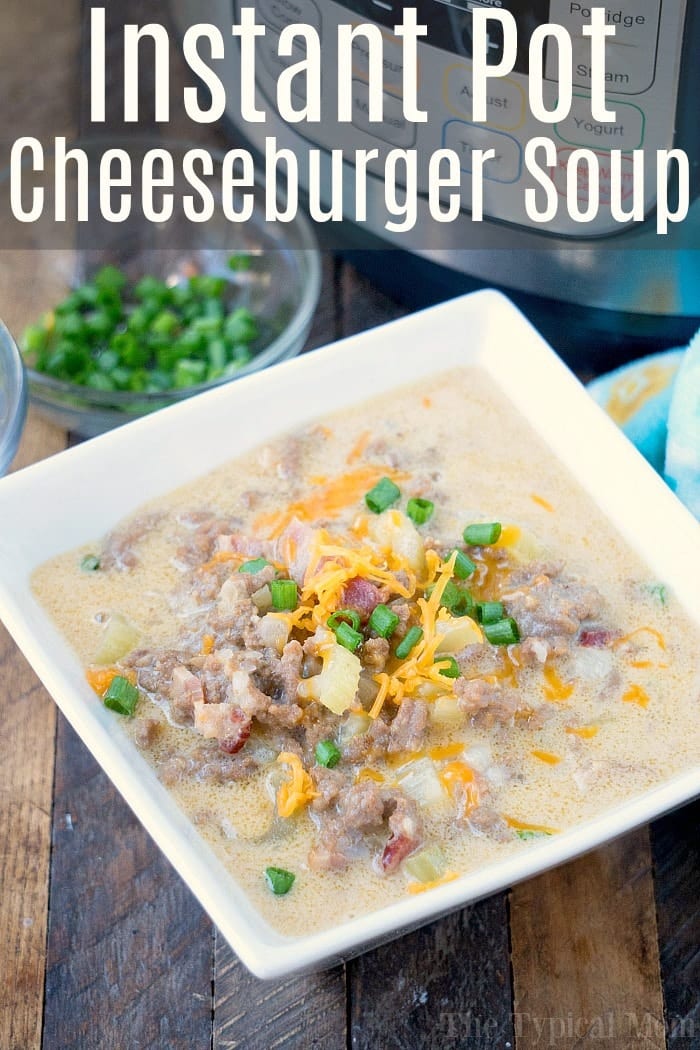 I've been creating easy Instant Pot recipes for over a year now and we loved this recipe for Instant Pot cheeseburger soup! It's quick and easy with tons of flavor, you should make it tonight. Sponsoring by Snapfish. (originally published 6/18)
Are you ready for some Instant Pot cheeseburger soup recipe??
This one is really easy. Then again all of my Instant Pot soup recipes are easy to make!
First thing you'll need is a cutting board to dice up a few things. Isn't this one cute??!!
Made with my name on it and a great gift idea if you ask me (hello Mother's Day and Christmas). With different designs to choose from and personalized for that special person in your life!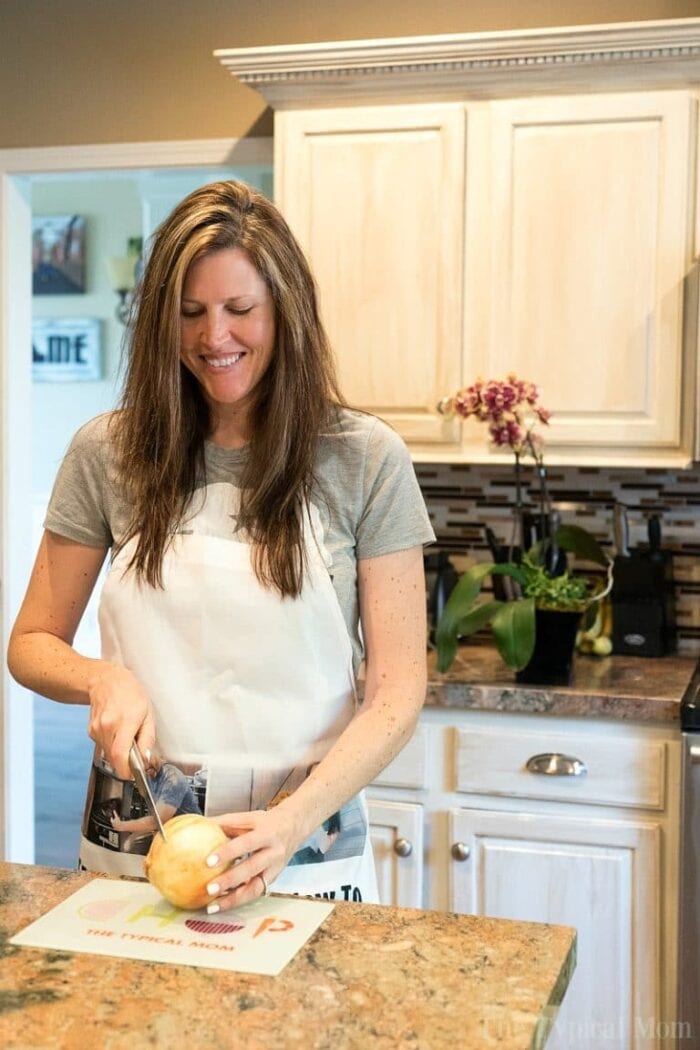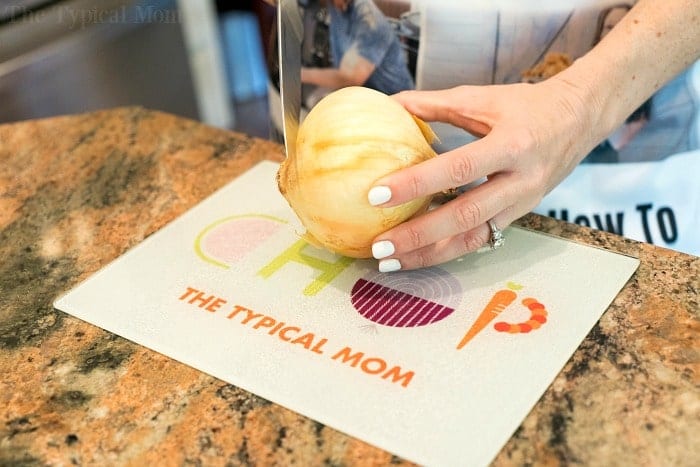 Oh, my apron you ask…yep that is personalized through Snapfish as well! Super cute right??!!
Mine has pictures of all of us cooking something…silly photos I love of each person.
So now that you're done dicing this is what you'll need to make our Instant Pot cheeseburger soup, other than the items listed above that you diced
Electric pressure cooker
Ground beef – or ground turkey
Celery
Butter
Chicken or beef broth – your choice, beef will make it a deeper color, I used chicken broth here
Heavy cream
Shredded cheese – I like sharp cheddar cheese
Sour cream
Cornstarch – to thicken the broth
Spices, salt and pepper to taste
Could add 1/2 cup sour cream at the end to make it creamier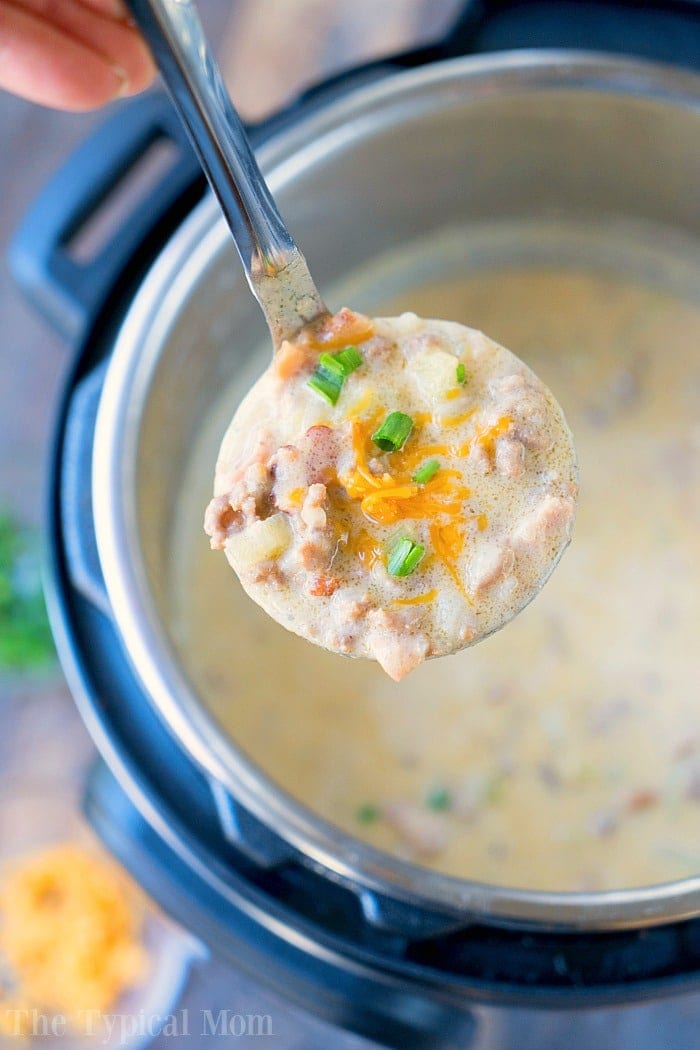 Now let's get to making some Instant Pot cheeseburger soup!
Whether you use your stovetop or your Instant Pot you'll want to cook your ground beef and diced onions together. I personally leave the little bit of grease that is left over in the pot for added flavor but you can drain it.
Once that is done you're going to add everything else except for the cheese and cook it for just 3 minutes on high pressure!!
If you're using a pot on your stovetop you just want to simmer it on low with a top on until all the flavors are melded together.
Then remove from your heat, or do a quick release and either put a dollop of sour cream on top of each bowlful, or mix some into the whole batch. We loved this soup!!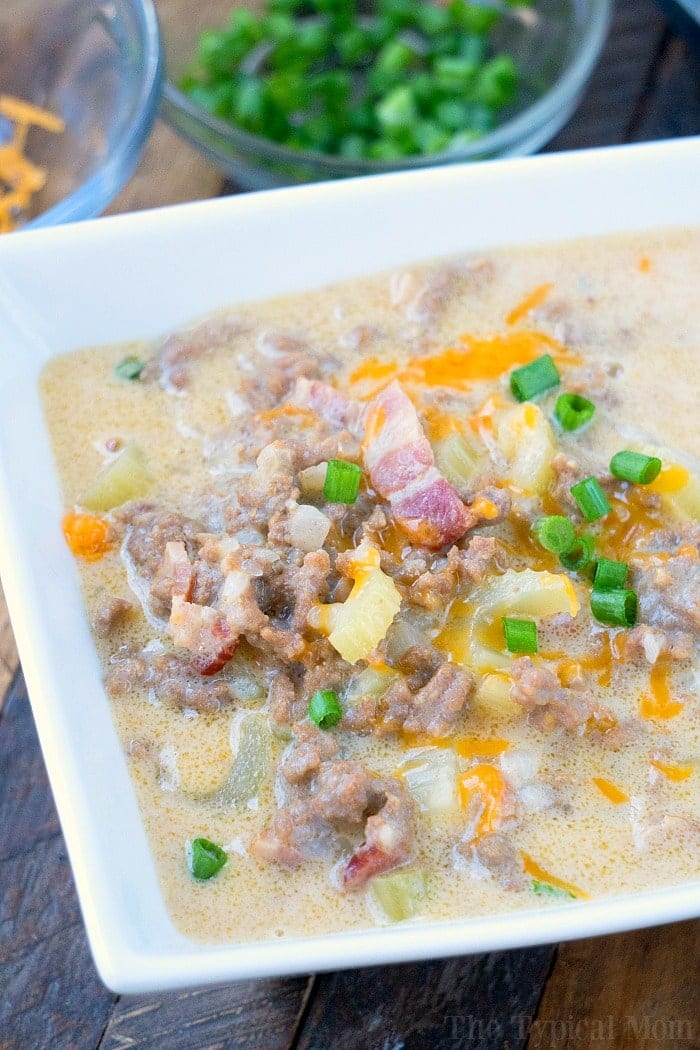 That's the beauty of cooking in a pressure cooker.
I used leftover bacon from the day before this time. If you don't have that you can cook your diced bacon in with your ground beef and onions to really meld those flavors together!
Once it's done you're going to add most of your cheese and stir until it melts which won't take long.
Thicken the soup with a bit of cornstarch and you're ready to top with a bit more cheese and green onions!
Below is the printable recipe with nutritional information included like protein, saturated fat, etc.
Instant Pot Cheeseburger Soup
Have you tried Instant Pot cheeseburger soup yet?? It's a fun pressure cooker meal that your kids will love and will make you come back for seconds.
Instructions
Set Instant Pot to saute and add butter, ground beef and diced onions. Cook until most of pink in ground beef is cooked (3/4 way or so). (if your bacon isn't already cooked you can dice it and add it in now to cook it all together.)

Dice celery and cooked bacon and add into pot, if you haven't added the bacon already. Turn your Instant Pot off.

Add seasoned salt and garlic powder, stir together. Pour in chicken or beef broth and stir.

Close lid and steam valve and set to pressure high for 3 minutes. Do a quick release when done.

Turn pressure cooker off and then press saute, normal, again and add heavy cream and 1 1/2 c. of your cheese. Stir allowing cheese to melt.

Add some of this hot liquid soup to a bowl with your cornstarch and whisk together, then add back into the Instant Pot and stir so it thickens.

Turn Instant Pot off, stir in remaining 1/2 c of cheese and serve topped with additional shredded cheese and chives/green onions or a dollop of sour cream.
Nutrition Facts
Instant Pot Cheeseburger Soup
Amount Per Serving (3 oz)
Calories 390
Calories from Fat 297
% Daily Value*
Fat 33g51%
Cholesterol 105mg35%
Sodium 1354mg59%
Potassium 272mg8%
Carbohydrates 8g3%
Protein 13g26%
Vitamin A 1160IU23%
Vitamin C 11.4mg14%
Calcium 384mg38%
Iron 0.6mg3%
* Percent Daily Values are based on a 2000 calorie diet.
I haven't made this in my slow cooker yet but it would be similar to the stovetop. You'd need to precook the meat first, throw everything else in and cook on low all day.
Now you're silly to think this Instant Pot cheeseburger soup is just for the winter time, we eat it year round!
Ladle some in a bowl and enjoy a nice day outside together. I guarantee everyone will love it…even those spending the day in the pool.