Best Ninja air fryer recipes for breakfast, lunch, dinner and dessert! If you have a Ninja Foodi pressure cooker and air fryer we have you covered!
Looking for the best Ninja air fryer recipes you say?? Well we've been busy adding to our long list of Ninja Foodi recipes since we got ours a few months ago. (affiliate links present, originally published 3/19)
Air Fryer Recipes Ninja
Are you new to this kitchen appliance and want to learn ALL THE THINGS regarding easy air fryer recipes? I was when I got my first pot and now I am totally obsessed. If you are new too I will explain step by step how to use your machine correctly and share tons of meals you can make with this.
Have you been using it for a while now and looking for new Ninja Foodi pressure cooker recipes? Either way we are here to help you make breakfast, lunch, dinner and dessert recipes in this baby. Below are a ton of links to recipes you'll love using the air crisp function.
Now what does air crisp mean? It is just their way of air frying, it means the exact same thing. If you have the singular model without the pressure cook function you'd have a drawer and that is it. With the Foodi you'd use the attached lid.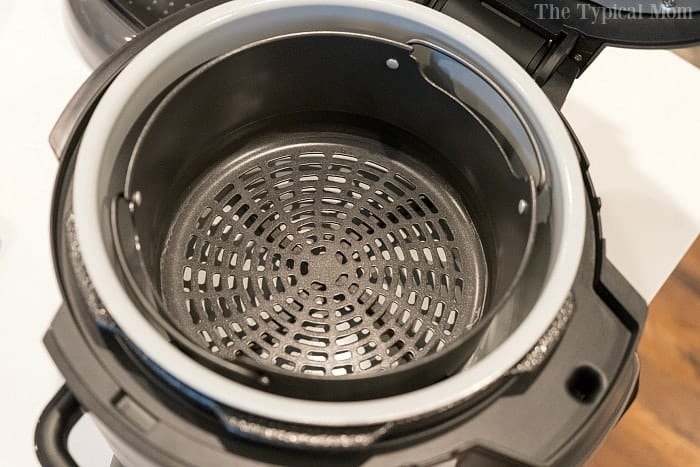 Ninja Foodi Air Crisp Basket
For all of these you will use the circular basket with the holes at the bottom as you see above. This will allow the high heat to circulate around all the food so it gets nice and crispy crunchy. For something like air fryer baking powder wings you want all the crispy skin you can get right?? Make sure you don't overlap them either.
The lid you use is the one attached. If you are new to this you'll notice there are two, one that is secured to the side and the other isn't. The one that is is only to air fry foods, just remember that. It's the easiest one since you just lower it down until it seals the top. You can lift up easily and check throughout the cook time too, no worries there.
Ninja AirFryer
Don't worry, all of our Foodi recipes are easy to follow and I share step by step instructions so if you're a beginner you won't get lost. 😉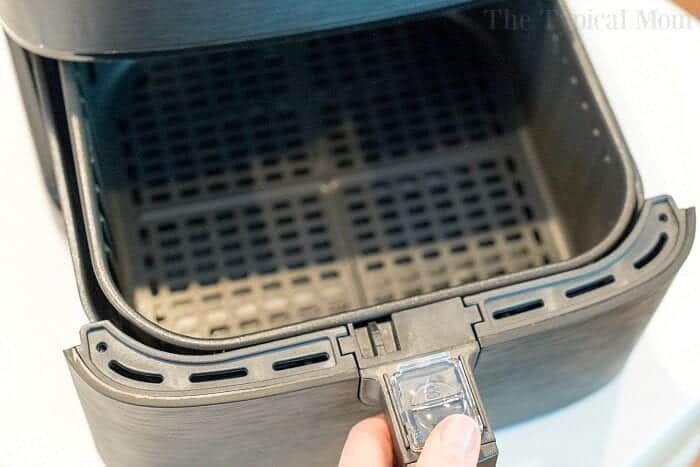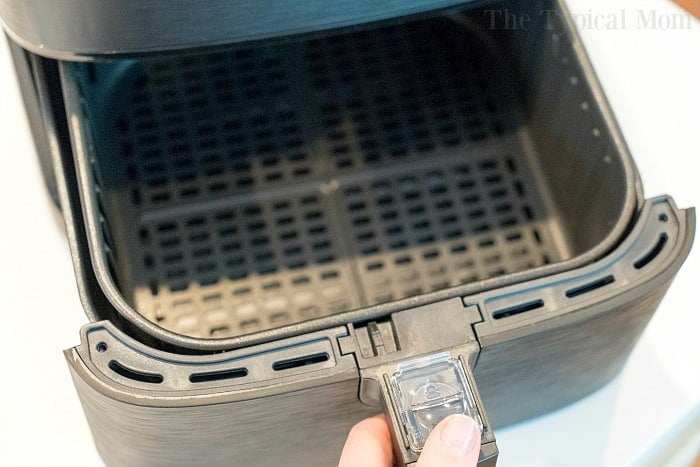 Air Fryer Ninja
Yes I do have a few different machines. The one above isn't a Foodi but a Cosori. The Ninja brand has one similar that doesn't pressure cook at all but just one function only. All of these will work with either and all of them.
BUT when I am making multiple things like air fryer cornbread with air fryer ground beef to make spaghetti with, I'd use both.
Everything is better crispy on the outside we say. And it's not just the case for fresh or defrosted meat either. We share how easy cooking frozen meat is in this thing too. A game changer for many of us who are forgetful at times.
With NO oil needed it's a healthy way to eat yumminess! From Mediterranean roast vegetables to simple broccoli wit just salt and pepper they all turn out great.
We're talking about the Ninja Foodi pressure cooker and air fryer today. You can see mine below.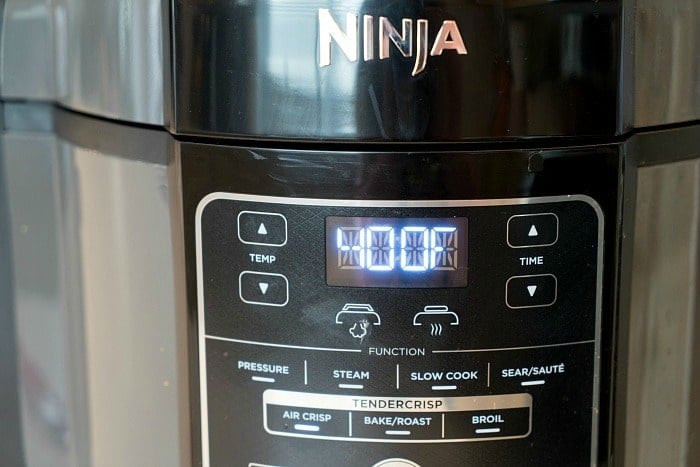 Recipes for Ninja Air Fryer
Here are a few more resources when you're starting your journey. You can find a lot more on The Typical Mom, just see below:
If you don't have one of these popular pots yet, you can buy a Ninja Foodi here.
You can make these in a Ninja Foodi Grill too, plus a lot more since it is an indoor grill too. I have both and they're both great for different meals.
If you're deciding which one or if you need both of them too you can read my review of why I like it in the link above.
Frozen Food in Ninja Air Fryer
Wondering how long each new food would take to cook? Have you tried frozen foods in air fryer yet? They're a game changer for sure!! So much better than in the oven. Yes we're talking things like frozen taquitos in air fryer but also meats that have been frozen too like air fryer frozen hot dogs.
Print this free air fryer cook times chart as well as a Ninja Foodi cooking times printable here.
Using the air fryer cooking times printable above will be a HUGE help when you want to make dinner. From things like air fryer beets, to calamari and more. It has it all.
Ninja Cook Times Cheat Sheet
Then serve with air fryer fish sticks and air fryer frozen french fries for a tasty meal. If you're new to this fancy multi cooker this is the lid you will use for air frying. The second one that isn't attached is for pressure cooking.
For the singular unit you just have one drawer which makes things a bit less complicated. Just preheat, throw your prepared food inside and make things like air fryer fried potatoes (that actually aren't deep fried at all), meat and even pasta chips.
You can find tons of pressure cooker recipes here. I narrow down categories in posts like our healthy Ninja Foodi recipes post too.
Tip: You can use Instant Pot recipes for the pressure cooker function easily. You'll just use the pressure button and the lid that isn't attached.
Choose high or low temperature
Ninja Dual Air Fryer Recipes
BUT the biggest difference between Instant Pot vs Ninja Foodi is the air fryer! With the latter you can crisp right in the same pot or only use that function.
For all of the above you will want them to be crispy but still tender on the inside. You do this with the lid that is attached so you just lower it down until closed. Add sauce like our air fryer beef and OMG a great dinner.
We have a long list of air fryer Costco recipes here too if you're a lover of this big box store. Air fryer quiche is great vegetarian or loaded with bacon.
Find all of our Ninja Foodi recipes here and bookmark it!! The air fryer benefits of cooking this way are endless. Packaged foods like air fryer frozen popcorn shrimp are so much better cooked this way. Way better than in the oven.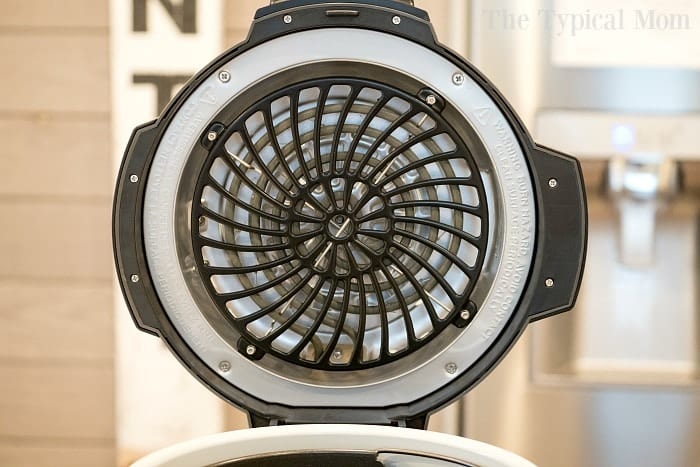 Ninja air fryer recipes
We add new ones each week too so make sure you Bookmark This Page! From breakfasts like French toast in air fryer to lunch, dinner, snacks, and even dessert there isn't much this machine can't do.
We broke down the sections into these categories:
Snacks made in your air fryer like frozen pizza in air fryer, air fryer chickpeas, air fryer frozen pierogies and more
Now, here are some great air fryer appetizers you can make for a crowd, or just for a fun finger food filled meal. 😉
One thing you'll need to make everything crispy wonderful is olive oil. Avocado oil can be used as well. Let's start with some Ninja air fryer breakfast recipes like air fryer sausage patties and much more…..
Air fryer cinnamon rolls, air fryer donuts, and sticky buns are the most amazing air fryer breakfast.
I love making air fryer hashbrowns because I can throw in some leftover ham and/or cheese too. Add air fryer sausage links with it for a hearty meal for sure and everyone loves it.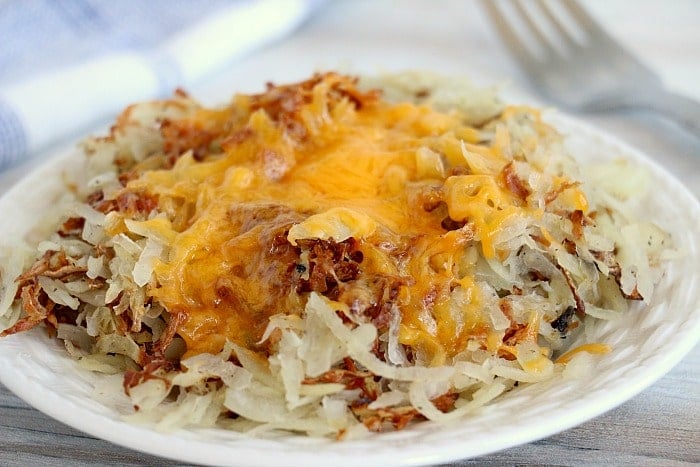 You'll just need a springform pan, all the best Ninja Foodi accessories are here.
Cooking will be done with hot air and NO oil!
Our 2 ingredient air fryer bagels made into bagel bites and stuffed with cream cheese were great
Perfect air fryer hard boiled eggs can be a protein packed breakfast. If you want them a bit softer, use the pressure cook function to make poached eggs.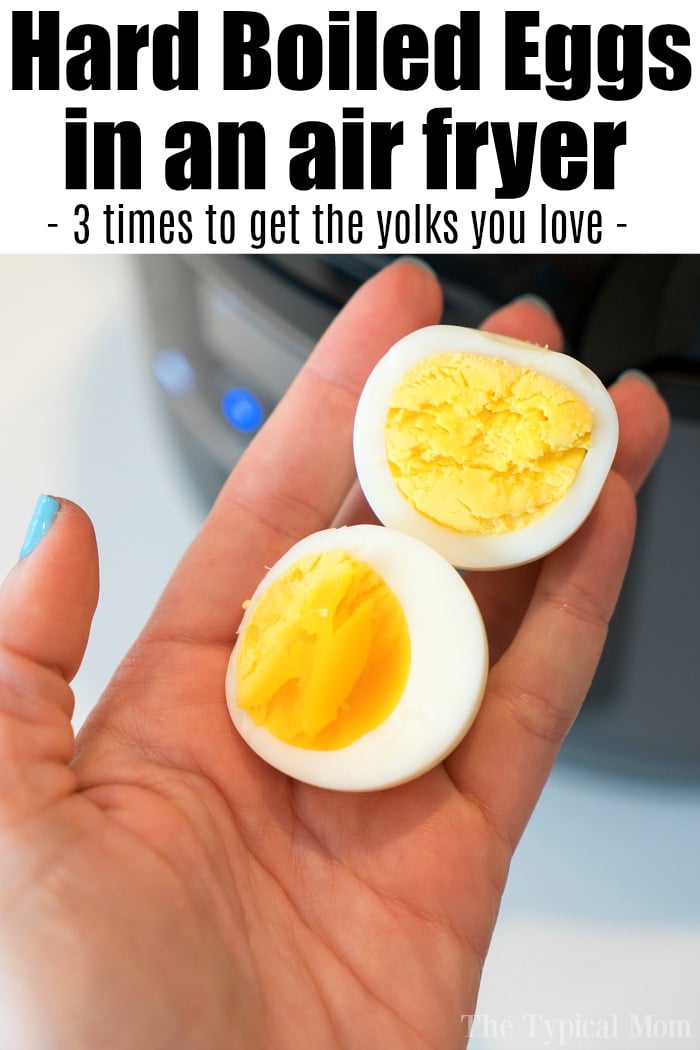 This Ninja Foodi breakfast is a keeper and can be loaded up with meat or keep it vegetarian with lots of mushrooms etc.
You can find this yummy treat below in our air fryer desserts roundup
These sticky buns that are semi-homemade are out of this world. You have to try them with refrigerated cinnamon rolls and a few other ingredients.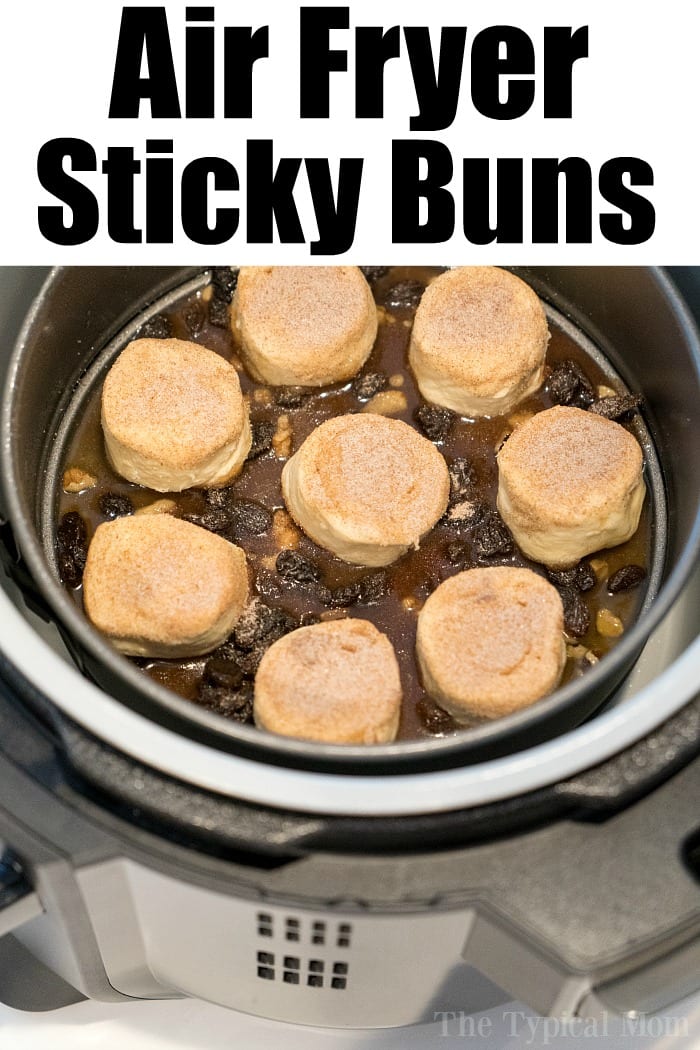 Ninja Foodi air fryer recipes
If you love Asian inspired meals, try our easy air fryer won tons some night. Use ground beef or sausage with teriyaki sauce and cabbage.
Make our air fryer whole chicken is a healthy choice for dinner. Pair with air fryer bread and done.
Did you know you could bake in an air fryer? You can!! We've done it here and with air fryer cookies too!
Ninja Foodi air fryer oven recipes
Air fryer corn is a great side dish with air fryer orange chicken too.
A new favorite is our marinated chicken in air fryer recipe. If you love teriyaki this is amazing. You can eat as is or dice it up and serve inside some air fryer tortillas with cabbage and white sauce.
From snacks, to appetizers and dinners made in a snap are possible now.
The outside will be crispy and crunchy with tender insides every time. Cheesy air fryer tater tots are amazing.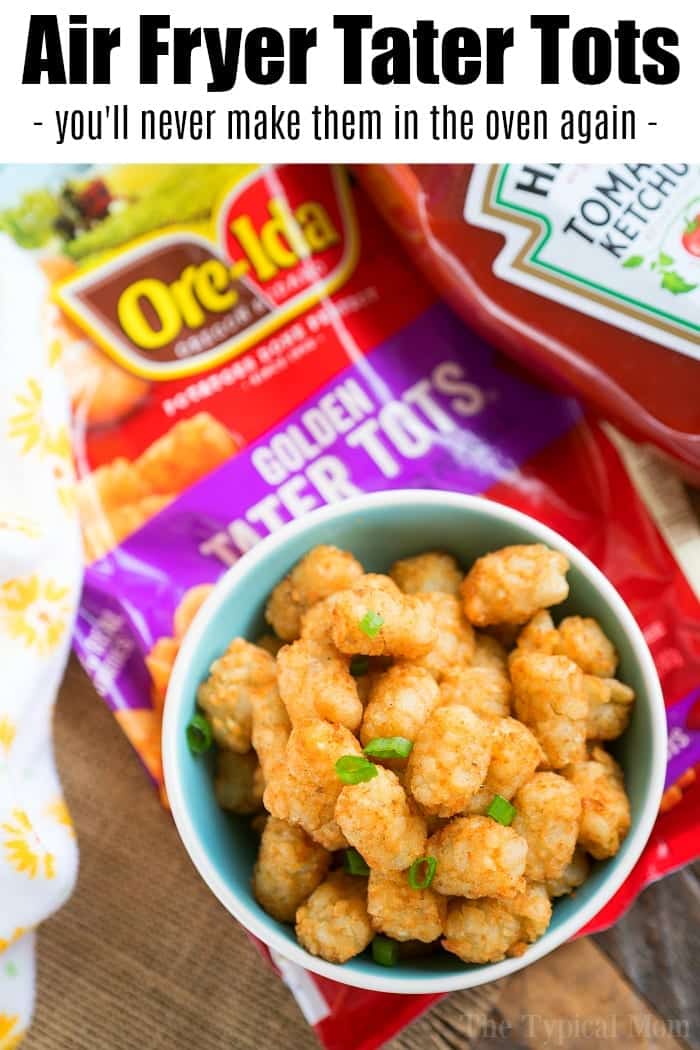 Our homemade air fryer chicken tenders and air fried chicken are great with air fryer cheese curds too. To make your own air fryer cordon bleu hot pocket you just need some frozen dough to wrap all the goodness up together.
These air fryer chicken kabobs are healthy and yummy. We added breasts and zucchini with some onion but there are tons of options. Try air fryer filet mignon or air fryer falafel some night too.
Air fryer steak tips are yummy any day of the week. Just put in the basket and set the time! Want out of this world sauce over the top of crispy bites? If so try our air fryer bang bang shrimp!
Over rice or air fryer zucchini noodles, you've gotta' try our air fryer teriyaki chicken or air fryer sesame chicken some night.
Our favorite air fryer lunch is air fryer hot dogs loaded up with some pressure cooker chili.
Rounding out our list we've got some air fryer side dishes and snacks!
Our favorite healthy snack before lunch is Ninja Foodi kale chips!
We have a bunch of other air fryer fish recipes here too.
If you've never tried air fryer fried pickles you're missing out!
You just need a few large bowls for dredging, cajun seasoning if you want some heat, and garlic powder if you love garlic everything!
Just set the timer for 8 minutes and they'll come out to perfection each and every time I tell you!
Ninja Air Fryer Recipes
Ninja air fryer recipes are here. This is just one for air fryer pickles you are going to love making in your Foodi.
Instructions
Preheat air fryer to 390 degrees.

Drain pickles, lay them out on paper towels and pat dry to soak up as much of the liquid off of them as possible.

On a plate mix flour and cajun seasonings together (can add other seasonings you want into this)

In a shallow bowl pour the buttermilk inside (can add any hot sauce into this if you want heat)

In last plate mix Panko breadcrumbs with salt and Italian seasoning. Then pour in olive oil and mix so it is damp.

Like an assembly line, put pickle into flour, coat, then shake off excess. Then into buttermilk, and lastly into Panko coating it well on all sides. Allow excess to fall off. Put into air fryer basket.

Do this so 1 layer is done, do not overlap them as they won't crisp properly.

Close air crisp lid and continue air frying at 390 degrees for 8 minutes. Remove and add another batch. Enjoy immediately with a variety of dips.
Nutrition Facts
Ninja Air Fryer Recipes
Amount Per Serving (2 oz)
Calories 154
Calories from Fat 45
% Daily Value*
Fat 5g8%
Cholesterol 4mg1%
Sodium 1008mg44%
Potassium 175mg5%
Carbohydrates 23g8%
Protein 5g10%
Vitamin A 451IU9%
Vitamin C 1mg1%
Calcium 111mg11%
Iron 2mg11%
* Percent Daily Values are based on a 2000 calorie diet.
Want to see a few of my favorite things that I am totally obsessed with?? Take a peek and see how many you might already have…twinsies!
Looking for more easy family recipes and tips? LIKE The Typical Mom Facebook page?
Then sign up for my free newsletter, and follow me on Pinterest! 😉
***** If you LOVED this recipe give it 5 Stars below and let everyone know what you thought about it. 😉
Regular air fryer baked potatoes can be a meal or side too.
Warm potatoes crispy on the outside and fluffy on the inside every time. Works for red potatoes too.
Now check out all our other easy Ninja Foodi recipes and let us know what we should try next!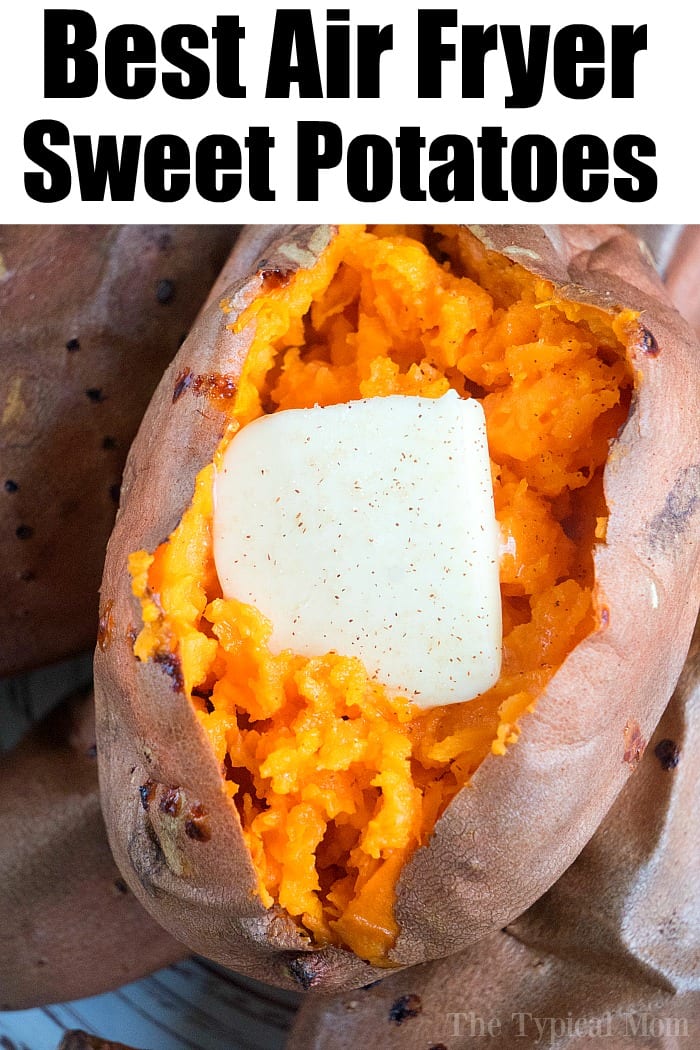 Love beef? Try our easy air fryer fajitas for dinner!
And how to make chicken legs in air fryer soaked in buttermilk first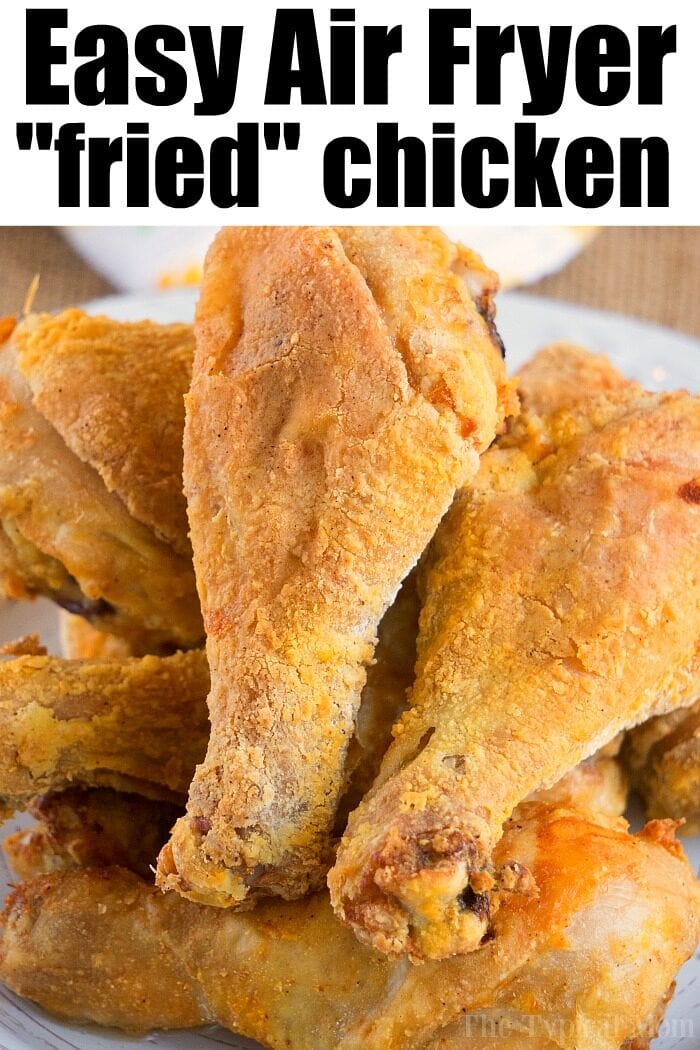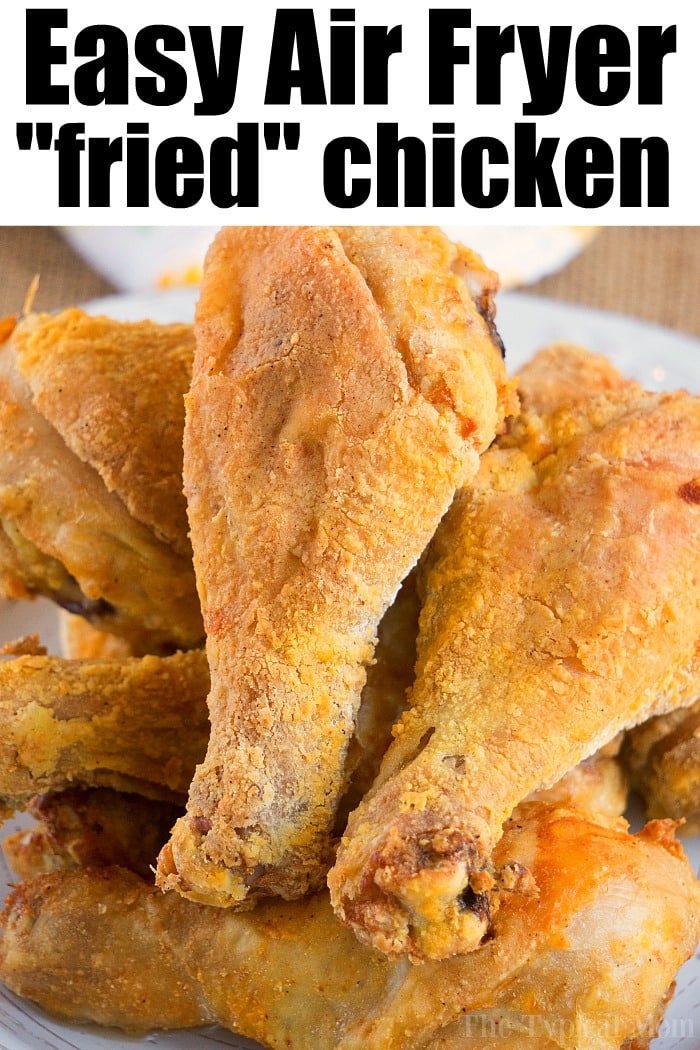 Want to know the side dish we literally serve with everything? A batch of veggies works no matter what.
Refer to our roundup of easy air fryer vegetables recipes for new ideas.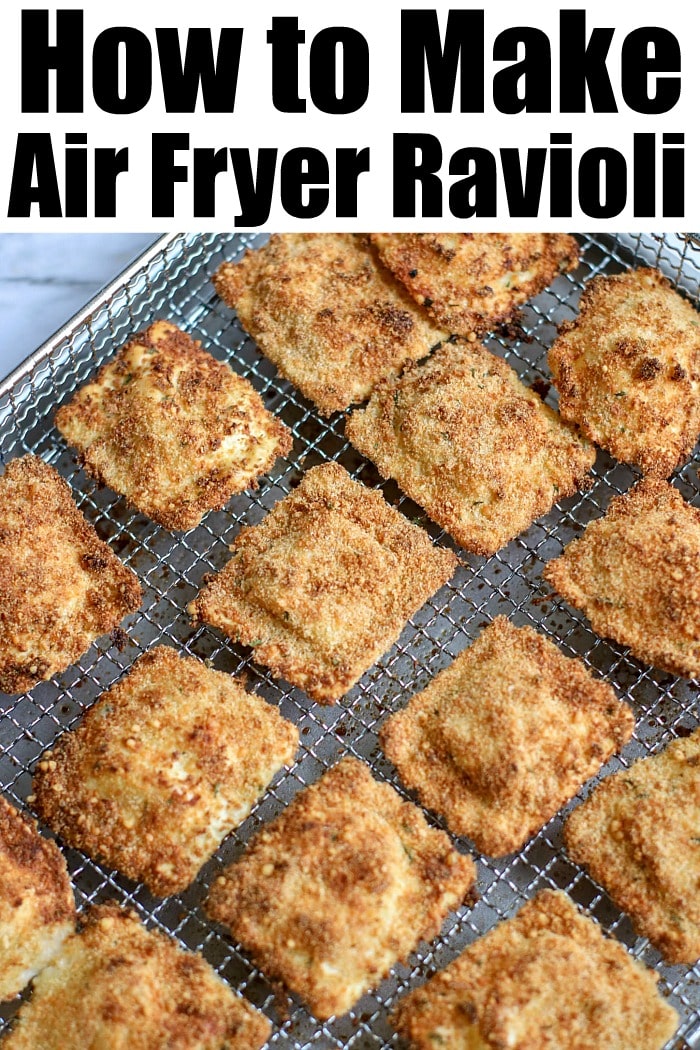 Let's keep going with easy air fryer recipes shall we? I am always in need of new dinner ideas that are family friendly. Everyone loved these air fryer chicken fried steak bites!
Our air fryer zucchini fries and Ninja Foodi cabbage are the best.
Ninja Air Fryer Dessert Recipes
Ok so you can grab a roll of chocolate chip dough at the store and make small batches of treats at a time in this machine. Follow the timing in our Air Fryer Cookie Dough post.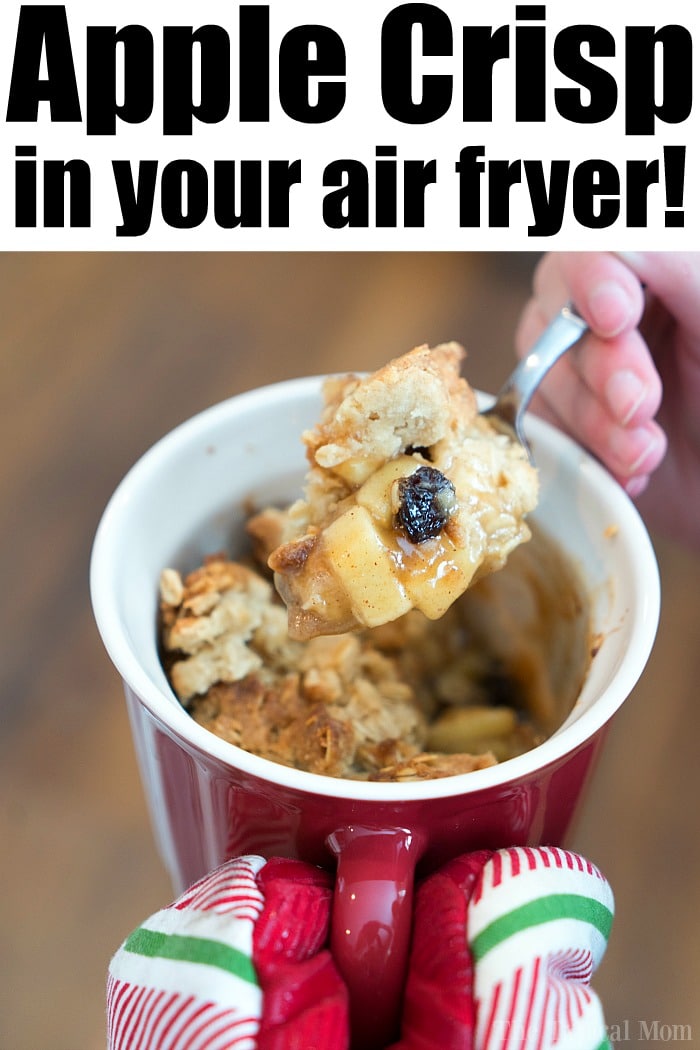 Here are a few more to try like our air fryer okra that's delicious. Don't tell your kids what they are and let them see if they like this as a "snack". Mine do!
Or for a low carb snack, try air fryer fried green tomatoes too.
Our air fryer beef jerky and air fryer eggplant are great snacks.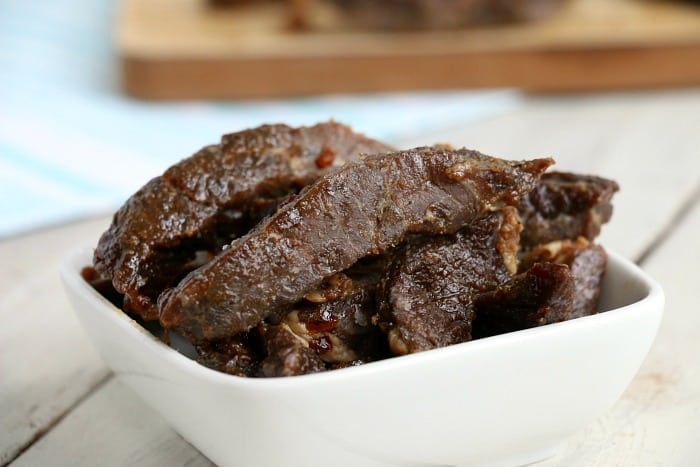 Our air fryer Monte Cristo is like the one at Disneyland but OH SO much better. Serve with air fryer onion rings for comfort food on a plate.
Then I pulled out a large hunk of meat out of our freezer after we bought half a cow and tried an air fryer roast.
I marinated it first and the taste was amazing! Served with air fryer tortillas it was the bomb.