Air fryer hard boiled eggs are easy to do! We will show you 3 different ways to get the perfect yolks for you. A great snack or protein packed breakfast.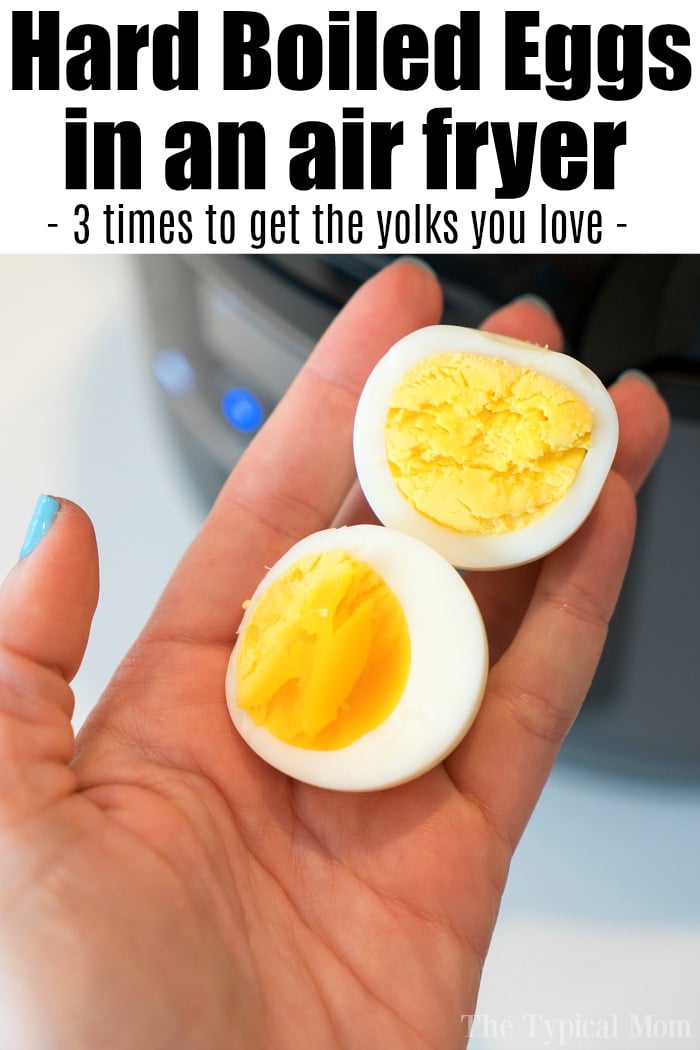 Who doesn't love air fryer hard boiled eggs?? We have the trick to making them easy to peel and perfect in the inside. After you try these check out our other easy air fryer recipes too. (originally published 3/19, affiliate links present)
Ninja Foodi Hard Boiled Eggs
These babies are so versatile. They're great in potato salad, a high protein snack, and/or a great breakfast too. You can make them in your Foodi or any other brand you might have on your counter right now. I have a few including a Cosori and AirWave too.
Yes, you can make Instant Pot hard boiled eggs or throw them in some boiling water. BUT if you're obsessed with your hot air machine too you've gotta' try this. We will show you how to make the yolks firm as the photo shows above. If you want them lose though follow our air fryer soft boiled eggs timing.
Air Fry an Egg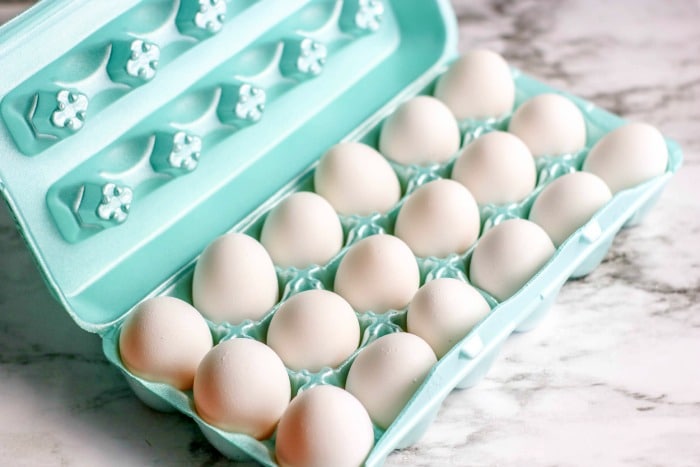 How to Make Air Fryer Boiled Eggs
Nowadays we have been making more of these than ever. Why? Well we have 13 chickens who are now laying eggs! That is SO fun for the kids and I will tell you that fresh eggs are like no others. With an incredible taste, high in protein, and perfect in the morning or for dinner, they're our quick go to "treats".
When we moved closer to the city we couldn't bring them with us. Now that I buy them at the store I will tell you that there is a difference. First off for this in particular you do want white shells. They are just easier to peel. We buy organic and cage free too because of health reasons and they taste so much better too.
FIRST – You should sign up for my free newsletter so you get new posts emailed to you twice a week and never miss out on anything! If you love air fryer recipes too, here are some resources to start with: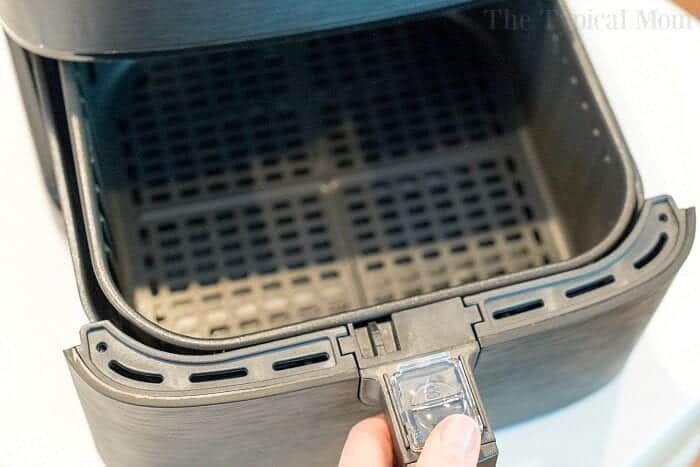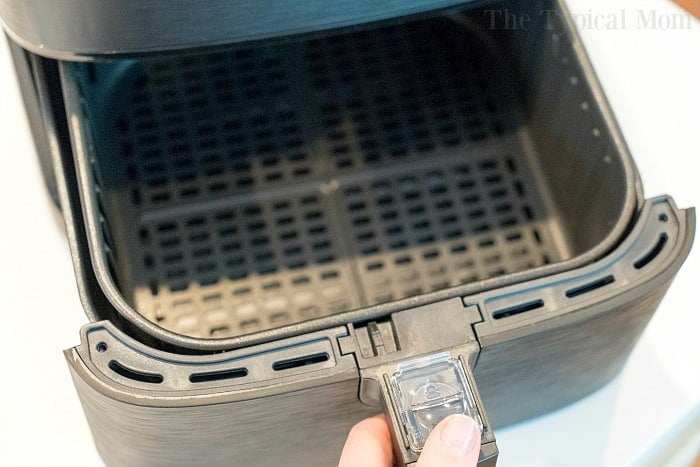 Air Fry Eggs Hard Boiled
You can also make hard boiled eggs in the oven. BUT if you are curious about air fried eggs, we've done the testing for you. You're welcome. 😉
We will even tell you how to get them to be closer to soft boiled if that is what you prefer. In under 16 minutes you can have them perfectly done. Then just cool (if you want) and enjoy.
They are great for breakfast with a little salt and pepper but also great diced up and thrown into a tuna salad mixture or make egg salad with them.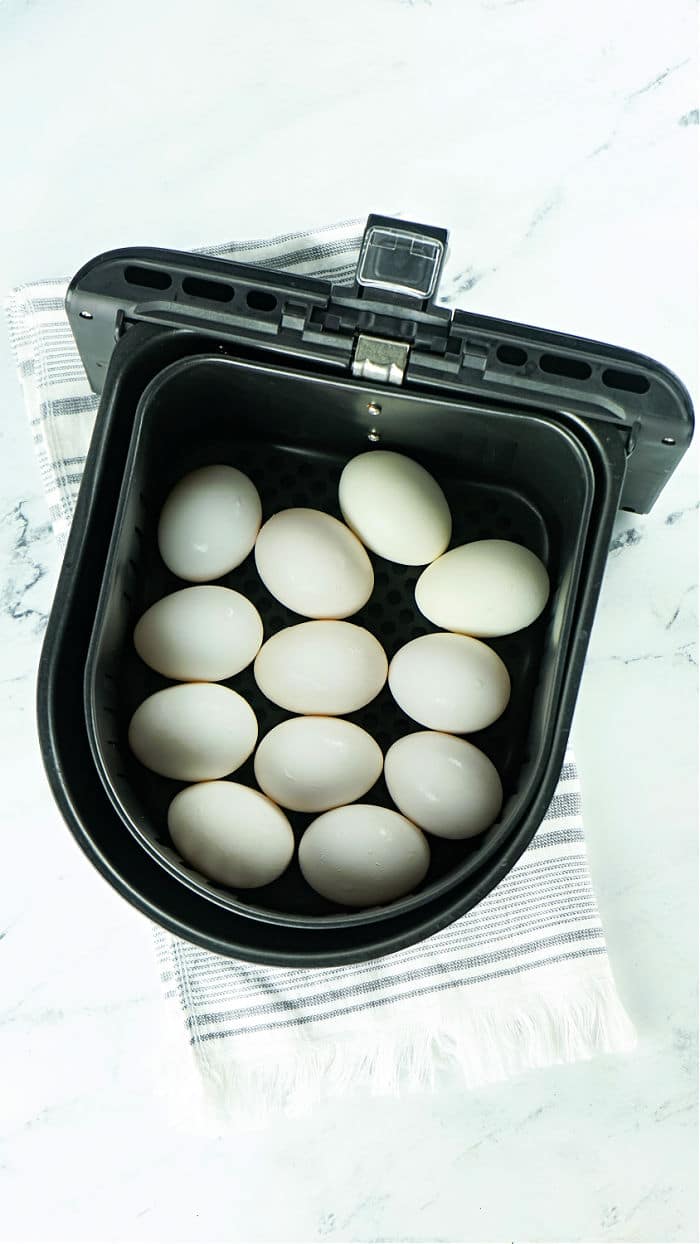 Cooking Eggs in AirFryer
Just add them into your Ninja Foodi pressure cooker and air fryer machine. Any brand of machine will do really. Make as many as you'd like, cook time will not change.
I'd recommend leaving them on one level on your trivet or in your air fryer basket, do not stack them.
Leaving them in one level will help eggs cook the same. Don't be alarmed when you lift the lid off. Your eggs may have these little brown dots on them.
Those will wash off when you stop the cooking process, and put them into an ice water bath. Then just peel and eat!
Air Fryer Soft Boiled Eggs
Test #1 – 2 eggs set temperature at 270 degrees for 10 minutes
Shells came off easily
Egg whites were cooked
Yolks were runny
Next test #2 – 2 large eggs set at 270 degrees for 13 minutes
Shells came off rather easily
Whites were cooked
These yolks were soft in the very center but not runny
I would say this timing would be considered Ninja Foodi medium boiled eggs
Hard boiled eggs in air fryer
Third test – 2 eggs set at 270 for 15 minutes
Shells were a bit harder to remove
The Egg whites were done
Yolks were completely cooked
Choose which one you like best and just go with that.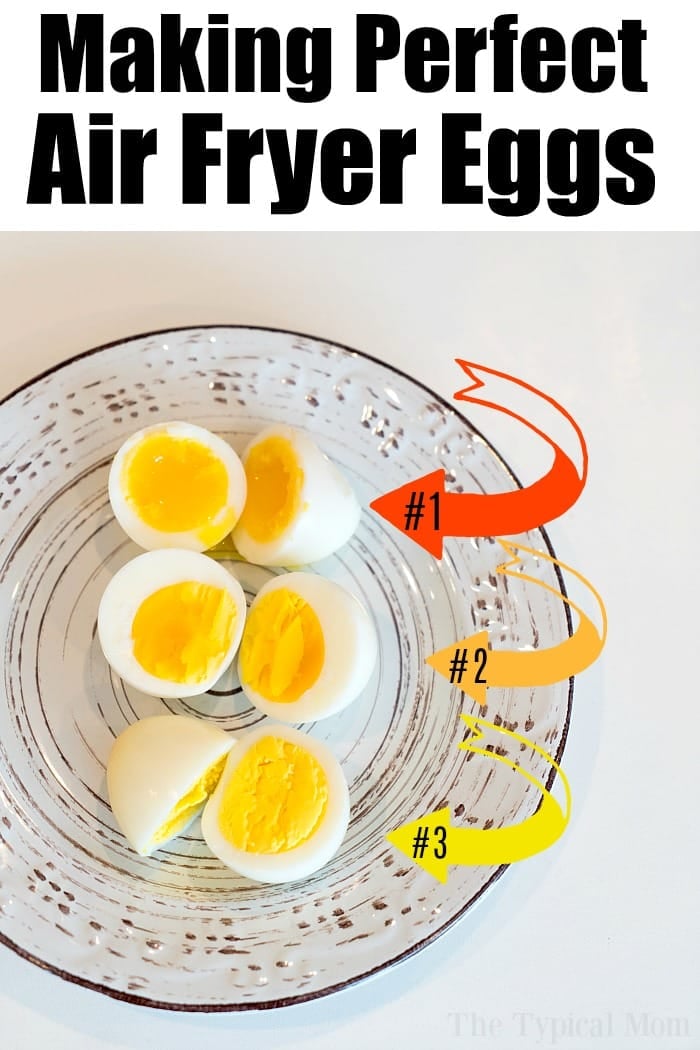 Here are a few questions you might have before you get started:
How long does it take to hard boil eggs in an air fryer?
About 15 minutes. If you like your yolks a bit softer then set to 13. You always want to add ice cubes and cold tap water in a large bowl and have that ready. Once "boiled" transfer to that bowl to submerge for 5 minutes in your ice bath when done.
Can you hard boil eggs in the Ninja Foodi?
Yes but since the air crisp temp. doesn't go below 300 degrees it is best to follow the pressure cooker hard boiled eggs 5-5-5. If you want to use the air crisp function then: Leave eggs on countertop for 30 minutes, Put on air fryer rack, Set to 300 degrees for 10 minutes.

BEST results will come if you do this though: Add 1.5 cups water into your Foodi, Put room temp. eggs inside vegetable steamer basket, Set to high pressure for 5 minutes with a 5 minute natural release and then submerge in ice water so shells fall off easily.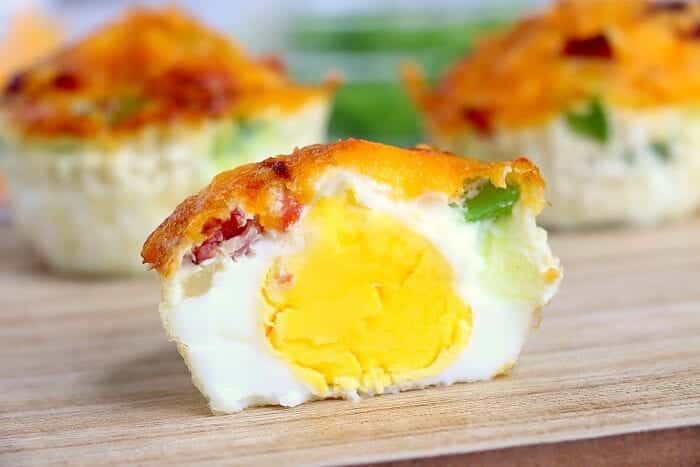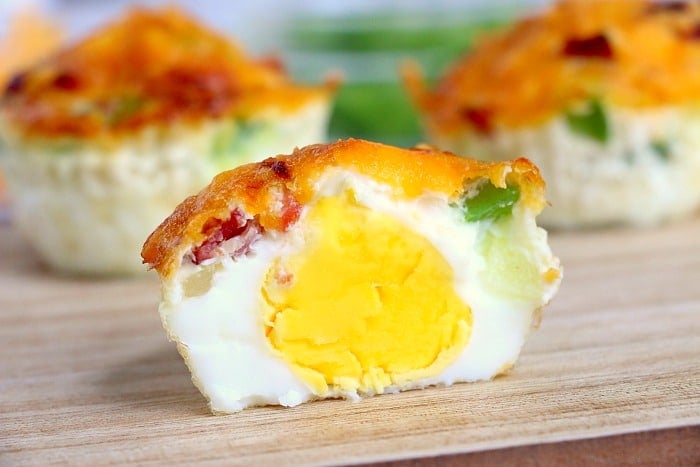 Can you fry an egg in the air fryer?
Well we haven't done that per say, however air fryer egg bites are close enough and incredibly tasty!
How to make perfect hard boiled eggs
There is a printable recipe card available at the bottom of this post as well.
Put eggs from fridge on the counter for at least 30 minutes (so they aren't so cold)
Add eggs into air fryer and set to 270 degrees. Cook for 15 minutes
Immediately put them into a bowl with ice cold water. Once cooled peel your eggs, store them in a pint size storage bag in the fridge to snack on later.
Eat as is as a high protein snack or make crack chicken deviled eggs with them.
Want to see a few of my favorite things that I am totally obsessed with?? Take a peek and see how many you might already have…twinsies!
Looking for more easy family recipes and tips? LIKE The Typical Mom Facebook page?
Then sign up for my free newsletter, and follow me on Pinterest! 😉
***** If you LOVED this recipe give it 5 Stars below and let everyone know what you thought about it. 😉
Ninja Foodi Hard Boiled Eggs
Since this pot doesn't go below 300 degrees F just use that temperature. You'll want to decrease the times below by 1 minute to account for the difference.
14 minutes hard boiled
12 minutes medium hard
9 minutes worked well for closer to soft boiled eggs
Or you can make poached eggs this way using the pressure cook function if you have an IP or Foodi. Adding these to potato salad? You can make everything you need together following our Instant Pot potato salad instructions too.
Air Fryer Hard Boiled Eggs
Air fryer hard boiled eggs are easy to do! We will show you 3 different ways to get the perfect yolks for you. A great snack or protein packed breakfast.
Instructions
Place egg into air fryer, not overlapping.

** For best results allow eggs to sit on counter for at least 10 minutes vs. straight out of the very cold fridge.

Turn machine on, close lid, and set to 270 degrees for: 10 minutes for runny yolks, 14 minutes for yellow but soft yolks (I will say these are perfect), 15 minutes for perfect yolks that are hard but not overcooked so they turn gray

Remove immediately and put into a bowl filled with cold water and ice cubes.

Once cooled remove shells and enjoy.
Nutrition Facts
Air Fryer Hard Boiled Eggs
Amount Per Serving (2 oz)
Calories 62
Calories from Fat 36
% Daily Value*
Fat 4g6%
Cholesterol 163mg54%
Sodium 62mg3%
Potassium 60mg2%
Protein 5g10%
Vitamin A 240IU5%
Calcium 25mg3%
Iron 0.8mg4%
* Percent Daily Values are based on a 2000 calorie diet.