This is how you make Instant Pot hard boiled eggs in bulk and the secret to the best deviled eggs in town. How long to cook eggs in your pressure cooker to get the perfect yolk for your favorite appetizer and the best Ninja Foodi hard boiled eggs to snack on too.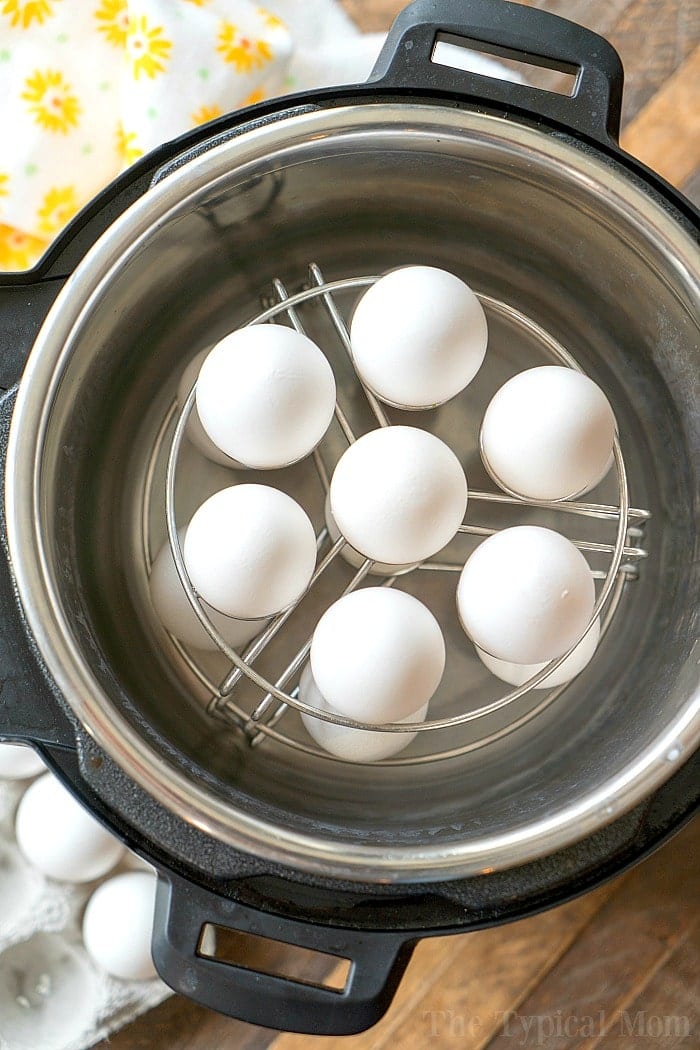 Today I'm sharing our secret to making the best Instant Pot hard boiled eggs AND how to make them perfect every time! I love my fancy pressure cooker & share all of my easy Instant Pot recipes here. Special thanks goes out to Kitchen Deluxe for sponsoring this post. (originally published 3/18, affiliate links present)
Ninja Foodi Hard Boiled Eggs
Maybe you haven't tried these because you're not sure how to make them without the eggs rolling around in the pot. There's an answer to that and these are great for all sorts of things. Yes they're great with salt for breakfast but diced inside a pasta salad is fantastic as well. This is a game changer friends.
We've made it all; Instant pot poached eggs, egg bites, and this pressure cooker breakfast. You can use this pot, Crockpot Express or a Ninja Foodi, either one works.
FIRST – You should sign up for my free newsletter so you get new posts emailed to you twice a week and never miss out on anything! Now let's start with a few basic tips:
Make sure to Bookmark our InstaPot recipes page. We add new ones each week!
Then PRINT this —–> Instant Pot cooking times cheat sheet that will help you understand how long meat, vegetables and beans take to cook in your pressure cooker.
For reference, this is the pressure cooker I have (a 6 quart) and use for all recipe creations.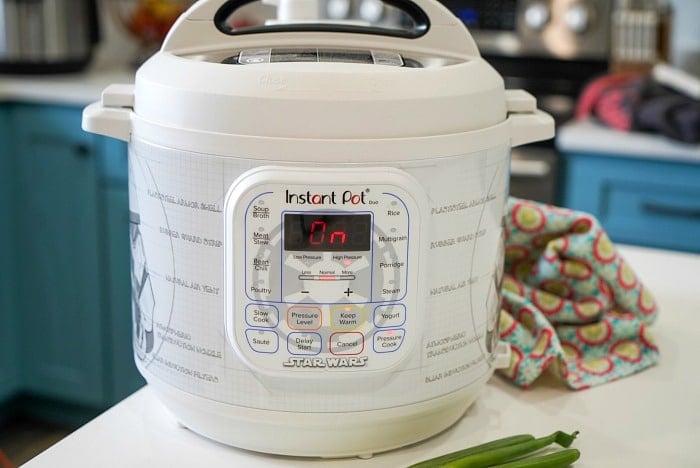 Ninja Foodi Hard Boiled Eggs 5 5 5
If you have heard this in groups you might be wondering what the heck is 5-5-5 anyway?? That means you need 5 minutes to cook, 5 min natural release timing for steam to release and 5 minutes submerged in a bowl of ice water.
If you want to peel them super easy this is the key. That is right, prepare a large bowl halfway full of ice and cool water from the faucet when you set these to start boiling. When they are done use tongs (because they will be VERY hot) to transfer into the cold water. Let them sit for 5 and then gently tap all the way around to loosen the shells.
You may know how to boil eggs in the oven but this is much faster!
Whether you want to make a few or more than a dozen we have tips for success here!
There are two items to choose from in order to make this a lot easier. The two tier egg rack you see above is one of them we love, or use this vegetable steamer.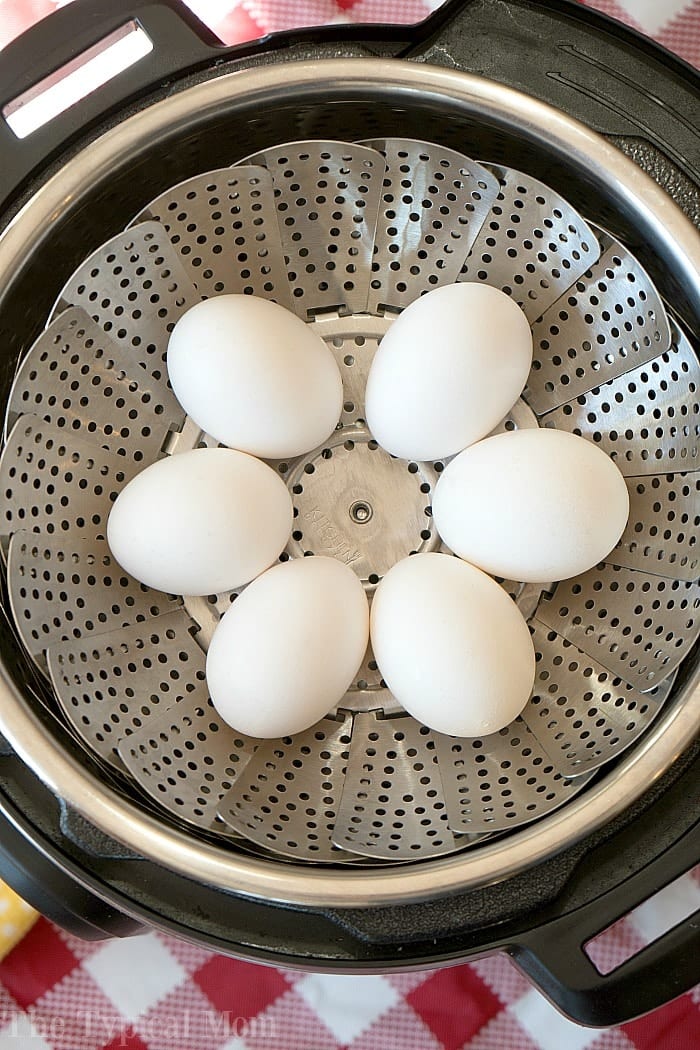 Instant Pot Hard Boiled Eggs with Egg Rack
Yes you could kinda' stack them on the trivet that came with your pot if you didn't want to buy anything else. Honestly if you are planning to make these often it is just worth it to spend the couple of dollars for one of the two linked above.
Best way to make deviled eggs
Make pressure cooked hard boiled eggs (directions below). Once perfectly cooked, transfer the eggs into a bowl with cold water and lots of ice cubes.
Take shells off
Slice in half and remove yolks
Use a fork to smash yolks, or use food processor for smoother consistency
Add in with yolks from 14 hard boiled eggs

3/4 c mayonnaise – not miracle whip and not light
3 tbsp mustard, more or less depending on preference, taste as you go
1/2 dill pickled diced fine, or use relish
Spoon into a pint size freezer bag
Put into fridge for 1-2 hours
Cut tip off
Squeeze into egg halves

Or use ingredients in our crack chicken deviled eggs recipe
Sprinkle with dill, paprika, and diced chives on top. Now there are other things you can do with them diced up like add into your tuna fish mix or into a pasta salad as well but this is a fave.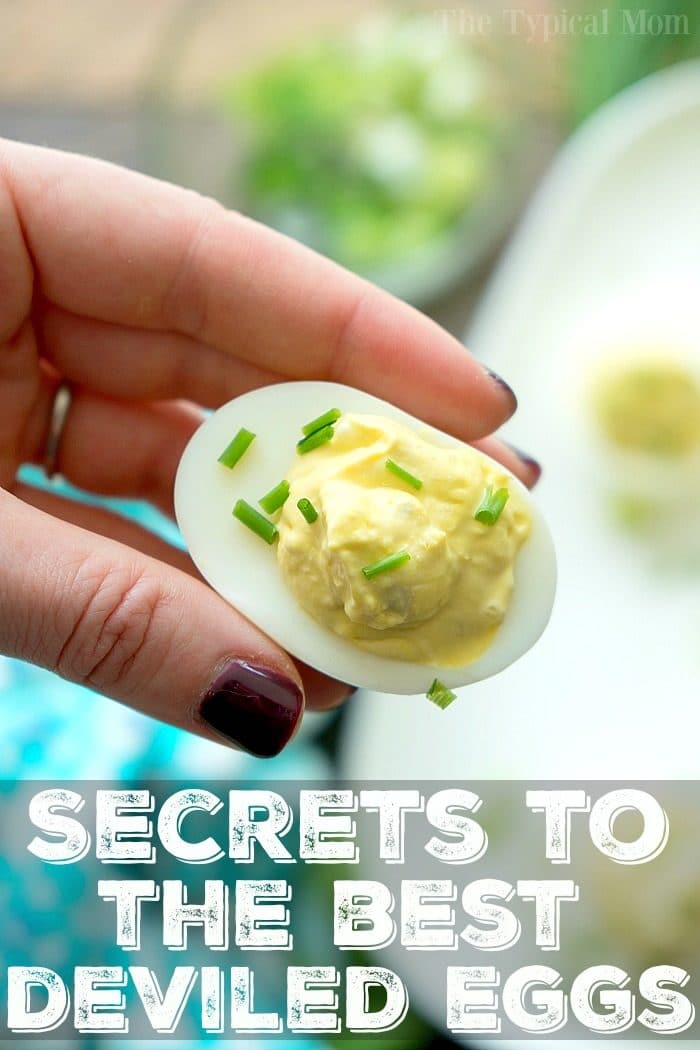 How far in advance can I make deviled eggs?
If I know I am making a large batch of these I always make hard boiled eggs a few days before. Then I peel them and store them inside a pint or freezer gallon baggie. It saves me time and my sanity to have this part done.
You can actually make deviled eggs up to 2 days in advance if you wanted.
The key is to keep the whites and egg yolk filling separate.
Wrap the egg white halves well with plastic wrap and keep the egg yolk filling sealed in a freezer style plastic bag with all the air squeezed out.
I always do it this way because it makes squeezing it out much easier too! When you're ready to fill just snip the corner off one end and squeeze out the deviled egg filling in a swirl and serve on an egg platter.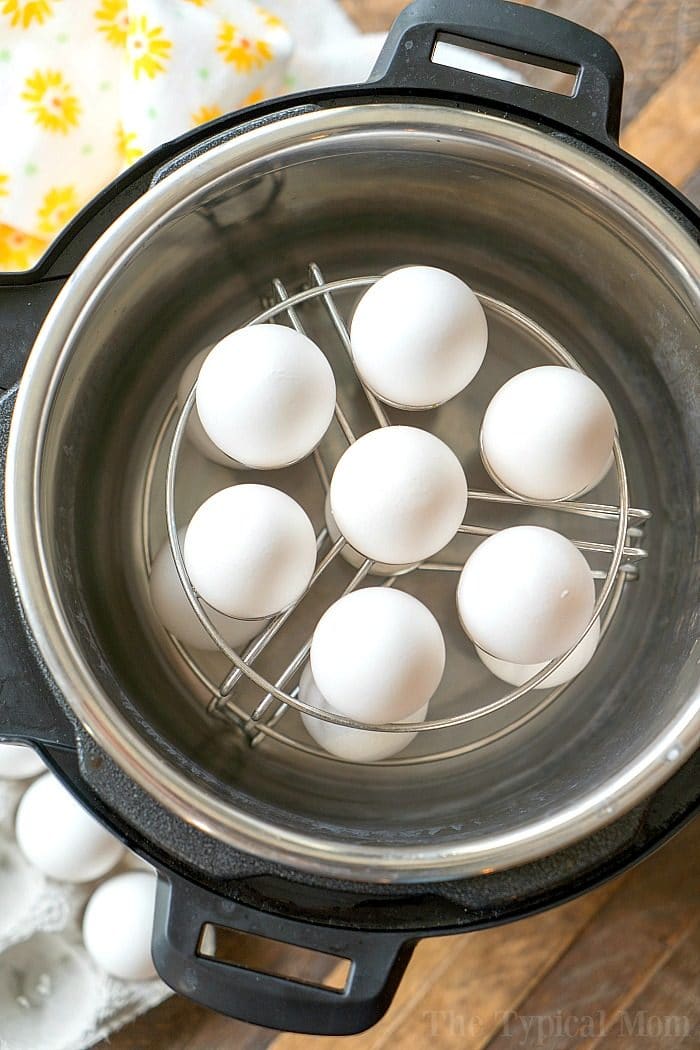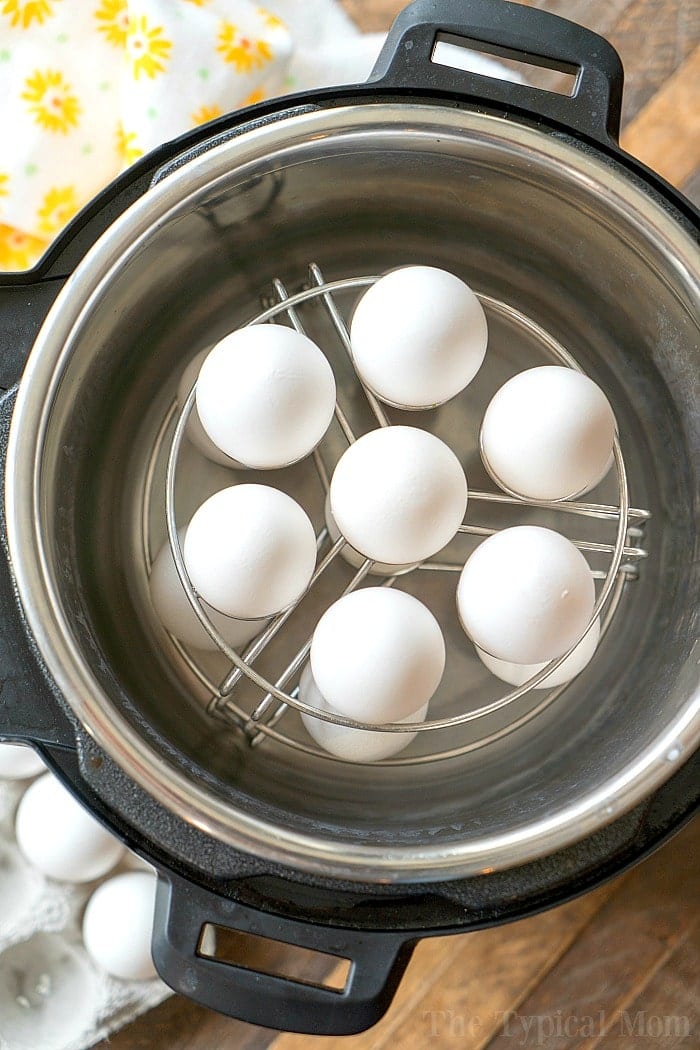 Pressure Cooker hard boiled eggs
Why is that?? Well they're one of their favorite snacks, and they loved deviled eggs too!
Before finding this Instant Pot egg rack steamer I could only make a few hard boiled eggs at a time. That was fine if I was just making a few for the girls after school snack.
If I wanted to make a lot of deviled eggs though, or a big batch of egg salad sandwiches for all of us I had to go thru the process twice.
Instant Pot poached eggs are great for breakfast too.
Instant Pot soft boiled eggs
Now, you could make the yolks as well by decreasing the cook time to 4 minutes on high pressure instead of 5. This will be subjective of course depending on just how soft you want them. If you have the newest lid you could make air fryer soft boiled eggs instead.
Try this and see if you want them even softer. If so 3 minutes may be the perfect soft boiled egg recipe for you. Just use an 8 or 6 quart Instant Pot, either one will do with your cups of water in the bottom.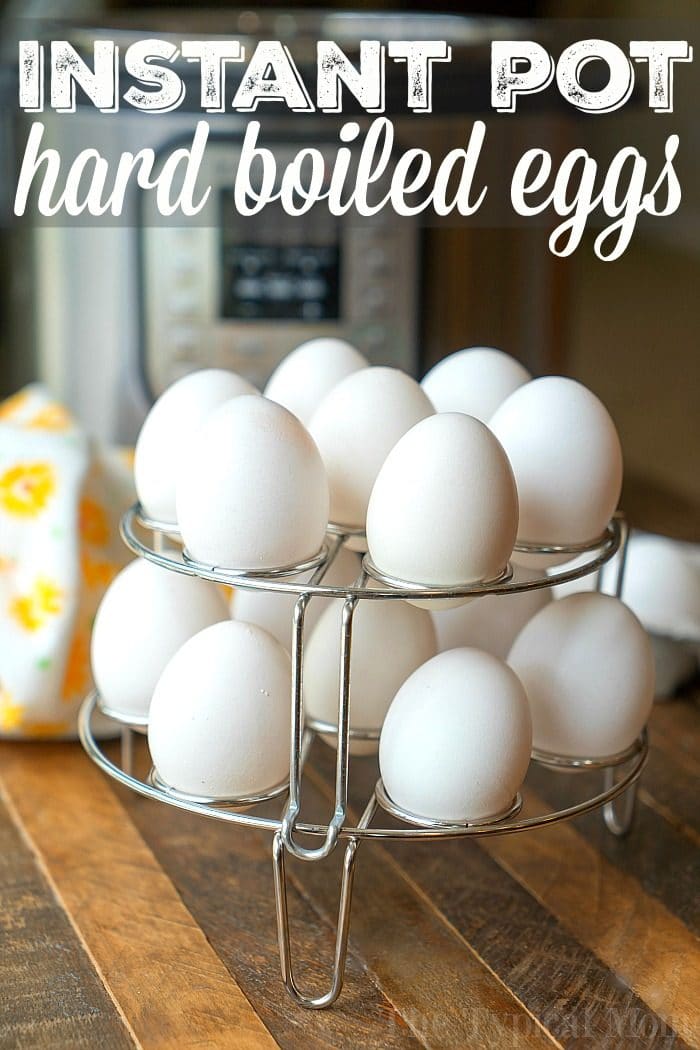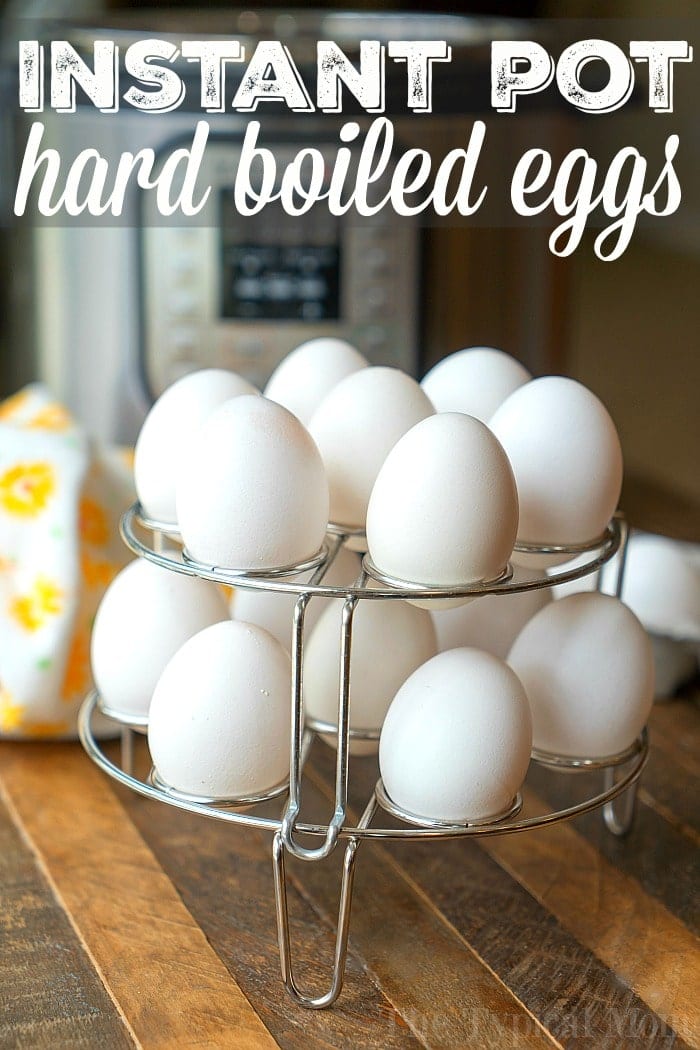 Instant Pot hard boiled eggs time
Instant Pot egg rack

I have a 6-quart Instant Pot but a larger version is fine too

Up to 14 white eggs at a time (white eggs peel much easier than brown)
Water
Ice
If it's Easter and you're cooking hard boiled eggs in bulk, follow our instructions to dye eggs using Kool Aid this year.
Let me tell you, this is SO much easier than the "old fashioned" stove top method. Back then I would have to stand by and wait for the water to boil. Then set a timer to ensure they weren't in there too long to crack.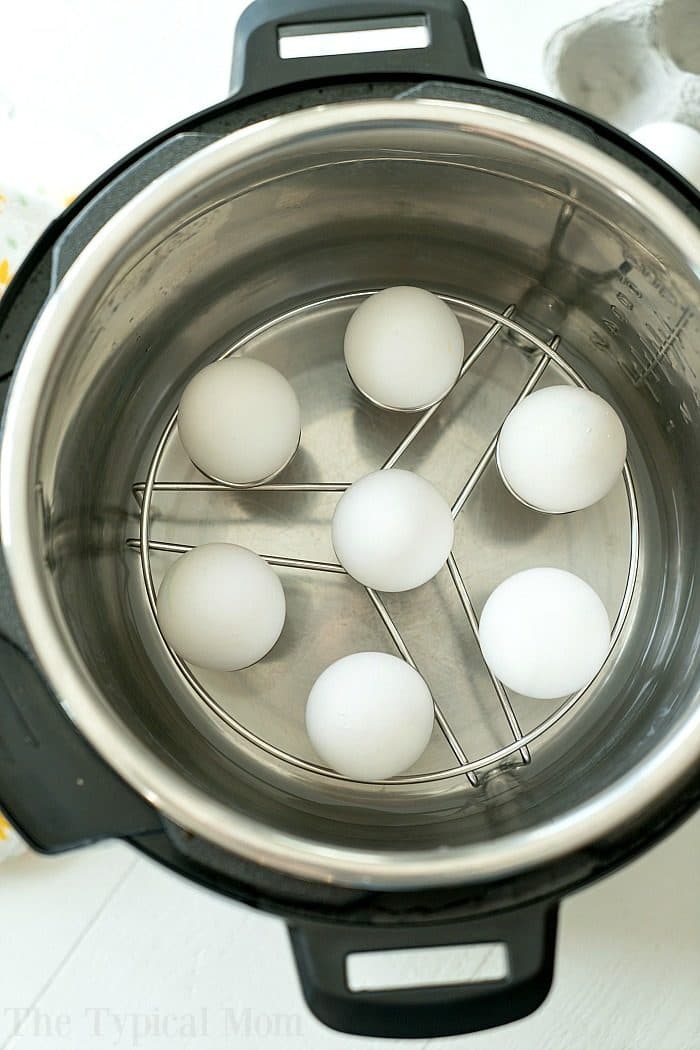 Instant Pot deviled eggs
My suggestions for you if you are making this popular appetizer with it when they are done.
Use white eggs
Once hard boiled put in a bowl with cold water and some ice cubes, then peel them
Use a small food processor with yolks inside if you want a very smooth consistency
Once your filling is made spoon it into a pastry bag or pint size freezer bag

Put that bag full of filling inside the refrigerator for at least an hour before squeezing it into your halved egg whites.
What are the ingredients for deviled eggs?
Mayonnaise

Mustard
Egg yolks
Extra add ins:

Diced pickles (dill)
Chopped black olives
Splash of Tobasco
Dill spice
Use 1/2 mayo and 1/2 cream cheese instead
Spicy mustard instead of yellow
We've even made air fryer hard boiled eggs before. Your choice but I prefer my pressure cooker if I had to choose one over the other.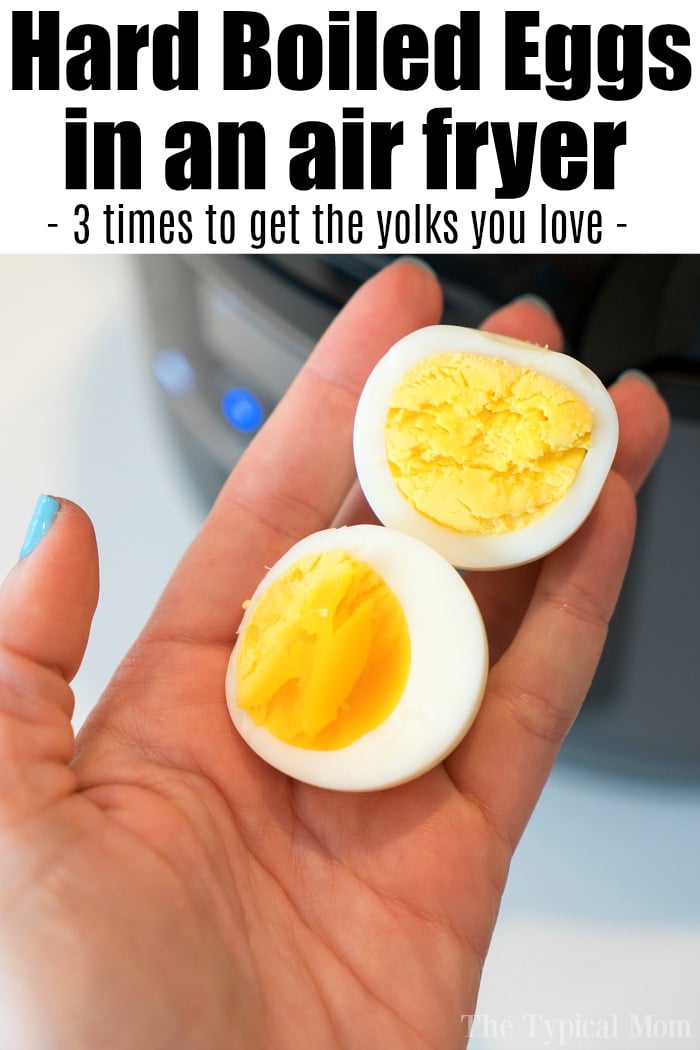 What to Make with a Lot of Eggs
I mean we do love a great bread pudding to make but below are a few savory favorites we love too.
Use all of your favorite add ins, but for us eggs are a must! Chop them up like you would for egg salad sandwiches, but a bit less mushing and stir them in with your mayo and tender potatoes.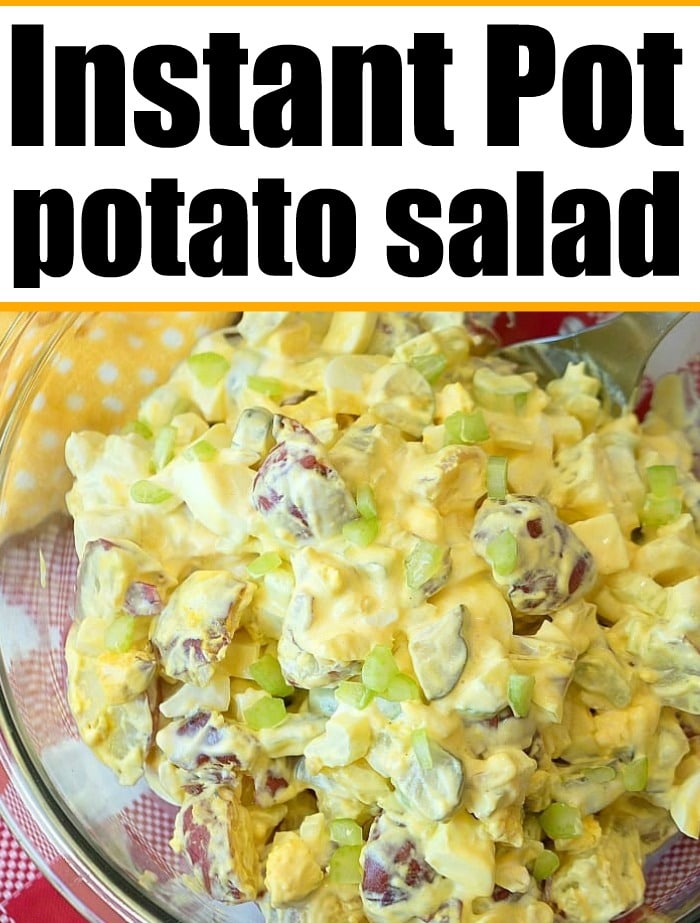 MOST important tips to remember when you cook hard boiled eggs in the Instant Pot: DO NOT quick release the steam when the timer goes off.
Rather, don't touch the steam release valve for 5 minutes, that is called a natural release.
Then, as soon as you open the lid have a bowl of ice water ready to submerge them in. This will make the shells slide off like a gem.
How long does it take to hard boil and egg?
If you use this method for perfect hard boiled eggs it will be a total of about 20 minutes total. It takes approximately 10 minutes for an electric pressure to come to pressure. At this time the 5 minute cook time will begin.
Then you'll wait the 5 minutes for it to naturally release some steam.
They will be hard boiled now, but you'll want to cool them before peeling. This may take 10 minutes or so.
Need to make Ninja Foodi hard boiled eggs? NO problem!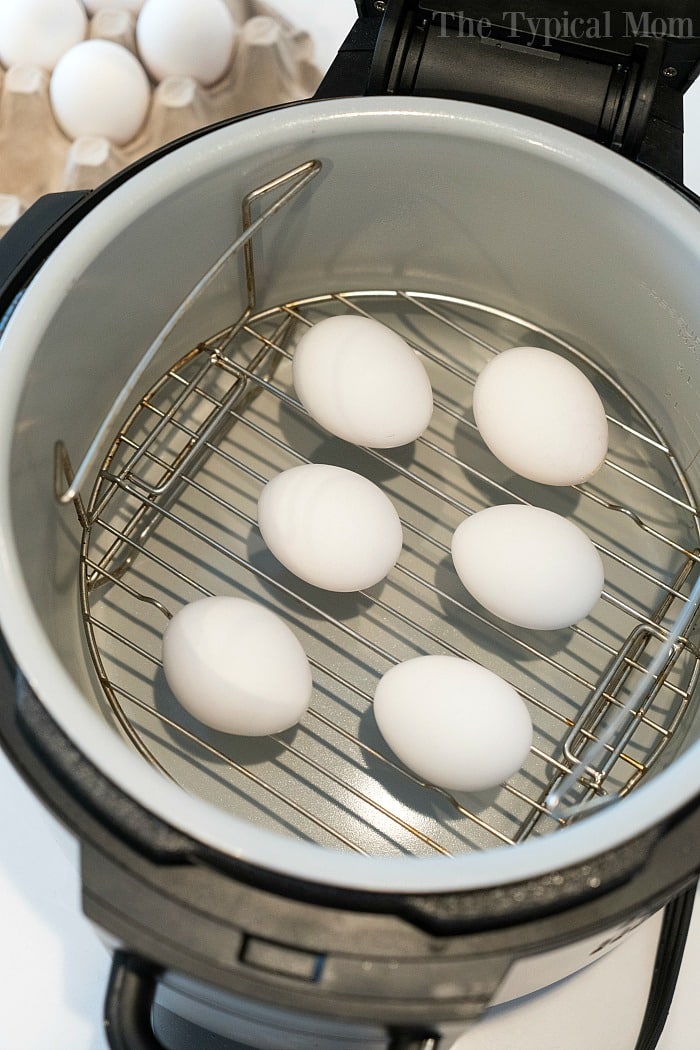 Hard boiled eggs in a pressure cooker
Follow the same directions as stated below. You cannot use the two tier basket though because it is too tall. I have the 6 quart pot, but I don't think the 8 quart pot would work either.
The difference is that the inner pot is shallower. Just use the rack that came with your machine like you see here if you like.
A metal vegetable steamer shown above would work just fine too.
The main thing is to keep them from rolling around, and crack, as well as out of the water below.
I have a few different machines as you can see and I've experimented with them all. I have a Cosori version and Crockpot Express as well. These two have the same shaped pots as the Instant Pot so you can follow the directions below as stated.
Want to see a few of my favorite things that I am totally obsessed with?? Take a peek and see how many you might already have…twinsies!
Looking for more easy family recipes and tips? LIKE The Typical Mom Facebook page?
Then sign up for my free newsletter, and follow me on Pinterest! 😉
***** If you LOVED this recipe give it 5 Stars below and let everyone know what you thought about it. 😉
Instant Pot Hard Boiled Eggs
This is how you make Instant Pot hard boiled eggs in bulk and the secrets to the best deviled eggs in town. How long to cook eggs in your pressure cooker to get the perfect yolk for your favorite appetizer and the best hard boiled eggs to snack on too. Tips and tricks on how we do it.

Ingredients
14

eggs

white works best

1.5

c

water
Instructions
Pour your water into the Instant Pot or pressure cooker.

Place the bottom tier of your Kitchen Deluxe egg steamer rack into the pot and fill the slots with 1 egg each until full.

Put the second tier on top until it is securely set on the sides.

Fill that tier with eggs and close your lid and steam valve.

Set Instant Pot to pressure, high, for 5 minutes.

Do a natural release for 5 minutes, then release rest of steam. Open lid and carefully lift top tier out, then the bottom tier and put eggs in a bowl with COLD water + ice cubes. They will only take a few min. to cool down.

This will make the shells REALLY easy to come off. Peel them and follow instructions above recipe card to make great deviled eggs.
Nutrition Facts
Instant Pot Hard Boiled Eggs
Amount Per Serving (3 oz)
Calories 62
Calories from Fat 36
% Daily Value*
Fat 4g6%
Cholesterol 163mg54%
Sodium 64mg3%
Potassium 60mg2%
Protein 5g10%
Vitamin A 240IU5%
Calcium 26mg3%
Iron 0.8mg4%
* Percent Daily Values are based on a 2000 calorie diet.