This is how to dye eggs with Kool Aid for Easter or just for fun! Dyeing eggs with just water and coloring is always best when children are involved and this way is simple and very cheap to do too! How to make the perfect hard boiled eggs and then dye them any color you want using this simple method is here.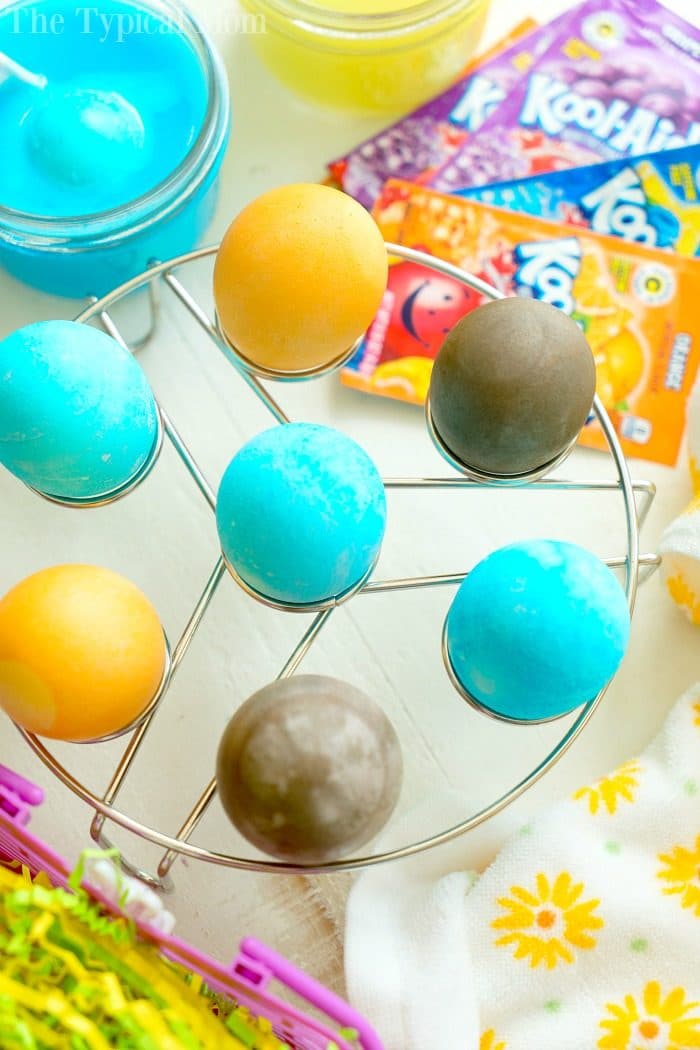 It doesn't have to be Easter time to dye eggs you know, but it is then when kids get excited about doing so. If you've made them the "old fashioned" way you may have had those years when you forgot you were out of vinegar and had a run to the store moment or unhappy children ready to do a fun activity without the right ingredients on hand. It's kinda' a pain. If you could bypass that part and just need water and coloring it would be great right…well here is how to dye eggs with Kool Aid. If you haven't tried it yet you've got to use this method this year…and beyond. Special thanks goes out to Kitchen Deluxe for sponsoring this post so we could share how to hard boil eggs in your pressure cooker easily and share this craft with you.
This is the first step right?
Hard boiling eggs used to be a pain before I got my Instant Pot, now it's so easy!!
At first I wasn't so sure how I was going to do it without something that would keep my eggs secure and keep them from breaking, this Instant Pot egg rack steamer from Kitchen Deluxe solves that problem.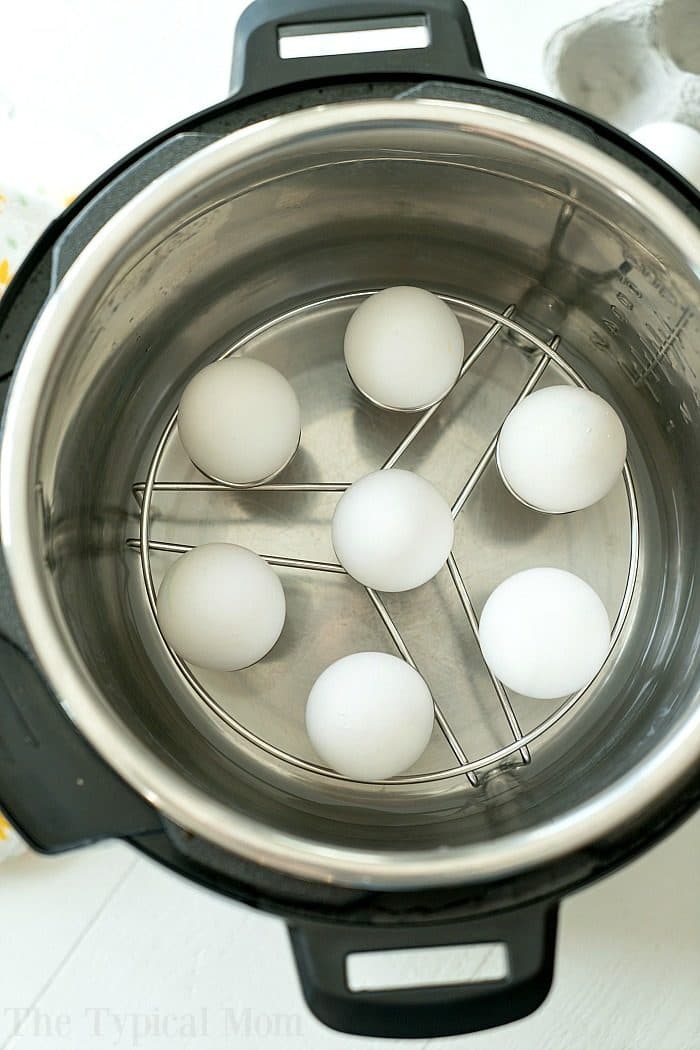 Now in just 7-8 minutes you can have perfectly hard boiled eggs in your pressure cooker, and 7 all at once! They have a 2 tier model which I will share below too if you want to make hard boiled eggs in bulk and make 14 all at once, but this is plenty for us most of the time.
Here's how you make Instant Pot hard boiled eggs. Whether you make 7 or 14 the timing is the same.
Check out how brilliantly colored these Kool Aid Easter eggs come out!
With just one pack and a bit of water the blue, orange, red, and pink come out brightly colored!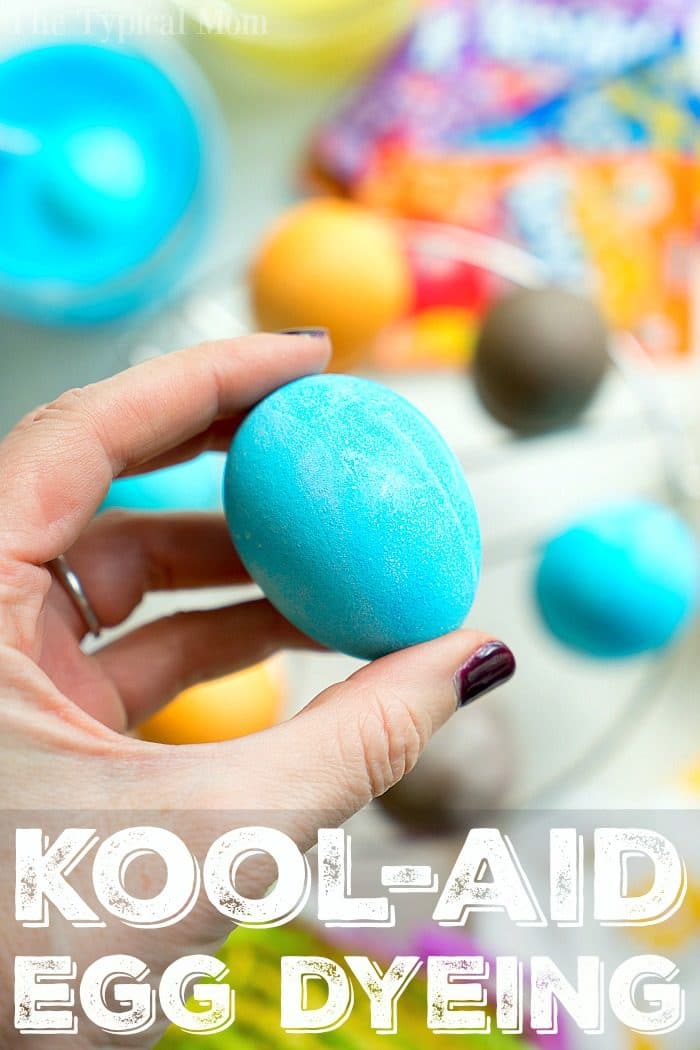 This is how to dye eggs with Kool Aid this year from start to finish
Hard boil your eggs using this Instant Pot egg rack steamer
Allow them to cool
Add 3/4 c. of cold water to a cup or bowl
Empty 1 Kool Aid packet into your water (you can find a variety of colors here)
Stir so it dissolves
Use a plastic spoon to lower a white egg (colors best) into your Kool Aid dye
Turn your egg after a minute or so
Leave in dye for at least 3-4 minutes, the longer you leave it in the more brilliantly colored it will become
Use several bowls with different Kool Aid egg dye colors to create a variety
Carefully lift egg out of dye and put back on your egg rack steamer to dry (put a paper plate underneath to catch drippings)
** Tip – I use plastic bowls / plates and spoons so they can be thrown away. Kool Aid dye can stain fabric and even fingers for a bit so use spoon to lower and lift out eggs washing hands afterward.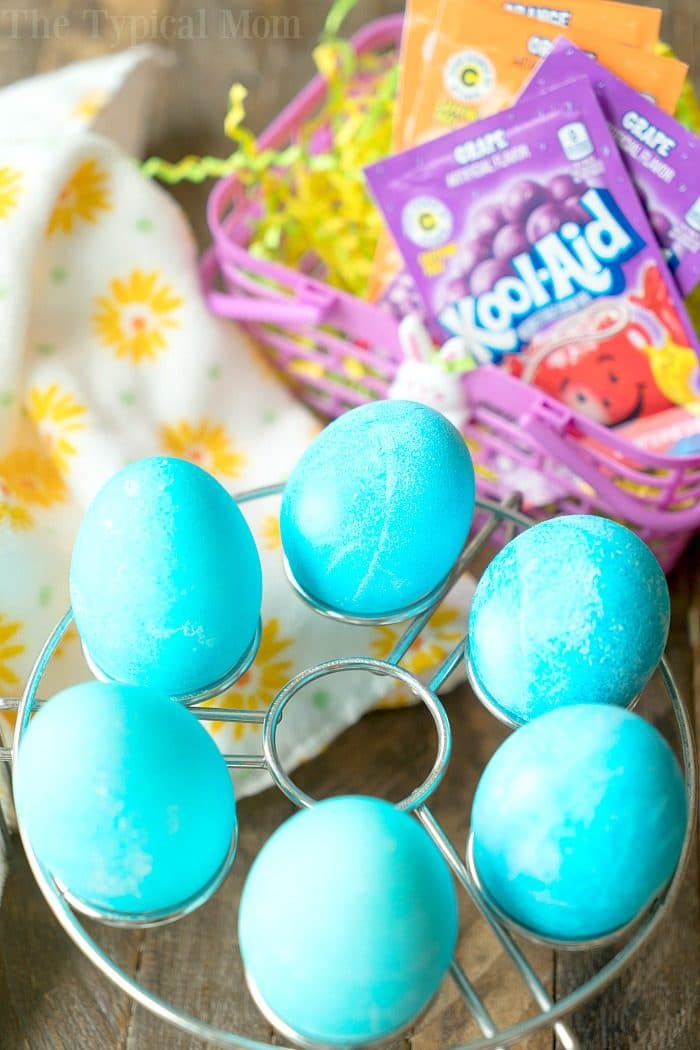 For more easy recipes, tips and free printables please LIKE The Typical Mom on Facebook and follow me on Pinterest! You can also sign up for my free weekly newsletter which is packed with goodies I know you'll love. 😉