How to cook Arborio rice as Instant Pot rice, on the stove or in a slow cooker is here. Fluffy white rice cooked 3 different ways is here. Serve as fat free side dish that is naturally gluten free with any meal.
Cooking arborio rice takes a bit of precise measurements to turn out just right. Not enough liquid and it won't be as tender and that would be tragic. You can use this ratio to make it perfectly in a pressure cooker (best of them all) or other methods we will talk about too. (affiliate links present)
Instant Pot Arborio Rice
We are going to focus on the pressure cooker because with all types of rice this is by far the best method. We have now shared jasmine rice Instant Pot style, regular long grain, and now this one as far as white goes. That is typically the most popular, fastest, and less expensive. You will want to follow the directions in the recipe card below for this method.
It is possible to make brown rice pressure cooker style too in the same pot, at a different time. Like I said this does take quite a bit longer but it is a lot better for you. With the husk still in tact it has more fiber but does have a stronger flavor and is more dry too.
FIRST – You should sign up for my free newsletter so you get new posts emailed to you twice a week and never miss out on anything! Now let's start with a few basic tips:
Make sure to Bookmark our InstaPot recipes page. We add new ones each week!
Then PRINT this —–> Instant Pot cooking times cheat sheet that will help you understand how long meat, vegetables and beans take to cook in your pressure cooker.
For reference, this is the pressure cooker I have (a 6 quart) and use for all recipe creations.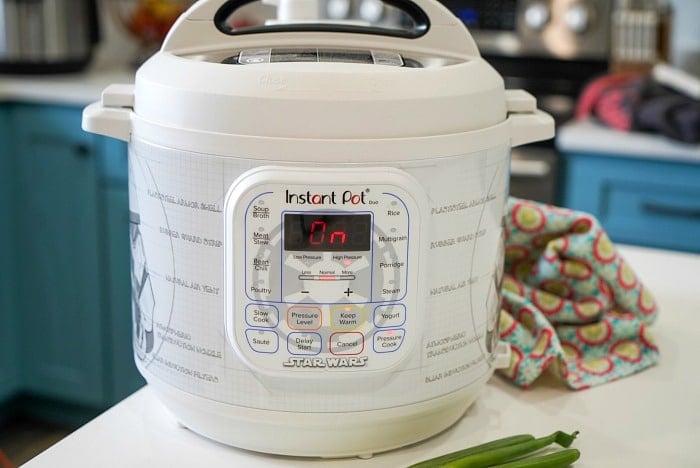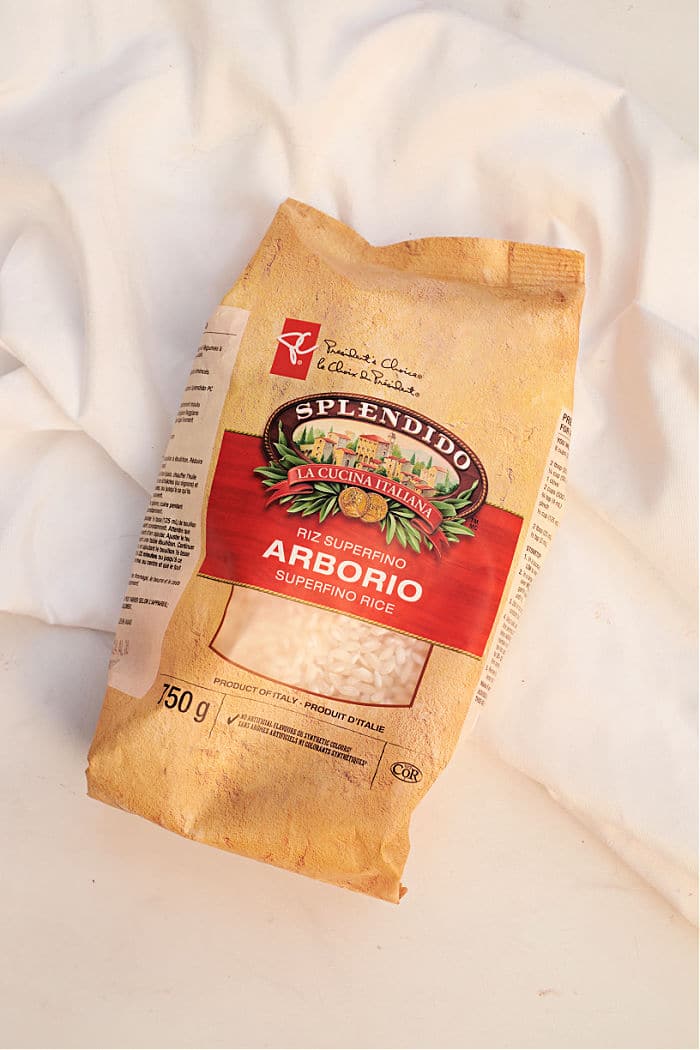 Pressure Cooker Arborio Rice
Whether you are using an IP, Foodi or making this as an easy Crockpot Express recipe you are going to use the same ratio and timing. Typically you're goin to use about 2:1 and there will be a slight variation of 1/4 of a cup as far as that goes with every variety.
If you want to know how long does rice take to cook in 3 other ways you can read this post too. Try them all and see which is your favorite!
Ninja Foodi Arborio Rice
We eat a lot of this grain in particular. I grew up in Hawaii and it was a staple, like daily. With that said I will say I am VERY particular when it comes to how it turns out. With a rice cooker it comes out drier, unless you buy a pricey version. An IP turns out a lot better all in all if you ask me.
You can spray inside with olive oil for an easier cleanup first
Add rice and water (or broth) together instant pot. Stir together.
High pressure cook for 5 minutes cooking time and let naturally release the steam for 5 minutes.
Then quick release the rest.
Fluff cooked rice, add butter, salt and pepper, parmesan cheese if you like and serve immediately for best results.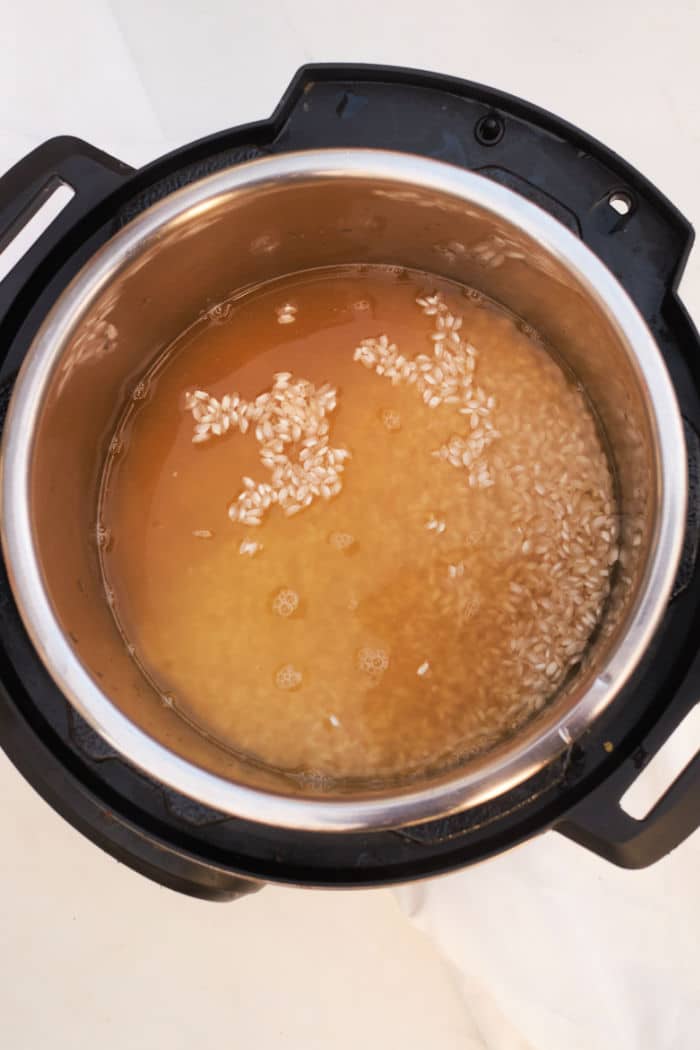 Now let's talk about the big debate; to rinse or not to rinse. If you're going to go all traditional you would definitely do it. I will tell you that I don't, and for a reason. So rinsing is going to remove that white powdery substance on the outside of each piece of grain. Removing that will make your pieces separate more when done.
Personally we like sticky rice so if you skip this you will get more like the restaurants give you. I mean typically theirs is sushi rice which is more expensive but you will get a lot closer to that consistency without the added water at the beginning.
What is the water ratio for Arborio rice?
The ratio is 1:1.5 to become fluffy and the right consistency. So you're going to combine 1.5 cups in water or broth with 1 cup rice in your pot. Bring to a boil, stir once, then cover with lid and simmer for 20 minutes until tender.
Arborio Rice on the Stove
The ratio of water to rice will be 2:1 for this. That means 2 cups of water per each cup of rice. Add these in a saucepan over the stove. Bring water to a boil and stir in your grains. Cover with a lid, reduce heat, and simmer on low for 20 minutes or so, or until all water is absorbed. Fluff with a spoon and serve.
Slow Cooker Arborio Rice
Ok so this rice variety does have a high starch content which means that no matter which way it will be stickier than long grain let's say.
If you have never made Crockpot white rice before it works surprisingly well. At the end when all the water has absorbed you can sprinkle 1/2 cup shredded parmesan on top and let it melt on which is great.
To make it more of an Italian variety use some seasonings and chopped parsley on the top. Serve with grilled chicken and a glass of white wine and OH MY. Give it a whirl and let us know what you think of this one.
And then let's move on to dessert options. With our slow cooker rice pudding I think it is best to use Minute rice, not this type. I have one that works great with a few varieties though and takes less than 30 minutes to make. Like from scratch and better than at a restaurant. It's our Instant Pot rice pudding. To die for!!
What is the best way to store leftover rice?
I will say that it will never be the same as it is fresh, like never. The only real way to somewhat salvage it is to cool, move into a freezer bag and suck all the air out.
Put it into the fridge overnight and reheat within 24 hours, no longer. You'll want to transfer into a microwave safe dish, drizzle with 2 tbsp broth and heat for 1 minute stirring halfway thru.
Want to see a few of my favorite things that I am totally obsessed with?? Take a peek and see how many you might already have…twinsies!
Looking for more easy family recipes and tips? LIKE The Typical Mom Facebook page?
Then sign up for my free newsletter, and follow me on Pinterest! 😉
***** If you LOVED this recipe give it 5 Stars below and let everyone know what you thought about it. 😉
How to Cook Arborio Rice
How to cook Arborio rice in Instant Pot, on the stove or in a slow cooker is here. Fluffy white rice cooked 3 different ways as a side dish.
Instructions
Pressure cooker arborio rice – Add rice and water (or broth) together instant pot. Stir together. Cook on high pressure for 5 minutes and let naturally release the steam for 5 minutes. Then release the rest. Fluff and serve.

Boiling arborio rice – Combine 1.5 cups in water or broth with 1 cup rice. Bring to a boil. Stir once, cover with lid and simmer for 20 minutes. Remove and let stand for 10 minutes. Fluff with fork
Nutrition Facts
How to Cook Arborio Rice
Amount Per Serving (1 oz)
Calories 239
Calories from Fat 3
% Daily Value*
Fat 0.3g0%
Sodium 8mg0%
Potassium 51mg1%
Carbohydrates 53g18%
Protein 4g8%
Calcium 6mg1%
Iron 3mg17%
* Percent Daily Values are based on a 2000 calorie diet.