The easiest Instant Pot rice pudding recipe ever that takes just 20 minutes and is the best pressure cooker dessert we've made. Just a few ingredients and it's great served either warm or cold. There's 3 versions including an Instant Pot coconut rice pudding and a dairy free rice pudding recipe too!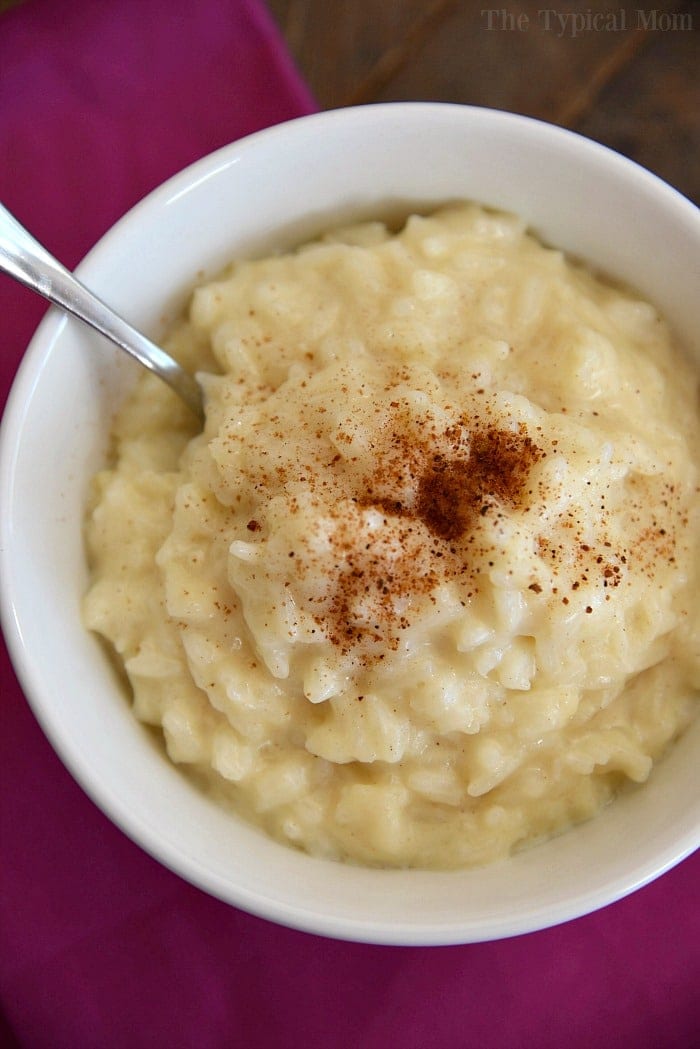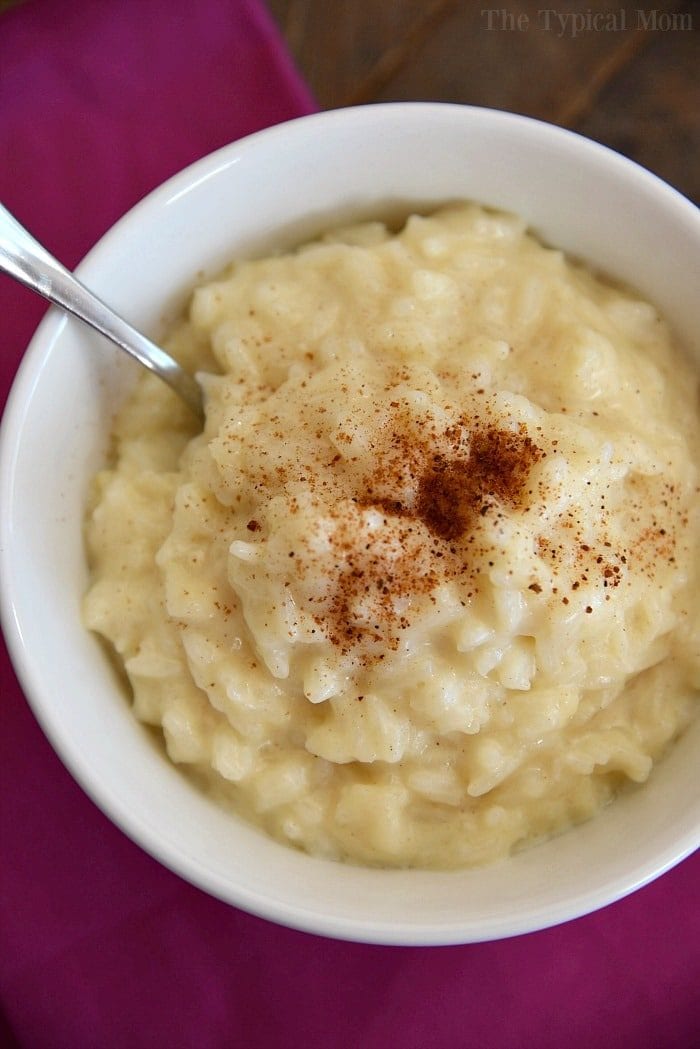 I will say that this is the most amazing and the easiest Instant Pot rice pudding recipe ever! Here is how you make it, it's now one of our favorite dessert Instant Pot recipes. (originally published 2/17)
This is actually the first dessert I've made in my new 7 in 1 favorite appliance and it came out great on the first try (isn't always the case when I am trying something new).
Just enough of a treat for the 5 of us after dinner, and this instant rice pudding could easily be doubled for a larger crowd. With only a few ingredients it is an easy dessert you can throw together and eat either warm (oh so good) or cold
I like a generous amount of cinnamon and nutmeg on the top of my Instant Pot rice pudding!
With a bit of added vanilla while you're cooking, and almond extract is fabulous too you can personalize this Instant Pot dessert to your liking. From start to finish it took about 17 minutes, perfect for making right after dinner is over to get it hot and fresh.
I immediately take it out of the pot when it's done and serve it in small bowls and it is gone in just minutes.
It is barely enough for the 5 of us, but just enough or I'd just gorge myself because it is just so darn creamy and good.
If you prefer your rice pudding to be chilled then you can pour the contents into a larger bowl.
Then allow to cool a bit and then put it in the fridge. If you haven't eaten it warm it is really amazing.
Here's a quick step by step photo showing you how it's done…..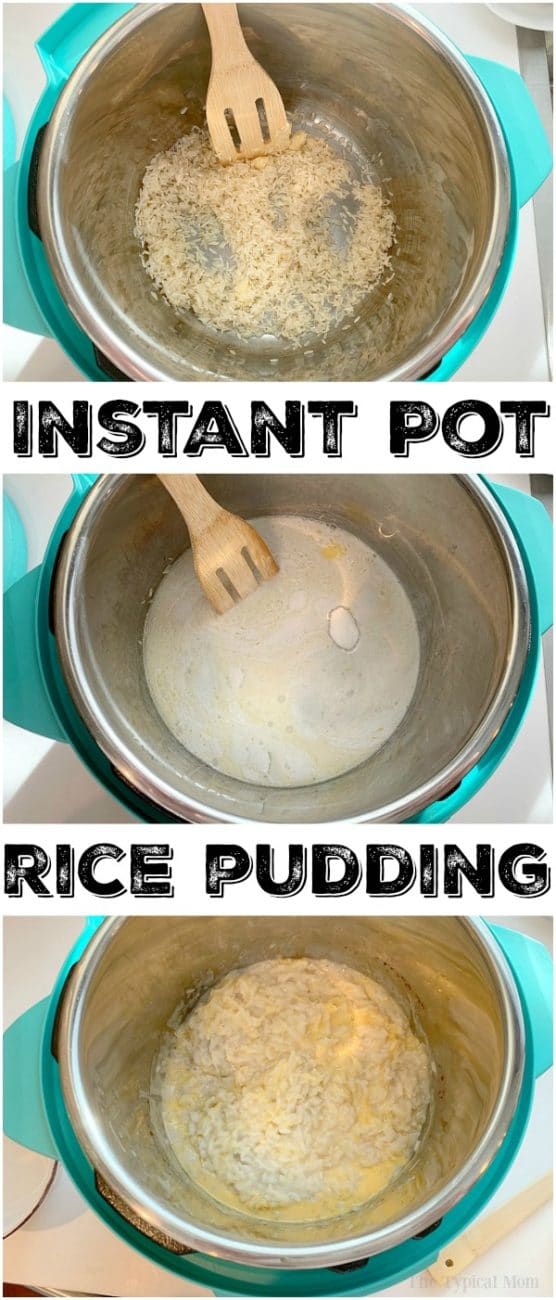 Rice pudding Instant Pot recipe
I've made it on my stovetop but using an Instant Pot  is SO much easier and quicker

I HIGHLY suggest you get a non stick pot too!

White long grain rice – uncooked (I like this jasmine rice)

I have not made this with brown rice, timing would be different
Rinsing the rice first is a good idea

arborio rice works too

Sugar
Evaporated milk

NOT condensed milk, totally different things

Butter
Egg
Milk
Vanilla
Spices
Whipped cream for the top if you want
If you're making dairy free Instant Pot rice pudding then make these substitutions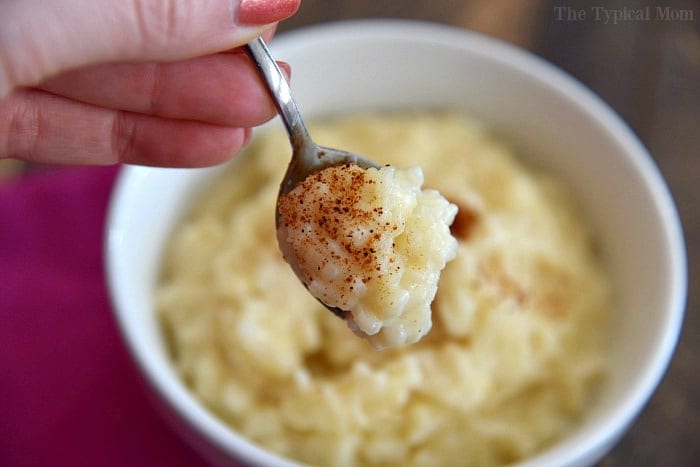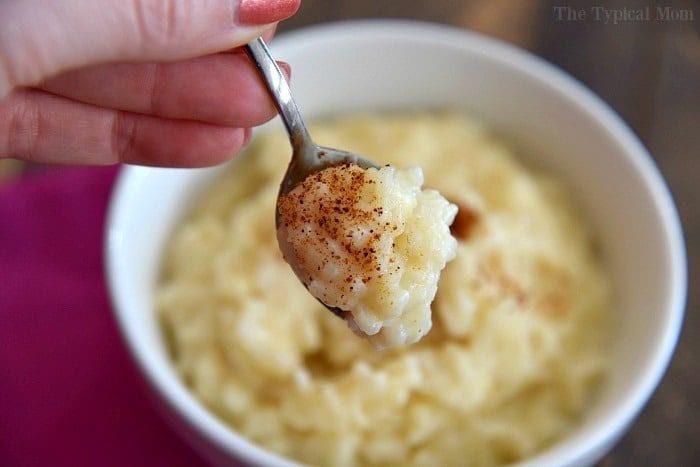 When you take the lid off initially after it's cooked for 14 minutes the rice will not seem quite cooked. But it will, don't worry.
Stir to separate rice and then follow directions adding some rice mixture to your egg mixture so it warms up before adding to your IP and simmering a bit longer to finish cooking the rice.
If at the end you want it creamier just add a bit more evaporated milk and stir until it is the perfect consistency and thickness for you! Feel free to use any pressure cooking pot you have like a Ninja Foodi or Crockpot Express.
Directions and cooking time remains the same for any brand you use.
Be sure to quick release steam when time is up, natural release will cause rice to become mushy fast.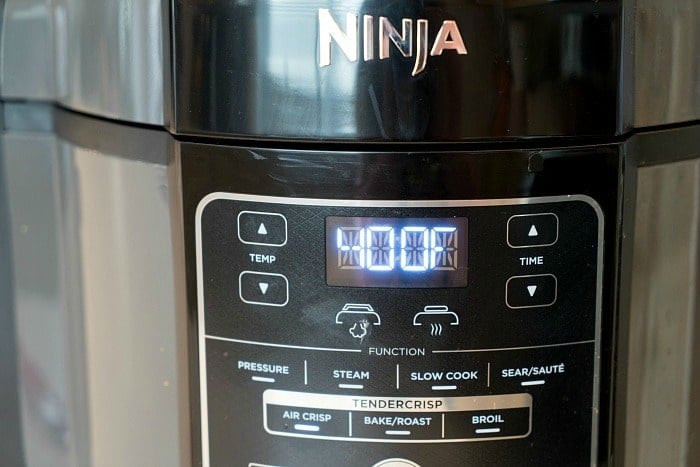 Tips for making the perfect Instant Pot rice pudding
Do not double this recipe. It is better to cook on high pressure 2 separate batches rather than trying to double it, believe me
Use some of the hot liquid with your whisked milk and egg mixture as to temper the egg – or else it will look like strings of cooked egg inside, not good
Follow the directions below regarding the amount of evaporated milk

Add more at the very end if you want your rice pudding to be creamier

Make sure you're stirring constantly but gently.
As soon as it is done perfectly, dump the contents into a larger bowl. Or serve in smaller bowls and eat immediately.

Leaving it in the pot to sit will make it mushier by the minute as it is still continuing to cook a bit since the pot is still quite hot

Keep in mind pudding will thicken as it cools..;
Enjoy and share this recipe if you love it along with the other hundreds of thousands of other people have!! 😉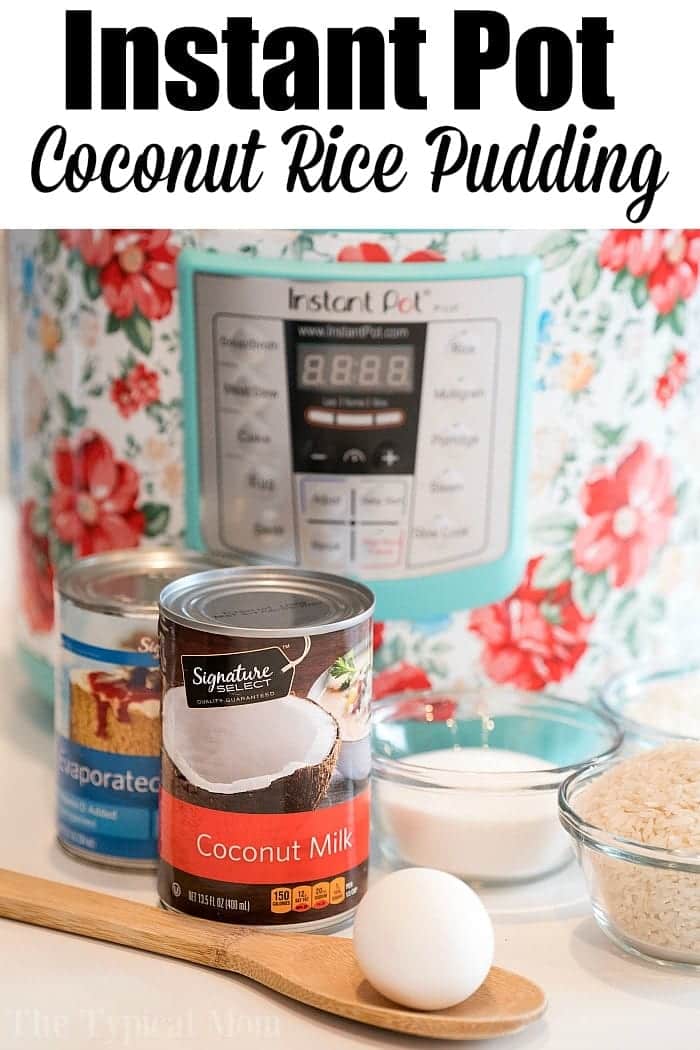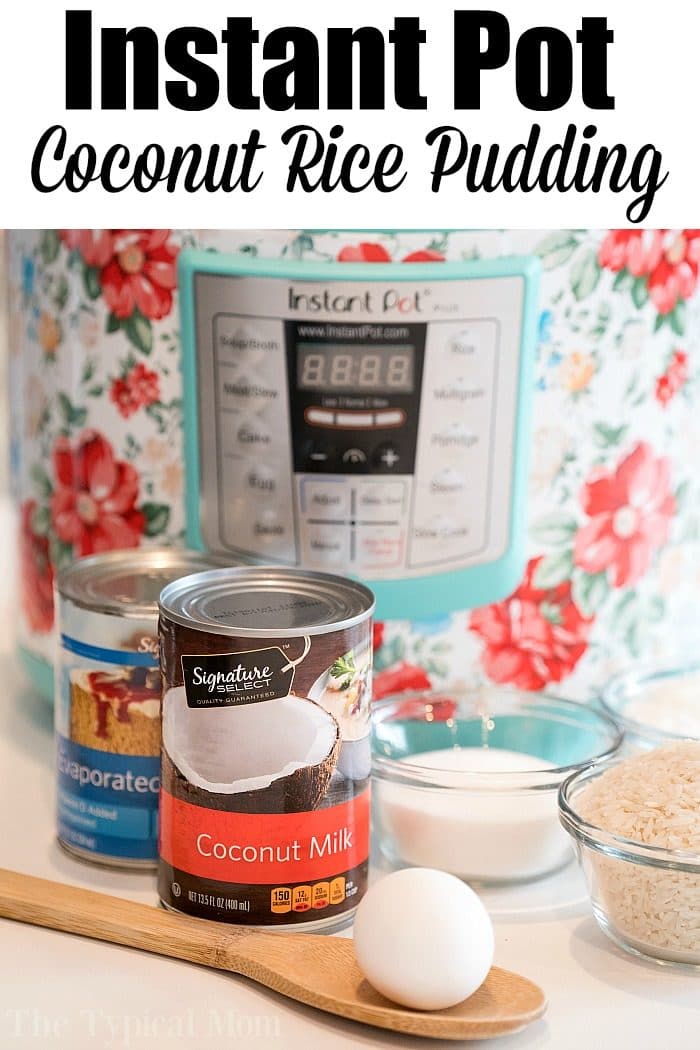 Coconut pressure cooker rice pudding
Ingredients:
Follow the directions to make pressure cooker coconut rice pudding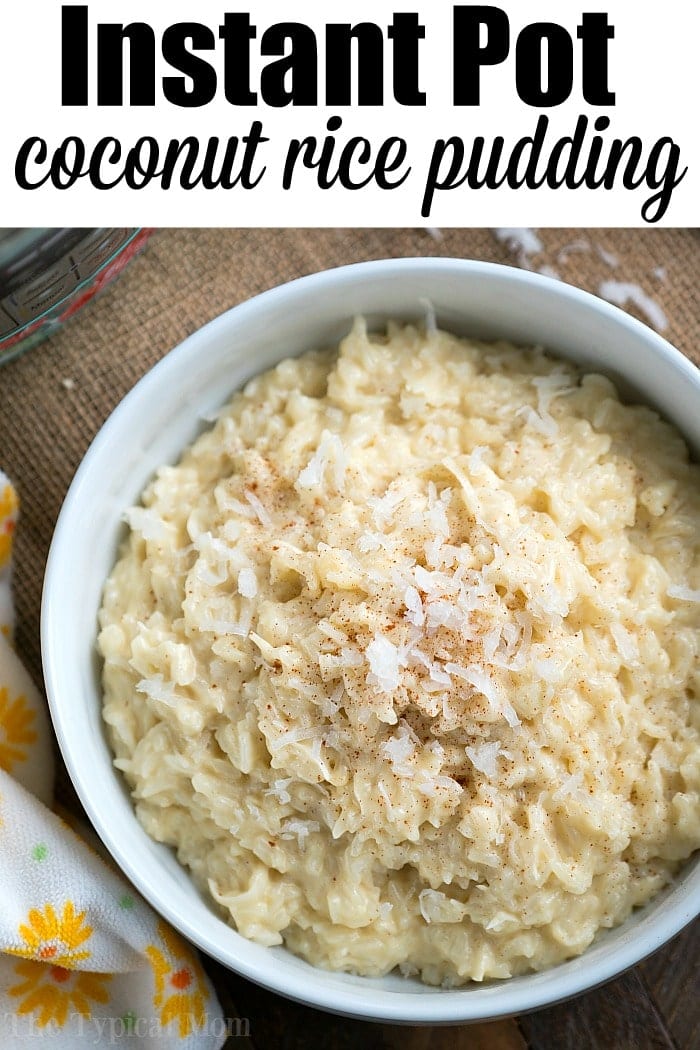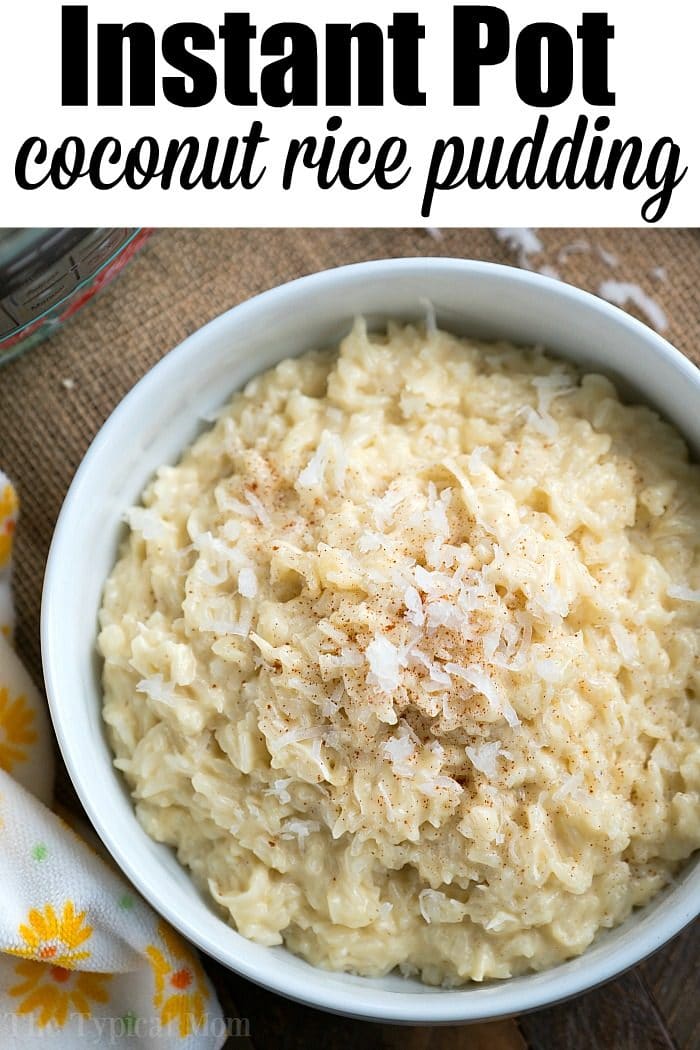 What can I add to rice pudding? Often times I like to add raisins or sweetened dried cranberries. They can cook right along with the rice pudding and even soften and plump a little in the process.
How do you thicken rice pudding?
Let it cool completely first if you want to do this.

Cooling firms the proteins in the milk and egg, so this will do a bit of what you want all by itself.

One way is to warm the pudding in a pot over medium heat, then slowly whisk in a beaten egg.
Another method is to fold in a bit of whipped cream after letting the rice pudding cool completely.
Looking for more Instant Pot dessert recipes we have a few great ones
If you want to make a batch of slow cooker rice pudding we have directions for that too!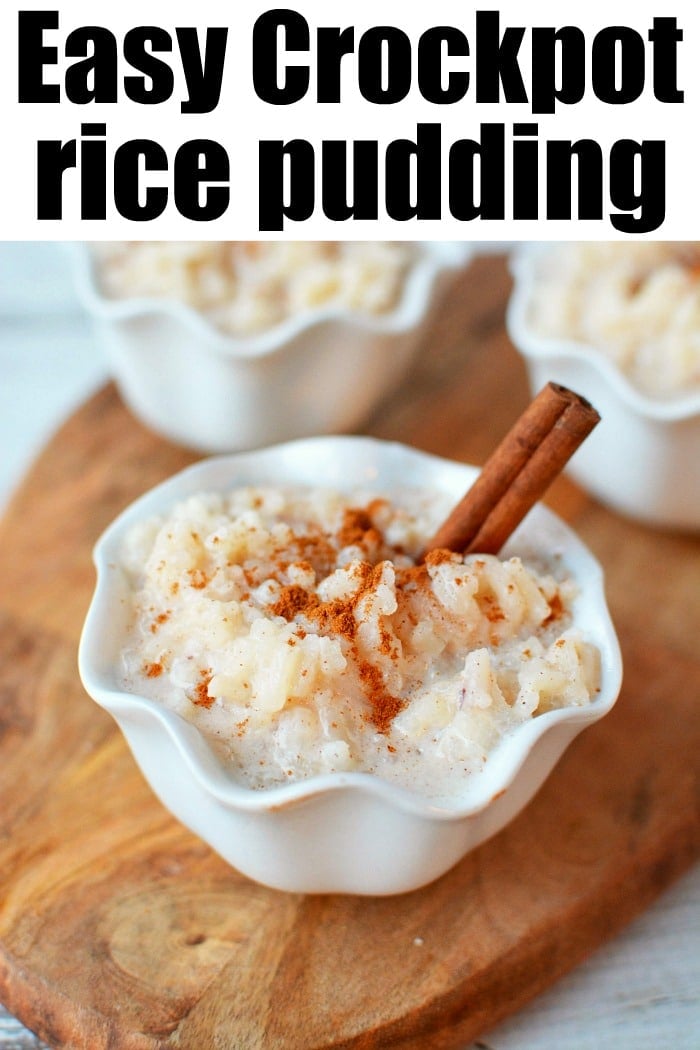 Hope this helps you understand; how do you make rice pudding from scratch easily! We no longer use the stovetop method anymore because this is so much faster and I don't have to watch it every minute.
How long can you keep homemade rice pudding in the fridge?

I will start by saying we have NEVER had leftovers. BUT I did want to test this out one day so I could report back.

My recommendation is that you enjoy it all the same day. It quickly hardens in the fridge.
How do you fix hard rice pudding?

Yes you can thin it out by rewarming it in the microwave and adding more evaporated milk but it's not the same.

The consistency changes a lot and the creaminess is quite different.
Want more easy recipes and tips from The Typical Mom blog? Sign up for my free newsletter, and follow me on Pinterest!
***** If you LOVED this recipe give it 5 Stars below and let everyone know what you thought about it. 😉
One pot rice pudding directions
Instant Pot Rice Pudding Recipe
The most amazing Instant Pot rice pudding recipe that we make often! Total comfort food dessert that is just sweet enough and easy to make in this pressure cooker.
Ingredients
1

c

uncooked rice

1/2

c

sugar

1

c

water

1.5

tbsp

butter

2

c

milk

2% or whole is best

1

egg

1/4-1/2

c

evaporated milk

add 1/4 c. first and at the end if you want more add the additional 1/4 c. until desired texture is achieved

1/2

tsp

vanilla

1/2

tsp

almond extract – optional

pinch of nutmeg – optional

pinch of cinnamon – optional
Instructions
Put Instant Pot on saute and add butter until melted.

Add rice and stir so rice is coated.

Add milk, water, vanilla, cinnamon, almond extract if desired and sugar. Stir until combined.

Put lid on IP and close steam valve.

Set to manual, pressure, high, for 14 minutes (if you like your rice more turgid set it for 12).

When done do a quick release

In a small bowl whisk egg and 1/4 c evaporated milk together.

Spoon a spoonful of rice pudding mixture into egg mixture and stir, add another warm spoonful of rice mixture and stir.

Then add bowl full of egg mixture into your IP or pressure cooker and set to saute.

Allow to get hot enough where it bubbles for about 30-60 seconds, stir slowly when it starts to bubble so it doesn't stick to bottom. Add more evaporated milk if desired.

It will begin to thicken.

When it has reached the perfect consistency for you pour contents into a bowl or small serving bowls immediately so it doesn't continue to cook and get a bit mushy.

Serve warm or chilled, top with cinnamon or nutmeg.
Video
Nutrition Facts
Instant Pot Rice Pudding Recipe
Amount Per Serving (3 oz)
Calories 198
Calories from Fat 72
% Daily Value*
Fat 8g12%
Cholesterol 55mg18%
Sodium 101mg4%
Potassium 179mg5%
Carbohydrates 26g9%
Protein 5g10%
Vitamin A 345IU7%
Vitamin C 0.2mg0%
Calcium 149mg15%
Iron 0.2mg1%
* Percent Daily Values are based on a 2000 calorie diet.