Here are 50+ easy dump cake recipes for you to enjoy. A quick dessert with fruit is sometimes all you need to satisfy your sweet tooth and these are great.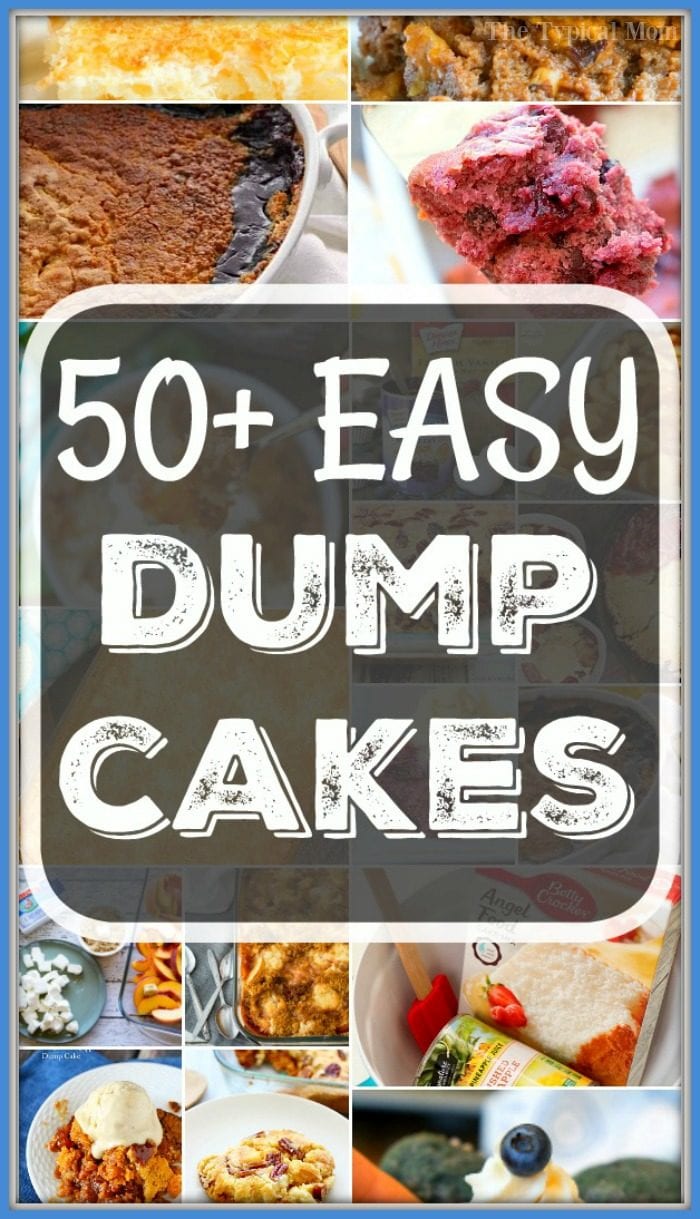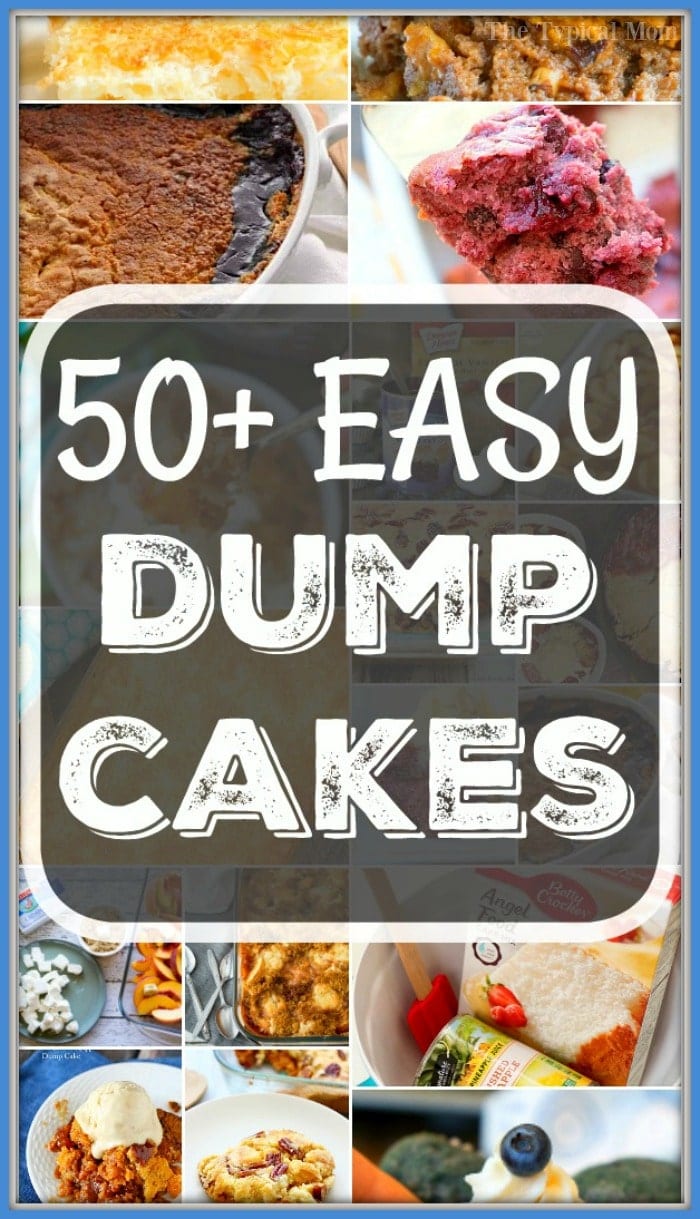 Ok so I absolutely love easy dump cake recipes and am always thinking of new combinations to make that my family will absolutely love! When company comes over unexpectedly and you need something fast, these will help! (originally published 9/18, affiliate links present)
Dump Cake Recipes Using Cake Mixes
I love these because they're so easy using fresh fruit, frozen like our peach dump cake, or pie filling you can make them year round. Let your kids help you as you just layer and many times don't even mix ingredients together. It is a little like a science experiment in the kitchen you can then eat.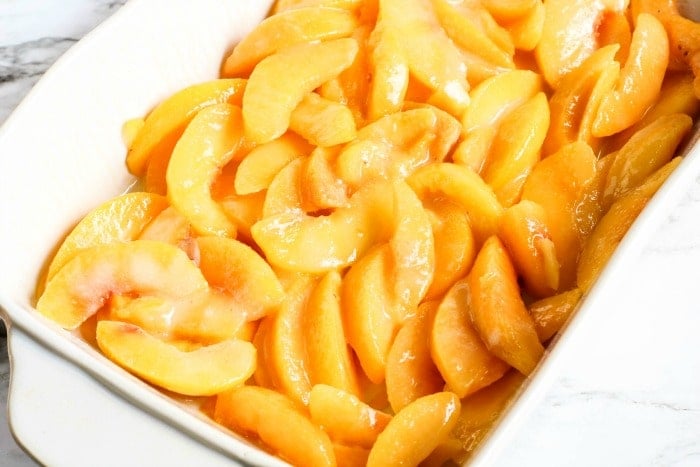 I have made them in my Instant Pot, crockpot, and in the oven as well. I don't care how they're done, they're an easy throw together dessert that's perfect when I want something sweet.
Let us know which easy dump cake is your favorite, or maybe there's one you've made recently that's not on the list….I'd love to give your idea a whirl too!!
3 ingredient dump cake recipes
Box of cake mix – you can find a variety here. I would have to say spice cake mix is probably my favorite during Fall and Winter.
Eggs or melted butter – eggs will make it rise more than butter will
And a video look at a few of our favorites: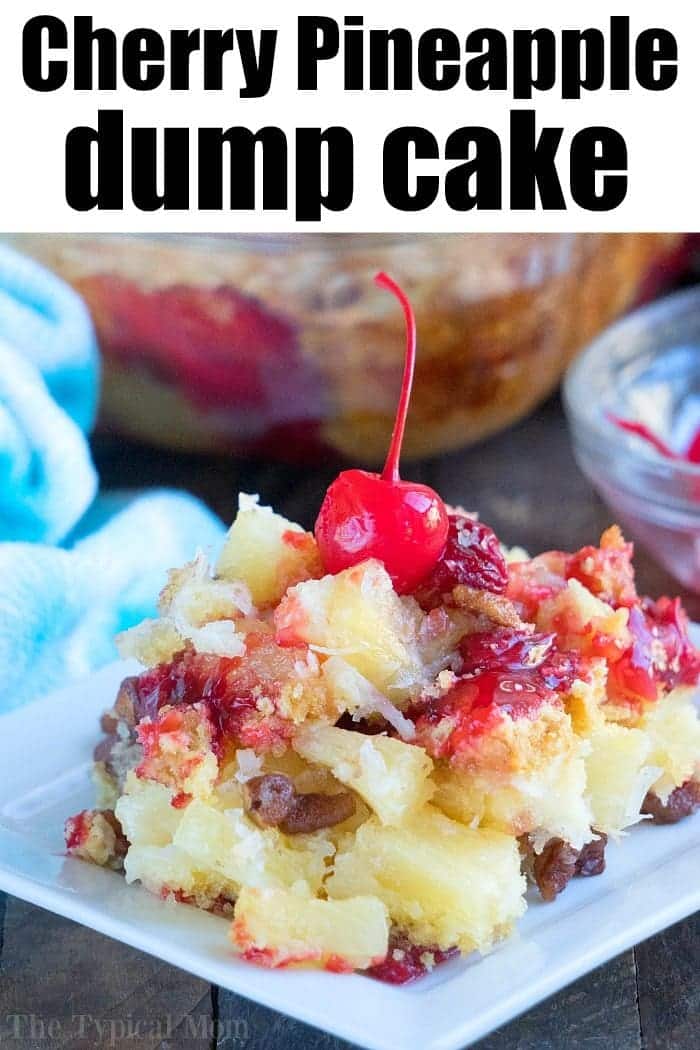 30 Delicious Dump Cake Recipes
Use the flavors you love. There are hundreds of different combinations if you use one type of cake mix and swap different fruit inside.
I suggest using cooking spray inside your pan so it slides out nicely. Helps with clean up too. Dry cake mix of any flavor can be used for all of these. On top of the cake you can add whipped cream or ice cream of course.
Yellow Dump Cake Recipes
I will say that I rarely use fresh fruit for these. A few reasons why; you lose the liquid portion that you get with canned filling, also there's a lot more prep work removing the skins.
Best Dump Cake Recipes
The easiest of them all is our 3 ingredient dump cake made with a can of fruit. We used pears but peaches would be wonderful too.
Pumpkin pie dump cake – a must for Fall, seen below.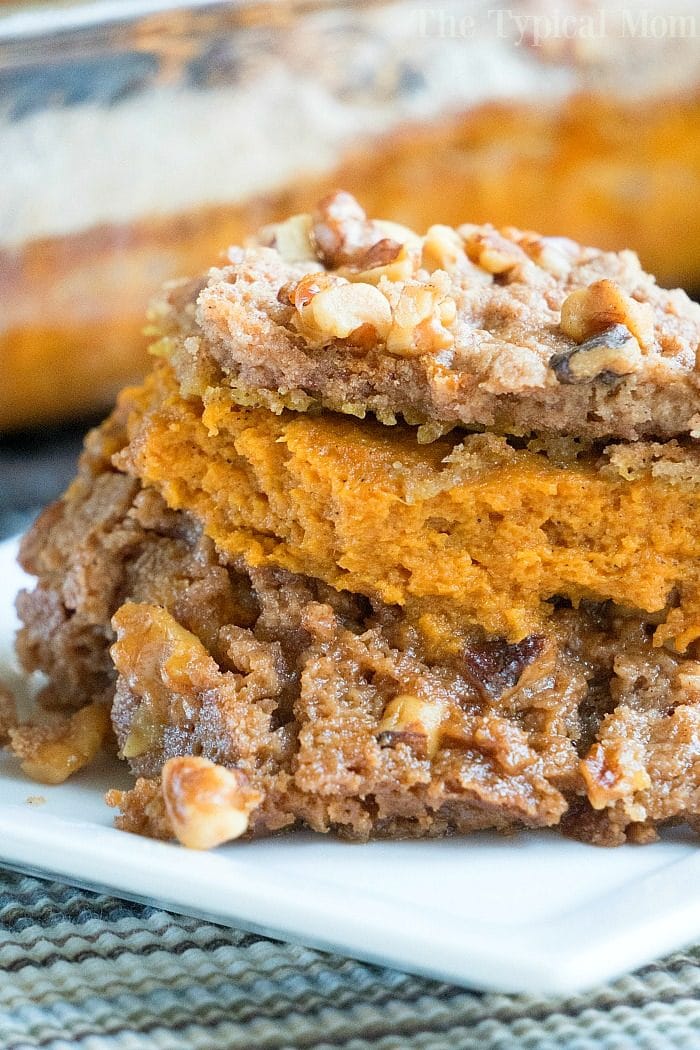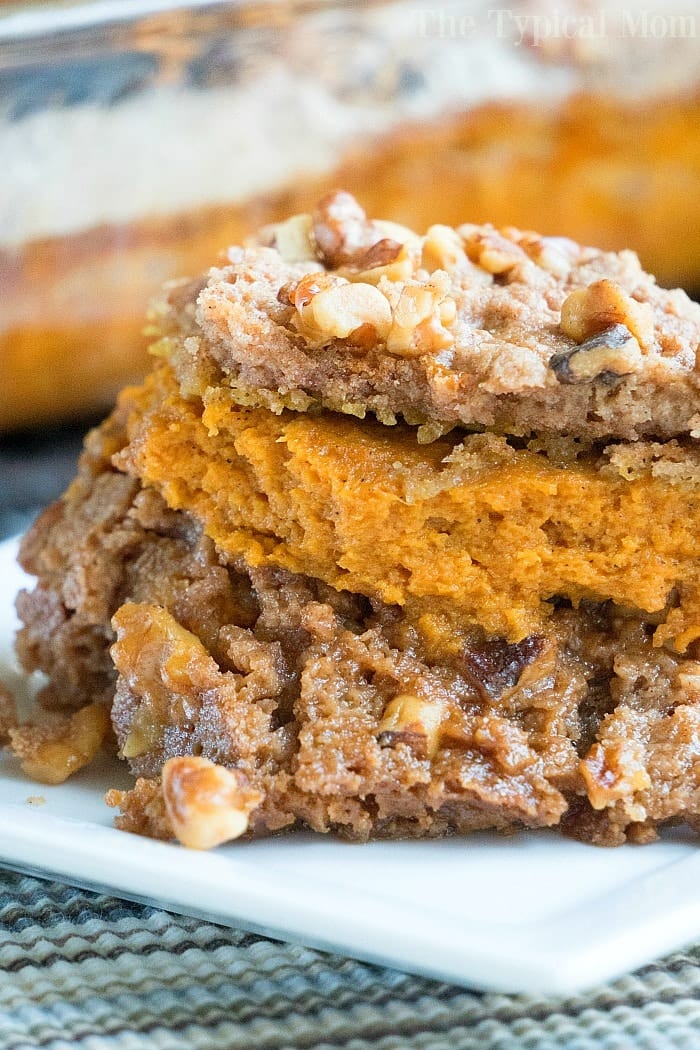 If you're new to how to make a dump cake it is quite simple. They usually require less than 4 ingredients total and have a super moist taste with a ton of flavor.
I recommend making it in the oven but if it is really hot you can use your slow cooker like we did with this crockpot lava cake. I have made pressure cooker dump cakes as well.
Easy dump cake recipes
Our Crock pot dump cake is yummy! On top of the fruit pie filling you just sprinkle the cake mix on top and you need no other brown sugar or sweetness of any kind. It's plenty sweet for sure.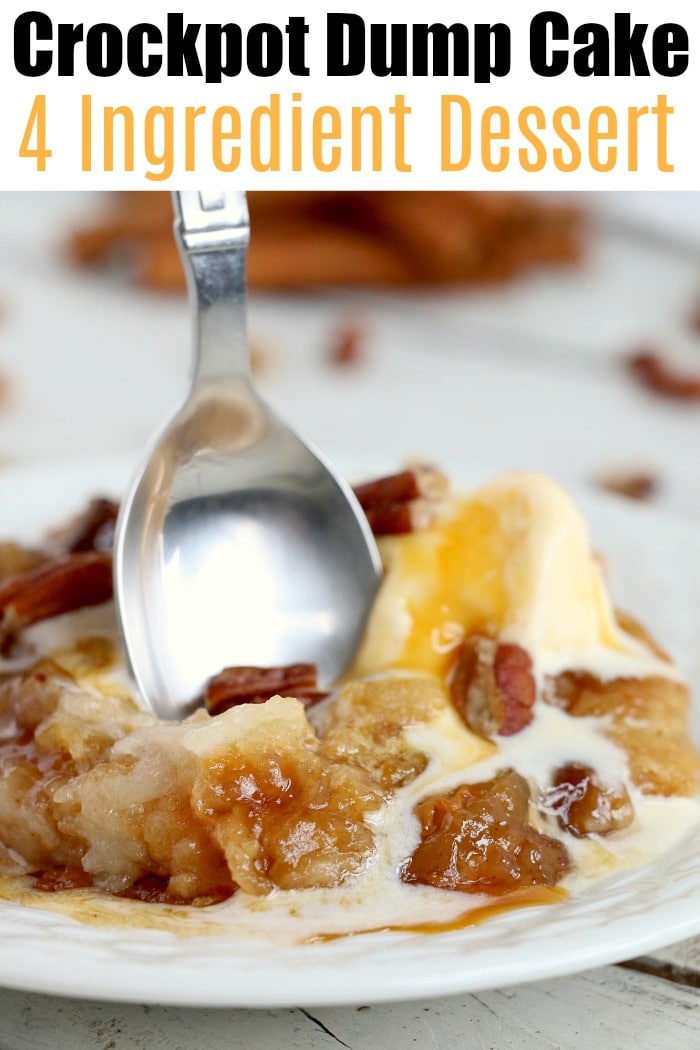 Using your slow cooker will definitely take longer than the traditional 45 minutes or so. It does come out a looser consistency too so if you want it a bit stiffer, stick with oven directions.
Here are some more easy dump cake recipes plus how you can make yellow cake mix yourself and use that for the base of your dessert!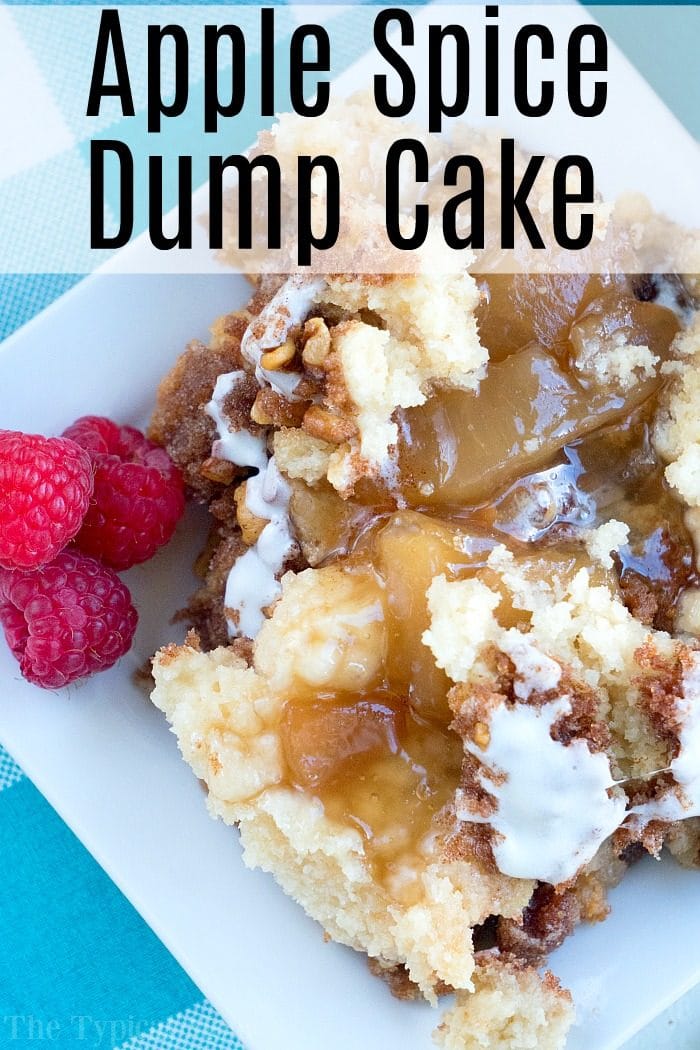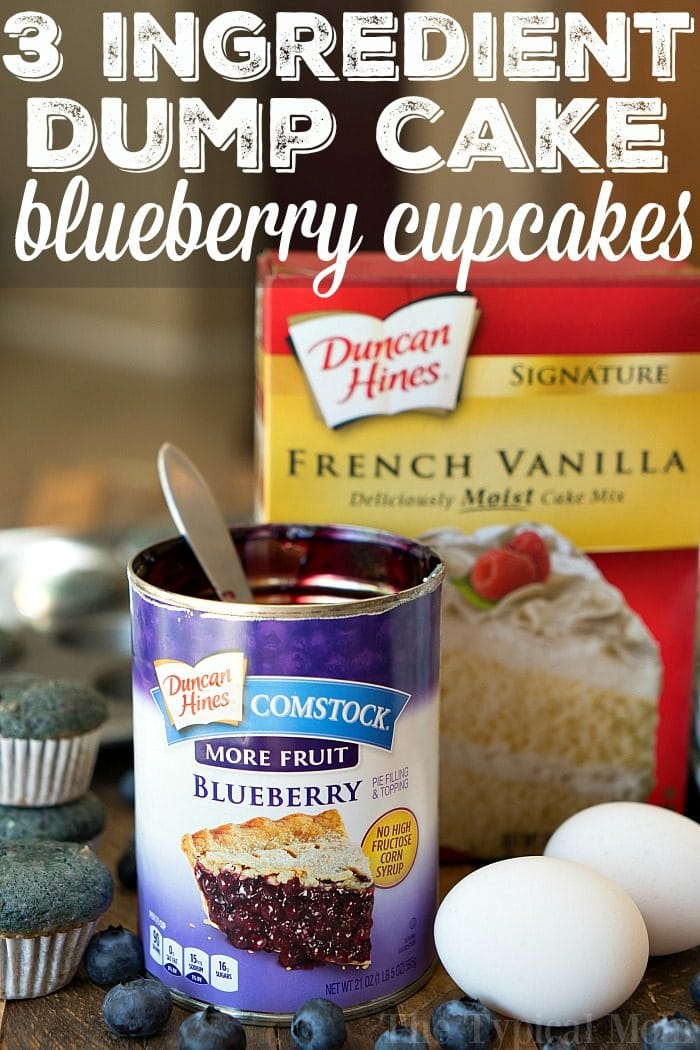 We also have some easy fruit dump cakes you've got to try!
Why do I love easy dump cakes, well let me count the ways……
They are EASY
Dump cakes satisfy my sweet tooth
Talk about super cheap to make
None of them require a lot of ingredients
I can have everything on hand at all times and throw together at the drop of a hat
They're just so moist and yummy!
Here is how to make angel food cake mix recipes too.
Best dump cake
It's hard to say what the best one would be but if I had to choose. I might say our blueberry dump cake cupcakes might top the list (seen above).
We will continue to add to our list each week. So bookmark this page for more easy dessert recipes!
Want to see a few of my favorite things that I am totally obsessed with?? Take a peek and see how many you might already have…twinsies!
Looking for more easy family recipes and tips? LIKE The Typical Mom Facebook page?
Then sign up for my free newsletter, and follow me on Pinterest! 😉
***** If you LOVED this recipe give it 5 Stars below and let everyone know what you thought about it. 😉