This 3 ingredient dump cake with canned fruit turned out great! A coffee cake breakfast or dessert I threw together & was surprised how well it turned out.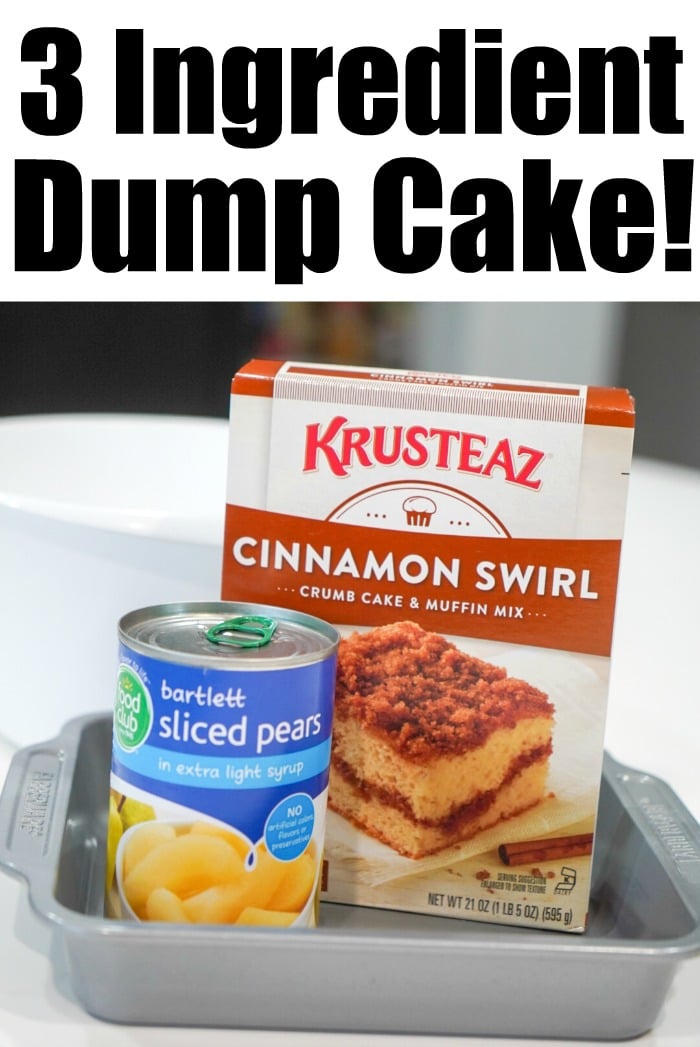 This 3 ingredient dump cake is easier than ever to throw together! Using a can of fruit, coffee cake mix and an egg you too can have dessert ready in no time. Then try one of our other easy dump cake recipes and enjoy. (originally published 8/20, affiliate links present)
Canned Fruit Dump Cake
When it comes to easy desserts, it doesn't get any more simple than this one. It happened quite by accident too which are the best creations if you ask me. I was craving something sweet so I went to mixing. A friend said she once made a blueberry loaf with muffin mix and canned pears so I started with that idea.
Boxed cake mix recipes are the best, really. It has all of the leavening agents already in there so there is no need to measure out the baking soda, baking powder, salt, all that other stuff. You just choose the flavor or color you want to make and usually with an egg to stiffen it up and pie filling or canned fruit you have yourself bites of YUM.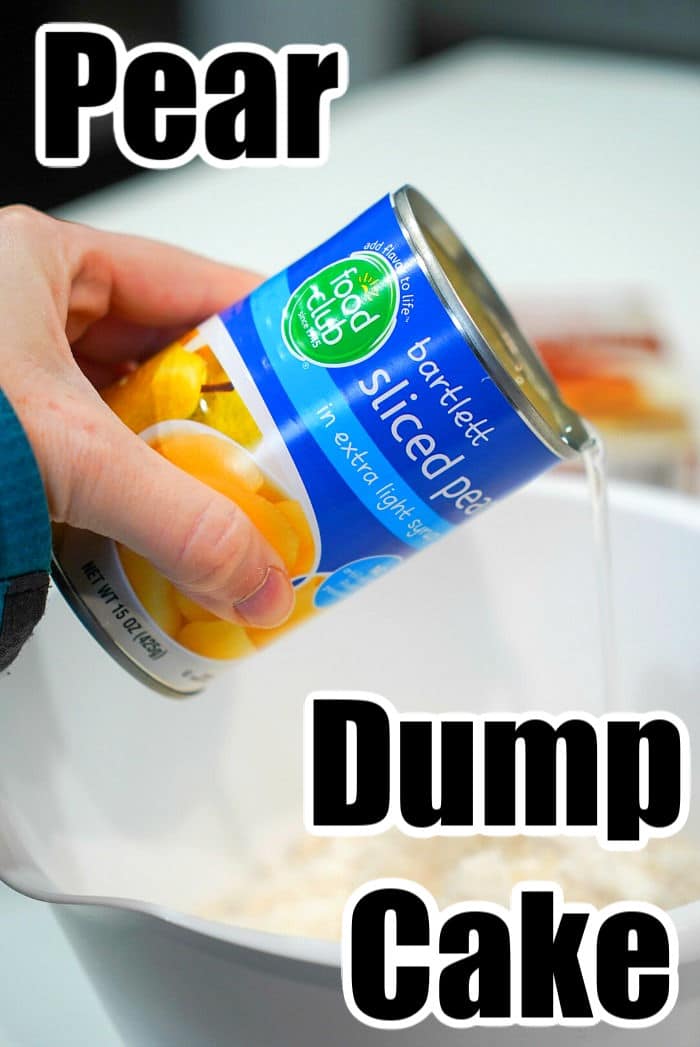 3 Ingredient Dump Cake With Eggs
Coffee cake mix seemed like a good substitute to a "cake mix" and first started with that to see if it would even work as well as my friend had mentioned. Thought pears would be a good choice with that, after mixing the liquid in the can that didn't seem like enough moisture so I added an egg too. "We will see what happens" I said……
25 minutes later I checked it and it looked pretty darn good, then it came to the taste test. My husband is by far the pickiest one when it comes to new creations but he said "it's pretty darn amazing" so that was a huge win! Meaning….there would be TONS of other varieties using these 3 items only. What fun right??
You could make a sort of dump peach cobbler too if you wanted to swap out the type of fruit. I like using what I have on hand at the time. If I had fruit cocktail I might try that sometime too and will share once that is made (but I haven't gotten that far quite yet).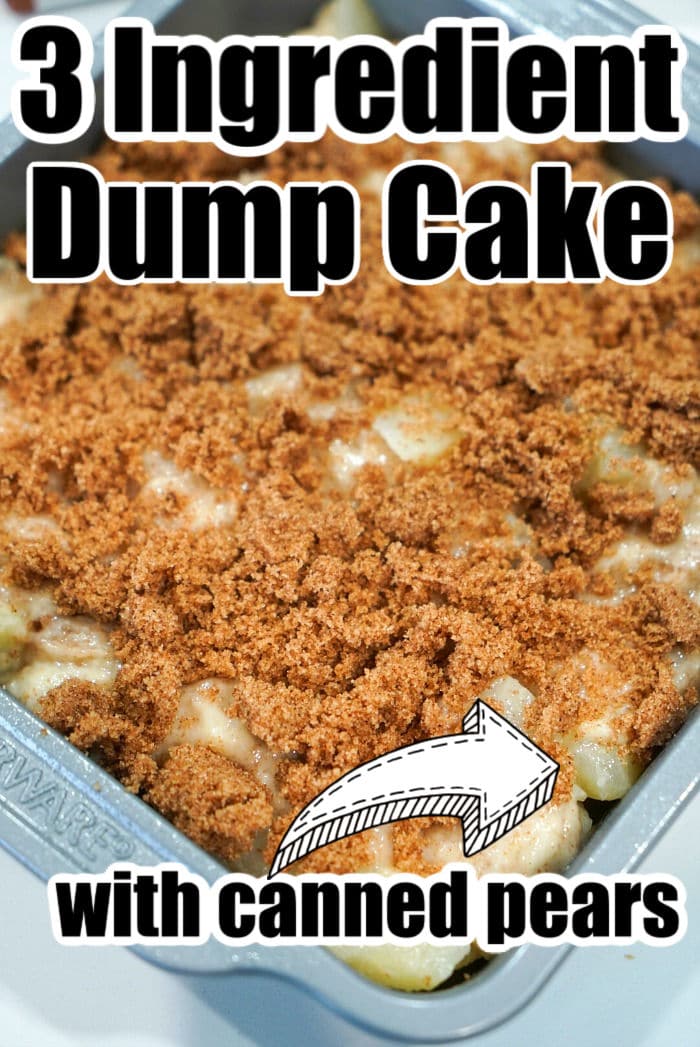 Dairy Free Dump Cake
We have several tweaks to this basic idea. This is the simplest of them all. If after you make this you love the texture and taste, but want a bit more homemade, try our peach cobbler pound cake too. Made in a bundt pan it's super pretty with canned peaches.
Do you stir a dump cake?
Typically, no. This would probably be an exception to the rule. Traditionally the filling is on the bottom with cake mix on top, not stirred.
For this coffee cake dump cake, the ingredients need to be well incorporated.
Does a dump cake have to be refrigerated?
I never do. Warm is how it is typically served, with or without ice cream or whipped cream on top. Many times it is not even sliced, a scoop served warm with vanilla ice cream is perfect.
How do dump cakes work?
You really just need enough moisture for the dry mixture. An egg will stiffen up the mixture so you get the springy fluffy bite you would expect from a cake. There are a ton of varieties out there as you could imagine. You can find hundreds of different boxes of cake mix, canned fruit or pie filling works well and stick of butter or whisked poured over the top is traditionally used.

Many like our pineapple cherry dump cake use yellow cake mix with cherry pie filling or apple pie filling. This one is easier! This one has no butter and uses canned fruit instead. I haven't used anything other than coffee cake mix for this method, but may work with other mixes too.
Pear Dump Cake
This could easily be served as a Christmas brunch item rather than a dessert. We had some leftovers and enjoyed them the next morning ourselves.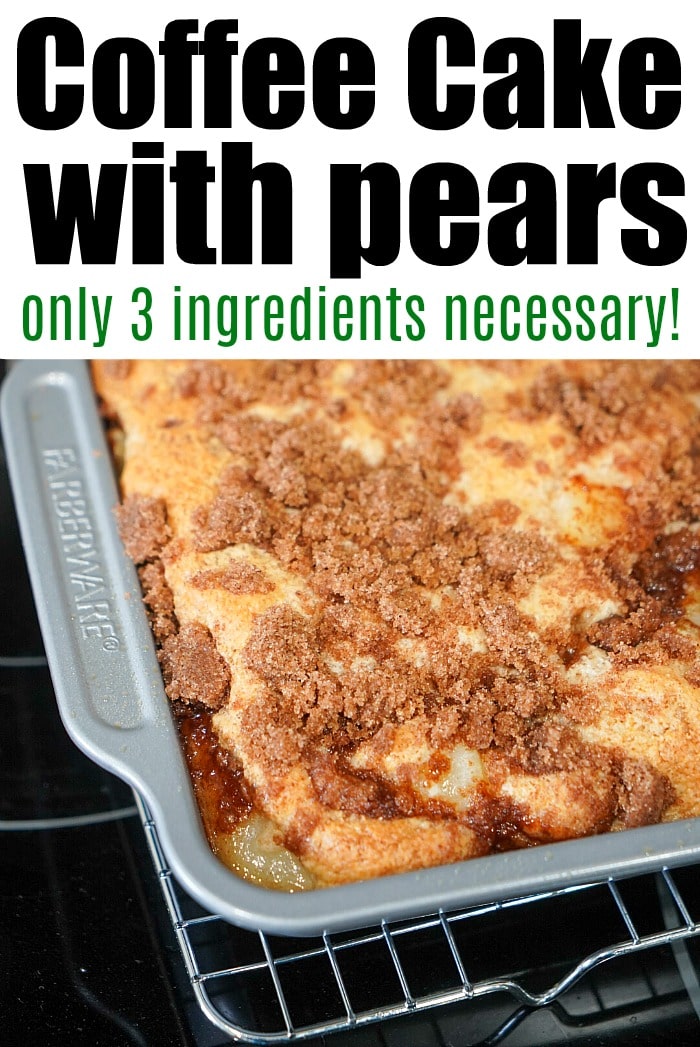 Dump Cake Ingredients
Like I said there is a variance amongst the recipe you are using. If you need a dairy free cake this one would work well since there is no butter or milk in it. Of course you should double check the back of the box though to ensure there isn't dry milk in it.
Coffee cake mix – I always use Krusteaz

hasn't been tested with any other brand or type of dry cake mix yet

Egg
Can of pears – peaches would work just as well
8×8 baking dish
Cake Mix and Canned Fruit Recipe
In a bowl mix the coffee cake mix (in white bag), 1 egg, 1/2 bag of brown sugar mix (in box) and liquid from canned fruit. Then you're going to want to preheat your oven to 350 degrees F now so it's ready.
With a knife, slice the sliced fruit in the can into smaller bite size pieces. Dump contents in the bowl and gently fold together.
Spray non stick spray into an 8×8 pan and pour batter in.
Smooth out so it's the same thickness across the pan.
Pour remaining brown sugar mixture on top of the cake (if you are using coffee cake). (could add nuts too)
Bake for 25 minutes and then cool on a cooling rack for at least 15 minutes before slicing and serving.
The middle may sink a bit but that is okay, that is because it's so moist. Unlike other dump cake recipes it does stay in tact more than others. As you can see here the fruit keeps it so tender inside and has chunks too so the texture is nice.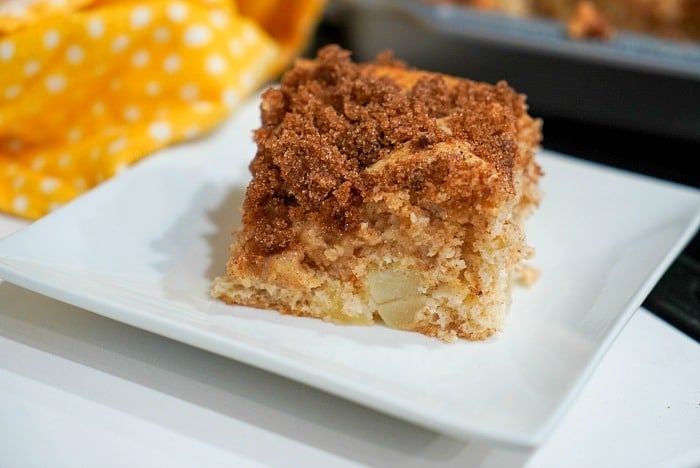 Do You Eat Dump Cake Hot or Cold
I mean there really isn't a wrong way to enjoy a dessert right?? Right out of the oven is amazing and if you put a dollop of whipped topping or ice cream on top it will melt too. Once it has cooled though you can taste the flavors of the fruit more though, if you ask me. Make it cold overnight in the fridge and it has an even different taste to it.
You could make this in a muffin tin for a totally different shape and to have it bake quicker. You'd only need about 18 or so minutes for that size with crust all the way around each one. No matter which one you choose, they're all easy and take less than 45 minutes to prep and bake. Here are a few others you're going to love:
Our chocolate cherry dump cake is incredibly good. All you need is chocolate cake mix and pie filling really.
We have made a Crock pot dump cake too. Apple and chocolate are great but come out a lot more moist than in the oven and don't really rise.
For a really quick idea, make this no bake cake that's like an eclair! This one is best really cold if you ask me. I like to make, store in the fridge all day or overnight and then have a slice. Totally guilty of enjoying one for breakfast a few times honestly. I mean it does have eggs in it so?? 😉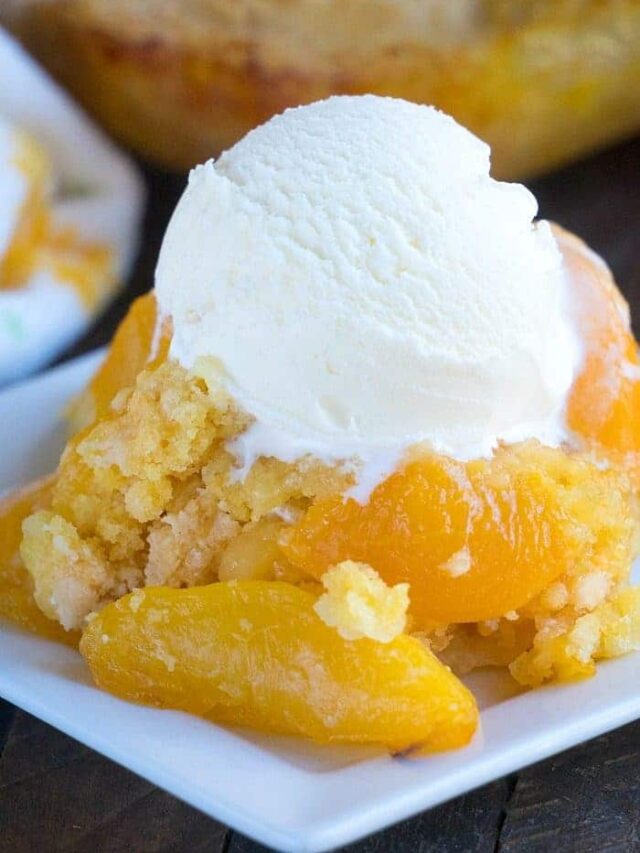 Should Leftover Dump Cake be Refrigerated
Because there is fruit inside it is a good idea to keep it cold in the fridge. You know I hate to waste food so please don't throw away what you do have left. Instead wait until it is totally cool and then transfer what you have into a sealed container, you could wrap in saran wrap too to keep all the air out. It will keep well for a few days, I'd warm it for 45 seconds in the microwave when you're ready.
Beyond about 48 hours the texture will begin to change so I would try and reheat within the day for the best flavor and feel to it. I've never frozen it and likely wouldn't do that. I can't imagine it would defrost without becoming mushy on the bottom. I'm too much of a texture gal to think this could ever turn out good.
Want to see a few of my favorite things that I am totally obsessed with?? Take a peek and see how many you might already have…twinsies!
Looking for more easy family recipes and tips? LIKE The Typical Mom Facebook page?
Then sign up for my free newsletter, and follow me on Pinterest! 😉
***** If you LOVED this recipe give it 5 Stars below and let everyone know what you thought about it. 😉
3 Ingredient Dump Cake
This 3 ingredient dump cake with canned pears turned out great! A coffee cake breakfast or dessert I threw together & was surprised how well it turned out.
Ingredients
1

box

coffee cake mix

21 oz, Krusteaz

1

egg

1

can

pears

canned, sliced, cut again into diced pieces with juice in can
Instructions
In a bowl mix coffee cake mix (not brown sugar bag, set aside for now), egg and liquid from can of pears.

Then add 1/2 of the contents of the brown sugar bag included in your boxed coffee cake and mix in.

Use a knife to dice diced pears in can smaller, then pour into your bowl and gently fold together.

Preheat oven to 350 degrees F. and spray the inside of a 8×8 pan with non stick spray.

Pour mixture inside pan and smooth so it's an even thickness across the pan.

Sprinkle remaining brown sugar mixture on the top and bake for 25 minutes.

Remove and put on cooling rack for at least 15 minutes to solidify before slicing.
Nutrition Facts
3 Ingredient Dump Cake
Amount Per Serving (3 oz)
Calories 218
Calories from Fat 18
% Daily Value*
Fat 2g3%
Cholesterol 18mg6%
Sodium 425mg18%
Potassium 34mg1%
Carbohydrates 47g16%
Protein 3g6%
Vitamin A 26IU1%
Calcium 124mg12%
Iron 1mg6%
* Percent Daily Values are based on a 2000 calorie diet.