Black rice Instant Pot directions. How to cook black rice in pressure cooker or Ninja Foodi until tender. Fiber rich side dish we love served savory as a side dish or sweet like our black rice pudding.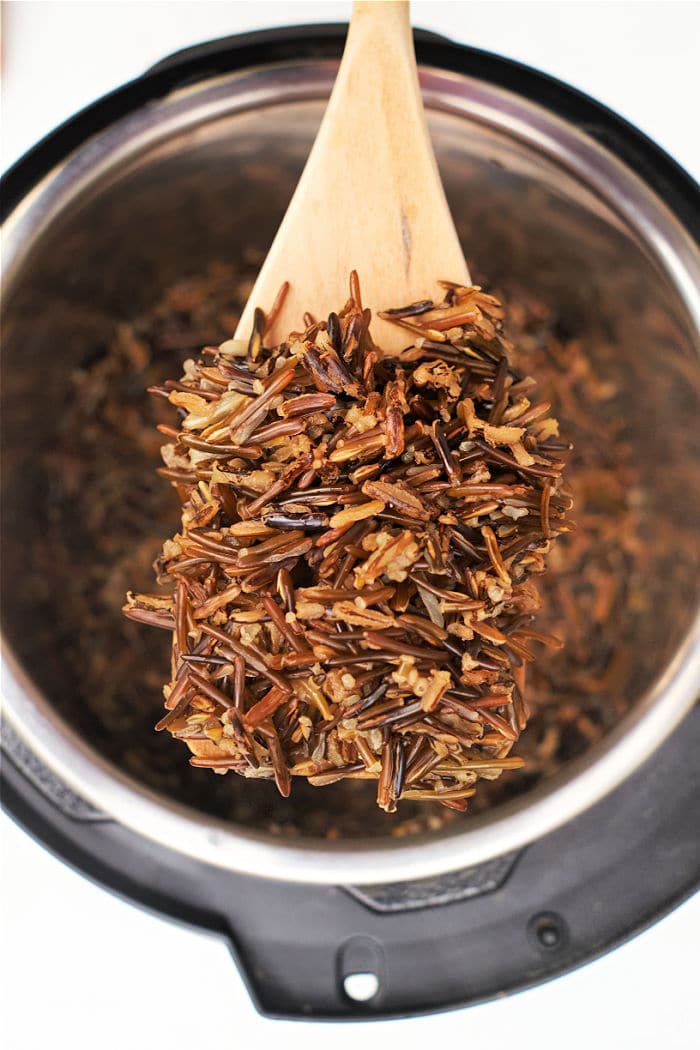 Instant Pot black rice turns out so good, and faster than any other method. If you love this type of grain but don't enjoy how long it takes on the stovetop, try this instead. Just one of many easy Instant Pot recipes we have shared on our site. (affiliate links present)
Ninja Foodi Black Rice
You can make this in any electric pressure cooker you might have. Mealthy, Crockpot Express and Ninja Foodi works just the same using the same instructions below. You need liquid for this of course. Water is listed below but you could substitute broth or half and half instead for more flavor.
Like butter on it? Add a pat right on top as well as a bit once it is tender so it melts and adds a bit of creaminess. If you have never had this but want to try it because of it's so healthy, it is a bit like our Ninja Foodi wild rice but with more of the dark stiffer pieces.
FIRST – You should sign up for my free newsletter so you get new posts emailed to you twice a week and never miss out on anything! Now let's start with a few basic tips:
Make sure to Bookmark our InstaPot recipes page. We add new ones each week!
Then PRINT this —–> Instant Pot cooking times cheat sheet that will help you understand how long meat, vegetables and beans take to cook in your pressure cooker.
For reference, this is the pressure cooker I have (a 6 quart) and use for all recipe creations.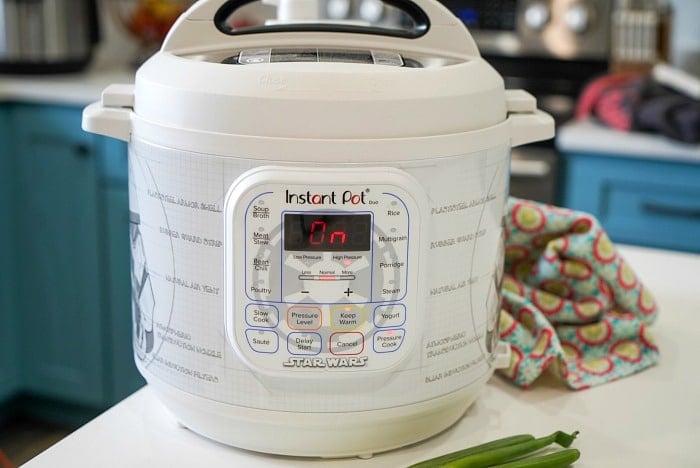 Pressure Cooker Black Rice
If you have always relied on white long grain rice Instant Pot style, this is much better for you for sure. It's the texture that is different for sure. With white the husk on the outside is completely stripped. Basically you are discarding the most nutritious part of it, but rather here it is kept in tact.
What is the ratio of water to black rice?
2:1 cups so basically you need double the amount. Adding a pinch of salt is a good touch since otherwise it is quite bland. You can use broth instead of water for more flavor too.
Does black rice need to be soaked?
It is recommended if using a pot on the stovetop but when cooking in Instant Pot it is not necessary, and the quickest method out of them all. I would recommend rinsing the rice first though as you would with a brown or white sticky rice variety.
You will definitely want to add some seasonings and butter is a must for us when done. Ingredients you could add into the pot to add to the yum would be garlic salt, beef broth, onion powder and/or red pepper flakes for some heat.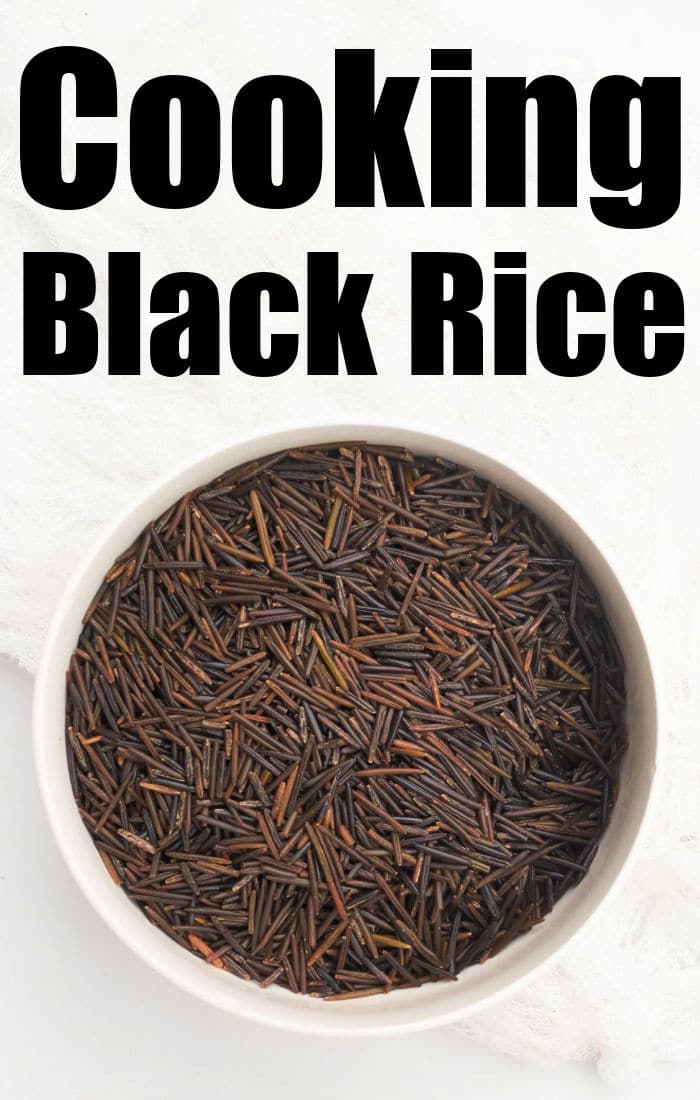 InstaPot Black Rice
This way is just a set it and forget it method. I do have a really good rice cooker here that works the same way where you don't have to keep an eye on it like on the stove. If you wanted to lighten the overall dish you could make a batch of Ninja Foodi Jasmine rice and this, then fold together at the end.
With a combination of white rice and a fiber rich one it will become more like the wild variety so it's not quite as heavy. Since cooking time for the two is so different you could not combine them together unfortunately. The directions are quite basic;
You just pour the water and rice into your pot.
Seal lid and steam valve to closed. Set to high pressure cook for 20 minutes and then let steam naturally release for 10 minutes.
Open the lid, fluff, add butter or seasonings and enjoy.
This is also called forbidden rice so you may see that on the outside of the package. Same thing. A great gluten free easy side dish recipe that has a rich nutty flavor.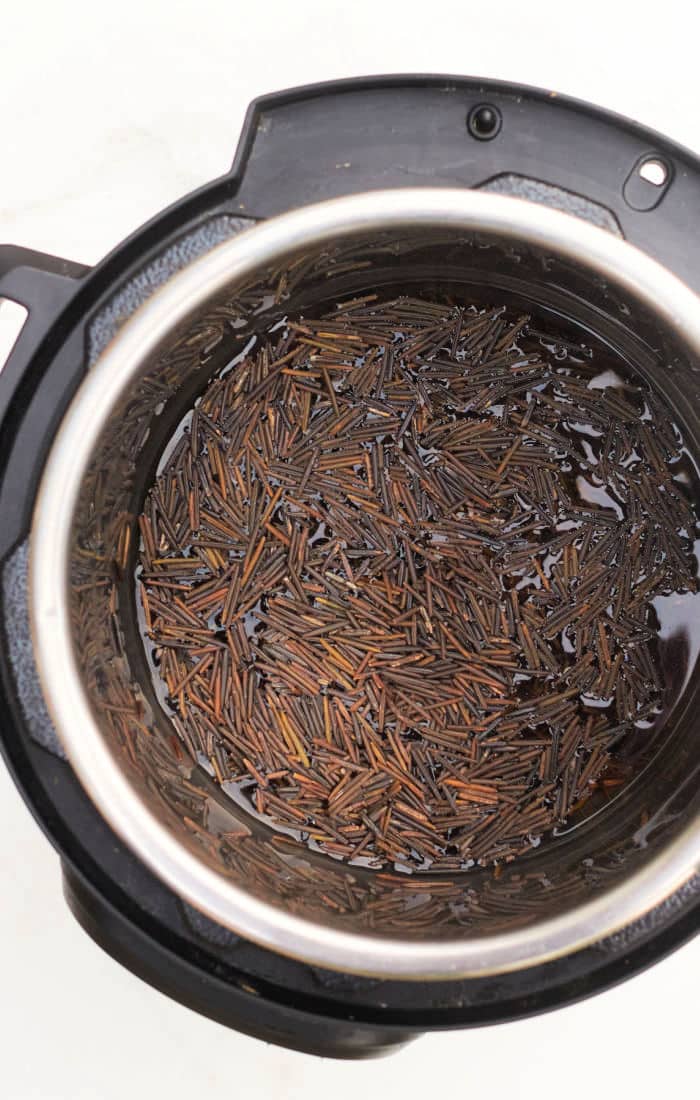 How to Cook Forbidden Rice
Why was black rice considered forbidden? It is because back in the day it had so many health properties that it was only reserved for the Chinese emperor to eat to ensure he would live longer. Harder to find, nobody else was allowed to consume it as it was thought to have super powers.
Yes there are several other ways you can get this to tender. They will take much longer as this one but if you were making a complete meal and were using this to make your main dish, you could use a rice cooker. Mine has a button for different varieties, if yours doesn't I would refer to it's instruction manual for timing.
Black rice on stovetop will take at least 45 minutes to tenderize. Getting the heat just right where the contents will not burn, yet consistently boiling just enough for it to not overflow it difficult. That is why pressure cooking is just so much easier. The machine adjusts appropriately and a natural release allows it to get as fluffy as it could be.
Is Black Rice Healthier than Brown Rice
Yep, you can tell just by looking at the two side by side that the darker the color the more fiber rich it is going to be. This is also a better source of antioxidants, and great for lowering cholesterol if eaten on a regular basis. You could mix the two in order to lighten the black and make it more palatable too.
Instant Pot brown rice and this would have to be cooked separately though since the cooking time is not the same. If thrown in together the lighter variety would become mushy and overcooked if you used the timing below.
Jump to recipe and see how you get started. There is nutritional information listed below too. It takes into account the exact ingredients listed below and nothing additional.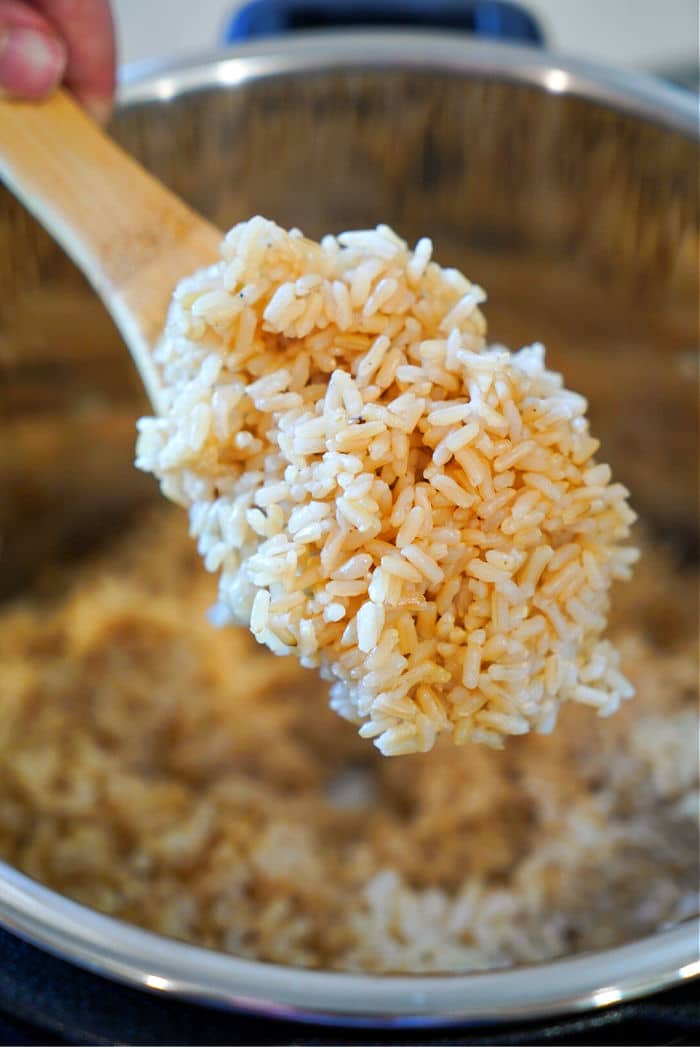 How do you store cooked black rice
You always want to wait until it has completely cooled first. I will say that grains like this one don't save all that well as it will dry out no matter how you store it. You can though, and add some butter to freshen it up the next day. Spoon it into a smaller freezer bag and squeeze all the air out before storing in your fridge.
When you reheat, first leave on the counter for 20 minutes. Then pour into a microwave safe dish and heat for 45 seconds. I would suggest adding a pat of butter on top or 1 tbsp of broth over the top to add back in some moisture that it lost while being stored in a cold area.
Want to see a few of my favorite things that I am totally obsessed with?? Take a peek and see how many you might already have…twinsies!
Looking for more easy family recipes and tips? LIKE The Typical Mom Facebook page?
Then sign up for my free newsletter, and follow me on Pinterest! 😉
***** If you LOVED this recipe give it 5 Stars below and let everyone know what you thought about it. 😉
Black Rice Instant Pot
Black rice Instant Pot directions. How to cook black rice in pressure cooker or Ninja Foodi until tender. Fiber rich side dish we love.
Instructions
Place water and rice into instant pot. Seal lid and steam valve. Set to high pressure for 20 minutes and then let steam naturally release for 10 minutes.

Fluff, add butter or seasonings and enjoy.
Nutrition Facts
Black Rice Instant Pot
Amount Per Serving (1 oz)
Calories 114
Calories from Fat 9
% Daily Value*
Fat 1g2%
Sodium 13mg1%
Potassium 69mg2%
Carbohydrates 24g8%
Protein 2g4%
Calcium 9mg1%
Iron 0.5mg3%
* Percent Daily Values are based on a 2000 calorie diet.