Instant Pot steamed vegetables are the perfect healthy side dish! Mixed veggies like corn, brussel sprouts, corn and green beans all cooked together y'all!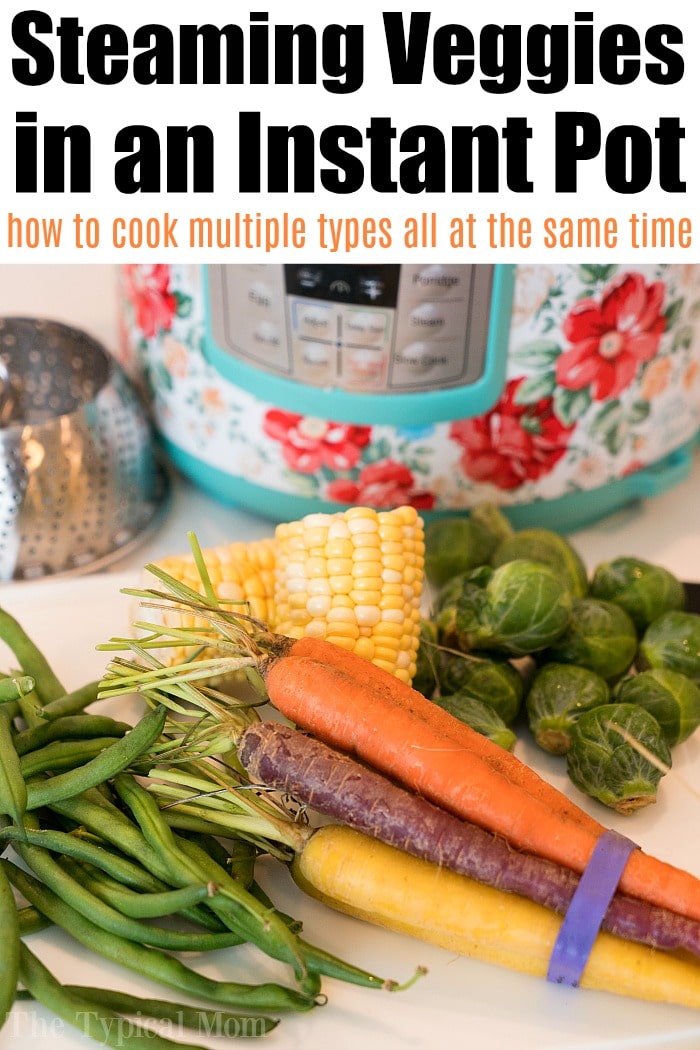 Ever wanted to make a mix of Instant Pot steamed vegetables but not too sure how to do it well? We're here to help! After making over 100 easy Instant Pot recipes we have a few tips to make this healthy side dish. (affiliate links present, originally published 1/20)
How to Steam Vegetables in Instant Pot
Boy is it nice to be able to cook multiple things all at once!! It took me a bit to figure out just the right mix of veggies but I'm here to share my findings with all of you!
You can use the same instructions for a Crockpot Express or Ninja Foodi pot as well. Using high pressure and like choices they will all come out tender and delicious to serve as a healthy side dish.
FIRST – You should sign up for my free newsletter so you get new posts emailed to you twice a week and never miss out on anything! Now let's start with a few basic tips:
Make sure to Bookmark our InstaPot recipes page. We add new ones each week!
Then PRINT this —–> Instant Pot cooking times cheat sheet that will help you understand how long meat, vegetables and beans take to cook in your pressure cooker.
For reference, this is the pressure cooker I have (a 6 quart) and use for all recipe creations.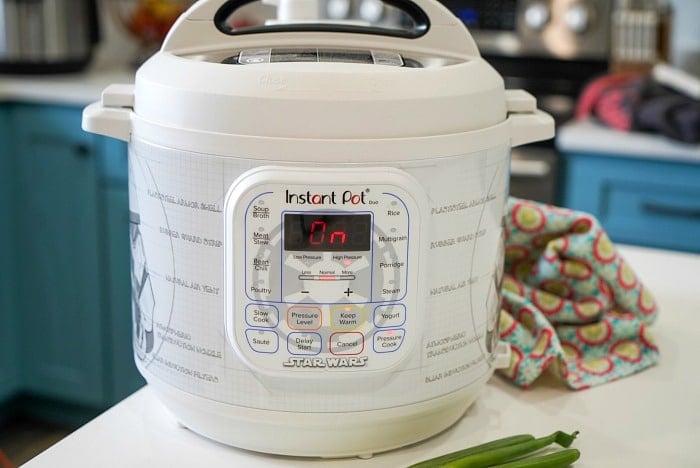 Ninja Foodi Steamed Vegetables
You can use these instructions to make it an easy Ninja foodi recipe or your Crockpot Express too. Any brand with the high pressure function will work the same.
Believe it or not my 3 daughters would rather eat a plate full of veggies over meat any day of the week! Adding meat inside is possible too if you follow our Instant Pot chicken and vegetables recipe.
Ok so it didn't start off like this when they were little but boy am I glad we stuck out the "you have to try one bite" night after night. It paid off!
You may have steamed vegetables in an Instant Pot before, but just one at a time. Mixing them can be confusing if you don't have an Instant Pot vegetable cook times chart like this one. Use our Instant Pot vegetable cook time chart here for reference.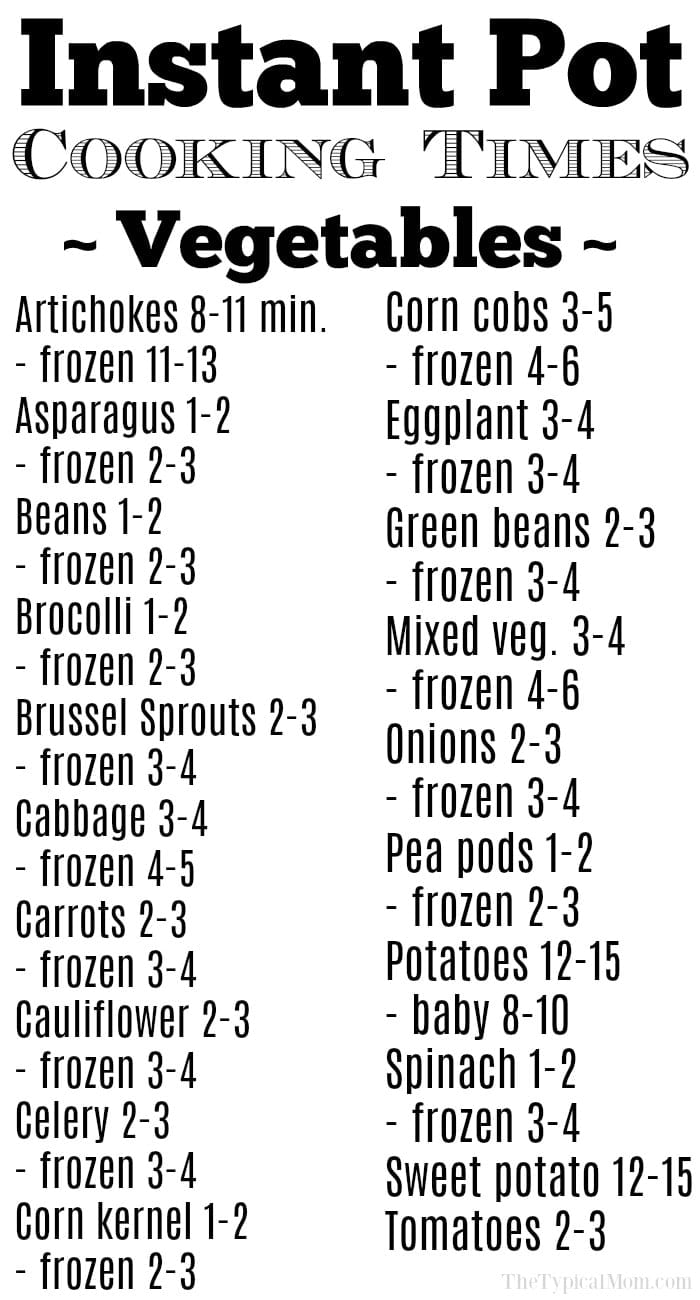 How long does it take to steam vegetables in an Instant Pot?
Use the chart above! Of course these are approximate times depending on how much you're making and how thick each piece is, but they're pretty dead on. (yes I had a mommy moment when spelling broccoli when I made this, please forgive me) 😉
Instant Pot vegetables
You must gather different items that have similar cook times so they'll come out perfectly tender. Seems obvious but let's go a step further after that and talk about what we used.
We used to make them separately all the time, now we can throw them in together!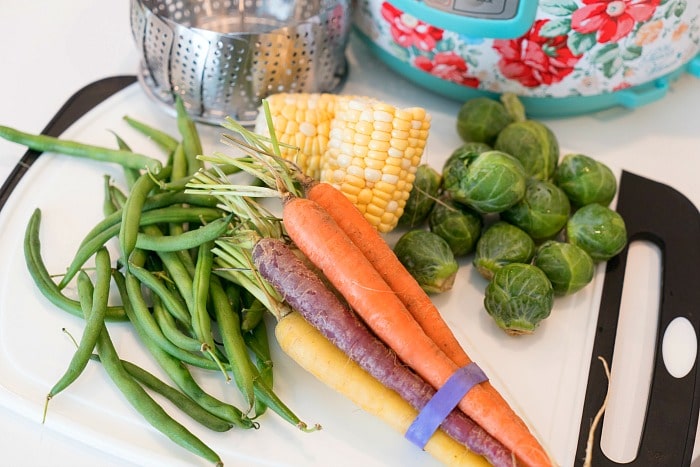 Instant Pot Steamed Vegetable Medley
What do you need to get started?
Vegetables

that take the same amount of time to cook in your pressure cooker or Ninja Foodi brand pot.

We are using fresh produce here, this is how to cook Instant Pot frozen vegetables here

Steamer basket to hold them out of the water below.
Seasonings you like
Butter is good on top when done
Serving dish
This basket is an Instant Pot accessory must you will use all of the time, I like this one with little feet at the bottom. Yes you can try to use a trivet but I would NOT recommend it. Reason is the smaller pieces will likely roll off and into the liquid below.
When they do they'll become complete mush so spend the five bucks or whatever and get one of these, you won't regret it.
A 7″ bundt pan and a springform pan are the 3 things (other than a trivet that comes with your pot) I highly recommend.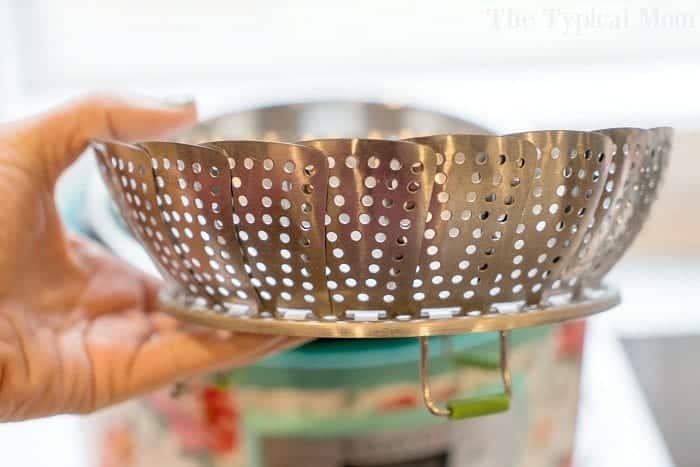 This is what you need to do in order for every batch to come out the best!
Pressure Cooker Steamed Vegetable Medley
Time needed: 3 minutes
Instant Pot Vegetables
Rinse

Rinse off outsides and remove any outer layers of leaves or pieces that may be damaged.

Prepare

Choose your like mixed vegetables: Slice brussel sprouts in half. Peel carrots and cut into large chunks (the smaller the softer they will be). Cut corn on the cob in half. Leave green beans whole

Cook

Pour a cup of water into the bottom of your pot. Layer your vegetables inside your steamer basket. Put the largest – longest to cook items at the very bottom.

Items that will take a bit less time should go on the very top. Season on the top with ALL THE THINGS you like including salt and pepper, then drizzle with a bit of olive oil.

Determine cook time

Use our Instant Pot vegetable cook time chart here and choose a mix that has the same timing. Set the Instant Pot to high pressure.

Stand by so you can quick release the pressure right when the time is over!
This is what my batch looked like, a really good mix we all thought. Now when steaming broccoli you have to use other 1-2 minute cook time items. If not you'll get mush, you get what I mean…
With the time to prep them and cook for a very short time this should take less than 15 minutes start to finish. It's a great low carb and keto side dish.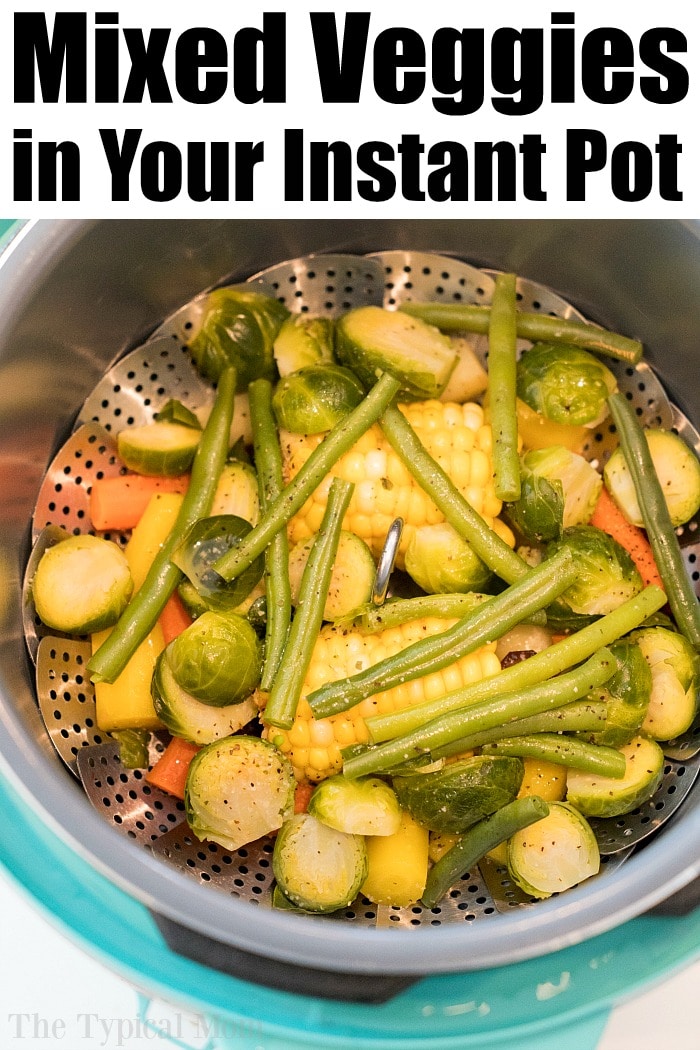 Ninja Foodi Vegetables
Looking for other delicious recipes featuring vegetables?
You can cook Instant Pot mushrooms right inside the inner pot actually! Sauteed in butter and garlic they come out great.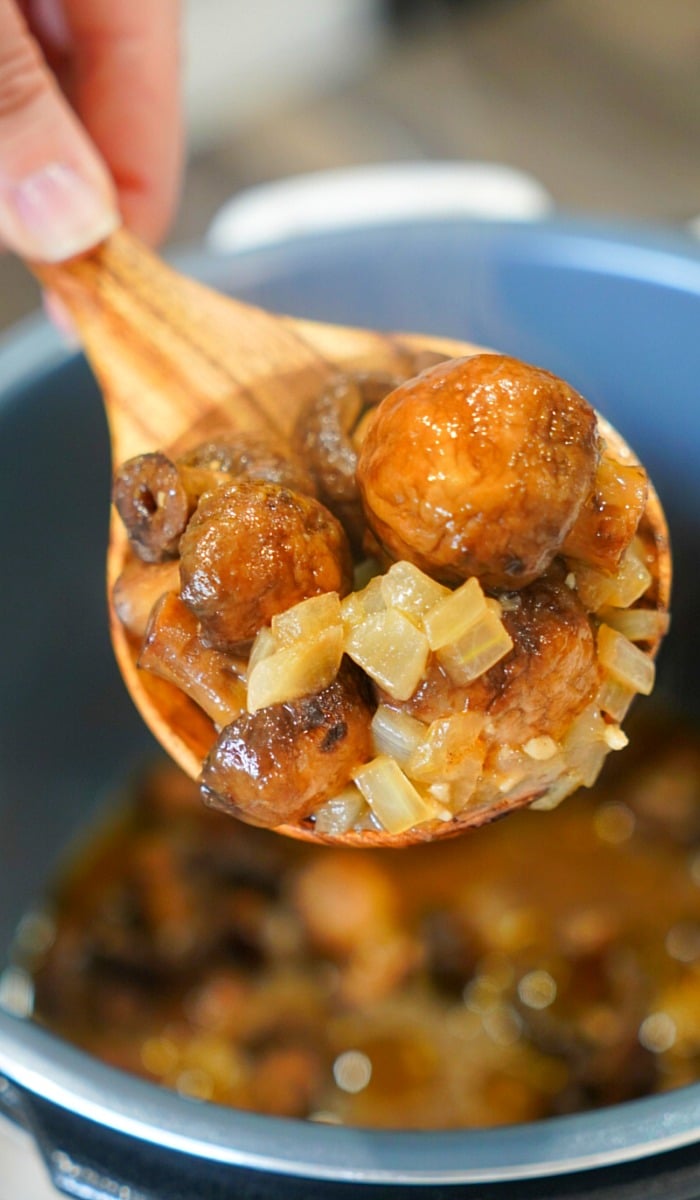 What is the difference between steam and and pressure cook on an Instant Pot?
Steam function is when you just cook your food with steam. Pressure cooking with a steamer basket though is the same cooking mechanism except for the addition of pressure to the mix.

I choose to use pressure cook every time, just my preference.
You can print recipe below and have it handy, or come back and refer back and let us know what you think below!
Want to see a few of my favorite things that I am totally obsessed with?? Take a peek and see how many you might already have…twinsies!
Looking for more easy family recipes and tips? LIKE The Typical Mom Facebook page?
Then sign up for my free newsletter, and follow me on Pinterest! 😉
***** If you LOVED this recipe give it 5 Stars below and let everyone know what you thought about it. 😉
Instant Pot Steamed Vegetables
Instant Pot steamed vegetables are the perfect healthy side dish! Mixed veggies like corn, brussel sprouts, corn and green beans all cooked together y'all!
Instructions
Pour water inside Instant Pot and lower down vegetable steamer basket.

Put largest vegetables on bottom. Halved corn on the cob pieces, then large chunks of carrots, brussel sprouts with green beans on the top.

Sprinkle with salt and pepper and some garlic salt. Drizzle olive oil on top.

Close lid and steam valve and set to high pressure for 2 minutes followed by a quick release.

Remove basket with veggies and plate.

Sprinkle more garlic salt, salt and pepper to taste on top. Butter can be added as well and will melt quickly.
Nutrition Facts
Instant Pot Steamed Vegetables
Amount Per Serving (2 oz)
Calories 152
Calories from Fat 72
% Daily Value*
Fat 8g12%
Sodium 674mg29%
Potassium 637mg18%
Carbohydrates 20g7%
Protein 4g8%
Vitamin A 17292IU346%
Vitamin C 58mg70%
Calcium 66mg7%
Iron 1mg6%
* Percent Daily Values are based on a 2000 calorie diet.