How to cook frozen vegetables in Instant Pot, air fryer or boiled so they defrost and get fork tender. Enjoy as a healthy side dish for dinner.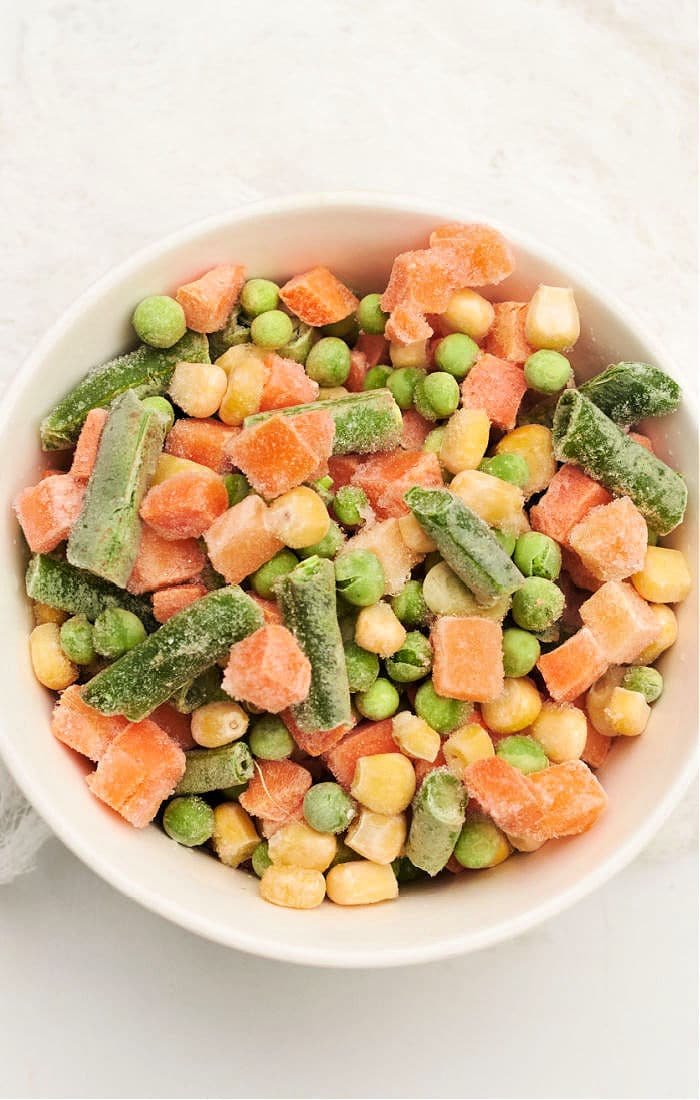 When you are a busy mom like me you need tips like how to cook frozen vegetables in a jiffy. It can be done and there are a few ways to maintain their texture so they almost taste like they were from fresh (almost). We will share all methods below but at the bottom is an easy Instant Pot recipe method. (affiliate links present)
Years ago I put together a chart for reference on Instant Pot vegetable cook times. That is super handy if you have fresh produce or one type frozen and bagged. I used the most common green beans carrots corn and peas mixture from the store. It doesn't matter what brand you choose, it's all the same.
Best Way to Cook Frozen Vegetables
Surprisingly you can in fact cook veggies in the microwave too! I know, game changer. Whether they are fresh or rock hard you can get them to tender in just minutes. As long as they are already sliced or diced into smaller pieces you just need a bit of water and a dish. Use the same instructions as our microwave carrots recipe for that.
How to Steam Frozen Vegetables
If you were going to use your stove top with a pot and vegetable basket at the bottom you could steam this way too. Probably the most time consuming of them all, you'd want some water or broth in the bottom, about 3/4 cup to steam to tender.
You'd use the same old fashioned steamer basket your mother used to have back in the day. With the holes in the bottom you would set to medium high heat and it would create hot steam that is necessary to tenderize. This is basically the same method used here in a pressure cooker but it takes a lot less time.
Since it is under high pressure you don't want to leave them in any longer than one minute, that is right. If you just wanted to defrost and have them barely warm I would actually set to zero minutes. That is actually a time y'all. You'll still be heating them with hot hot steam but just until it pressurizes (about 6 min.).
Adding just a bit of water into your air fryer basket works well too for things like broccoli or air fryer broccolini. Fresh or frozen works well.
Instant Pot Frozen Vegetables
You don't even need to use a basket for this though. It's such a short cook time that they won't absorb the liquid and is kinda' a cross between boiling and steaming I suppose you could say. I would say by far this is probably the best method as you get it all as tender as possible without drying them out.
As opposed to boiling you won't lose nutritional value because it's submerged for such a short amount of time. The longer it's in hot water the more all the good stuff is going to be leached right out. You can use any brand you have on hand for this method, mixed, frozen peas and carrots, whatever you want.
I have a Crockpot Express and Ninja Foodi. Both and all electric pressure cooker machines have the high pressure function so the name doesn't matter. You just need your bag of veggies, water or broth and a pinch of salt and pepper if you like.
If you want to cook fresh produce like corn on the cob, frozen green beans and brussel sprouts together, follow our Instant Pot steamed vegetables timing.
Ninja Foodi Frozen Vegetables
If you want to use the air crisp function only or have a Cosori or AirWave you can follow our air fryer frozen vegetables instructions too. You'll want to ensure your frozen veggies are in a single layer which means you can't make a lot at a time. For meal prep this may take a while if you have a crowd.
They won't be as moist this way but a great alternative if that is all you have. I will say that cooking fresh vegetables in air fryer like brussel sprouts and cauliflower is out of this world, frozen broccoli and others isn't as great. You just need a bag of frozen vegs and a spray of olive oil for this.
All you do is just pour your water and diced mixed and frozen vegetables into your pressure cooker.
Close the lid and steam valve and pressure cook vegetables for one minute
Quick release at the end when done and lift lid.
Drain the water in your pot, add butter to melt and salt and pepper to taste before serving.
How Long to Boil Frozen Vegetables
Ok, like I stated above this is not my favorite method. You will lose nutritional value as it boils and I don't think the texture is as good. BUT if this is all you have then you'll want to heat a pot with a few cups of water on your stove over medium high heat. Add a pinch of salt. Once it reaches a rolling boil add your bag contents.
Boil for about 3 minutes testing one piece at a time and drain in a colander when you think they are the right softness. I would test the carrots as they seem to stay firm the longest. We are working on roasted frozen vegetables right now on a baking sheet in the oven. When done I will post and share that too.
Want to see a few of my favorite things that I am totally obsessed with?? Take a peek and see how many you might already have…twinsies!
Looking for more easy family recipes and tips? LIKE The Typical Mom Facebook page?
Then sign up for my free newsletter, and follow me on Pinterest! 😉
***** If you LOVED this recipe give it 5 Stars below and let everyone know what you thought about it. 😉
How to Cook Frozen Vegetables
How to cook frozen vegetables in Instant Pot, air fryer or boiled so they defrost and get fork tender. Enjoy as a healthy side dish for dinner
Instructions
Pour water and diced mixed and frozen vegetables into your pressure cooker. Close lid and steam valve and set to high pressure for 1 minute with a quick release at the end.

Drain water, add butter to melt and salt and pepper to taste before serving.
Nutrition Facts
How to Cook Frozen Vegetables
Amount Per Serving (1 oz)
Calories 78
Calories from Fat 9
% Daily Value*
Fat 1g2%
Monounsaturated Fat 0.04g
Sodium 65mg3%
Potassium 257mg7%
Carbohydrates 16g5%
Protein 4g8%
Vitamin A 6161IU123%
Vitamin C 13mg16%
Calcium 32mg3%
Iron 1mg6%
* Percent Daily Values are based on a 2000 calorie diet.