Roasting frozen vegetables in oven is easy. If you don't have fresh produce, you can cook mixed veggies frozen to tender this way.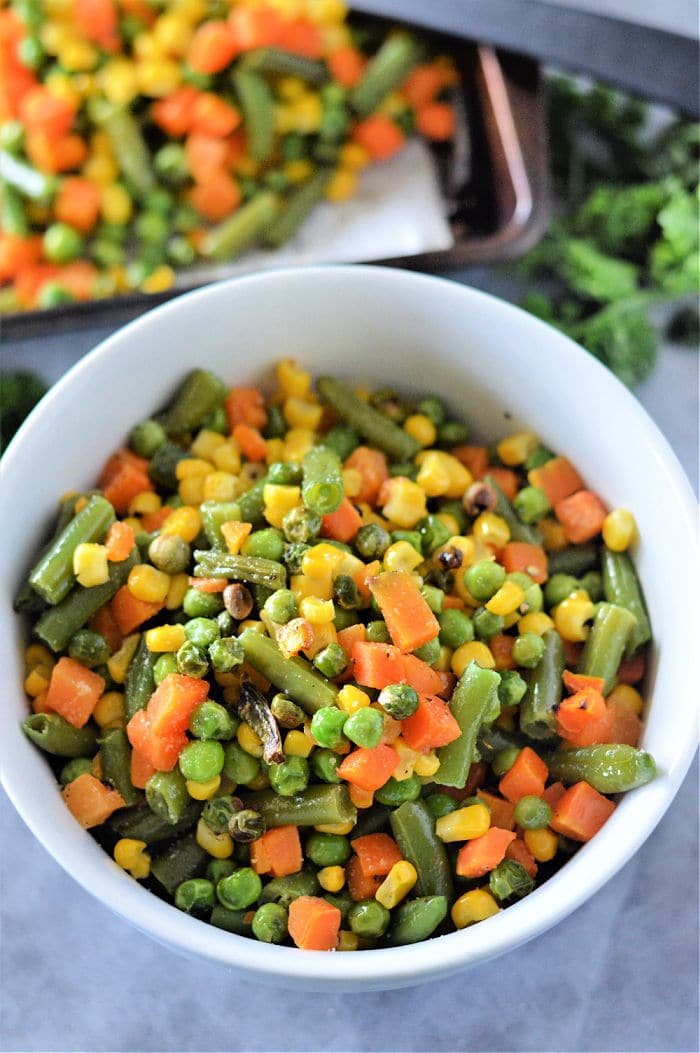 If you live in a small town like we do, or like the convenience of bagged already prepped veggies we will share how to cook frozen vegetables here. A healthy side dish you can cook alongside your main meal and serve together. (affiliate links present)
How to Roast Frozen Vegetables
Previously we have shared air fryer frozen vegetables, in your pressure cooker, and of course boiling is th old fashioned method. I don't like the latter because hot water just sucks all the nutritional value out of your food. Since these were frozen from fresh the vitamins are still in tact so roasting is the best way to go about it.
Mixed carrots, green beans, peas and corn kernels is the mixture that is the most common. You could use just one of the following this same way. Of course carrots will be firmer than the others but give or take a few minutes the instructions would remain the same.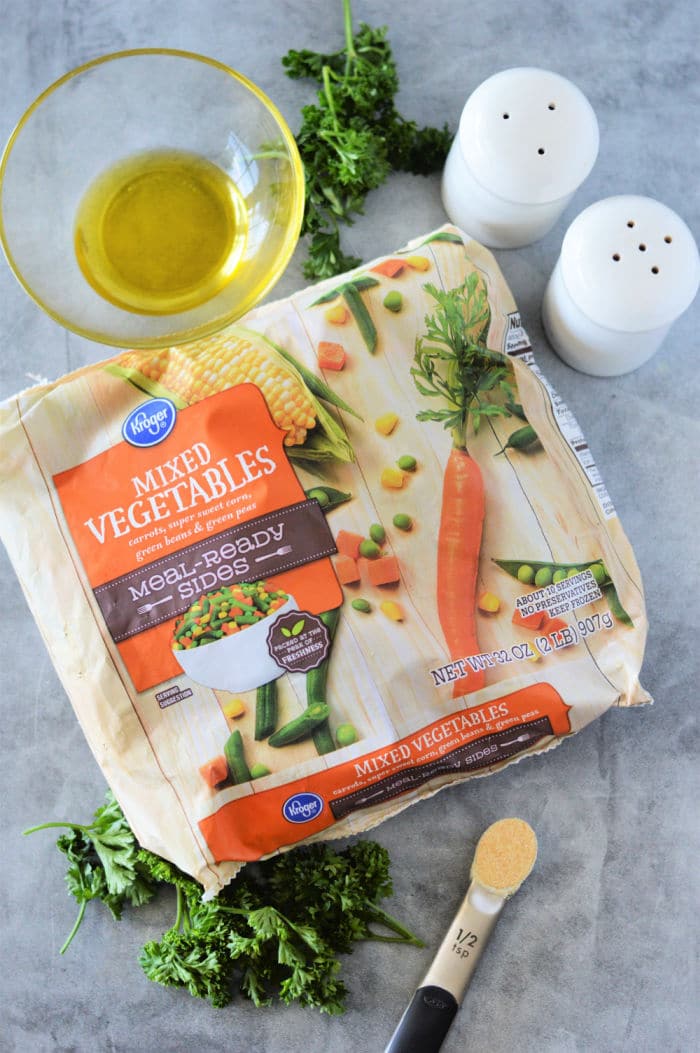 Can You Roast Frozen Vegetables
Do you need to defrost them first? Nope! You actually don't want to. Frozen foods are meant to be cooked straight out of the package. Just like baking frozen pizza it actually will turn out to be a really weird texture if you thaw it first.
How long does frozen veg take to roast?
Depending on which variety you choose I would allocate 30 minutes to get them tender. If you want them browned you may want a few minutes longer for that. Tossing a few times during that time is important to rotate to get them just right.
I will say that fresh veggies will crisp much better. Compared to our roasted edamame soy beans you can really see the difference. You could get it closer with a spray of olive oil and turning it to broil for a minute would help but that is the biggest difference between the two.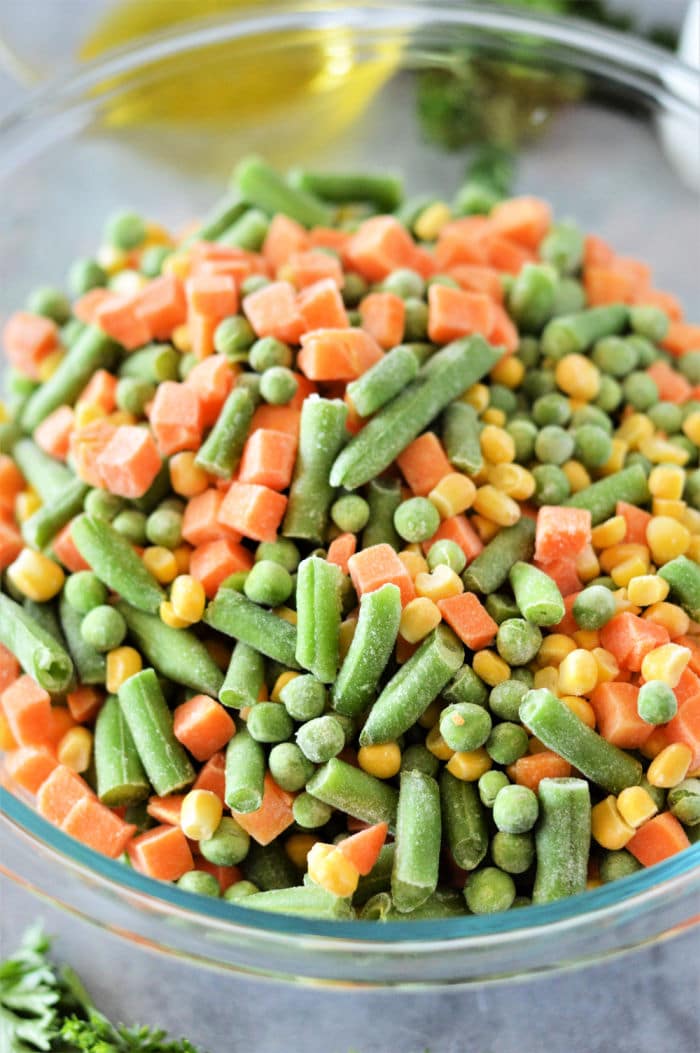 Roasted Frozen Vegetables in Oven
All you need is a baking sheet and I like using a piece of parchment paper on the bottom for easier clean up. Nice thing about this method is you can stick it in with your baked frozen chicken wings and they'll be ready around the same time. Served together is a cheap but pretty nutritious meal!
32 ounces of frozen vegetables, mixed were used here

about the max that will fit in a single layer on a sheet pan

3 tbsp olive oil
Garlic powder or any other seasonings you want
Salt and pepper to taste
You could cook a single variety too, other than broccoli that would take less time. But if you just wanted to use a bag of frozen cauliflower that would work the same way too. It just needs to be bite sized and firmer varieties.
Roasted Frozen Green Beans
If you don't want them mixed and you just want the one to make your favorite Thanksgiving side dish this is how to cook frozen green beans a few different ways, and baked.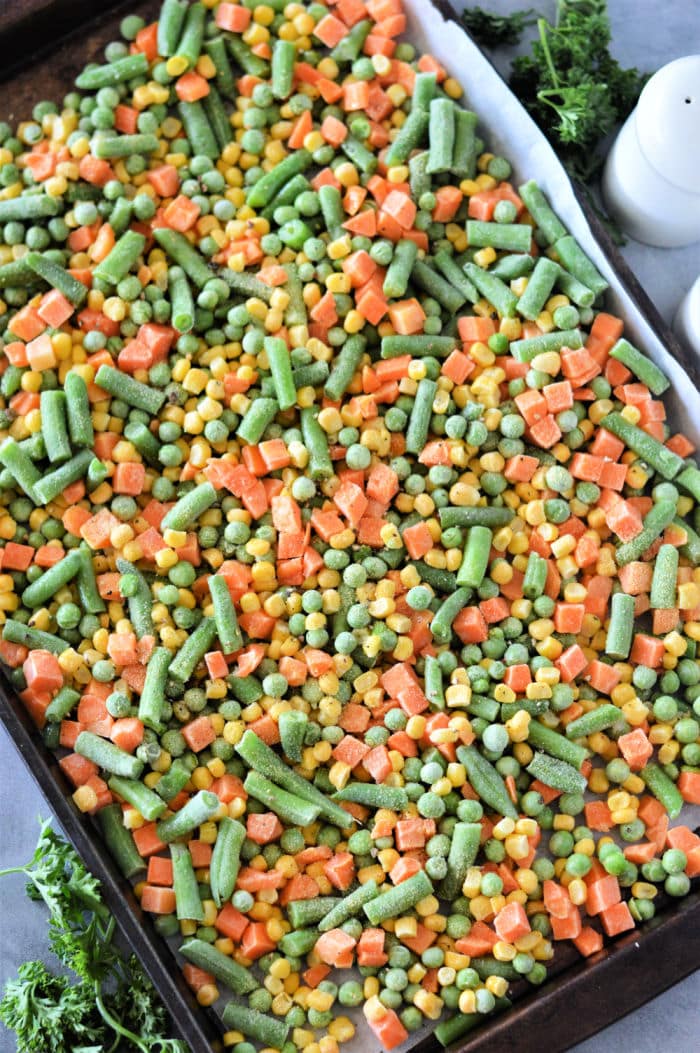 Can You Bake Frozen Vegetables
For a leafy variety, this is how to cook frozen spinach until tender but not drying it out. That one is a bit trickier since you don't really want to crisp it at all. You'd either butter it or throw it into a crustless quiche with eggs for a brunch item.
Don't forget to preheat the oven to 425 degrees F.
Toss your frozen veggies n a bowl with olive oil until coated.
Spread evenly on a baking sheet with parchment paper to make sure nothing sticks to the pan.
Top with garlic powder, salt & pepper.
Bake sheet in the oven for about 30-35 minutes tossing every 10 minutes so they lightly brown all over. Remove from the oven and season more if desired
It is important to wait to roast veggies until you have a hot oven. If not they will begin to thaw out at the beginning and create a weird texture. For a bit more crisp at the end turn it up to high heat like 450 degrees. OR broil for a minute or so until browned as much as you'd like.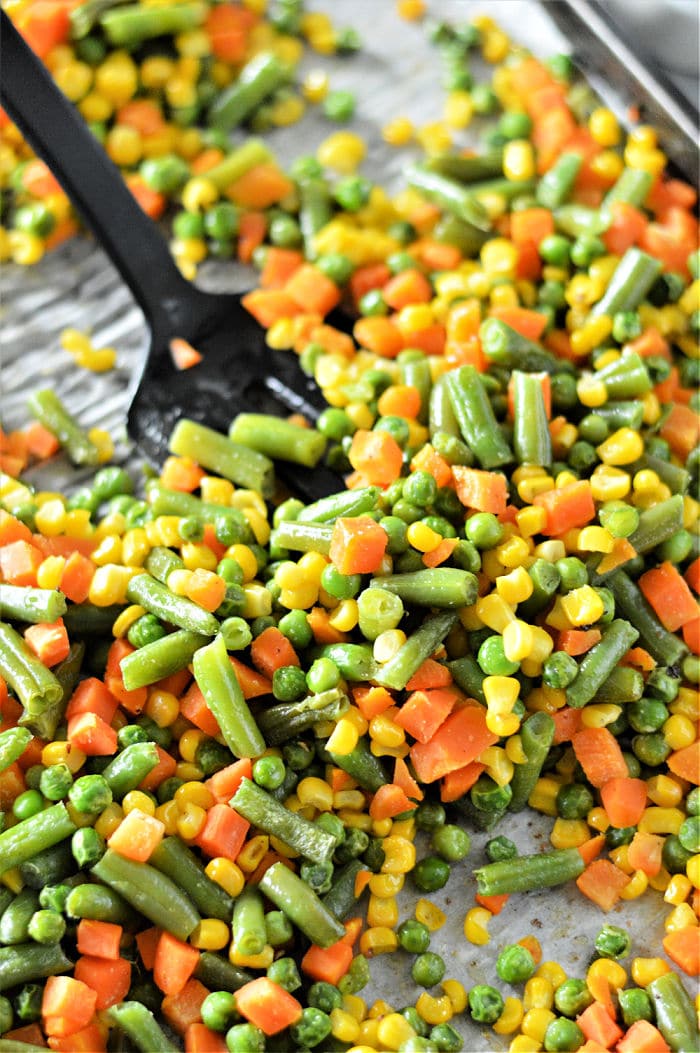 Roasted Vegetables
Want to know how to cook fresh vegetables the best way, mixed with a few different varieties together? I'd recommend steaming in your pressure cooker for that. This way it would take a lot longer.
For squash I like to cube it into bite size pieces and I think a bit of crisp on the edges is best. I would recommend our air fryer butternut squash cubes for that one, or air fryer roasted tomatoes. You can always throw whatever you cook in the oven into your Foodi or air fryer if you want it all to be crispy crunchy.
How to Save Leftover Cooked Vegetables
You know how I hate wasting food. You can easily save what is left and warm the next day. I would use a small Ziploc bag to store in the fridge overnight. Reheating vegetables is best in the microwave in 1 minute or in your air fryer at 400 F for 2 minutes or so.
Want to see a few of my favorite things that I am totally obsessed with?? Take a peek and see how many you might already have…twinsies!
Looking for more easy family recipes and tips? LIKE The Typical Mom Facebook page?
Then sign up for my free newsletter, and follow me on Pinterest! 😉
***** If you LOVED this recipe give it 5 Stars below and let everyone know what you thought about it. 😉
Roasting Frozen Vegetables
Roasting frozen vegetables in oven is easy. If you don't have fresh produce, you can cook mixed veggies frozen to tender this way.
Instructions
Preheat the oven to 425 degrees F. Toss frozen vegetables in a bowl with olive oil. Spread the vegetables evenly on a baking sheet (I lined mine with parchment paper to make sure nothing stuck to the pan).

Top with garlic powder, salt & pepper. Bake for approximately 30-35 minutes (tossing every 10 minutes). Remove from the oven and season more if desired.
Nutrition Facts
Roasting Frozen Vegetables
Amount Per Serving (1 oz)
Calories 159
Calories from Fat 72
% Daily Value*
Fat 8g12%
Sodium 71mg3%
Potassium 324mg9%
Carbohydrates 21g7%
Protein 5g10%
Vitamin A 7678IU154%
Vitamin C 16mg19%
Calcium 38mg4%
Iron 1mg6%
* Percent Daily Values are based on a 2000 calorie diet.