I LOVE bread pudding, and for Valentine's Day this year I tinkered around with an old recipe I had on hand and created something new and FABULOUS…. check out this caramel apple bread pudding recipe we just came up with. Did I mention it's amazing??!!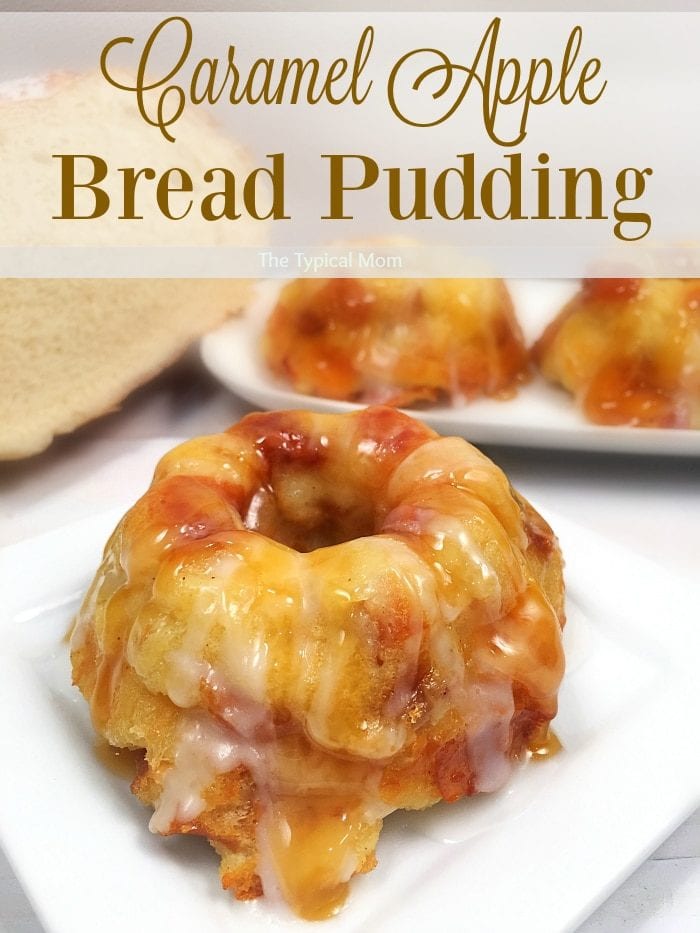 So I experimented with these small caramel bits  (aff. link) I found in the store when I was making Thin Mint and Samoa bundts, and thought those would be perfect since they melt so well, diced apple would be a good addition too so I figured out what else would be needed to make a small batch of bread pudding. Here is how you make caramel apple bread pudding bundts.
Caramel apple bread pudding
Caramel apple bread pudding
Ingredients
2 3/4 c. milk
3 eggs
1 c. sugar
1 c. diced apples
1/2 c. caramel bits
3/4-1 loaf of french bread (day old is best)
1 tsp. vanilla
1 tsp. almond extract
1/2 tsp. cinnamon
2 tbsp. butter
3/4 c. powdered sugar
water
Instructions
Dice 3/4 of your loaf of french bread. Add milk to large bowl. Put diced bread into milk and soak milk up with bread. In separate bowl add eggs, sugar, vanilla, almond extract and mix well. Add sugar mixture to bread mixture and mix well. Dice 2 small apples (peel some of skin off), add to mixture and add your caramel bits to mixture. Melt butter and spoon it evenly into all 6 mini bundt holes. Fill bundt holes with caramel apple bread pudding mix and put in oven at 350 degrees for approx. 22 minutes or until egg is no longer soft. Mix powdered sugar and water (add a bit, stir, and add more until it is as thick or thin as you want) and make glaze. Spoon over bundts. Melt caramels or use caramel sundae topping on top of that.
6.6.15
https://temeculablogs.com/caramel-apple-bread-pudding/
I always prefer to make desserts in my mini bundt (affiliate link) or muffin pan because then it is already portioned out, and creates a nice crispier edge on the outside of each one…..also seems to cook faster and more evenly in my opinion.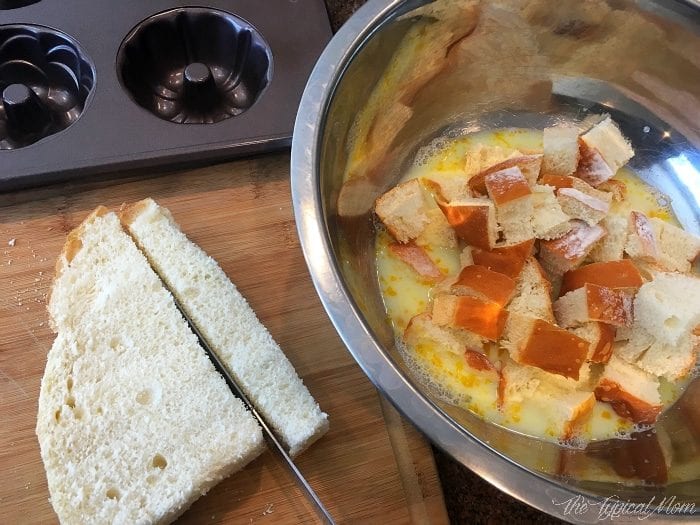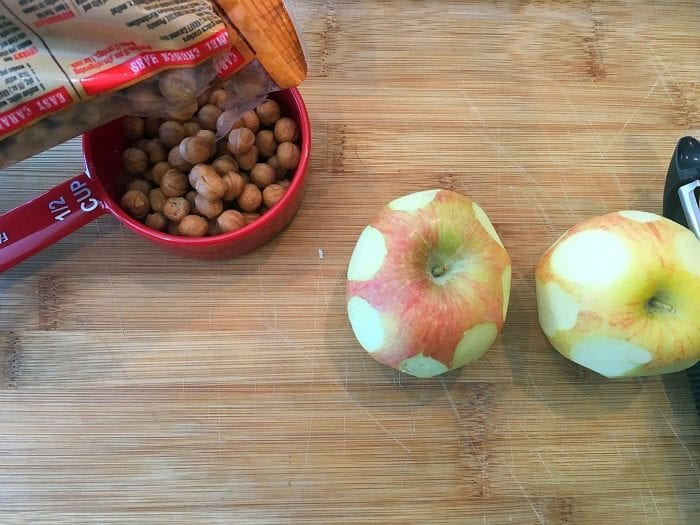 First you will want to cut your day old french bread loaf into 1″ pieces, cube it. I start with cutting 3/4 of the loaf and eyeball it at the end to see if I need to add more if I have a bit more liquid in the bowl or if 3/4 is enough…every loaf is a bit different. Then add your milk in a large bowl and add your cubed bread pieces to that. Here's a quick rundown so far.
Stir around to soak up almost all of the liquid by the bread. Then in a separate bowl whisk together your eggs, vanilla, almond extract, and sugar. Add that mixture to your bread bowl and stir until mixed well.  Take some of the skin off of 2 small apples and dice them.
Add your caramel bits and diced apples to your bread mixture and mix well. Then melt your butter and pour it into the bottom of each mini bundt hole. If your teflon isn't great anymore spray the entire inside first so it doesn't stick, then add your butter. Then scoop your caramel apple bread pudding mixture into your mini bundt pan. It fills 6 completely as well as 1 mini loaf pan with this recipe. You could just use 1 large bundt pan as well just adjust the time to a bit longer and check more often until you get the timing right.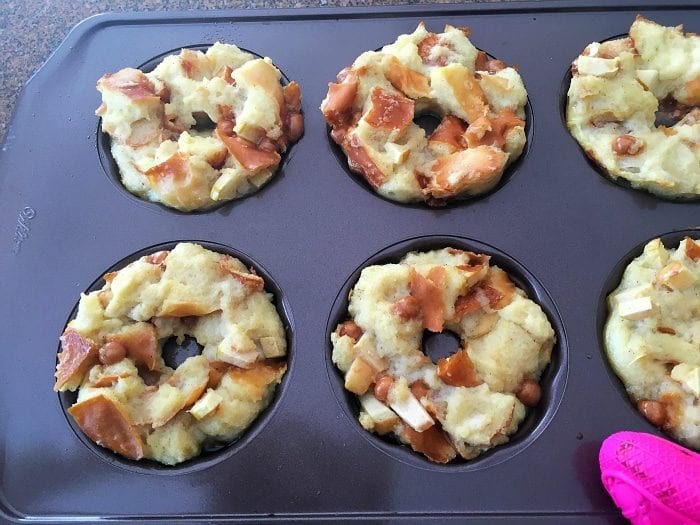 They should look like this when they are done. They will rise above the holes and the egg will be firm and cooked. Put a large cutting board on top and flip the pan over. If you've greased it well they will just slide out and then top with powdered sugar glaze and melted caramel or we use caramel sundae topping (aff. link).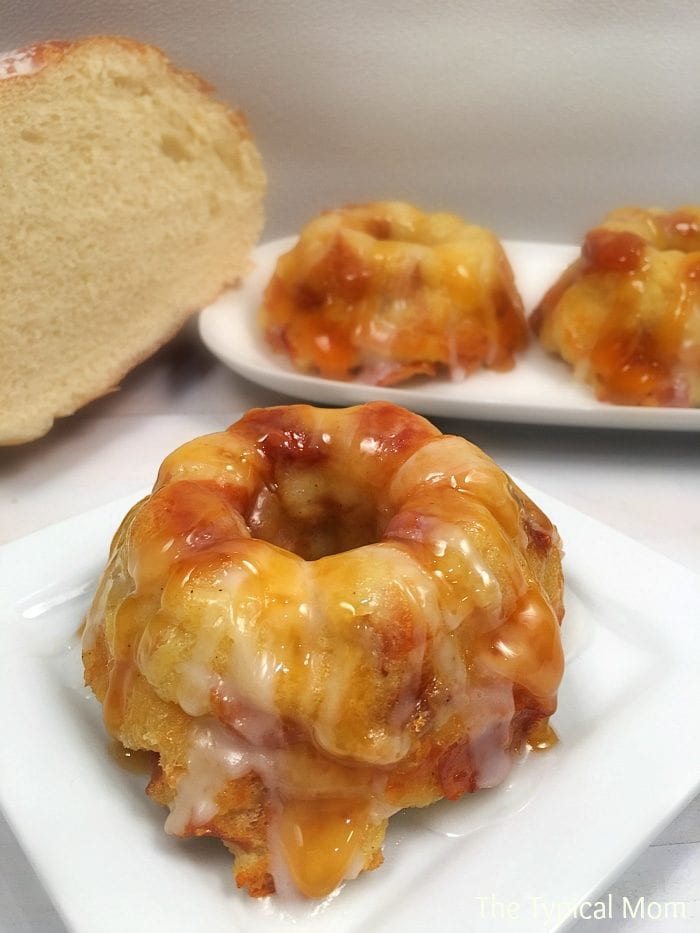 If you like this one try my banana bread pudding too, it's heavenly.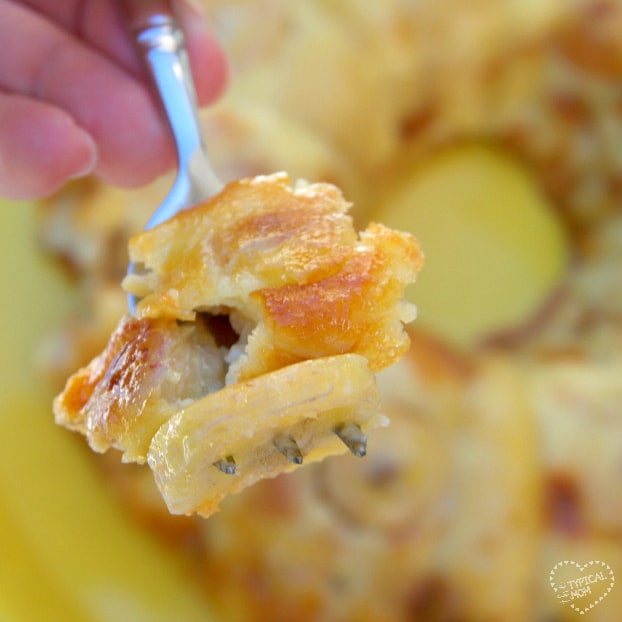 For more easy recipes and crafts please LIKE The Typical Mom on Facebook, sign up for my newsletter, and follow me on Pinterest!