This easy banana bread pudding recipe is so amazing!! Homemade dessert or brunch casserole made with overripe bananas and made with a loaf of bread. You have to try this recipe for your family or to bring to a potluck, I assure you there won't be any left to take home!
I recently decided to figure out a really easy bread pudding recipe because I had it at a restaurant and forgot just how much I loved it! I started with a caramel apple bread pudding, and now here to show you how to make an easy banana bread pudding that may have surpassed the yumminess of the caramel apple! (originally published 11/15, affiliate links present)
Banana Bread Pudding
We buy bananas like they're going out of style! I can't bear to throw any out if they aren't eaten so I've created this and other overripe banana recipes to share. The longer they sit the sweeter they get for sure. For this one we want to keep them pretty yellow, but not green at all. They will go inside to get fruit in every single bite.
You can see the color I usually use down here. Fresh fruit bread pudding is amazing. I have used pie filling before during the Winter months but when summertime gets closer I can find cheaper produce in season so I go for that.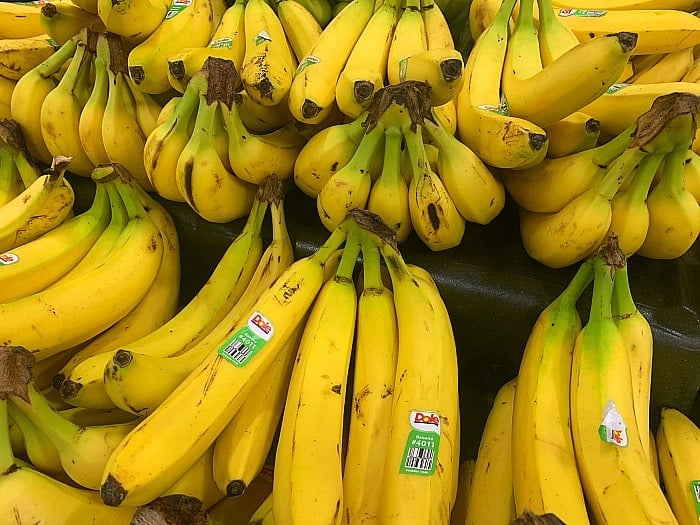 Easy Homemade Bread Pudding
Of course occasionally they become overripe and as to not let them go to waste I often make coconut banana bread out of them.
When we have yellow ripe bananas, this banana bread pudding recipe is a great way to use them in this incredible dessert.
First you are going to use a loaf of french bread or I have even used a loaf of bread. For both I typically wait a few days after buying it to use because you don't want the bread to be really soft.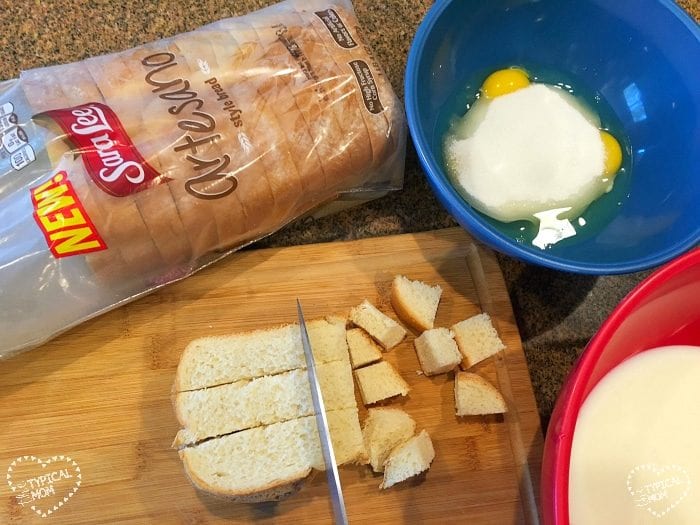 How to Make Homemade Bread Pudding
This is way easier than you might think. For years I enjoyed it every once and a while at restaurants but after I figured this out we make it pretty often, and year round.
Time needed: 1 hour
Banana Bread Pudding Recipe
Prepare ingredients

Slice bread into cubes about 1.5″ squares as you see above. In a bowl add other ingredients and whisk together.

Soak bread

Put cubed bread in a large mixing bowl with milk so they can soak it up.

Fold ingredients

Gently fold together your egg and sugar mix into your bread bowl. Then slice bananas and gently fold those in too so they don't break apart.

Bake

Pour banana bread pudding mix into greased 9×13″ pan, spread out evenly across pan. Put into preheated oven at 350 degrees F for 30 minutes or until egg has solidified.

Cool

Take pan out and put on a cooling rack for 15 minutes or more before slicing so it can solidify.
This is what it should look like after it has cooled a bit. It will continue to cook a bit when you take it out in the pan. You want this so it stays really moist but the egg is cooked and safe to eat.
Bread Pudding with a Loaf of Bread
Pour the melted butter into your bundt pan and then use another banana and cut slices into your bundt pan holes so they come out on the top of your bread pudding (makes it pretty).
You can use another pan or dish instead and the banana bread pudding recipe is the same, just may take a bit longer to bake but no biggie.
If you want to take this banana bread pudding recipe over the top add 1/2 cup of caramel bits or even chocolate chips.
OH MY goodness is this a good addition.
Now add your sugar/egg mixture into your bread/milk mixture and gently fold together.
Fill your baking dish and bake at 350 degrees for about 30 minutes or until the sides begin to shrink in and egg is no longer runny.

Spray with non stick spray first.
Take out when knife inserted into the center comes out clean. It will be very moist but shouldn't come out with raw ingredients on it.

I would allow it to sit on a cooling rack, but in the pan for 15 to 20 minutes in order to solidify more before slicing and serving warm.
If you want extra sweetness you could serve with ice cream on top. Leftovers can be moistened with milk and sugar (just a sprinkle) on the top before microwaving for about 1 minute.
Easy banana bread pudding
Bread – can use day old french bread or a loaf of bread with thick slices (like Sara Lee Artesano)
Overripe bananas – not too brown
Eggs and milk is best if 2% or whole
Sugar vanilla and cinnamon just a bit if you like
Caramel bits – optional but really good
Serve with vanilla or banana flavored ice cream is amazing too
Large bowl to whisk it all together
Is stale bread better for bread pudding?
Yes and no. I have used both, you just want it to not break apart. You can just use a fresh loaf as you see here (as long as they're thick slices). Or leave the loaf out on the counter for a few hours out of the package. I have used both and they're both fine.
Can I use ripe bananas for banana bread pudding?
You do want them to be more yellow than brown for this one. For banana bread it is best to have your fruit very ripe, bread pudding with bananas should be a bit firmer so they keep their shape when baked in the oven.
How do I incorporate the bananas into the bread pudding mixture?
Very carefully and with a spatula. You don't want them to break apart so gently fold into the homemade banana bread pudding mixture before pouring into your casserole dish.
This leftover banana bread pudding recipe is so flavorful you won't need any glaze or anything on top. It's fantastic just the way it is.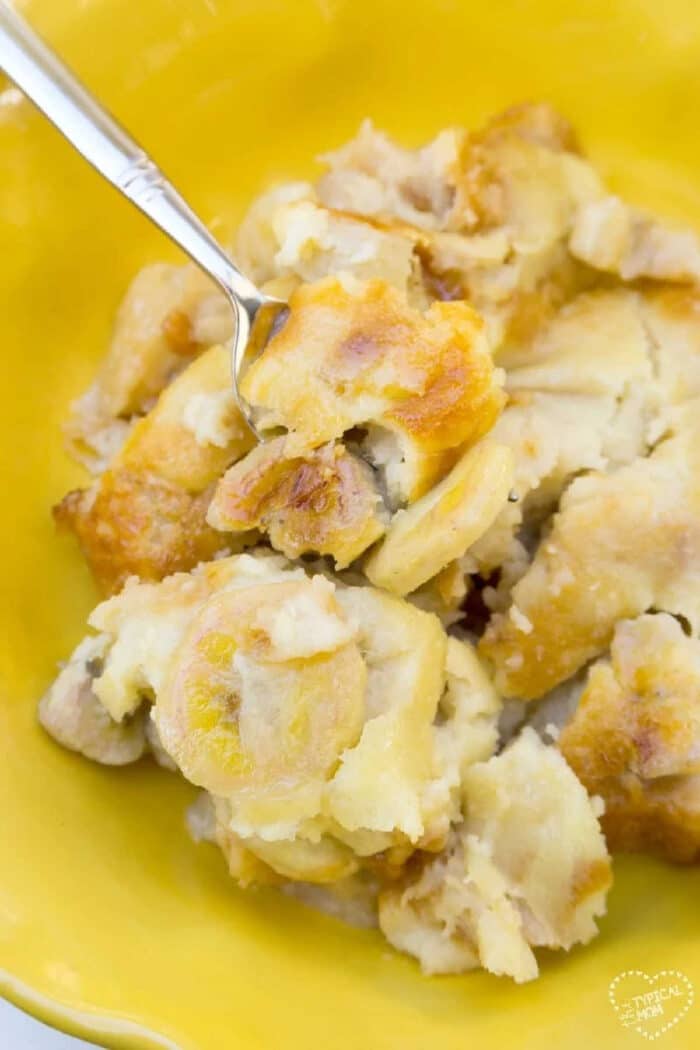 Easy Recipes Bread Pudding
Have more bananas you want to use up in something delicious? Our #1 most popular breakfast/dessert choice is this 4 ingredient banana bread. It is pretty incredible so I don't blame people for making this over and over again.
I also make this pumpkin banana bread during the Fall. It's so moist, and served with a cup of coffee in the morning it just makes me all giddy inside.
Now if you have a pressure cooker you can make our Instant Pot banana bread recipe too! Have you ever baked in that thing? It's surprisingly good.
AAAaaaand let's round out our banana recipes with this moist and delectable banana pudding cake!! OH YES!
Bread pudding with bananas
Ok I guess I am getting carried away but I have had them all and my mouth is already starting to drool y'all. 😉
Now grab everything you need for this and get going my friend. Let us know how much you like it below.
Want to see a few of my favorite things that I am totally obsessed with?? Take a peek and see how many you might already have…twinsies!
Looking for more easy family recipes and tips? LIKE The Typical Mom Facebook page?
Then sign up for my free newsletter, and follow me on Pinterest! 😉
***** If you LOVED this recipe give it 5 Stars below and let everyone know what you thought about it. 😉
Easy Banana Bread Pudding
This easy banana bread pudding recipe is so amazing!! Like a dessert or brunch casserole made with overripe bananas and caramel bits if you want it to be really out of this world. You have to try this recipe for your family or to bring to a potluck, I assure you there won't be any left to take home!

Ingredients
3

c

milk

3

eggs

3/4

c

sugar

2

bananas

not too brown, yellow or yellow with brown spots is best

1/2

c

caramel bits

optional

1

loaf

french or sandwich bread

day old is best, discard heels of bread

1

tsp

vanilla

1/2

tsp

almond extract
Instructions
Dice your day old loaf of french bread, or thick sandwich bread (do not use heels).

Add milk to large bowl. Put diced bread into milk and soak milk up with bread. In separate bowl add eggs, sugar, vanilla, almond extract and mix well.

Add sugar mixture to bread mixture and gently fold together. Cut banana, add to mixture and add your caramel bits to mixture.

Spray non stick cooking spray into glass 9×12 baking dish.

Pour mix directly into glass baking dish and put in oven at 350 degrees for approx. 30 minutes or until egg is no longer soft.

You don't want to over cook this as bread pudding should be soft, but egg needs to be cooked vs. translucent.

Cool in pan on cooling rack for 10-15 minutes before serving so it can solidify.
Nutrition Facts
Easy Banana Bread Pudding
Amount Per Serving (4 oz)
Calories 273
Calories from Fat 45
% Daily Value*
Fat 5g8%
Cholesterol 47mg16%
Sodium 336mg15%
Potassium 269mg8%
Carbohydrates 48g16%
Protein 9g18%
Vitamin A 170IU3%
Vitamin C 1.8mg2%
Calcium 154mg15%
Iron 2.3mg13%
* Percent Daily Values are based on a 2000 calorie diet.