Apple pie bread pudding is what we're calling this but you can just call it delicious!! The perfect Fall dessert with only 5 main ingredients. So. Easy!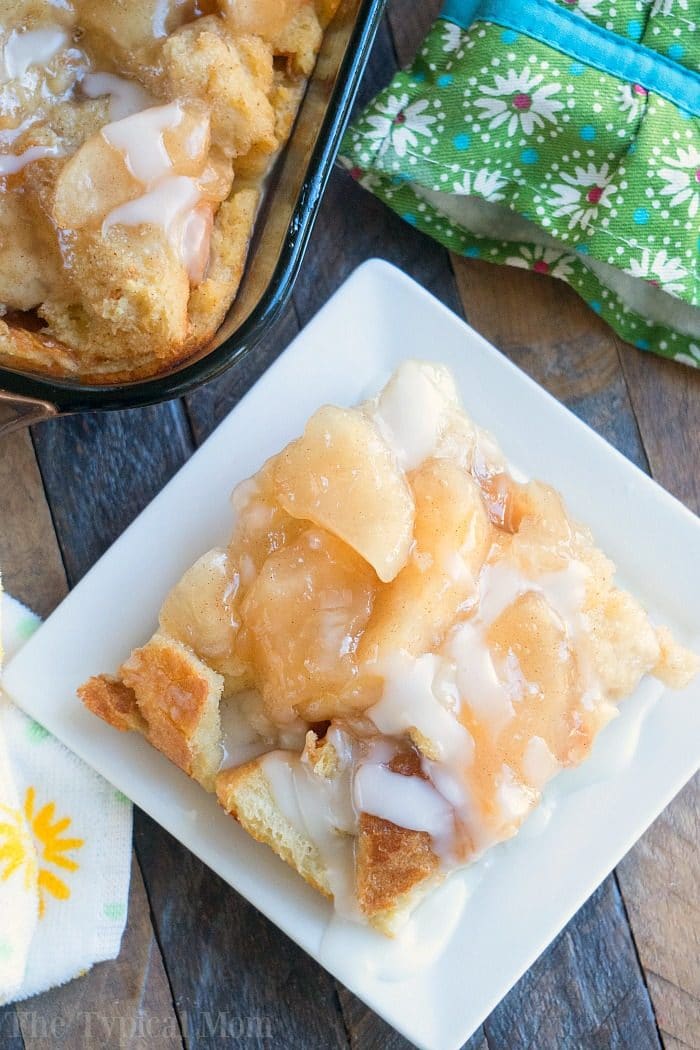 We've been making a lot of easy dump cake recipes recently but thought we could add a few easy bread pudding recipes to the list because this too only has a few ingredients and is simple to throw together. I promise, let me share what we did to make this fabulous warm dessert.
Ok so this creation started at a friends house…….
Our families were hanging out and amongst our conversations her husband spoke up and said "ok, I have what you need to make next…..you need to combine bread pudding with like apple pie filling together!!"
My wheels started turning after that….and with that said, I LOVE new ideas so if you have something in mind you seriously need to send me an email and tell me your thoughts. Who knows…it might end up on the blog like this apple pie bread pudding!!
Here's a quick step by step of how I made it…..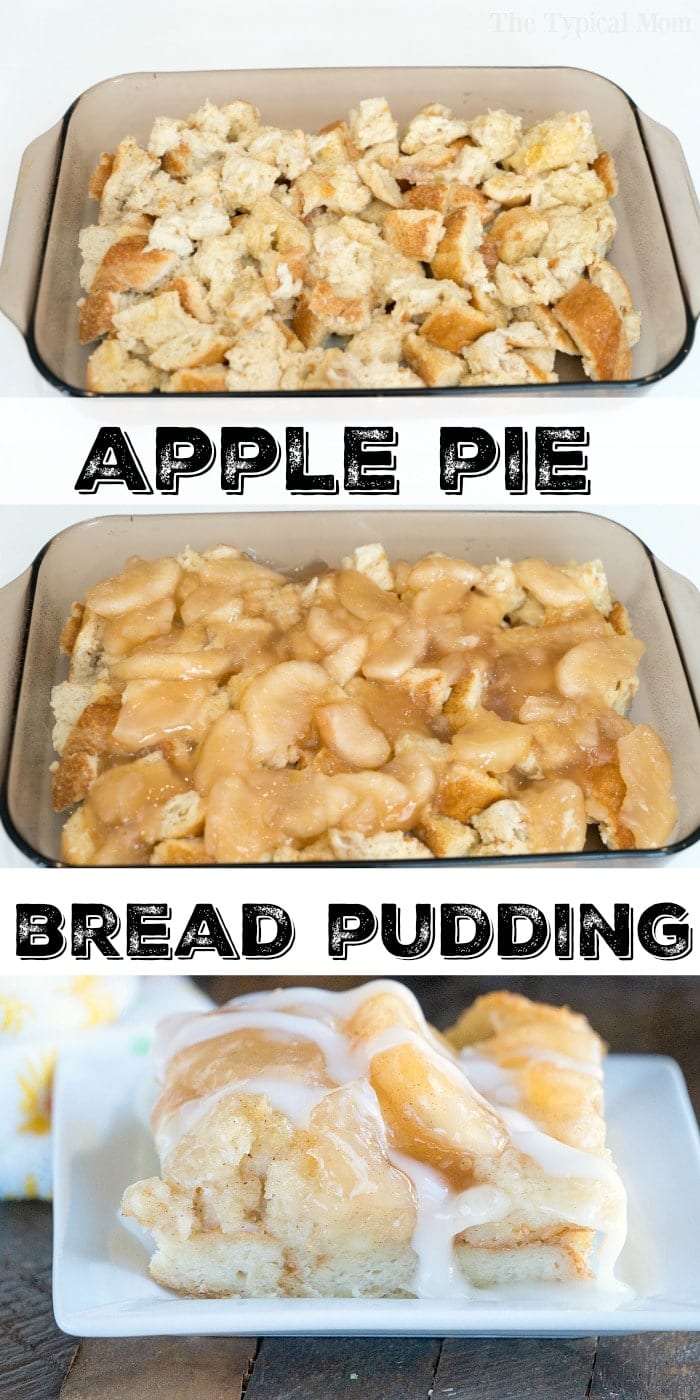 I went back to my easy banana bread pudding recipe I made years ago to look at how I made the bread pudding portion of that, grabbed some apple pie filling and started layering.
He had suggested, bread pudding, pie filling, then bread pudding again but using 1 loaf of French bread there wasn't quite enough to cover the bottom using just half of the mixture so I decided to skip the top layer and just put it all on the bottom.
Let me tell you that not all of my creations turn out, so this really was an experiment.
I threw it into the oven and checked it about 30 minutes later and it looked like it was working……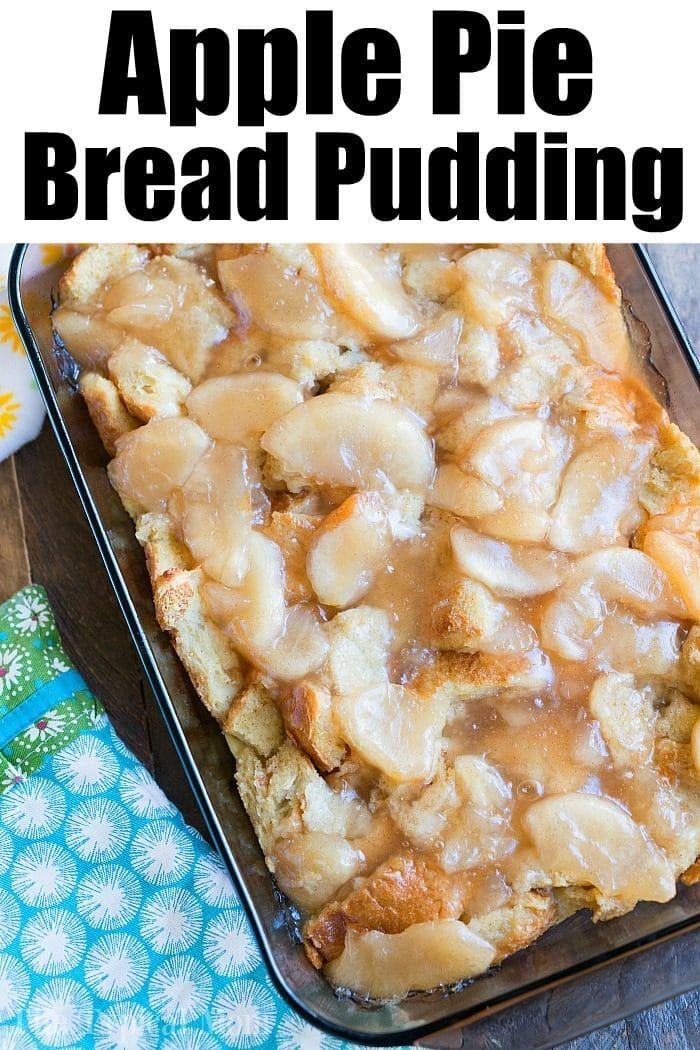 This is the key to making the best bread pudding
Do NOT overtake it
Add spices you love to the egg/bread mixture for added flavors
Use day old French bread or else the pieces will just fall apart and become mush when mixing ingredients
Ensure the egg is cooked before taking it out, but not overcooked (tricky part, but after 1 batch you'll know what to look for – no clear egg left, very lightly browned. on top)
Allow to cool just slightly so it solidifies just enough so you can cut a clean piece like you see here
Serve it warm, just my opinion but that's best
Add just a bit of frosting – I'm lazy and just melt some vanilla frosting out of a tub and drizzle it on the top
Tell me this doesn't look absolutely delicious??!!
I was SO upset that the last piece was snagged by my husband (I hid it in the fridge to enjoy the next day).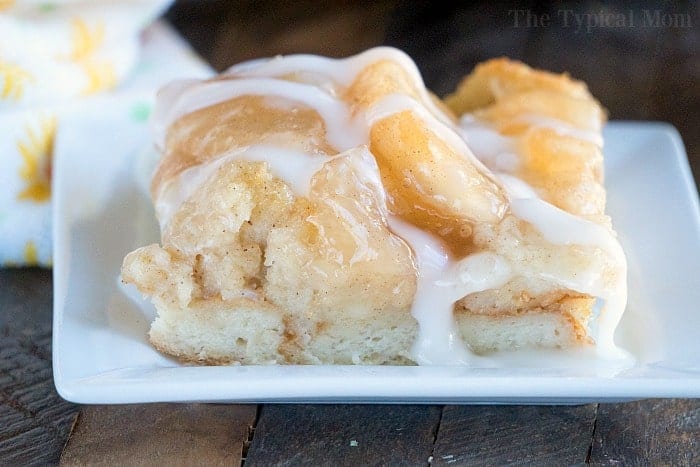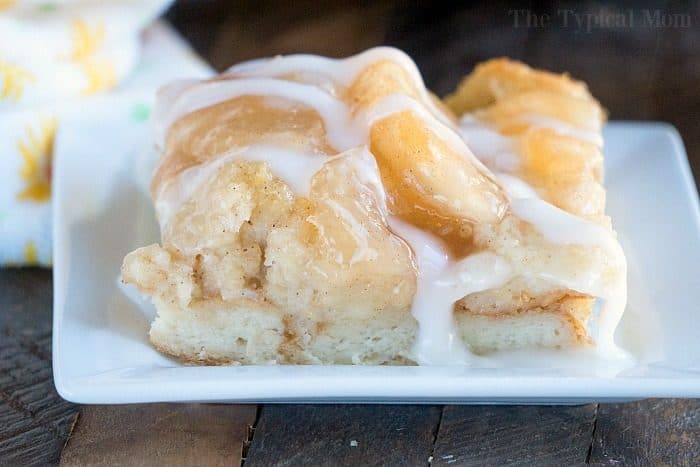 And with all of that said here is the recipe…..oh yeah, you can make this with other pie fillings too which I plan to do in the near future and share those but if you prefer another fruit then go for it!!
This is what you'll need to make our easy apple pie bread pudding recipe
Make your own homemade apple pie filling or use a can of apple pie filling
Loaf of day old French bread – I buy one, fold the end of the bag and clip it overnight then it's perfect the next day
Eggs
Milk – I use 2%, nonfat wouldn't be as good
Sugar
Vanilla
Cinnamon
Could add a bit of nutmeg if you wanted
Tub of vanilla or cream cheese frosting melted is a great topping
Or drizzle some caramel sauce on top….or both!!! OMG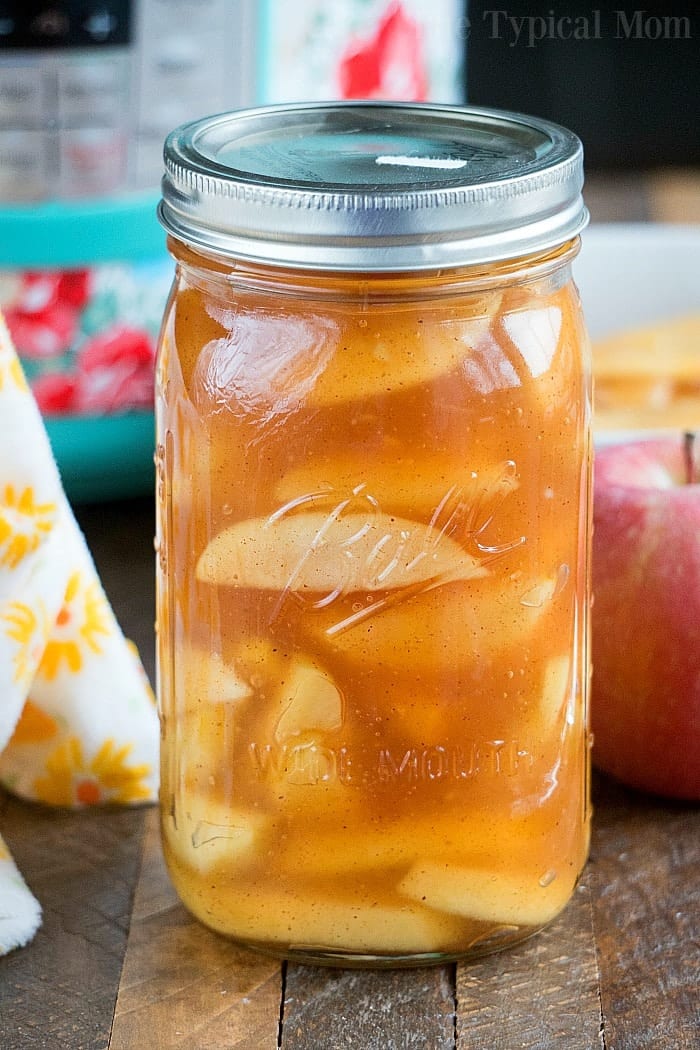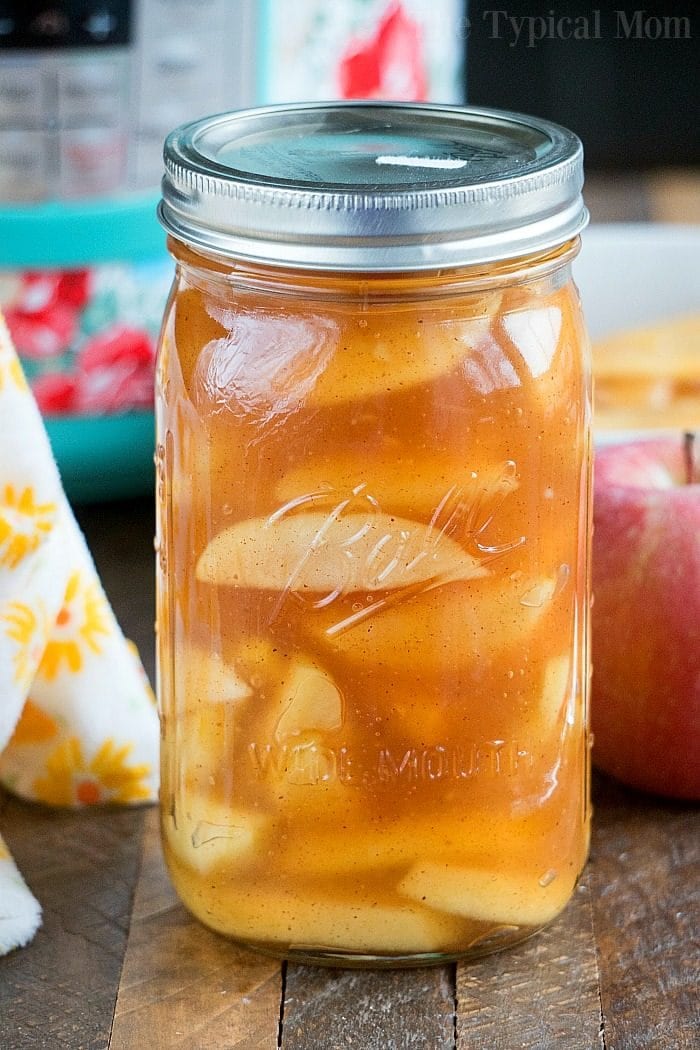 After you enjoy this you should try our other pie filling desserts
If you have a pressure cooker you can make Instant Pot bread pudding too!
Here's the printable recipe for apple pie bread pudding
Apple Pie Bread Pudding
Apple pie bread pudding is what we're calling this but you can just call it delicious!! The perfect Fall dessert with only 5 main ingredients. So. Easy!
Ingredients
Instructions
Spray the inside of your 13x9 pan with non stick spray and preheat oven to 350 degrees.

Slice your french bread into thick slices (discard ends), then cut each slice into about 6 equal pieces. Put all of these pieces into a bowl. Pour your milk on top.

In another bowl whisk together you sugar, eggs, vanilla, and cinnamon.

Pour your egg mixture on top of your bread pieces and gently mix together so bread pieces are coated well.

Dump this bread mixture into your pan and spread out so it's even across your pan.

Empty your can of apple pie filling on top of this bread mixture making sure to evenly distribute the apples across the pan.

Bake for approx 35 minutes or until the egg in the pan is cooked and bread is no longer wet.

Allow to rest 5 minutes so you can cut a clean slice, can serve with a drizzle of vanilla frosting on top.
Nutrition Facts
Apple Pie Bread Pudding
Amount Per Serving (3 oz)
Calories 232
Calories from Fat 27
% Daily Value*
Fat 3g5%
Cholesterol 47mg16%
Sodium 236mg10%
Potassium 160mg5%
Carbohydrates 43g14%
Protein 7g14%
Vitamin A 170IU3%
Vitamin C 0.8mg1%
Calcium 93mg9%
Iron 1.6mg9%
* Percent Daily Values are based on a 2000 calorie diet.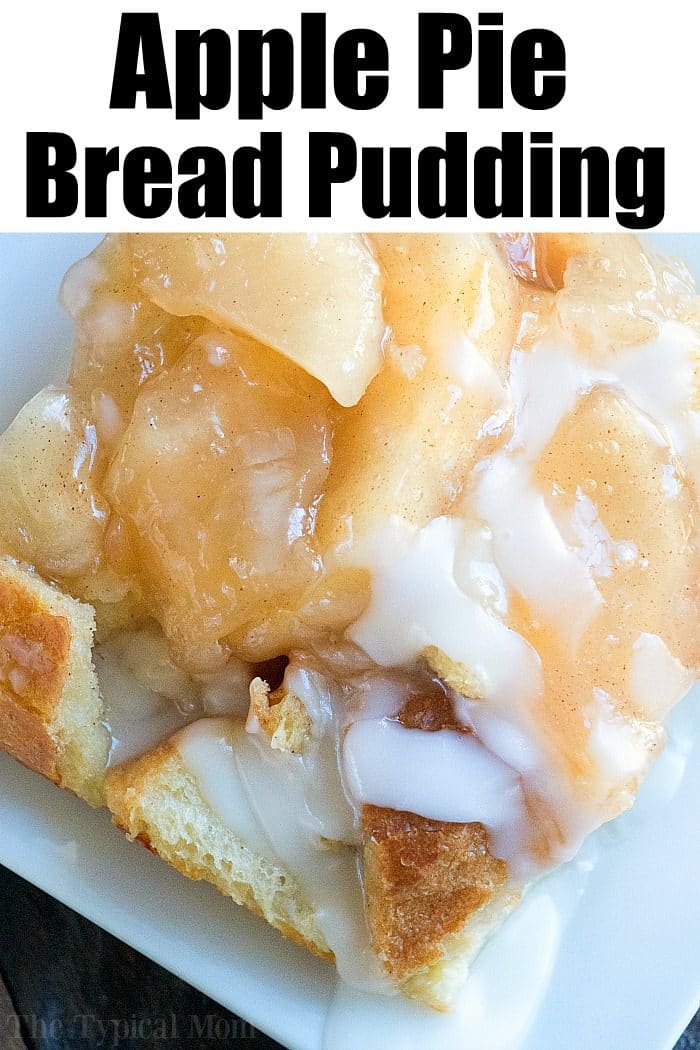 For more easy recipes, tips and free printables please LIKE The Typical Mom on Facebook and follow me on Pinterest! You can also sign up for my free weekly newsletter which is packed with goodies I know you'll love. 😉