Easy electric smoker recipes are here for you to try and enjoy. Tips on how to use an electric smoker and easy marinades and rubs for fish, beef, and chicken too. If you're new to smoking meats and fish you are in for a real treat!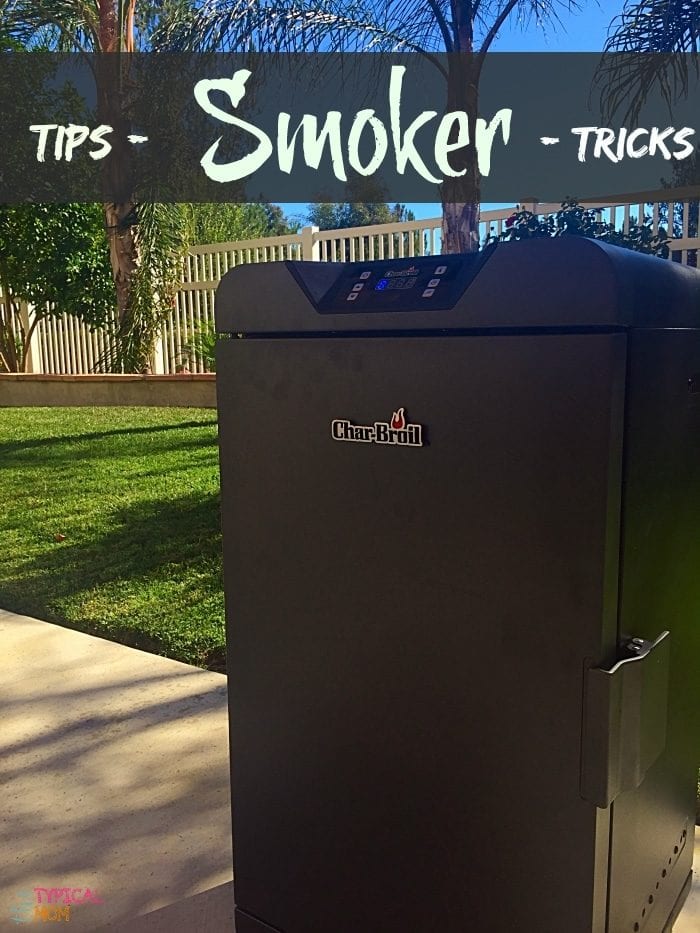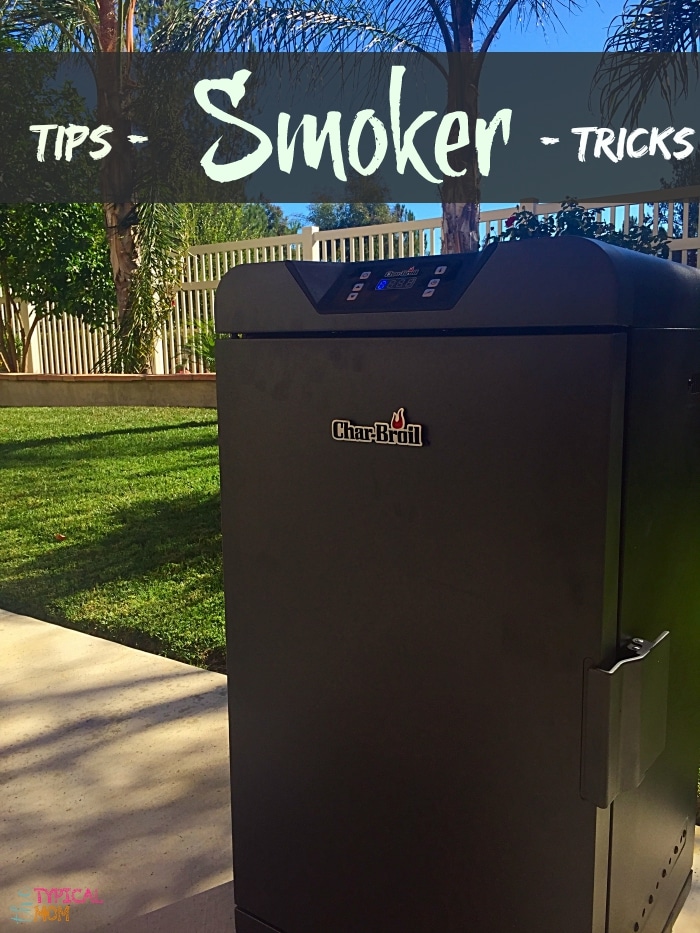 We LOVE to cook outside! Where we live it is quite warm year round, so the last thing we want to do is turn on an oven inside the house. Secondly, cooking outside is a great way to entertain and enjoy the backyard and fresh air with family and friends. For years we have used our BBQ, but recently we got the opportunity to try the brand new Char-Broil Digital Electric Smoker, and we were amazed at how good the food turned out! Let me show you some tips, tricks, and great electric smoker recipes we've come up with thus far. 😉 This post brought to you by Char-Broil. The content and opinions expressed below are that of The Typical Mom. (originally published 7/16) Then check out our roundup of easy smoker recipes.
Here it is…..I know, a beauty right??!! 😉
It reminds me of the college fridge I had.
Nice looking, compact, and really easy to use….I'm all about easy when it comes to cooking (my husband too).
Let me show you how this Char-Broil Digital Electric Smoker works.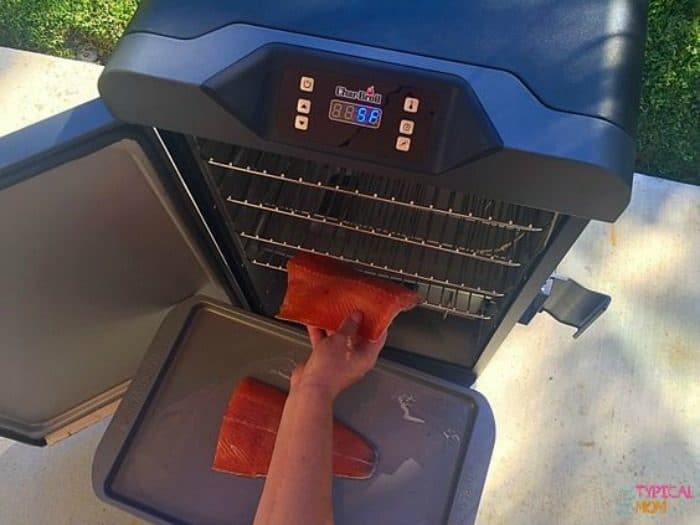 What to do when using a smoker for the first time:
The first time you use it you need to "cure" it.

That means you'll want to set it to a high temperature (about 275 degrees), and turn it on for approximately 2 hours.
Make sure you have the vent open all the way and it is set in a well ventilated area as it will billow quite a bit of smoke.
This is a very important step as it removes the oils, dust, and other materials left over after it's been manufactured.

Once that is done and cooled just wipe the inside down with some water on a paper towel and leave the door open so it can air dry.
When your electric smoker has been cured you are ready to cook!
You just add water in the container on the bottom (it even has a fill line so you don't add too much), add wood chips to the bottom bin on the right, add your food on the racks and you're done!
Like I said, the Char-Broil Digital Electric Smoker is super easy to use.
The Char-Broil Digital Electric Smoker also includes the washable temperature probe that monitors the meat temperature and automatically cuts off the cooking once it reaches the pre-set done temperature, reducing to a warm setting until you're ready to eat.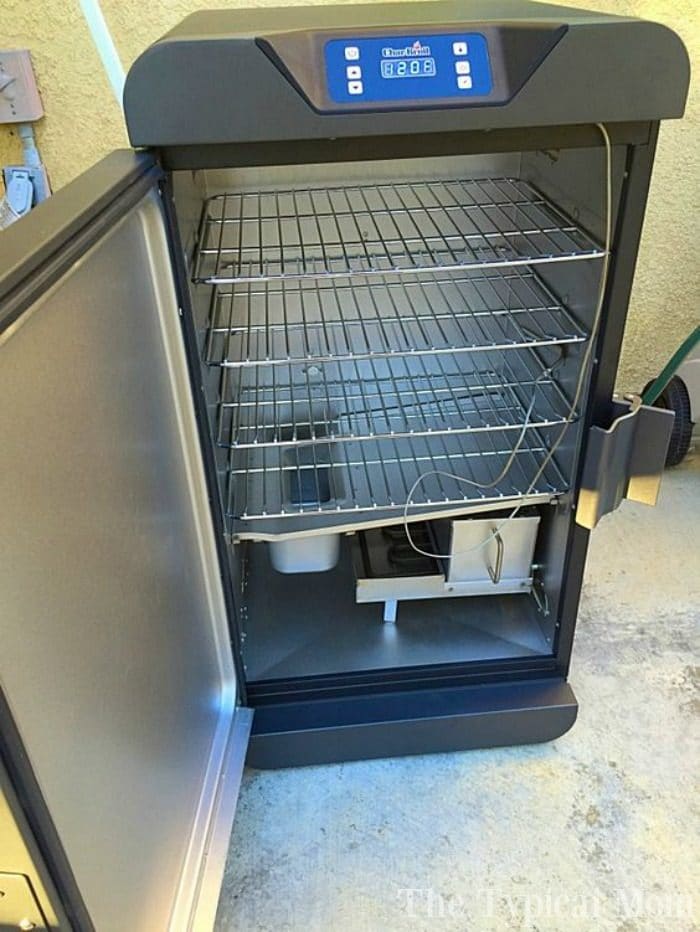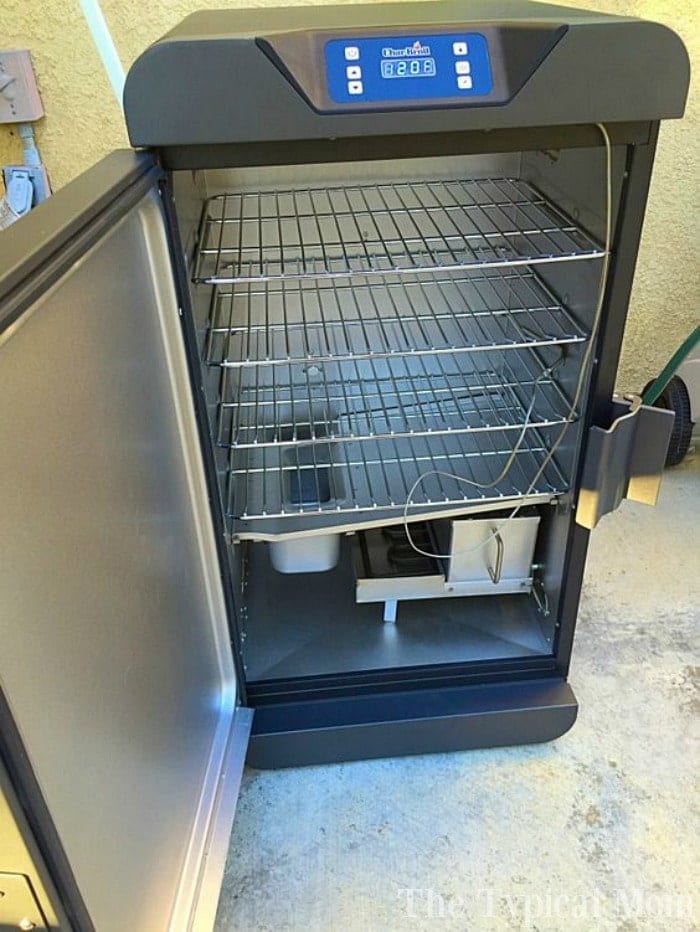 There are many types of wood chips, and you can find them here or at your local hardware or grocery store.
Typically we've seen about 6, and each one creates a unique flavor for your food. Depending on what you're going to cook you will want to try a few different types along the way to see which you prefer.
We like a heavier smoky flavor so we typically use mesquite, but for fish apple wood chips are really great too.
Many times it will say on the bag whether they are best for beef, fish, or chicken but of course in the end it is according to your taste buds (you really can't go wrong with most of them).
The next night we cooked 2 tri tip steaks and used a rub consisting of salt, pepper, and some garlic powder. This time we didn't rinse it off but rather left the rub on when putting them in the smoker…….it took about an hr. using the same method as we cooked the salmon and they came out great!
Before you turn the smoker on to the desired temperature for the food you are using make sure you use either a non stick spray on the shelves, put some olive oil on a paper towel and rub it down, or we have sliced an onion in half and rubbed the sliced side of the onion on the grates to make them non stick naturally (you'll be surprised at how well that works too).
We only had a large piece of fish that we cut in half this time, but if you have a lot of meat make sure that the majority is on the top and there's less on the bottom to avoid blocking the smoke from rising. Now just close the door and come back in the allotted time according to your dish (it took about 1 hr. for this salmon).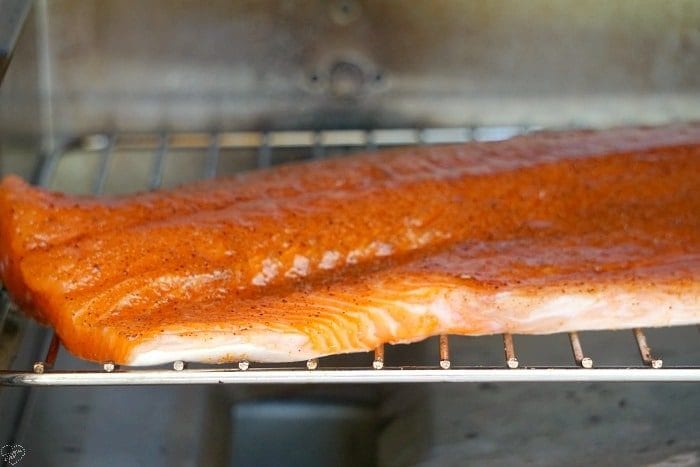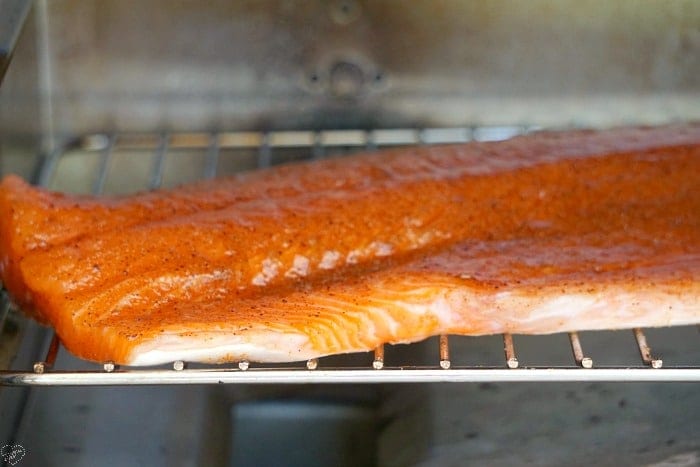 Electric smoker recipes
The first time we used our new smoker we made salmon……our favorite dish though we had never tried it smoked and it was amazing!!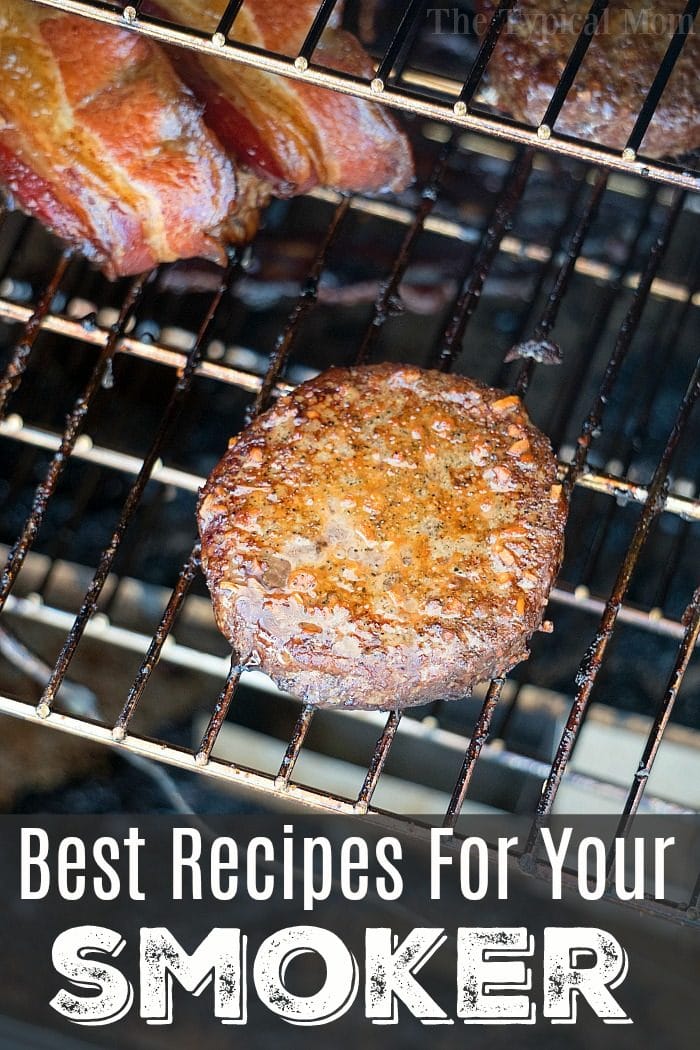 I know….amazing right?? I hope you find some electric smoker recipes you love and if you have one that is great too let me know!! If you could smell and taste this through your computer you seriously would be sold on this Char-Broil Digital Electric Smoker and this easy recipe of ours. 😉
Like I said, we cook outside a lot and use our charcoal grill all the time….but for an easy set it and go smoky flavor a smoker is the way to go….I think it's now my husband's favorite appliance. I hope you will try our electric smoker recipes too and let us know what you think! 😉
You can find the Char-Broil Digital Electric Smoker on charbroil.com and amazon.com and at select retailers.