Smoked vegetables are the perfect side dish when using your pellet or electric smoker to cook a protein. Perfectly tender in under 30 minutes and healthy.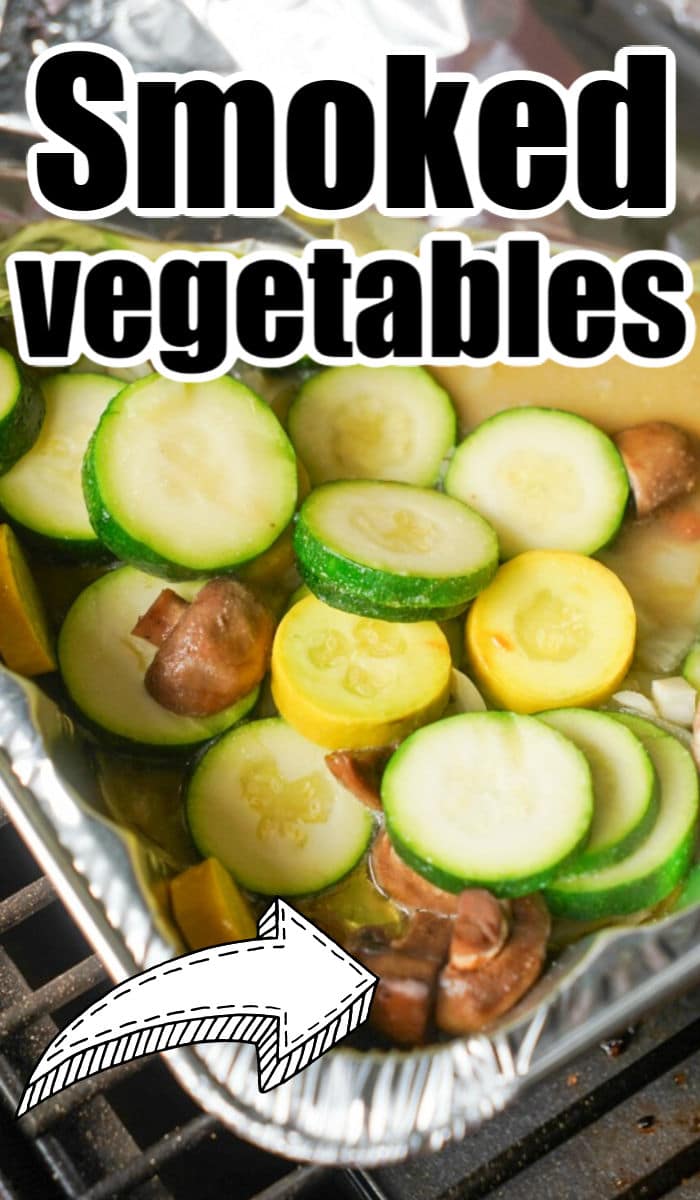 Now that it's summertime it's time for some smoked vegetables along side our protein! If you too love easy smoker recipes you'll love this simple side dish that's healthy and comes out perfectly tender every time.
Traeger Vegetables
Whether you have a pellet grill or electric version it doesn't really matter. The only big difference is using wood chips versus wood pellets really. Some versions are a grill and smoker, like ours.
Low and slow is the name of the game with this machine. Don't be in a hurry, it won't turn out good. This time we didn't put the veggies right on the grates, instead they kinda' steamed at first, then opened to get some of the applewood flavor.
I used a mix of zucchini, yellow squash, mushrooms and onions because they were in season and inexpensive. Set on the grill next to our meat it was done and tender at the same time. Buttery and delicious.
FIRST – You should sign up for my free newsletter so you get new posts emailed to you twice a week and never miss out on anything!
To get your meats absolutely perfect we have this printable meat smoking chart to refer to so each and every time it will be fork tender.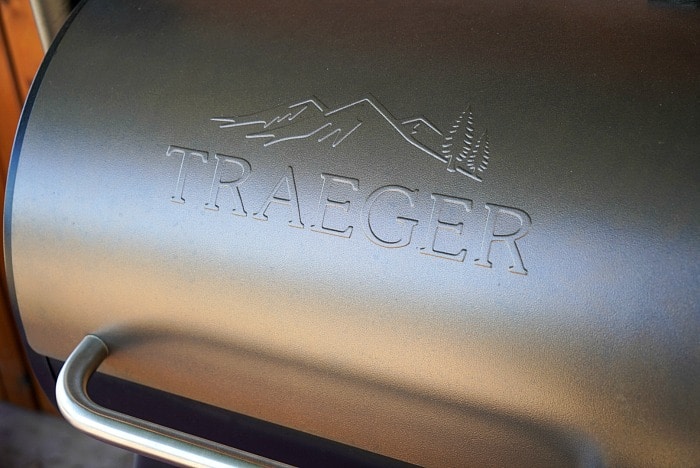 Smoker Vegetable Recipe
These are the items I chose at the grocery store to try. They are available basically year round so that was my focus, as well as being cheap. I use the same combination when making air fryer vegetables. Reason I really like these is they are cheap, available year round and cook at the same rate.
You could toss in some whole baby bella or white mushrooms as well and it would be fantastic. Firmer varieties like carrots and cauliflower wouldn't work in this. You could easily put those together though and cook longer to get them tender.
Traeger Vegetable Tray
As for vegetables on the Traeger that I think work well on their own I would suggest smoked baked potatoes. You want a longer time for them to cook thru all the way so outside of foil is necessary.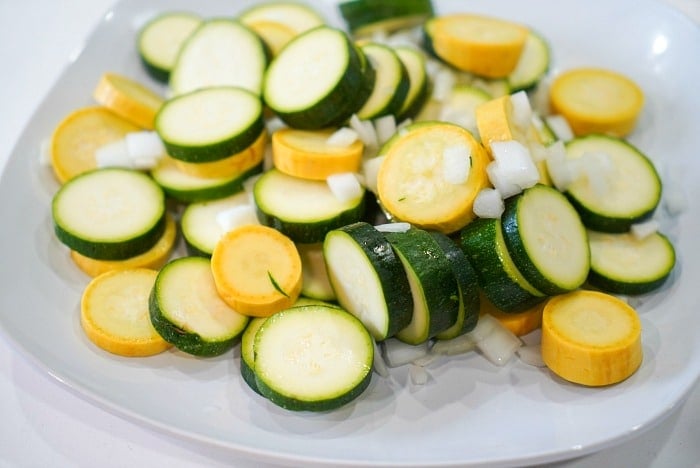 What veggies are good to smoke?
We started with corn on the cob and that was great! This time sliced zucchini and squash with mushrooms sounded good and came out tender with a lot of flavor.
I stick with these because they're inexpensive to buy and easy to cook.
How long should you smoke vegetables?
That depends on a few factors. If you keep husks on corn it takes longer than more tender types like these in an aluminum pan. If placing directly on the grate it takes the least amount of time.
Can you mix woods when smoking?
Absolutely! The type of pellets we use, or wood chips when using our electric smoker, is a signature blend. This means there is some hickory, maple and cherry combined.
Are smoked vegetables healthy?
Of course veggies in general are healthy served as is. Adding butter adds a bit of fat, and putting directly can cause carcinogens to form in foods.
It's really easy to throw all of this together in about 15 minutes.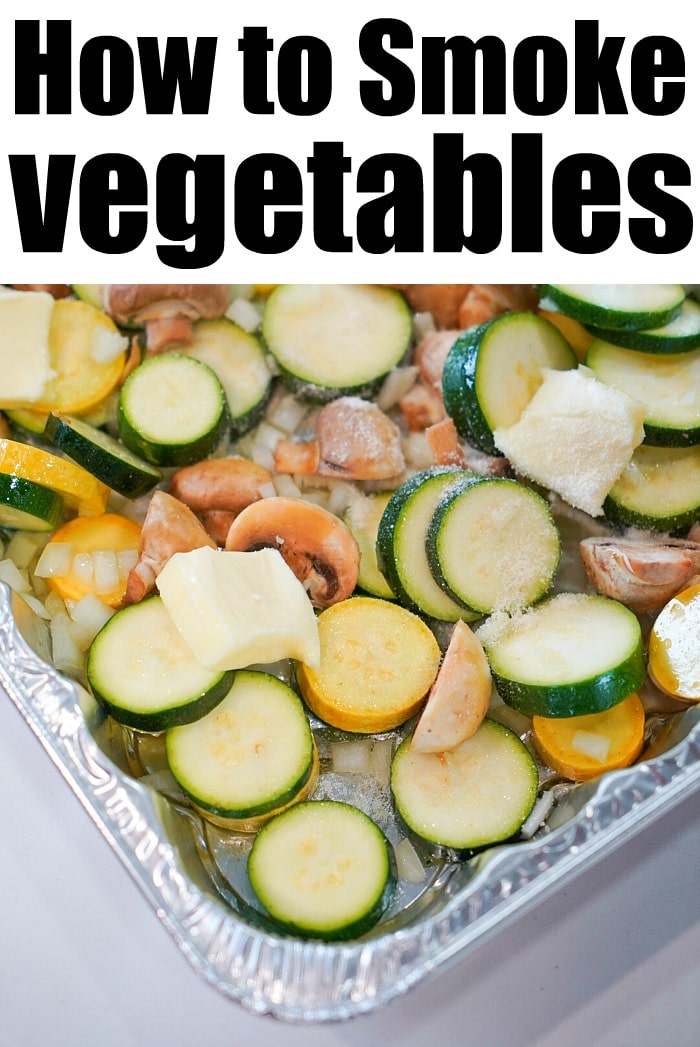 Vegetables on Pellet Grill
This time we chose to use 9×13″ aluminum pans covered with foil. This won't bring a smokey flavor to your zucchini and mushrooms but essentially sautés them.
Why bother doing it this way then? Well if we are already making smoked steak then cooking a vegetable alongside it is handy. If I am cooking outside I want it all done together.
Makes it easy peasy doing it this way. Stays warm with the foil left on for a fair amount of time and you can season as much or as little as you'd like.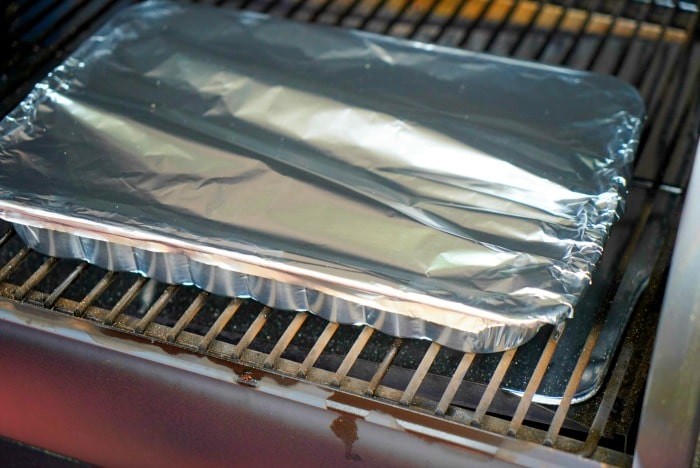 Traeger Smoked Vegetables
I spoke about this but this is exactly what you need to get going on this. You could easily include several different varieties of onions. The smaller you slice or dice them the more tender they will get.
Zucchini
Yellow squash
Mushrooms
Onion
Butter
Olive oil
Salt and black pepper + other seasonings
I share below what seasonings we added but that is really entirely up to you. I think that is personal preference. We add garlic salt to literally everything, but Lawry's is fantastic too.
Play with it and see what's just right for y'all after you make it a few times. If you diced taters or bell peppers really small I think it would work well too to make smoked vegetables and potatoes.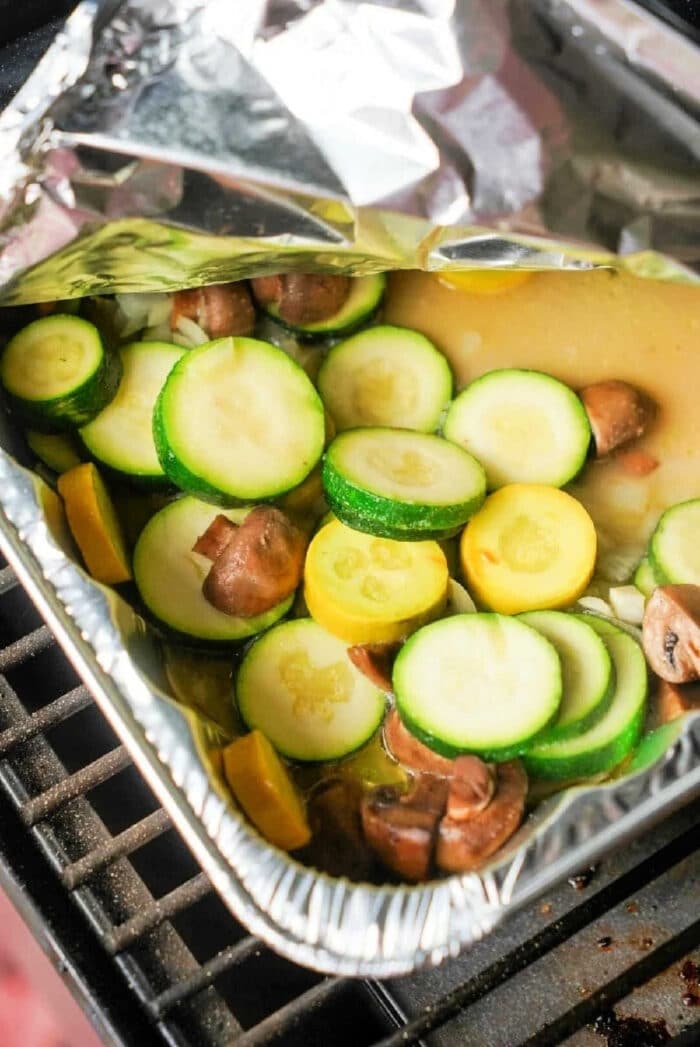 Best Traeger Recipes
There is a full printable recipe card at the bottom of this post. Here is a quick step by step so you can quickly see how we got this done.
Time needed: 20 minutes
Smoked vegetables recipe
Preheat smoker

Add pellets or wood chips and preheat smoker to 400 degrees F. (you will turn it down later)

Prepare vegetables

Slice zucchini and squash into thicker 1″ pieces (the thinner the softer they'll get). Slice or dice onions and cut mushrooms in half.

Mix ingredients

Put veggies in a large bowl, combine with some olive oil and seasonings to toss together.

Cook

Pour vegetables into a disposable aluminum pan (or a grill basket might work) and put slices of butter on top. Cover with aluminum foil and put on grates.

Adjust temperature

Move temperature down from 400 to 350 degrees F once you add the pan. A lot of heat will escape when you open it to add your pan so it will likely stay at 350 which is perfect so temp. is steady.

20 – 25 minutes cooking time is perfect for us but remove when they're as tender as you'd like them to be. Sprinkle with salt and pepper or balsamic vinegar and serve.
Want to know how to smoke corn on the cob too? We have directions for that too. We don't typically grill vegetables unless it is very thick zucchini because to me they stick and get soft way too quickly that way.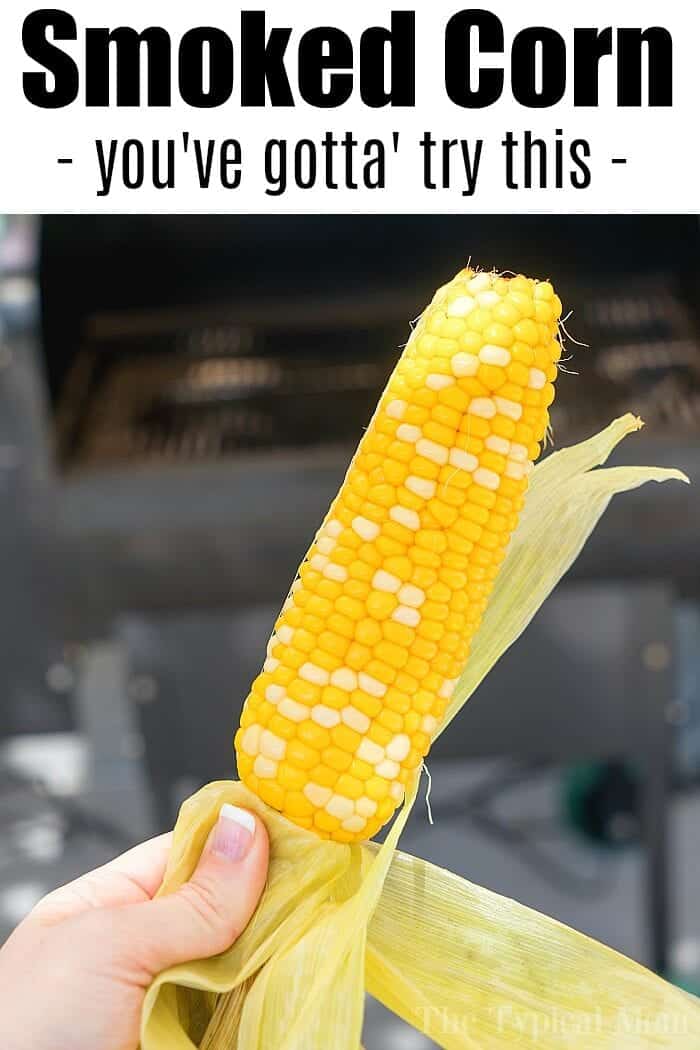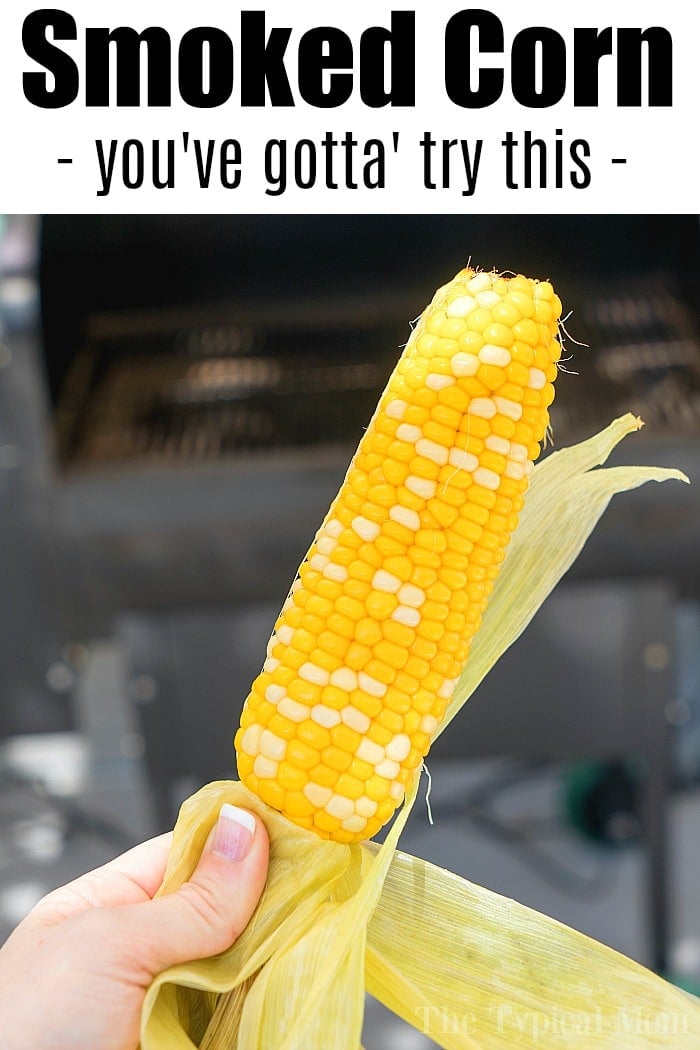 Traeger Grill Ideas
Need other smoked meat ideas to go with this?
Give one or more of our creations a try and let us know what you think!
Want to see a few of my favorite things that I am totally obsessed with?? Take a peek and see how many you might already have…twinsies!
Looking for more easy family recipes and tips? LIKE The Typical Mom Facebook page?
Then sign up for my free newsletter, and follow me on Pinterest! 😉
***** If you LOVED this recipe give it 5 Stars below and let everyone know what you thought about it. 😉
Smoked Vegetables
Smoked vegetables are the perfect side dish when using your pellet or electric smoker to cook a protein. Perfectly tender in under 30 minutes and healthy.
Ingredients
Instructions
Preheat smoker to 400 degrees. Slice zucchini and squash into rounds, mushrooms in half and dice onion. Put into a bowl.

Pour in olive oil and seasonings. Toss with veggies.

Pour into aluminum 9×13" pan and put slices of butter on top. Cover with foil.

When smoker reaches 400, open and put tray inside, then move down to 350 degrees F.

Cook for 20-25 minutes (time depends on how tender you like them, 20 min is perfect for us.)
Nutrition Facts
Smoked Vegetables
Amount Per Serving (2 oz)
Calories 126
Calories from Fat 99
% Daily Value*
Fat 11g17%
Cholesterol 15mg5%
Sodium 641mg28%
Potassium 475mg14%
Carbohydrates 6g2%
Protein 3g6%
Vitamin A 439IU9%
Vitamin C 24mg29%
Calcium 24mg2%
Iron 1mg6%
* Percent Daily Values are based on a 2000 calorie diet.