Are you ready for some smoked baked potatoes??!! I will never make potatoes any other way after tasting how amazing they taste out of our smoker.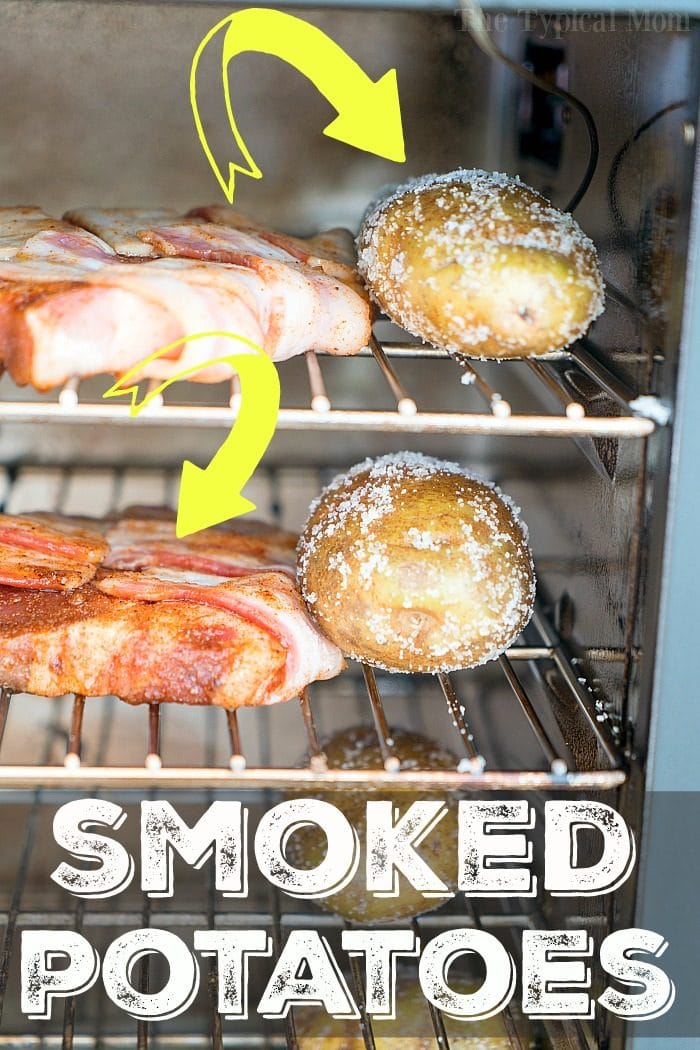 During the summertime especially we use our electric smoker a lot! If you've never used one or tasted smoked meat or potatoes before you will be amazed at how tasty everything turns out in just a few hours and with little effort on your part. This time we made some smoked baked potatoes and I will say I will never make them in the barbecue again because they were totally amazing smoked! It's one of our favorite electric smoker recipes. (originally published 8/18, affiliate links present)
Like I said, we've created quite a few easy smoker recipes. Whether you're using a pellet grill or electric smoker, these smoked baked potatoes will come out just as amazing.
I bought this inexpensive electric smoker years ago, then upgraded to this pellet grill this year.
If you want to try smoking meats and other foods this is a great food to start with. I assure you this smoked potato recipe turns out great, and it's kinda' NO fail.
As you can see in this video and photos we also made smoked bacon wrapped pork chops with them and they took the same amount of time so if you're game go for both!!
Should baked potatoes be wrapped in foil? No it's not great to wrap potatoes in aluminum foil for baking or smoking.
Foil holds in the steam and moisture which will make them soft and almost a boiled taste.
If you love crispy potato skins you will NOT want this result for sure.
If baking in the oven you'd want to turn them over halfway through the baking time but in a Traeger or other brand there isn't really a need.
Since the heat circulates well through the underside of the grate, the skins turn out great without any effort at all.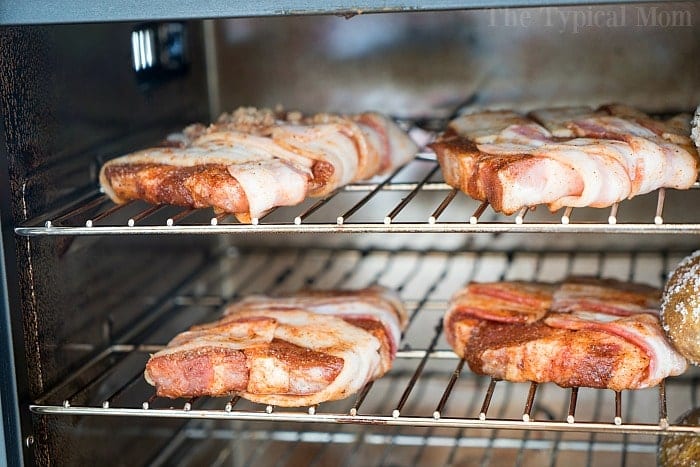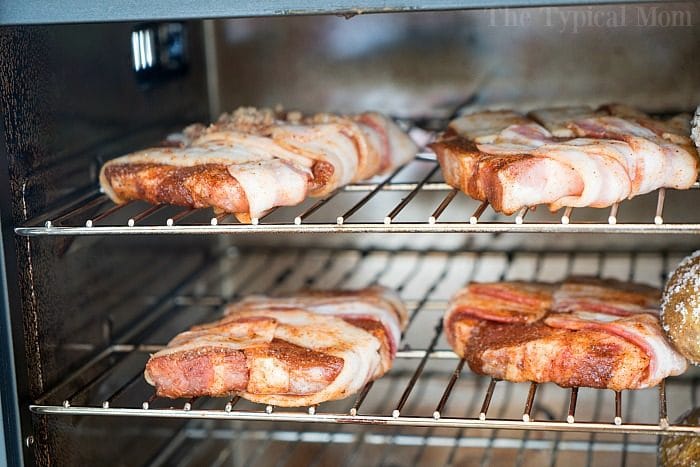 Now of course there are many ways to cook baked potatoes and we have done them all
And NOW you have the recipe for smoked baked potatoes!!
This is what you'll need:
Potatoes – medium size, we used russet, sweet potatoes could be used too
Olive oil
Salt – this type is best
Wood chips – we use this variety pack and used apple wood for this recipe
Here's the printable recipe for smoked baked potatoes as well: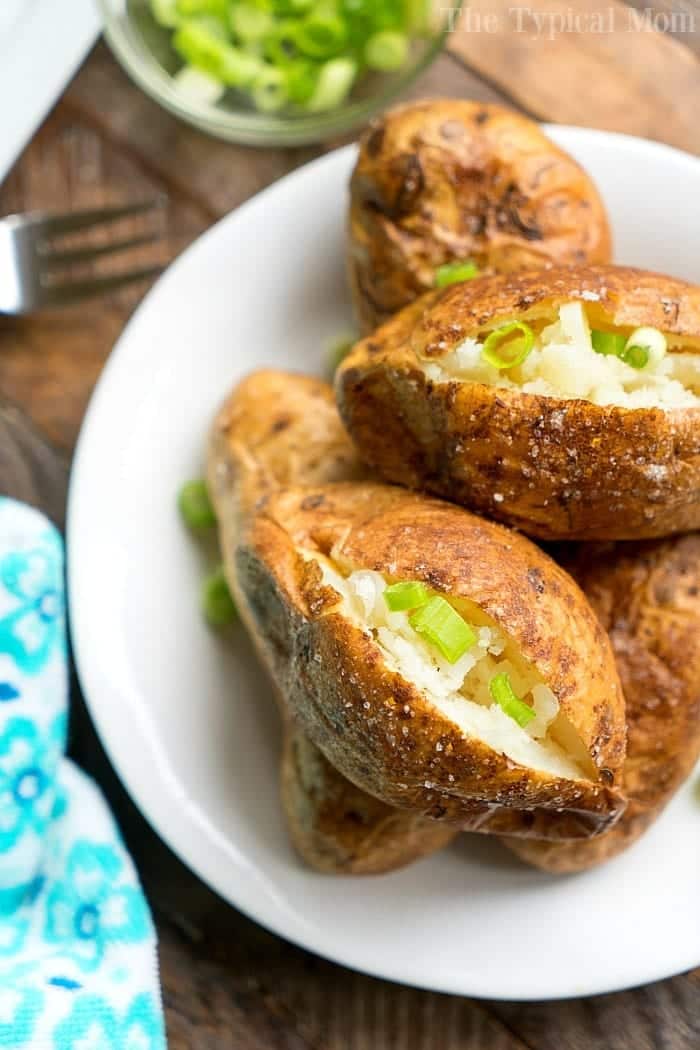 When you're ready to start dinner look at our meat smoking chart to determine how long each meat will take.
Baked potato toppings can be over the top or simple
Salt and pepper with a little butter
Sour cream and smoked bacon bits
Stuffed with our 5 ingredient chili and cheese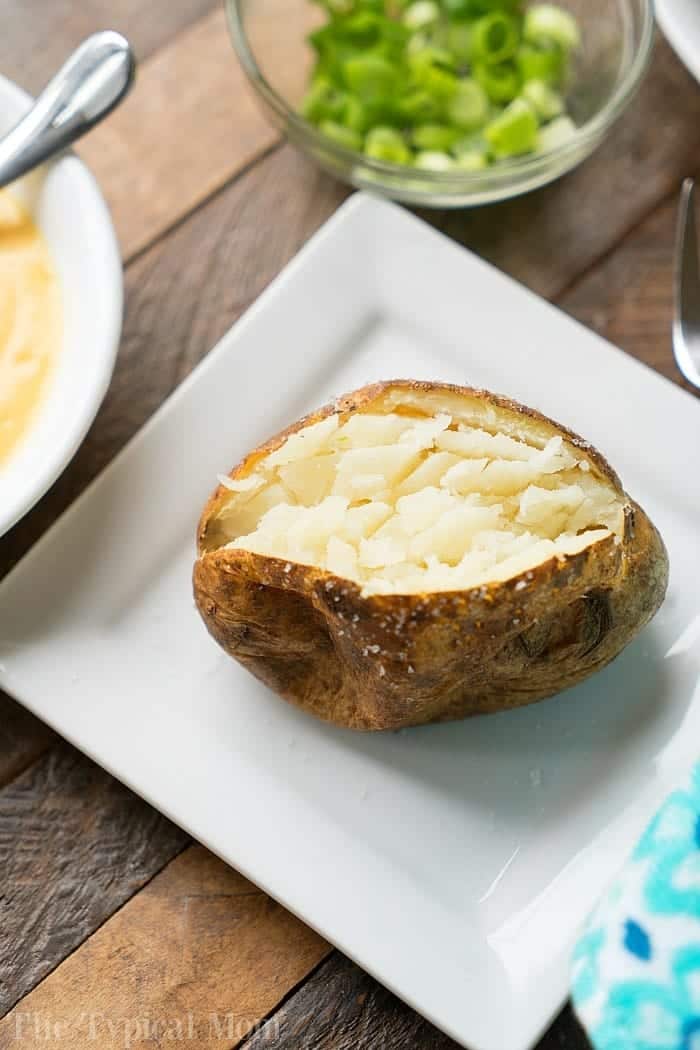 For more easy recipes, tips and free printables please LIKE The Typical Mom on Facebook and follow me on Pinterest! You can also sign up for my free weekly newsletter which is packed with goodies I know you'll love. 😉
Smoked Baked Potatoes
How to make smoked baked potatoes for dinner or a side dish.
Instructions
Pierce your potatoes with a fork or knife all over to vent (so they don't explode).

Fill a flat bowl/container with salt.

Rub olive oil on one of your potatoes and then roll it in the salt.

Do this to all your potatoes, then you're ready to smoke.

Set smoker to 275, fill container inside with wood chips of your choice and smoke for 2 hours.

Allow to rest for a few minutes when you take them out.

Slice, fill with chili for a main dish or sour cream and butter for a side dish!
Video
Nutrition Facts
Smoked Baked Potatoes
Amount Per Serving (3 oz)
Calories 119
Calories from Fat 117
% Daily Value*
Fat 13g20%
Sodium 21220mg923%
Calcium 13mg1%
Iron 0.3mg2%
* Percent Daily Values are based on a 2000 calorie diet.