If you're looking for an easy meal for two or your whole family these pressure cooker baked potatoes and stuffed chicken are a great duo!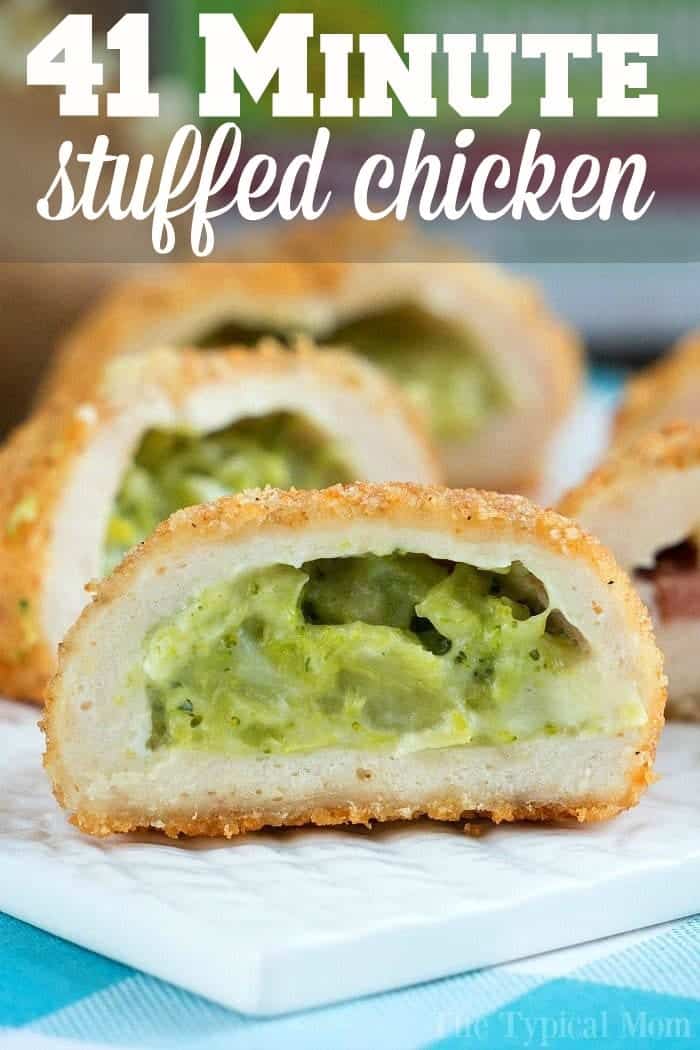 Ok so school is back in session and busy is probably an understatement if I were to describe your household right now huh?? No, I didn't look into your window but I'm right there with you with 3 girls in 3 different schools this year, band practice, mountain biking, and gymnastics once a week. SO…..all us busy moms need a few go to meals in our pocket for when things get chaotic…..this pressure cooker baked potatoes and stuffed chicken meal is perfect for that! Added to our list of 101+ easy Instant Pot recipes now! I was asked by Carusele to participate in the Stuffed For Dinner campaign, sponsored by Barber Foods. Although I have been compensated, all opinions are my own
Pressure cooker baked potatoes and stuffed chicken need to be cooked in under an hour or we wouldn't have time for them.
And they are!! Just 41 minutes in the oven and you'll have a high protein, creamy filled chicken breast that all of us love.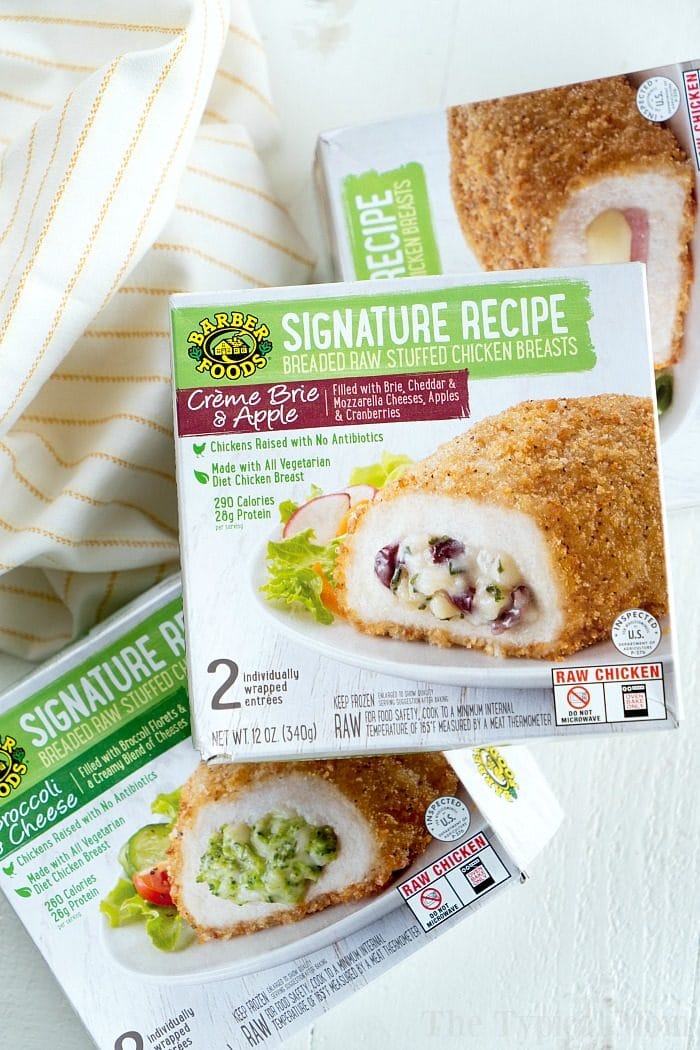 Ok so they aren't just for dinner….my husband and I (who work from home) will pop these in the oven for lunch too!
There's 2 to each box so it is perfect when the kids are at school.
BUT…..when I'm making these Instant Pot baked potatoes and chicken I can have everything done in less than 45 minutes and we can head out to our next commitment.
I love baked potatoes as a side dish because they're inexpensive, I can find them anywhere, and well we do live in Idaho so there's that…… 😉
What's better is they last quite a long time on my countertop and since my stuffed chicken breasts from Barber Foods are frozen I can have this complete meal on hand at any time for those days when I forgot to hit the store (that happens a lot).
Oh my freezer…..it's a lifesaver I tell you. This is where I start making my pressure cooker baked potatoes and stuffed chicken. Here.
Ok, so we have 3. Yes, I am serious.
We have a deep freezer in the garage, one for drinks, and another for stocking up! This pull-out drawer inside the house is great for grab and go meals.
This is probably my favorite one…….
Barber Foods Signature Recipe Broccoli and Cheese Stuffed Chicken Breasts are so yummy!! I mean they are all good but if I HAD to choose just one I'd choose this one.
My kids rave over the Cordon Bleu. My husband insists on the Brie and Apple. For a little more savory goodness, you might like Barber Foods stuffed chicken breasts in Signature Recipe Kiev. Like I said, there's something for everyone.
If you too want to try this quick, easy, and yummy meal you've gotta' head to Whole Foods (only available there).
Then pick up your potatoes (medium size is best) and you're set. It's that easy!
This is what you need to make pressure cooker baked potatoes and our finished tater below that.
3 other ways to cook baked potatoes
If you want air fryer baked potatoes we have those too.
Here are the printable instructions for making pressure cooker baked potatoes!
Pressure Cooker Baked Potatoes
If you're looking for an easy meal for two or your whole family these pressure cooker baked potatoes and stuffed chicken are a great duo!
Ingredients
5

medium

potatoes

we used brown Idaho potatoes

1

tsp

salt

1.5

c

water
Instructions
Wash and then pierce potatoes with a fork all the way around each potato. Rub salt on the outside of the skins

Put a trivet inside your pressure cooker with 1.5 c. water, make sure water doesn't touch trivet itself (don't want potatoes touching water)

Place 4-5 potatoes inside your pressure cooker.

Close lid and steam valve and set to high pressure for 15 minutes. (note, time will vary according to how large your potatoes are but I have found for medium size baking potatoes 15 minutes gets the middle done and insides tender).

Allow to naturally release pressure for at least 5 minutes, release rest of pressure. Use a fork to pierce to ensure middle of potato is done. If not, put back and set for additional 5 minutes if needed. Enjoy!
Nutrition Facts
Pressure Cooker Baked Potatoes
Amount Per Serving (4 oz)
Calories 168
% Daily Value*
Sodium 479mg21%
Potassium 888mg25%
Carbohydrates 38g13%
Protein 4g8%
Vitamin C 12.1mg15%
Calcium 30mg3%
Iron 1.8mg10%
* Percent Daily Values are based on a 2000 calorie diet.
For more easy recipes, tips and free printables please LIKE The Typical Mom on Facebook and follow me on Pinterest! You can also sign up for my free weekly newsletter which is packed with goodies I know you'll love. 😉