This Instant Pot beef tips and mushroom gravy recipe is the bomb! Tender sirloin or stew meat in your pressure cooker packed with flavor everyone will love. We have made this as Crockpot beef tips too but this way is a lot faster.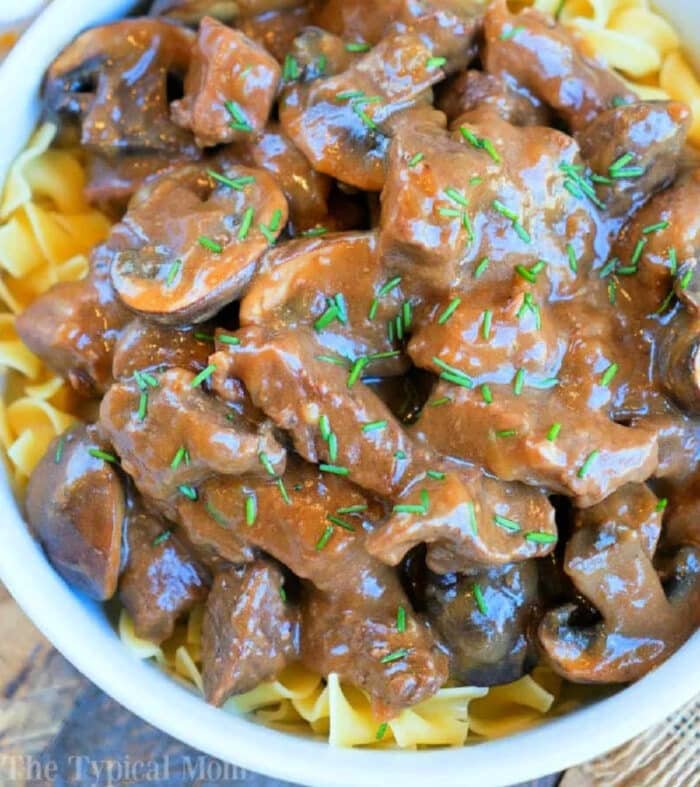 Let me tell you how amazing this Instant Pot beef tips and mushroom gravy turned out! Actually it is too hard to describe so you'll just have to make it yourself. 😉 All of my Instant Pot recipes are easy and delicious. (originally published 9/19, participant in the Amazon program, affiliate links present)
Instant Pot Beef Tips and Gravy
I also focus on inexpensive meals so use either stew meat or sirloin (which is what I had on hand). Guaranteed, this will become a keeper. The positive reviews just keep on comin' on this one!
You can make this in your IP, Crockpot Express or make as an easy Ninja Foodi recipe too. Any pressure cooker brand works that has a high pressure function.
FIRST – You should sign up for my free newsletter so you get new posts emailed to you twice a week and never miss out on anything! Now let's start with a few basic tips:
Make sure to Bookmark our InstaPot recipes page. We add new ones each week!
Then PRINT this —–> Instant Pot cooking times cheat sheet that will help you understand how long meat, vegetables and beans take to cook in your pressure cooker.
For reference, this is the pressure cooker I have (a 6 quart) and use for all recipe creations.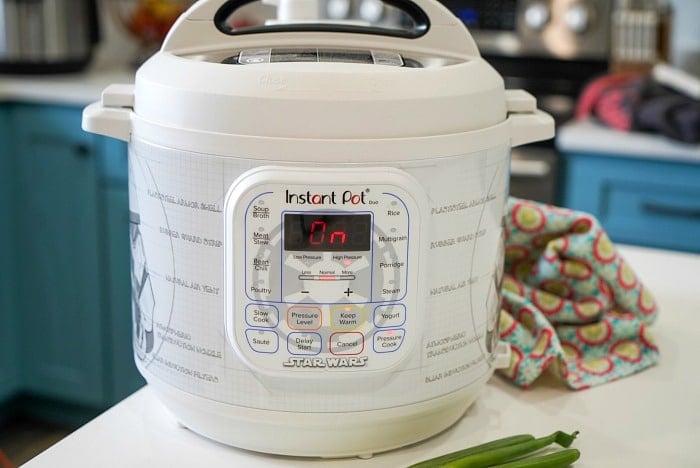 Ninja Foodi Beef Tips
Using this pot you're going to use the pressure cook function, you won't need air crisp at all this time. More specifically you lift the lid that is attached and seal the one that isn't once you add all the ingredients as directed below.
This recipe was created quite by accident actually. I wasn't planning on creating a new pressure cooker beef recipe that day but once it was done I HAD to share it.
It was one of those "I need to cook this meat and the mushrooms only have one day left, so what can I do with these" nights. 😉 I am sure you've been there before. Let's start with the steak I used.
As I've stated in the past we bought a cow from a local organic farmer and have a large freezer packed with all kinds of cuts. Before this I had only cooked "regular" things like steak. Buying in a large quantity like this gave me the opportunity to cook other things like chuck roast, stew meat, and all different roasts.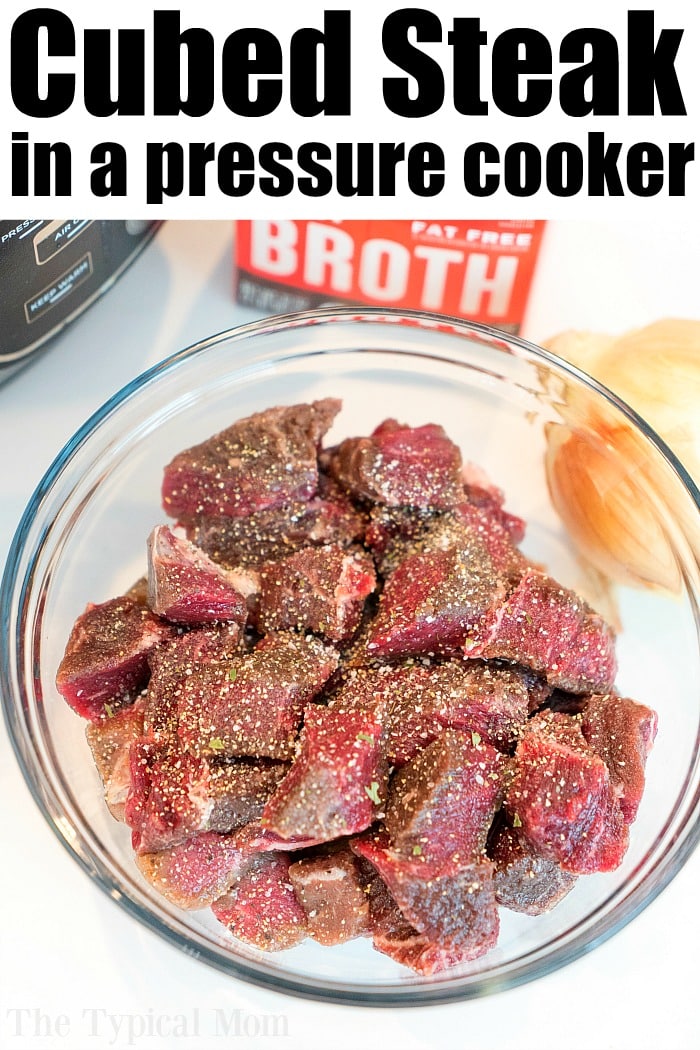 Instant Pot Beef Tips with Mushroom Gravy
We don't cook beef very often, with the exception of ground beef which I find super easy to use. If I use the other cuts it's because they're about to spoil or my husband has a craving for it.
You can see the pieces above. Occasionally I will slice them even smaller so they get even more tender while cooking, but as is this worked great.

Beef stew meat comes out incredible as well and is quite inexpensive to buy at your local grocery store.
Another perk to that is it is already cubed for you so it's less prep work for you.
Sirloin steak was on the menu, and I couldn't wait another day to use them up before they went bad. I have to be honest, if I'm going to make a new Instant Pot beef recipe I almost always dice it into bite size pieces before cooking it.
Smaller pieces makes it easier to eat, and comes out as tender as possible this way I feel.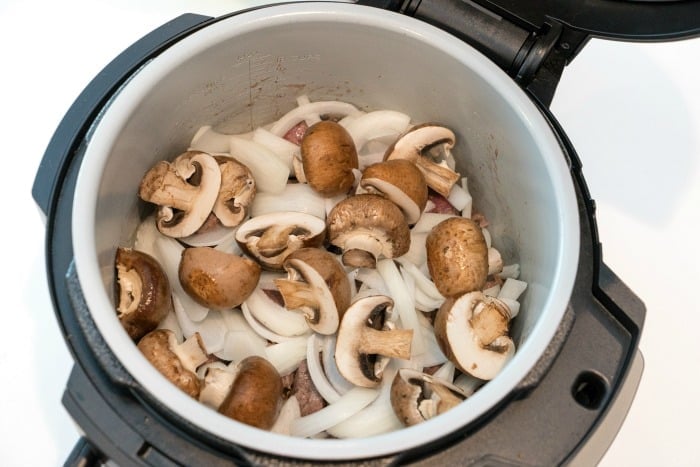 Instant Pot beef tips
This is what we used on this go around. I have linked the gravy packet I used. There are many different brands, some are much more flavorful than others.
Pressure cooker

if you have an Instant Pot I HIGHLY suggest you get this nonstick pot
you can make this as a Ninja Foodi recipe too or Crockpot Express pot is fine as well

Sirloin steak or beef stew meat
Gravy packet – we used this one

Baby bella mushrooms
What is the difference between white and baby bella mushrooms?
Baby bella and white button are both strains of Agaricus bisporus, but these 2 mushrooms look and taste very different.
White buttons are harvested at an immature stage, while baby bellas are harvested an intermediate stage of maturity. Portabella mushrooms are fully mature baby bellas.
The color is the obvious difference, the firmness to me is the most important. You don't want something that will disintegrate while cooking.
Instant Pot Beef Tips with Brown Gravy Mix
Added ingredients are:
Onion
Olive oil
Beef broth
Salt and pepper
Worcestershire sauce
Garlic salt

and garlic powder if you're a big garlic lover
I serve it over a bed of wide egg noodles but Instant Pot white rice would be great too. They're made separately but typically pressure cooked in my other electric pressure cooker.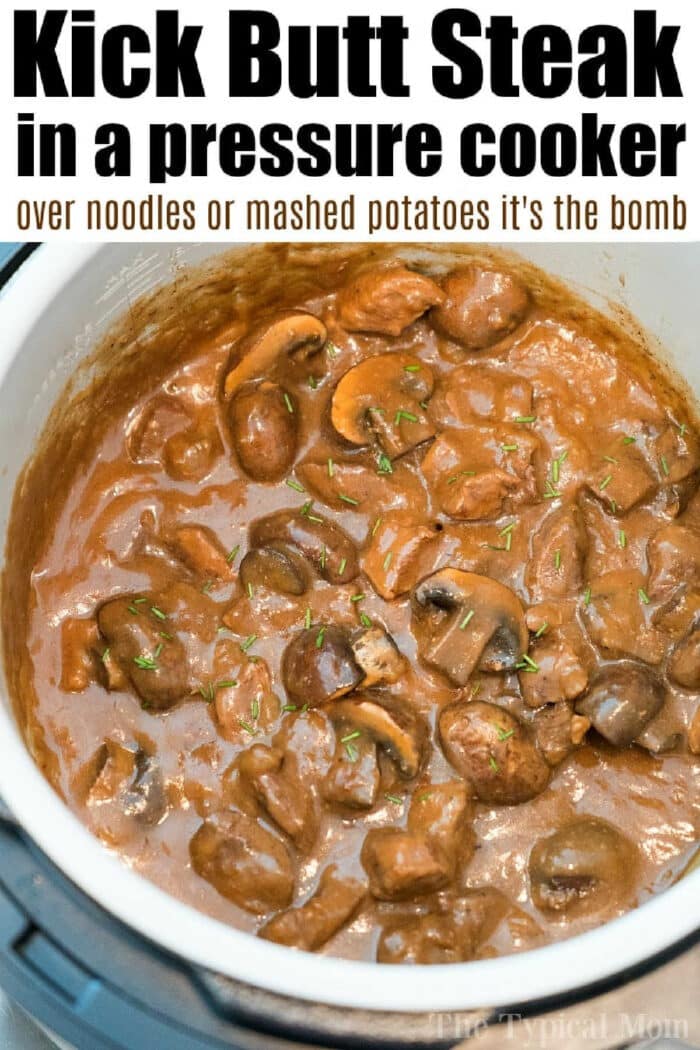 Why do I use packaged gravy? Well, because I am all about easy and this is ready to use, just rip the end off and pour it right in. It lends a TON of flavor to the dish but more importantly it thickens the sauce up tremendously.
There was a night I didn't have this on hand so I made it as is without the brown gravy packet and it wasn't nearly as good. I tried to save it with some sour cream I had on hand but the thickness wasn't there.
Does Instant Pot make meat tender?
Meats in a pressure cooker become quite tender no matter what cut it is. How tender

depends on several factors:
Some cuts are tender to begin with and have little or no chewy connective tissues. A pressure cooker can essentially melt the connective tissues much more quickly than a slow cooker or oven/stovetop can.
What are sirloin tips?
This cut is found on the front end of the rear leg. This area is usually created into chuck roasts, but can also be cut into steaks or used for ground beef.
Stew meat can also be used and typically is a lesser expensive choice between the two, I prefer sirloin if I have it.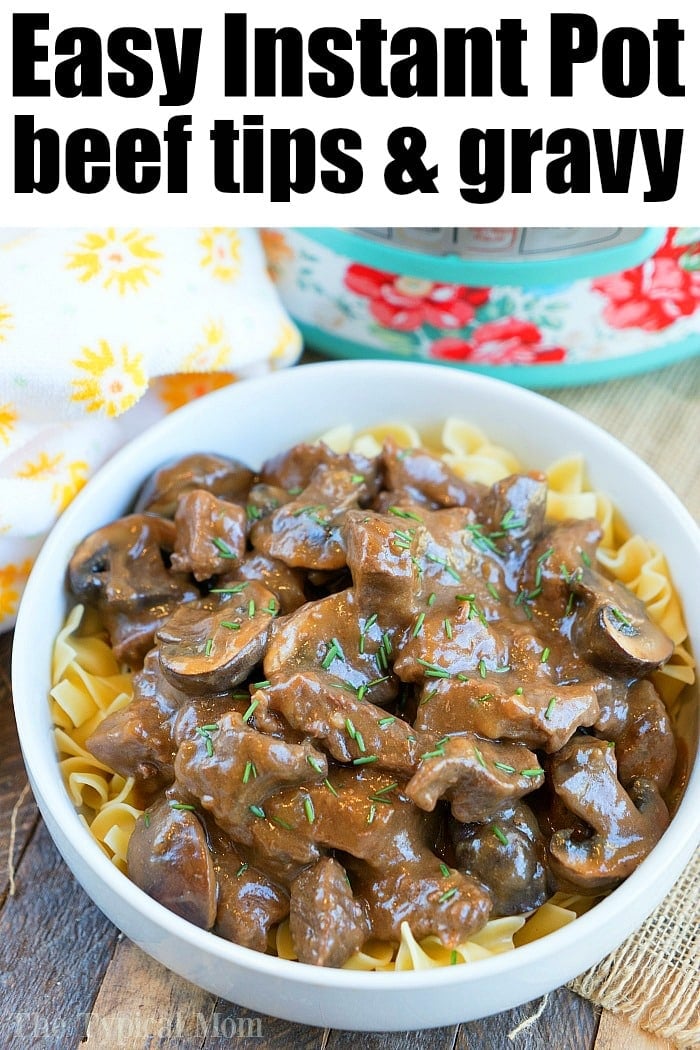 What makes this Instant Pot beef tips recipe SO good though is the gravy. It. Is. Amazing! It is a bit like the taste in Instant Pot beef stroganoff but there's more of it and it has a stronger, richer flavor. In that one I used cream of mushroom soup, however this one is more homemade than that.
No Peek Beef Tips Instant Pot
Saute beef tips with olive oil until you've browned the meat on the outside of each piece. Turn pot off now. Then scrape brown bits off the bottom to deglaze the Instant Pot, this will ensure the burn message doesn't show up on your screen.
Add ingredients other than dry gravy mix and cook for 15 minutes with a 5 minute natural release = 20 minutes cook time
Then do a quick release and lift lid carefully away from your face
Set to saute again, add remaining broth and gravy packet, allow to bubble and thicken. Stir and turn pot off once it is as thick as you'd like. This takes just minutes.
Remember, the longer this sits and cools the thicker it will become. Serve over brown rice, rice, egg noodles, or mashed potatoes.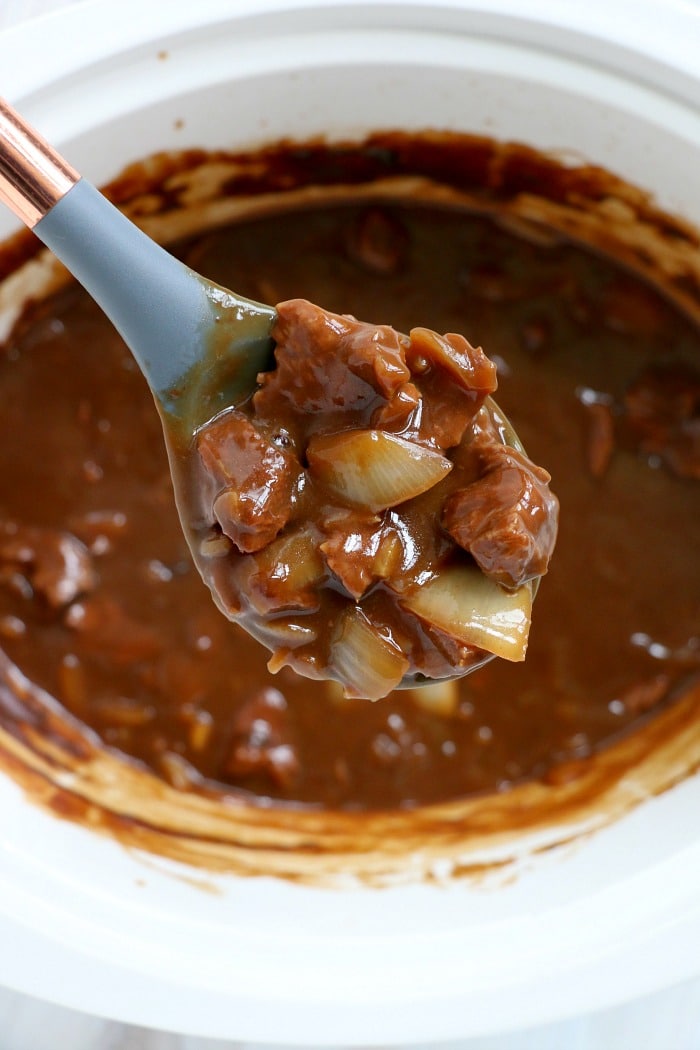 Beef Tips in Pressure Cooker
Other Instant Pot recipes you should try next:
If you want to cook steak in a Crockpot we love that too, as well as a great Ninja Foodi stew recipe.
Want to see a few of my favorite things that I am totally obsessed with?? Take a peek and see how many you might already have…twinsies!
Looking for more easy family recipes and tips? LIKE The Typical Mom Facebook page?
Then sign up for my free newsletter, and follow me on Pinterest! 😉
***** If you LOVED this recipe give it 5 Stars below and let everyone know what you thought about it. 😉
Instant Pot Beef Tips
This Instant Pot beef tips and mushroom gravy recipe is the bomb! Tender sirloin or stew meat in your pressure cooker packed with flavor everyone will love.
Instructions
Cut steak into small bite size pieces, the smaller the more tender they will be. Sprinkle all with salt, pepper and garlic salt to coat.

Add olive oil to pot and set to saute. Put beef into pot and sear outsides, then take out and put into a bowl if you do not have a non stick pot so you can deglaze your pot with your 1/3 c broth (with non stick pots this isn't necessary).

Pour 1/3 c broth into pot if you didn't already in last step. Put beef back into pot if you removed it with onions on top, followed by halved mushrooms and worcestershire sauce.

Close lid and steam valve and set to high pressure for 15 minutes. Allow to naturally release steam for 5 minutes when done, then release rest of steam.

Lift lid and set to saute again. In a bowl whisk together remaining 1/3 c broth and packet of dry gravy mix until smooth.

When contents are bubbling add this gravy into your pot and allow to bubble for 1-2 minutes stirring intermittently so it thickens. Turn pot off.

Serve over mashed potatoes or butter noodles.
Nutrition Facts
Instant Pot Beef Tips
Amount Per Serving (3 oz)
Calories 376
Calories from Fat 234
% Daily Value*
Fat 26g40%
Cholesterol 92mg31%
Sodium 983mg43%
Potassium 589mg17%
Carbohydrates 4g1%
Protein 32g64%
Vitamin A 23IU0%
Vitamin C 3mg4%
Calcium 18mg2%
Iron 3mg17%
* Percent Daily Values are based on a 2000 calorie diet.