This easy Instant Pot corned beef and cabbage recipe is perfect for St. Patrick's Day or any other day of the year! Moist and flavorful corned beef brisket cooked in your pressure cooker is simple to do with a potato trick I use quite often. If you haven't tried this dinner idea in your pressure cooker you're in for a treat.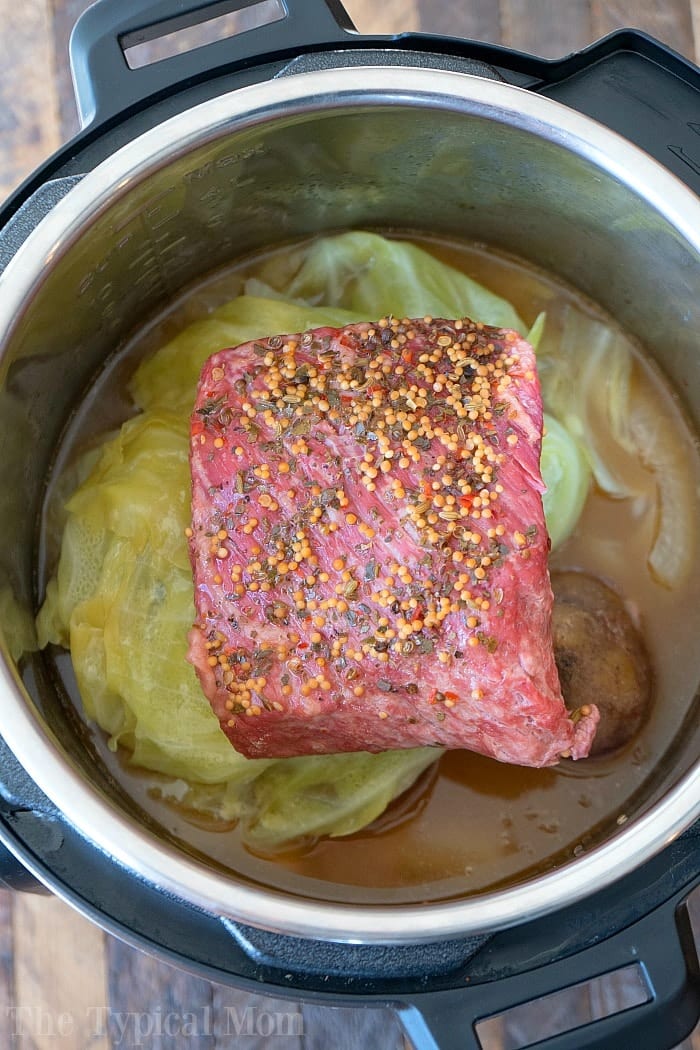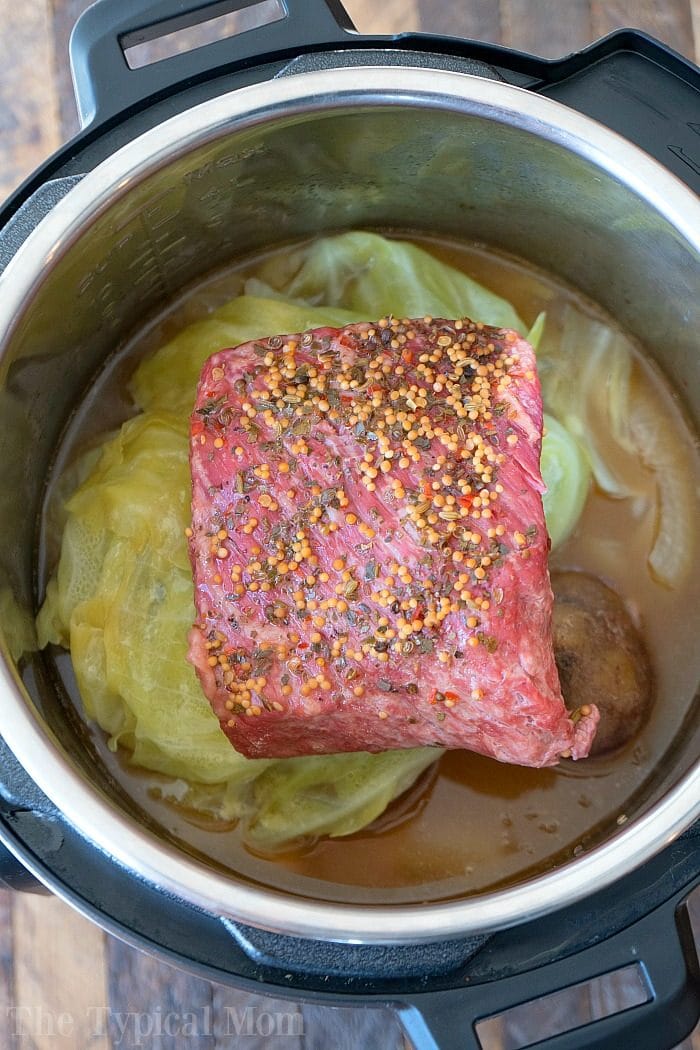 We don't do a lot to celebrate St. Patrick's Day, but I will say one thing I enjoy is this traditional dinner! It isn't just for the holidays, and it isn't just made in the oven anymore. Here is our easy Instant Pot corned beef and cabbage recipe we put together this year so we could make it lickety split fast and add it to our list of the best Instant Pot recipes around! (originally published 1/18, affiliate links present)
Like I said, we've made this dish for years but in the past stuck with this slow cooker corned beef brisket recipe which is fantastic, but really does take all day to make.
I used the same idea when making this easy Instant Pot corned beef and cabbage this year, and I will say I probably won't make it any other way again!
Cooking corned beef and cabbage used to take about 8 hours. Now it's closer to 1 1/2 hours! Not only was the corned beef full of flavor, but the potatoes I used as a trivet of sorts were probably the most amazing taters I have ever made (and I literally did nothing but throw it all together).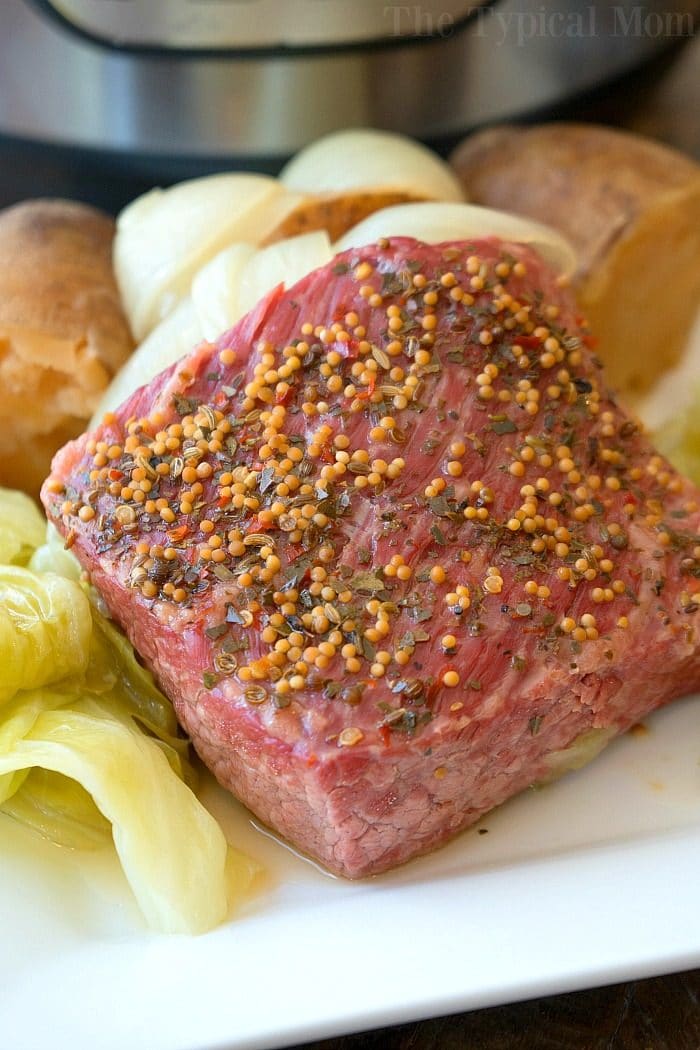 You see most people use a trivet when making Instant Pot corned beef and cabbage but you are really missing out if you do it that way. I like using a few large potatoes cut in half as a trivet because then they soak up all the drippings of the meat as well as the liquid you use to cook / "steam" it.
You have a choice when it comes to what liquid to use when making Instant Pot corned beef and cabbage. You could use water, beef broth, or beer….I prefer beer.
Ok so I have done some research on carbonated beverages and pressure cookers. It states there is no problem pouring it in as is straight out of the fridge but I just leave it out overnight so becomes flat.
It maintains the great taste that will then permeate into your meat and vegetables but the fizz is pretty much gone. Your choice.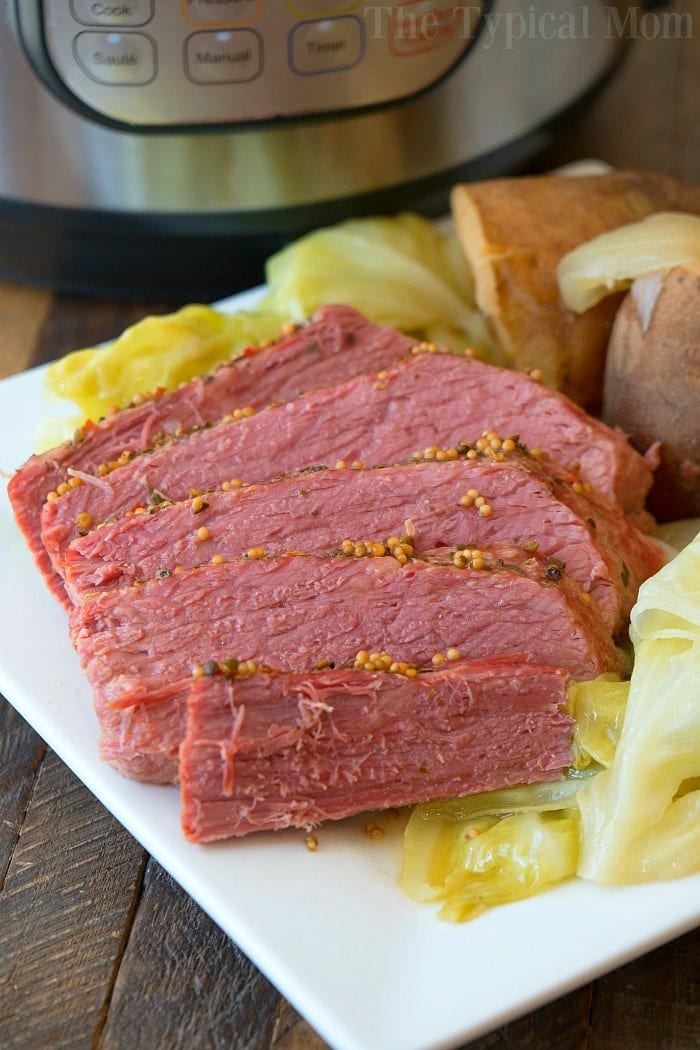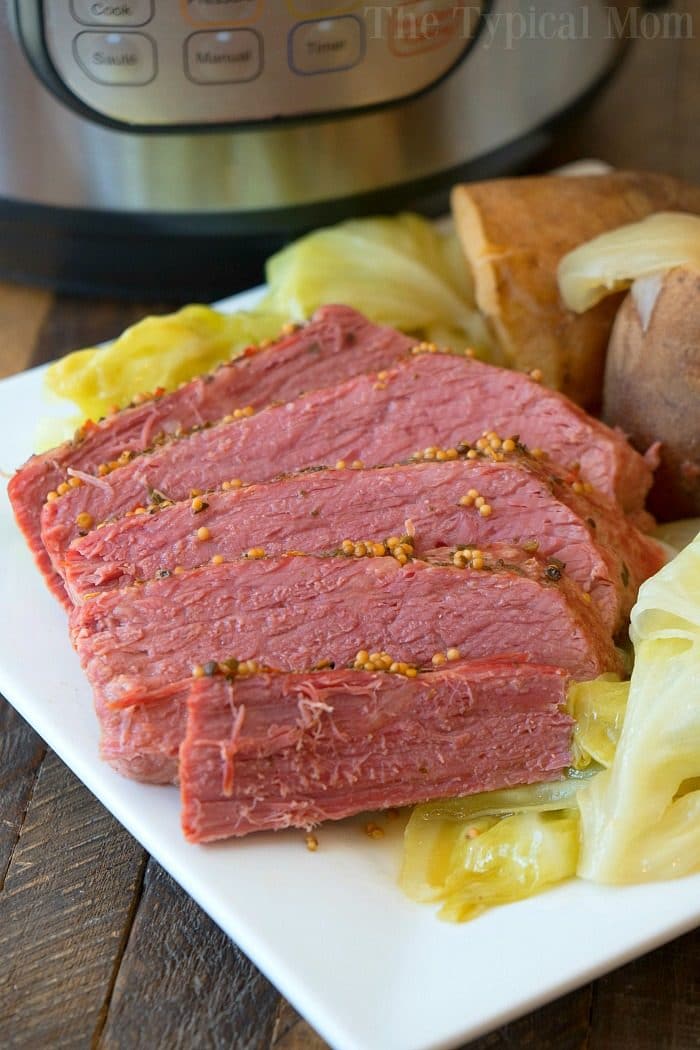 If you've never made a corned beef brisket it is not hard. You really should pick one up at the store. I choose a smaller piece (2-3 lbs). It will come with a little packet of spices like you see here on the top.
Overall it is a rather inexpensive and healthy meal too.
This is what you'll need to make this easy Instant Pot corned beef and cabbage recipe
Corned beef brisket – ours was 3 lbs.

plus pickling spice seasoning packet that comes in bag

Cooking liquid – beer, beef broth, or water
Head of cabbage
2 large potatoes – or a trivet can be used but it's not as tasty

Use 2 large russet or 4 medium size red potatoes for this so meat lays flat on top

1 onion quartered
Instant Pot, Ninja Foodi or any other brand of pressure cooker (this is the one I have)
Watch this video so you can see how I make it and how I make edible trivets using potatoes that taste amazing when they're done too!
Do you rinse corned beef before cooking? NO! I mean some people do in order to minimize the overall sodium content but it will drastically change the taste since the brine is really where it's at with this.
Just remove it from the bag and put the small seasoning packet aside, I do rinse that off. Place it into your pot, or in this case on top of your potato trivet. Use some sort of liquid to essentially steam it, beer is best in my opinion.

If you're concerned about the alcohol, it really is cooked off in the process so you're just getting the flavor.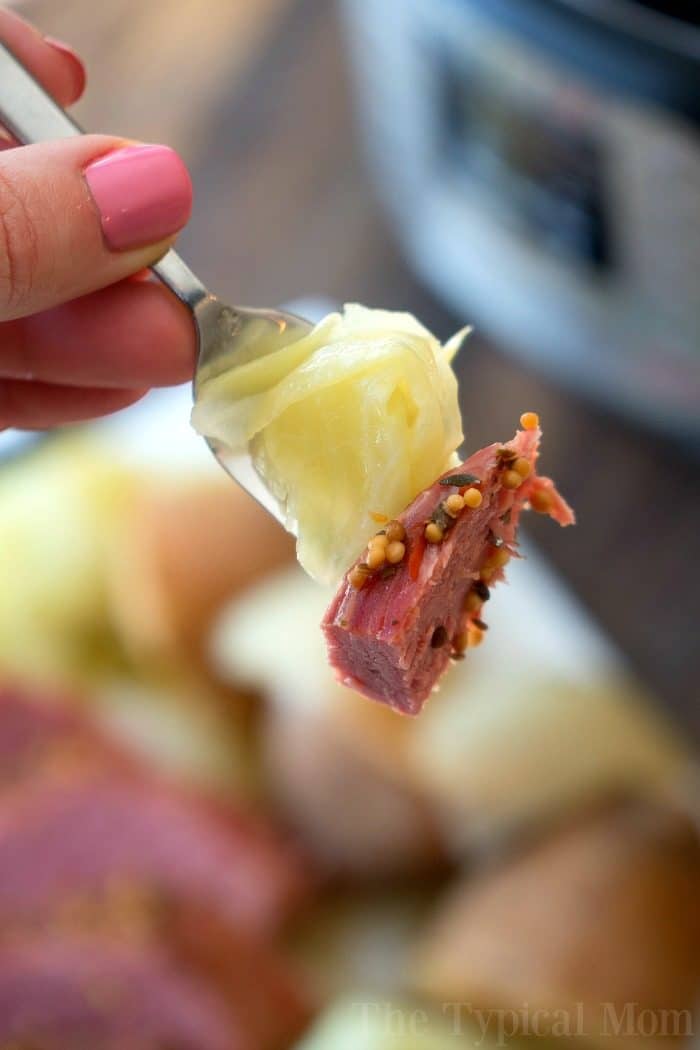 This is how to pressure cook corned beef:
Put 2-4 potatoes inside your pot, this will act as your trivet

if you want to add next to your potatoes carrots and cabbage wedges you could but note they will come out quite soft, some love lots of veggies though

Lay piece of meat on top of potatoes so it's steady and won't tip over.
Pour your beer (ideally) or other liquid / cold water over your meat, then sprinkle on the seasonings in the little baggie.
Close lid and steam valve and set to cook on high pressure for 90 minutes cooking time for a 3 lb. piece (85 minutes might be better for 2.5 lbs).
Allow to naturally release steam for 10 minutes, do not quick release or it won't be as tender.
Remove meat and cover with foil to keep warm. Add quartered onion and large cabbage leaves and cook again for 3 minutes to soften them.
When everything is done slice your corned beef. Serve with some potato from the pot, onion, and cabbage. It is fork tender I tell you!
I kid you not everyone will fight over the potatoes once they taste them. They're incredible!
If you need a Crockpot Express or Ninja Foodi corned beef and cabbage recipe the directions below will work fine. Just set to pressure high.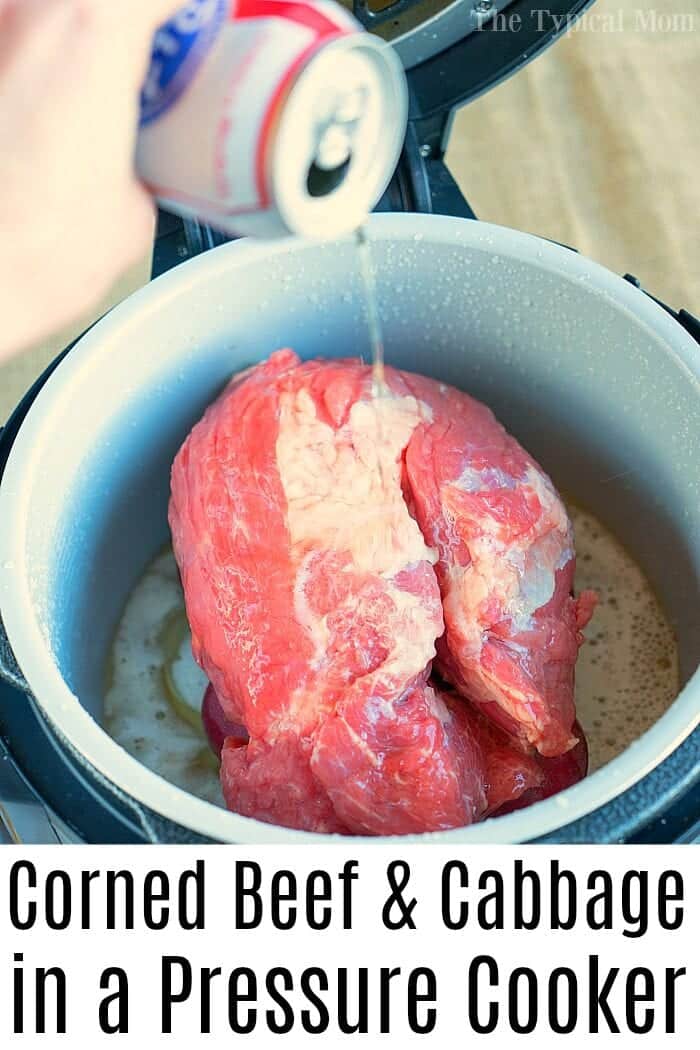 Does cooked corned beef freeze well?
An uncooked corned beef brisket can be frozen if it is drained and well wrapped in tinfoil and then inside a freezer bag. Keep in mind that salt encourages rancidity and the texture will change, but it is still safe to eat after being frozen
After cooking, store your leftover corned beef for up to 3 to 4 days in the refrigerator. You can also freeze cooked beef 2 to 3 months
If you need leftover corned beef recipes we have 2 different favorites we make pretty often, though we rarely have any left at the end of the day:
We have 2 different homemade corned beef hash recipes, one is traditional and the other is creamy.
Of course you can make Reuben sandwiches with some Swiss cheese, sauerkraut, and Russian dressing. Grill it between 2 slices of rye bread.
Our corned beef soup is more like a chowder and comes out so good you could really add any type of meat to it.
You can make dutch oven corned beef and cabbage too if you'd like to try a different method each year!

I feel like you can add more vegetables to this version. It takes much longer of course but the meat comes out just as tender and the potatoes, carrots and onions are beyond amazing.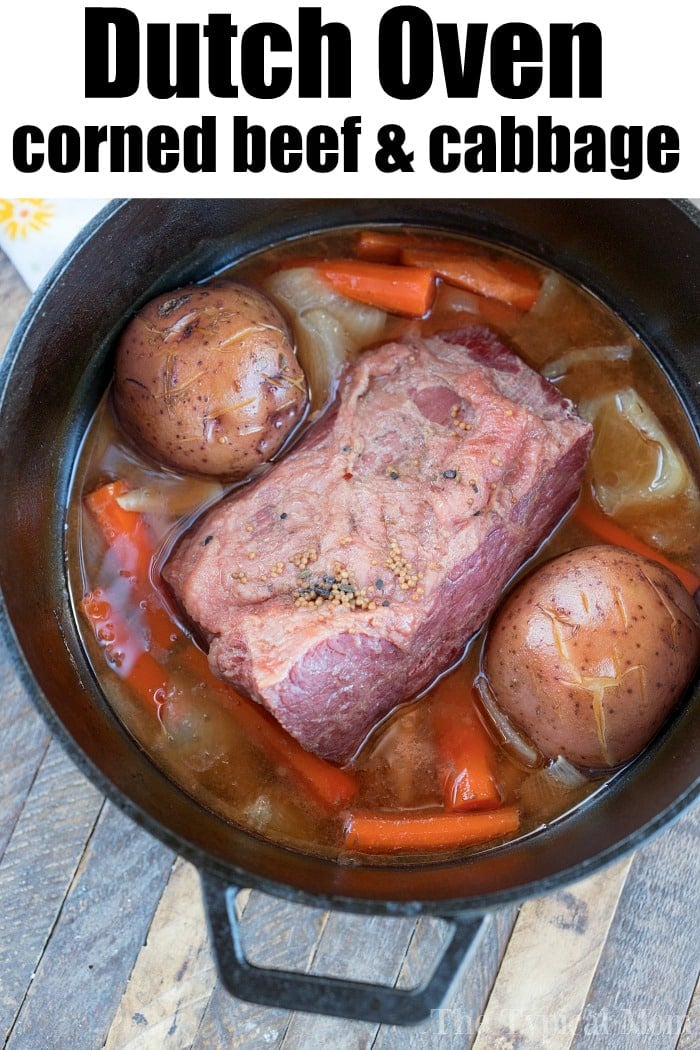 What do you serve with corned beef?
Artichoke hearts right out of the jar that have been marinated, then dressed with lemon juice and/or butter are pretty amazing and something different to add to your plate.
Any vegetables really go with everything including a bowl of green peas that have been buttered or herbed.
Spinach with just a bit of salt and pepper is a great healthy side dish.
If I can find fresh asparagus, you can steam it and serve it hot or cold.
You must make our easy Irish soda bread recipe with it though…no question about that.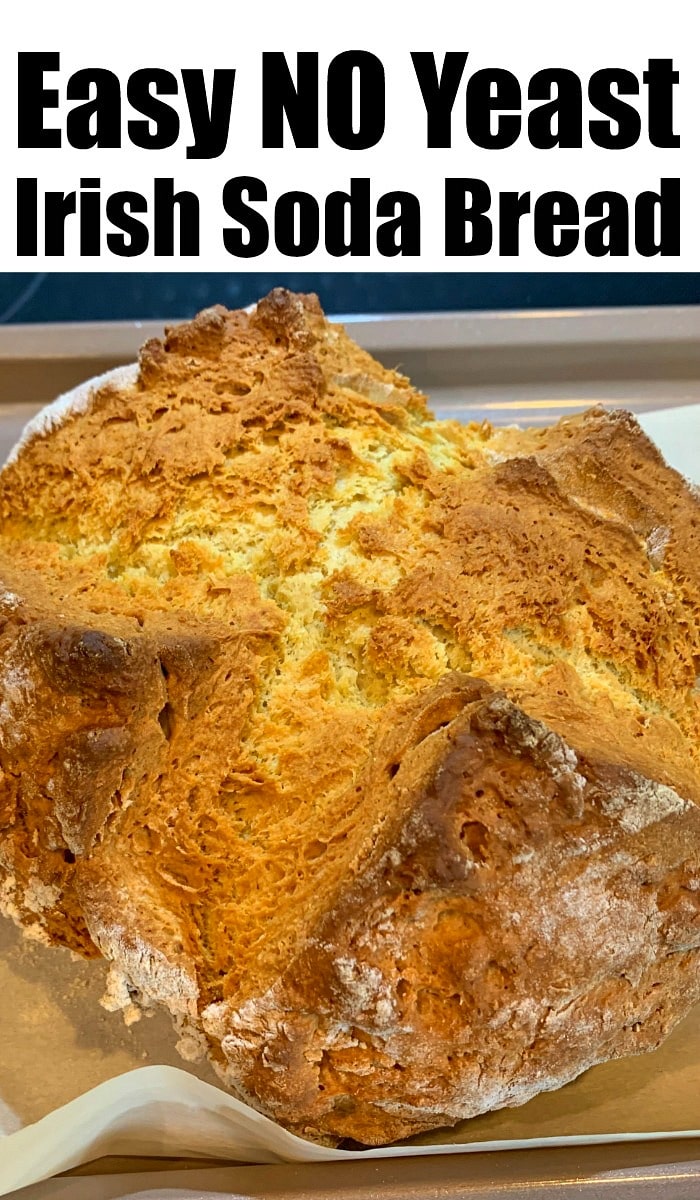 What condiments goes with corned beef?
I mean you can really serve it with anything but typically regular and a variety of gourmet mustards are known to pair well with this cut of meat.
I personally like regular yellow to add just a dab to each bite, but that is typically what I use for ham as well. With all the other items none of these are really necessary but they're nice to have on hand and try.
Here's the printable recipe for Instant Pot corned beef and cabbage to print.
The nutritional information is included here as well, the calories, saturated fat, etc. are calculated by the recipe card itself.
Easy Instant Pot Corned Beef and Cabbage
This easy Instant Pot corned beef and cabbage recipe is perfect for St. Patrick's Day or any other day of the year! Moist and flavorful corned beef brisket cooked in your pressure cooker is simple to do with a potato trick I use quite often. If you haven't tried this dinner idea you're in for a treat.
Ingredients
2-3

lb

corned beef

1/2

head

cabbage

1

onion

2

potatoes

large baking potatoes

12

oz

beer

or water or beef broth
Instructions
Cut baking potatoes in half and place at bottom of your Instant Pot or pressure cooker with the cut side down. (could use 4 red potatoes to and use those as trivets)

Rinse off your corned beef after removing it from it's package and set it on top of the potatoes (so it's like a trivet, make sure it's flat so it doesn't fall over).

Pour your beer, beef broth or water on top.

Sprinkle corned beef seasoning packet on top of meat and close lid and steam valve.

Set to manual, pressure, high for 90 minutes. (timing good for a 3 lb piece)

Do a natural release for 10 minutes, then let rest of steam out.

Open lid and remove corned beef, set aside covered.

Quarter your onion and put into pot with liquid.

Cut your cabbage head in half so you are using the top half and bottom half with core is left over.

Separate leaves and place on top of potatoes and onions. If you test potatoes and don't want them softened further then remove them at this time and put cabbage in liquid with onions.

Put lid on, close steam valve, and set to manual, pressure, high for 3 minutes.

Do a quick release, cut meat, and serve vegetables on the side. Pour some broth inside pot on top of everything when serving.
Video
Nutrition Facts
Easy Instant Pot Corned Beef and Cabbage
Amount Per Serving (4 oz)
Calories 383
Calories from Fat 198
% Daily Value*
Fat 22g34%
Cholesterol 81mg27%
Sodium 1863mg81%
Potassium 909mg26%
Carbohydrates 16g5%
Protein 25g50%
Vitamin A 75IU2%
Vitamin C 78mg95%
Calcium 69mg7%
Iron 5.3mg29%
* Percent Daily Values are based on a 2000 calorie diet.