Pressure cooker Mexican casserole is total comfort food! Made in your Instant Pot, Ninja Foodi or Crockpot Express it will become a new favorite pasta meal.
This casserole was created quite on accident and aren't those the best meals when they turn out amazing??!! Seriously I threw in some beans, corn, pasta and creamy sauce I had in the pantry and wahhlahh, pressure cooker Mexican casserole was born. Find it on our long list of easy Instant Pot recipes. (affiliate links present, originally published 5/19)
Ninja Foodi Mexican Casserole
We have it on our roundup of Ninja Foodi recipes too. It doesn't matter what brand you have, it will work great!
This is what I had that I thought would work well together. Mexican casserole is what came to mind but you can call it whatever you'd like.
FIRST – You should sign up for my free newsletter so you get new posts emailed to you twice a week and never miss out on anything! Now let's start with a few basic tips:
Make sure to Bookmark our InstaPot recipes page. We add new ones each week!
Then PRINT this —–> Instant Pot cooking times cheat sheet that will help you understand how long meat, vegetables and beans take to cook in your pressure cooker.
For reference, this is the pressure cooker I have (a 6 quart) and use for all recipe creations.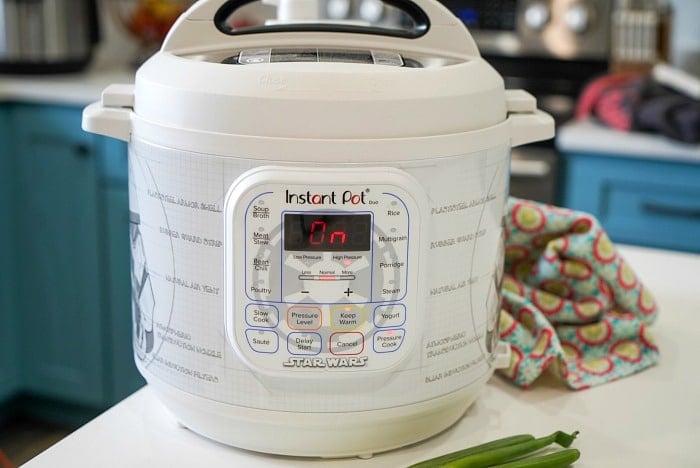 Instant Pot Mexican Casserole
NO draining is even required which makes the meal prep practically nothing. You just open the cans, dump everything in and let it cook for just a few minutes.
I used pasta noodles for this because that is what I had on hand, with ground beef. Later on I made a leftover chicken recipes Instant Pot meal with rice and chicken instead. If you wanted to use poultry instead for a sort of chicken enchilada casserole that would work too. Just substitute it for the beef and follow the same timing.
I like using what is on hand because I hate wasting food. Choose whichever sounds best for you and go with it!
If I only had a can of diced tomatoes I would've used that. Or if you have an issue with any heat at all that is a good alternative to RoTel. I do love a little spice though and this is just enough, the mild version that is.
I'm all about using what I have on hand, especially when proteins are about to expire. I HATE to waste food, so I usually just raid the pantry and come up with something new.
Instant Pot Mexican casserole
Pressure cooker

If you have an Instant Pot I HIGHLY suggest to get a non stick pot. It will help to avoid the burn notice from appearing when creating any and all recipes.

Wooden spoon – my preference when using any non stick pot like this one
Cutting board – to dice your veggies into bite size pieces
Can opener
Knife
Here is a quick visual of the steps I took. It is important after you saute any meats to deglaze the pot after that is complete AND turn the pot off to cool. If you don't do one or either you risk the temp. rising, the machine displaying the burn notice and it will stop working all together. That means dinner is ruined, or at least postponed quite a bit.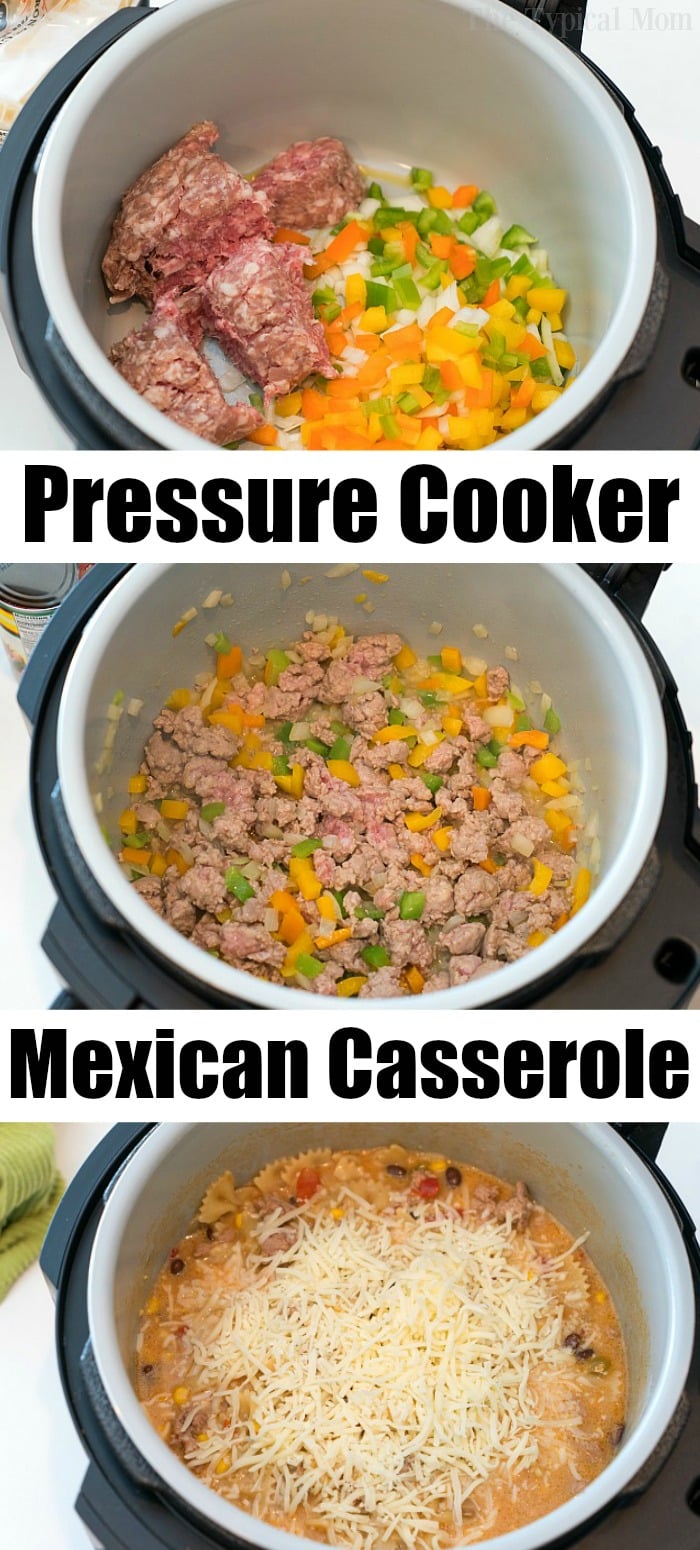 Ingredients you'll need to make this Instant Pot casserole of ours. Of course you can tweak certain things like omitting the bell peppers if you don't like them etc. You should never alter or change the amount of liquid to pasta or rice added though, those are carefully tested so there is just enough to become tender.
Ground sausage

we prefer spicy sausage, you could use ground beef
I imagine you could use leftover chicken breasts instead too

Rotel
Black beans
Canned corn
Beef broth

could use water but it won't have as much flavor

Pasta – we used bowtie or shells
You could dice up some cooked tomatillos too if you wanted to add them.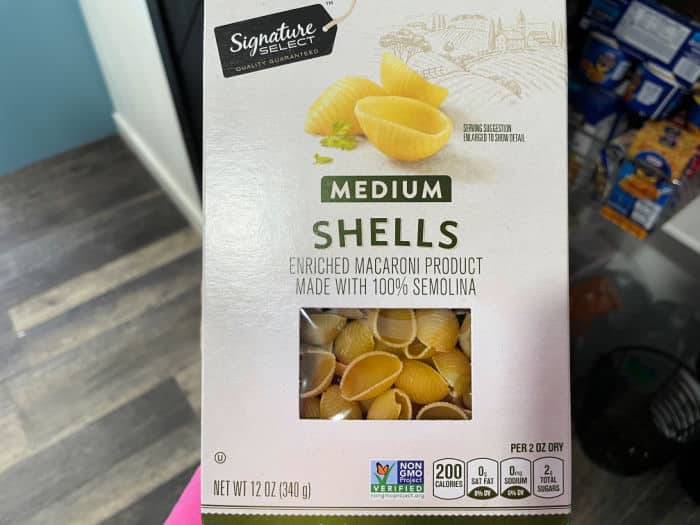 Onion
Bell peppers
Olive oil
Sour cream dollop can be added on top when serving
Optional chili powder and/or green chiles if you want to add heat

Rotel adds enough for us
a packet of taco seasoning could be added as well if you wish
I didn't feel like I even needed a side dish for this meal. With the carbs, vegetables and protein all together I served it as is. A side salad would work well though, or some homemade rolls.
If you don't have cheese on hand you could leave that out. Or if you needed a dairy free dinner then omit but that stuff goes on everything around here!
You can see here I used my Foodi to make this. Use what you have, but I highly recommend you get a non stick pot if you don't have one already.
First set your pot to saute and cook the meat, onions and bell peppers together. Use a little olive oil.

I add everything now to give the onions time to soften a bit.

I do not drain what is inside the pot. To me there typically isn't a lot of fat left over and what is lends a lot of flavor so I prefer to keep it in.

Turn your pot off to avoid overheating. Now you're going to dump in all of your canned ingredients. Do not drain anything. Empty them in as is.
Stir everything together
Whisk together your cream of mushroom soup and beef broth together. You want this mixture to be as smooth as possible though there will be small lumps of mushrooms.
Now you're going to put your noodles at the top. You're just going to gently submerge them into the liquid below.

Do not stir these noodles in with everything else.

They're best cooked this way. Especially if you don't have a non stick pot for your Instant Pot you cannot stir or the burn notice will show up.

It's time for the pressure cooking function.
If you have a Ninja Foodi you can add more cheese to the top and use your air crisp to melt and lightly brown.

We do this for our baked spaghetti recipe in that too.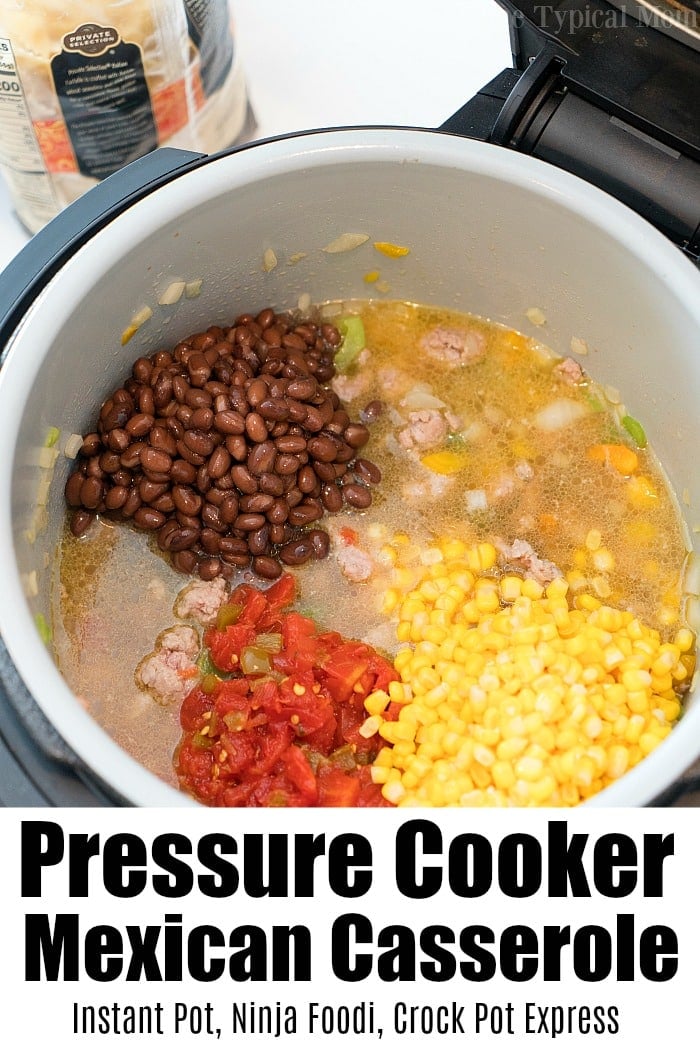 I think short cooking times are best when it comes to noodles. Egg noodles just need 2 minutes on high pressure with quick released pressure. Others like these are good with 3. If you like al dente then stick to 2 as well.
Use a quick release or else noodles will become way too soft.
Something else to note: I do not drain any of the cans which adds to the overall liquid. Different brands of black beans are different colors. Some juices inside are darker than others.
This will alter the overall color of the dish. You can see here how this brand turned out (not much color). Then watch the video, that brand made the dish more gray overall.
If this REALLY bothers you, you could drain the black beans and rinse them. But you'd need to add back in about 1/4 c. of water to compensate for the loss of liquid.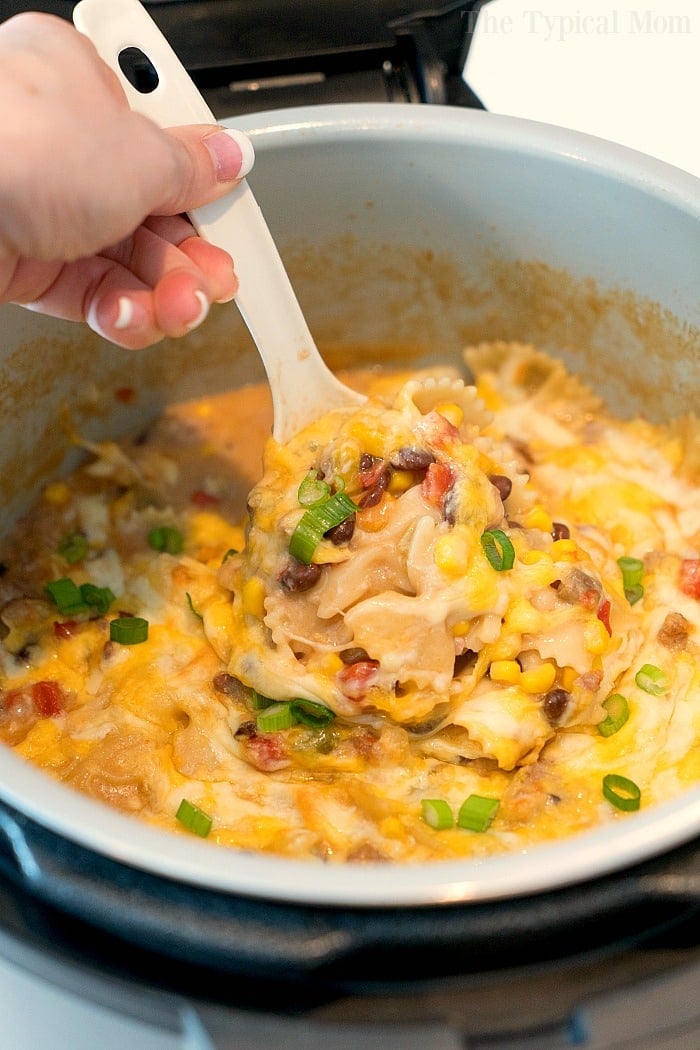 Top with a dollop of sour cream when done and OH MY is this Mexican casserole amazing!!
Additional option if you want melted cheese on top.
If you have a Ninja Foodi just sprinkle 1/2 cup (or more) cheese on top when done. Then close air crisp lid. About 5 minutes is all you need to melt and make it lightly browned on top.
You can transfer everything into a baking dish. Then put it under your broiler for about 4 minutes until cheddar cheese is gooey and perfect.
This makes it into a sort of enchilada casserole of sorts.
Easy Instant Pot recipe and others you should try next: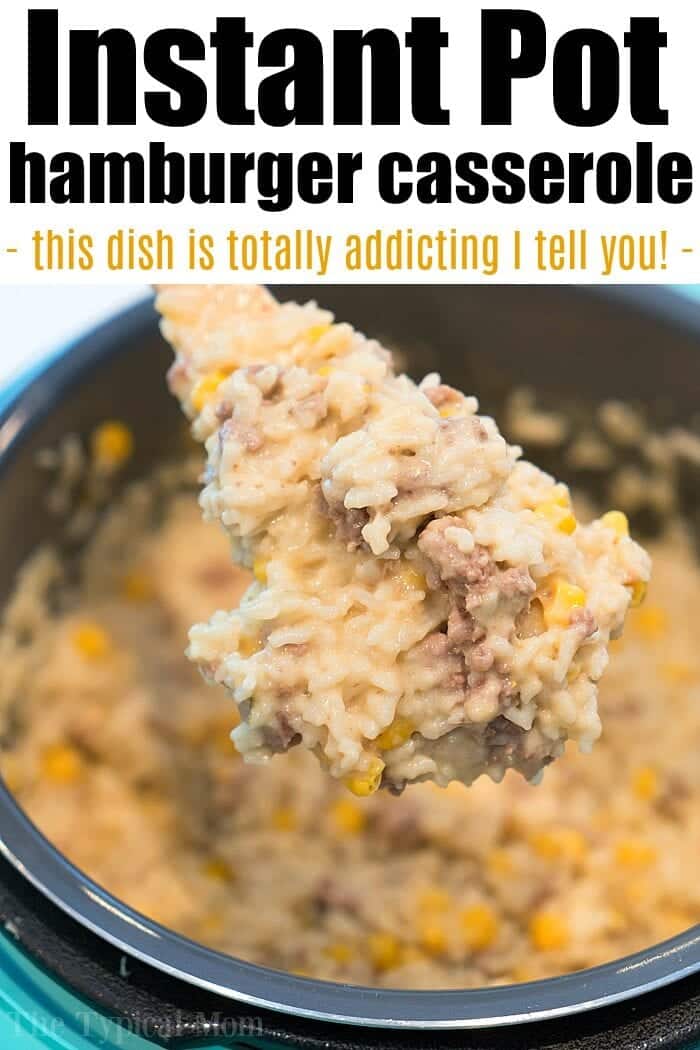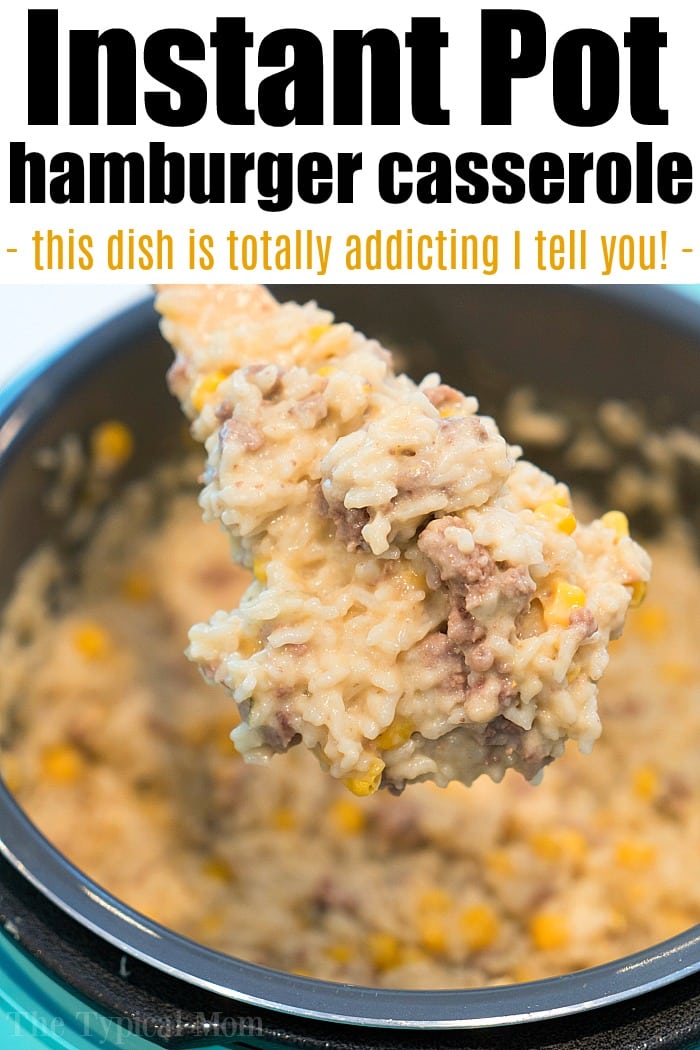 How do I save my leftovers?
First always allow your family loved food to cool completely, and don't leave it out for longer than 2 hours. Then transfer from the pot or dish to airtight containers and into your fridge.
How do you reheat a refrigerated casserole?
I prefer that individual meals be reheated, not the whole thing. Spoon what you want to eat right then into a microwave safe dish. Cook in 30 second increments, stirring in between until it's as hot as desired.
Want to see a few of my favorite things that I am totally obsessed with?? Take a peek and see how many you might already have…twinsies!
Looking for more easy family recipes and tips? LIKE The Typical Mom Facebook page?
Then sign up for my free newsletter, and follow me on Pinterest! 😉
***** If you LOVED this recipe give it 5 Stars below and let everyone know what you thought about it. 😉
Pressure Cooker Mexican Casserole
Pressure cooker Mexican casserole is total comfort food! Made in your Instant Pot, Ninja Foodi or Crockpot Express it will become a new favorite pasta meal.
Instructions
Turn pot to saute and add olive oil, ground sausage, diced onions and bell peppers. Cook until sausage is no longer pink. Then turn pot off.

Pour in Rotel, corn and black beans. Stir together.

Whisk together can of cream of mushroom soup and beef broth together until smooth.

Pour into pot. Pour uncooked noodles on top and gently submerge into the liquid. Do not stir.

Close pressure cooker lid and steam valve. Set to pressure cook, high, for 3 minutes.

Do a quick release. Lift lid and turn pot off.

Stir contents, then sprinkle in cheese. Stir together so cheese melts. Allow to sit for at least 5 minutes so it thickens, then serve! If you have a Ninja Foodi continue on with directions below.

Ninja Foodi: Sprinkle another 3/4 c mozzarella cheese on the very top and close your air crisp lid. Set to 390 degrees for 5 minutes so it is lightly browned on top. Then serve!
Nutrition Facts
Pressure Cooker Mexican Casserole
Amount Per Serving (4 oz)
Calories 595
Calories from Fat 279
% Daily Value*
Fat 31g48%
Cholesterol 71mg24%
Sodium 1117mg49%
Potassium 823mg24%
Carbohydrates 50g17%
Protein 28g56%
Vitamin A 1065IU21%
Vitamin C 36.6mg44%
Calcium 147mg15%
Iron 3.6mg20%
* Percent Daily Values are based on a 2000 calorie diet.