Pressure cooker coconut rice pudding is the most delicious dessert you will ever make in your Instant Pot, Ninja Foodi, Crockpot Express or Mealthy! A creamy dairy free and gluten free pudding everyone will love.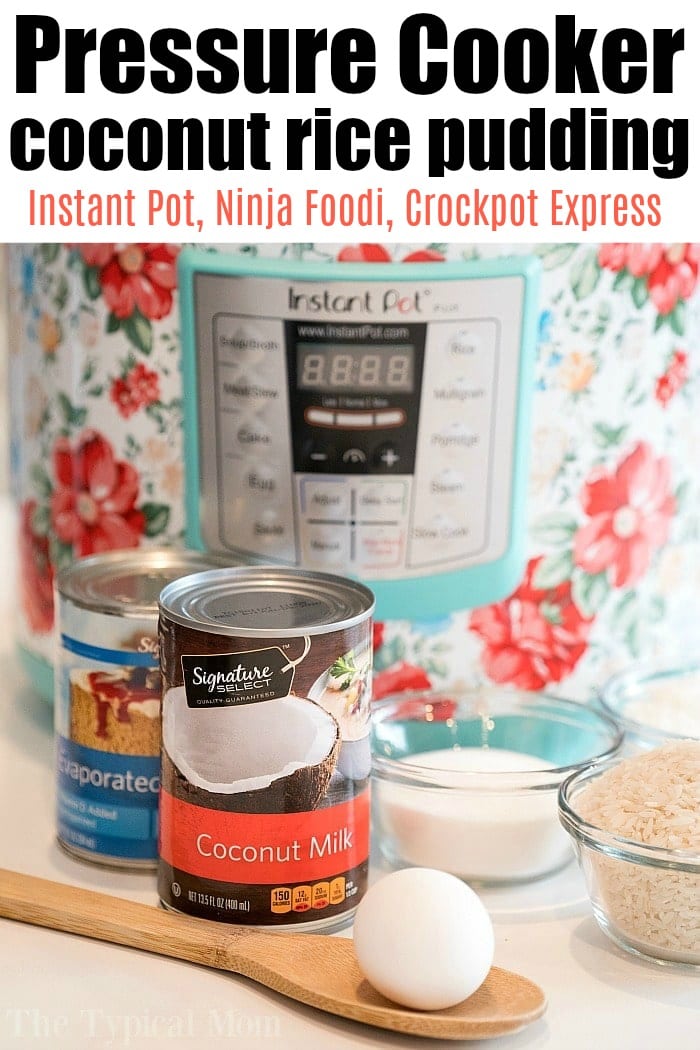 If you're looking for an AMAZING dessert everyone can enjoy this pressure cooker coconut rice pudding is it!! A great dairy free desserts I altered for my husband, I dare say it is better than the original version and on our list of Instant Pot recipes too. (originally published 6/19, participant in the Amazon affiliate program, links present)
Instant Pot Coconut Rice Pudding
If you have never thought of adding this tropical ingredient into this classic dessert, you should!! If you want to make it an easy Ninja Foodi recipe too it works in that pot too for sure. It doesn't really matter what brand you have at home they all have the high pressure function so no worries.
We started by making "original" Instant Pot rice pudding at first. That was such a hit with my family and fans reading my blog that I thought I should try another flavor. I am so glad I did.
FIRST – You should sign up for my free newsletter so you get new posts emailed to you twice a week and never miss out on anything! Now let's start with a few basic tips:
Make sure to Bookmark our InstaPot recipes page. We add new ones each week!
Then PRINT this —–> Instant Pot cooking times cheat sheet that will help you understand how long meat, vegetables and beans take to cook in your pressure cooker.
For reference, this is the pressure cooker I have (a 6 quart) and use for all recipe creations.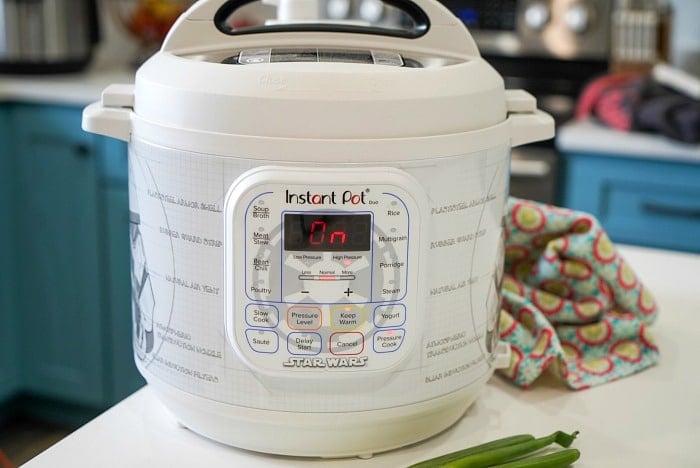 Ninja Foodi Coconut Rice Pudding
When my daughter needed to try a gluten free diet I got used to using coconut milk instead of cow milk and though it would work well with this.
Tweaking a few ingredients and coming up with this became an amazing new treat we now make over and over again.
I now opt for this one over the other if I have the ingredients in my cupboard. Since I was born in Hawaii I guess I think of tropical flavors every time I bake. Ok so this isn't really baaaaaaking persay since it isn't in the oven but I haven't used that thing for quite a while now.
I mean you can make cakes in this baby too, if you haven't tried anything beyond just dinner I would broaden your horizons and just go for it.
Here's a peek at the first one we made below though. We topped it with cinnamon but you could either leave it plain, choose nutmeg or even some pumpkin spice would be yummy in the fall.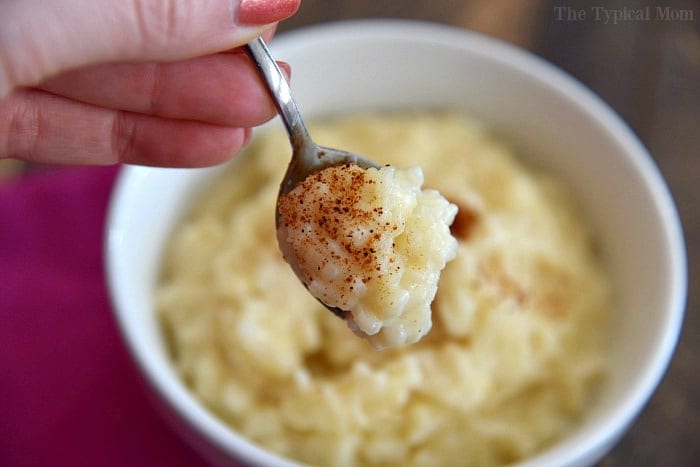 Pressure cooker coconut rice pudding
Rice

uncooked
white
I use long grain or jasmine rice usually
brown rice hasn't be used yet, that would change the timing

Butter
Evaporated milk

you could use dairy free evaporated milk instead
some stores sell lactose free evaporated milk too if you want

Coconut milk
Milk

use almond milk for dairy free
soy milk could be used as well
almond milk coconut creamer
or just use additional coconut milk

Whisked egg
Water
White sugar will bring a bit more sweetness to it
Top with a bit of cinnamon if you like or leave plain
Make sure you use sweetened shredded coconut, unsweetened is a NO go friends. We aren't counting the calories when we enjoy a bowl full of this goodness. All in moderation friends, just enjoy it with your family and hear the OOhhhhhs and Ahhhhs.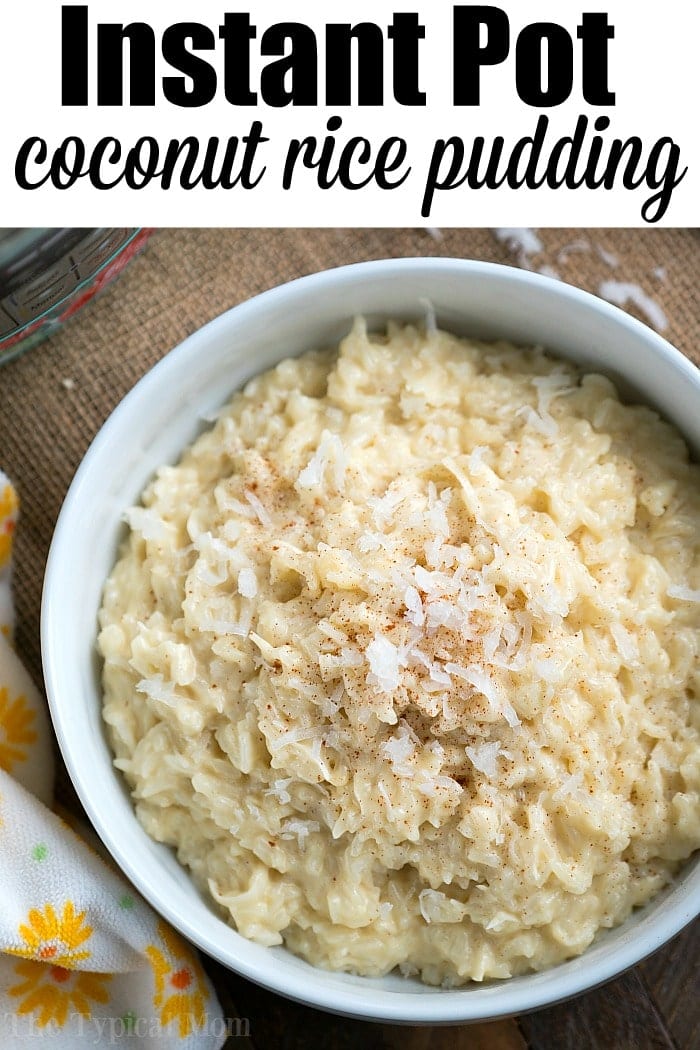 Coconut Rice Pudding Recipe
It's one of our favorite Instant Pot recipes for sure. Of course if you have a Mealthy or Crock pot Express this will work too. I have them all. Granted I am a food blogger so maybe that kinda' makes sense but I did want to make sure it wouldn't make a difference between any of them, and it doesn't.
The biggest difference is the size of your inner pot liner. I have and use a 6 quart all of the time. Some dishes you could double if you had a larger version, but I suggest you do NOT make more than one batch at a time with this. I don't know why it matters but I feel the texture of the rice is different if you try to do more than listed below.
You really don't NEED the shredded coconut, that is just to amp up the flavor. I love it though. Totally up to you.
Are you getting the idea that we love white and black rice pudding yet??!!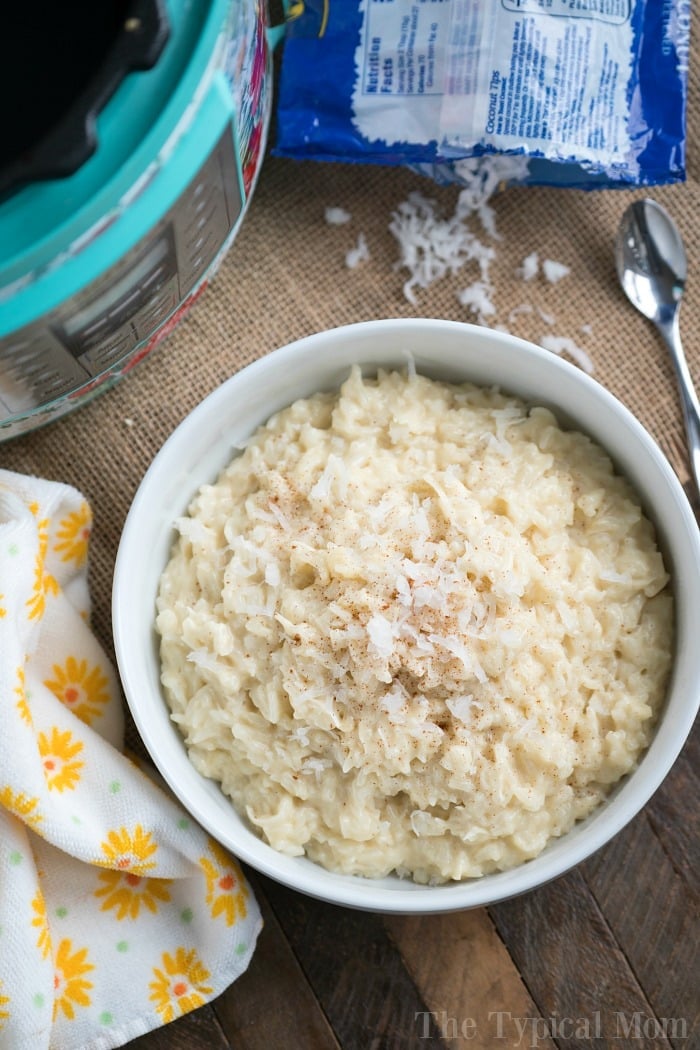 Instant Pot rice pudding with almond milk
Rather use almond or cashew milk instead? Go for it, it's pretty darn forgiving. As long as you have some sort of dairy or non dairy alternative that is creamy it seems to work well. Of course the difference will be the overall flavor of the dish.
I prefer vanilla almond milk if I am going to use it inside something sweet or with cereal personally. Another question might be the type of rice used. I suggest long grain or Jasmine since that is what has been tested. Brown will take much longer and just doesn't seem right for this dish to me so I didn't even try it.
Arborio rice is much more expensive than others and I like to stick with cheap dishes so I didn't test that one either. If you do take the time to fool around with these please leave your findings below so others will know. 😉
Looking for more coconut recipes?
If you're really coconut obsessed you can even make coconut foot scrub while enjoying coconut muffins! lol You really can go all out with this YUM.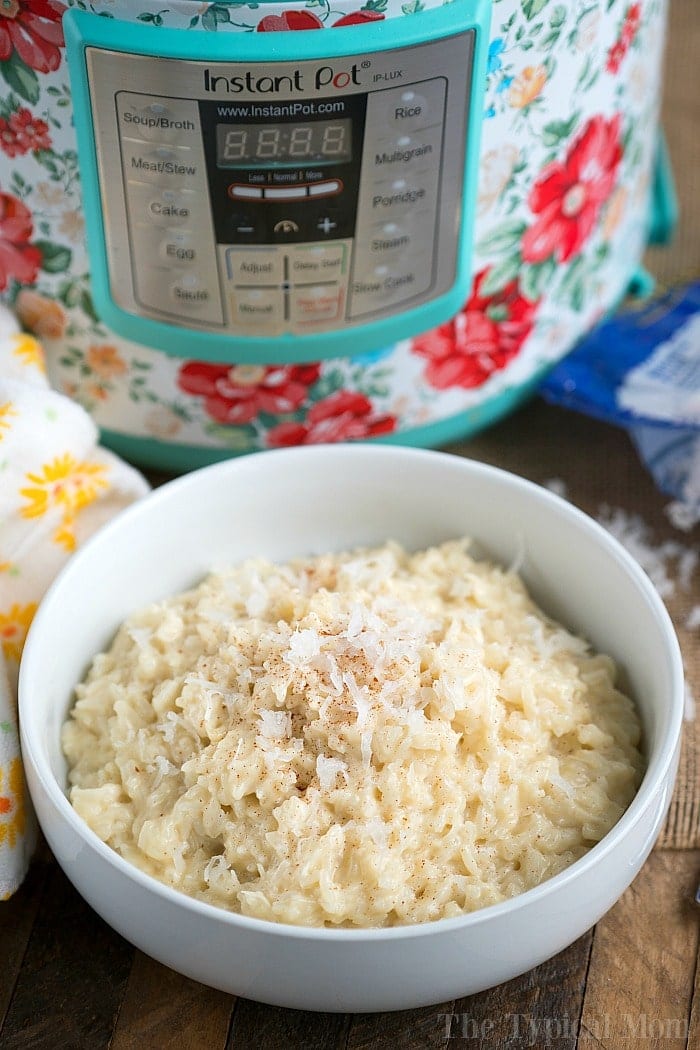 Instant Pot coconut rice pudding recipe
If you love rice pudding but do want to tweak it there and there you can do so. You can add chocolate chips they will melt on top and give it another flare. All models will work the same, just follow directions below and in recipe card.
Set your pressure cooker to saute (brown/sear on Crock Pot Express) and add your butter until it melts, then add your rice and stir so it is all coated. Turn to off/cancel.
Add coconut milk, regular milk (or almond), 1/2 of your shredded coconut and sugar. Stir.
Close your lid and steam valve and set to pressure cooking for 14 minutes followed by a quick release.
Open the lid and set aside. Set to saute and quickly whisk together your egg and evaporated milk. You want it to be ready when it begins to bubble so nothing burns.
Then add a bit of hot pudding from pot into the egg bowl to temper it. This is important so you don't get scrambled eggs inside your creation.
Stir and once it thickens (will be quick) turn machine off and remove pot. Transfer contents to room temperature bowl so it doesn't continue to cook. Eat or refrigerate and then enjoy
Want to make a batch of Crockpot rice pudding with your pressure cooker coconut rice pudding too and compare them? We have directions for that too. Yes, it is a short cooking time under 20 minutes with NO need to watch it unlike the stovetop traditional method of the past. That is what made me like ehhhhhh when making it in the past. It was a lot more work and if you stepped away you were in trouble, with a pot that was tough to clean.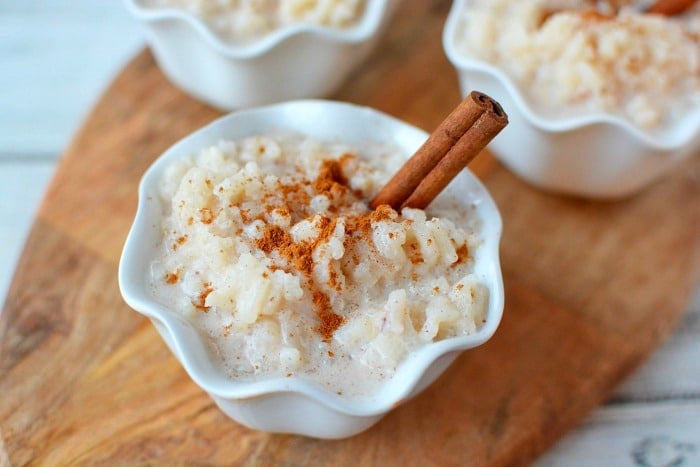 I will say you do need to pay attention to the beep when this is done because one extra minute and your rice will become mush but at least you get a sign to jump up when you're waiting on the couch for it. It isn't such a guessing game standing at the stovetop the whole time.
Personally I like this really chilled in bowls overnight. My husband on the other hand wants it warm right out of the pot. If you do cool it separate into bowls on the counter and let cool first. Then transfer into the fridge with a piece of plastic wrap draped over the top and gently touching the top. This will get rid of that harder layer on the top.
How to Save Leftover Homemade Rice Pudding
If you do have some left it will save well but you need to keep it moist and in a sealed container so it doesn't dry out. When you are ready to enjoy it again I would fold in some fresh milk of your choice to loosen it up. You can do this while it's served cold or pour on top before warming in the microwave for 30 seconds or so.
Want to see a few of my favorite things that I am totally obsessed with?? Take a peek and see how many you might already have…twinsies!
Looking for more easy family recipes and tips? LIKE The Typical Mom Facebook page?
Then sign up for my free newsletter, and follow me on Pinterest! 😉
***** If you LOVED this recipe give it 5 Stars below and let everyone know what you thought about it. 😉
Pressure Cooker Coconut Rice Pudding
Pressure cooker coconut rice pudding is the most delicious dessert you will ever make in your Instant Pot, Ninja Foodi, Crockpot Express or Mealthy! Both gluten free and dairy free.
Instructions
Put pressure cooker on saute mode (brown/sear for Crockpot Express), add butter and allow to melt. Then turn pot off.

Add rice and stir so it is coated. Add coconut milk, regular milk, 1/4 c coconut, water, and sugar. Stir. (if making dairy free use almond milk and coconut evaporated milk alternatives)

Close pressure cooker lid and seal steam valve. Set to pressure high for 14 minutes.

Do a quick release when done.

Remove lid and press saute again.

Whisk together your evaporated milk and egg in a small bowl. Add a bit of your warm ingredients from the pot into your egg mixture to temper it.

As soon as the rice pudding is bubbling add half milk/egg mixture and stir gently to combine. Add remaining 1/4 c. coconut, followed by remaining milk/egg mixture. You need to do this quickly so it doesn't burn on the bottom.

Allow to bubble. Stir gently. Turn pot off immediately and transfer to bowls so it doesn't continue to cook and enjoy or refrigerate and then eat when cold.
Nutrition Facts
Pressure Cooker Coconut Rice Pudding
Amount Per Serving (3 oz)
Calories 476
Calories from Fat 225
% Daily Value*
Fat 25g38%
Cholesterol 47mg16%
Sodium 100mg4%
Potassium 308mg9%
Carbohydrates 58g19%
Protein 7g14%
Vitamin A 205IU4%
Vitamin C 1mg1%
Calcium 76mg8%
Iron 3.2mg18%
* Percent Daily Values are based on a 2000 calorie diet.