Easy Ninja Foodi soup recipes with chicken, beef, ground sausage or vegetarian! Lots of pressure cooker soups to choose from you'll love.
Ready for some easy Ninja Foodi soup recipes? Of course you are, it's chilly outside. From chicken to beef and so much more, we have all the easy Ninja Foodi recipes you could possibly want here. (originally published 12/20, affiliate links present)
Ninja Foodi Soup Recipes
I will start by saying that you can use all of the Instant Pot soups we have made here on The Typical Mom blog. They work the same, just the buttons look a bit different. Just use the pressure button and you'll be set. During the winter time these are the best. Just serve with some rolls and dinner is served.
We have everything from vegetarian options, like our asparagus and spinach soup, to chicken noodle soup, clam chowder, beef soup and vegetable heavy. Choose your favorite and work your way thru our list!
FIRST – You should sign up for my free newsletter so you get new posts emailed to you twice a week and never miss out on anything!
If you too are obsessed with your Ninja Foodi pressure cooker air fryer machine, here are a few resource to start with:
You can

bookmark

our Ninja air fryer recipes page, we add to that weekly.

Here's a printable air fryer cooking times chart here for your fridge.
Be sure to save this link to Instant Pot recipes for beginners too. You can use any of those in your pot too.
Grab a set of wooden utensils to work with. They are great so your pot doesn't get scratched!
Then join our

Ninja Foodi EASY Recipes

– Facebook group where you can share and find more ideas you'll love. Thousands of others share both pressure cooker and air fryer recipe ideas there daily and you can too!
If you need to know how to cook frozen meat in a pressure cooker, we have information on that. NO, you aren't the only forgetful one. 😉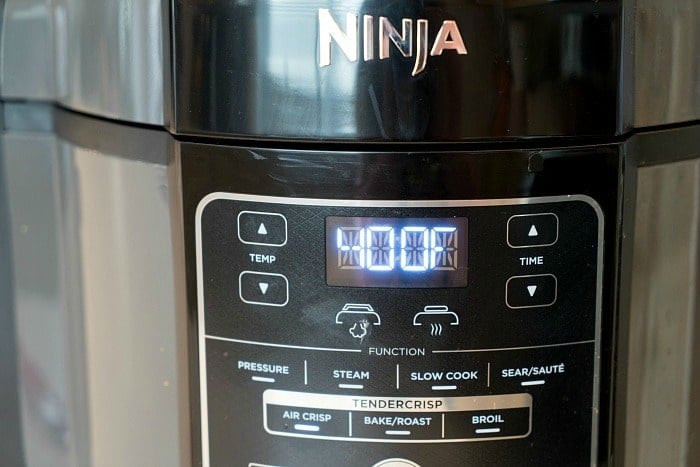 Remember, with the slow cooker or Ninja Foodi pressure cooker button, you'll use the unattached pressure cooker lid with it.
Ninja Foodi Chicken Noodle Soup
This is probably the first one you think of when you think of easy and comfort food. You can easily use leftover chicken breast or shred rotisserie from the store. You can throw it in all sorts of dishes like Ninja Foodi buffalo chicken soup, casseroles and more.
Pressure cooker chicken rice soup is a good meal to make with leftovers too. Or for something with steak try pressure cooker beef noodle soup.
Want to make it totally from fresh, make our Ninja Foodi chicken recipe with some salt and pepper first, and use the meat off of that. Add chicken broth with these step by step directions and enjoy.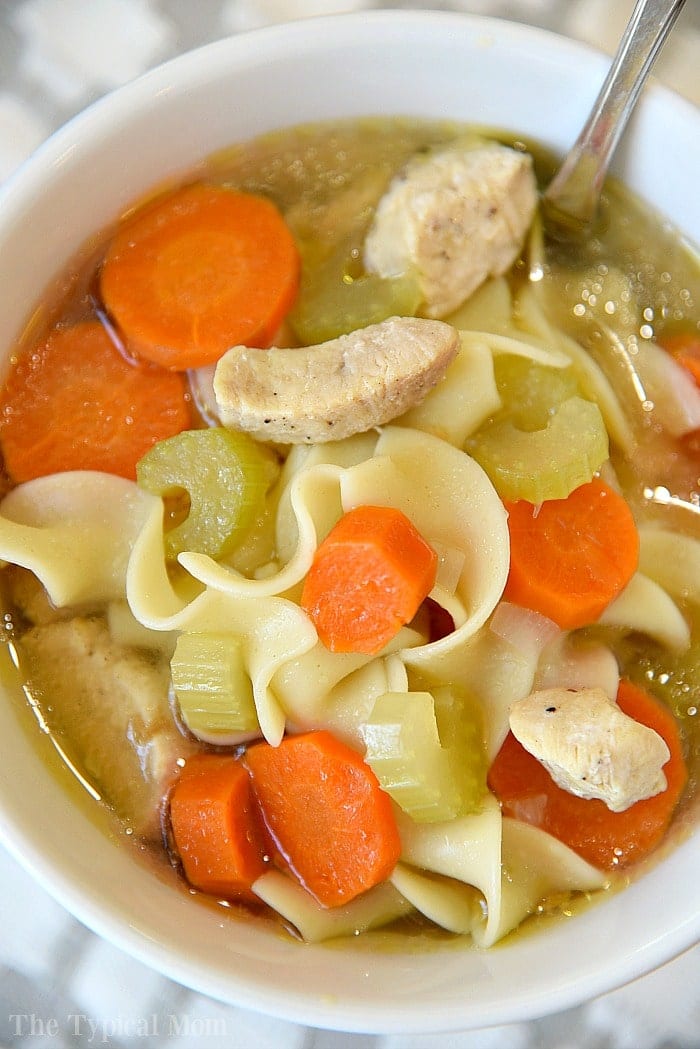 Instant Pot Chicken Noodle Soup
Instant Pot chicken noodle soup recipe that is quick to make, needs only a few ingredients and a healthy pressure cooker recipe that is perfect year round.
Check Out This Recipe
Ninja Foodi Chicken Pot Pie Soup
But sometimes you want something a bit creamier. More like a pressure cooker clam chowder of sorts, but with chicken. We have done that!
Like our Ninja Foodi potato leek soup, both are super creamy and filling for a complete meal. Soup isn't just a starter or appetizer anymore y'all.
We loved it so much we made a few versions like corned beef chowder, potato corn chowder and this Ninja Foodi pot pie soup!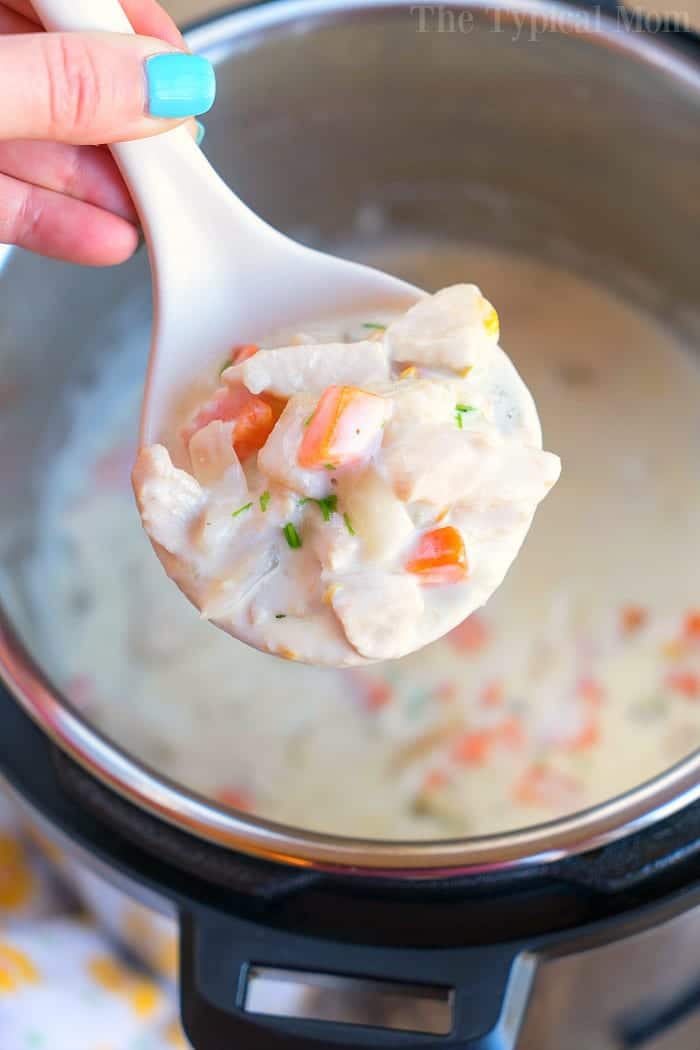 Pressure Cooker Chicken Pot Pie Soup
Pressure cooker chicken pot pie soup is a spoonful of comfort food made in under 15 minutes! You've got to try this creamy chicken soup with veggies today.
Check Out This Recipe
Ninja Foodi Beef Stew Soup
If you have leftover meat you can throw it into our fajita soup recipe. You can use fresh chicken as well but I love throw together one pot meals so I don't have to throw away meat.
Want to try this but with a beef soup instead? We've got that too! Yep we were so obsessed with this that I made a Ninja Foodi chicken pot pie and then crossed the above idea with our Ninja Foodi beef stew recipe and bam!
It turned out more like a beef soup packed with vegetables and cubed potatoes we loved. You can use any part of the cow for these, we even have a Ninja Foodi oxtail soup version.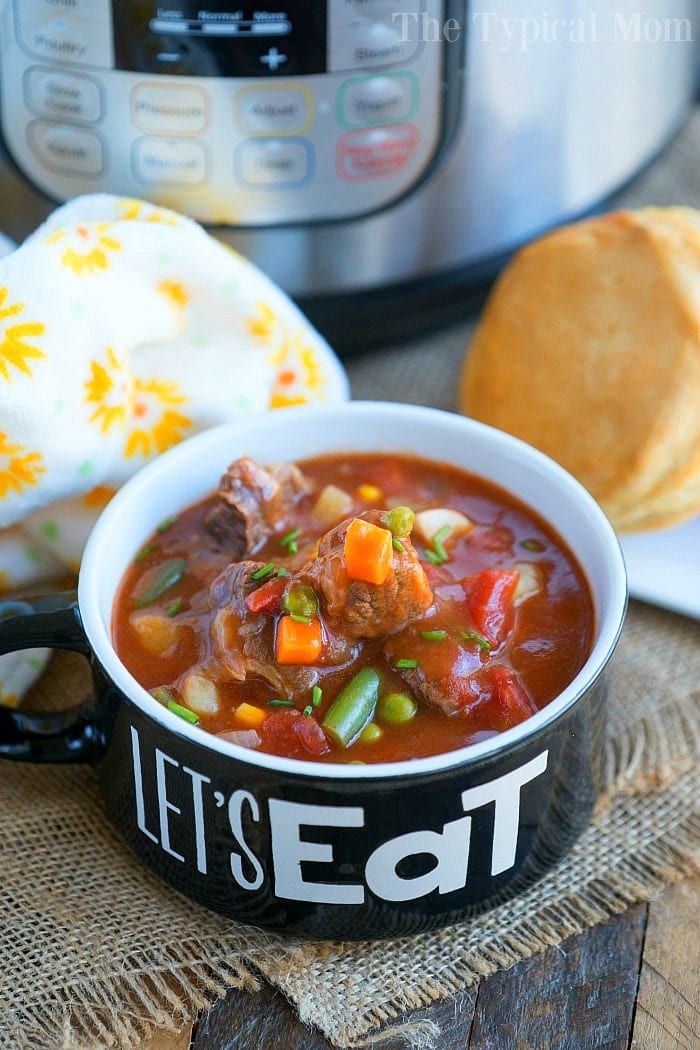 Pressure Cooker Beef Pot Pie Soup
This pressure cooker beef pot pie soup is a hearty dinner your whole family will love. Cooking tender beef in under an hour has never been easier!
Check Out This Recipe
Ninja Foodi Soup
Now we wanted to use some ground beef (or sausage works) and make a batch of unstuffed pepper soup! That was great but the next week I had a bunch of cabbage and tweaked that to integrate what needed to be cooked.
If you know me, you know that I hate to waste food. There is always a great way to make it delicious in under 30 minutes. Make it vegetarian without the meat or with spicy sausage is great. Another favorite packed with veggies is our Ninja Foodi ramen recipe.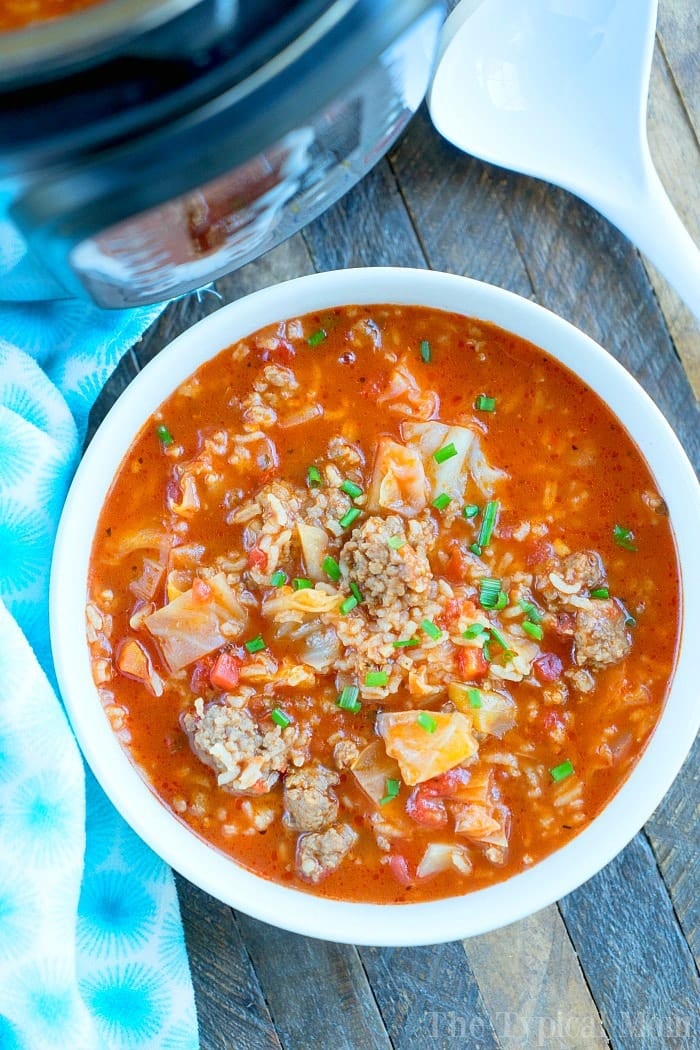 Pressure Cooker Cabbage Soup
Ready for this easy pressure cooker cabbage soup recipe? If you love your Instant Pot and cabbage then this may become your favorite dinner ever!
Check Out This Recipe
Ninja Foodi Cabbage Soup
I mean, if you love simple cabbage recipes, this should definitely be on the menu this week. We had enough left to make some Ninja Foodi cabbage too, and some cabbage in the air fryer too.
You can use canned beans to make this pressure cooker black bean soup with cornbread some night.
And we have another great pressure cooking sausage soup to share with you too. In just a few minutes followed by a quick release it will be done in no time. You can use canned or dry beans without soaking them first, similar to our Instant Pot 15 Bean Soup here.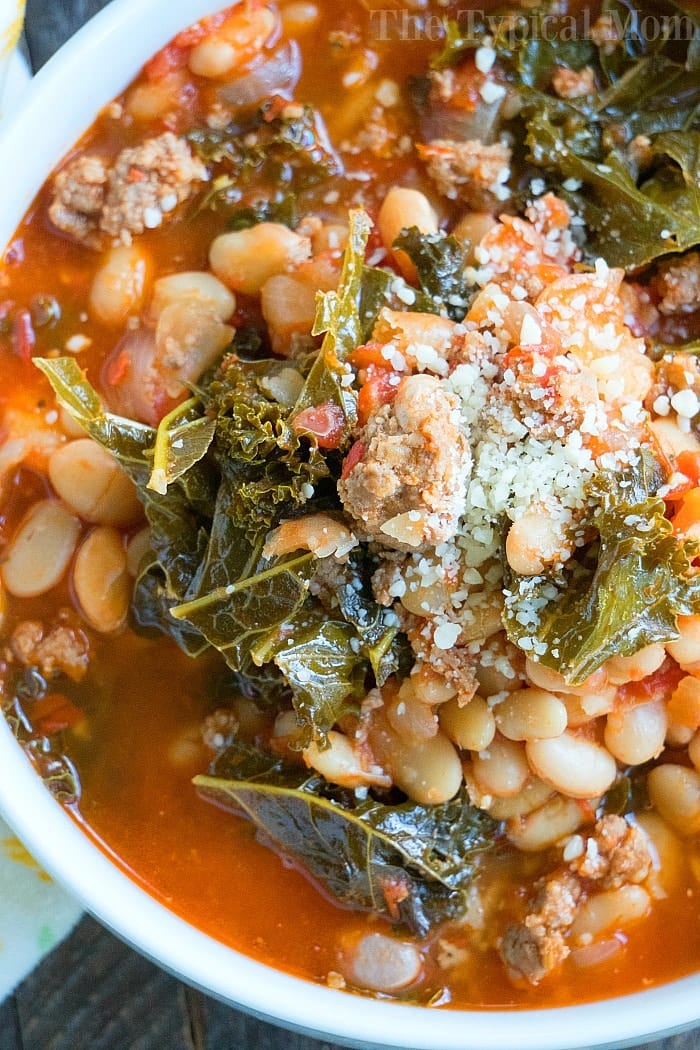 Pressure Cooker Sausage Soup
This homemade pressure cooker sausage soup is packed with flavor and can be made with or without kale. Using canned or dry beans it's the perfect dinner.
Check Out This Recipe
Ninja Foodi French Onion Soup
Packed with hearty canned beans (to make it cook quicker) and some kale at the end, it is a kicked up version of pressure cooker vegetable soup you can make vegetarian if you'd rather.
If you have leftover ham after the holidays, take out those lentils and try something new.Lentil soup with ham can be packed with meat or left vegetarian.
There isn't anything I haven't been able to make in our this fast cooker air fryer machine! I have another oldie but goodie to share with you here too.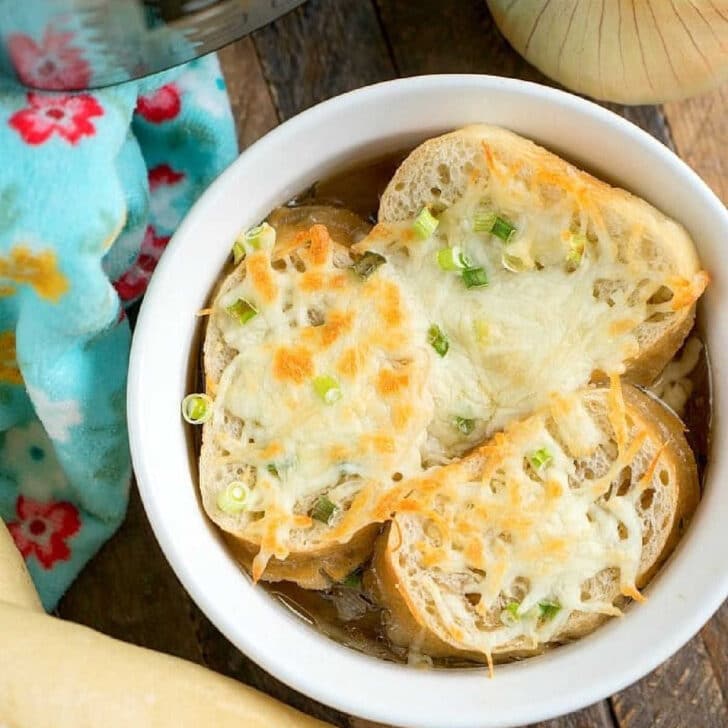 Pressure Cooker French Onion Soup
I've got the easiest pressure cooker french onion soup topped with french bread and cheese for you! Done in just 3 minutes in your Instant Pot.
Check Out This Recipe
Ninja Foodi Broccoli Cheese Soup
Yes you can make a batch of air fryer onions to serve on hamburgers which is amazing too, but pair with this soup and oh wow! Don't skip the gruyere cheese on top with bread, that is the best part y'all.
Ready for some creamy delicious soup with broccoli now? Remember the cheese again!! Ok, so don't count the calories on most of my creations, just enjoy them. 😉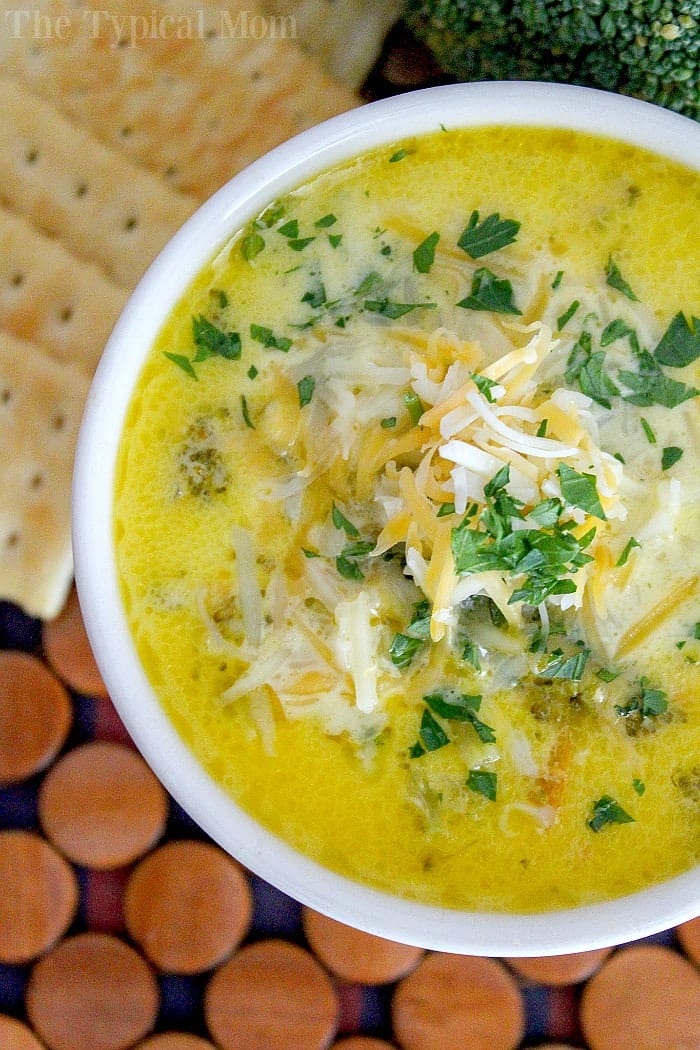 Pressure Cooker Broccoli Cheese Soup
This easy pressure cooker broccoli cheese soup uses fresh vegetables and turns out creamy and delicious in your Instant Pot every time!
Check Out This Recipe
For the most part you're going to use a quick rather than natural release when it comes to soups. Sometimes though if you are cooking a larger piece of meat beforehand, you'll let it out slowly.
Then release remaining pressure and continue on with the next steps. Beef for example needs time to let down slower in order for it to remain moist. Pulled pork is the same way.
Now on to this steak soup recipe: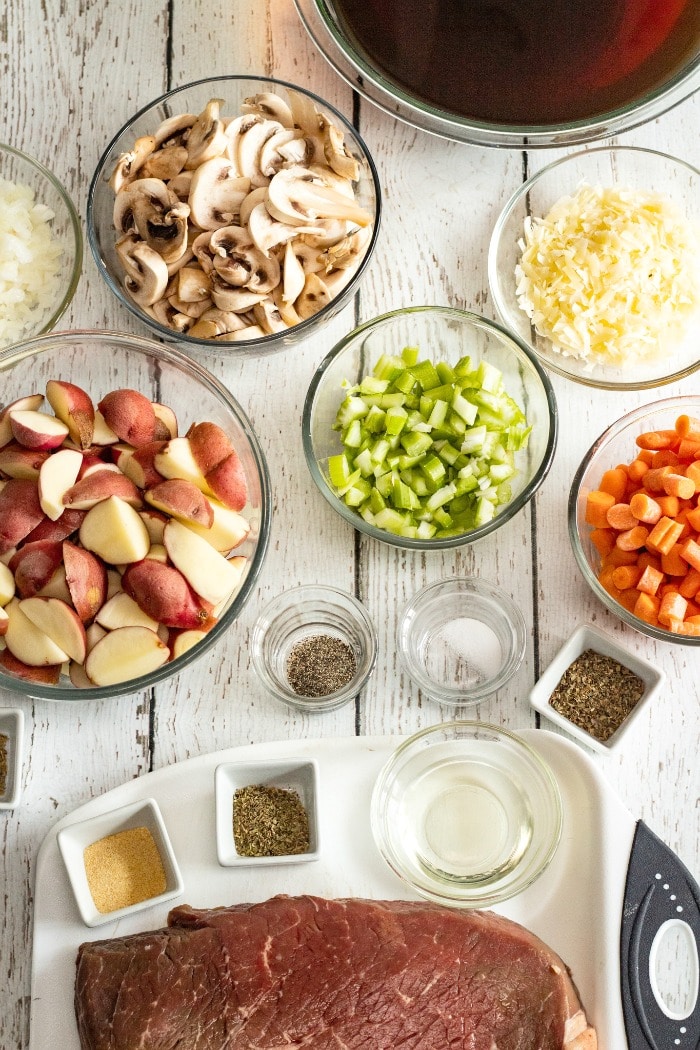 You can use really any type of cut you like. London broil was used here. Choose what you like, and/or what is on sale at the time. That is what I do usually.
Steak Soup
This is what you're going to want to pick up if you want to make this hearty meal:
2 lbs. steak
Olive oil
Mushrooms
Beef broth
Onion
Small red potatoes
Baby carrots
Celery
Seasonings
The herbs used here are shown below in the printable recipe. Of course adjust how you like as you're stirring and at the end too.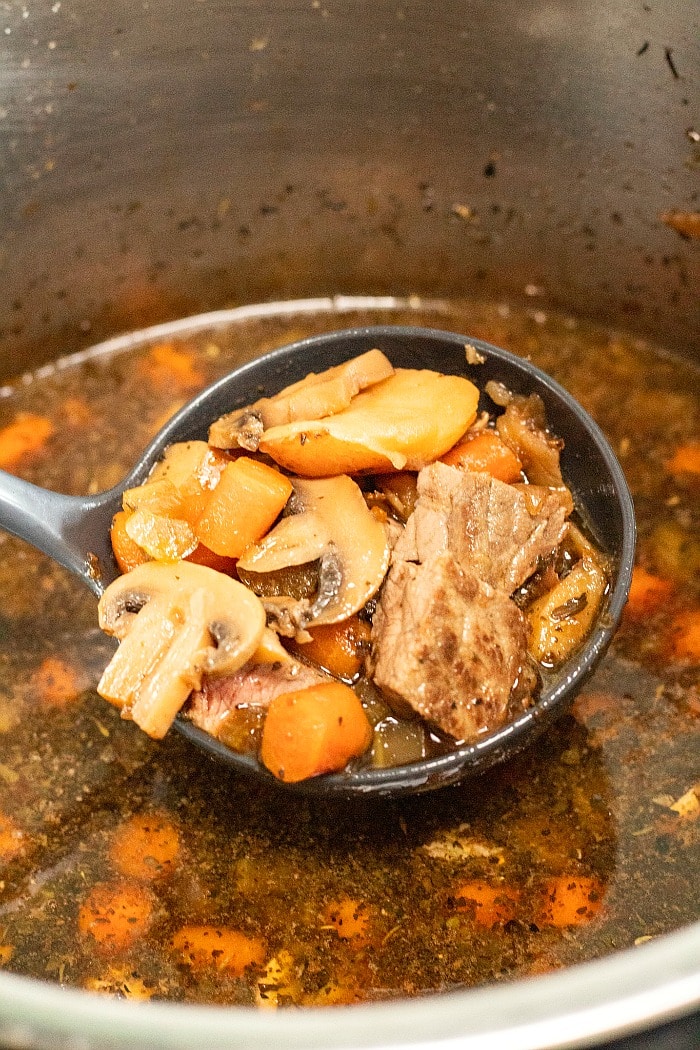 Now let's talk about how to save leftover soup well – Since this has liquid you wouldn't want to use freezer bags. I mean if you wanted to actually freeze it and lay them flat you could but I prefer airtight containers for this. Seal well once the contents are room temperature and they will say good in the fridge for up to 3 days.
If you aren't going to reheat within that timeframe then you would want to package it up and put into your freezer instead. That will extend the lifespan to a few months instead. When you are ready just transfer it into your fridge overnight so it can thaw out. Then put into a microwave safe dish and heat for 1 minute, stir and 1 more minute.
Need to thin it out? Just add a bit of broth or water and stir if it seems too thick. This might be the case for chowder or stew but is easy to fix. Serve with a side of bread or a salad and you're set for a second go around meal with it. Still delicious and doesn't cost you a thing! Let us know what you're favorites are!
Want to see a few of my favorite things that I am totally obsessed with?? Take a peek and see how many you might already have…twinsies!
Looking for more easy family recipes and tips? LIKE The Typical Mom Facebook page?
Then sign up for my free newsletter, and follow me on Pinterest! 😉
***** If you LOVED this recipe give it 5 Stars below and let everyone know what you thought about it. 😉
Ninja Foodi Beef Soup
The one below here in the recipe card is a hearty beef soup using cut up steak but any cut could be cubed into bite size pieces and used for this. I have even used chuck roast for it.
43 Ninja Foodi Soup Recipes
43 Ninja foodi soup recipe are here. Ninja Foodi chicken noodle soup, split pea soup, beef stew, cabbage soup and more. This one is steak soup in Ninja Foodi that is hearty for dinner.
Instructions
Set pot to saute, add olive oil, Italian seasoning and garlic powder.

Cube steak into bite size pieces and sear on all sides, then turn pot off. Pour in 1 cup of your broth and scrape stuck on pieces of meat off the bottom of the pot to deglaze.

Pour in remaining broth, potatoes, carrots, onions, celery and remaining seasonings. Stir

Put on pressure cooking lid (that isn't attached), press pressure button, high setting, for 4 minutes cook time.

Allow to naturally release pressure for 1 minute, then quick release.

Remove lid and add mushrooms. Put lid on ajar for 5 minutes to allow them to soften. If you want to thicken broth you can set to saute again and whisk some of the hot broth with 3 tbsp cornstarch in a bowl until smooth. Stir that in, allow to bubble and thicken.

Serve with parmesan cheese on top.
Nutrition Facts
43 Ninja Foodi Soup Recipes
Amount Per Serving (2 oz)
Calories 166
Calories from Fat 27
% Daily Value*
Fat 3g5%
Cholesterol 6mg2%
Sodium 915mg40%
Potassium 905mg26%
Carbohydrates 28g9%
Protein 7g14%
Vitamin A 5477IU110%
Vitamin C 14mg17%
Calcium 84mg8%
Iron 1mg6%
* Percent Daily Values are based on a 2000 calorie diet.