Air fryer whole chicken is amazing! Super crispy skin outside and tender meat inside makes the best dinner ever. Give this easy air fryer recipe a try.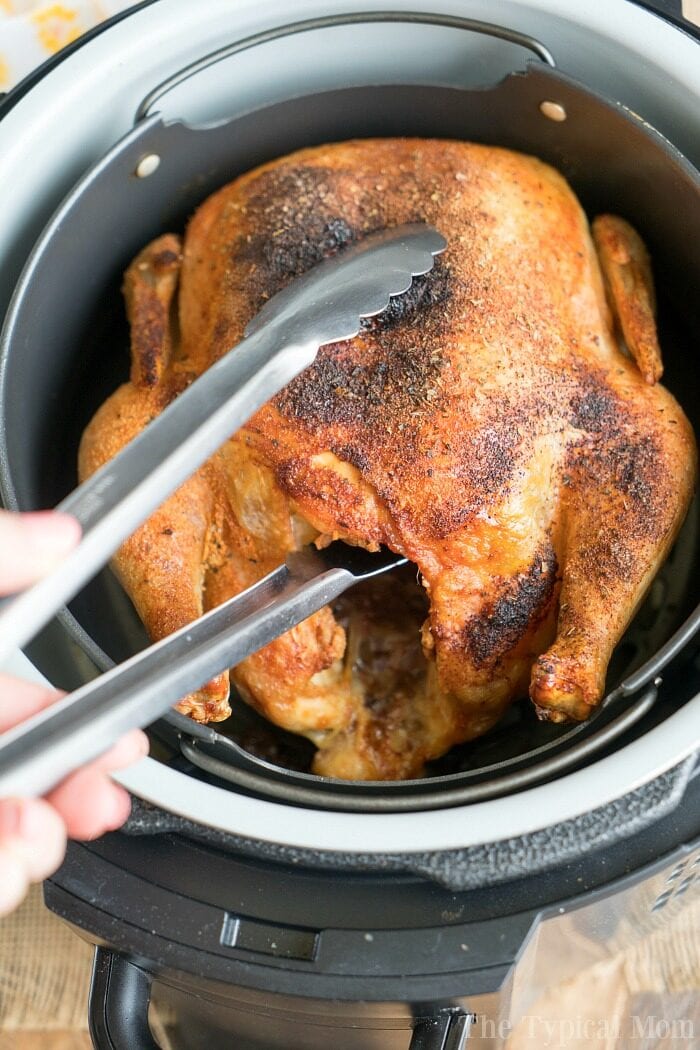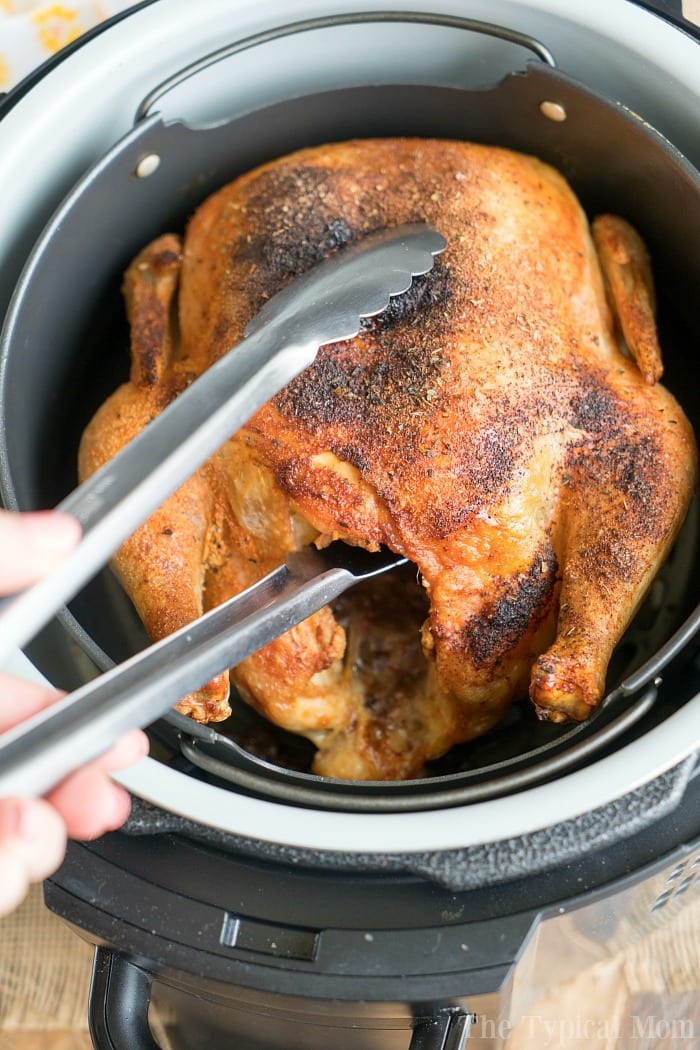 Ready to make an air fryer whole chicken in about an hour right at home?! Picture a rotisserie style chicken from the store but FRESH and super crispy skin that hasn't been sitting around all day. Then try our other easy air fryer recipes. (originally published 3/19, affiliate links present)
Whole Chicken Air Fryer
We made a Ninja Foodi roast chicken since that is the machine we have, but you can use any brand of air fryer for this.
All of these handy small kitchen appliances work basically the same. The biggest difference is the size of the basket. In this case it does make a difference.
You will need at least a 6 quart pot to make this well, bigger is better. Mine is 5.6 qt. or something shy of 6 and it's just fine. Just choose a smaller bird and get going y'all!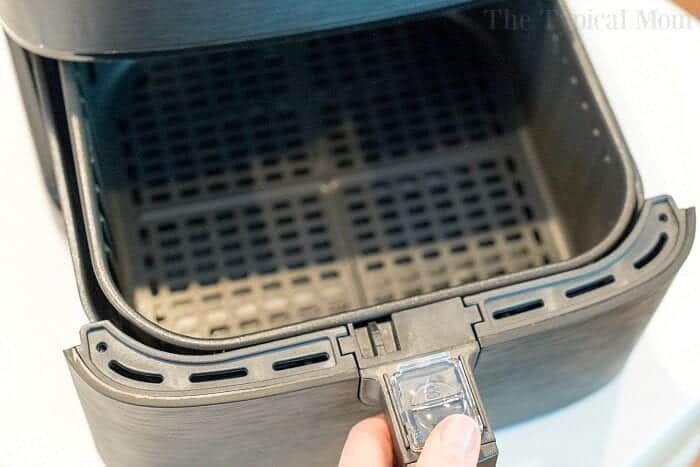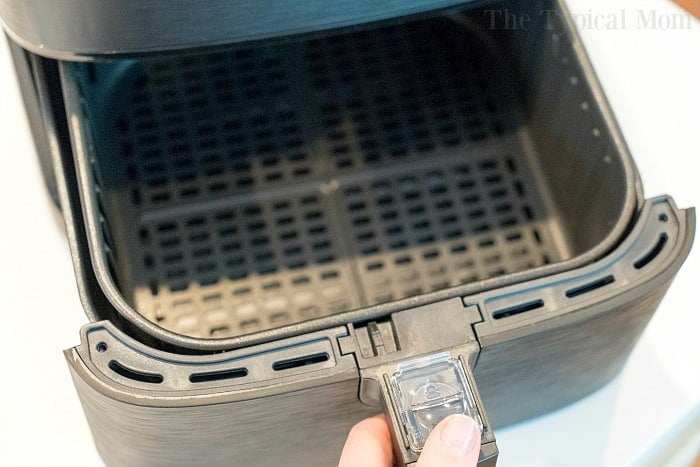 Air Fryer Rotisserie Chicken
In case you aren't familiar with the Ninja Foodi pressure cooker and air fryer we will tell you why we love it!
I have the 6 quart air fryer version, any brand including the xl air fryer works with these instructions. It's one of our favorite air fryer Costco recipes.
No need to heat up your oven and cook at 350 degrees anymore. This is the BEST way to cook a chicken now. A great way to do it if you're in a hurry for sure OR you love rotisserie chicken at the store but want it super fresh and ultra crispy on the outside.
Now you can leave it in an extra few minutes so your legs, wings and chicken skin all over is super golden brown and crisp to your liking. Store bought ones can become soft as they sit, and I like that I can choose to cook organic birds which in our opinion have leaner and more flavorful meat.
Whole chicken in air fryer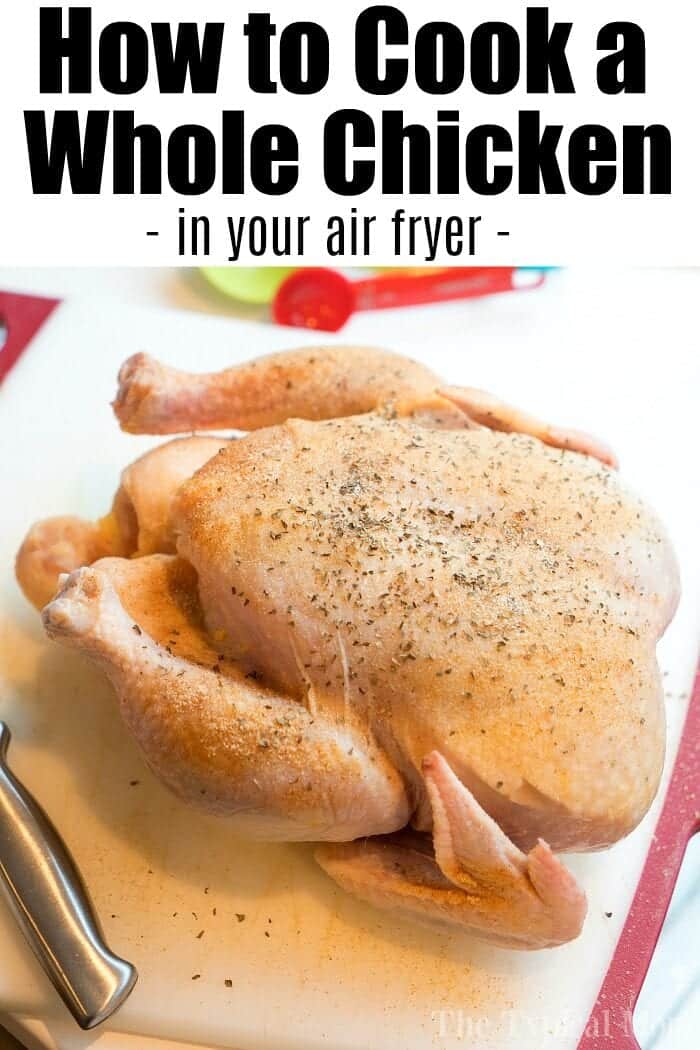 Air fryer accessories you will need aren't much. Just the basket is basically it, and something to prep it on of course.
I chose to use the air fryer basket that comes with the Ninja Foodi machine. (seen below)
You can also use an air fryer trivet so the top skin doesn't get as brown.
This is because the trivet will be lower and further away from the heating element.
That is it, you're ready!
I also recommend spraying non stick spray on either way before placing chicken on top.
Beyond this meal there are tons of other easy Ninja Foodi air fryer recipes you'll love.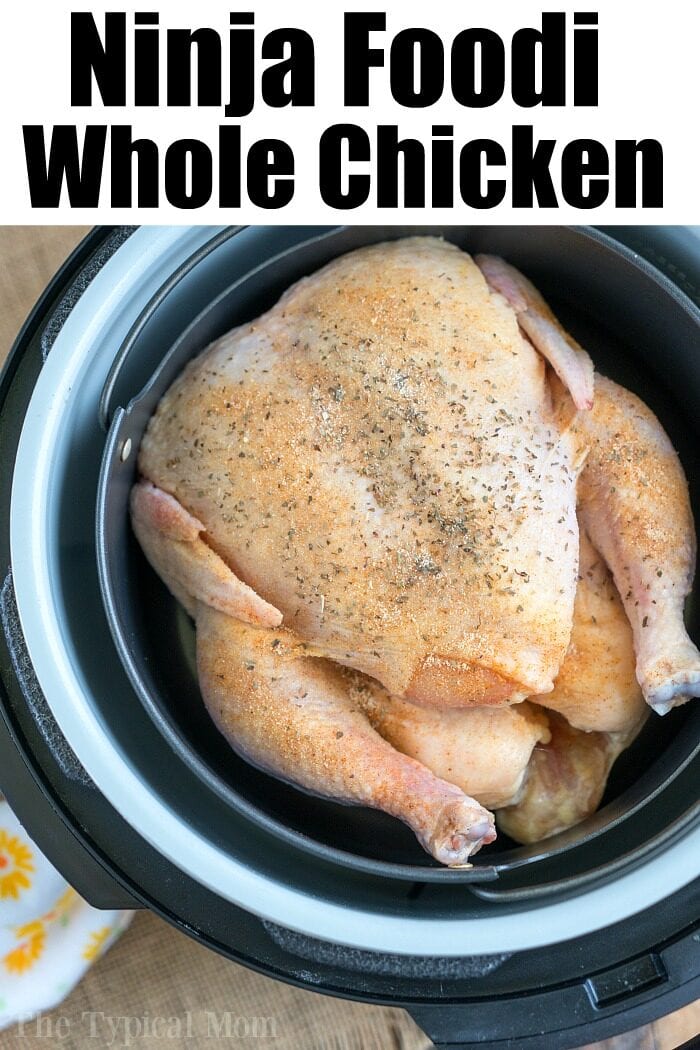 Ninja Foodi Chicken
Refer to the detailed ingredient list and instructions below in the printable recipe card at the bottom of this post. Here is a quick step by step though so you can get the general idea.
Wash your chicken and remove bag from inside cavity. Pat dry with paper towels. Rub or spray with olive oil cooking spray on both sides.
Season both sides and put in air fry basket with breast side facing down.
Close air crisp lid and set to 360 degrees for 30 minutes. Reset to 360 degrees for another 30 minutes. Allow to sit for 5 minutes before slicing.
Quicker method
Put chicken breast side up into your air fryer basket.
Rub with olive oil. Season.
Close air fryer lid, set to air crisp, 360 degrees for 60 minutes.
Remove, allow to sit for 5 min., slice and enjoy!
Rotating is best if you can so you get a more even crisp on the outside though
I mean rotisserie chickens are good but this is great!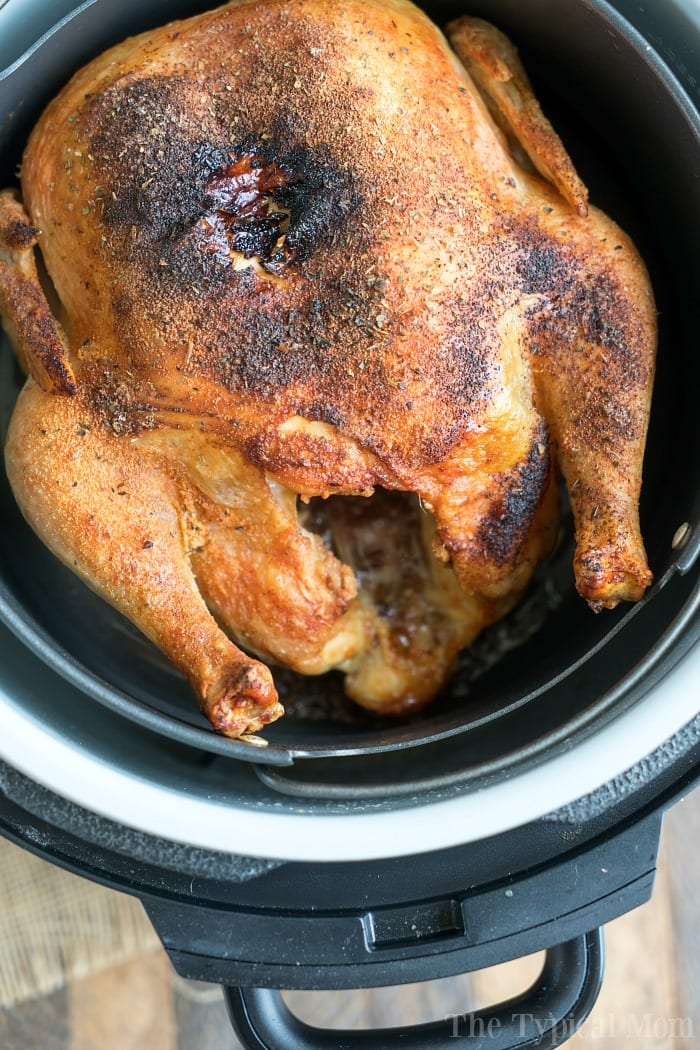 Ninja air fryer whole chicken
Yes the very top skin does get quite brown but believe it or not it still tastes amazing.
The first time I made this I looked at the air fryer cooking times printable to determine how long it would take.
For the size I purchased 75 minutes seemed too long so I set it to 60 instead. I wouldn't cook it any longer than that. It was absolutely perfect.
If you're an air fryer Costco shopper you'll find hundreds of other foods to make in your hot air machine too.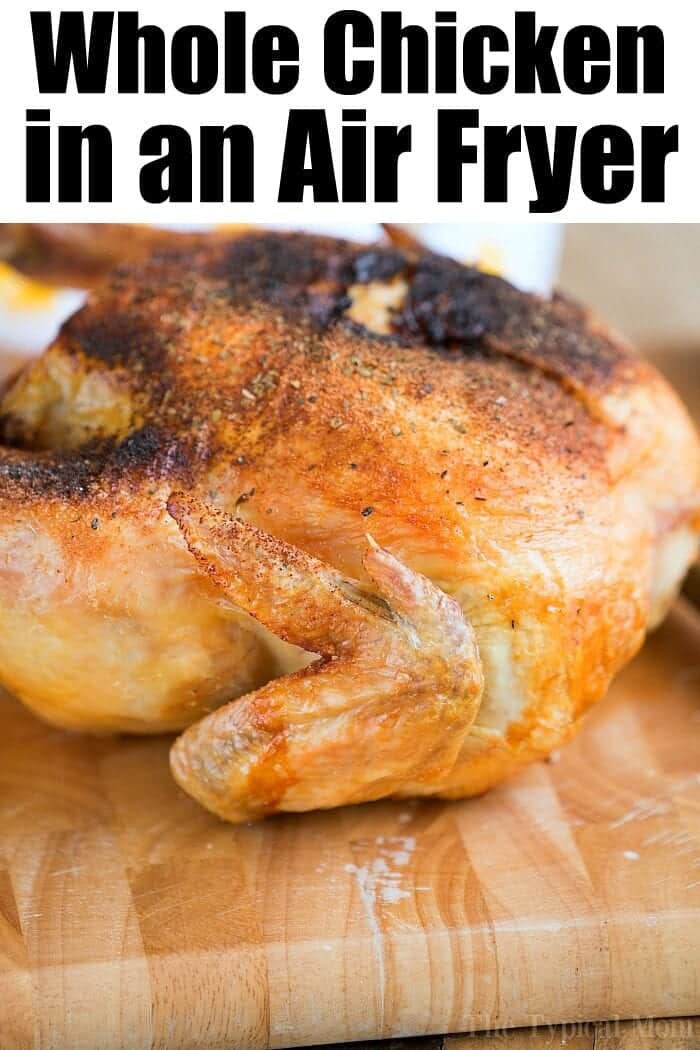 How to cook a whole chicken
Cooking it whole in an air fryer ensures it will not overdone at all. Just follow the steps below and it will turn out tasty and juicy every time you make it for sure.
If you're cooking a Ninja Foodi chicken there is a second way to cook a whole chicken. OR for a smaller meal, follow this Ninja Foodi chicken breast recipe.
You follow the first 3 steps below the same way.
Then close your pressure cooker lid (one that isn't attached).
Once this is done switch lids and close your air fryer lid.
Press crisp button 390 degrees for 10 minutes or until the top is as brown as you want it.
Remove immediately and slice.
We have other great Instant Pot chicken recipes here and how to make a Cornish hen in air fryer is really delicious.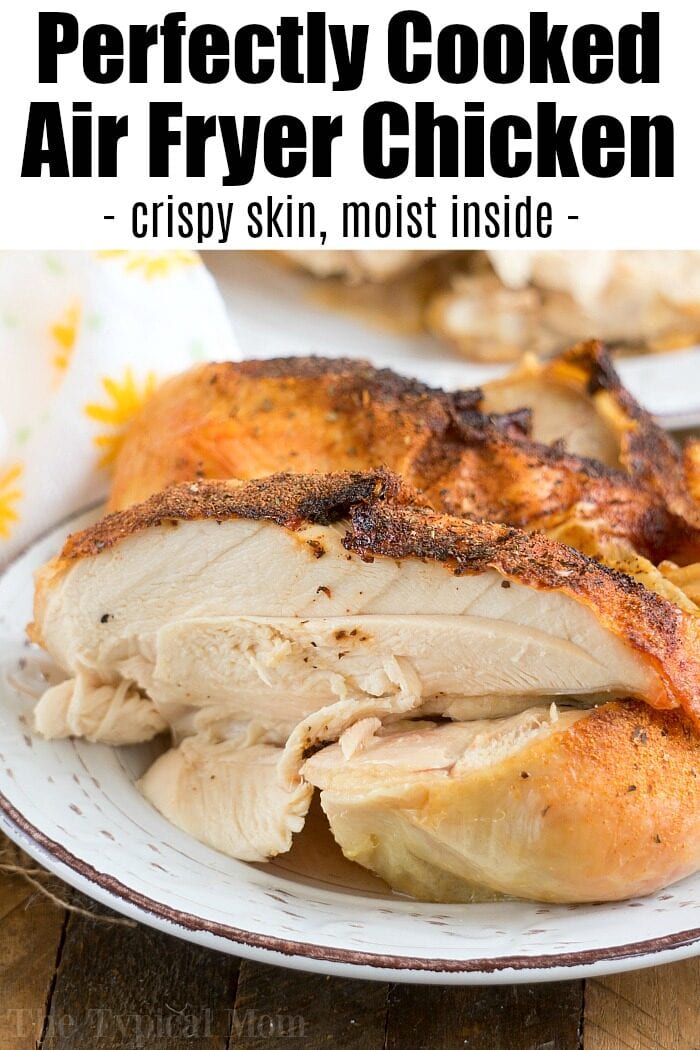 Details about the whole chicken we used:
It was 4.2 lbs.

I wouldn't buy one more than about 4.5 lbs.

Our whole chicken was organic.

Personally I feel these are leaner and have a better texture.

There was no bag inside our cavity to be removed.
Things to serve with your Ninja Foodi chicken
Next try our air fryer chicken parm!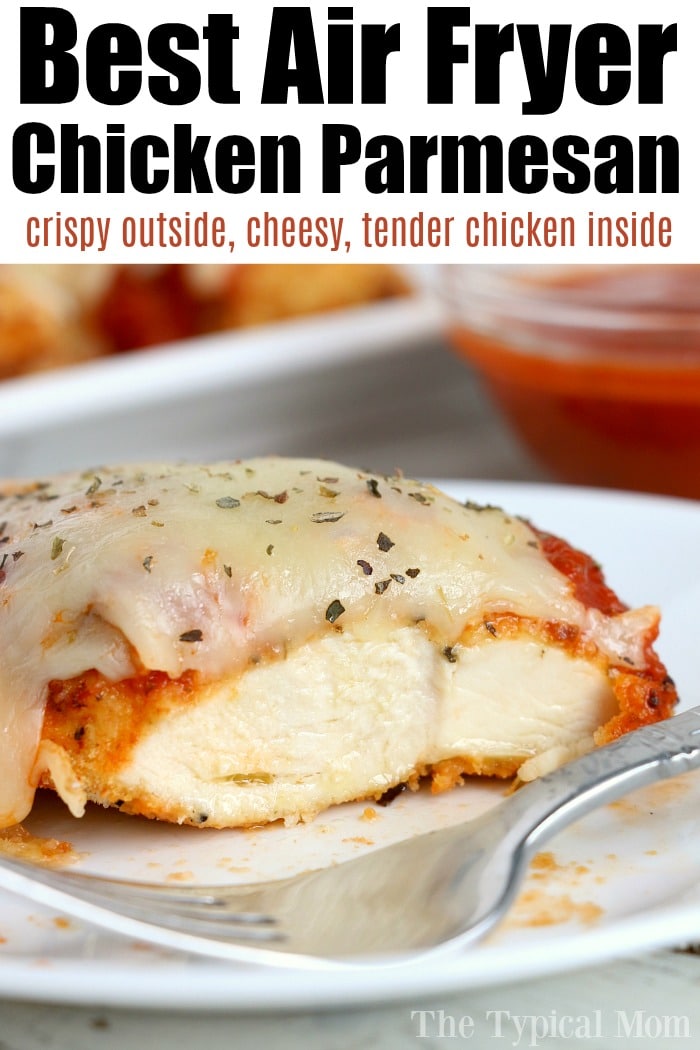 How long before cooked chicken goes bad?
Some bacteria such as salmonella may exist if the chicken was not cooked properly. This could potentially cause food poisoning.
It's best to discard your chicken if it has been sitting at room temperature for more than 2 hours. If it's been sitting in the fridge for more than 4 days, it's probably not good either.
Can you freeze cooked chicken and then reheat it
?
Leftovers that you originally bought raw (for example fresh chicken, beef, or pork that comes packaged) that you've since cooked can be frozen and reheated again.

I wouldn't freeze chicken that was once frozen and then cooked, that's just my preference because the taste will be compromised.

Our favorite leftover chicken recipe is our pressure cooker chicken and rice. We've also made this simple chicken pot pie with it too. Add some vegetables and it's a creamy dinner everyone will rave about.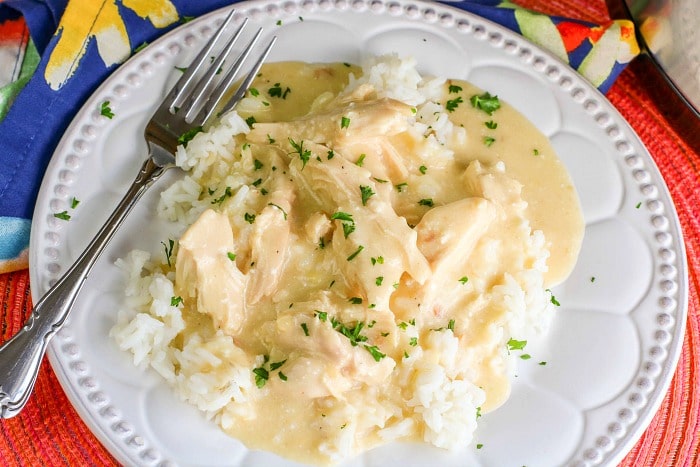 When reheating chicken in air fryer there are a few tips you should remember too, we go over them in the above post.
Want to see a few of my favorite things that I am totally obsessed with or visit my Etsy shop?? Take a peek and see how many you might already have…twinsies!
Looking for more easy family recipes and tips? LIKE The Typical Mom Facebook page?
Then sign up for my free newsletter, and follow me on Pinterest! 😉
***** If you LOVED this recipe give it 5 Stars below and let everyone know what you thought about it. 😉
Air Fryer Whole Chicken
Air fryer whole chicken is amazing! Super crispy skin outside and tender meat inside makes the best dinner ever. Give this easy air fryer recipe a try.
Instructions
Wash your chicken and remove bag from cavity if there is one.

Pat dry with paper towels. Rub olive oil on skin and season top and bottom of the bird. Spray inside of air fryer basket with non stick spray and put chicken into basket with the breast side facing down.

Close air fryer lid, press air crisp at 360 degrees for 30 min.

Then flip to breast side up. Cook remaining 30 minutes at 360 degrees. Always check to ensure meat has reached a safe temp. before consuming. If your bird is larger than mine it may take more time.

Remove when done, or leave in the machine when done for at least 5 minutes to retain juices, cut into pieces and enjoy!

Alternatively if you cannot tend to the chicken you can put chicken into basket after covered with olive oil and seasonings with breast side facing up at 360 degrees for 60 minutes. This is good too but top will get quite a bit more brown.
Nutrition Facts
Air Fryer Whole Chicken
Amount Per Serving (4 oz)
Calories 375
Calories from Fat 234
% Daily Value*
Fat 26g40%
Cholesterol 130mg43%
Sodium 587mg26%
Potassium 329mg9%
Protein 32g64%
Vitamin A 245IU5%
Vitamin C 2.8mg3%
Calcium 19mg2%
Iron 1.6mg9%
* Percent Daily Values are based on a 2000 calorie diet.