Buttermilk chicken legs in air fryer are crispy on the outside but tender and juicy on the inside. Copycat air fryer Kentucky Fried Chicken without the oil! You can even do this without breading using frozen drumsticks too.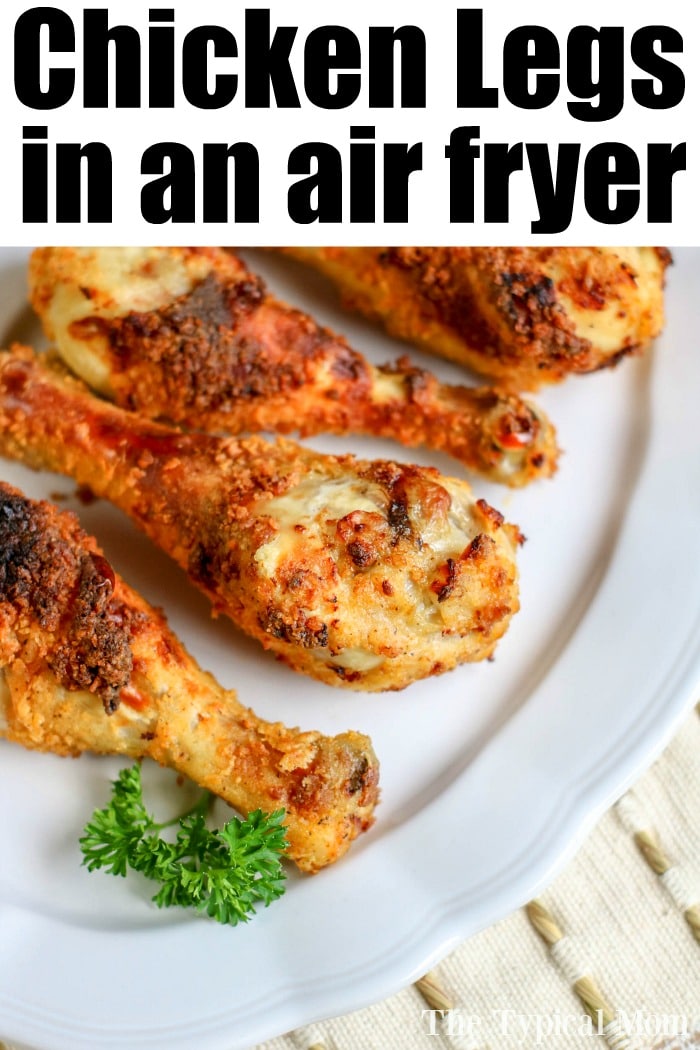 Ready for some chicken legs in air fryer that are juicy and delicious without having to be deep fried??!! I know, we thought they'd be a great dinner idea too. Find this and tons of other air fryer recipes here on The Typical Mom blog.
Air Fryer Chicken Legs with Flour
I don't know about you but I am obsessed with how to air fry everything nowadays! It keeps food healthy but you still get that crispy fast food or fair food taste we all love.
You can use any brand electric air fryer you have, or Ninja Foodi chicken legs with barbecue sauce are great. Make these super crispy air fryer chicken legs this week and let us know what you think.
FIRST – You should sign up for my free newsletter so you get new posts emailed to you twice a week and never miss out on anything! If you love air fryer recipes too, here are some resources to start with: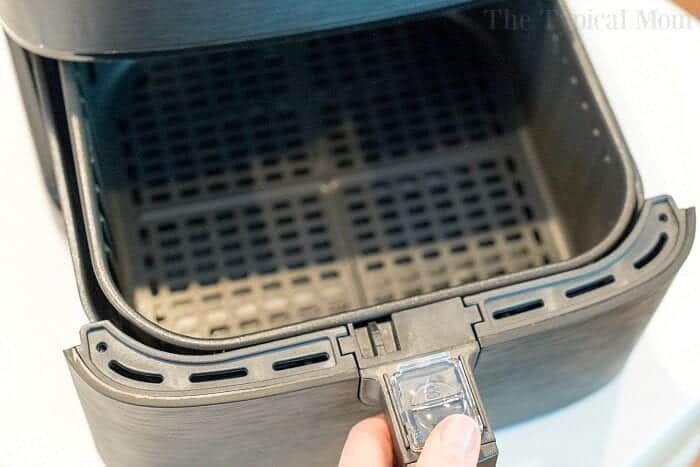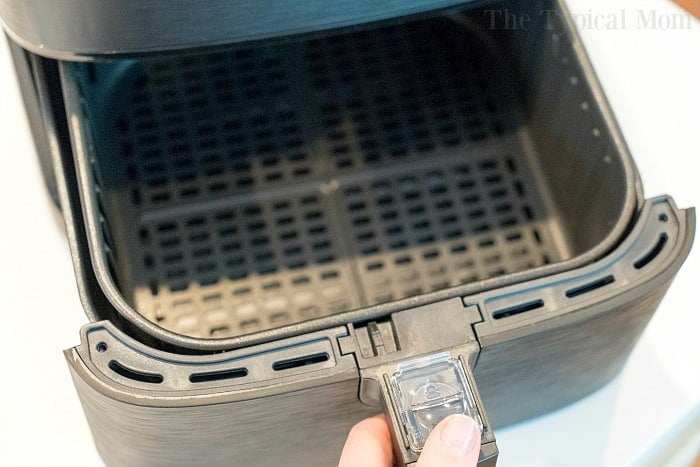 Air Fryer Chicken Legs and Thighs
You could follow these same instructions for both cuts. You would need to cook all the thighs together so the cook time would be the same for all. Legs would not take quite as long since there's less meat. I kid you not, this is a great copycat Kentucky Fried Chicken recipe that is much faster than heating up your oven.
This requires defrosted legs but if you forgot you can quickly make some Instant Pot frozen drumsticks instead. Then once they're done air fry them with some bbq sauce on top and enjoy. But wait because we added a second option from rock solid too. Air fryer frozen chicken legs y'all….and yes it works like wonders.
This first step is key to making these moist drumsticks for sure. It's all about the buttermilk.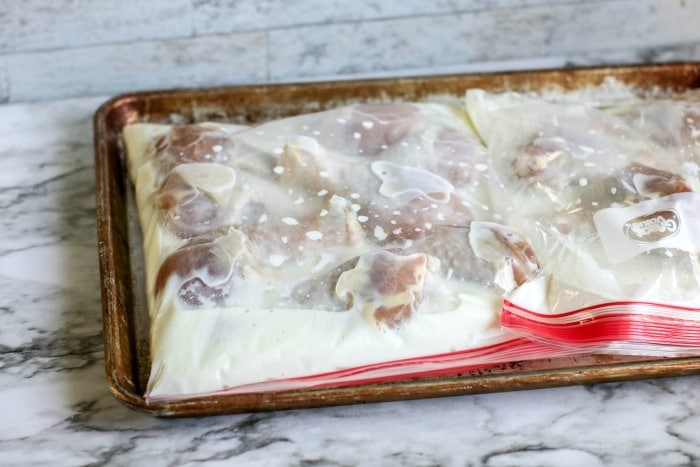 Crispy Air Fryer Chicken Legs
Yes we've made Instant Pot chicken legs too but if you want that crunch (I know you do), a large air fryer is a must! That is right, grab a container when you're at the store getting the rest of your ingredients. You probably have a gallon freezer bag in the drawer but you'll need that too for the marinating process.
Chicken drumsticks
Buttermilk
Flour
Baking powder
Butter
Lots of seasonings so they taste amazing

way beyond salt and pepper

Olive oil spray is great to get REALLY crispy skin when you cook the chicken those last few minutes
A meat thermometer is handy to ensure the meat has reached a safe 165 degrees
Barbecue or hot sauce to add on the outside of your air fryer chicken drumsticks before serving
Or you could use teriyaki instead of bbq if that is your favorite flavor.
Ninja Air Fryer Chicken Drumsticks
We have made whole chicken in the air fryer in it's whole form before. That one had no breading on the outside and yes it's a great recipe you should try as well. BUT when you're ready for delicious crispy chicken skin this is the way to go.
Here are the quick and easy steps to follow so you can make these in less than 30 minutes yourself:
Soak your chicken legs in a freezer bag filled with buttermilk for at least 2 hours in your fridge.
Preheat the air fryer to 390 degrees.
In a shallow dish or bowl combine together your breadcrumbs, flour and seasonings.
Roll each drumstick into the flour mixture, shake off excess, and place inside your air fryer basket. Make sure you do not overlap them to allow the hot air to crisp all sides.
Cook at 390 degrees for a 15 minute cooking time.
Then remove each one, brush with melted butter on all sides, flip over, and continue cooking for 10 more minutes or until they're as crispy as you'd like.
To create a REALLY crispy skin you can lightly spray outside with olive oil spray but for this I haven't had to do that, the butter has been adequate.
Oil crisps all the things you make, that is the secret sauce if you will. Every time you flip you should give the top a quick spray to get as crunchy as you desire.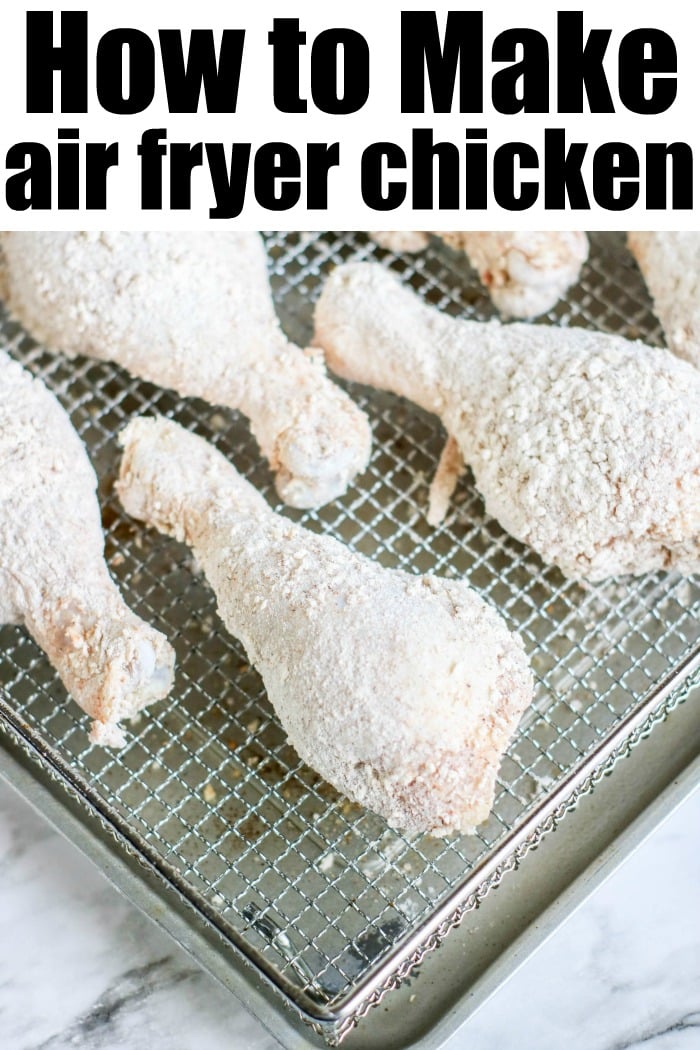 Air Fryer Buttermilk Chicken
If you are interested in a faster, easier recipe for air fryer fried chicken you can use a pre made chicken batter mix like we have in the past.
I would say both are good. It just depends on whether you want to go the extra step to make your own coating. It isn't hard to do so but sometimes right off the shelf is nice too.
Tips to remember whether you use your own crispy breading or a container full:
Can you stack drumsticks in air fryer?
Yes, you can stack homemade or frozen french fries in air fryer, but other foods like chicken and burgers should not be. The most important thing you need to remember when using your air fryer is that this machine cooks food by circulating hot air around it. In order for the cooking to happen effectively all the surface of your food needs to be exposed.
Your best bet to get really crispy chicken legs in air fryer is to cook in several batches so you can keep each one in just one layer.
Do you have to preheat an air fryer?
That is something I have experimented with and here are my findings, okay my opinions:
No, at the end of the day the air fryer does not have to be preheated. BUT, when you do not preheat it, you will most likely need to leave your meal in slightly longer. The preheating process only takes about 2-3 minutes and is worth it to do. If you forget though don't fret, just add an additional minute or two.
Can I put frozen chicken in air fryer?
I have a few answers to this. I've done this with legs (linked at the top of this post) and have made a tender air fryer frozen chicken breast too! Amazingly enough it comes out really delicious with just salt, pepper and some seasonings.
From there you can add any sauce you like and serve with a healthy side dish like our air fryer fried zucchini and…….
What should I serve with drumsticks
There are so many possibilities. I usually use the same machine for side dishes so everything has a nice texture to them.
You can make this healthy buttery cauliflower in your hot air machine, one of our favorites.
Fried pickles are a fun thing to make after your chicken is done.
These are by far the best mixed vegetables we make all the time
We have a bunch of other dinner recipes you can enjoy together here too
You should try our easy baked chicken legs with homemade teriyaki sauce next. Here are more Ninja Foodi chicken recipes too.
How long is leftover fried chicken good for?
Eating leftovers saves a lot of time and money. All foods spoil though if you leave it in the refrigerator too long. In general, if stored correctly in airtight containers it is safe to eat for three to four days. Then try adding it to a chicken casserole and enjoy the next day.
Want to see a few of my favorite things that I am totally obsessed with?? Take a peek and see how many you might already have…twinsies!
Looking for more easy family recipes and tips? LIKE The Typical Mom Facebook page?
Then sign up for my free newsletter, and follow me on Pinterest! 😉
***** If you LOVED this recipe give it 5 Stars below and let everyone know what you thought about it. 😉
Chicken Legs in Air Fryer
Buttermilk chicken legs in air fryer are crispy on the outside but tender and juicy on the inside. Copycat Kentucky Fried Chicken without the oil!
Instructions
In a gallon freezer bag add buttermilk and chicken legs. Allow to soak at least 2 hours to overnight in fridge.

Preheat air fryer when ready to 390 degrees.

Mix together bread crumbs, flour, baking powder and dry seasonings in a shallow dish.

Take one leg out at a time and roll in panko mixture so coating sticks well, shake off excess.

Spray air fryer basket with non stick spray and put coated chicken legs inside so they are not overlapping.

Cook at 390 for 15 minutes. Then remove each one one at a time, brush with melted butter and flip over, placing it back into your air fryer basket.

Cook for an additional 10-15 minutes, timing will depend on how large your legs are.

Remove one leg after 10 minutes and check with thermometer to ensure it is 165 degree internally. If not add a few more minutes until it is done thoroughly.

Keep batch warm when done and put second batch in.
Nutrition Facts
Chicken Legs in Air Fryer
Amount Per Serving (3 oz)
Calories 347
Calories from Fat 207
% Daily Value*
Fat 23g35%
Cholesterol 94mg31%
Sodium 388mg17%
Potassium 235mg7%
Carbohydrates 20g7%
Protein 14g28%
Vitamin A 533IU11%
Vitamin C 1mg1%
Calcium 73mg7%
Iron 2mg11%
* Percent Daily Values are based on a 2000 calorie diet.