This easy Instant Pot Italian Wedding Soup is perfect year round! Just a few simple ingredients make this healthy pressure cooker soup delicious and have become a family favorite! Make in your Ninja Foodi or Crockpot Express using the same directions.
If you've never made Instant Pot Italian wedding soup it's really yummy! In years past we've made it in a slow cooker. Now we are adding it to our favorite list of Instant Pot recipes so you can make it in no time. (originally published 6/17, services llc associates program, affiliate links present)
Ninja Foodi Italian Wedding Soup
You can make this in any brand pressure cooker you have at home. We have a Mealthy, IP, Crockpot express and it makes a great easy Ninja Foodi recipe as well.
If you have leftover meatballs, those work just as well as adding frozen meatballs or homemade into the mix. If you wanted a vegetarian version you could leave those out but for us they're our favorite part. It saves so well to reheat the next day too so that's a win win.
FIRST – You should sign up for my free newsletter so you get new posts emailed to you twice a week and never miss out on anything! Now let's start with a few basic tips:
Make sure to Bookmark our InstaPot recipes page. We add new ones each week!
Then PRINT this —–> Instant Pot cooking times cheat sheet that will help you understand how long meat, vegetables and beans take to cook in your pressure cooker.
For reference, this is the pressure cooker I have (a 6 quart) and use for all recipe creations.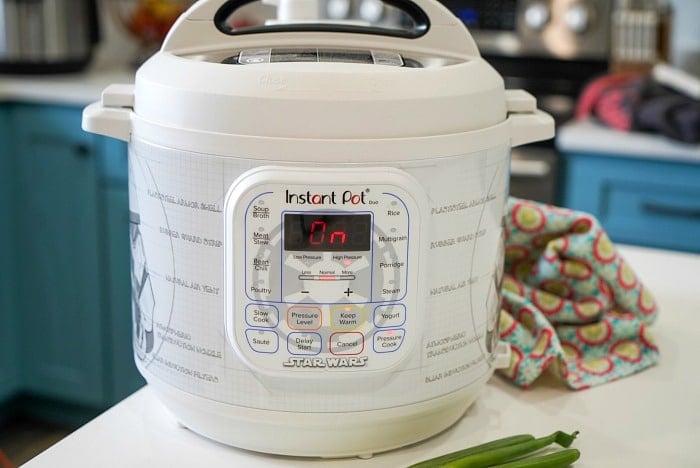 Here are a few questions you might have before you get started;
How to do you make Italian wedding soup from scratch?
We will show you right here. You only need a few ingredients and you can either use frozen meatballs or make them yourself.
What is Italian wedding soup called?
Originally it's name is really minestra maritata which means married soup in the fact that the ingredients are "married" to one another with flavors all together.
Can you freeze Italian wedding soup?
Of course it is better fresh on the first day but if you have leftovers you certainly can. Allow it to cool to room temperature and then transfer to freezer safe air tight containers or bags.
Homemade Italian Wedding soup
You can use any electric high pressure machine you have. As far as the noodles go if you cannot find this version use as small as you can find.
Instant Pot or pressure cooker
Sausage to make meatballs

or turkey meatballs with ground turkey
frozen mini meatballs defrosted work too

Carrots
Onion
Escarole (greenery inside)
Tiny noodles (we use Pastina)

or acini di pepe works

Chicken broth or water
It is much better with broth because as you can imagine it adds a lot more flavor than plain water. Use what you like, vegetable broth is quite good too.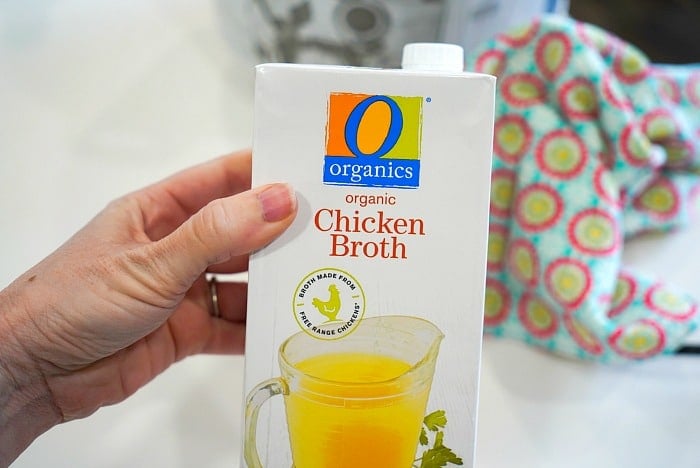 Ninja Foodi Italian Soup
Why we love this easy pressure cooker soup:
It tastes perfect with vegetables, sausage, and these little noodles my kids love.
We are always looking for simple recipes that not only taste good but are healthy too and this one surely fits the bill.
It only takes a few minutes with a quick release at the end
You don't really need Italian seasonings if you make homemade meatballs because the flavor of those will be enough
Serve it with the best garlic bread recipe and it is the perfect lunch or dinner, and great if there are any leftovers.
It's a healthy Ninja Foodi soup recipes that tastes delicious. A lot of times I will just serve it as is. If you wanted to add vegetables into the mix just choose those that are firmer in nature. Carrots are a given which you can see but celery would work well too.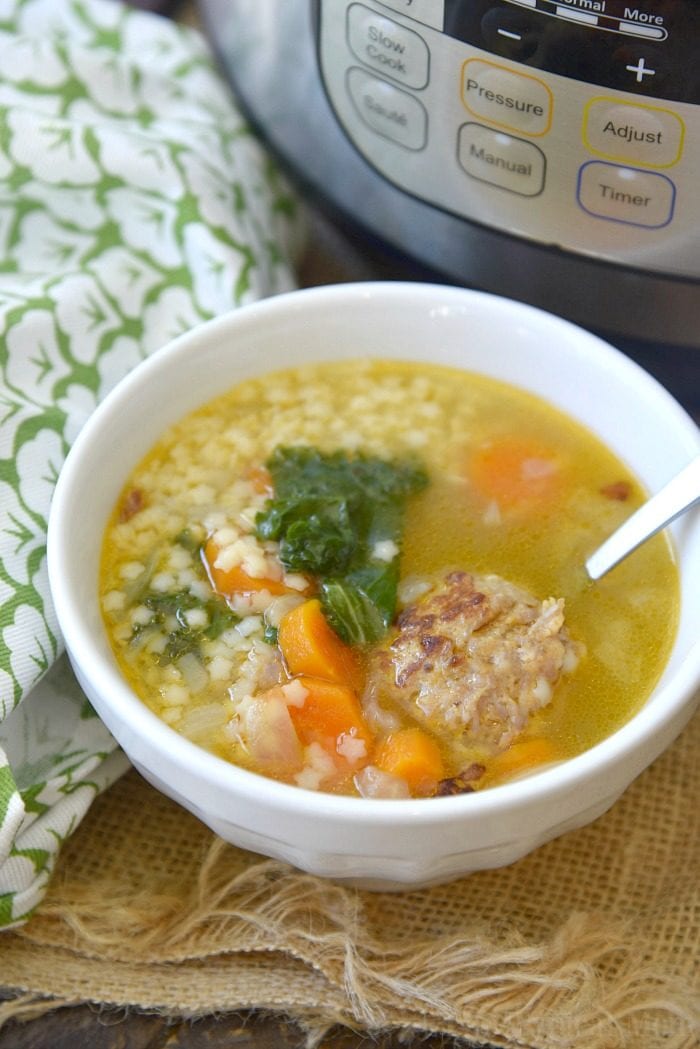 Instant Pot Italian Wedding soup
I like to season when done to make sure I really want more salt. The other ingredients will add natural flavors and sodium into the dish so you don't want to overdo it.
You really don't need any seasoning in it because the flavors from the sausage meatballs permeate throughout the soup and that is enough to make it delicious.
I suggest making your own fresh meatballs. You can use our quick meatloaf recipe and form them into meatballs.
Frozen meatballs just don't taste quite as good (but can be used).

I like using sausage meat like you see below, cutting the casing off and then creating a meatloaf type of mixture.
Then forming them into meatballs.
If you are in a hurry by all means use frozen meatballs (Italian sausage is best and usually available) and just defrost them before you add them to the soup.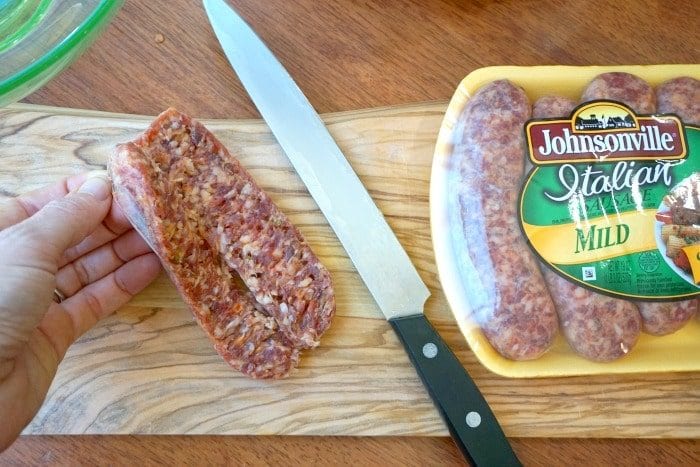 Instant Pot Wedding Soup
It is quite inexpensive to make as well as healthy and since you are using your Instant Pot and not having to heat the oven or stovetop. You can make it year round and not heat up your house! Whether you live in a hot place and you're looking for recipes where you don't have to turn the oven/stove on. If it's snowing outside and all you want is soup!
How to save leftover soup is quite easy. You just want to allow it to completely cool off and get to be room temperature first. Then use a ladle to transfer it into a sealed container and store in your fridge for up to 3 days. When reheating transfer to a microwave safe bowl first. Heat for 1 minute, stir and 30 seconds more until warmed.
Pressure Cooker Italian Wedding Soup Recipe
Like I said, we've made this Crockpot Italian Wedding Soup in the slow cooker too. If you haven't made the jump to Instant Pot yet I suggest you make this version.
If making homemade meatballs then create those first. Add olive oil and set pot to saute. Brown outsides.
Add onions so they soften alongside of them if you like. Remove and deglaze Instant Pot.
Put browned meatballs back into pot (or use defrosted instead). Add any vegetables cut up that you'd like with acini de pepe, and broth.
Close lid and steam valve and cook on high pressure for 3 minutes. Do a quick release.
Lift lid and submerge leave on top. Set pot to saute for 2 minutes and allow that to wilt. Serve!
Italian Wedding Soup Instant Pot
I like mine with some shredded parmesan on top. Serve it with some bread and you have a complete meal done in about 20 minutes. Now that is a huge win in my busy Mom book.
We eat soup for dinner a lot. I guess I was brought up that way a bit because it was an inexpensive way to get you full.
At that time it was all canned but now I can make homemade meals in a snap with my 7 in 1 kitchen appliance with no problems.
Here's a printable recipe for you as well.
Want to see a few of my favorite things that I am totally obsessed with?? Take a peek and see how many you might already have…twinsies!
Looking for more easy family recipes and tips? LIKE The Typical Mom Facebook page?
Then sign up for my free newsletter, and follow me on Pinterest! 😉
***** If you LOVED this recipe give it 5 Stars below and let everyone know what you thought about it. 😉
Instant Pot Italian Wedding Soup
This easy Instant Pot Italian Wedding Soup is perfect year round. Simple yet packed with flavor it's a healthy pressure cooker soup that everyone loves!
Instructions
Make your meatballs or buy them pre-made at the store.

Add a few tbsp of olive oil into your Instant Pot, set to saute, low, and add your meatballs.

Brown the outsides if you're cooking using your own fresh meatballs, if using frozen just defrost them ahead of time and add to pot just to warm them slightly, then add your diced onions. Cook for a minute or two just to soften onions slightly. Turn pot off/cancel.

Pour in your chicken stock, diced carrots, basil, and Pastini noodles. (if you want your noodles to be really al dente then add them with your escarole later)

Put on the lid and close the steam valve on your pressure cooker and set to pressure, high, for 3 minutes.

When done do a quick release.

Add escarole if you choose to add it (cut into spoon size pcs., use about 2 c. of leaves) and stir gently so leaves are submerged. Set Instant Pot to saute, low, and allow to bubble for 2-3 minutes so escarole can soften. Serve!
Nutrition Facts
Instant Pot Italian Wedding Soup
Amount Per Serving (8 oz)
Calories 117
Calories from Fat 54
% Daily Value*
Fat 6g9%
Cholesterol 20mg7%
Sodium 747mg32%
Potassium 624mg18%
Carbohydrates 8g3%
Protein 7g14%
Vitamin A 6950IU139%
Vitamin C 22.1mg27%
Calcium 74mg7%
Iron 1.5mg8%
* Percent Daily Values are based on a 2000 calorie diet.