How to cook frozen meatballs in air fryer, Instant Pot, Ninja Foodi, Slow cooker, Oven baked, or in a microwave. Get your ground beef, sausage or ground turkey meatballs nice and tender for spaghetti or served sauced as a cheap appetizer.
We have done it all and want to share how to cook frozen meatballs with all of y'all now! The possibilities are endless with precooked ready made balls of meat. Whether you serve them as a snack or add into a casserole there are several ways to cook frozen meat to tender. Here are all the instructions you'll need. (affiliate links present)
What is the Best Way to Cook Frozen Meatballs
We should start with our favorite method first right?? I'm all about easy air fryer recipes and I use my Ninja foodi all the time too. Doesn't really matter what brand you have, they all basically work the same. I love this because you not only get the insides nice and tender but the texture on the outside is great too.
I love a little bit of crisp, you may be the same way. Now you can just preheat your machine, throw in your air fryer frozen meatballs and they're done in just minutes.
Then toss in your favorite bbq or grape jelly chili sauce for an appetizer or mix in with spaghetti. My kids will even just eat these as a quick after school snack sometimes.
I mean homemade meatballs in air fryer are always best, but you don't always have time to make those so this is second best.
Can you cook meatballs straight from frozen?
Yep! You can even just throw these babies in other dishes as is too though, not just plain with sauce. I have done this quite often in soups and casseroles. Since you are boiling or baking it anyway with everything else there isn't any precooking required for things like Instant Pot Italian Wedding Soup or our Swedish meatball casserole dish.
Love meatball soup or our Crockpot meatballs and gravy? We do too during the winter months and when I don't have time to make homemade, these do the trick quite well.
How to Cook Frozen Meatballs in Crockpot
Want to cook a batch of cranberry meatballs during the holidays as an appetizer? Crockpot frozen meatballs is probably your best bet. I like this method when there is company coming over because once they're done you can just set to warm. Leave it right in the Crock with toothpicks on the side for everyone to enjoy the whole day.
Frozen Meatballs
Let's talk about specifics shall we. Brands, which is better and is there a difference. I will say yes. Store brands to be are a bit more "fake meat" tasting to be quite honest. If you spend a bit more and go for the name brand bags you won't regret it. There are many different types out there too, depending on what your grocery store carries.
You will always find the basic store brand ground beef types. From there you'll see turkey meatballs, sometimes pork is available and Italian is typically offered by everyone as well as "regular". If you are serving them as is tossed with a sauce you will be able to tell the difference in texture more vs. if you put them into Ninja Foodi spaghetti.
I guess you could compare them to Chick Fil A chicken nuggets vs. frozen chicken nuggets. You know how the texture is weirder in the processed bagged type? That is kinda' the same with these. If you are really particular you could always make your own, freeze, and pull out to cook later.
How Long to Cook Frozen Meatballs in oven
Preheat oven to 350 F.
Spread out on a baking sheet without overlapping
Bake for 20 minutes until heated thru to your liking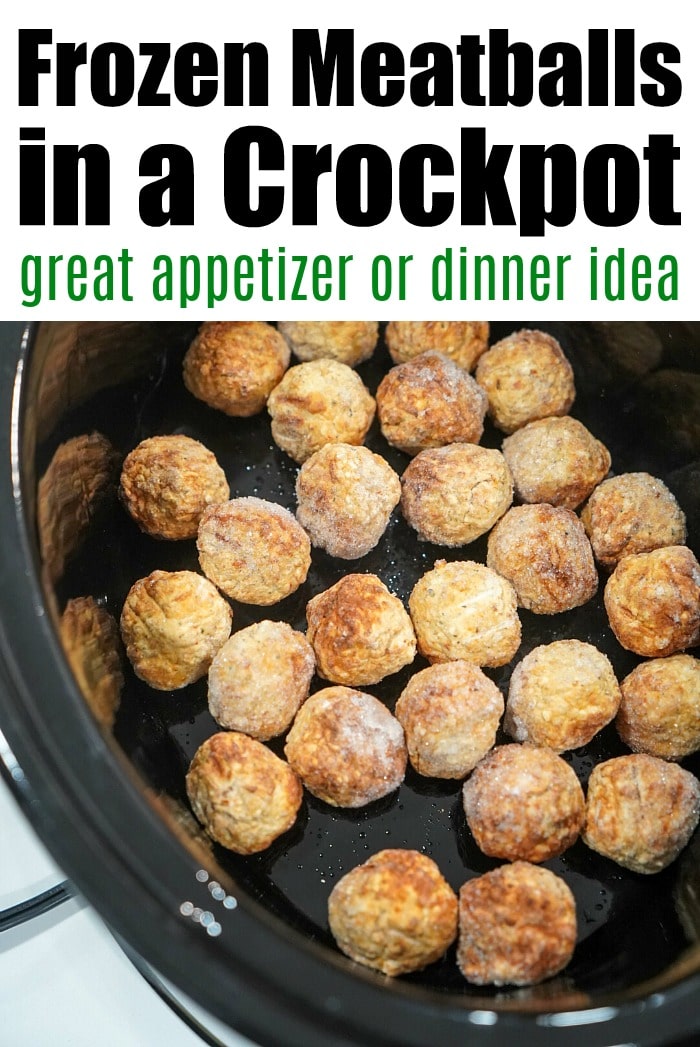 Homemade Freezer Meatballs
If you want to make your own homemade meatball recipe like we have done you can freeze them when done. It is best if you do NOT cook them beforehand.
Instead, make them, lay on a baking sheet with parchment paper and slide into the freezer for 4 hours until stiff. Transfer into a gallon freezer bag and they'll keep for 3 months +.
How Long do You Bake Frozen Uncooked Meatballs
If you do make them yourself, freeze, and now need to cook them it will take a bit longer. Since most bagged versions are already cooked, you're just warming them up this cook time would be different. For oven baked frozen meatballs you would follow these directions:
It is best if you first toss them in your favorite sauce like:

bbq sauce

Pour into a casserole dish and cover
Put meatballs in the oven inside once it is preheated at 350 F for 30 minutes
Lift lid off and cook uncovered for another 10 – 15 minutes until they are heated thru to the center and internal temperature reaches 165 F.
This is how long to cook meatballs on the stovetop once they're thawed. Then you can pop them in the oven if you like.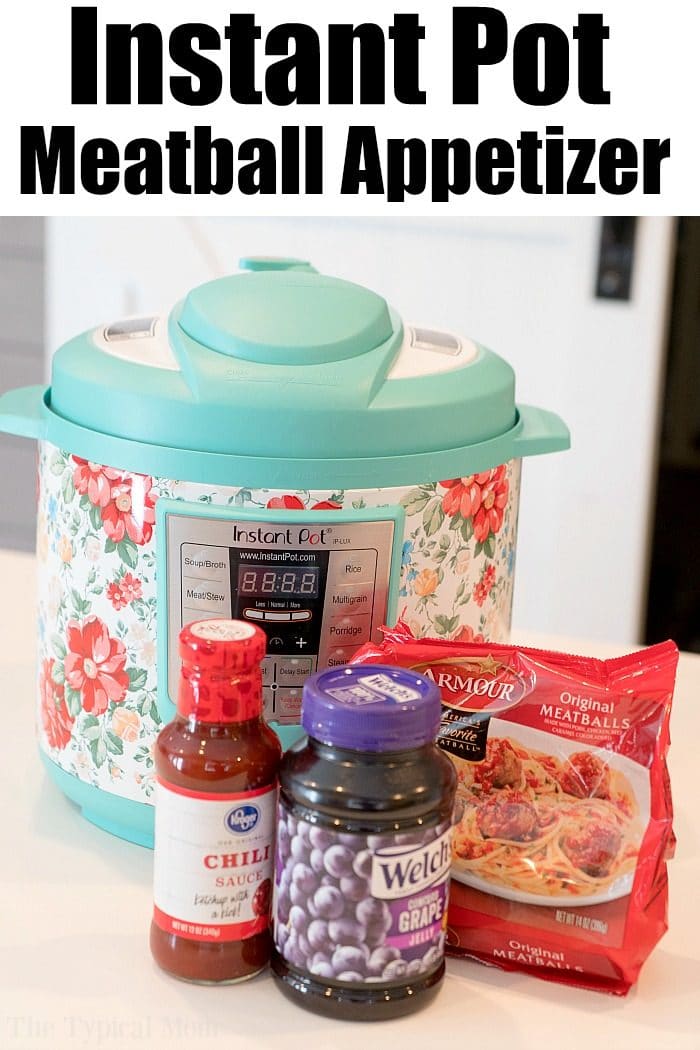 How to Cook Frozen Meatballs in Pressure Cooker
You can see our Instant Pot above where we do just that. Instant Pot frozen meatballs are really simple, and fast too. Also serving as a good vessel for when they are done you can also set this pot to warm for serving purposes if need be.
OR just throw them in with our homemade sauce for Instant Pot Swedish meatballs without defrosting for a complete dinner.
How to Microwave Frozen Meatballs
This is the easiest I suppose, and explained on the back of every bag. The best way to do it so that they don't dry out is to wet a few paper towels. Wrap them inside in a single layer on a plate and heat for about 2 minutes or until fully cooked and as tender as you'd like.
If you want to heat a whole bag of frozen buggers you will likely need to work in batches. Don't overlap them to save time because they won't heat evenly.
Cooking Frozen Meatballs
Get out your bag of store bought choice and make baked meatballs one of these ways. All are quick and easy, just choose your method of choice and use as you wish.
Want to see a few of my favorite things that I am totally obsessed with?? Take a peek and see how many you might already have…twinsies!
Looking for more easy family recipes and tips? LIKE The Typical Mom Facebook page?
Then sign up for my free newsletter, and follow me on Pinterest! 😉
***** If you LOVED this recipe give it 5 Stars below and let everyone know what you thought about it. 😉
How to Cook Frozen Meatballs
This is how to cook frozen meatballs in the oven, air fryer, pressure cooker or microwave.
Instructions
* Air fryer * preheat air fryer to 380, add contents in one layer and cook for 8-10 minutes until tender.

* Oven * toss with favorite sauce and pour into baking dish with a lid. Bake aqt 350 F for 20 minutes, remove lid, gently stir and bake for another 10 minutes until tender.

* Microwave * Wet a few paper towels and lay on a plate, set meatballs in one layer on top and fold wet towels over the top. Heat for 2 minutes and then check, add 1 more minute ongoing until they are as tender and hot as you'd like.

* Pressure cooker * add 1.5 c water into inner pot, lower vegetable steamer basket on bottom and add frozen meatballs. Set to high pressure with sealed lid and cook for 4 minutes followed by a quick release.
Nutrition Facts
How to Cook Frozen Meatballs
Amount Per Serving (1 oz)
Calories 0
* Percent Daily Values are based on a 2000 calorie diet.