Best basic meatball recipe without breadcrumbs is here. Add them in spaghetti or sauced as an appetizer! Easy to make in your oven with a few ingredients in just 10 minutes.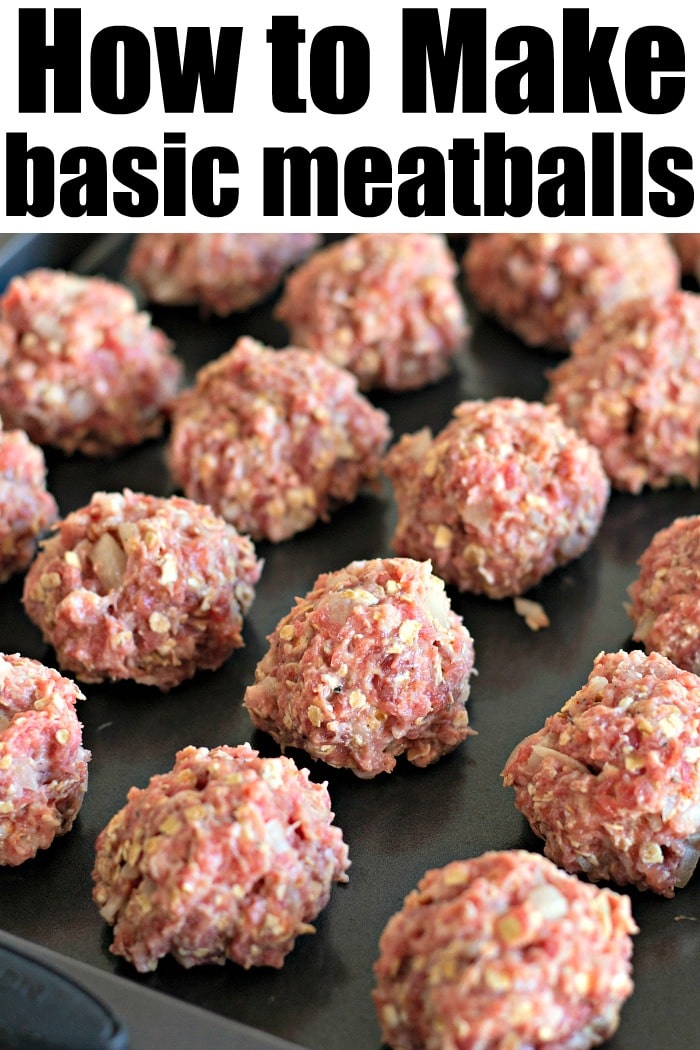 You definitely need a basic meatball recipe in your back pocket. They're so versatile you can use them for almost everything!! Made with ground beef or ground sausage without breadcrumbs, they are a hearty meal or appetizer. (originally published 12/19, affiliate links present)
Baked Meatball Recipe
Whether you want some grape jelly meatballs for a party appetizer, or spaghetti and meatballs for dinner, these will be a hit. You can make them in bulk and save some for later too. Instructions for freezing is below and this is how to cook frozen meatballs.
We buy bulk meat online or get 1/2 a cow from a local farmer each year. It is great because that means I go to the store less often and I know it is organic, grass fed meat.
Needless to say we have a lot of ground beef to use every year!!
You can bake these, or steam them in your Instant Pot if you want too.
These are a favorite for sure in my house because they're so versatile. Eat them as is for a protein packed, low carb dinner or dress them up with tasty sauces of all kinds.
Simple meatball recipe
You can make these gluten free if necessary. And once they are made you can cook them however you like. In the oven is directed below but you can follow how to cook meatballs on the stovetop here as well. With sauce they are killer.
Add a bit of Worcestershire sauce to add more flavor.
Whip up a a batch and bake or air fry them.
Make a huge batch, use some and freeze the rest for later too!
How long can you freeze cooked meatballs?
Up to 4 months!! Just cook a double or triple batch at a time. Then allow them to cool to room temperature. Load them up into freezer bags and squeeze all the air out. It's best to put as many as you'd need in each bag.
Then take them out, allow to defrost on the countertop and add into all sorts of things!
Saves you a ton of prep time in the future.
Batch cooking is where it's at y'all!
The opportunities are endless I tell you! This is all you need to mix together, seen below, we will walk you through the steps below in the recipe card.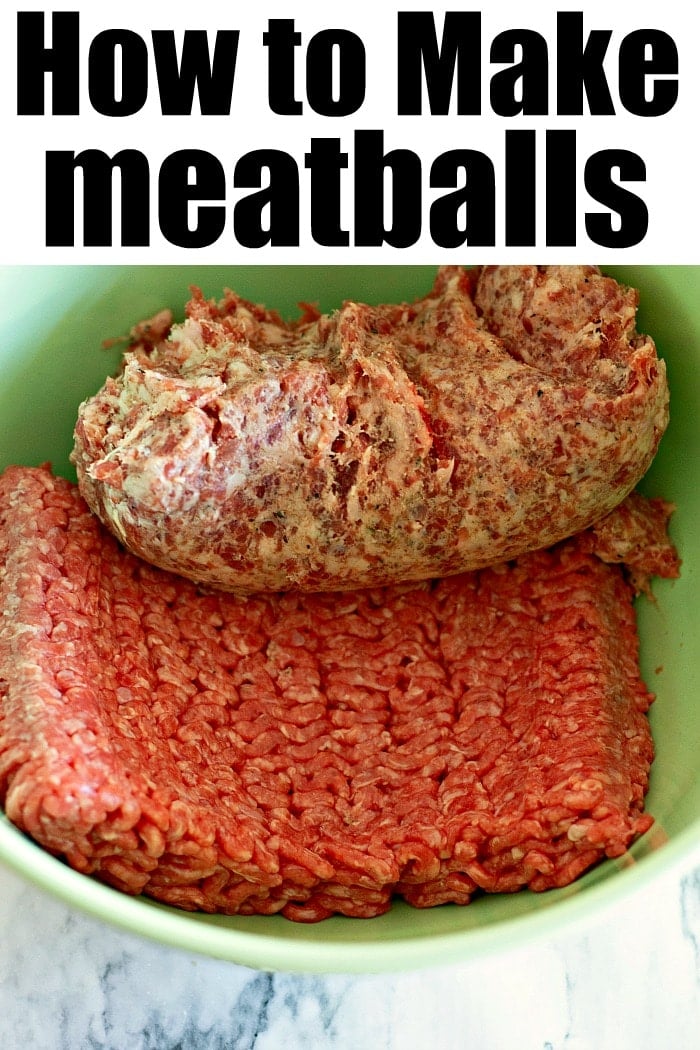 How do you make simple meatballs?
That's what we're here to talk about. Let's start with the most important part to begin with, the meat.
Choose what type of protein you're going to use. We are using half lean ground beef and half of it will be ground sausage.
Hot Jimmy Dean is probably my favorite to use.
How to Make Meatballs without Breadcrumbs
Then choose a binding agent. Some use breadcrumbs (I have too at times) but here we're using quick oats. This will help keep them together and not fall apart.
An egg for me is a must for an easy meatball recipe and/or my quick meatloaf recipe.
The addition of herbs and spices is a must to get bold flavors and have that wow factor!
Diced onion brings a bit of texture to them which we love.
Then it's time to pop them in the oven or your air fryer or oven! When they are done you can just enjoy as is as a keto low carb snack or throw them into a meal. Sauced is wonderful too like our Swedish meatball sauce for a feel good comfort meal.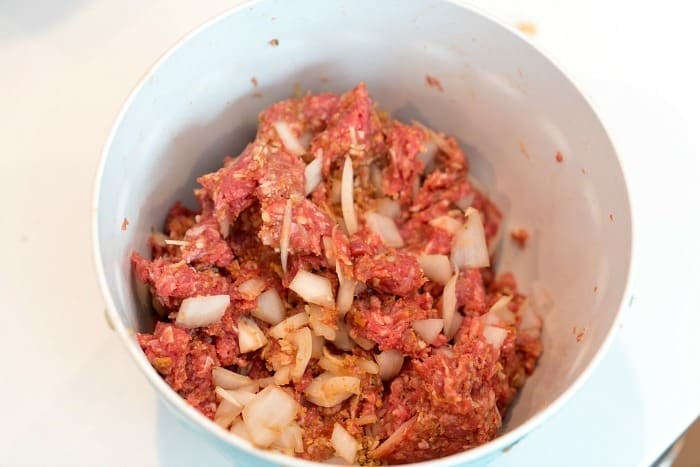 Meatballs without Breadcrumbs
Here are a few questions you might have before you get going. If there is something else you're wondering about let me know in the comments below and I will do my best to answer:
Do you need breadcrumbs for meatballs?
The short answer is NO. As you see here we used quick oats instead. Italian meatballs typically would use that style of bread crumbs but there are other options out there.
You will need something to bind the ingredients together: Believe it or not, some people think it is actually better to make meatballs without breadcrumbs.
Instead, there is an option to use slices of white bread! If you remove the crust from white bread and cut it into 1/2″ cubes you can use those too.
Do you need eggs to make meatballs?
It is a great binding agent but you don't want them dense either. We only use one here, I wouldn't use more than 2 or the texture will be off.

I only used 1 for our Instant Pot Swedish meatballs too. This helped the dry onion soup mix and bread crumbs stick well.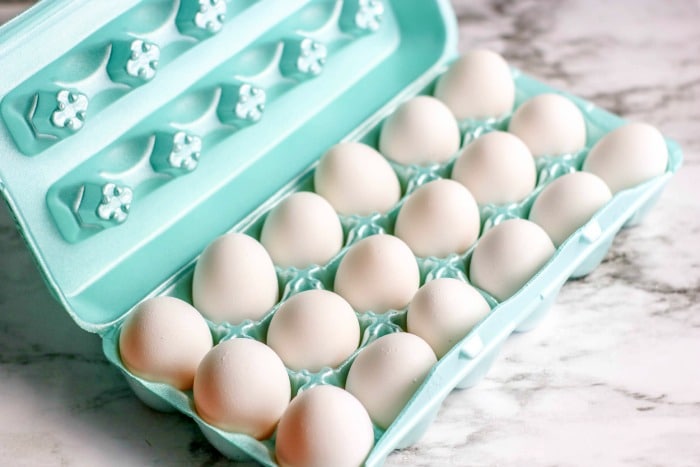 Should you fry or bake meatballs?
I have instructions below for baking in the oven. However, everyone raves about my air fryer meatballs too!
Check them out y'all!! Once they're cooked you can use your imagination when it comes to sauces.
Dipping sauces are fun if they're an appetizer, or throw them into a meal. Alone they're a great keto friendly meal.
Basic meatball recipe
You will need a sheet pan for sure. For easier cleanup you could line it with a piece of parchment paper if you'd like or just lightly spray it with some non stick spray. Here are all of the ingredients you'll need:
Large bowl
Lean ground beef
Lean ground turkey and/or ground chicken are a bit too wet in my opinion so I don't use those.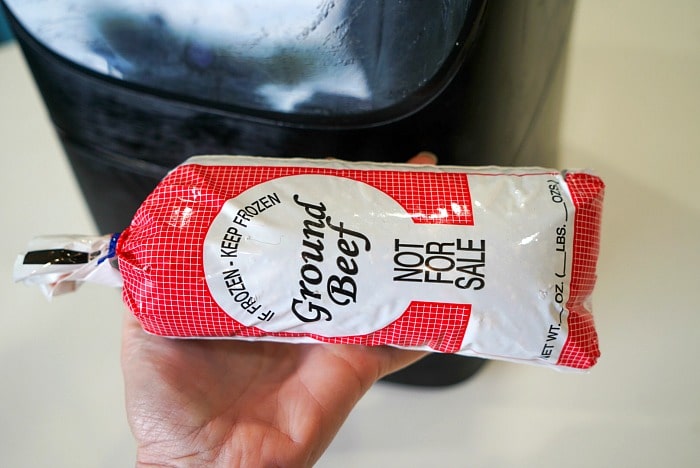 Ground Beef Meatball Recipe
Ground pork
Onion
Quick oats

or bread crumbs
you can find gluten free quick oats here

Chili powder
Garlic powder
Salt and pepper
Egg
Beyond that you can add any sauce you like. If you're going to add it to another recipe then you may want to leave them plain. As an appetizer you can just use spaghetti sauce, bbq, or this cranberry sauce you see here.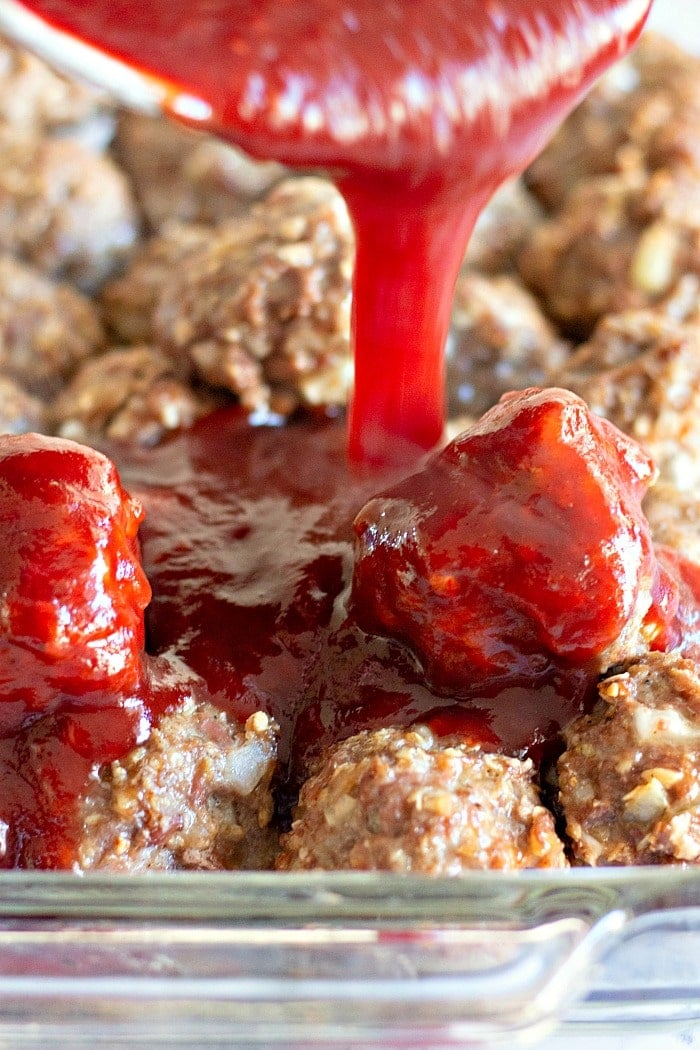 What can I use to bind meatballs instead of egg?
If you cannot have eggs this is a good tip to have on hand. To make egg free meatballs just substitute 2 tablespoons tomato paste per egg during the mixing process.
This works especially well for Italian style meatballs, or when serving the meatballs with a tomato sauce.
You could mix in 1/2 cup of mashed potatoes in place of two eggs too.

Use russet or Yukon gold potatoes for the least change in flavor.
Want to make homemade frozen meatballs? You can!!
Mix meat mixture following the recipe below
Form into 1.5″ sized meatballs

use hands or small ice cream / cookie scoop so they are all the same size

Preheat oven and cook meatballs as directed below
When done allow them to cool on the sheet and freeze them when they're room temperature inside gallon or pint size freezer bags.
Make a double batch and freeze the amount you'd normally use for one dinner.
Then you can take out 1 bag, defrost on the countertop and add into your Crockpot spaghetti and meatballs! Another idea is to defrost them and simmer an easy sauce together on the stovetop.
Pour meatballs into a 9×13″ dish covered with your sauce and bake for 10 minutes at 350 degrees. Remove and serve with toothpicks on the side as an appetizer.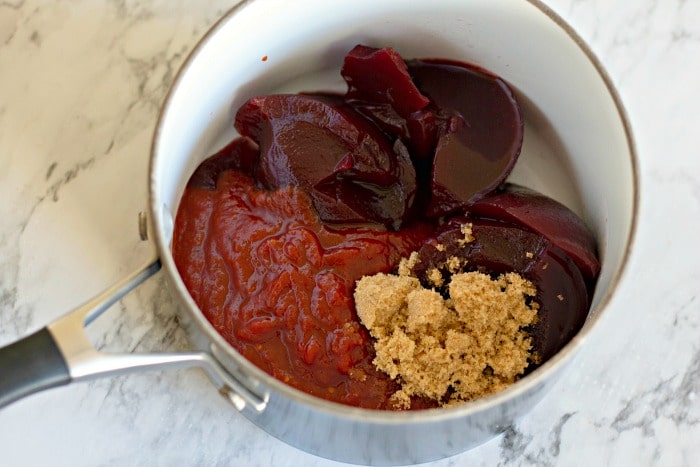 Here's a basic step by step but there is a printable version in the recipe card below too.
First preheat your oven to 350 degrees F. so it will be ready when they're all formed and on a baking sheet. In a bowl mix together all ingredients. I like to use my hands so everything gets well incorporated.
Use your hands and form meatball mixture into golf ball size balls. Put formed meatballs on a baking sheet in one layer and bake for 15-20 minutes or until they're as browned as you'd like.
Serve as is as a simple appetizer, or if you want to add sauce transfer them to a 9×13″ dish with sauce and bake another 10 minutes.
How do you cook frozen meatballs?
This comes in handy when defrosting and heating homemade meatballs like these, or store bought.
If you're looking for a quick method this is it. You'll need a vegetable steamer to get it done and a bit of water. That's it! Or make frozen meatballs in Crockpot too.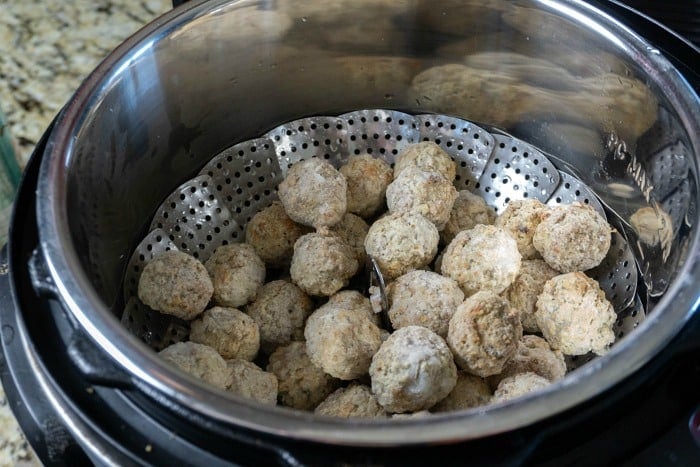 What do I serve meatballs with?
A good old fashioned meatball sandwich with spaghetti sauce comes to mind first. You can serve them as is with a salad, relish or salsa for a keto friendly meal too.
Should meatballs be cooked in a sauce?
I say YES! Ideally I would bake them fresh, add warm meatballs to a 9×13 dish, pour sauce on top and bake at 350 degrees for 10 minutes.
This will create a rich flavor you'll love. The possibilities are endless with this idea too. Love teriyaki? Use that for an Asian flair, bbq sauce is super easy too.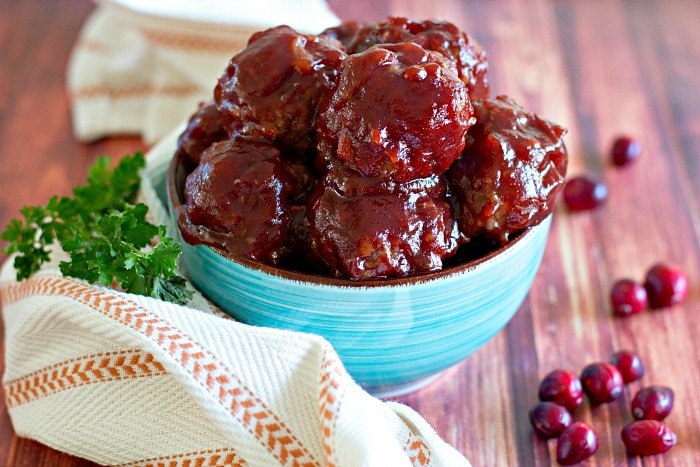 Meatball sauce
Grape jelly meatballs
These are a favorite appetizer around here

just add the following items to a small saucepan and bring to low boil and pour on top
The easiest is to just pour a bottle of your favorite barbecue sauce on top and warm. Use our simple recipe for cranberry meatballs for the holidays too! If you're having a party you can pour them into your Crockpot or Instant Pot and set to warm. Set toothpicks next to it and then people can enjoy them throughout the night.
Want to see a few of my favorite things that I am totally obsessed with?? Take a peek and see how many you might already have…twinsies!
Looking for more easy family recipes and tips? LIKE The Typical Mom Facebook page?
Then sign up for my free newsletter, and follow me on Pinterest! 😉
***** If you LOVED this recipe give it 5 Stars below and let everyone know what you thought about it. 😉
Basic Meatball Recipe
Basic meatball recipe you can use in spaghetti or sauced as an appetizer! Easy to make in your oven with a few ingredients in just 10 minutes.
Instructions
Mix ingredients together in a bowl well. Make into round 1.5" balls and place on non stick baking sheet.

Preheat oven to 350 degrees.

Bake for 15-20 minutes or until they are lightly browned on the inside and cooked in the middle.

Remove and serve or if you want to add sauce and serve as an appetizer I would put cooked meatballs into a 9×13 dish. Then pour desired sauce on top, enough to cover them all well, bake for an additional 10 minutes so they can soak up the sauce. Then serve with toothpicks
Nutrition Facts
Basic Meatball Recipe
Amount Per Serving (2 oz)
Calories 244
Calories from Fat 162
% Daily Value*
Fat 18g28%
Cholesterol 68mg23%
Sodium 467mg20%
Potassium 234mg7%
Carbohydrates 5g2%
Protein 14g28%
Vitamin A 73IU1%
Vitamin C 1mg1%
Calcium 17mg2%
Iron 2mg11%
* Percent Daily Values are based on a 2000 calorie diet.