Crockpot spaghetti and meatballs is a game changer! NO need to boil noodles when making this pasta dinner in your slow cooker. Homemade comfort food starting with frozen meatballs in Crockpot, meatless, or create homemade if you'd rather.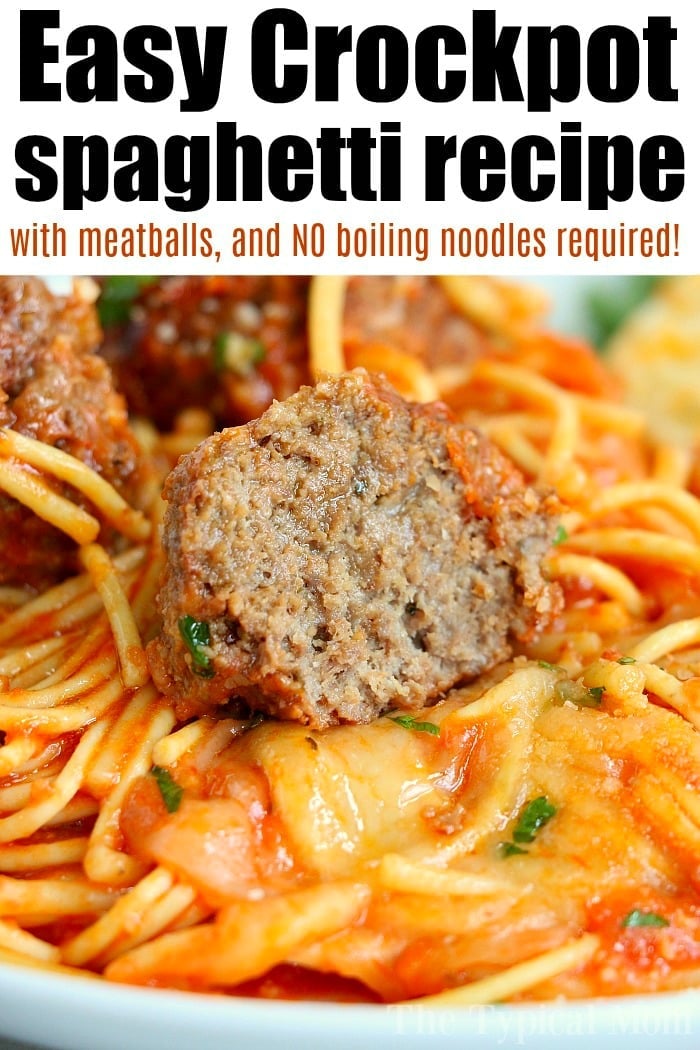 Have you ever tried making crockpot spaghetti and meatballs? Tender and super flavorful with just a few ingredients = the perfect easy Crockpot recipe your family will love. (originally published 9/19, affiliate links present)
Slow Cooker Spaghetti and Meatballs
Yes you can make this much faster if you want to follow our Ninja foodi spaghetti recipe. Love the old fashioned method better? This is the best way to make it so dinner will be ready in the evening.
It may seem too obvious, but maybe you didn't know you could put uncooked beef and noodles in your slow cooker and have it come out perfect! You can throw in some homemade precooked ground beef balls or make a few frozen meatballs in air fryer with the noodles separate and then combine at the end if you prefer.
FIRST – You should sign up for my free newsletter so you get new posts emailed to you twice a week and never miss out on anything! Let's talk a little bit about slow cooking shall we?? First off I have a few different varieties and I love them all. Each one has an occasion to be used like….
This is my favorite 6 quart programmable one with a locking lid so it's great for bringing to a potluck too.
If you just want to serve a few appetizers you should get this one that sit side by side one another.
I prefer not to use liners, but rather just spray olive oil inside before adding my food for easier cleanups.
Let me give you a peek of my pretty thang I bought recently. It goes with my kitchen so I can just leave it out on the countertop all the time. 😉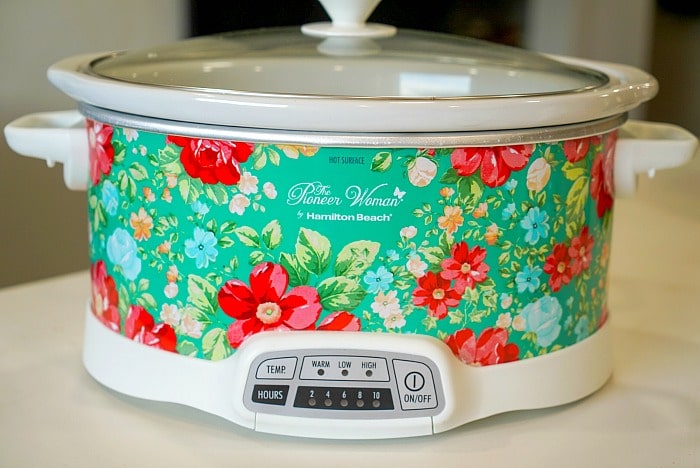 Crockpot spaghetti and frozen meatballs
You can do this to make our Instant Pot spaghetti recipe too. A pressure cooker will make this much faster, like in 10 minutes, no kidding. BUT if you prefer low and slow ways of cooking then we have easy directions for that as well. I'd give them both a whirl if you have both machines and see which you prefer.
Crockpot Spaghetti and Meatballs with Jar Sauce
You can start with jarred sauce or make your own homemade spaghetti sauce yourself beforehand or whip it together real quick and use that. It depends on how much time I have whether I do one or the other. If you do make a large pot of our slow cooker spaghetti sauce, add in the next day and add noodles later.
Can you cook noodles in a crockpot?
YES!!
You don't even need to precook or boil them
Just throw them right in, submerge in your liquid, close the lid and walk away y'all!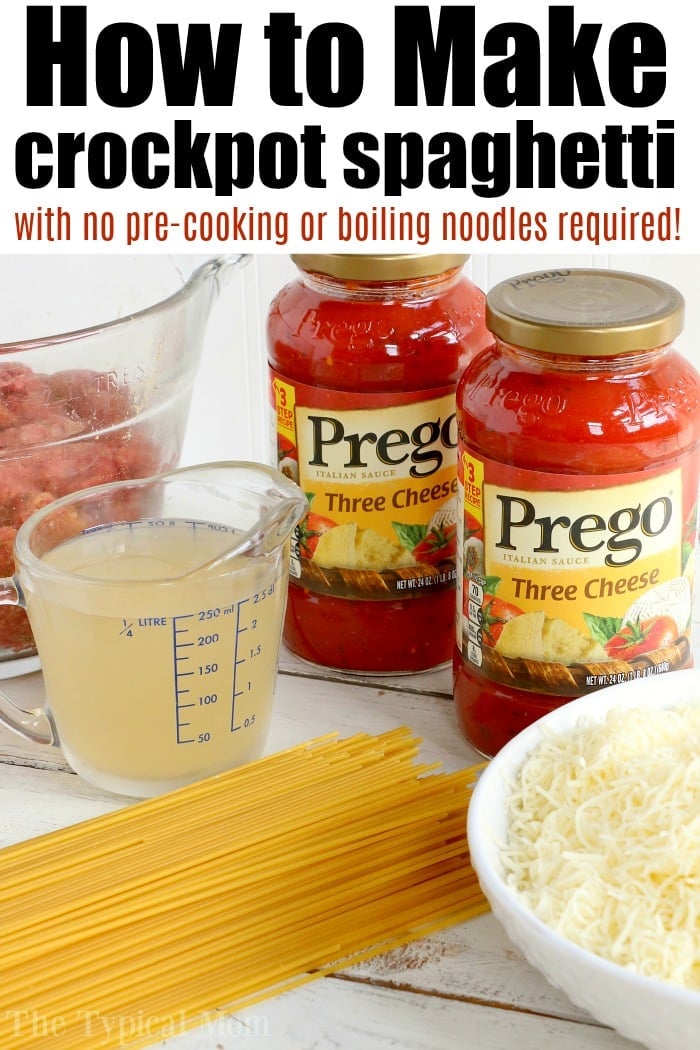 Slow cooker spaghetti
Yep, you need what you'd normally bring out for this old fashioned Italian meal. BUT you don't need a pot full of water this time!
Spaghetti noodles of course
Large jar of spaghetti sauce, or make your own with crushed tomatoes and seasonings etc…..
Beef broth gives this a lot more flavor than just using water for liquid
Ground beef for meatballs

these are optional, could use premade frozen meatballs, make these basic meatballs or add porcupine meatballs Instant Pot style at the end.

bread crumbs
garlic powder
egg
garlic salt
Italian seasoning

a large bowl to mix this all together

Mozzarella and parmesan cheese – also optional but why wouldn't you add cheese to everything??!!
Yes you could half this if you have a smaller family or crowd. This uses an entire package of noodles so if you typically cook 1/2 then just cut this entire slow cooker spaghetti recipe in half.
Crockpot Spaghetti and Meatballs and Meat Sauce
Crock-Pot Spaghetti
You don't have to precook the meatballs either!! Total time saver right??
We love meals like this crockpot lasagna casserole but these do require that the ground beef is cooked beforehand. Not a huge deal, takes maybe 10 minutes, but if you're in a rush this crockpot spaghetti recipe is so quick.
Of course you can opt to go meatless and make this a vegetarian spaghetti using vegetable broth instead of chicken or beef. Totally up to you but we are all about the beef included within this baby.
Use your own favorite meatloaf recipe and just roll it into balls really. If you need to follow a recipe though we tell you how we make these below in the printable recipe card. Once that has cooked and simmered all day long you just pop in your noodles at the end and let those get tender.
OR skip the bread crumbs, meat etc. and just use a bag of frozen meatballs. Defrost in microwave and use those instead.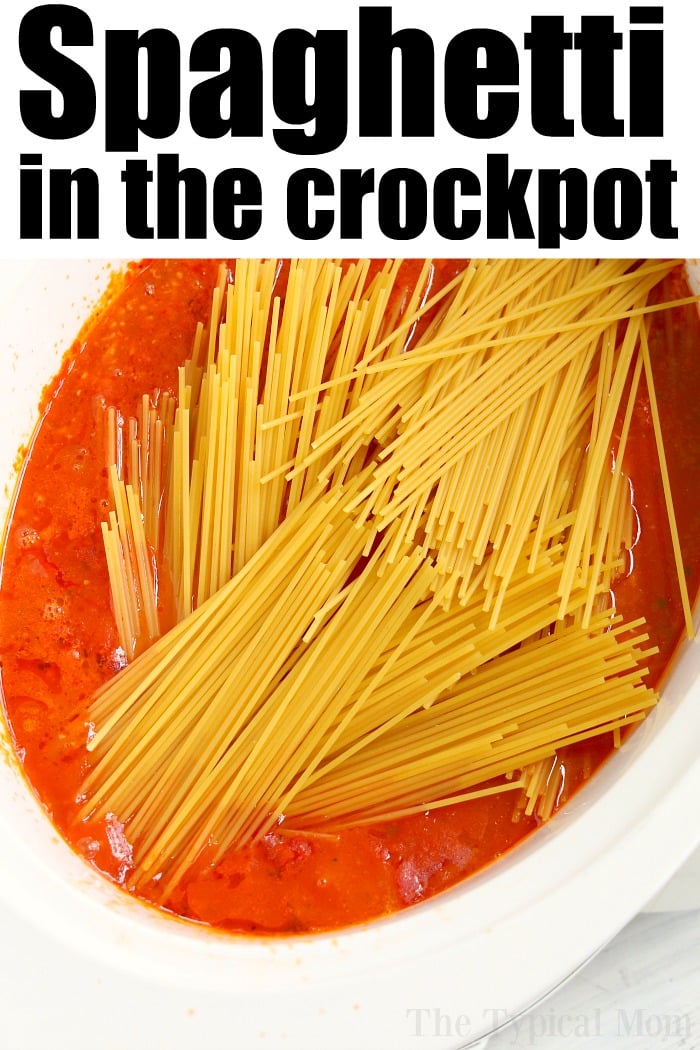 Prego Crockpot Spaghetti
You don't always have to use traditional long spaghetti noodles to make this crock pot spaghetti and meatballs recipe either though. If you love small farfalle then use those. Tip: In order for your noodles to cook perfectly tender you'll want to gently submerge them into the sauce below.
Don't push it all the way down to the bottom past the meatballs, just under the surface is fine.
I also usually break the long spaghetti noodles in half or even into thirds. Sprinkle them in instead of throwing them in in one big clump. If you do the latter they will likely cook but stick together in one big clump.
Adjust time if you want them al dente but cooking time below is for the perfect tenderness really.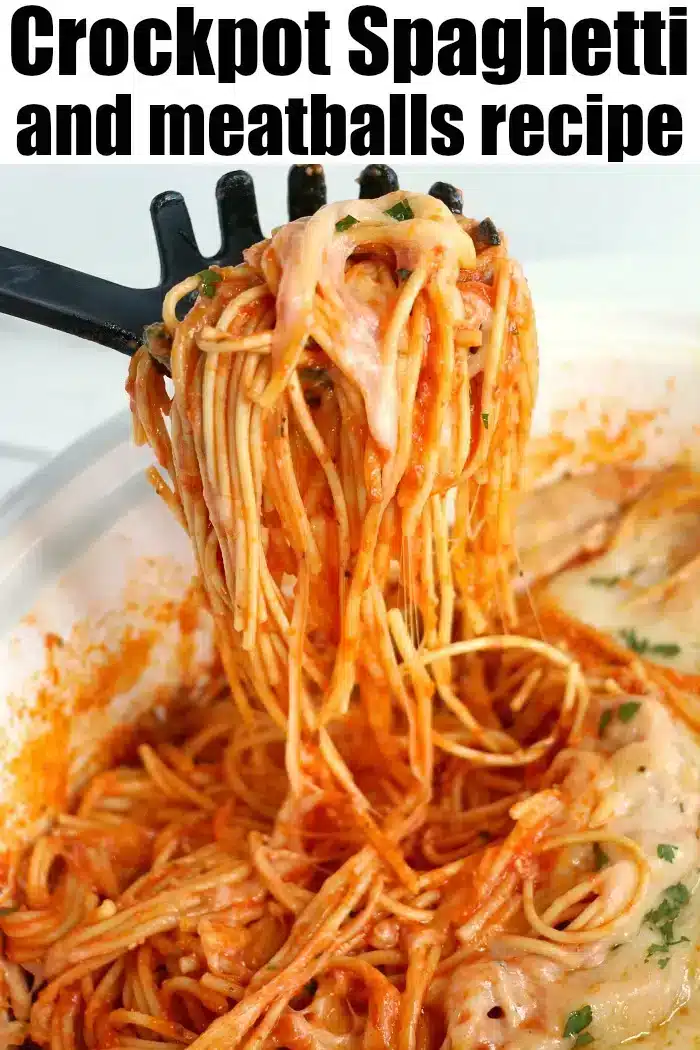 Can I keep spaghetti warm in a crockpot?
If you are serving this for brunch where people will be eating at different times throughout a lengthy period of time you could keep this on warm. Just make as directed below, stir, and select keep warm setting on your crock.
I would suggest that you stir it at least every hour so the noodles stay moist with the sauce in your pot.
Of course it is ideal to serve it fresh right after it's done but this is another option for a potluck occasion too.
Looking for other easy crockpot recipes?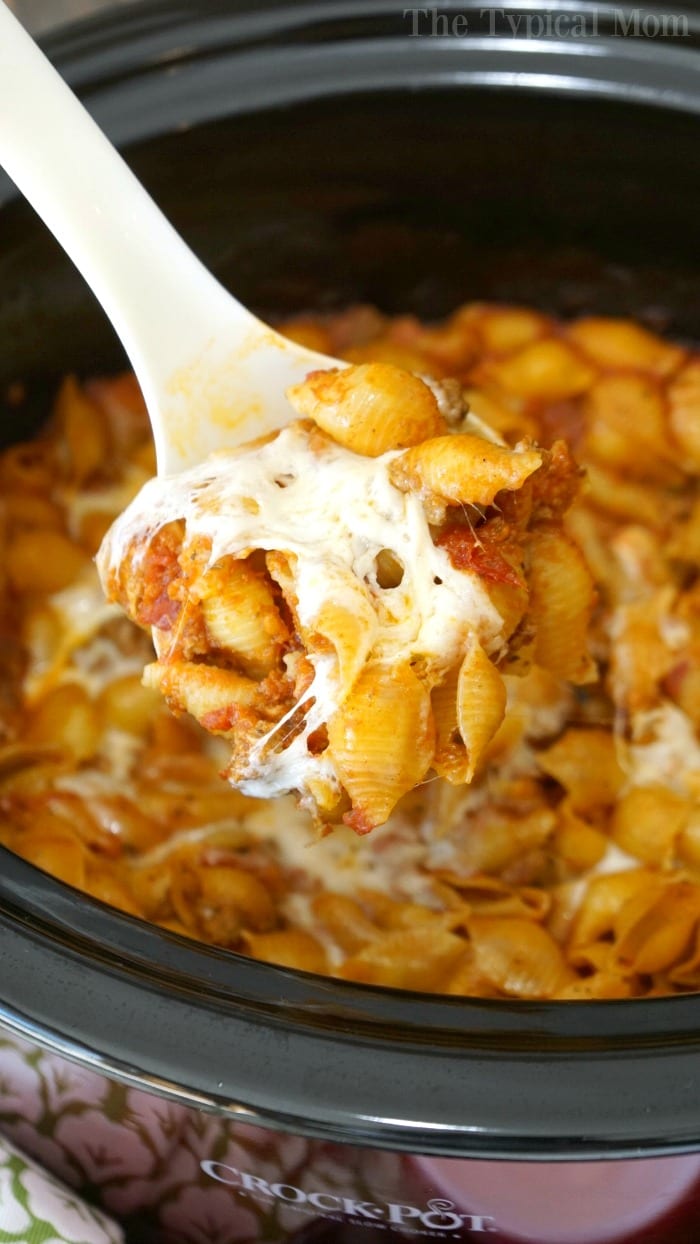 Try these when you're making your slow cook menu for the week! Just cover and cook on high all day and it will be ready when your family is home together. 😉
Our favorite meal is easy as ever and we call it 5 ingredient crockpot chili.
A crockpot pizza is a fun dinner idea.

as well as our slow cooker pizza casserole

This easy crockpot lasagna recipe requires NO boiling ahead of time either. Total game changer for lasagna lovers.

we have this pressure cooker lasagna casserole too if you need dinner done in 30 minutes or less
Printable recipe for sauce and meatballs below as well as nutritional information calculated by the card itself. Refer to the package of meat you purchased for the most accurate calorie and saturated fat amounts as those will vary greatly.
Want to see a few of my favorite things that I am totally obsessed with?? Take a peek and see how many you might already have…twinsies!
Looking for more easy family recipes and tips? LIKE The Typical Mom Facebook page?
Then sign up for my free newsletter, and follow me on Pinterest! 😉
***** If you LOVED this recipe give it 5 Stars below and let everyone know what you thought about it. 😉
Crockpot Spaghetti and Meatballs
Crockpot spaghetti and meatballs is a game changer! NO need to boil noodles when making this pasta dinner in your slow cooker. Homemade comfort food.
Instructions
Pour one jar of spaghetti sauce into your crockpot.

Combine ingredients for meatballs (ground beef, egg, Italian bread crumbs, garlic salt, garlic powder and Italian seasoning) in a bowl well. Form balls that are about 1.5" in size. (or skip and use frozen meatballs, defrosted first in microwave)

Place formed meatballs in crockpot on top of sauce in one layer. Sprinkle 2 c of shredded mozzarella cheese on top of those, then pour second jar of spaghetti sauce on top of your cheese.

Cook on high for 3 hours or low for 6 hours (I prefer low and slow)

During the final hour of cooking add chicken broth and uncooked spaghetti noodles. Best way to do this is pour broth in, break noodles into thirds and gently submerge them on the top into the liquid.

Top with remaining cheese, put lid back on and during that last hour the noodles the noodles will become tender.

Garnish with parsley and serve!
Nutrition Facts
Crockpot Spaghetti and Meatballs
Amount Per Serving (3 oz)
Calories 638
Calories from Fat 270
% Daily Value*
Fat 30g46%
Cholesterol 116mg39%
Sodium 712mg31%
Potassium 466mg13%
Carbohydrates 54g18%
Protein 36g72%
Vitamin A 332IU7%
Vitamin C 2mg2%
Calcium 269mg27%
Iron 3mg17%
* Percent Daily Values are based on a 2000 calorie diet.