This cheesy crockpot lasagna casserole is packed with all the flavors of traditional lasagna but so much easier to make! No boiling the noodles required, just dump it all in your slow cooker and when you're ready it's the perfect lazy lasagna your whole family will love for sure.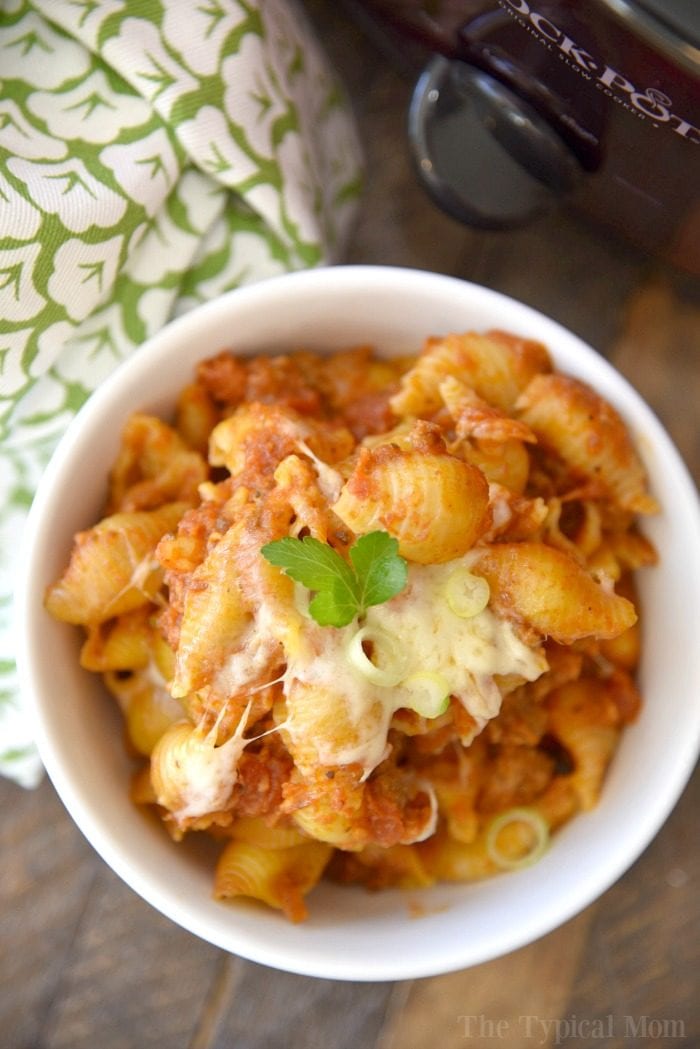 I love my slow cooker and Instant Pot! They just make my life easier and quicker in the kitchen and me the ability to work full time and still put a hot meal on the table for the 5 of us just about every night (ok we do have "do whatever Fridays" but you know what I mean). I have made a lot of things over the years but last night I decided to make what we are calling, crockpot lasagna casserole. It's now one of our favorite pasta crockpot recipes. (originally published 6/17, affiliate links present)
We decided to name this crock pot lasagna casserole because it really does taste like traditional lasagna but SO much easier to make!
Easier for kids to eat too because the noodles are bite size. You'll get all the same flavors though. 😉
First you're going to need to brown your ground beef or sausage before adding it into your Crockpot lazy lasagna.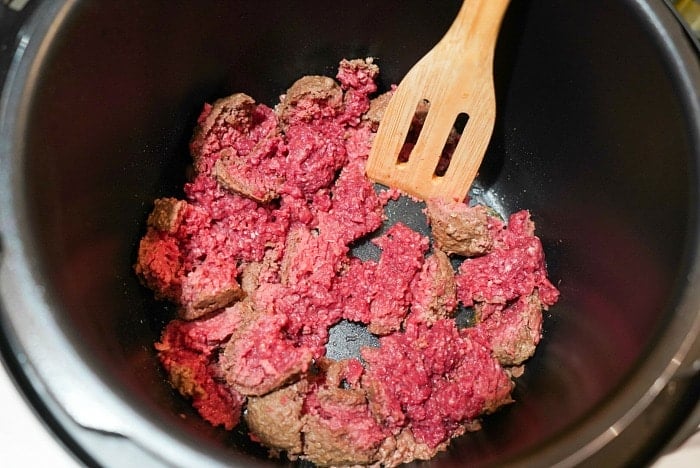 You can of course do this in a pan on your stovetop over medium heat, or in your Instant Pot. If you forgot to defrost it beforehand, follow these directions on how to defrost ground beef fast.
That is really the only prep you'll need to do outside of your slow cooker.
Since there are no regular lasagna noodles, there's no need to boil any water for any reason.
This cuts down on the cook time and frustration significantly.
All the wonderful flavors of your favorite lasagna are in this dish with the exception of one. You could easily add some of that too though if you wanted.
The only thing I didn't include was the ricotta cheese. You could easily add a spoonful when you add in the mozzarella and it would be great that way too!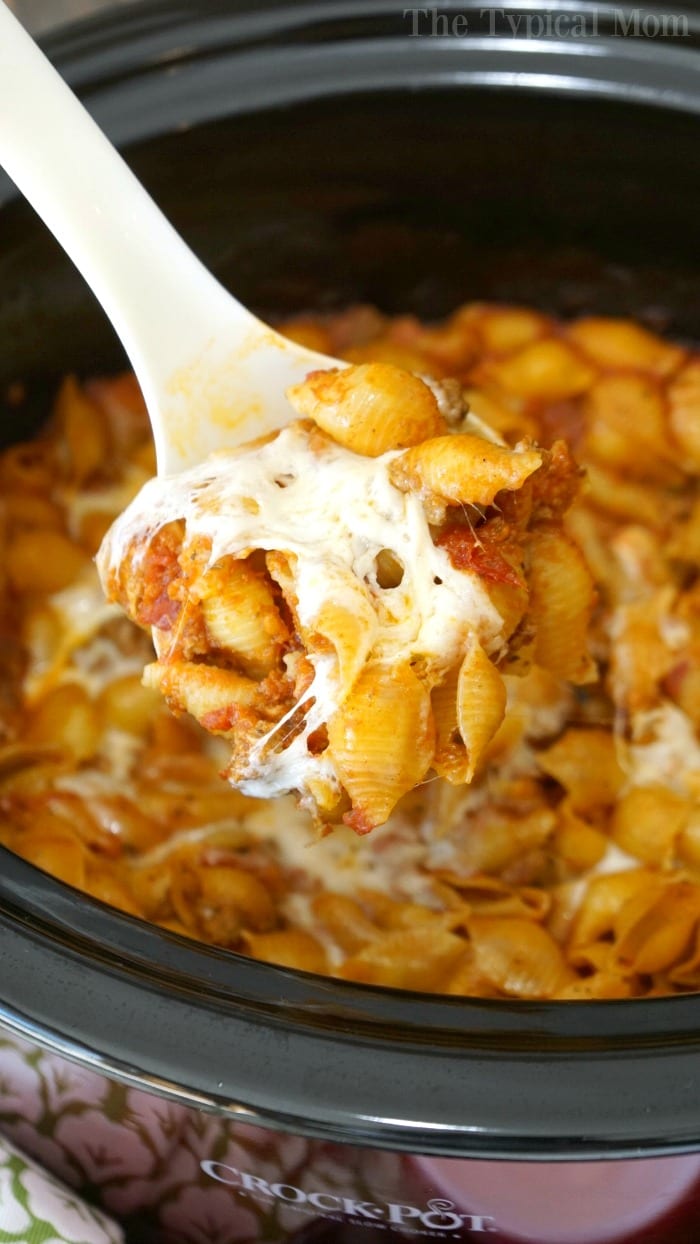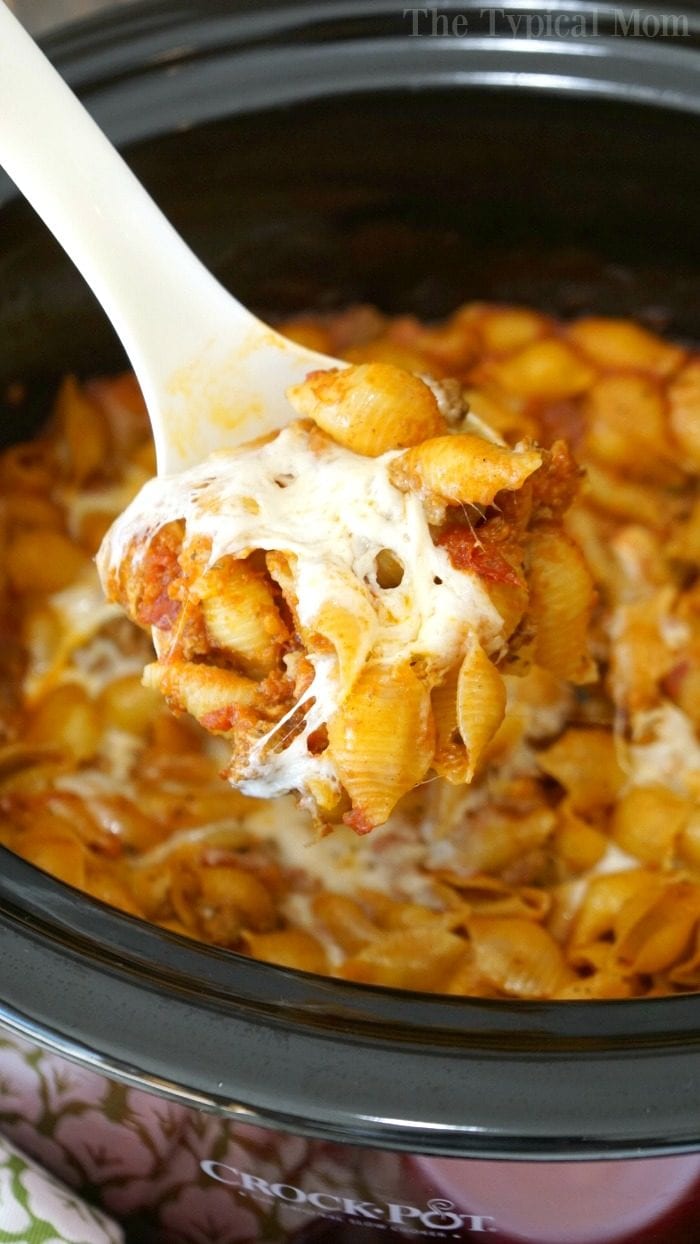 Crockpot goulash you might want to call it too but not as soupy as that so casserole fits the bill better in my eyes.
Any way you call it we all loved it and it literally cost under $10 to make and feed all of us PLUS there was enough for me to eat the next day for lunch, bonus!!
This is what you'll need to make this easy crockpot lasagna casserole recipe
If you like a wetter consistency just add more spaghetti sauce to this lazy slow cooker lasagna. It is very versatile depending on your preference.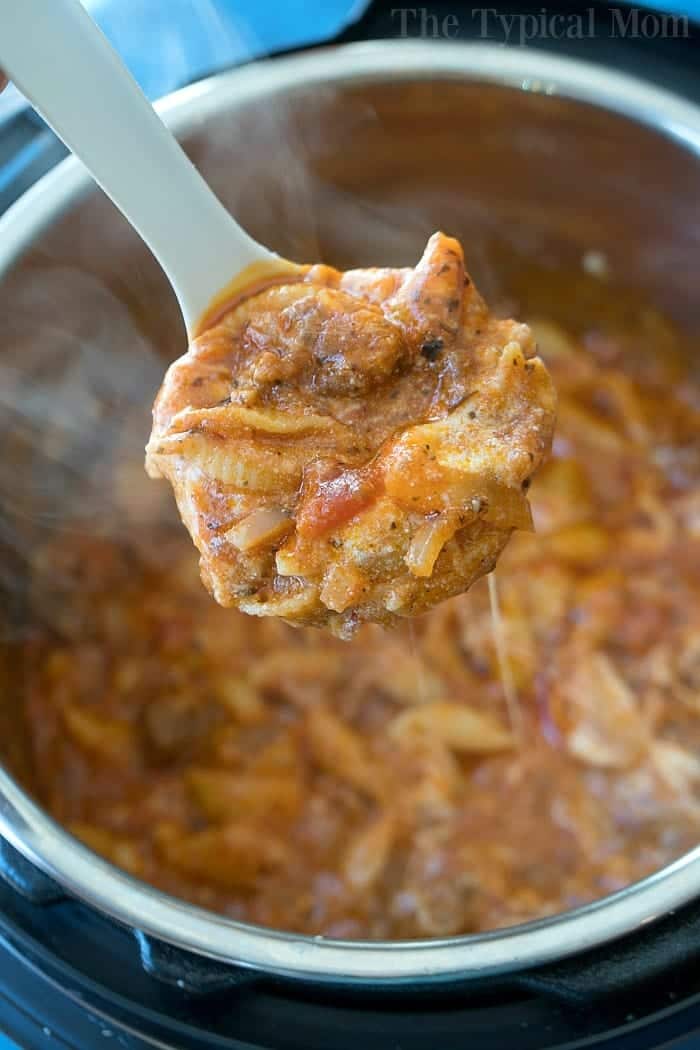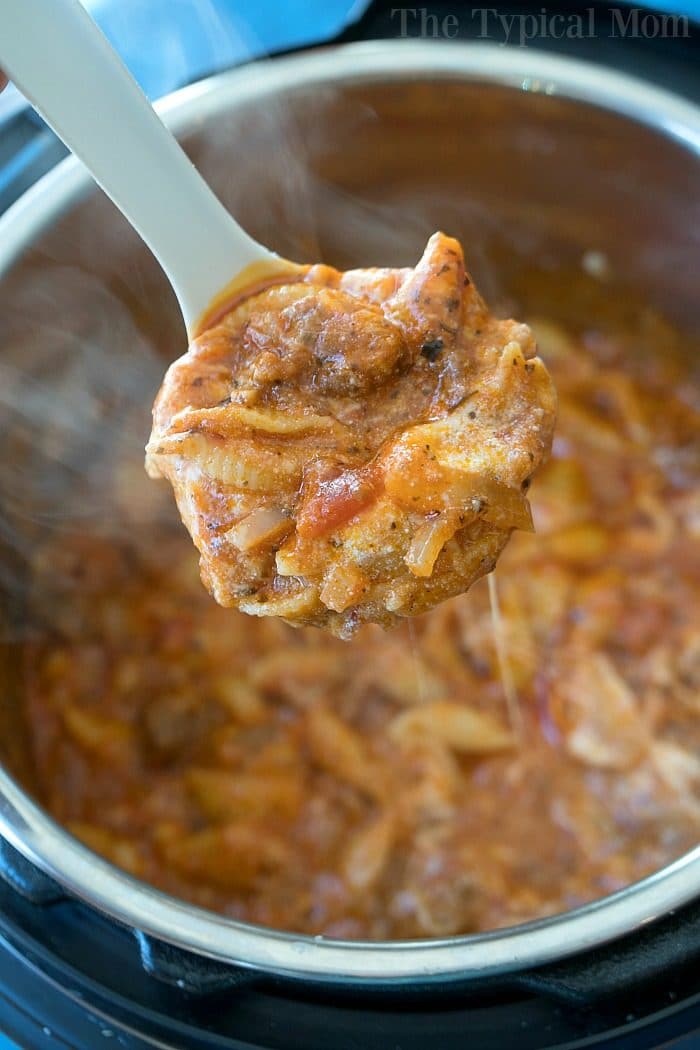 Here's a video showing you how we make our easy crockpot lasagna casserole!
Looking for more easy crockpot recipes or easy cheap crockpot recipes?
If you are looking for other other easy slow cooker pasta recipes we have a few more you should try.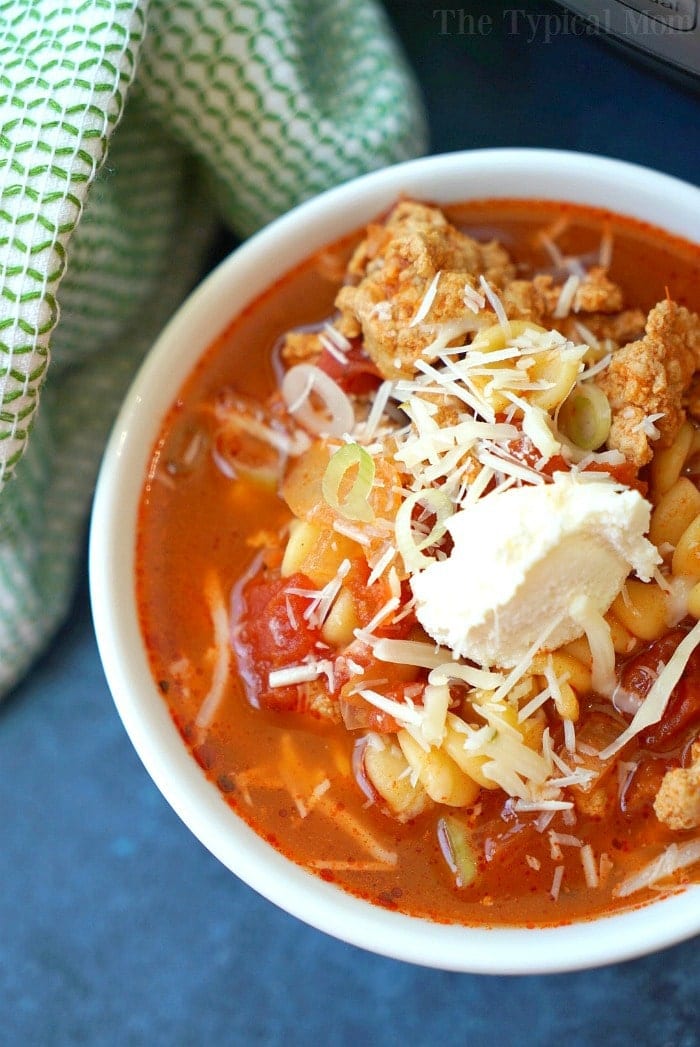 What is the best way to freeze lasagna? Even though this isn't the "traditional way" to make it, since there are the same ingredients you'd treat it as such.
If you want to freeze it after some has been eaten, you can put leftovers into airtight plastic containers or freezer bags.
Always allow food to completely cool to room temperature before packaging it up and putting it in the fridge or freezer. If you don't it can grow bacteria easier when cooled and make you sick.
You can freeze lasagna before you cook it as well! I haven't tried this but know others who have done this.

If you're a fan of batch cooking it's a great idea to assemble the first 3 instructions below and store in freezer bags.
Then defrost what's in there, throw it in your Crock when you're ready and continue with the next steps as usual.
What is a good side dish for lasagna? Our favorite side dish would be this garlic pull apart bread.
You can print recipe below. It is complete with nutritional information too, i.e. saturated fat and calories per serving.
Crockpot Lasagna Casserole
This crockpot lasagna casserole is cheesy and packed with all the flavors of traditional lasagna but easier to make! Great slow cooker dinner casserole.
Instructions
Brown ground beef and diced onion in a pan, then add to your crockpot.

Pour can of spaghetti sauce and can of diced tomatoes on top of meat.

Sprinkle taco seasoning on top, stir well.

Set crockpot to high and cook for 3 hours, or low and cook for 5-6 hours.

Lift lid when done cooking and add your uncooked noodles and 1 cup of cheese, (and ricotta if you choose to add it) stir well.

Sprinkle other 1/2 c. of cheese on top and put lid back on.

Set to high for 30 minutes.
Nutrition Facts
Crockpot Lasagna Casserole
Amount Per Serving (8 oz)
Calories 593
Calories from Fat 234
% Daily Value*
Fat 26g40%
Cholesterol 91mg30%
Sodium 1063mg46%
Potassium 977mg28%
Carbohydrates 56g19%
Protein 32g64%
Vitamin A 1105IU22%
Vitamin C 17.6mg21%
Calcium 273mg27%
Iron 4.6mg26%
* Percent Daily Values are based on a 2000 calorie diet.
You can also sign up for my free weekly newsletter which is packed with goodies I know you'll love. 😉