This week there was a lot to celebrate! All three of my daughters came home with Excellent progress reports. Because of that it was their choice as to where they wanted to eat for dinner. Lobsterfest at Red Lobster was their choice.
Seriously my favorite food! They normally have lobster dishes on every page of their menu. During this special time of the year they add a few exclusive dishes that I was anxious to try myself.
We started out with one of my favorite appetizers (ok all of our favorite appetizers). Baked mushrooms stuffed with seafood and cheesy gooeyness are so good. Seriously these didn't last long between the 5 of us!
They offered a new cocktail this time during Red Lobster's Lobsterfest called Lobster punch. I ordered myself one of those (I totally deserve it right). 😉
With Malibu Red, pineapple juice, a mango passion fruit mix, topped with dark rum it was just what I needed after a really busy week!
My husband went right to the good stuff and ordered their signature Lobsterfest dish called Lobster Lover's Dream®! It came with a succulent rock lobster tail, a sweet split Maine lobster tail, and lobster and shrimp linguini alfredo.
There were large chunks of lobster inside the alfredo mix I was able to enjoy the next day for lunch. He didn't finish it all so it became a dual meal for us…lucky me)!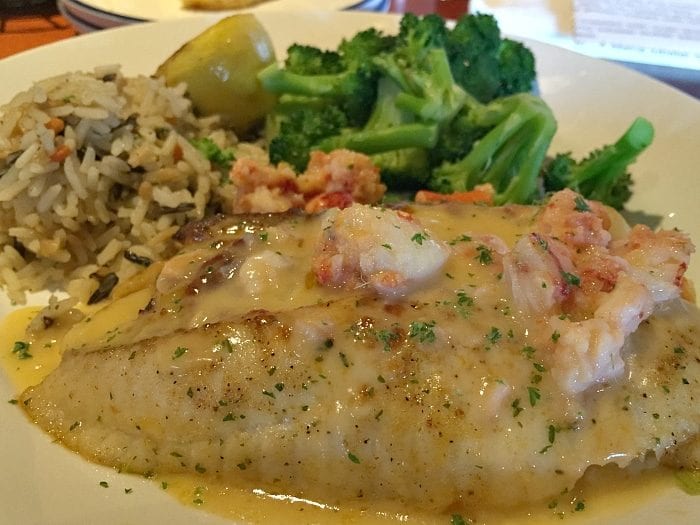 It was my turn and I wanted to try their Lobsterfest dish which featured Tilapia! Their Rock Island Stuffed Tilapia was roasted with crab and seafood stuffing. Topped with Maine lobster meat in a creamy lobster butter sauce.
Seriously to die for! You can see the large chunks of lobster on top of one of my most favorite fish dishes. The sides were cooked to perfection too (got two meals out of this one too which I love)!
Red Lobster has a pretty great selection of foods for kids too! For those who love seafood (mine) it is great.
For those who don't they have everything from crab legs and grilled shrimp to chicken strips and macaroni and cheese.
All of my girls jump at the chance to eat anything out of the ocean. So, it was crab legs and shrimp for them. When tasting our lobster and the lobster bisque you see here they said they would want to order that next time. They had brought their Cloud Pets to sit next to them which made it even more fun of an evening.
Of course no "lobsterworthy" celebration would be complete without DESSERT….and this one was no exception. It was chocolate chocolate cake with ice cream all around for us and we left there with smiles.
All with very full bellies, and leftovers for the next day to enjoy! Lobsterfest is only once a year. Available for a limited time (the end date is a secret so you better hurry).
Why not celebrate your next great moment there!!?? They are super kid friendly which we love. There are locations all around (700 in all in the US and Canada).