Throwing a Lion King birthday party or movie night? This bear claw recipe or lion claws are the perfect treat to pair with your event! Semi homemade dessert or canned biscuit breakfast recipe that is yummy.
As the weather cools down, is there really a better way to spend time as a family than movie night? Disney offers their classically animated movies reimagined and soon. We made these lion claws or bear claws recipe for the occasion so our evening would be complete. Let us show you how to have the perfect Lion King birthday party or movie night at your house too. Special thanks goes out to Best Buy for sponsoring this post. (affiliate links present, originally published 10/19)
Bear Claw Recipe
Have you seen the new Lion King movie yet?? Yes it's a remake of the original you loved, BUT a bit different! It features the voice talents of Donald Glover, Seth Rogen, Billy Eichner, John Oliver, Beyonce, and James Earl Jones which you'll recognize.
It features a young lion returning from exile in adulthood. He's now ready to reclaim the throne that was stolen from him and his father by his treacherous uncle. It was SO cute I tell you! Even my tweens were glued to the screen. They are very artistic so they were amazed at the graphics, I was too quite frankly.
Bear Claws with Refrigerated Biscuits
The case is super cool too right??!! It's a Collectible SteelBook available only at Best Buy AND you can save $5 on other select Disney titles with purchase of Lion King now. Just enter code LIONKING5 at checkout and you'll be set!
Talk about a great movie for families to watch together, we're always looking for those. With an evening full of baking together, followed by a family friendly flick, it's something we look forward to on the weekends (and during the week if we can fit one in).
Want to go further and throw a Lion King birthday party too? We have some ideas for that as well!
Pick up The Lion King movie online.
Make this lion claws recipe – okay so it's like an easy bear claws recipe, but we're all about lions here right. 😉
Have free Lion King coloring pages and crayons available at a station
Print out Blank Bingo cards or animal color by number party games

write or draw in the characters into each box
call out each one
use jungle stickers as markers
whomever wings Bingo gets a prize

Apply animal temporary tattoos
Create an obstacle course where they have to crawl through like an animal
Now on to the recipe for these dessert biscuits! This is something we came up with after making bear paw cookies with cake mix.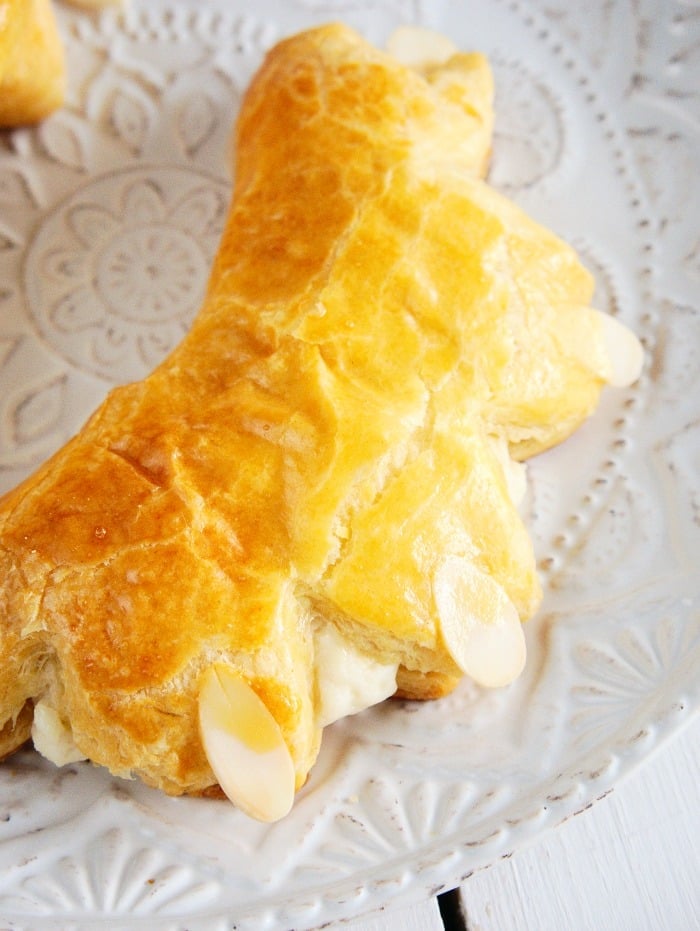 Easy Bear Claw Recipe
They look kinda' like claws right??!! Well my girls thought of this idea when I said we were going to get the new Lion King movie to watch for family movie night this week.
If you haven't really baked with your kids it is a great activity to do together. Talk about a wonderful learning experience! Showing them how to measure flour properly so a recipe turns out well, the reason for preheating an oven, and everything else in between are life lessons for sure.
When it comes to baking I love it, but I don't always do homemade. Semi homemade pastries are kinda' my thing. They're fresh, sweet, and yummy but with a little less effort on my part. If I read a recipe that says yeast….I'm out. LOL.
You don't even need all purpose flour for this one since the dough and filling are already pretty much done for you. Yes you do create the middle almond filling, or you could fold in chocolate chips too. Puff pastry could also be used, I just love easy peasy.
SO, this is the easy bear claws recipe I came up with to go along with the whole animal movie theme. 😉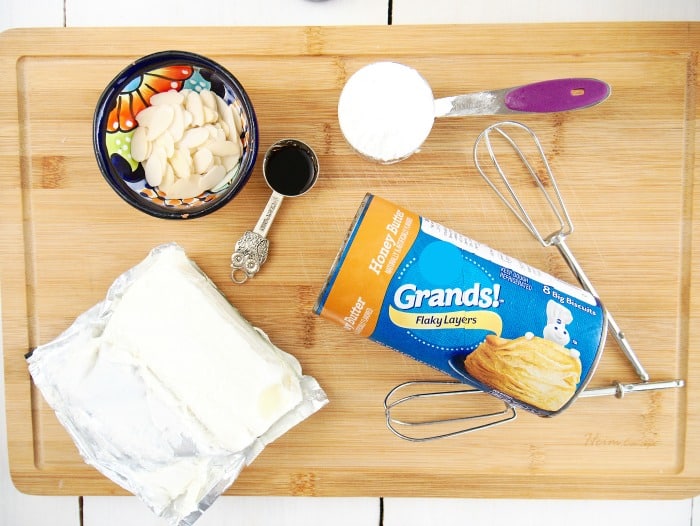 Cinnamon Bear Claw Recipe
You could add cinnamon into the cream cheese filling if you wanted to or leave out. Ingredients you'll need to make our Lion King dessert here:
Refrigerated large flaky biscuits

choose honey or plain vs. just butter so it stays sweeter
could make a great Puff Pastry Breakfast Recipe if you wanted to use that dough, thawed

Cream cheese
Confectioners sugar
Vanilla
Sliced almonds – for the nails
Egg whites beaten to make the top a bit shiny
If you want to drizzle some glaze over the top you can just whisk together some water and powdered sugar until it's as thick as you desire. That is simple and inexpensive so that's kinda' my go to easy glaze recipe.
Bear Claws Pastry
There is a printable recipe card at the bottom of this post but here is a quick rundown for ya'.
Preheat your oven to 350 degrees and spray your cookie sheet with non stick spray so it's ready to use.
In a small bowl beat together your room temperature cream cheese and powdered sugar.

yes, typically they're filled with almond paste but that can be hard to find and quite expensive so we're changing it up a bit

Then we're going to open our can of refrigerated biscuits and flatten them out on to a lightly floured surface.

using a rolling pin works best

Spoon 1 tbsp of your cream cheese filling into the center of each strip
Fold dough over so it is in the shape of a half moon and seal the edges, put on baking sheet
Use a knife to cut a few slits on the rounded corner for "fingers", seal those too so the filling won't ooze out
Separate each digit and place a sliced almond at the end like a nail
Whisk an egg and brush over the top
Bake for about 13 minutes until tops are golden brown, cool, and enjoy!
There are many things you could add into the filling like fresh or frozen fruit as well. Mini Chocolate chips are great too. All in all I would set aside about 30 minutes for this start to finish. Much quicker than if you started from scratch for sure but not a huge difference in the flavor.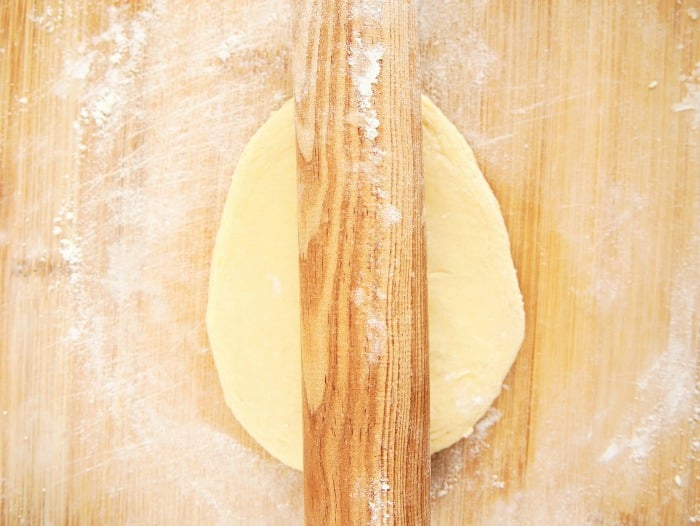 On the outside you could just keep it as is with the shiny top and cute nails or drizzle some frosting on. For that you cold whisk together more powdered sugar with a bit of milk until it is the right consistency or melt a tub of it. Either vanilla or cream cheese frosting works well. Allow them to cool and the top will harden just a bit so it's easier to eat.
If you have leftovers I would store in a sealed container in one single layer. If you have more put a piece of parchment paper in between so they don't stick. I would reheat and enjoy within the next day or two for best results.
Almond Bear Claw
You really could use any filling you wanted but this one works well and everyone enjoyed it. For added sweetness you could sprinkle tops with sugar and almonds for the nails of course. Ready for family movie night too now that you have a few ideas to make it really fun???
Order The Lion King movie online.
Grab the ingredients for this easy strudel pastry recipe.
Get your kids to help you in the kitchen and have some fun together!
If you have leftovers they stay quite well. Your best bet so they don't dry out is to wrap each with plastic wrap. Put into a closed container and keep on the countertop, not the fridge. What else would you add to your Lion King movie night together?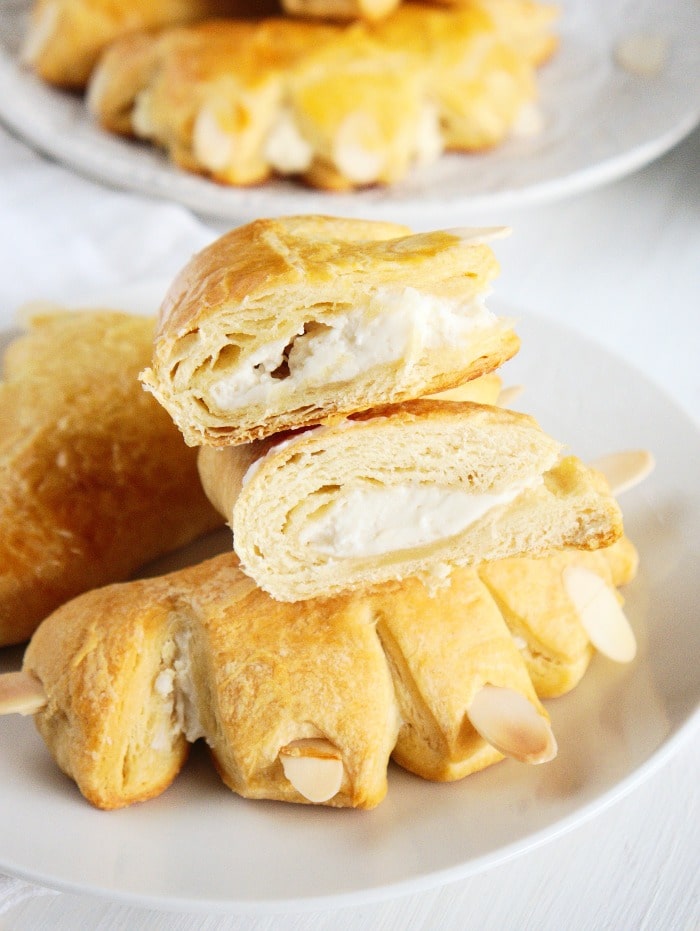 Want to see a few of my favorite things that I am totally obsessed with?? Take a peek and see how many you might already have…twinsies!
Looking for more easy family recipes and tips? LIKE The Typical Mom Facebook page?
Then sign up for my free newsletter, and follow me on Pinterest! 😉
***** If you LOVED this recipe give it 5 Stars below and let everyone know what you thought about it. 😉
Easy Bear Claw Recipe
Throwing a Lion King birthday party? This easy bear claw recipe is perfect! Semi homemade with refrigerated biscuits are yummy
Instructions
Preheat oven to 350℉, lightly spray a cookie sheet with cooking spray or have a non-stick cookie sheet ready to use.

Place the cream cheese and powdered sugar into a small bowl and use a mixer to beat them until the cream cheese is light and sugar has completely been combined well.
Add the vanilla and whip for a minute, just to incorporate it into the other
ingredients. Set aside.

Open the biscuits and separate them. On a very lightly floured surface, flatten a
biscuit to about 1/4"inch by first moving rolling pin one direction then the
other, you'll end up with an slightly oblong shaped biscuit.


Place 1 Tablespoon of the cream cheese mixture into the center of the rolled biscuit. Spread it but don't go too far to the edge. Next fold the biscuit in half making a
half-moon shape.

Firmly seal the pocket with your fingers to prevent the cream cheese spilling out when baking. Now use a knife to cut small slices around the pocket, see pictures for guide. Pull the 5 sections slightly apart to create the "fingers or claws" Try to pinch or seal down the sections the dough separates. Use your fingers to slightly shape each finger.

For the almond "nails" push one into center of each finger, make sure it's securely
in there otherwise it may fall out during baking. Place the claw on the baking
sheet and repeat with the remaining 7 claws. If you'd like to brush the claws
with the lightly beaten egg do so now — this is to give them a shiny surface, it's fun
to do it on some, if you'd like but not necessary.

Bake in center of oven for 13 to 15 minutes, keep an eye on them around the 12
minute mark. They're done when they've puffed up and the tops are golden brown.

If you want added sweetness you could mix some powdered sugar with a bit of water until you get a thick paste and pour on top as a glaze of sorts.
Nutrition Facts
Easy Bear Claw Recipe
Amount Per Serving (2 oz)
Calories 235
Calories from Fat 90
% Daily Value*
Fat 10g15%
Cholesterol 21mg7%
Sodium 552mg24%
Potassium 137mg4%
Carbohydrates 32g11%
Protein 4g8%
Vitamin A 30IU1%
Calcium 31mg3%
Iron 2mg11%
* Percent Daily Values are based on a 2000 calorie diet.