How to make ice cream at home using 2 bags!! It's an easy activity to do with your kids that is yummy and easy to do. You just need a few items to make homemade no churn ice cream without the need of an ice cream maker. You've got to learn how to make homemade ice cream in a bag this year.
Here is how to make ice cream at home in a bag without an ice cream maker. We don't have an expensive ice cream maker but wanted to make homemade ice cream by hand, we were surprised it worked! (originally published 2/16, affiliate links present)
How to Make Ice Cream in a Bag
Anything new is fun to do with kids. When you can get them involved in the kitchen "cooking" it's even better! This not only tastes good, and is somewhat of a Science experiment but is a fun way to see how easy it is to make your own frozen treat. Yes of course you can use a Ninja creami ice cream machine but that isn't nearly as interactive.
Ice Cream in a Bag
We are going to show you the easiest way making a batch of vanilla which you should start with first. You can of course add some sprinkles or something but this one is easiest and can be dressed up later once it is done.
How to make Ice Cream Without Ice Cream Maker
That is right, all you need is good old fashioned elbow grease sorta. You can let everyone make their own batch too!! Fill each bag with ingredients listed below, or cut in half for a smaller bowlful. Let each child shake shake shake until it freezes and doesn't have to share with anyone!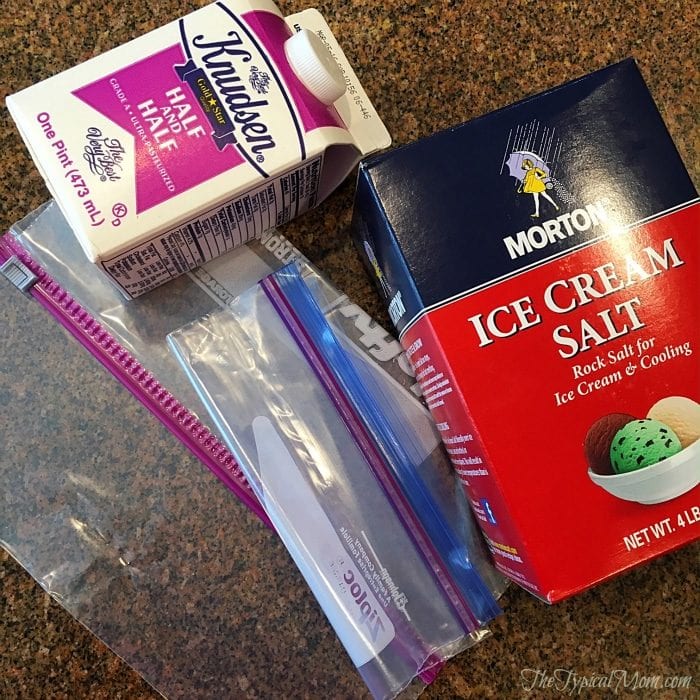 How to make ice cream at home
Ice cream salt is much larger and is a must vs table salt
Half and half or heavy whipping cream
How do you make homemade heavy whipping cream?
Just in case you don't have any of this, or enough for a few bags full you can make it yourself with;
For 1 cup mix

add 2/3 cup of whole milk
plus 1/3 cup melted butter
What is a non dairy substitute for heavy cream?
Full-fat coconut cream, evaporated milk, cashew cream, I've even heard of people using pureed tofu.
Sugar
Vanilla extract
Large gallon sized freezer bag

to hold your ice and salt

Pint size freezer plastic bag

for your ice cream mixture

Towel – so you won't freezer your hands
Whip cream for topping if you want
Small toppings are optional
As you can see you aren't going to use the typical ice cream base ingredients. If you use an ice cream machine a lot of recipes call for sweetened condensed milk, heavy cream and/or cream and milk.
This one uses very few ingredients which is nice. If you haven't made frozen desserts at home yourself this is a great starting point.
How can I make ice cream at home?
It's really easy from start to finish. 10 minutes later and it was done!! A great kid's activity to do at a Girl Scout meeting, sleepover, or on a rainy or lazy day because the kids loved it!! Here is how you make this homemade ice cream recipe.
Can you make ice cream in a bag with regular salt?
This is what the ice cream salt looks like, regular table salt WILL NOT work nearly as well or at all in our experience. It's very chunky and allows the ice to get COLD COLD COLDER. That is why you really need a hand towel to wrap around it while you're shaking. Otherwise you hands will become completely numb and that isn't fun.
This is how to make ice cream at home using just two bags.You will want to fill a gallon freezer bag halfway full of ice.
Then add 1/2 c. of Kosher or Ice Cream salt (I chose ice cream salt because it was cheaper).
How to Make Homemade Ice Cream in a Bag
Now fill a pint or quart sized freezer bag with 1 c. half and half, 1 tbsp. vanilla, 2 tbsp. sugar, and any other things you'd like such as crushed chocolate chips, sprinkles etc.
you can use a food processor to make filling pieces fine so they mix in well.
Put the pint sized bag into the ice (take all air out of that bag)
Seal the gallon freezer bag after eliminating all the air out of that bag too
Wrap a towel around the whole thing and use that to hold it (so you don't freeze)
Now start shaking!!
You will shake, and shake, and shake…oh and shake some more until you can feel the inside bag and it is as thick as you want it to be.
Here's a video showing you how to make family fun ice cream in a bag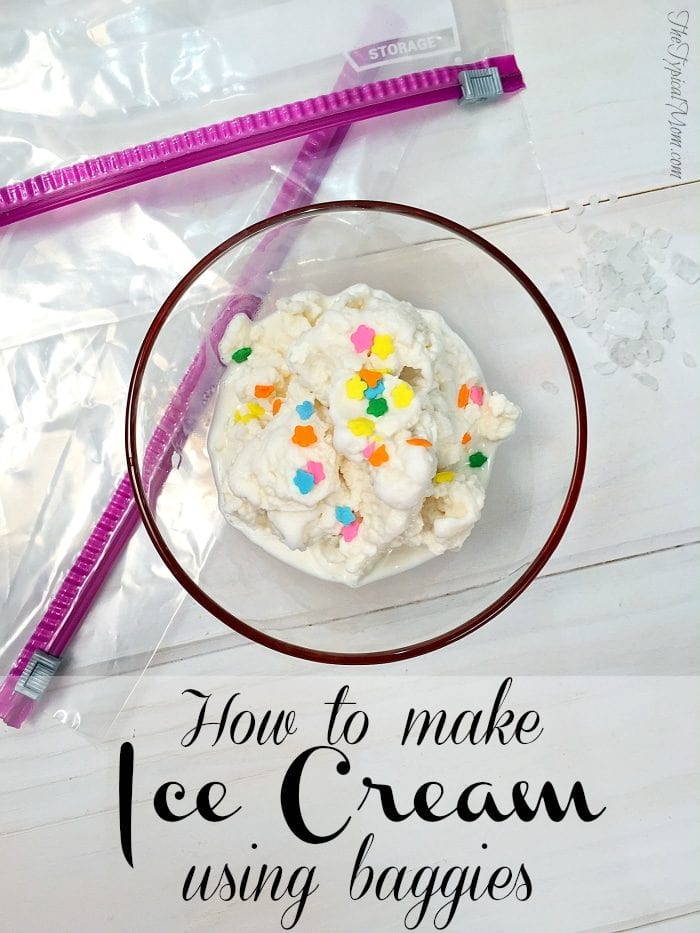 Why do you have to shake ice cream?
When salt is added to ice some of the ice melts because the freezing point is lowered. The shaking moves the warmer cream mixture from the inside to the outside of the bag so it can freeze evenly. That way you make a smoother product.
It took ours about 8 minutes, but 5-10 is average. It's really pretty cool.
Let everyone have a turn so they're only shaking for a few minutes and it remains "cool" and not work. lol
Once again, I would HIGHLY suggest putting a dish towel around the bag when you or your kids shake.
Making this can get quite cold after a few minutes of shaking. We shook it over the sink because it began to drip water a bit, but not too badly.
Great family fun to do that is inexpensive and yummy too!
Why ice cream in a bag works?
The Science Behind Ice Cream in a Bag is that the salt added to the ice lowers the melting point of the ice. Just like it does when we add salt to roads in the winter for the ice to melt.
I let my kids do this part because it is fun for them and yes they have a lot more energy than I do. You can pass it around from you to them and back again for a while and check in between and let everyone decide when enough is enough and you're ready to dig in.
This time we didn't add any sprinkles or anything we just made vanilla ice cream and it was quite delicious.
Make sure you rinse off the outside of your inner pint bag so the salt doesn't get mixed into your ice crystals when you scoop it out. That can be kinda' yucky.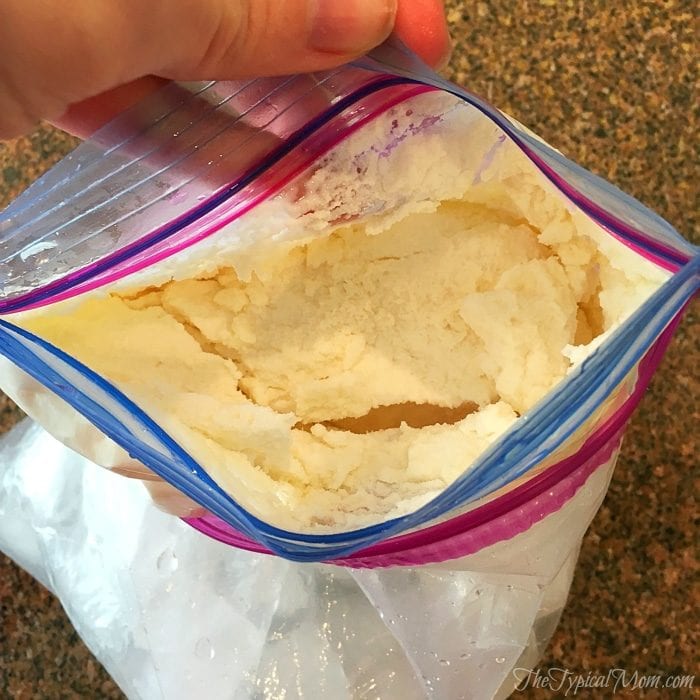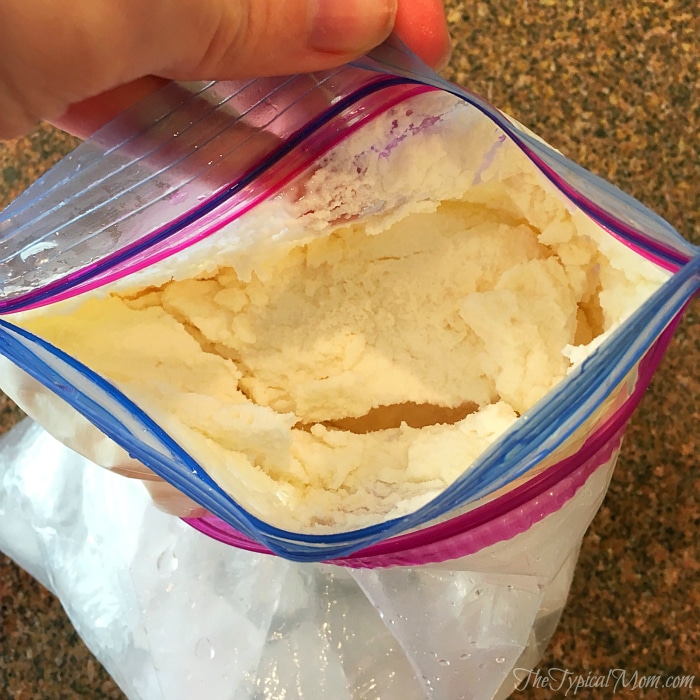 How long do you churn homemade ice cream?
Typically this method takes 25 to 40 minutes, depending on the ingredients. Baggies are much faster! Doing it this way requires you to keep a close eye on the mixture too once you've hit the 25 minute mark so you don't over churn it.
Can you overchurn ice cream?
You can, that is why your creation may taste a bit gritty. If you're looking for more fun and cheap things to do with kids check these ideas out
You can make this no churn chocolate ice cream at home next!

Ice cream in a bag printable directions are below in case you want to keep a copy in your recipe book. Nutritional information will vary depending on the add ins inside your mixture.
Whether you need a birthday craft to do with a group, or something to do on the weekend I guarantee everyone will love this no churn ice cream.
Making dessert in our Ninja Creami ice cream machine with the kids is fun too.
You can even add it into our party punch recipe for even more yummy fun!
Want to see a few of my favorite things that I am totally obsessed with?? Take a peek and see how many you might already have…twinsies!
Looking for more easy family recipes and tips? LIKE The Typical Mom Facebook page?
Then sign up for my free newsletter, and follow me on Pinterest! 😉
***** If you LOVED this recipe give it 5 Stars below and let everyone know what you thought about it. 😉
How to Make Ice Cream in a Bag
How to make ice cream in a bag at home using ziplocs!! It's an easy activity to do with your kids that is yummy and easy to do. You just need a few items to make homemade no churn ice cream without the need of an ice cream maker, really!
Instructions
Add your ice cream salt into a gallon freezer bag.

In a pint size freezer bag fill it with half and half, vanilla, sugar, and any other small toppings.

Zip pint size bag making sure there is NO air inside.

Fill gallon freezer bag half way full with ice, add your ice cream salt, and put this filled pint size bag in the middle of all that ice and salt.

Remove air from the gallon bag and zip closed well.

Cover the gallon bag with a towel, grab, and shake for 5-10 minutes.

Check your ice cream and keep shaking until it is a thick consistency you want.
Nutrition Facts
How to Make Ice Cream in a Bag
Amount Per Serving (4 oz)
Calories 444
Calories from Fat 243
% Daily Value*
Fat 27g42%
Cholesterol 89mg30%
Sodium 56687mg2465%
Potassium 314mg9%
Carbohydrates 36g12%
Protein 7g14%
Vitamin A 855IU17%
Vitamin C 2.1mg3%
Calcium 289mg29%
Iron 0.5mg3%
* Percent Daily Values are based on a 2000 calorie diet.