This moist pumpkin banana bread recipe is the best. Perfect breakfast, brunch or dessert paired with a cup of coffee this holiday season or year round. If you loved our air fryer pumpkin bread this is a great twist on your traditional sweet bread recipe. Perfect for any occasion.
I love baking with my kids during the holidays, and recreating recipes I had as a child that bring back memories. For me, this pumpkin banana bread recipe is one of those foods. Special thanks goes out to Folgers for sponsoring this post. (affiliate links present)
Pumpkin Banana Bread
Well, it tastes even better. If you love homemade banana and moist pumpkin bread you are going to LOVE this combination. The moistest and most flavorful sweet bread you'll ever try.
It's perfect paired with a cup of coffee (a glass of juice for them), as well as a great gift for someone special too. You can make it into a loaf like you see here or above or if you are in a hurry just spoon into a muffin pan instead.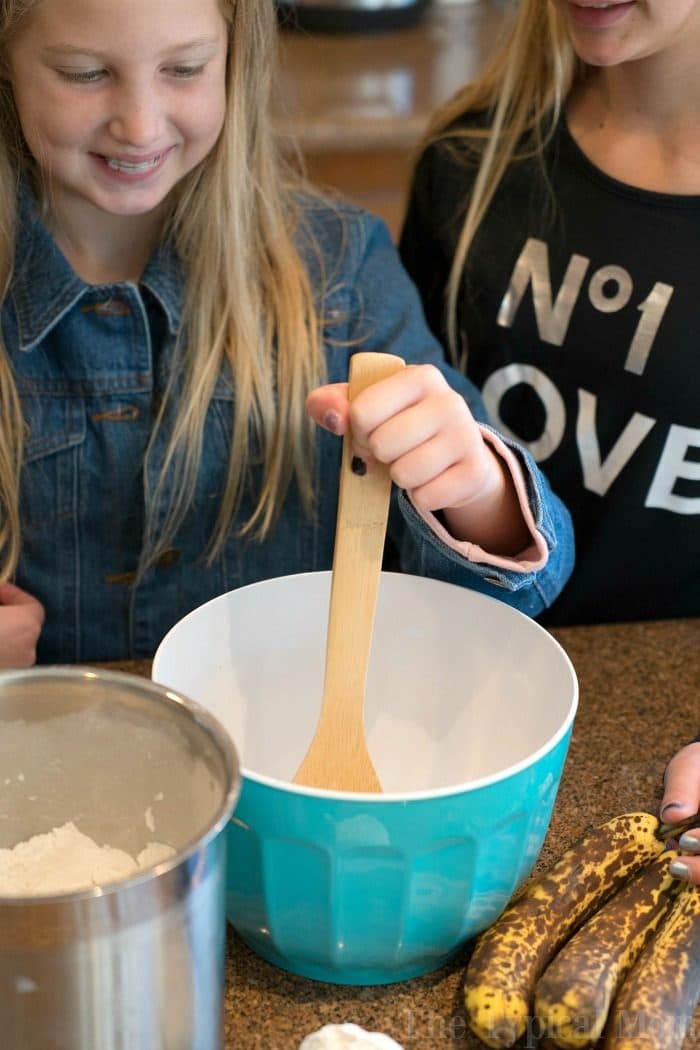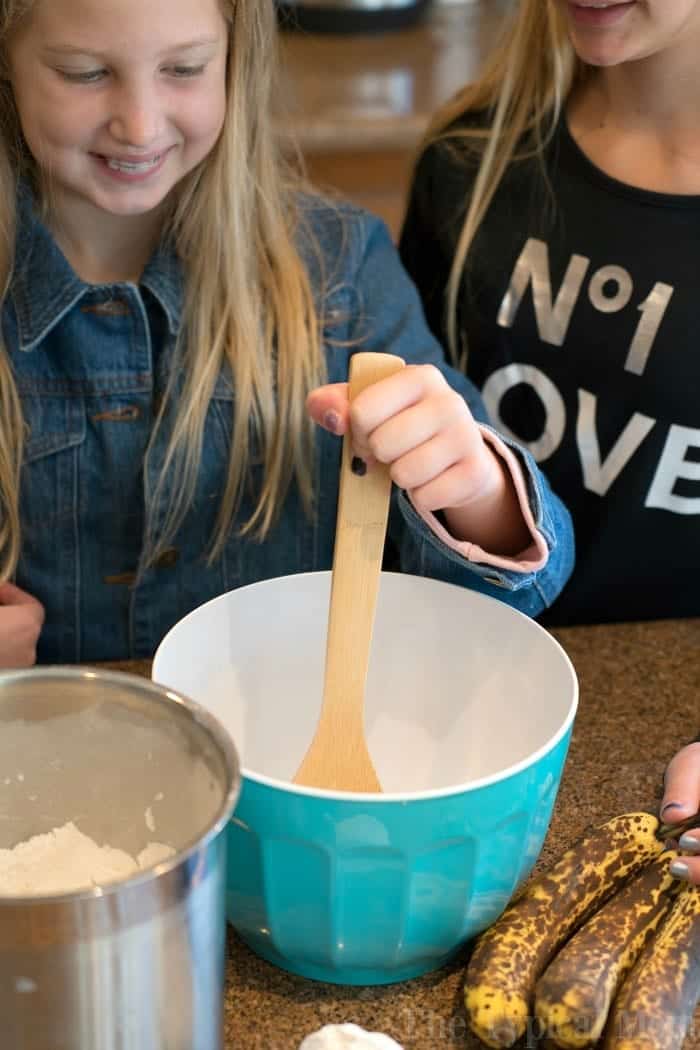 Moist Pumpkin Banana Bread
During the holidays all it takes is a loved one to share your stories and memories with to make you smile. We all have a recipe that immediately brings you back to your childhood. It makes you remember someone special sitting at the kitchen table snacking on it right?
I can see my memory right now. These memories are not only special for us but great to share with your kids too. They love hearing about them!
I know first hand that life gets busy, but don't wait. Take one hour this year to sit down with someone you care about over one of your favorite coffee drinks. Ask about their life if they're still around. You won't regret it. Even better, take a tape recorder. When they pass it will be a tear jerker for you but in a good way.
Now you will want to wait until your fruit is quite brown for this one in particular. If you aren't ready to make quite yet just stick them in the fridge inside a bowl. It will earn you a few more days so they will stop ripening so quickly.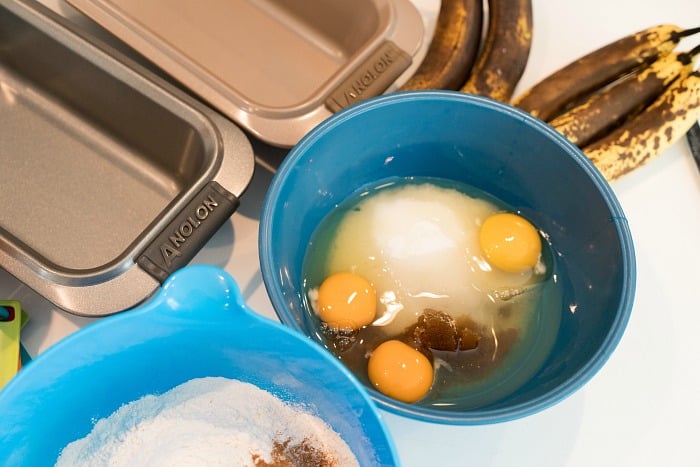 Banana Pumpkin Bread Recipe
This isn't just something I make during Thanksgiving and/or Christmas time though. It's one of my favorite overripe banana recipes because it smells and tastes amazing.
Medium and large bowl
Flour & baking powder
Pumpkin puree
Sugar
Brown sugar
Overripe mashed bananas
Oil
Baking Soda
Vanilla extract
2 loaf pans

non stick cooking spray
or prepared pans with parchment paper

Wire rack is helpful so it can cool completely before slicing
Toothpick for inserting in the center
I like chocolate chips or others like our pumpkin cranberry bread but chopped nuts, about 1/2 cup, works well too if you really want something else in the batter.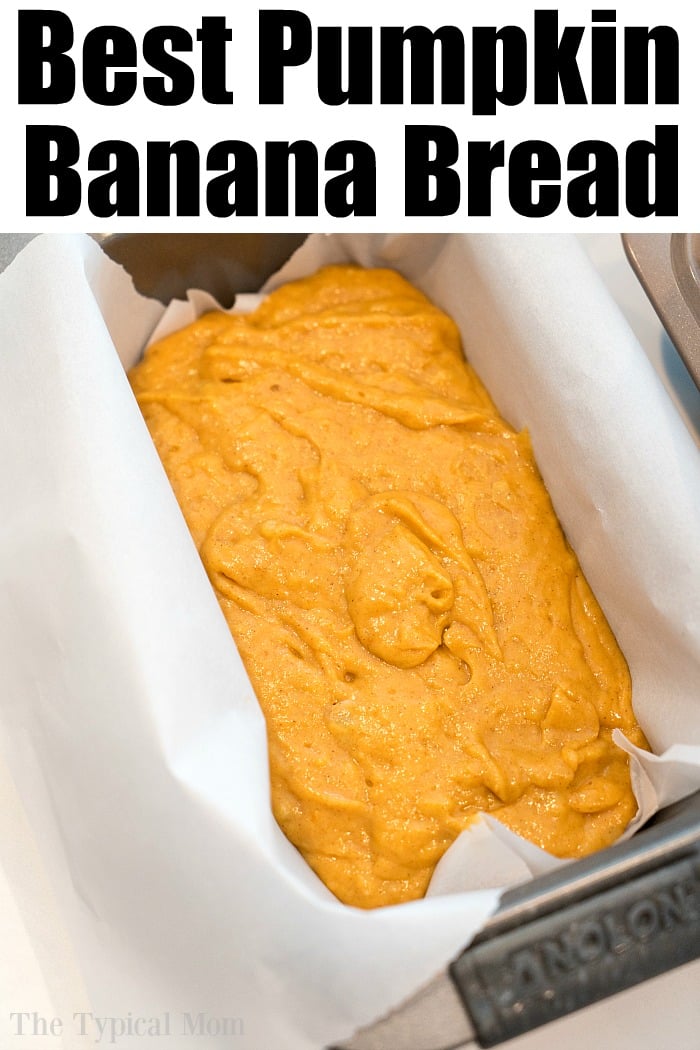 Here are the basic steps to take, and tips so your pumpkin banana bread come out to perfection! First you should always measure flour properly so it's not too dense or dry. This is probably the most important aspect when it comes to baking in general.
Pumpkin Banana Bread with Chocolate Chips
I am sure most of you know you shouldn't scoop flour right out of the container with your measuring cup, but just in case I've provided an article for you here. You can totally add 1/2-3/4 of a cup of mini chocolate chips. Bake time won't change, nothing else will either.
Combine your wet ingredients like your cup of pumpkin, mashed bananas, eggs etc… in one bowl. Use a spoon or in your bowl beat with a mixer on low speed.
I like little chunks of mashed banana vs. beating it smooth so I typically use a wooden spoon for everything.
In another bowl mix together your dry ingredients together well. Then slowly combine the two. Again, basic steps of baking but we're spelling out for everyone here. Now preheat your oven to 350 degrees F
I like to lay a piece of parchment paper inside my 2 loaf pans so I can lift them out easily when done. Bake at 350 F for 40-50 minutes, check after 40 so it doesn't come out too dry.
You do NOT want to overbake this. As soon as the middle bounces back slowly when gently touched in the center take it out. A mostly clean toothpick (with crumbs) in the center is your sign to take it out! Leave in pan and allow to cool on a cooling rack. Then gently flip over into your hand. Flip over with bottom on cutting board and slice. Enjoy as is or with some butter on top.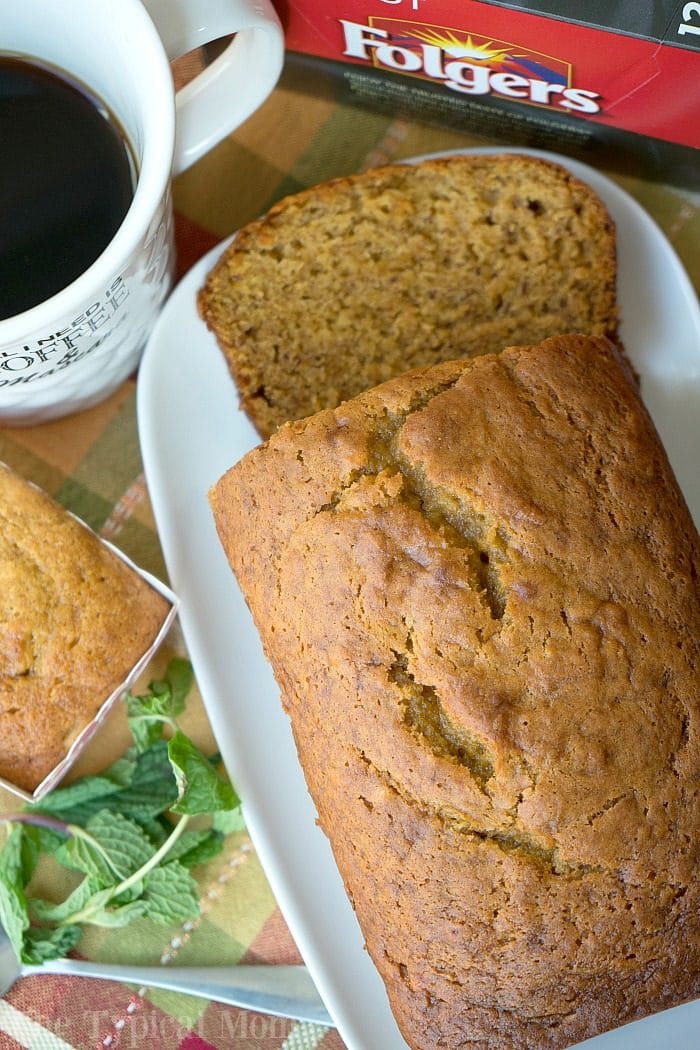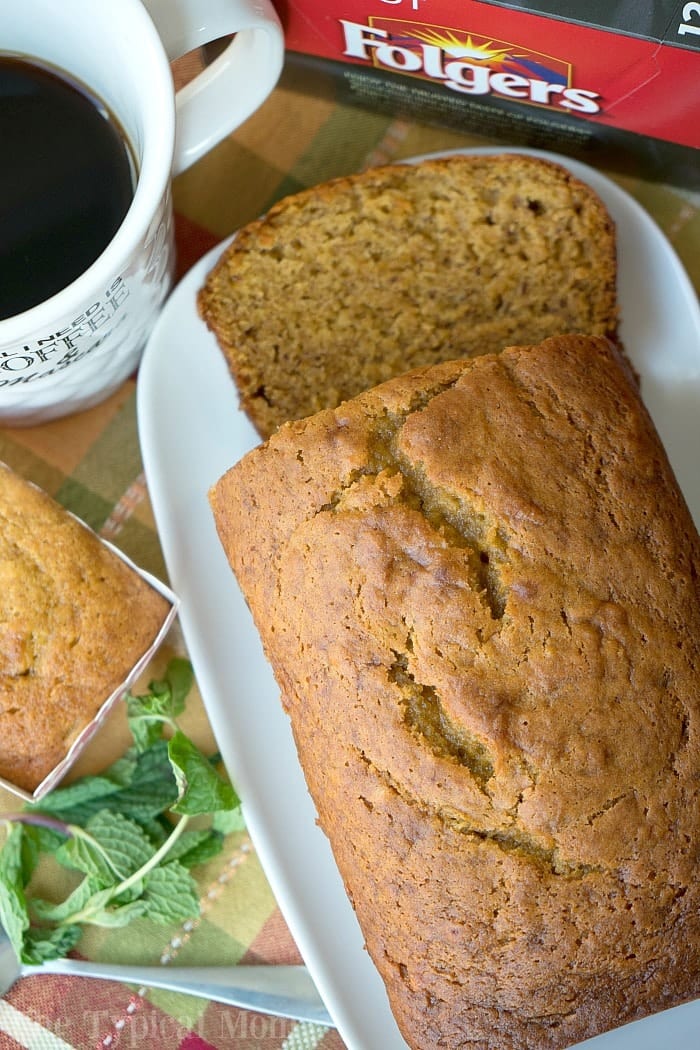 Yes, quick breads in a box at the store can be good but homemade pumpkin apple bread is just so much better. The combination of these two popular breakfasts (or desserts) is just oh so yummy. We've made these into small loaf pans, wrapped them up and given them to neighbors during the holidays too.
Since this recipe makes 2 full loaves you can enjoy one and freeze the other too if you prefer.
How do you freeze baked pumpkin bread?
Allow your loaf to cool completely out of the loaf pan.
You can either slice it and then freeze it, or freeze the whole loaf. (I prefer not to slice)
Wrap the entire loaf with plastic wrap, the place the whole thing in a gallon freezer bag.
How do you unfreeze bread?
Take the loaf out of your freezer, and out of the plastic. Place it inside your gallon freezer bag sealed. Then let it thaw in the fridge until it is no longer frozen. This usually takes overnight for an entire loaf, or 2 to 3 hours for slices.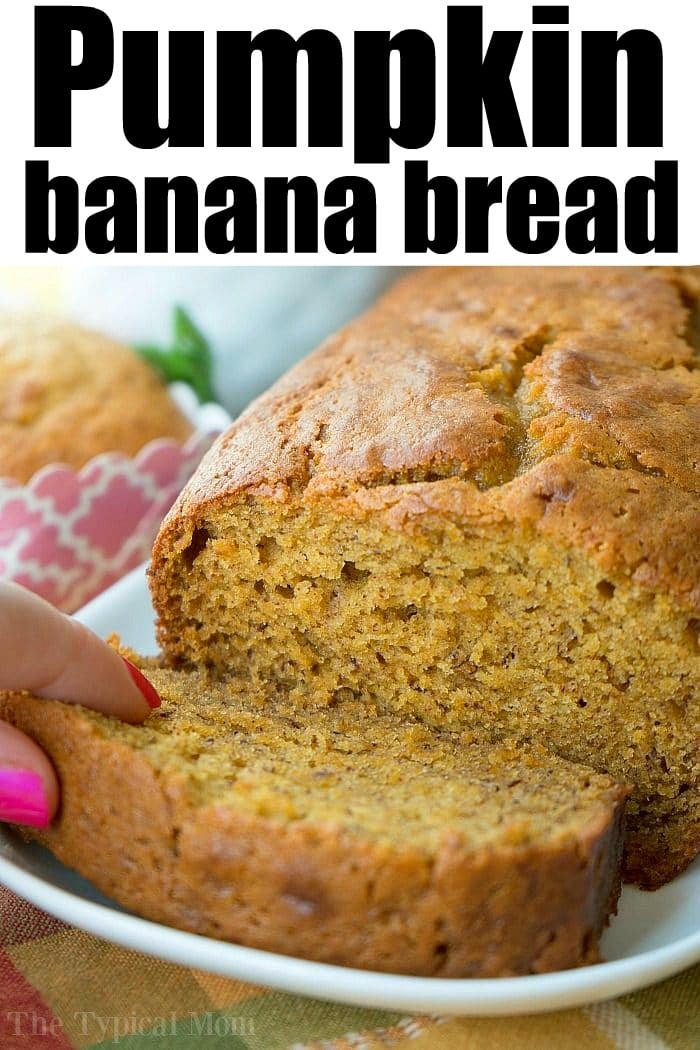 Pumpkin Banana Bread Muffins
We have made muffins out of this recipe as well. They're great grab and go breakfasts. For timing it is closer to 18 or so minutes.
Muffin cups are nice to use for these so they don't stick and when storing them on the counter they don't seem to stick together as easily. Again, make sure you do not over-bake these.
Pumpkin banana muffins are best when they're taken out RIGHT when they've baked through to the center.
Just gently touch the middle of one around the 18 minute mark to see if it springs back. If not let them bake 2 more minutes and check again until they do.

All ovens vary slightly so mark down how long they take to get to this point so the next time you'll know.
The recipe below is printable so you can keep it on hand in your cupboard for the next time with this note.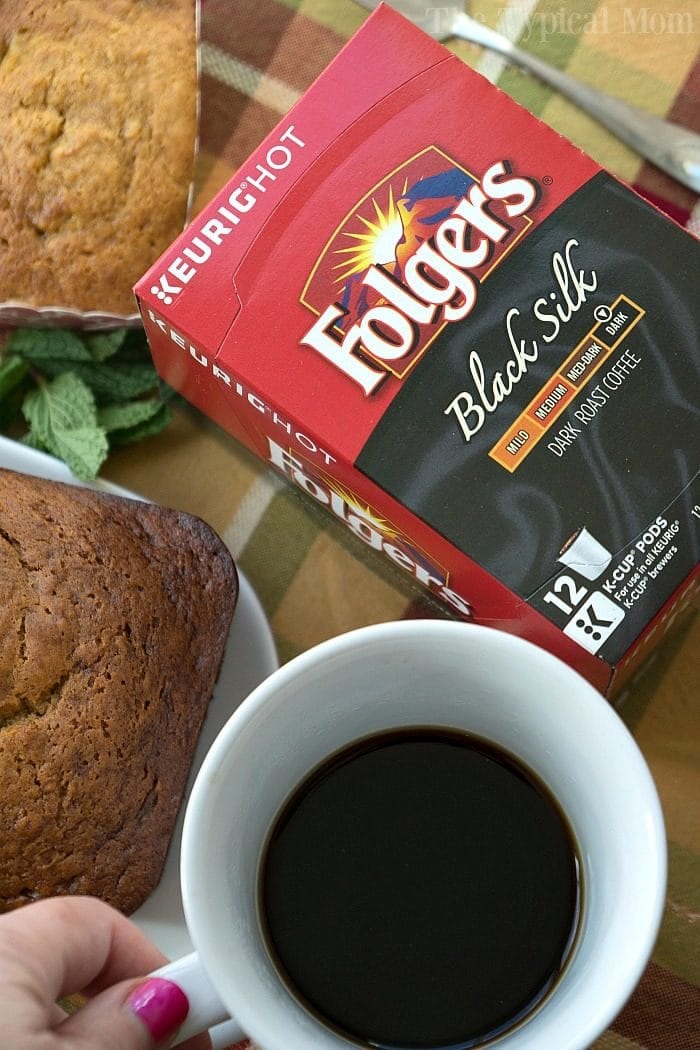 Here are a few other banana and easy pumpkin desserts to try too
Want to try our most popular muffin recipe? It's pumpkin zucchini muffins and people go nuts over them!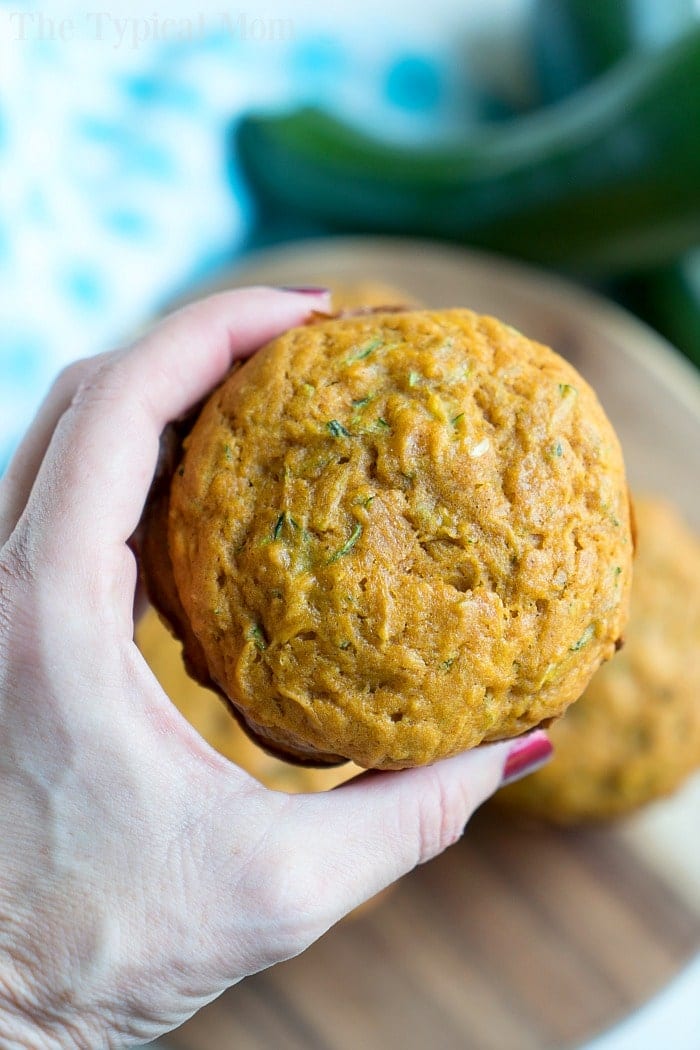 How do you store baked goods overnight
The thing about pumpkin baked goods is how moist they are right??!!
First cool your baked bread on a rack so they become room temperature.
Then wrap them (unfrosted) in a double layer of plastic storage wrap, or in a single layer of plastic covered in a layer of foil.
Put them into an airtight closed container and enjoy again the next day….and usually the day after that they still taste as fresh!
Should baked goods be refrigerated
No, refrigeration can dry them out. Unless they contain raw dairy ingredients or eggs just put them into an airtight container and leave them on your countertop at room temperature. If you want to make pumpkin banana muffins instead, follow this recipe here.
If you want to know how to half a recipe to make less, read this post. Tip: Spray your pan with non stick spray to clean a pot.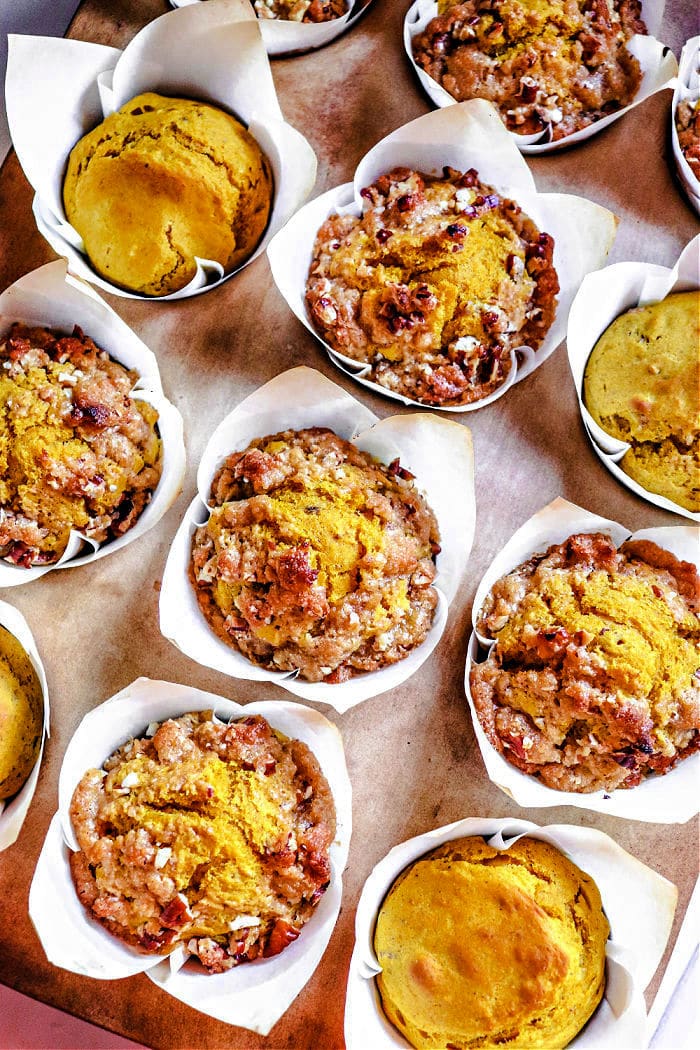 Want to see a few of my favorite things that I am totally obsessed with?? Take a peek and see how many you might already have…twinsies!
Looking for more easy family recipes and tips? LIKE The Typical Mom Facebook page?
Then sign up for my free newsletter, and follow me on Pinterest! 😉
***** If you LOVED this recipe give it 5 Stars below and let everyone know what you thought about it. 😉
Pumpkin Banana Bread Recipe
The most delicious pumpkin banana bread recipe is here! Perfect breakfast, brunch or dessert paired with a cup of coffee this holiday season or year round. If you love banana and pumpkin bread this is a great twist on your traditional sweet bread recipe. Perfect for any occasion.

Instructions
Mash your overripe bananas and put in a bowl with your sugar, vanilla, brown sugar, oil, eggs, pumpkin and pumpkin pie spice. Mix together well, it will be lumpy because of the bananas, that is okay.

In a separate bowl combine all dry ingredients and mix well so they are evenly distributed.

Add half of your dry mixture into the bowl with your wet mixture and use a spoon or mixer on low to combine, it will be a bit lumpy that is okay.

Add remaining dry mixture and mix until no dry is remaining.

Spray 2 loaf pans with non stick spray, or line with a piece of parchment paper and fill almost 3/4 of the way full. Make sure the same amount of batter is in each pan so they cook evenly.

Put into preheated oven at 350 degrees for about 40-50 minutes or until a toothpick placed into the middle of the loaf comes out mostly clean. (do NOT over bake or it won't be as moist, check after 40 min.)

If making mini loaves they typically take about 20-25 minutes or until toothpick comes out clean. For muffins, fill 3/4 of the way full and bake for 20 minutes.

Take out of pan and put on cooling rack. Slice and serve.
Nutrition Facts
Pumpkin Banana Bread Recipe
Amount Per Serving (2 oz)
Calories 273
Calories from Fat 90
% Daily Value*
Fat 10g15%
Cholesterol 31mg10%
Sodium 172mg7%
Potassium 165mg5%
Carbohydrates 43g14%
Protein 4g8%
Vitamin A 676IU14%
Vitamin C 3mg4%
Calcium 25mg3%
Iron 1mg6%
* Percent Daily Values are based on a 2000 calorie diet.