Have you tried pumpkin angel food cake yet? It's the perfect 3 ingredient dump cake Fall dessert that's light and only 4 points if you're counting those.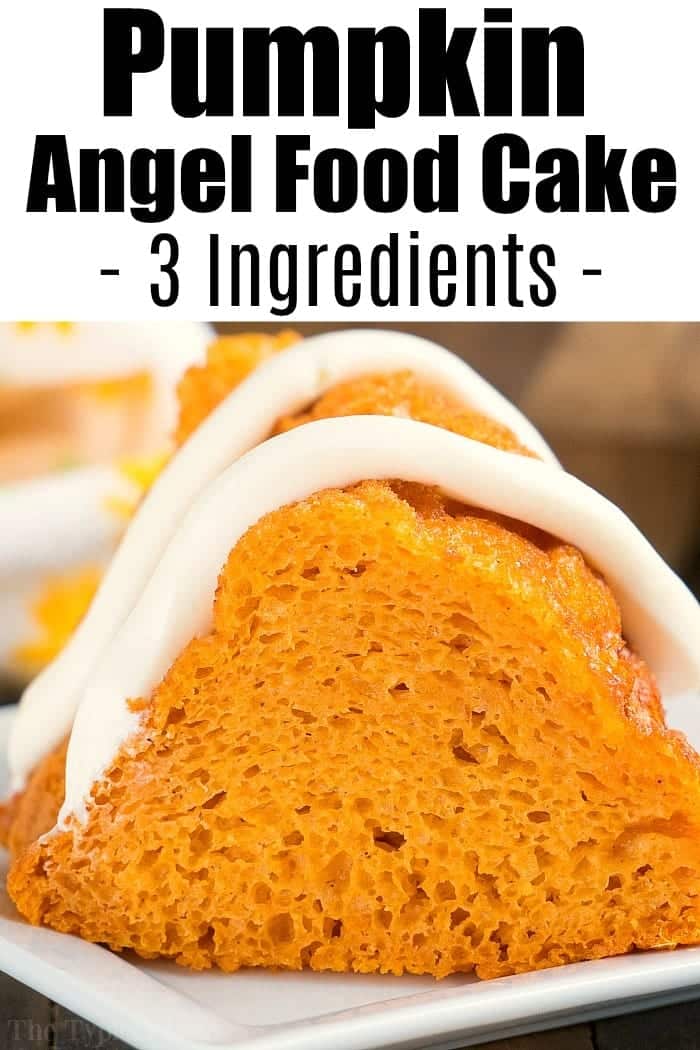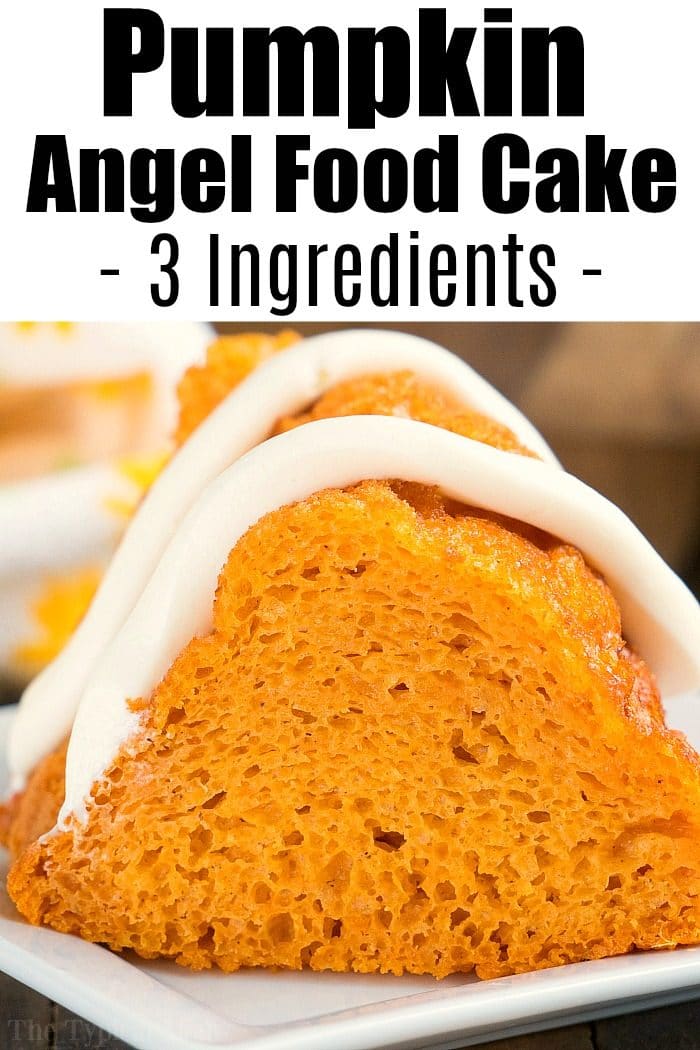 So I'm all about easy dump cake recipes right now, well okay all the time really and this pumpkin angel food cake tops the list during the Fall! With just 4 ingredients, water being one of them, it's easy to whip together for my family or bring to a potluck. It's always a huge hit!
Seriously, this is just about everything you need…….
I like to add pumpkin pie spice to it as well but if you didn't have any it would be yummy anyway.
I have made tons of easy dump cakes but anything with pumpkin is probably my favorite, I am a little bit addicted to that flavor and can seriously eat it year round like we do with this pumpkin pie dump cake.
Ok follow along, this will be quick……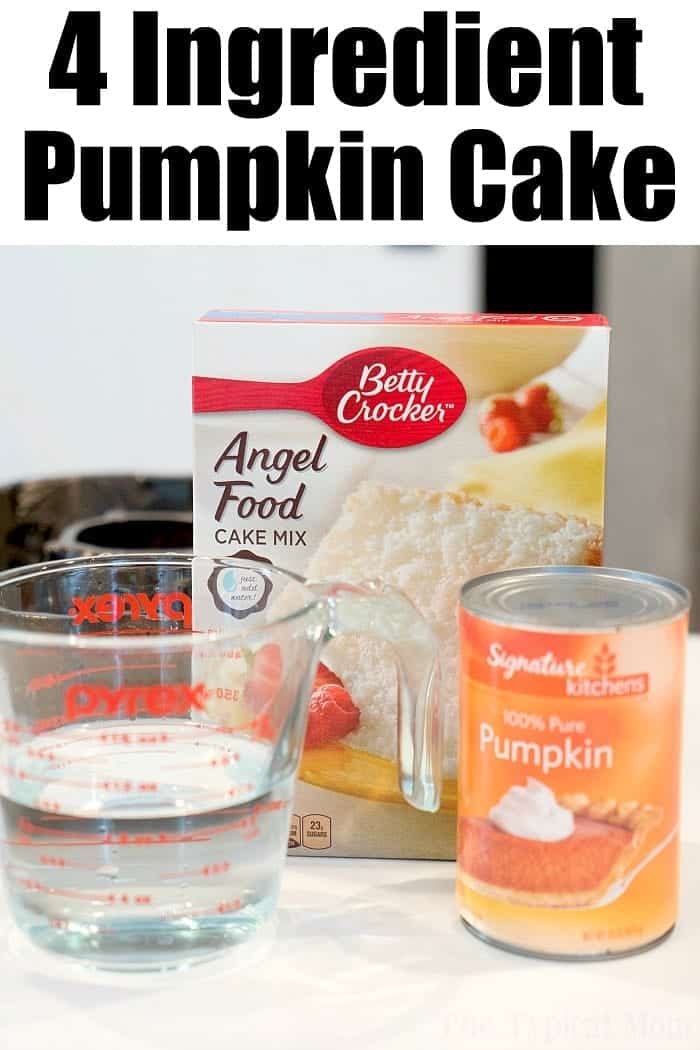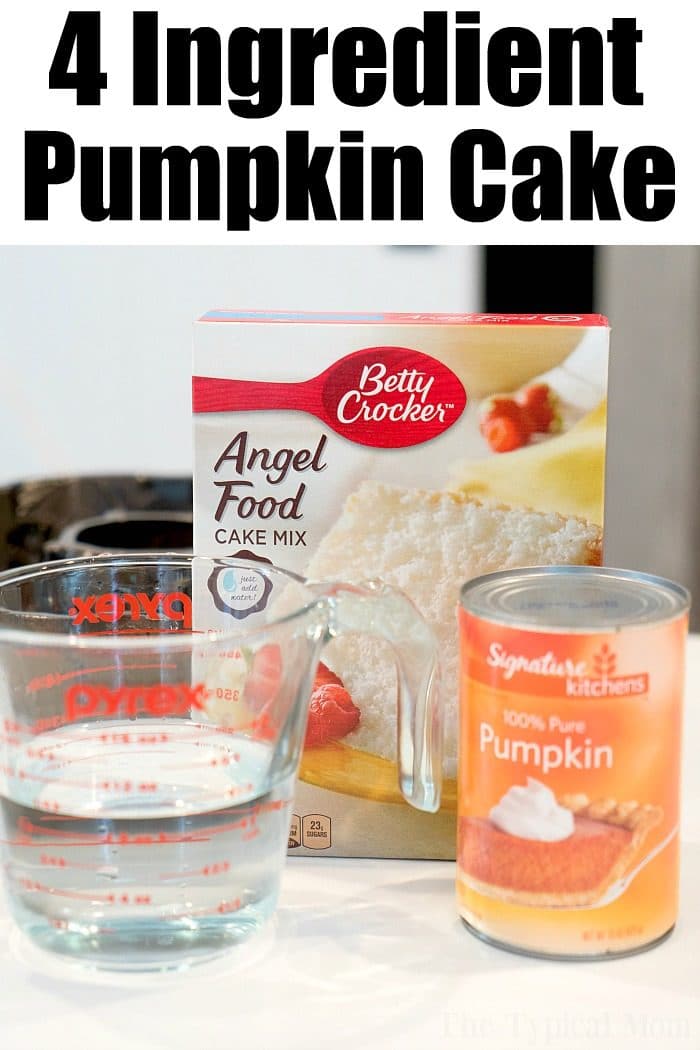 Here's what you need to make this easy pumpkin angel food cake recipe:
Water – everyone has that already
1 box of angel food cake mix – I just order this one online 
Pumpkin puree – I buy several of these once August hits, or I've made homemade pressure cooker pumpkin puree too
Pumpkin pie spice – Already in my pantry but if you don't have any yet you can find it here (I prefer powdered vs. liquid)
Bundt pan – I bought this Autumn bunt pan with a leaf pattern and love it
Tips for making the best pumpkin angel food cake
Whip together your water and angel food cake mix until the "batter" starts to rise and puff up kinda' like a meringue texture would be.

You can use a mixer on low/medium speed until this occurs or many times I am lazy and don't want to try and find my mixer so I just use a spatula to whip it up using my wrist for about 2 minutes and it works just fine.

Gently fold in your pumpkin puree 1/2 can at a time so the batter remains pretty fluffy, but it will deflate a bit either way.
Spray the inside of your bundt pan ever so lightly just so it will slide out but not so much that the cake won't be able to grip the sides and rise (remember with traditional angel food cake you don't want to spray the sides at all).
Allow your pumpkin and angel food cake dessert to cool in your bundt pan on a cooling rack once you take it out before very gently flipping it over on to a cake plate and removing your pan.
I have made other angel food cake mix recipes where you just combine a can of pumpkin or pie filling and the cake mix itself and it comes out quite dense. Using this method where you prepare the angel food mix with water as directed so it "fluffs up" first, and then adding your can of ingredients really makes a difference. It maintains that fluffy cake texture that makes it so good while adding another flavor like pumpkin.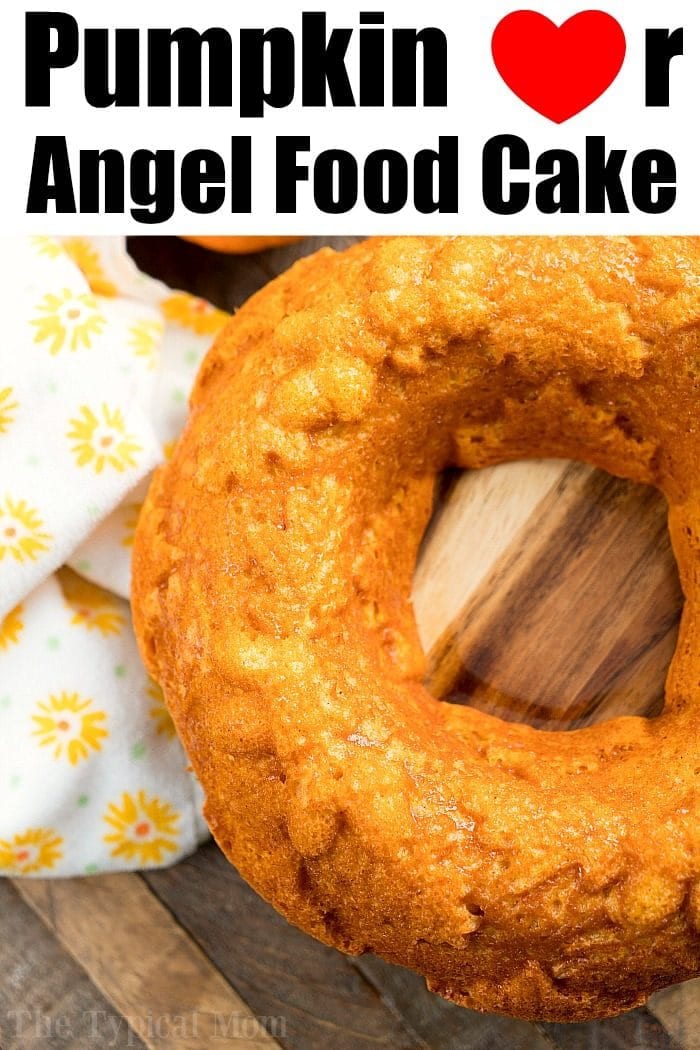 Now that we have all the tips and tricks out of the way, you can get going with your new favorite Fall dessert!
It is still nice and fluffy like an angel food cake but with a hint of pumpkin and great with a squeeze of cream cheese frosting on top!! If you leave the frosting off it's just 4 Weight Watchers points which is great if you're following the program and need something sweet to tide you over.
Once you're done enjoying this, here are a few other easy desserts you might enjoy:
Here's the printable recipe:
Pumpkin Angel Food Cake
Have you tried pumpkin angel food cake yet? It's the perfect 4 ingredient dump cake Fall dessert that's light and only 4 Weight Watchers points if you're counting those.
Instructions
Preheat oven to 350 degrees.

In a bowl add your whole box of angel food cake mix and water. Follow directions on package as far as mixing those two ingredients together (or if you're me I just use a spatula and whip it up just using my arm for about 2 minutes until it is nice and fluffy and has puffed up in the bowl).

Add your pumpkin pie spice and whip in using your spatula just until combined.

(do not use mixer any longer if you did in first step) Add half your can of pumpkin puree and use a spatula to fold in until well combined, then add remaining half and do the same thing.

Once combined use spatula to "cut" thru the batter a few times to release any air bubbles that are trapped.

Very lightly spray non stick spray inside your bundt pan and pour mixture in.

Bake for 40 minutes or until middle of bundt cake springs back when touched gently, get it right when it starts to spring back so it maintains it's moisture and comes out really moist but all the way cooked thru.

Cool, gently flip over on to a cake plate, cut and serve. Can squeeze some cream cheese frosting on the top!
Nutrition Facts
Pumpkin Angel Food Cake
Amount Per Serving (3 oz)
Calories 138
% Daily Value*
Sodium 311mg14%
Potassium 34mg1%
Carbohydrates 32g11%
Protein 2g4%
Vitamin A 5IU0%
Calcium 59mg6%
Iron 0.1mg1%
* Percent Daily Values are based on a 2000 calorie diet.
For more easy recipes, tips and free printables please LIKE The Typical Mom on Facebook and follow me on Pinterest! You can also sign up for my free weekly newsletter which is packed with goodies I know you'll love. 😉
Visit The Typical Mom's profile on Pinterest.