If you're ready for Fall flavors you've got to try this easy cake mix pumpkin pie dump cake with spice mix that needs just 5 ingredients! Topped with ice cream it's heaven! There are so many great boxed cake mix recipes out there, way beyond reading what to add off of the back, this is just one of the greats.
Pumpkin pie dump cake with cake mix, need I say anything else??!! My two favorite things. Easy dessert paired with anything pumpkin is heaven to me. Now on the list as one of our favorite easy dump cake recipes! (originally published 6/18, affiliate links present)
Pumpkin Dump Cake without Evaporated Milk
Once it hits about August I am ready for all things pumpkin!! No joke. I have made many dump cakes in my day but this one is definitely top of the list. Topped with ice cream or hey….have it for breakfast when the holidays come!
I have made this for my family every year but when we have guests come over they rave about it. Not sure how many times I have printed the recipe below to give it to a friend, or share during a potluck with relatives.
As easy and dump some of this in and fold together, it bakes to very tender like a spoon cake. Don't expect to slice it you just scoop and enjoy.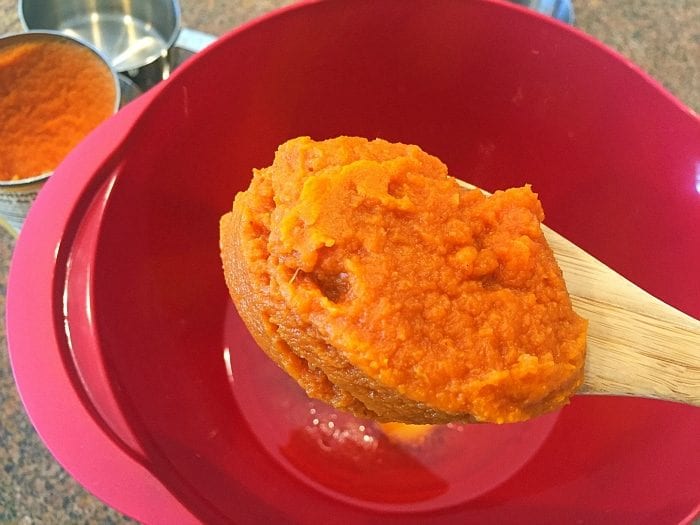 Pumpkin Pie Dump Cake with Spice Cake Mix
It literally takes 5 minutes to throw together and you can enjoy it straight out of the oven or throughout the day if you're having a brunch and want a variety of treats and foods laid out for everyone to enjoy and snack on. We have even made this as Crockpot Pumpkin Dump Cake before without the oven at all!
Pumpkin Cake with Yellow Cake Mix
Any flavor really works with this. Spice will give you more Fall flavors but yellow will work just the same if that is all you have on hand.
What does dump cake taste like?
It depends on what flavors you use but in general they are more dense and not "fluffy" like traditional cakes. Definitely sweet with some sort of pie filling, cake mix and usually an egg and/or butter.
What can I use pumpkin puree for?
LOTS of things! We love zucchini pumpkin muffins in addition to this pumpkin dump cake recipe here.
Do you refrigerate pumpkin cake?
If you have leftovers of this I would just keep it wrapped on the counter to enjoy the next day. For our pumpkin pudding cake I do refrigerate it, it's great cold for breakfast tomorrow. 😉 Here's a peek at it once we had it all layered up.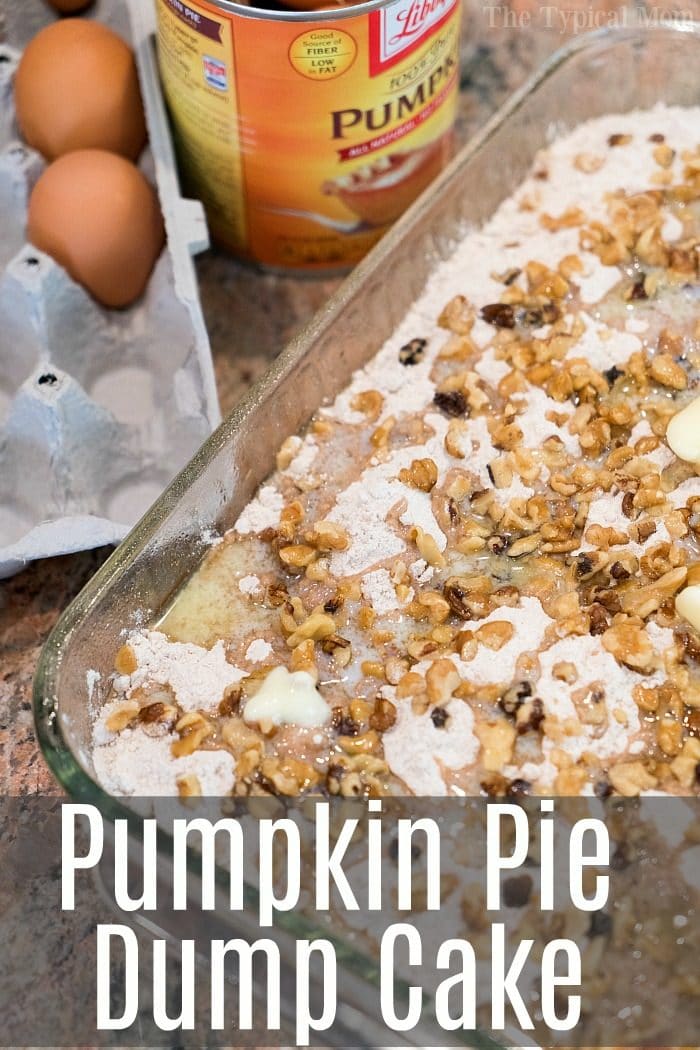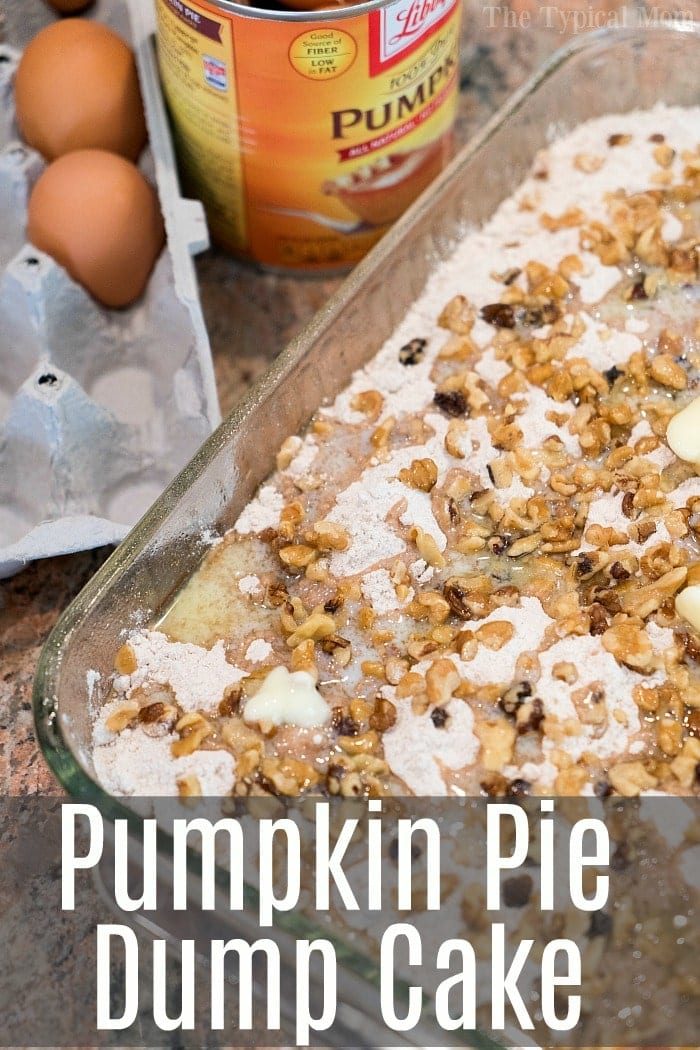 Pumpkin Pie Dump Cake
If you haven't made a dessert like this it is true to form, dump it in and pop it in the oven for perfection. I've made them in a variety of ways including an Instant Pot dump cake as well as blueberry pie filling dump cake cupcakes that were fun and finger size!
You basically start with a box of cake mix as the base. Like I said, pumpkin is my thing and I can't believe it took me this long to make this version but it's here! You can opt to leave off the nuts if you have allergies or don't like them, either way it is yummy.
Layering a few ingredients on top of one another, typically there is no mixing required at all which is nice. A great way to incorporate kids in the kitchen and get them baking with you. Top with some whipped topping or vanilla ice cream and you won't need much because it is rich.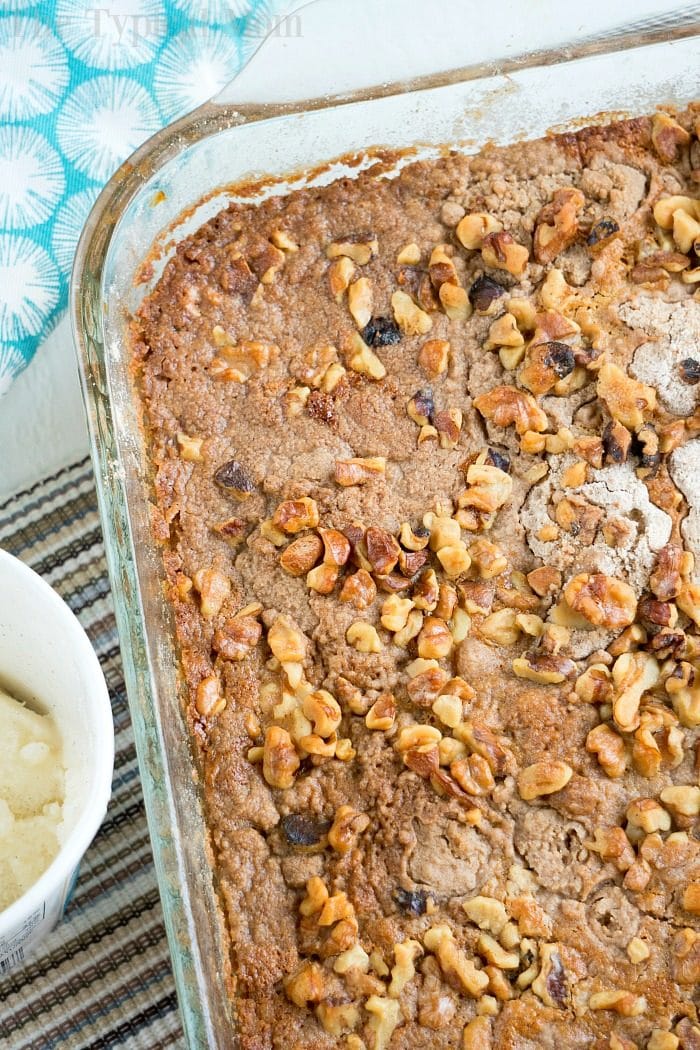 Pumpkin Pie Dump Cake Recipe
I made this in a 13×9″ glass baking dish which works well and if you are serving it straight to the table for a get together. It looks nice and you can see the layers through the pan which is a nice look. Plus it comes with a lid so if you have leftovers they will stay fresh. We never do but ya' know….
Large can of pumpkin puree

or make Instant Pot pumpkin fresh and use that

Cake mix – best for this one is spice cake
Eggs
Half and half
Brown sugar
Butter
Nuts are optional
If you do want to add a sort of crumble to the top for texture and looks I would recommend crushed walnuts or even candied pecans work well. Mix a few for a mixture of flavors or if there is a nut allergy at home then just leave them off. I have made this both ways and it is fantastic no matter what.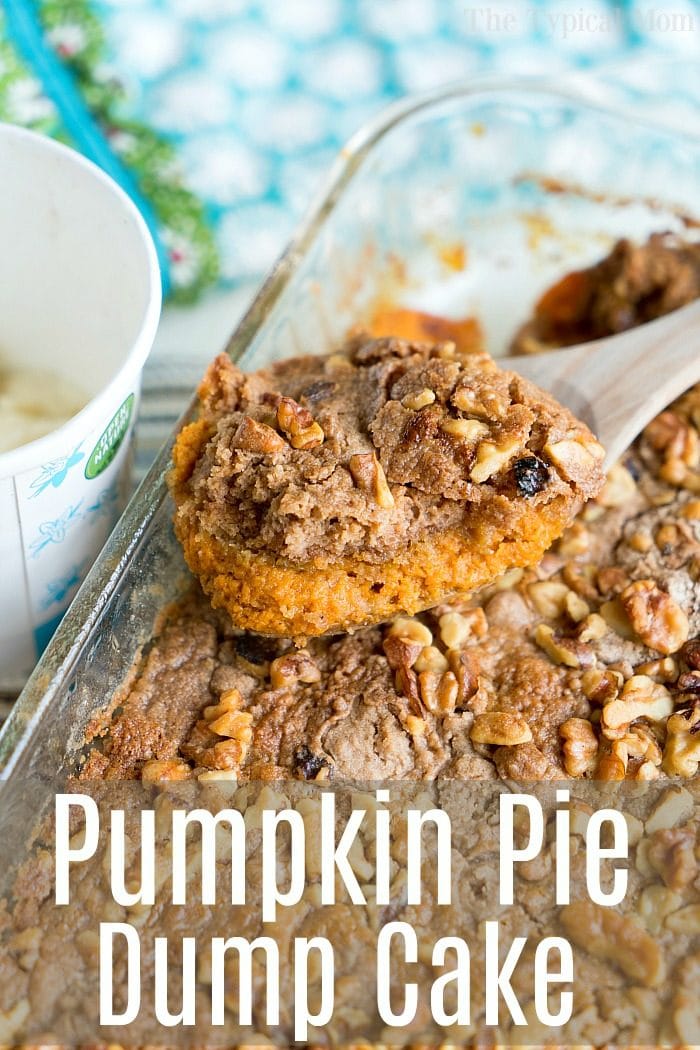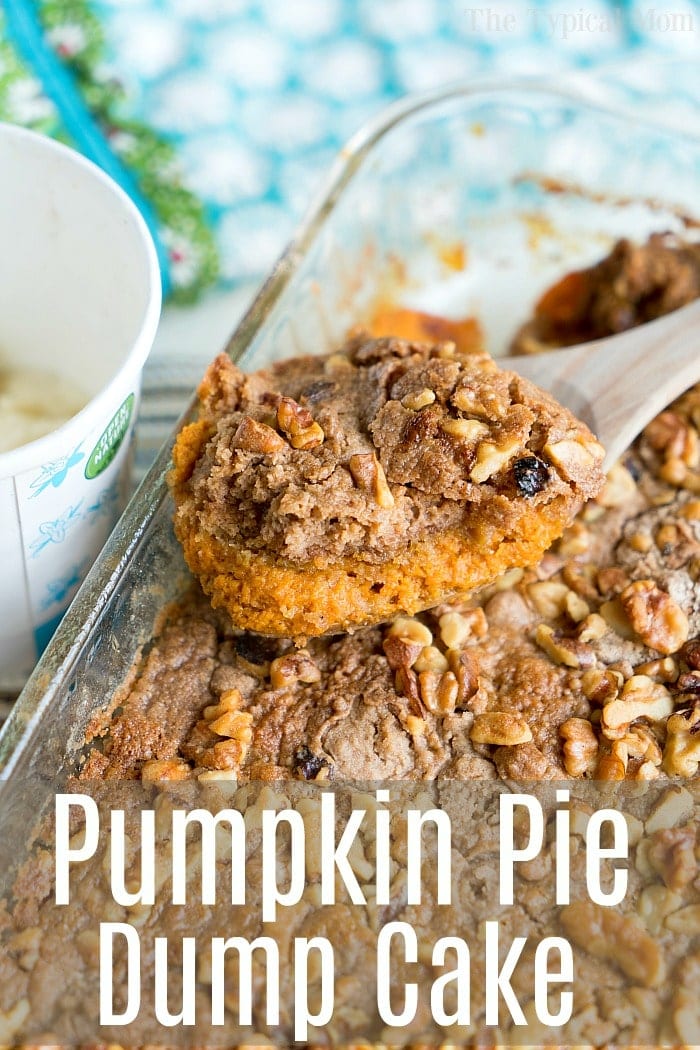 Dump Cake Pumpkin
Basic steps to make pumpkin dump cake are listed below in the printable recipe card but I will go over it quick right here too. First you're going to preheat oven to 350 degrees F. Wait until it reaches temp before adding your pan full of goodness, it works best that way.
Now get out a medium bowl and whisk together your pumpkin, pumpkin pie spice, eggs, half and half, and brown sugar so this pumpkin mixture becomes smooth.
Spray your dish with cooking spray so there's an easier cleanup once you're done.
Pour your pumpkin pie filling batter into your dish.
Make sure it is spread out evenly so the thickness is the same all the way across the pan. You don't want some of it to be over-baked and some of it still raw. That would be tragic.
Then sprinkle your spice cake mix on top evenly. It is important that your dry cake mix lumps are smoothed out and it's the same thickness all the way across.
Pour your melted butter across the top and put into your oven, add 1/2 cup of nuts now if desired.
In 50-55 minutes you'll have the best Fall dessert ever. Take out when top is golden brown like you see here.
Serve as is or with ice cream or whipped cream on top for a bit of added sweetness. Definitely not necessary as there is enough sweet as is but I mean sometimes you just gotta'.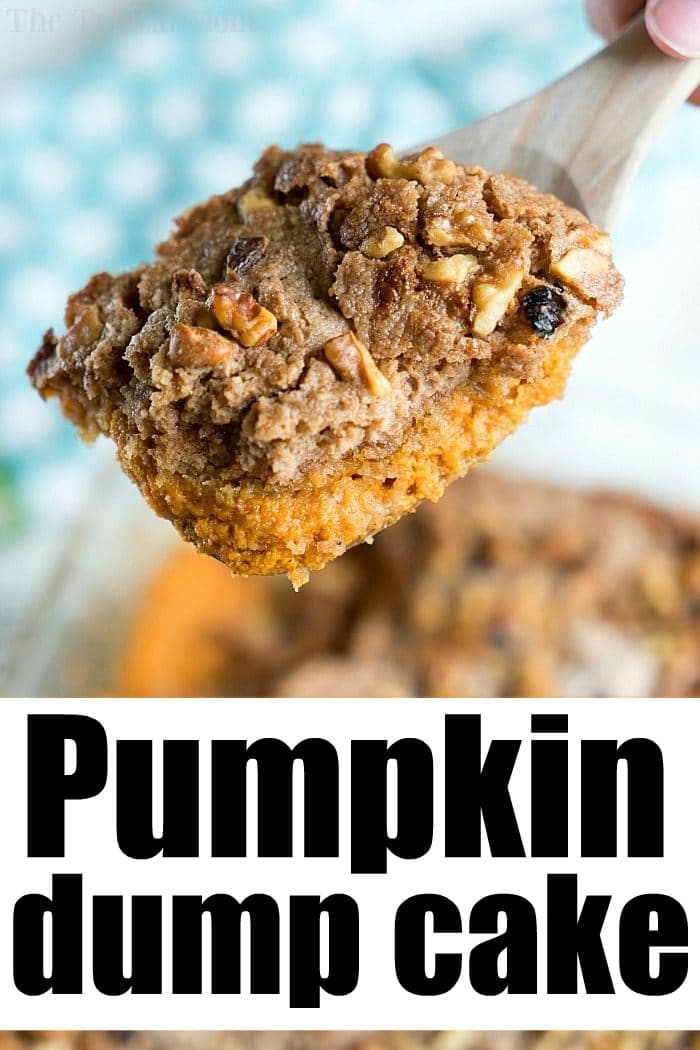 How do you store leftover dump cake
Like I said, we rarely have any of this left when it is served. Since it is larger I usually will make it when guests are coming over. I think once we had two servings or so left and if you know me at all you know how I hate to waste food. You can save this well and revive it the next day if done properly.
You want to keep this nice and moist. The best way to do this is to move it to a smaller airtight container. Store in the fridge and it is best 24 hours later but can be kept for up to 3 days. When you're ready move what you want to a plate. Drizzle a little maple syrup over the top and microwave for 45 sec. to 1 minute.
You could put a little dollop of whipped cream or vanilla ice cream to the top too before heating. The point of this is to add moisture to it so use what you wish. You only need 1 tbsp or so though. Warmed is better than cold but I have been guilty of right out of the fridge for breakfast too. 😉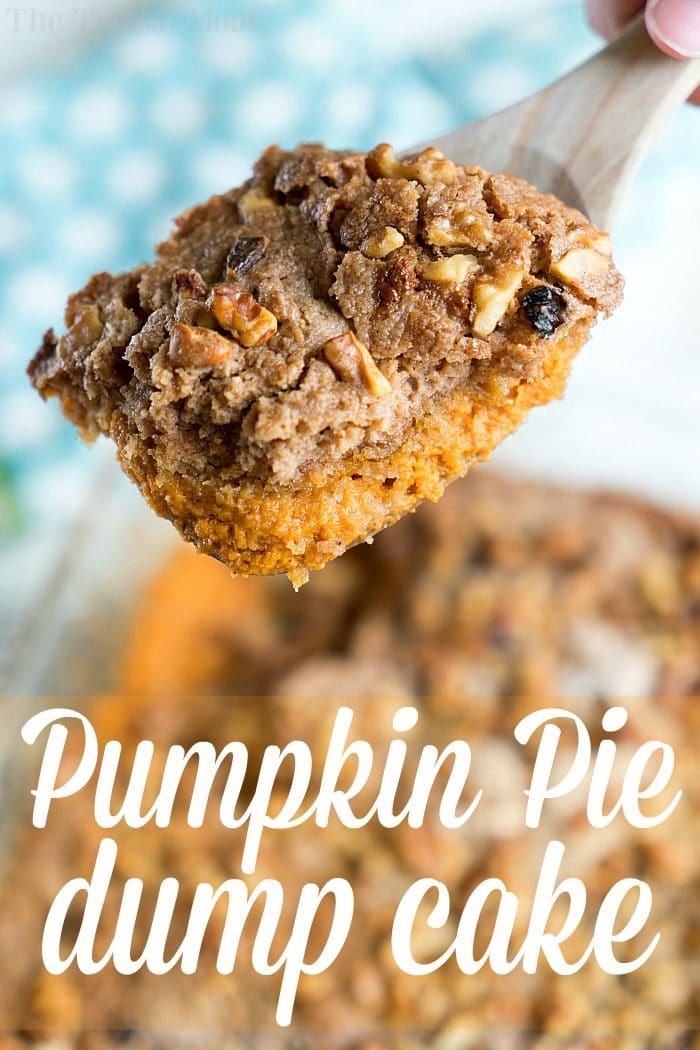 Pumpkin Pie Cake Recipe
Try it out yourself and let us know what you think! If there is something you add in or on this that turns out to be a real hit let us know below so we can try it the next go around. Then try a few of our other pumpkin recipe ideas:
Have a crowd coming over? Make some mini air fryer pumpkin pies to serve with this too. If you added anything else that turned out yummy leave us a note below. Here is the printable recipe as well.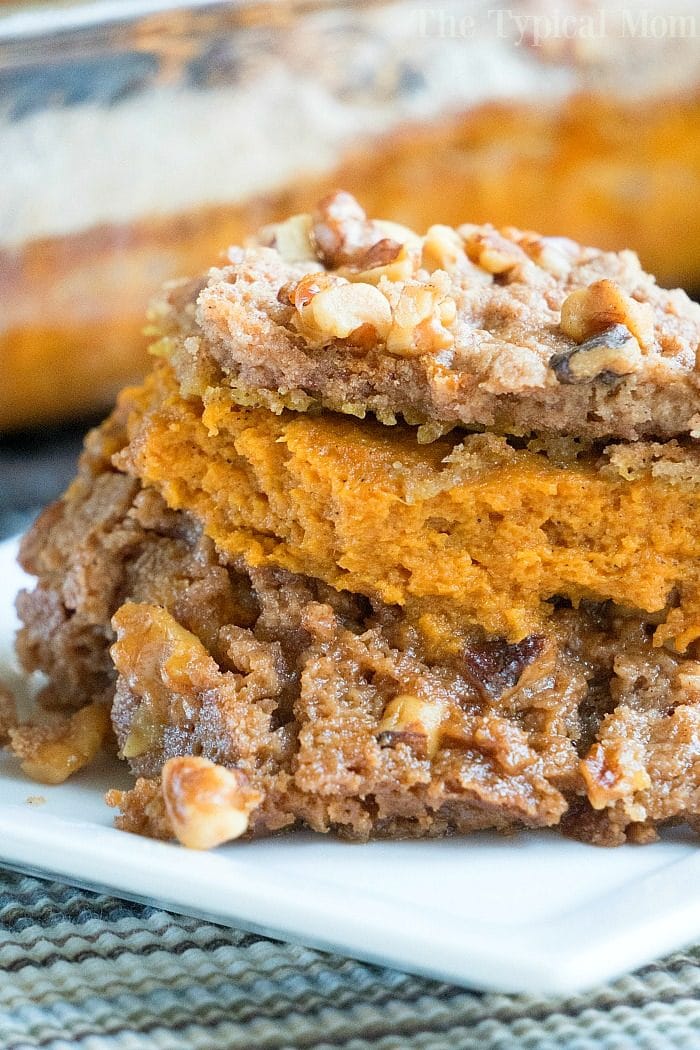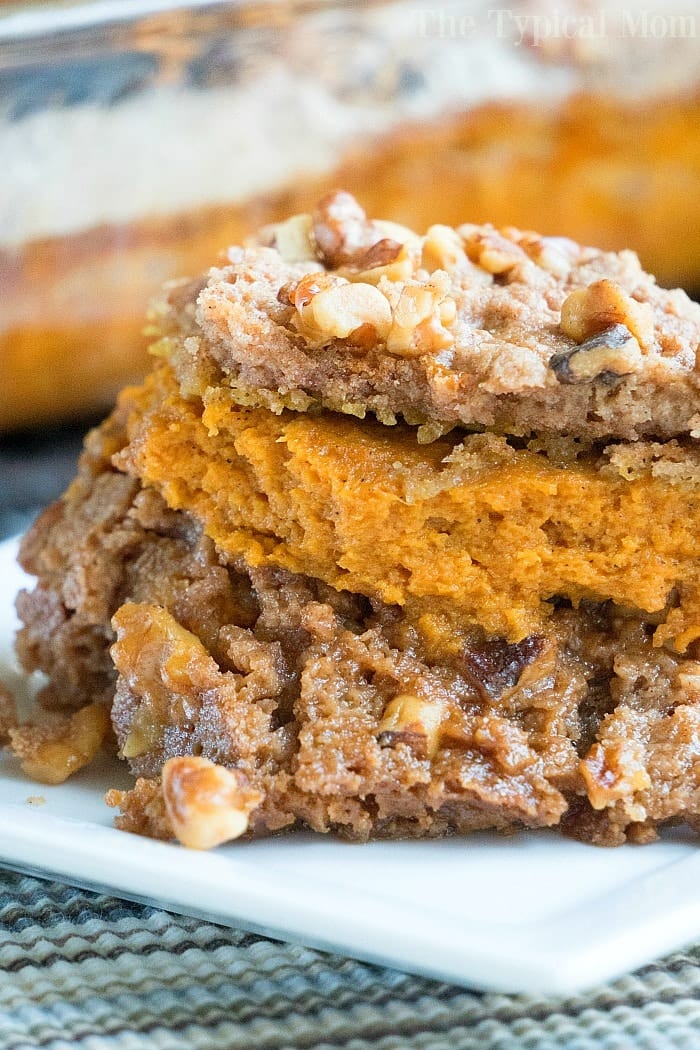 Want to see a few of my favorite things that I am totally obsessed with?? Take a peek and see how many you might already have…twinsies!
Looking for more easy family recipes and tips? LIKE The Typical Mom Facebook page?
Then sign up for my free newsletter, and follow me on Pinterest! 😉
***** If you LOVED this recipe give it 5 Stars below and let everyone know what you thought about it. 😉
Pumpkin Pie Dump Cake
If you're ready for Fall flavors you've got to try this easy pumpkin pie dump cake that needs just 5 basic ingredients! Topped with ice cream it's heaven!
Instructions
Mix together your pumpkin, pumpkin pie spice, eggs, half and half and brown sugar well so there are no clumps.

Spray a 9×13 baking pan with non stick spray and preheat oven to 350 degrees.

Pour this pumpkin mixture into your dish.

Sprinkle your cake mix evenly across this mix and sprinkle your nuts on top.

Melt your butter and drizzle it over the top.

Bake for approx 50-55 minutes or until it is golden brown on top.

Scoop out and serve with vanilla ice cream or whipped cream on the top!
Nutrition Facts
Pumpkin Pie Dump Cake
Amount Per Serving (3 oz)
Calories 427
Calories from Fat 189
% Daily Value*
Fat 21g32%
Cholesterol 66mg22%
Sodium 378mg16%
Potassium 471mg13%
Carbohydrates 56g19%
Protein 5g10%
Vitamin A 6180IU124%
Vitamin C 6.5mg8%
Calcium 103mg10%
Iron 3.1mg17%
* Percent Daily Values are based on a 2000 calorie diet.